Posts tagged
Doc Martens
0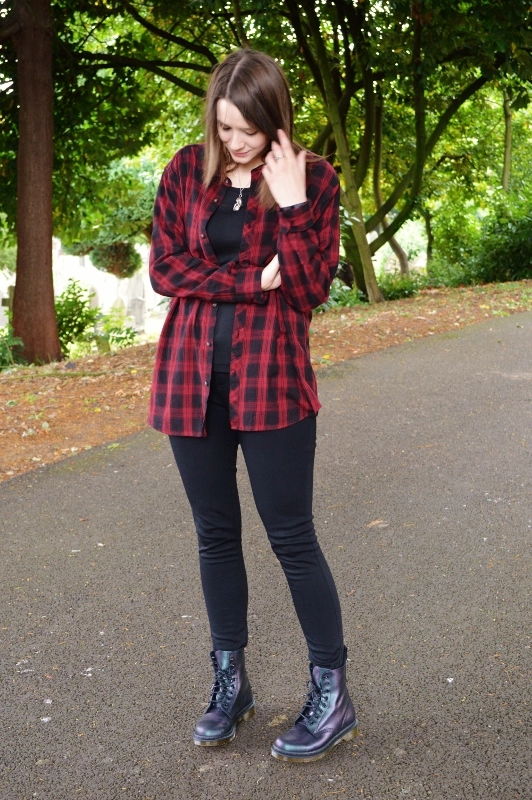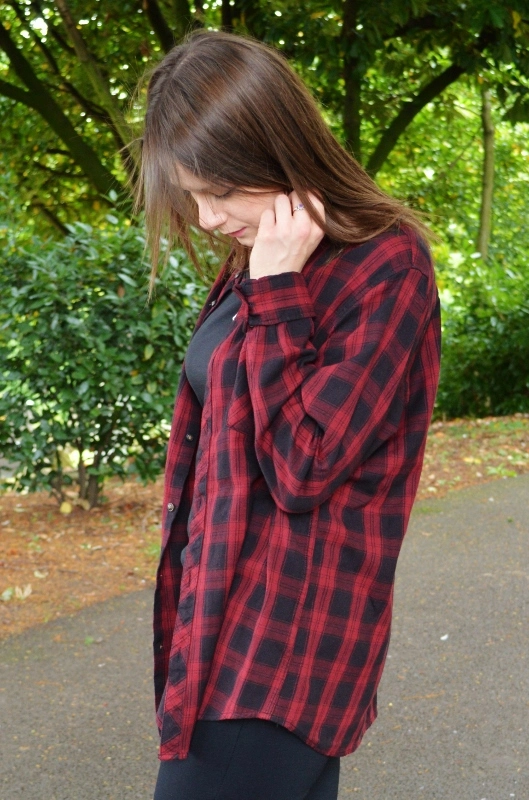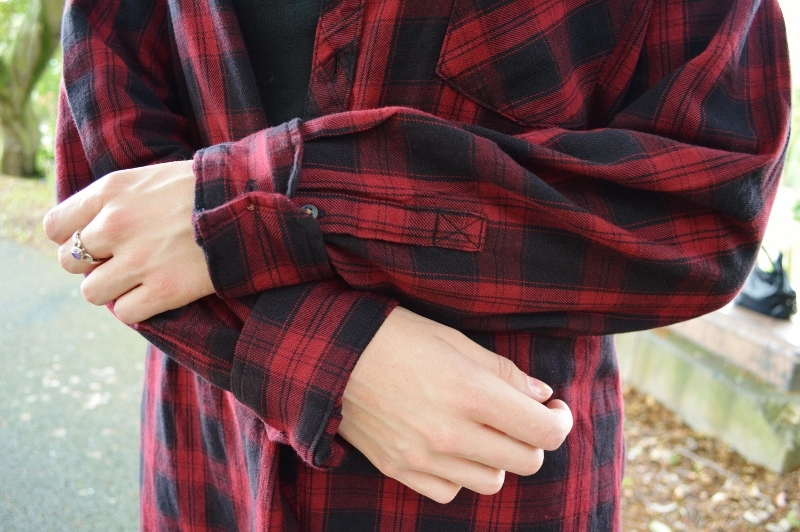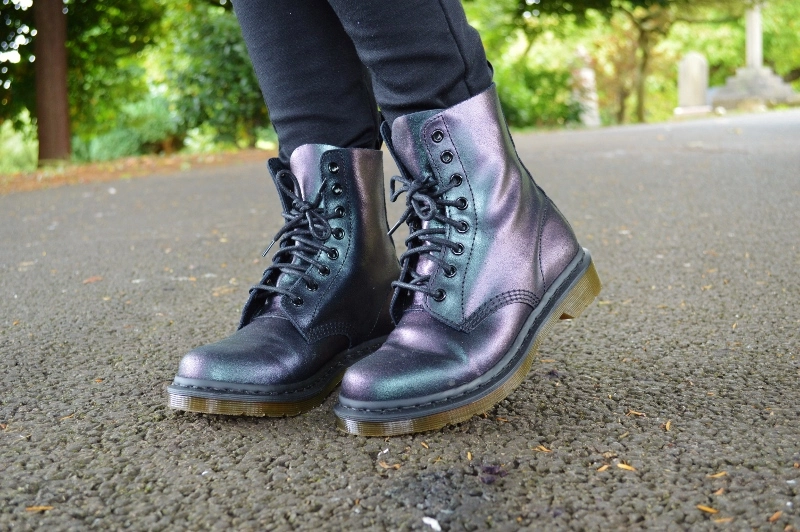 Primark Tartan Shirt / Primark Skinny Trousers / bonprix Long Sleeve Top / Dr Martens Crackle Suede Pascal Boots / Handcrafted Silver Bat Skull Necklace
My black and red tartan collection continues to grow, as I recently added this oversized shirt to my autumn/winter wardrobe.  I picked this up from the men's section in Primark for a tenner, and it perfectly fits the slouchy grunge aesthetic I tend to go for during the colder months.  I actually do a lot of my clothes shopping in the men's sections at this time of year, as I find that men's jumpers and shirts tend to be better made than those designed for women, and are also warmer, thicker, and most of the time cheaper.
I also recently invested in my annual pair of Dr Martens.  I own quite a few pairs of Docs already, and this time I wanted some basic black ones, but I decided to go for a pair with a twist.  These Pascal boots are made of crackle suede, and though they're black, from different angles they have a metallic petrol effect, shimmering purple and green in the right light.  They're ideal for adding texture and a bit of colour to dark autumn outfits, and I managed to break them in in one (painful!) outing, so they're ready to see me through the next few months.
The skinny trousers and bonprix long sleeve top are two of the core pieces from my wardrobe, that transition well all year round, as they can be paired and layered in endless combinations.  Finished with my handcrafted silver bat skull necklace, this simple outfit is quick and easy for cosy autumnal days.
You can see how else I recently styled black and red tartan here!
Naomi x
*This bonprix top was sent to me for styling purposes.  All opinions expressed are honest and my own.*
20
You may remember that just over a week ago I posted about some of my August purchases, one of which was a pair of boots by Blowfish.  Since that post I have only had them on my feet a handful of times, and already both boots are splitting at the sides.  I paid over £40 for those boots and I am not impressed – needless to say they are going straight back to the shop for a refund!  Though I regret buying them, I must also thank the Blowfish boots for being so terrible, as they have reminded me exactly why I usually wear Dr Martens boots (which I love) religiously throughout Autumn and Winter.
I have been wearing Dr Martens footwear since my childhood.  People always say that you never forget your first pair of Dr Martens, and they're right.  I got my first pair in the early 1990s.  They were bright red shoes with yellow laces and big, colourful flowers printed all over them.  They were garish, but I loved them, and my love for Dr Martens never went away.  I currently have five pairs of Dr Martens in my collection, most of which I wear regularly, and these are them…
The styles you see above, starting at the top and going clockwise, are:
Regina Heeled Boots
Purple Triumph 1914 Boots
Black Triumph 1914 Boots
Purple 1460 Shimmer Boots
I've had this pair for so long I can't remember what they're called!  Anybody know?
My favourite pair is definitely my purple shimmer boots, which are the latest addition to my collection and my only pair of classic 8-hole Docs.
So, why do I love Dr Martens so much?  Allow me to share my reasons…
1. They're 'Made in England'

Dr Martens' air-cushioned soles were invented in Munich, Germany by Dr Martens and Dr Funck, but it was in England (Northamptonshire, in fact) that Dr Martens leather boots were first made for the high street, in 1960 by the Griggs family.  Dr Martens soon became popular within youth subcultures and this popularity has grown tremendously over the decades, giving Dr Martens' boots an iconic image.  Dr Martens still manufacture a lot of their boots in England, which makes me proud to be English as they are a brand I have always held very close to my heart.
2. They're Comfortable
I'll admit, Dr Martens can cause you some pain when breaking them in (I suggest wearing anticipatory plasters to stop them rubbing), but if you're willing to put up with a few days of sore feet you will have a pair of boots so comfortable you won't even know you're wearing them.  The insoles and leather soften, shape and bend with your feet and the air-cushioned (or 'bouncing') soles make them light and easy to walk in.  As you can probably guess, the specially designed soles contain air which makes them extremely durable and comfortable as they reduce the impact on your feet and ankles when walking.
3. They're Versatile
Many people still hold the misconception that Dr Martens' shoes and boots are all black, bulky and worn only by labourers, with the exception of cherry reds, but this is not the case.  As you can see in my photographs, and on the Dr Martens website, their range is vast and adorned with many different colours, patterns, styles and designs.  There's a boot there for everybody's needs, and they can be dressed up or down as you like.  I often wear my Dr Martens with girly dresses and tights, skinny jeans and slouchy jumpers or full on hiking gear when I'm out walking, and they look (and feel) good with everything.  You can really make a pair of Dr Martens your own, adjusting them to fit your own style and thus making the statement that you want them to make.
4. They're Long-Lasting
Dr Martens boots are notorious for being hardy, and they really do last a very long time.  I've been wearing a few of my pairs for over five years, solidly so for two seasons a year, and they're still going strong.  They haven't split at the sides at all, there are no holes in the soles and they show no sign of giving up any time soon.  In fact, with a quick clean and polish they'd probably all look as good as new, but I prefer them to look a bit battered.  I used to know somebody who had owned some of her Dr Martens for over twenty years, and she was still wearing them.  Amazing!
Many people think that Dr Martens are expensive (mine cost between £75 and £110 each) but for the reasons above they are well worth the price you pay for a pair.  Cutting corners and going for a cheaper boot isn't always a good idea as they rarely last as long as a Dr Marten boot will, so it's worth investing in one good pair, rather than wasting money on several pairs of lower quality boots!  Whether you like them scuffed up like I do, or looking neat and new, you can't go wrong with a pair of Dr Martens and never again will I stray from the beautiful, trusty brand – I've well and truly learnt my lesson!
Do you own any Dr Martens?
Naomi x