Posts tagged
Faux Fur
1
I was recently approached by New Look with information about their range of real leather jackets, and after seeing what they have to offer I thought it too good not to share! As I'm sure we all know by now, leather is big this season, but a lot of the faux leather and leather look jackets out there at the minute are really rather pricey. New Look, however, are selling a selection of on-trend leather jackets which, for the most part, are really affordable and come in at around the same price as many of the faux leather jackets I've seen on the high street.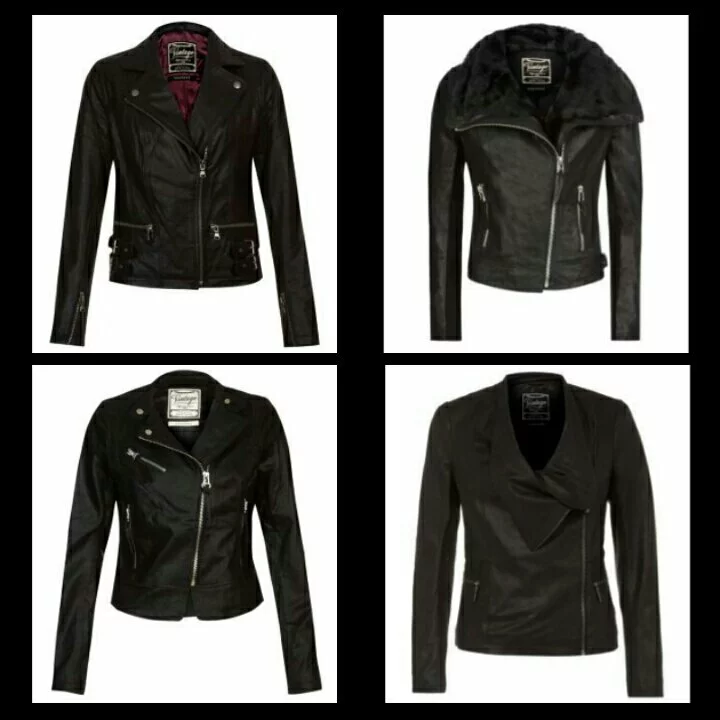 Buckle Hem Biker Jacket – £69.99 / Faux Fur Collar Jacket – £69.99 / Biker Jacket – £59.99 / Waterfall Jacket – £120.00
There are quite a few real leather jackets available on the site, including a brown version of the Buckle Hem Biker Jacket, but the four above are my personal picks.  As a lifelong Edward Scissorhands fan I have a soft spot buckles and straps, so I love the buckles on the Buckle Hem Biker Jacket, as they add a nice bit of edgy detail to a simple design.  The asymmetrical zips on all four of the jackets are also a highlight for me as they're edgy, but flattering, and so popular this season; as is faux fur which looks so glamorous when combined with an oversized collar.  The final jacket, the Waterfall, is incredibly pretty and would be perfect for a more sophisticated evening look.  The draping is really feminine, and would look beautiful teamed with a winter maxi.  If only I could have them all!
Which jacket is your favourite?
Naomi x
4
During one of my recent Twitter browses, I noticed that fashion brand AngelEye were looking for bloggers to style some of their pieces, so I got in touch and they kindly sent me a jacket to feature.  I actually already own a really pretty dress by AngelEye which I wore constantly throughout the summer (you can see it in the background of my nail photo in this post), so I couldn't wait to see whether their Autumn/Winter items were just as lovely!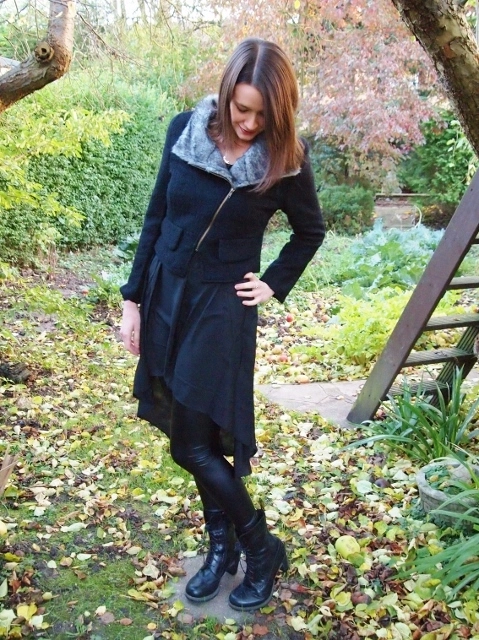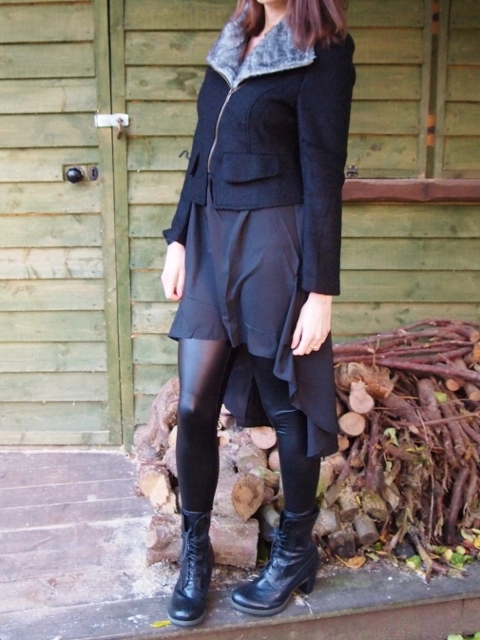 AngelEye Cropped Jacket / Everything5Pounds Dip Hem Dress / Primark Leather Look Leggings / Dr Martens Regina Boots / Custom-made Everlong Necklace
When I received the jacket, I instantly fell in love.  Based on the photo I saw of it online, I thought it was going to be fairly flimsy and more for 'show' than functional, but I was wrong.  It is made of thick, wool-like fabric so does a very good job at keeping you warm.  In fact, today was one of the coldest days of the year so far and I wore this jacket over a sleeveless dress, but I was kept nice and toasty, and didn't feel any chill whatsoever.  The jacket also has a silky lining and wide faux fur collar, which is my favourite thing about it as it looks and feels so luxurious, and is absolutely perfect for this season.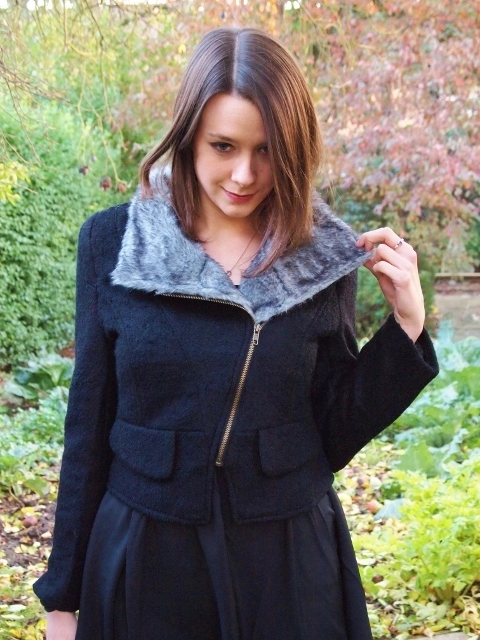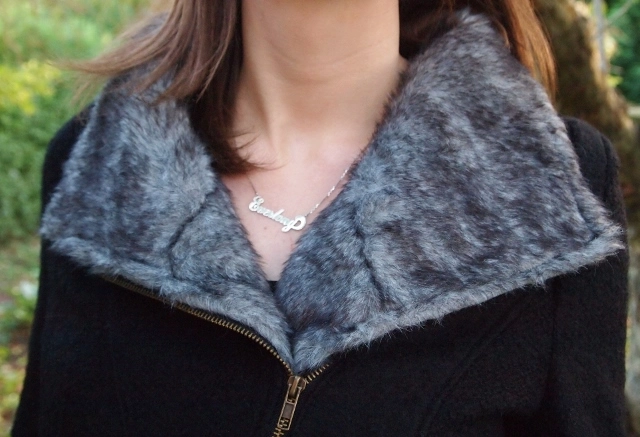 The cut of the jacket is also really flattering.  It is cropped, but fitted at the waist so even over chunky winter knits it gives a nice shape.  The asymmetrical zip is also bang on trend, and the pocket flaps add a bit of extra detail.
The jacket is extremely versatile, as it can be worn casually, but also styled up for a formal or evening look.  Today I wore it with a dip hem dress, leather look leggings and my heeled Dr Martens boots, but it would also look amazing with a pencil skirt and stilettos for a classic office look, with skinny jeans and a pair of black Converse for a day-to-day look, or worn over a gorgeous little dress on a winter night out.  An all-round fab little jacket that I know I'll get a lot of wear out of this season!
To view AngelEye's full range of clothing, you can visit their website here, or follow them on Facebook and Twitter.  I'll also be launching an exciting AngelEye fashion giveaway within the next day or so, so keep an eye out for that!
Naomi x
*This cropped jacket was sent to me by AngelEye for review purposes.  All opinions expressed are honest and my own.*