Posts tagged
Skater Dress
0
A few weeks ago I was contacted by the bonprix team, asking me to take part in a fun fashion challenge – to style a Summer look for Autumn/Winter.  Autumn has always been my favourite time of year, and I'm quite partial to layering up my summer dresses to keep me warm on colder days, so I was definitely up for taking part.
I was given a budget of up to £50 to choose items from the bonprix holiday shop, to be used to create a summer look so it's transitional for Autumn/Winter.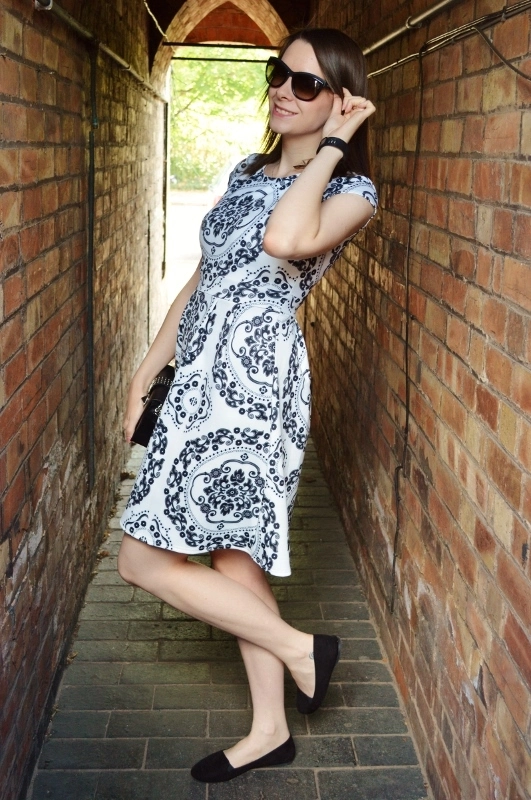 bonprix Tile Print Skater Dress / Primark Black Flats / Primark Mini Shoulder Bag / Alexander McQueen Cat Eye Sunglasses
The main item I chose was this tile print skater dress for £39.99, in the black on white colourway.  I don't often wear white, but I loved the print so much I decided to find out whether I could pull it off!  For Summer I styled it with a pair of black flats, a cute mini box bag, and my Alexander McQueen sunglasses.  Simple, but why add more than you need to when the print speaks for itself?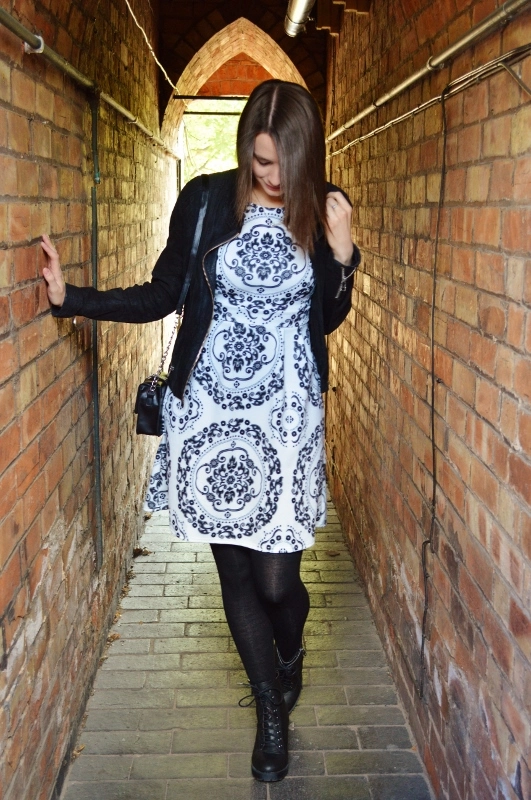 bonprix Tile Print Skater Dress / New Look Black Leather Jacket / Blonde + Blonde Lace Up Block Heel Boots / Primark Super Soft Tights / Primark Mini Shoulder Bag
And having such a bold print, it didn't take much effort to transition this gorgeous dress into an Autumn/Winter look.  To make the outfit more suitable for the cooler weather I added some super soft tights, and my trusty leather jacket.  I also removed the sunglasses and swapped the flats for a pair of chunky heeled boots, which are far more rain-resistant – very important at this time of year!
The dress is incredibly comfortable as the scuba fabric is stretchy and soft, and the classic fit and flare cut is ideal for day or night, dressed up or down.
How would you style a summer dress for Autumn/Winter?
Naomi x
*This Tile Print Skater Dress was sent to me by bonprix for style challenge purposes.  All opinions expressed are honest and my own.*
2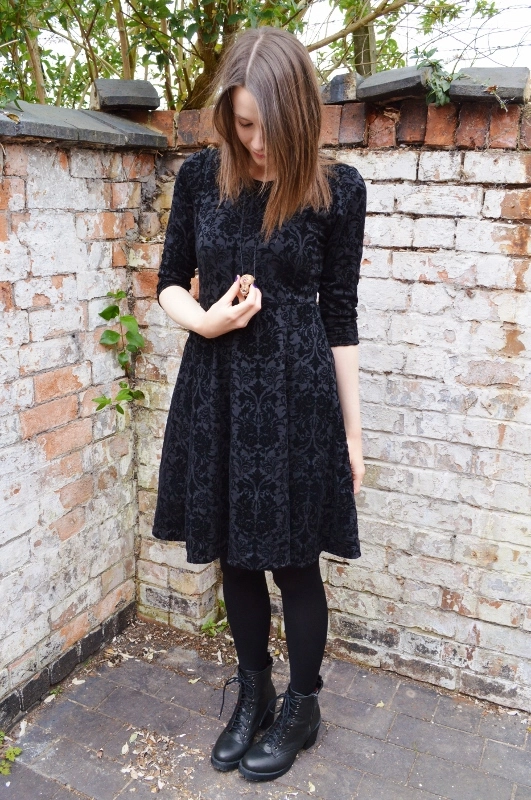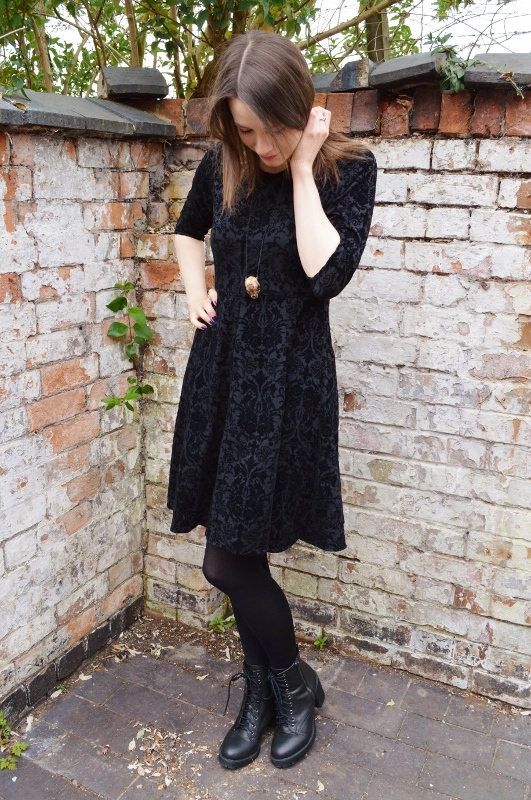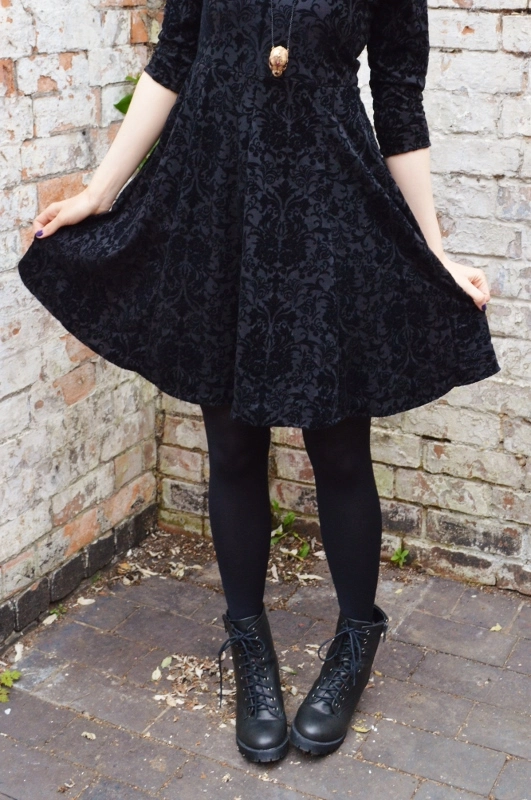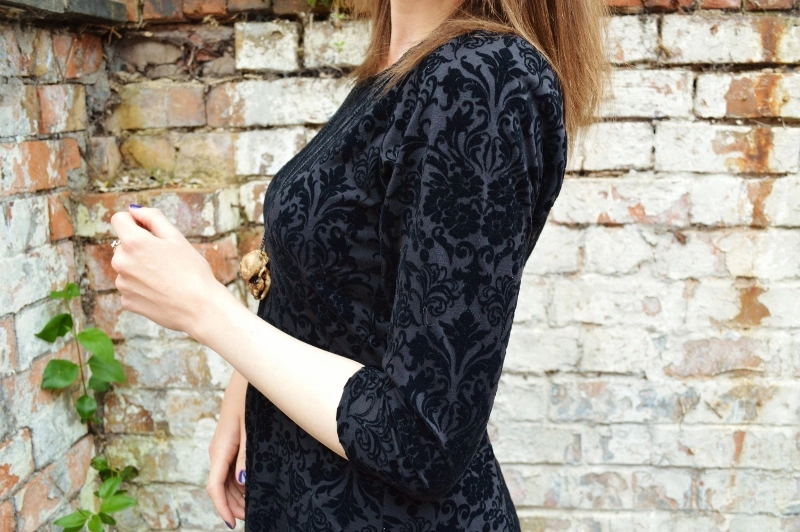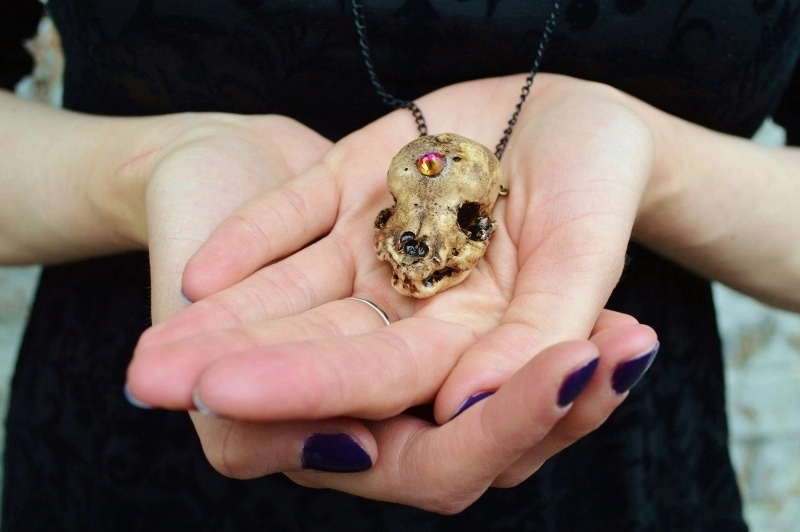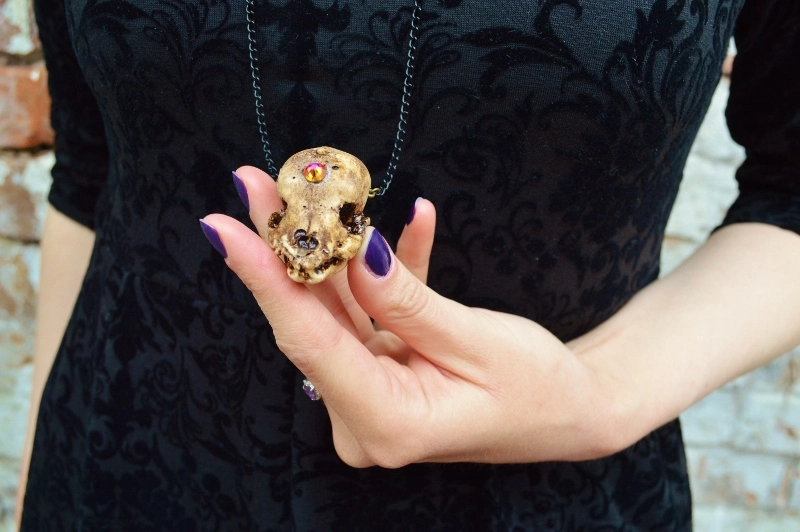 Handmade Flocked Skater Dress / MortiisM Vegan Skull Necklace / Blonde + Blonde Lace Up Block Heel Boots / Primark Tights
Today's outfit post is also a Thrifty Finds post, as my beautiful flocked skater dress was handmade by my very talented mum, using fabric that we got from a carboot sale.  And the best part is the fabric only cost £1!  My mum drafted the pattern for this herself, using the bodice from one of my dresses, and the skirt from another, so it turned out the exact fit, shape and length I was hoping for.  I'm so impressed by mum's work, especially as this was the first adult dress she ever made.  The stitching is so neat, it's comfortable, and it fits me really well – quite an achievement considering I tried the bodice on once whilst she was making it, and that's it!  Needless to say I'll be asking her to make me another dress very soon, as I'm so pleased with this one.
My necklace is also a craft piece, by the lovely MortiisM, who makes vegan skull and metal jewellery, antlers, and homewares.  I won this piece in a giveaway on Instagram, and I adore it.  I love the length, and the quality of the piece is really high.  It looks so real, and the Swarovski adornment is like the icing on the cake.  Stunning!
Naomi x
P.S. Check out how else I styled these boots!
1
Not so long ago I was sorting through my wardrobe, working out what to keep, what to sell, and what to get rid of, and I realised I have one dress in particular that survives all of my wardrobe clear outs.  I've had this black and white star print skater dress for almost half a decade, and since buying it from Matalan I've actually dropped two dress sizes, but I just can't bear to part with it.  It's even been taken in at the back so I can still wear it!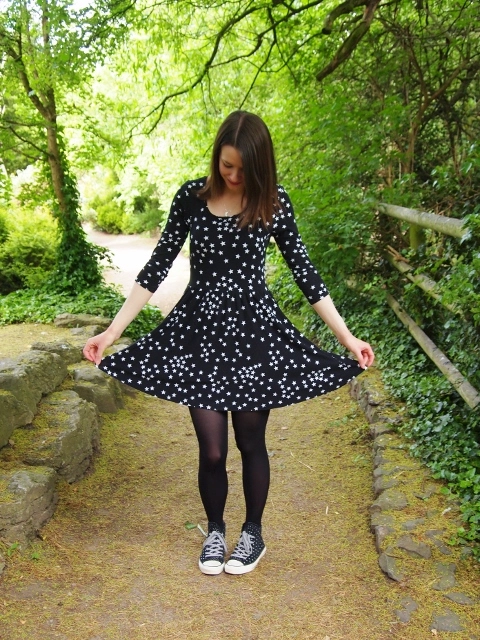 This dress has become affectionately known as my throwback dress, as it's seen me through many seasons, layered up or down accordingly, and many events, including christmas day 2011 and my 22nd birthday.  It always reminds me of when I first met my fiancé too.  It may not be the most breathtaking item of clothing that I own, but I treasure it and will probably always keep it.
My little sentimental encounter with my throwback dress got me thinking… what will be my throwback dress of the future?  A dress that I currently love and will keep for years to come.  There are a few candidates, but I think this Dolly & Delicious skater dress from New Look will be it.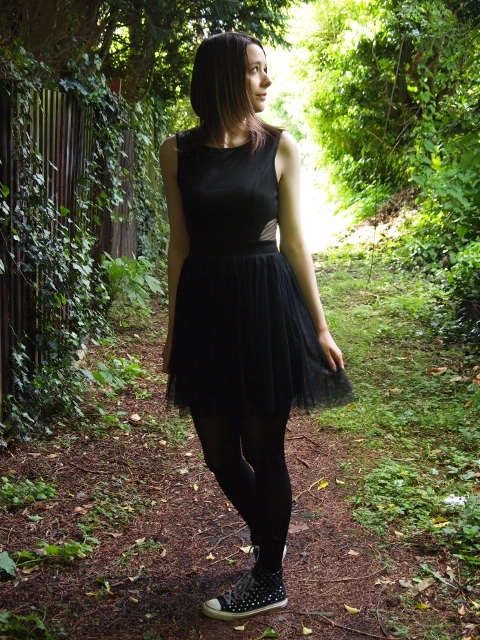 I call this one my goth fairy dress, and I absolutely love the layered net skirt and cut out sides.  I get the feeling it will become a staple wardrobe item this summer.  I plan on wearing it to several gigs and events in the coming months, so it will undoubtedly become associated with fantastic memories that I just won't want to get rid of.
Do you have a throwback dress?  If so, why do you keep it?
Naomi x