Layla Hologram Effect Nail Polish in Ultra Violet
On my birthday I got quite a few bottles of nail varnish, and the one I chose to wear on the day was this one from my mum – Layla Hologram Effect in Ultra Violet.  I've always liked the look of hologram nail varnishes but have never got round to buying one myself, so I was very pleased to see this in my pile of presents, especially as it's my favourite colour.  Thanks mum!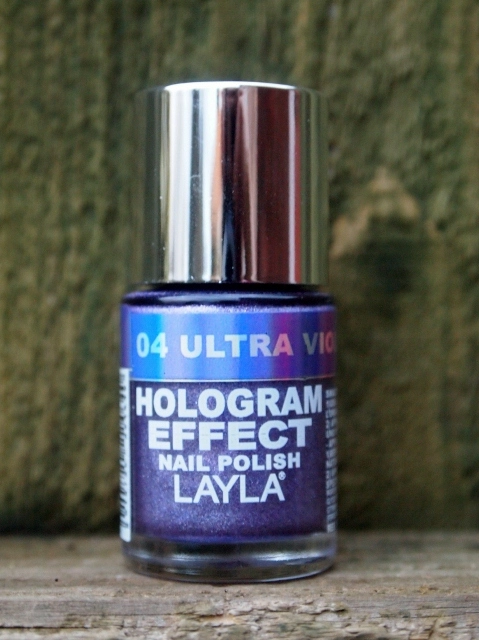 Layla isn't a brand that I'm familiar with, but according to their website they are based in Milan, Italy, and sell a wide range of make up as well as nail products.
This varnish has a fairly thick consistency, but it comes with a decent brush so applies easily and evenly, and despite the glittery look dries smooth to the touch.  However, it does take a little while to dry, and if you attempt to apply the second coat whilst the first is still sticky it can cause some streaking, so it's best to be patient with application if you want to achieve neat coverage!  It only takes two coats to create an opaque finish, which is always my test of a good quality varnish, and this one passes.
In the bottle, Ultra Violet looks a dusky purple colour with an undertone of grey, but on the nails it looks slightly paler.  However, once you're in the right light the hologram effect really comes alive, and it's impressively strong!  The hologram looks 3D and shines a rainbow of red, orange, yellow, green, blue, pink and purple in both natural and indoor light, and at the same time the glitter shimmers beautifully underneath.  It's difficult to put into words just how stunning this varnish is, so here are a few pictures of it in different lights to give you an idea…
No hologram effect.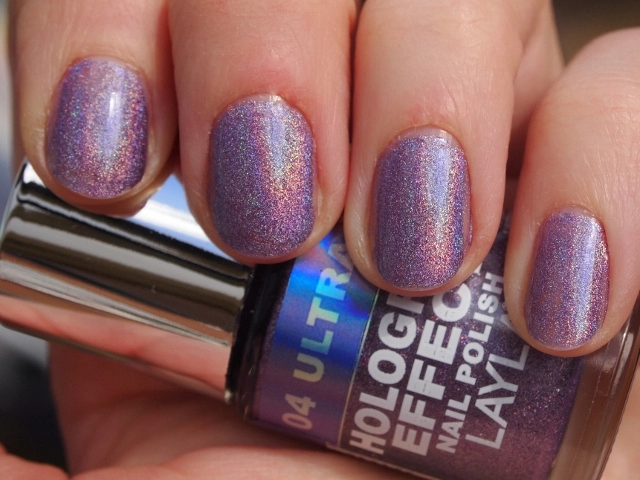 Hologram effect without flash.
(It actually looks a lot more colourful than this in reality but it was difficult to capture on camera.)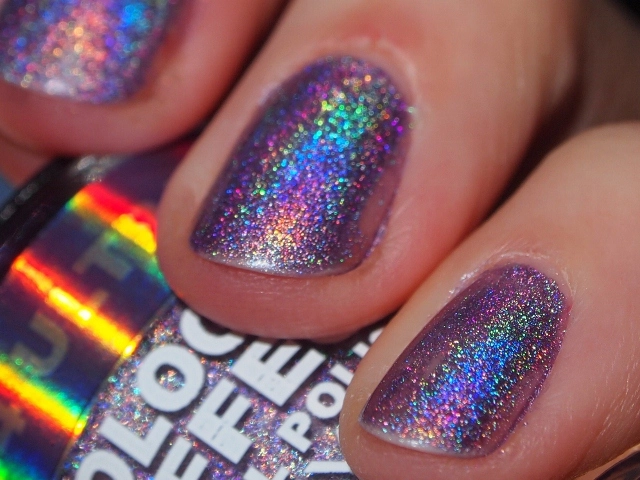 Hologram effect with flash.
I have been wearing Ultra Violet for three days now, with a top coat, and it has lasted really well.  The ends have started to chip today so I will probably remove the varnish soon, but other than that the coverage still looks neat and vibrant.
Overall, I would definitely recommend Layla Hologram Effect Nail Polish as it is excellent quality and the hologram effect is powerful and very, very pretty.  A lot better than the Boots 17 hologram varnish I've seen in reviews!  The colour is a bit more interesting than the typical silver hologram too.  If you'd like to try this range for yourself, it may be difficult to locate in shops, but Ultra Violet is available on Amazon here, and you can find other shades here.
Do you like the look of this varnish?
Naomi x
9 comments