Posts tagged
Hologram
3
I've been wanting Illamasqua's Speckled nail polishes ever since they were released, but at £14.50 each I just couldn't justify buying them.  Then, whilst queueing in Primark at the weekend, I spotted this Spotty nail polish, which is a dupe of Illamasqua's Speckle – their discontinued speckled lilac shade.  And the best part?  Primark's Spotty was discounted from £2 to just £1!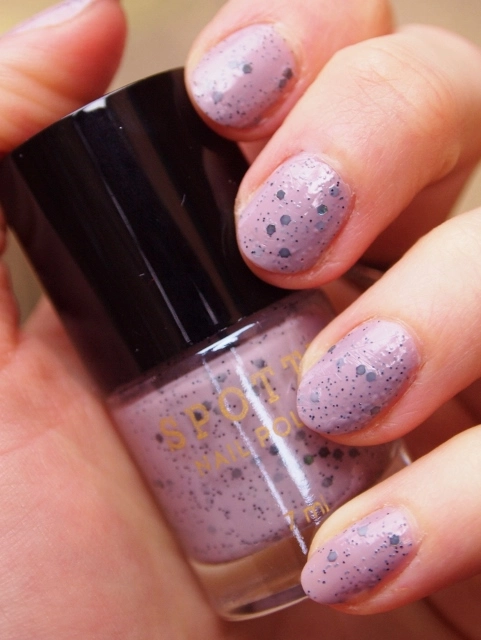 The polish has a creme base, and is crammed full of black glitter and micro glitter, which in the right light has a beautiful holographic sheen.  The overall finish reminds me of a Cadbury Mini Egg, which is perfect for Spring and the run up to Easter!  The polish has a smooth consistency and applies evenly, giving opaque coverage in two coats, but it takes a while to dry.  Not ideal, but not really a problem if you're not in a rush.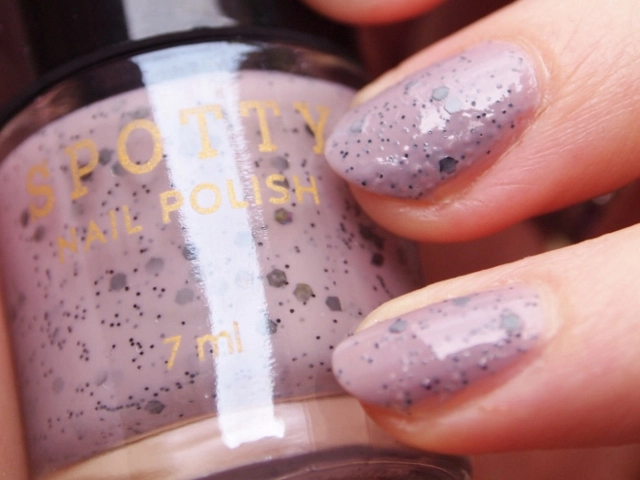 My only issue with the polish is that, when I first used it, lots of little air bubbles got trapped underneath (as you can see above), so it looked and felt a bit lumpy.  It could've been due to the base coat I used though, so next time I'll give it a miss to see if it makes a difference.
In terms of staying power, I wore this for three days before removing it, and by that point it had barely chipped at all.  I imagine it would last for almost a week before starting to look scruffy.
Overall, this is a lovely, pretty polish, and I'm so pleased I finally have a speckled polish in my collection.  I just wish I'd picked up the other shades too!
What do you think of my bargain find?
Naomi x
9
On my birthday I got quite a few bottles of nail varnish, and the one I chose to wear on the day was this one from my mum – Layla Hologram Effect in Ultra Violet.  I've always liked the look of hologram nail varnishes but have never got round to buying one myself, so I was very pleased to see this in my pile of presents, especially as it's my favourite colour.  Thanks mum!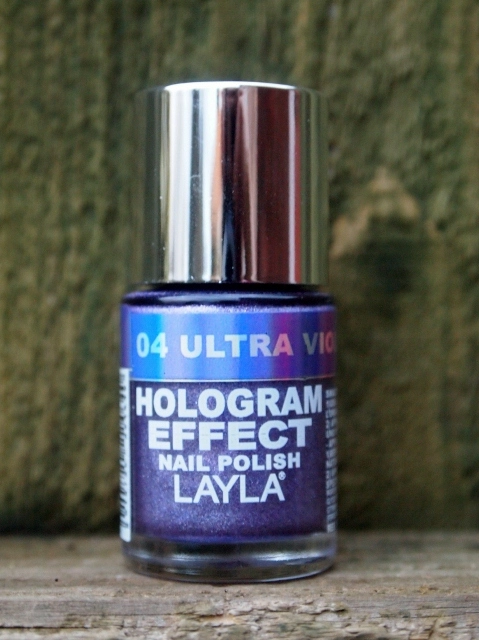 Layla isn't a brand that I'm familiar with, but according to their website they are based in Milan, Italy, and sell a wide range of make up as well as nail products.
This varnish has a fairly thick consistency, but it comes with a decent brush so applies easily and evenly, and despite the glittery look dries smooth to the touch.  However, it does take a little while to dry, and if you attempt to apply the second coat whilst the first is still sticky it can cause some streaking, so it's best to be patient with application if you want to achieve neat coverage!  It only takes two coats to create an opaque finish, which is always my test of a good quality varnish, and this one passes.
In the bottle, Ultra Violet looks a dusky purple colour with an undertone of grey, but on the nails it looks slightly paler.  However, once you're in the right light the hologram effect really comes alive, and it's impressively strong!  The hologram looks 3D and shines a rainbow of red, orange, yellow, green, blue, pink and purple in both natural and indoor light, and at the same time the glitter shimmers beautifully underneath.  It's difficult to put into words just how stunning this varnish is, so here are a few pictures of it in different lights to give you an idea…
No hologram effect.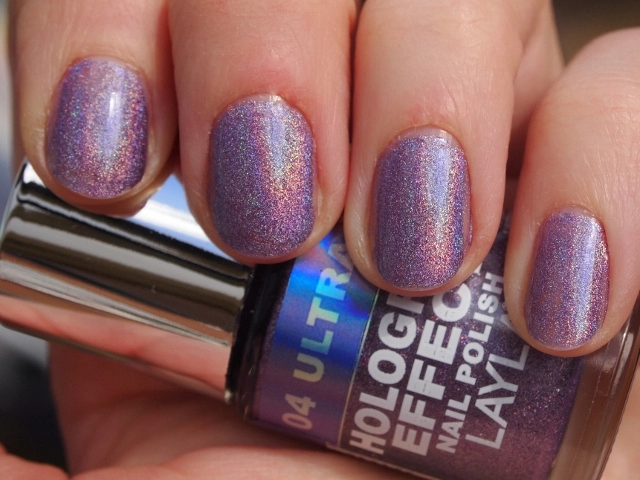 Hologram effect without flash.
(It actually looks a lot more colourful than this in reality but it was difficult to capture on camera.)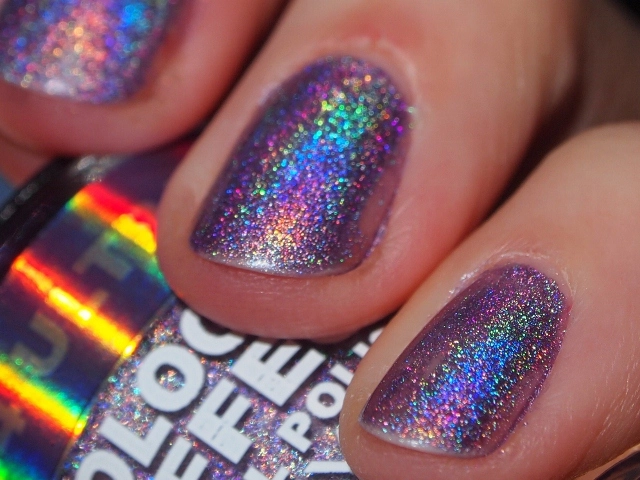 Hologram effect with flash.
I have been wearing Ultra Violet for three days now, with a top coat, and it has lasted really well.  The ends have started to chip today so I will probably remove the varnish soon, but other than that the coverage still looks neat and vibrant.
Overall, I would definitely recommend Layla Hologram Effect Nail Polish as it is excellent quality and the hologram effect is powerful and very, very pretty.  A lot better than the Boots 17 hologram varnish I've seen in reviews!  The colour is a bit more interesting than the typical silver hologram too.  If you'd like to try this range for yourself, it may be difficult to locate in shops, but Ultra Violet is available on Amazon here, and you can find other shades here.
Do you like the look of this varnish?
Naomi x
4
Evening all!
Firstly, I would like to apologise for my elusiveness lately.  January has been an incredibly busy month for me but it seems to have dragged on forever – I'm sure many of you can relate to that feeling!  On top of starting back at work after Christmas, I had an important assignment to do for my Master's Degree this month, so I spent most of my evenings researching, writing and editing, hence my lack of blog posts.  Luckily, I handed the assignment in yesterday so I'll have a bit more time on my hands now (although I do have a dissertation proposal to complete…), so expect to see a lot more from me during February!
Hopefully February will be a bit more fun than January has been.  On Sunday my fiancé and I are going to London, just for one night, but we have a lot planned.  I will be taking my camera on the trip so expect a rather photo heavy post when I get back!  Also, Bewitchery turns one year old on the 7th of February, which is very exciting indeed.  The main event in February for me though is my birthday!  On the 14th of February I turn 23, and (fingers crossed) I won't be working that day, so I am going to spend the next couple of weeks planning fun things to do!  Birthdays for me are mostly about surprises, cake and having a nice time with my loved ones, but I do have a few things on my Birthday Wish List this year, so I thought I would share them with you here…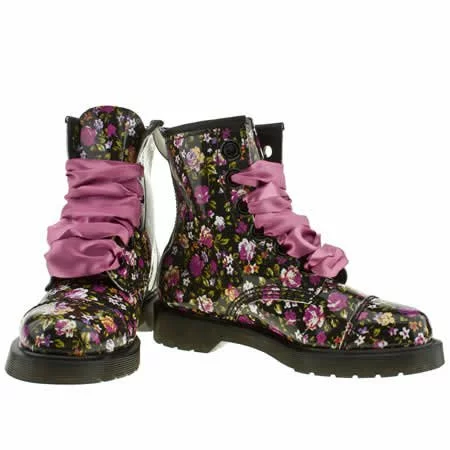 Dr Martens Grace Denise 8 Big Eye Boots
If you've read this post, you'll know that I'm a Dr Martens fangirl, and I have been lusting after this pair for months now.  I recently noticed that they were in the Schuh sale, so I dropped a massive hint with my dad and I think these babies will be mine in two weeks time!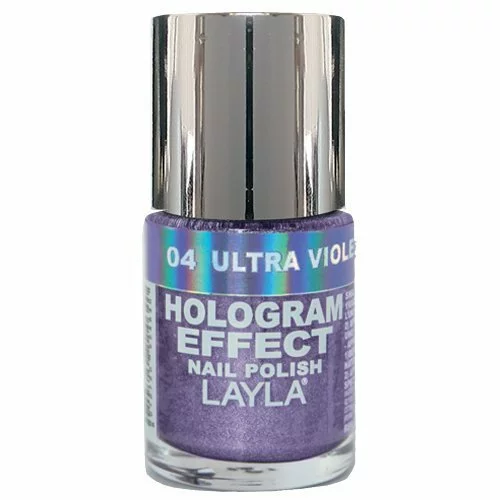 Layla Hologram Effect Nail Polish
I know I'm extremely late to the hologram polish party, but I really love the look of Layla's hologram range, especially this Ultra Violet shade.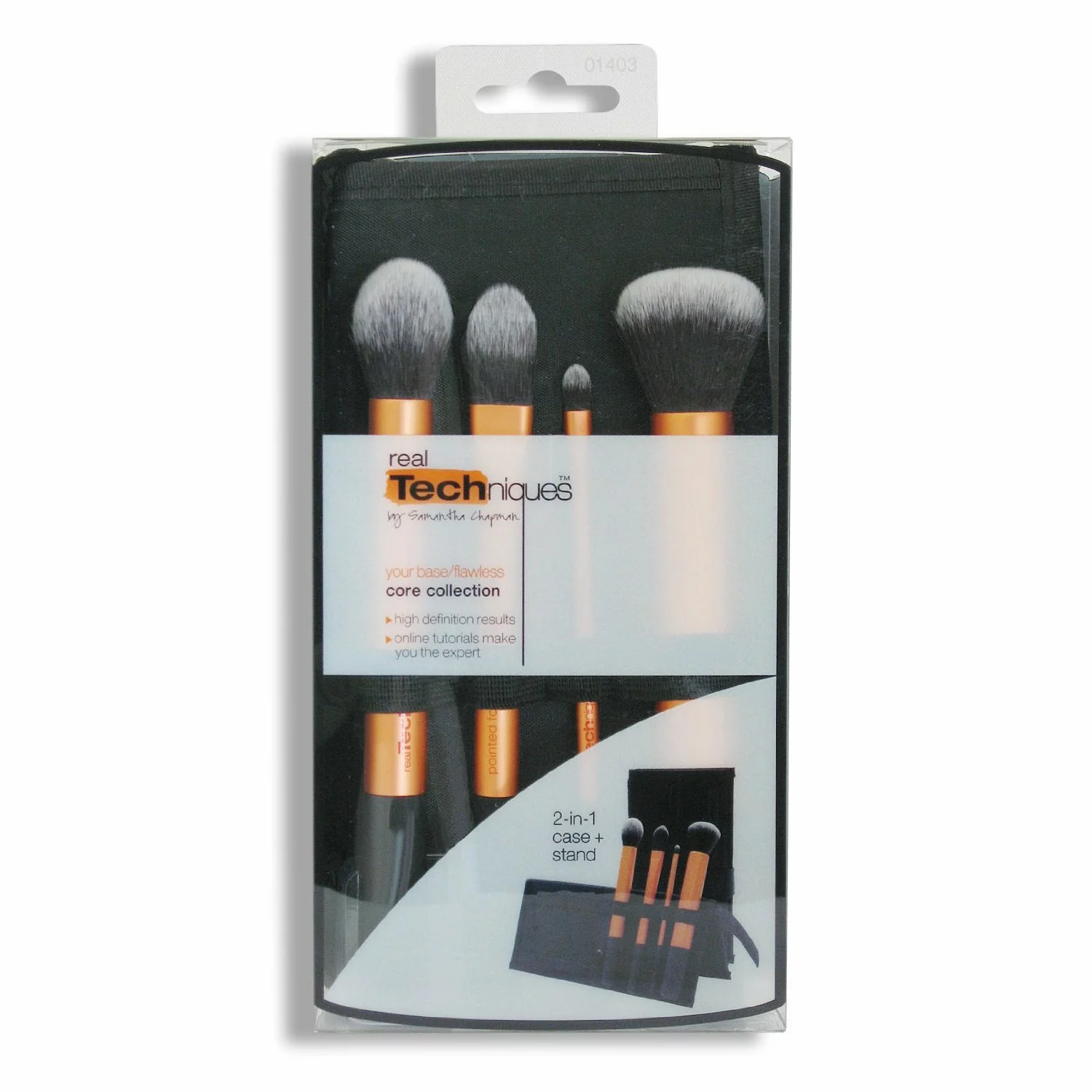 Real Techniques Core Collection
I've been after a decent set of make up brushes for a long, long time (my current set are falling apart), and lots of you lovely beauty bloggers have recommended Real Techniques' Core Collection.  I've done some research, and they really do look like a quality set of brushes, so these are now on my list.  They pass the cruelty free test too!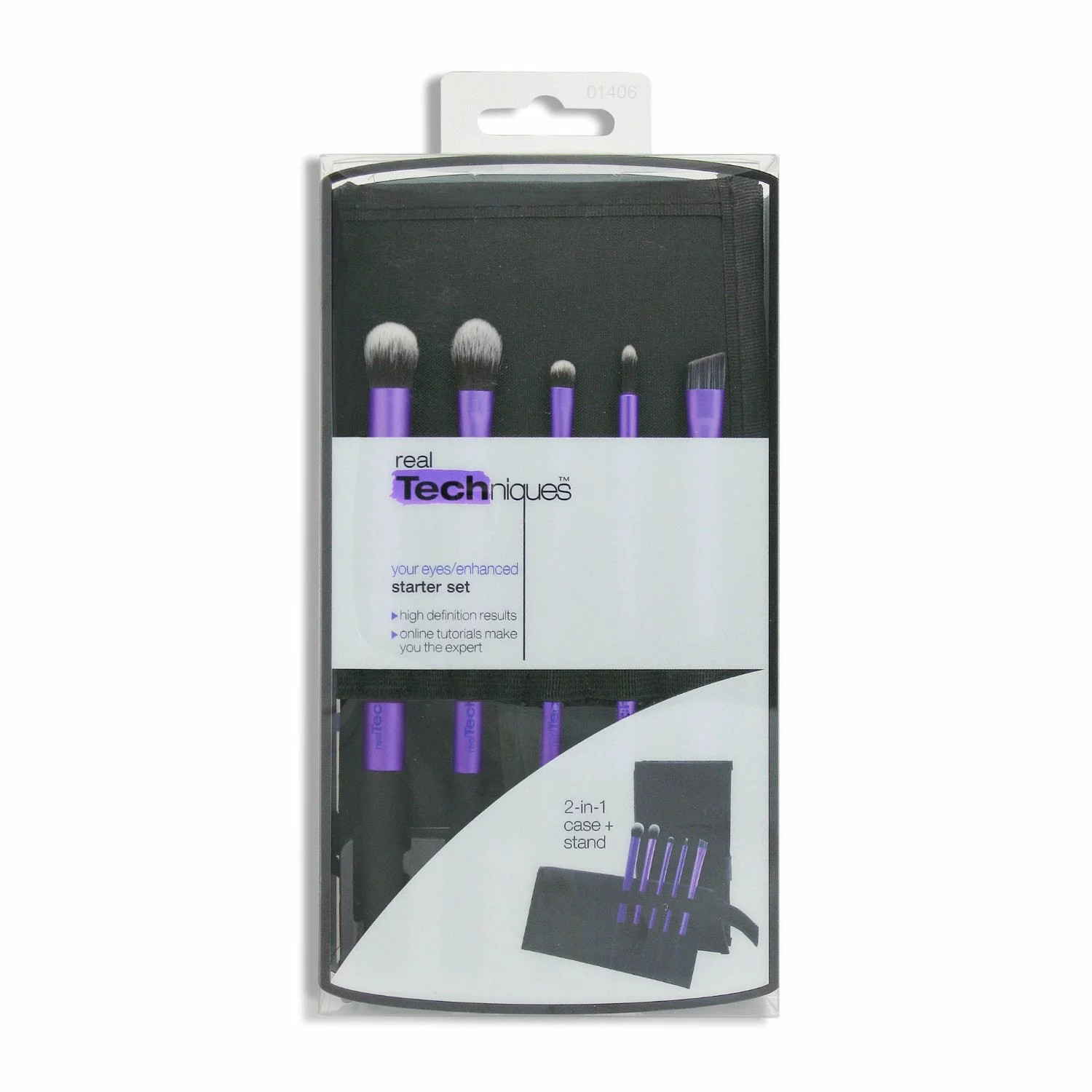 Real Techniques Starter Set
Because my eyes deserve fabulous brushes too…  And they're purple!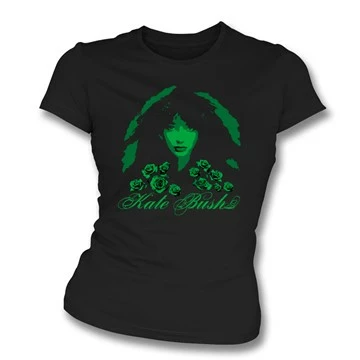 Kate Bush T-Shirt
Kate Brush is my hero, and has been since I was tiny, so this t-shirt is perfect for me.  The design is just so pretty!
Sleek True Colour Lipstick in Smother
This is one of Sleek's newest shades in their True Colour Lipstick range.  It's an extremely pretty pinky purple colour (it's actually a bit darker in reality than it looks in the picture), and every time I go to Superdrug I can't resist swatching it on my hand.
Naomi x