Posts tagged
BM Beauty
12
As a vegetarian with sensitive skin, I am always looking for beauty products and retailers who specialise in products which are suited to my needs, and that means ethical, natural companies with high quality products.  A couple of months ago during one of my searches, I came across a fantastic online organic beauty boutique called Lucy Rose, which stocks only the best organic skin care products and natural cosmetics.  Their range of products is pretty impressive, covering everything from hair and skin to make up and nails, and they feature some brilliant collections too, including Inika, Faith In Nature, Burts Bees, and as mentioned in the title, Zoya and BM Beauty.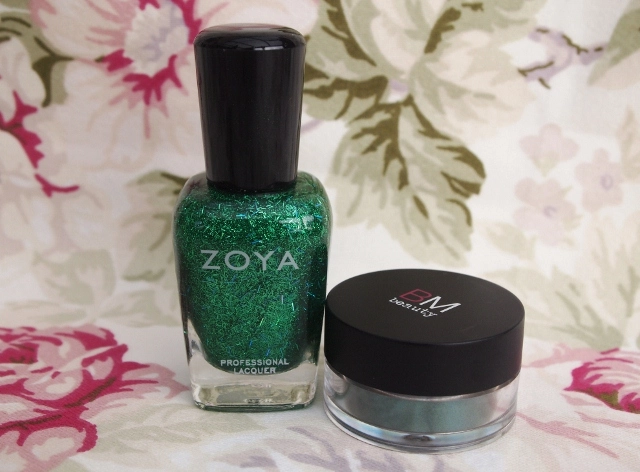 A few weeks ago, the lovely folks at Lucy Rose were kind enough to send me two wonderful products from their range, which go together for a festive look like bread and butter – Zoya's 'Rina' Nail Polish, and 'Emerald Showers', a stunning mineral eyeshadow from BM Beauty.  After getting to know the products and sampling Lucy Rose's service for myself, I have decided that they're too good not to share, so here are my thoughts on Lucy Rose and their products!
Zoya Nail Polish in 'Rina'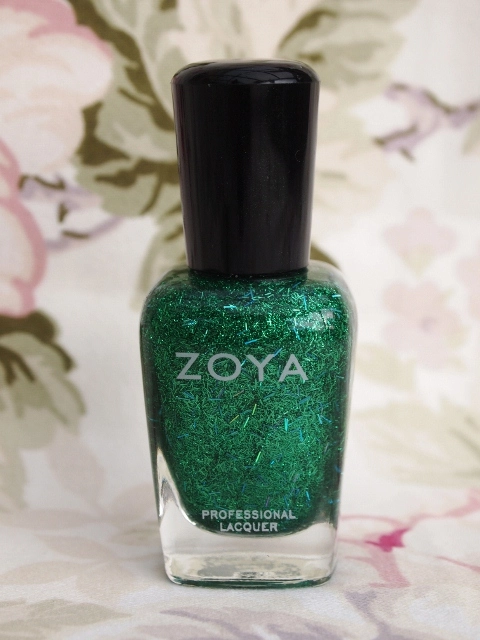 When I first opened my parcel from Lucy Rose and found Zoya's Rina inside, I literally gasped.  I had been looking for a green glitter polish for a while and this one is just perfect, and so unusual.  The green shade is a rich, bright emerald green, made up of small glitter flecks and bar glitter, some of which has an icy blue holographic undertone, giving it a 3D texture when on the nails.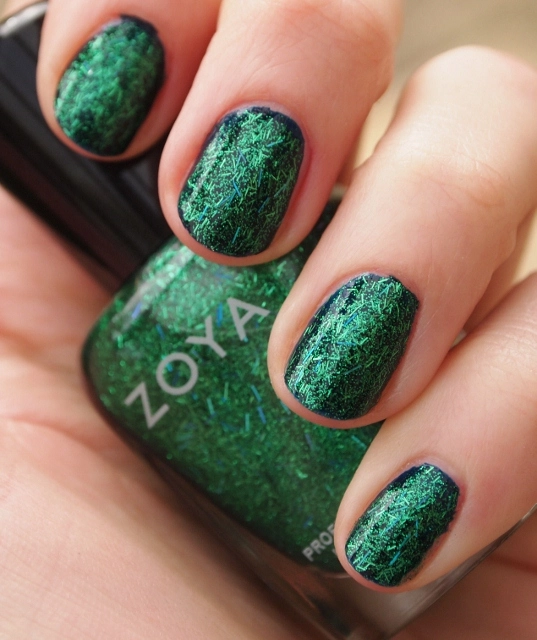 I applied Rina over a navy blue polish to give it a deeper appearance, and as you can see, it worked incredibly well.  It only took two coats of the Zoya glitter over one coat of the base colour to create a completely opaque glitter look.  I was pleasantly surprised to find that Rina dries VERY quickly.  Within a minute it was dry to the touch, and because it doesn't need a top coat I could be on my way without worrying about it denting or smudging.
What I love about this glitter is that it doesn't feel rough like other glitters when on the nails – it has a lovely smooth finish, but it still has incredible depth and catches the light really well for breathtaking sparkle and shine.
Zoya's Rina is also extremely hardwearing.  I've had it on for around three days now and the wear is minimal, but what else would you expect from a range which are said to be 'the longest wearing natural nail polishes available'?
Rina is ideal for this festive season, and is available from Lucy Rose for just £10.50.  All of Zoya's polishes are vegan friendly and free of the big three toxins, and Lucy Rose also stock many other shades, which can be found here.
BM Beauty Mineral Eyeshadow in 'Emerald Showers'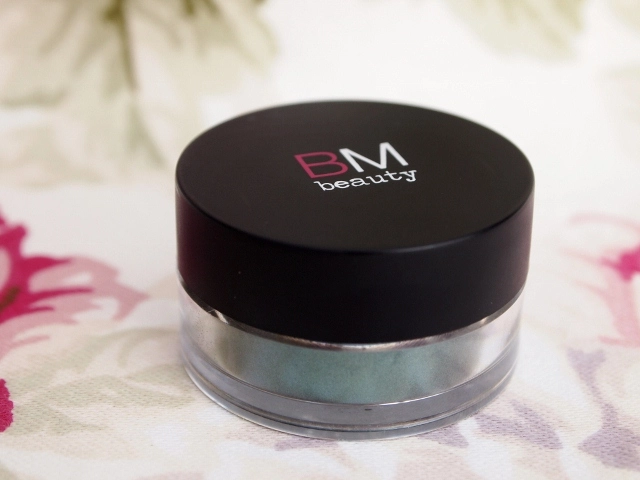 I have used BM Beauty mineral eyeshadows before and have always been impressed by their amazing quality, so when I received this I was a very happy bunny indeed.  BM eyeshadows are oil-free and consist of 100% natural ingredients.  They are also completely cruelty free, and as such are approved by BUAV and are suitable for vegetarians and vegans.  Don't you just love it when you find make up which is ethical AND high quality?  I know I do!
As with all BM Beauty packaging, the eyeshadow comes in a sleek and simple 2g pot, which allows for mess-free, easy application.  The shade I was sent is Emerald Showers, which you can see below.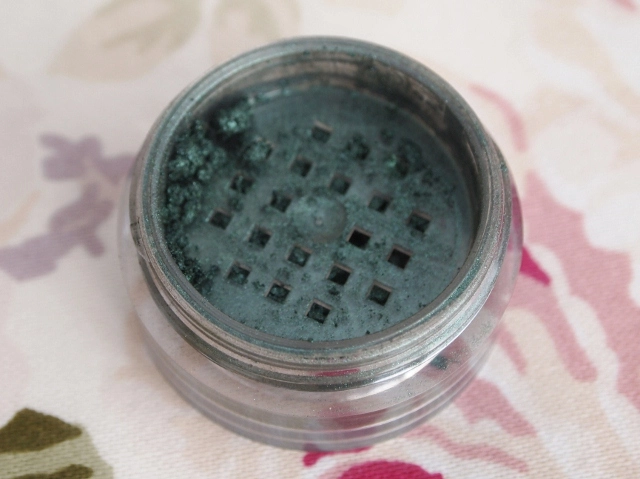 Emerald Showers is exactly what it says on the tin…  A gorgeous shower of emerald shimmer soft mineral powder.  In the pot it looks quite dark, and it does have a grey undertone to it, but once on the skin it really comes alive with sparkle and bold, deep green colour.  The powder is extremely highly pigmented, so a little goes a long way.  It only takes a little dab and a sweep over the eyelid for a striking shadow look, which is represented in this swatch: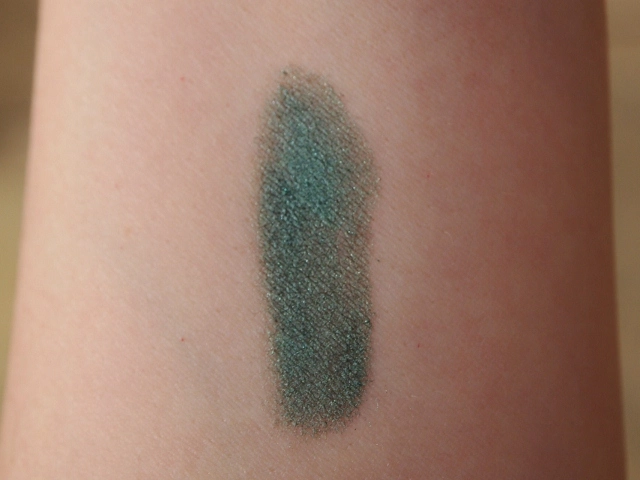 I wanted to try something a little different with Emerald Showers, to see whether it can be used as more than just an eyeshadow, and I was pleased to discover that it can!  All I did was mix a little bit of powder with a few drops of water to create a gel eyeliner, which I then applied above my top lash line with an eye liner brush.  This was the final result…

The gel dried very quickly which meant I had to make up a small batch for each eye, but that didn't bother me as I only used a tiny bit anyway.  I found it really easy to mix the right consistency, which made it even easier to apply.  It glided straight on like any gel liner, and it went on really neatly as well so it was easy to create a fine flick at the outer corner of each eye!  It didn't smudge either because of the quick drying time.
I must admit, I was slightly worried that it wouldn't last that long, but I was proven wrong.  The eyeliner looked just as bold and neat after ten hours as it did when I first applied it, and only when I took my make up off (after fourteen hours of wear and no touch-ups) did I notice any fading.  AMAZING!  Using this as an eyeliner is a great look for the day time when you want a burst of colour, but not a daring shadow look, and I will definitely be trying this again!
You can view Lucy Rose's full range of BM Beauty mineral eyeshadows here, and they cost £7.00 each, which is great value.  Lucy Rose also stock many other BM Beauty make up products, which can be found on the make up section of their website.
Lucy Rose won the 'Best Retail Website 2011′ award at the Natural Beauty Awards last year, and I'm inclined to agree that  they really are the best online natural beauty product shop that I have ever come across.  Not only do they sell top quality products, but they also provide outstanding customer service which goes above and beyond what you'd expect.  They love their freebies, and you get great deals left, right and centre on their website!  They offer FREE postage on all UK orders, FREE samples with every order, FREE live help and expert beauty advice, and you can even join their beauty club to earn reward points with each purchase.  I also noticed that they're currently offering free gifts with some items, and 5% off your first order if you sign up to their newsletter too, which is also a bonus.
If you want to discover Lucy Rose's wide range of products for yourself and put together a beautiful festive look, you can have a browse of their website here.
Happy Shopping!
Naomi x
*I was sent the above two products by Lucy Rose for review purposes.  All thoughts and opinions expressed are honest and my own*
1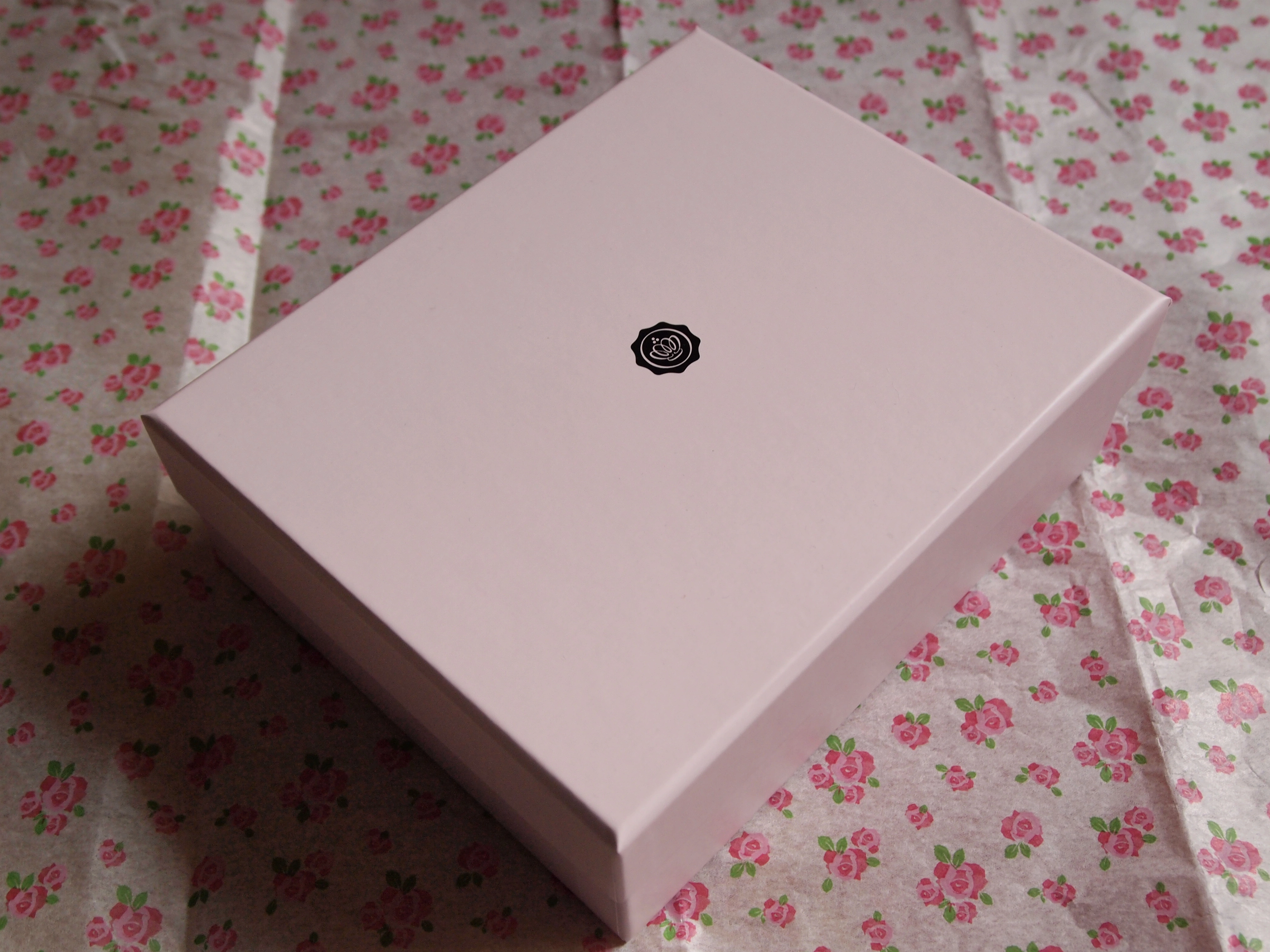 Over the last few months I've been hearing a lot about GlossyBox, both positive AND negative (but mostly positive), so when I discovered a 50% off voucher online earlier this month, I decided to order a box so I could see for myself what all the fuss was about!  The voucher meant I could get my first GlossyBox for just £5 (with £2.95 postage), compared to the usual subscription price of £10 per box.  As I kept seeing on Facebook and Twitter, the February boxes were posted last Friday, so I was very excited when I heard the postman at the door this morning!  And indeed, he had my box for me 😀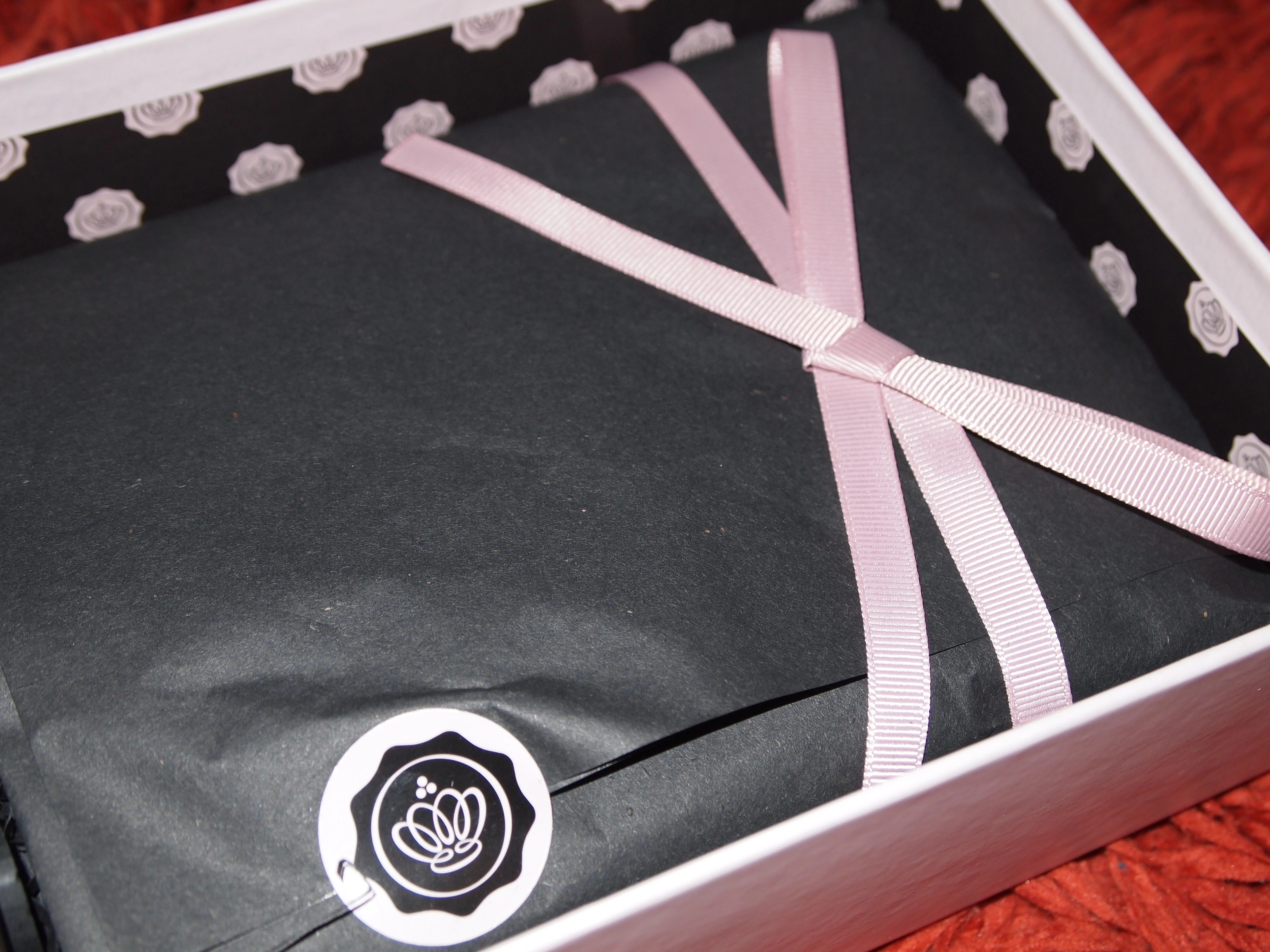 My initial thought was that the box was very pretty, with its trademark pale pink outer and fancy inner packaging – even the postage box that the GlossyBox came in was cute!  I couldn't wait to open it up and find out what goodies I had been sent, and this is what I found…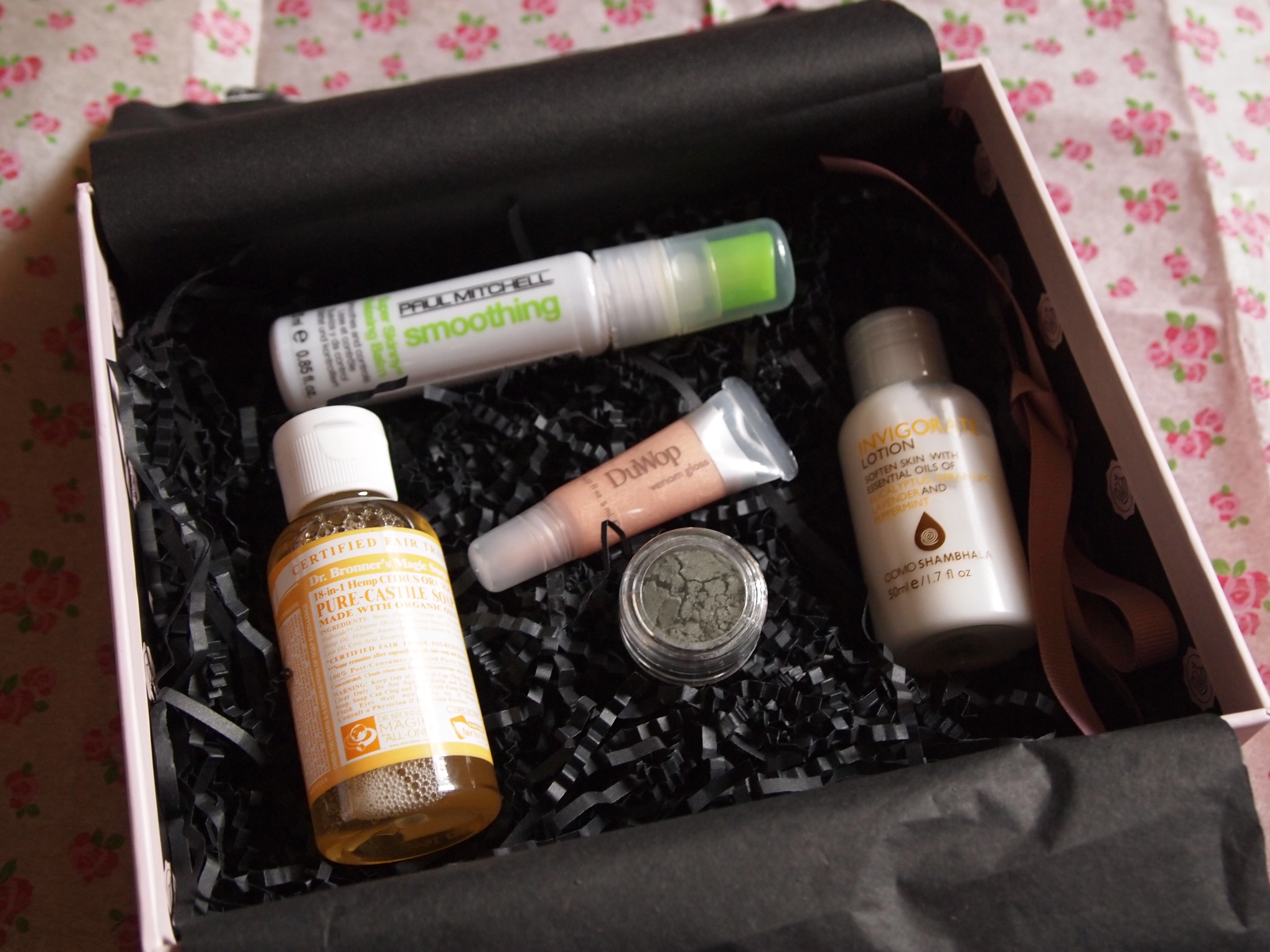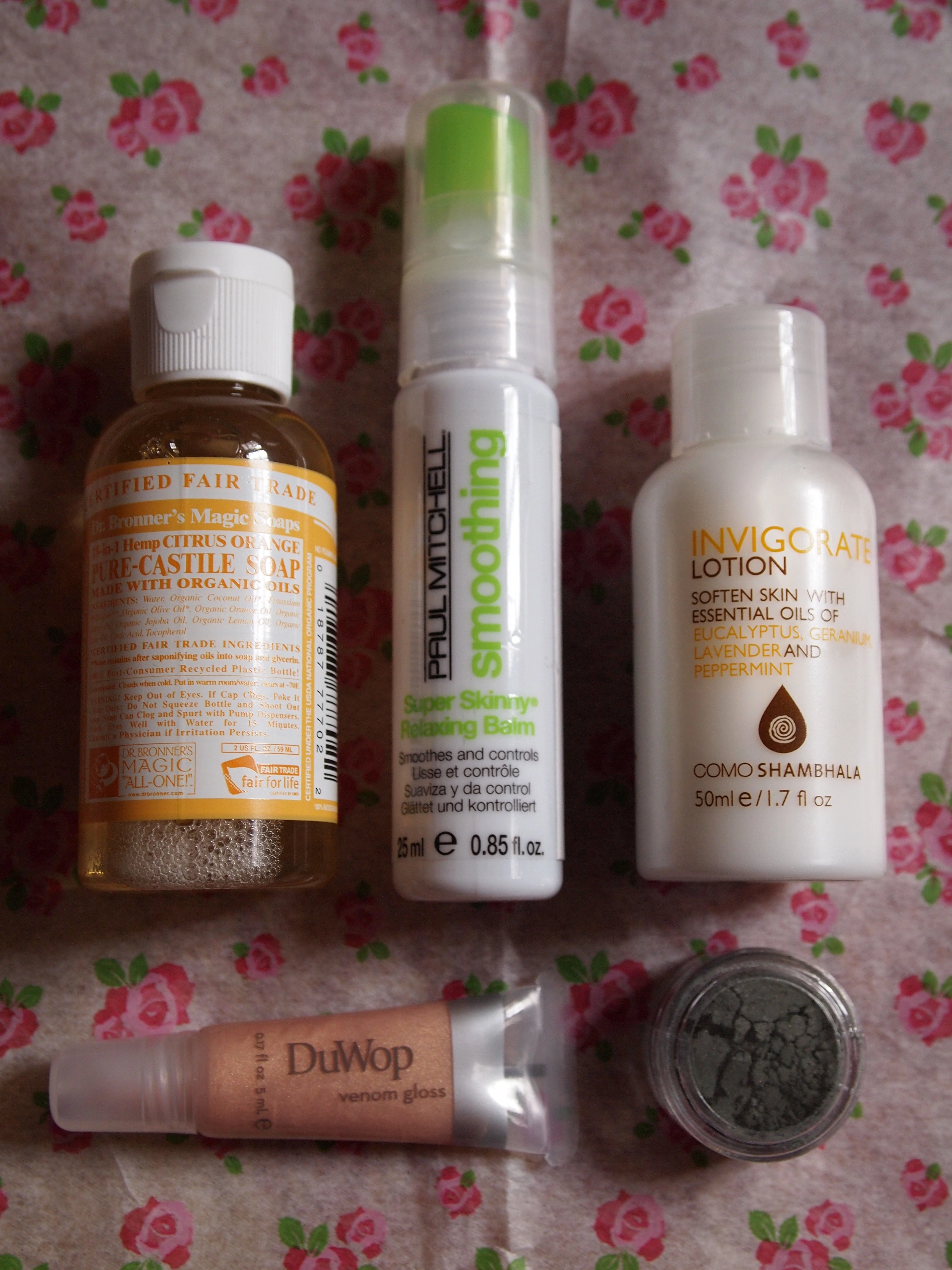 L-R (Top)
Dr Bronner Magic Liquid Soap 59ml (Full Size – 59ml – £1.99)
Paul Mitchell Super Skinny Relaxing Balm 25ml (Full Size – 200ml – £15.25)
Como Shambhala Invigorate Body Lotion 50ml (Full Size – 300ml – £20.00)
L-R (Bottom)
DuWop Venom Gloss in Buttercup 5ml (Full Size – 10.4ml – £16.00)
BM Beauty Pure Mineral Eyeshadow in Storm Cloud 1g (Full Size – 2g – £7.00)
At first I wasn't that impressed by the contents of the box, but I decided to give them all (but one) a try this morning and my opinion soon changed about some of the products…
Dr Bronner Magic Liquid Soap
This was the only full size item in the box and the only item that I haven't tried so far, mainly because I'm not 100% sure what to do with it!  The bottle says the soap is an 18-in-1 soap and I'm looking forward to researching this and finding out how it can be used.  The soap sample I was sent is Citrus Orange scented and it smells really lovely and vibrant.  The product is a mix of organic oils and essential oils, and the natural nature of this soap really appeals to me as I have fairly sensitive skin so harsh chemicals are a no-no.  I'll definitely be using this one in the not too distant future.
 Paul Mitchell Super Skinny Relaxing Balm
The Paul Mitchell Super Skinny Relaxing Balm (does anybody else keep accidentally saying 'Phil Mitchell' or is that just me?) is designed to smooth wavy, frizzy hair, which is great for me as mine has a slightly natural wave to it.  The balm is quite thick and smells a little bit like Calpol, which I think is quite nice but others may argue otherwise!  I used a few pumps of this on my hair this morning whilst it was still damp, then dried and straightened it as usual.  The serum definitely made my hair easier to straighten and left it looking a little sleeker, but I think next time I'll use a bit more product as I have quite long hair.  Hopefully over time it will help even more.
Como Shambhala Invigorate Body Lotion
This is by far my favourite item from February's GlossyBox!  I used this after my shower this morning instead of my usual moisturiser and it is luscious!  The lotion is infused with natural oils (Eucalyptus, Geranium, Lavender and Peppermint), and has an amazingly powerful, fresh scent.  The peppermint shines through which really wakes you up.  The lotion is gorgeously thick and sumptuous and rubs in like a dream.  Seven hours later, my skin still feels as soft as it did when I applied the lotion and the scent is still lingering.  This is such a great product and I may invest in the full size version.
 DuWop Venom Gloss in Buttercup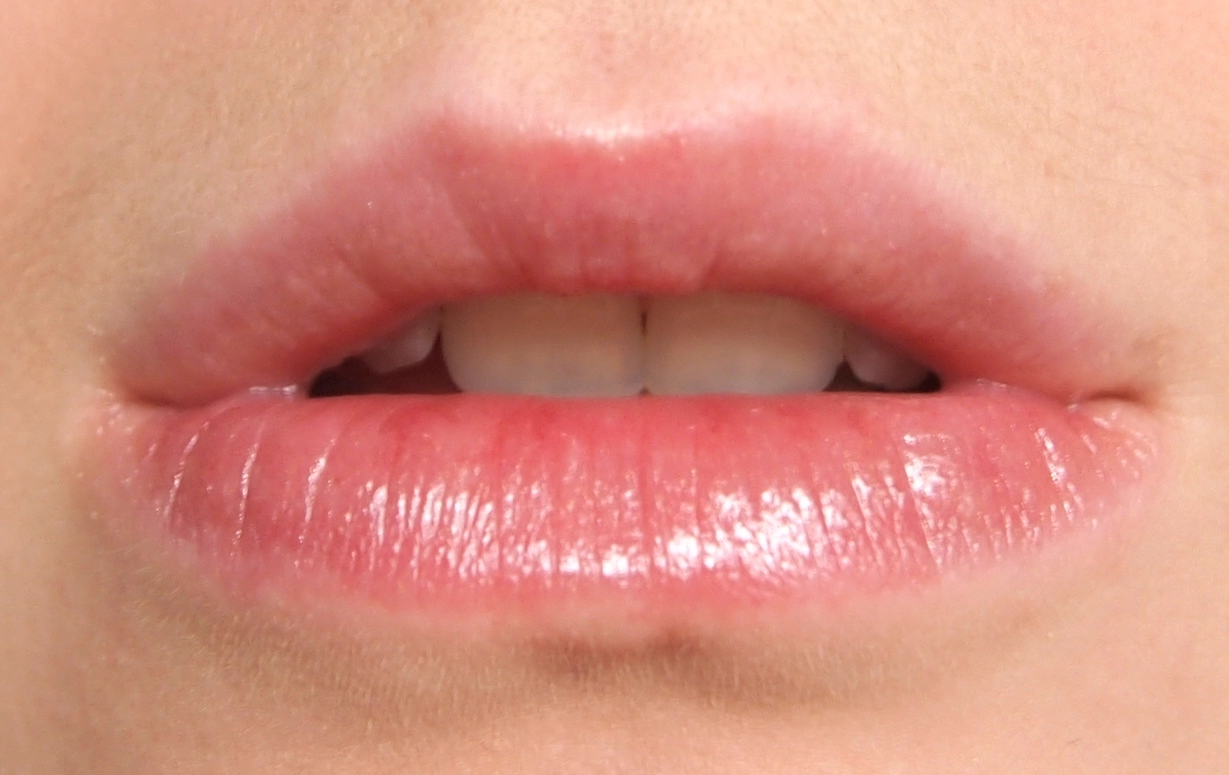 DuWop's Venom Gloss combines their famous lip venom with a tinted gloss to create a lip plumper which looks pretty.  I was slightly reluctant to try this as I have had reactions to lip plumpers in the past, but I went for it anyway (and I wish I hadn't!).  The 'Buttercup' shade is nice and naturally pink and the gloss smells absolutely yummy, almost like sweets with a hint of cinnamon!  The gloss is quite thick but applies well, but this is where my love for this product ends.  The 'tingling' sensation the GlossyBox flyer warned about was more of a cold sting.  I thought it would pass after a few minutes but it actually got worse to the point that it was painfully unbearable and I had to wash it off!  I don't think I'll be using this again, unless I rub a little over lipstick for a slight shimmer (although it will be coming straight off again if I have the same reaction).
 BM Beauty Pure Mineral Eyeshadow in Storm Cloud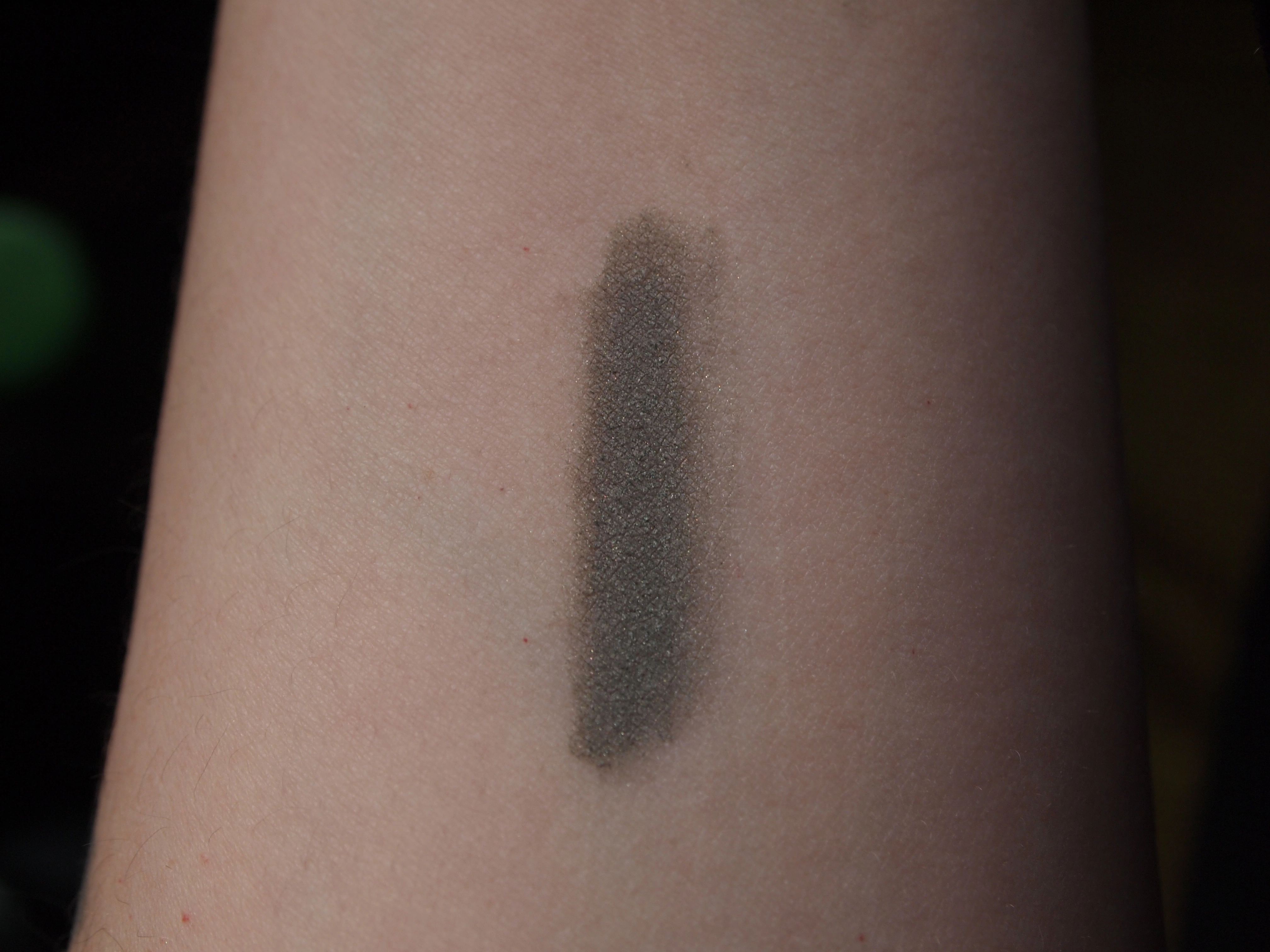 I'd been wanting to try some more mineral eyeshadows for a while so I was quite pleased to receive this, even though the sage green/grey shade isn't really my colour!  The shadow applies very smoothly and you really don't need much to build a bold look.  I really like the shimmer in this eyeshadow as it is quite subtle and adds a little depth to the darkness of the colour.  I may try and create some looks with this that suit me as I don't want to give up on it.
 Overall, I am fairly happy with my February GlossyBox as the hair and body products are right up my street, even if the make up ones aren't.  I don't think I'll be getting another GlossyBox, but it was nice to see what all the hype was about.  What did you get in your Glossybox this month?
Naomi x
PS. Please follow my blog if you enjoy reading my posts