Posts tagged
Cleansing
2
I was recently given the opportunity, by Lookfantastic, to review a product from the Elemis range – their Pro-Collagen Cleansing Balm.  Elemis is a brand that I constantly hear a lot of positive things about, but before this I had never used any of their products, so I was keen to give it a go, and I wasn't disappointed.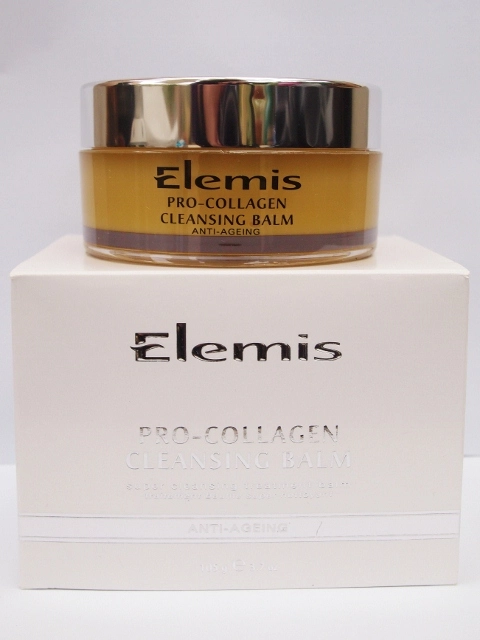 When I first received the cleansing balm, I was immediately impressed by the generous size of the product.  The pot is very large, and contains 105g of balm, and comes with a delicately soft cleansing cloth.  I can't say the packaging is anything special, but its simplicity is bang on trend.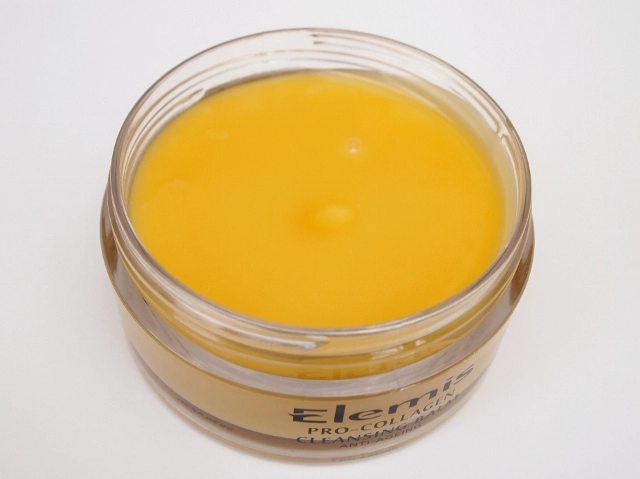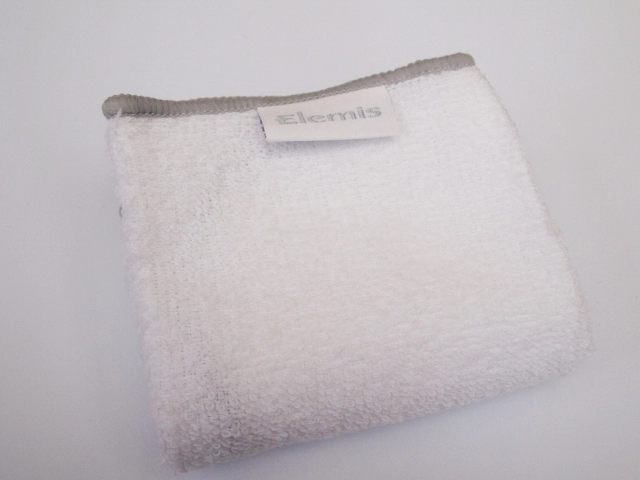 According to the Lookfantastic website, Elemis' Pro-Collagen Cleansing Balm is meant to 'dissolve make up, dirt and oil from your skin', as well as 'deeply cleanse, smooth and hydrate your skin, leaving you with a glowing complexion'.  The balm has a brilliant yellow colour to it, and is made up of a mixture of active natural oils, including starflower, elderberry and optimega, as well as rose and mimosa waxes.  On top of this, the balm is scented with calming lavender and chamomile, and it really does smell absolutely beautiful.
The key ingredients work as follows…
Padina Pavonica: A powerful anti-ageing active.
Elderberry Oil: Firms and plumps your skin.
Starflower Oil: Maintains the skin's moisture levels.
Optimega Oil: Improves skin hydration.
Mimosa and Rose Flower Waxes: Softens and comforts your skin.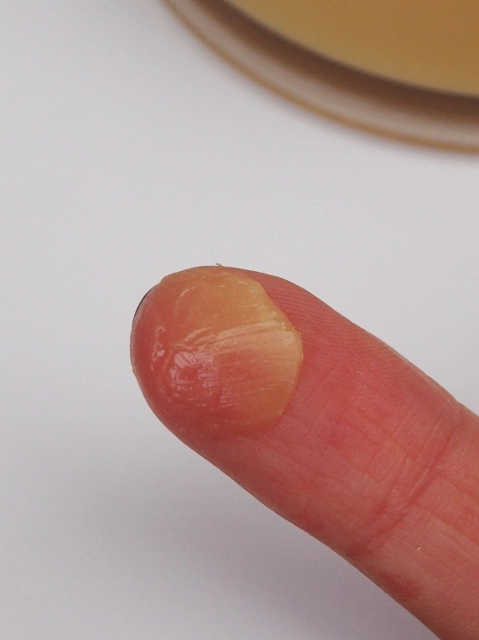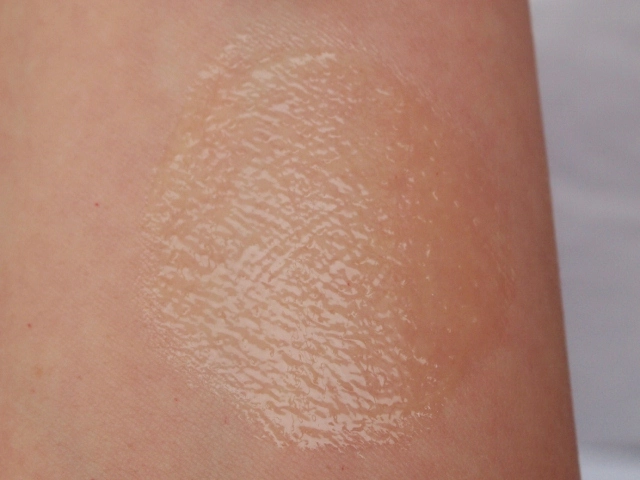 The balm also has an incredible texture which is soft and waxy, and is an absolute pleasure to use as it feels so luxurious.  It glides onto the skin effortlessly and massages in well, and as you rub the wax warms gently for an intense cleansing experience.  It's easy to use too – all you do is massage a generous amount of balm into your face, neck and chest, with moist fingertips.  You can then leave it on for a few minutes for deeper relaxation (this would be lovely during a pamper session in the bath), or wash it straight off using the cloth provided.  I find it's best to use the cloth when warm and damp, not soaking wet, as it makes it easier to remove the balm without making a drippy mess.
After use, I found that my skin felt slightly tight which worried me a little, but after a few minutes the tightness faded and my skin felt gorgeously soft, clean and refreshed, and looked far less dull.  I have sensitive combination skin on my face (oily T-zone and dry cheeks), and the balm seemed to balance my skin, hydrating the dry areas whilst lessening the oil, and it didn't cause any irritation at all, so it's ideal for all skin types.
Overall, Elemis Pro-Collagen Cleansing Balm gives a wonderful cleansing experience and feels like a real treat every time.  The huge pot means it will last for ages too, so the £39.50 pricetag is worth every penny.  If you'd like to try it yourself, it is available here from Lookfantastic, and postage is FREE on all orders, worldwide.
Naomi x
*This Elemis Pro-Collagen Cleansing Balm was sent to me by The Hut Group/Lookfantastic for review purposes.  All opinions expressed are honest and my own.*
8
A few weeks ago I started to experience unsightly breakouts on my face, particularly around my jaw line, and nothing I tried seemed to make them go away.  Even the medicated gels that my doctor prescribed did nothing but make my skin feel sore and dry!  So, when I received a set of face care products in the post from Purity Organic Skincare I didn't expect them to do much for me, but two weeks on my skin has improved more than I could have hoped.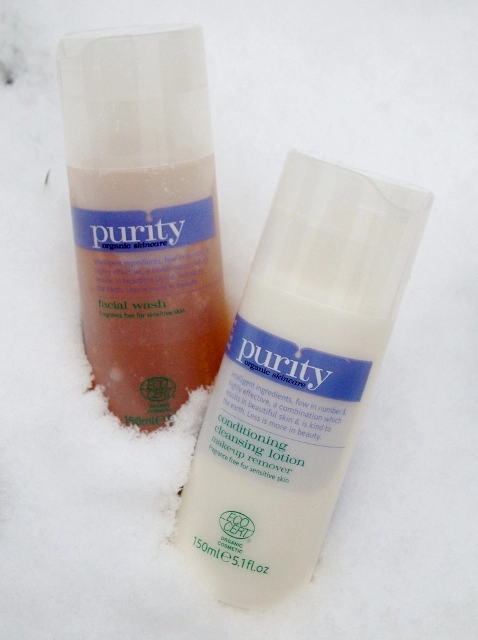 Purity Organic Skincare are a British brand who focus on using hard-working and sustainably grown ingredients to create gentle but effective skincare products, which are also affordable, using the tagline 'Less is more in beauty'.  Most of their ingredients are organic, and the brand is officially EcoCert certified, vegetarian and does not support animal testing, so they are all round skin, animal, environment and purse friendly – what more could you ask for?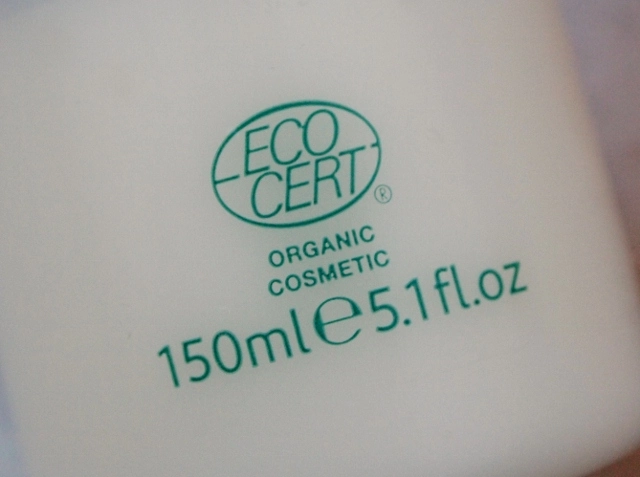 The two products that I was sent to review are Purity's Facial Wash and Conditioning Cleansing Lotion, which both come in Purity's characteristically simple packaging.  Here are my experiences of both so far…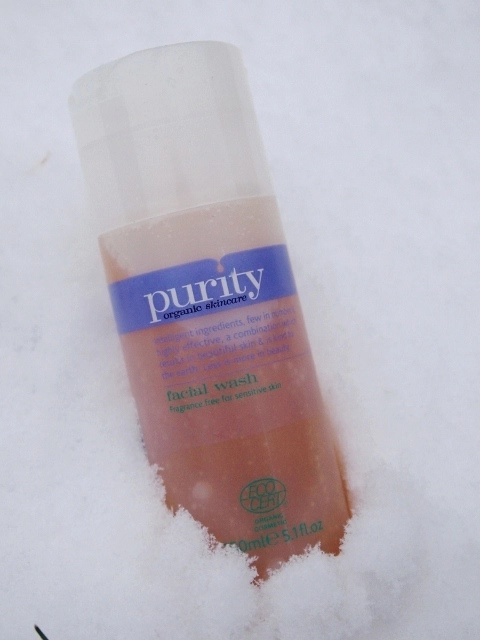 I use Purity's Facial Wash every morning whilst in the shower, and it adds a lovely bit of luxury to my morning routine.  The wash contains a mixture of natural ingredients, including sweet almond oil for moisturisation and aloe vera to soothe the skin, and is fragrance free so is suitable for sensitive skin, which is excellent news for me!  I find that the wash has quite an oily consistency, but if you rub a coin sized amount between your hands before use it warms up and develops into a light foam which is enough to cover your whole face, and feels gorgeously silky when massaged into the skin.  Despite the oil, the wash washes off with no trouble and leaves no greasy residue on the skin, and doesn't go the other way and dry the skin out either.  Rather, it leaves the skin feeling refreshed, clean and incredibly soft.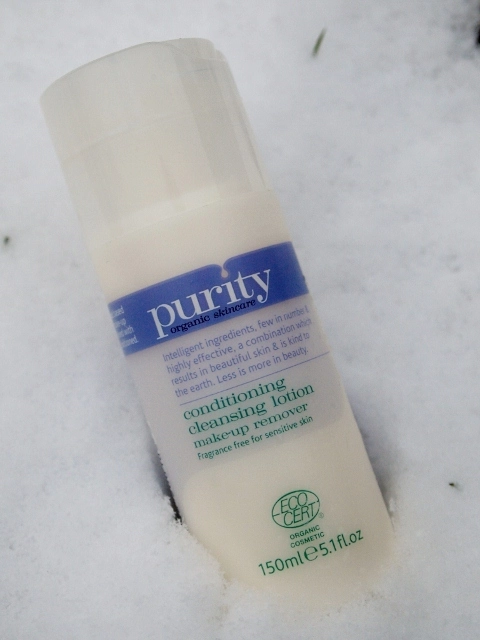 Every evening, before I go to bed, I remove my make-up using Purity's Conditioning Cleansing Lotion.  The cleanser has a creamy texture which acts as a moisturiser and, like the facial wash, has no fragrance.  The main ingredients derive from coconut and avocado oil which cool the skin, and were specifically chosen for their abilities to break down make-up and dirt.  To use, you just need to massage a small amount of the cleanser onto the face and neck before removing it with a clean cotton pad, and believe me when I say it does its job very well!  The cleanser I used to use never fully removed everything from my face, so when applying toner there would still be make-up coming off on the cotton pad, but this gets rid of everything in one go.  The only downside is that it can't be used to remove eye make-up, so I've had to continue using my usual one, but I would switch to Purity straight away if they did launch an eye make-up remover!
Combined, these two products have worked miracles on my problem skin.  I put the breakouts down to the overuse of scented products packed full of harsh chemicals which irritated my skin, and the gentle but effective ingredients in the facial wash and cleansing lotion have sorted that right out.  Though my skin still isn't perfect, it looks a LOT clearer and feels a lot smoother, which has seriously boosted my confidence.
Purity Organic Skincare's products are available online and in Superdrug stores across the UK, and are extremely affordable, ranging from £4.99 to £8.99 each.  I really can't recommend the brand highly enough as their products actually work and have sorted my skin out in no time at all – thank you, Purity!  I am definitely going to be repurchasing both the facial wash and cleanser, and will be investing in the moisturiser too.
Naomi x
*The Purity Organic Skincare Facial Wash and Conditioning Cleansing Lotion were sent to me by Purity Organic Skincare for review purposes.  All opinions expressed are honest and my own.*
0

This week's Friday Favourite is the wonderful Skinology Cleansing Lotion.  Since my teenage years I have been using cleansers to keep my skin clear, and over time I have tried many – some cheap and some expensive.  Skinology is one of the best I have ever used, and believe it or not, it only costs 98p in Wilkinson for 200ml!
Every night after I've removed my make up, and before I go to bed, I use this on my face and neck.  The cleansing lotion is quite delicate – it doesn't sting or dry your skin, but leaves it feeling very clean, and clear of daily dirt and traces of make up.  I find that I'm always left with a bit of a shine after using the cleanser, but it doesn't really matter as I go to sleep straight away after anyway!
I've had far fewer breakouts since I started using Skinology's Cleansing Lotion about a year ago, which is brilliant, and my pores are definitely smaller.
What is your go to cleansing lotion?
Thanks for reading!
Naomi x
PS. Apologies for the rubbish photo – I had to use a phone camera as I don't have my proper camera with me!