Posts tagged
Flavour Shots
2
February's Degustabox was one of my favourites in a good few months, with a good mix of the types of things that I enjoy eating, and new brands that I hadn't tried before, including Whole Earth, Laimon Fresh, and Lily O'Brien's.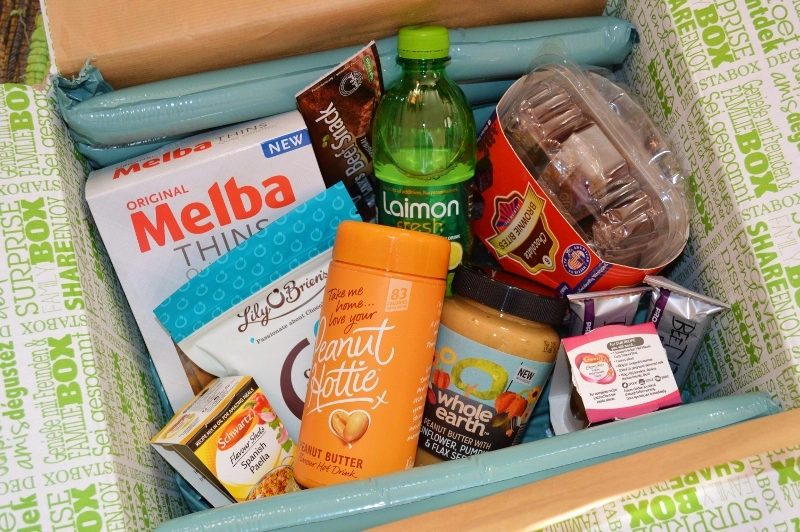 The box contained eleven individual items, with a total value of over £22.  Degustabox costs £12.99 each month, so this box saves you around £10, which is a pretty decent saving.
Also, this month I've decided to start rating each item of out 10, so you can get a better idea of which items stand out for me, and which don't.  Here are my thoughts on each item…
Lily O'Brien's Cocoa Cookie Crunch (RRP £2.60)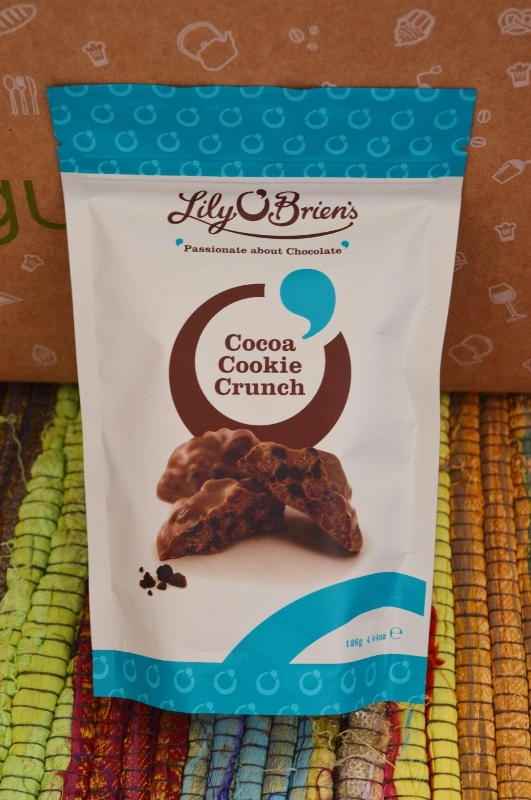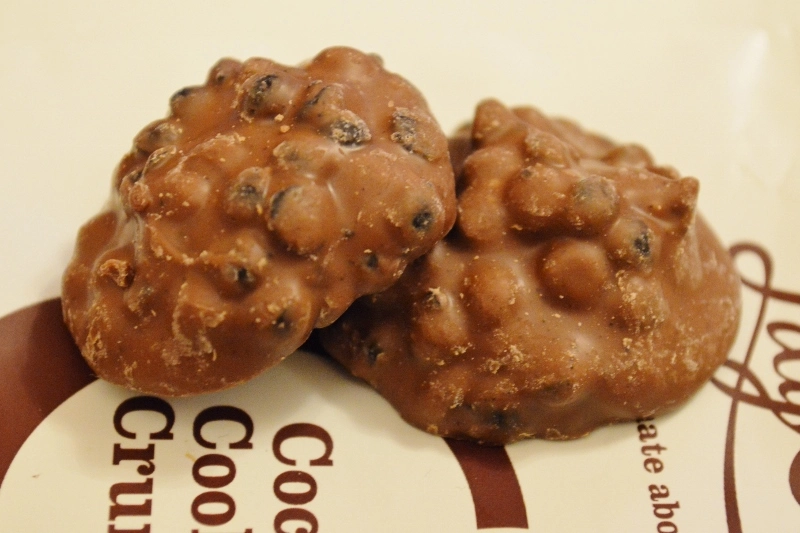 Lily O'Brien's is said to be Ireland's 'best loved chocolatier', and being a chocolate fiend myself, these were without a doubt my favourite thing in the box. The bag contains a generous amount of large individual chocolates, consisting of Oreo-like cookie pieces, coated in milk chocolate. The cookies have a fantastic crunch and a deep, rich cocoa flavour, offset perfectly by the sweetness of the milk chocolate. As you can imagine, the chocolates are very moreish, and it didn't take Charles and I long to finish the bag. I'd definitely purchase these again!
Rating: 9/10
Whole Earth Peanut Butter with Sunflower, Pumpkin & Flax Seeds (RRP £3.19)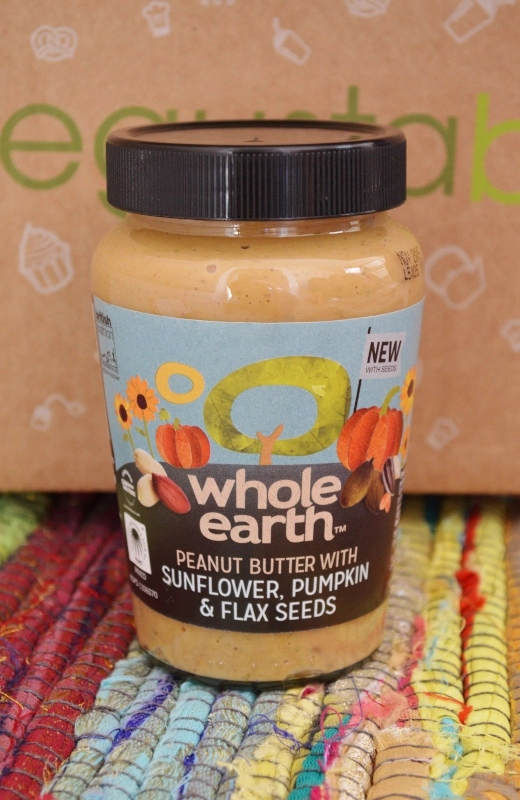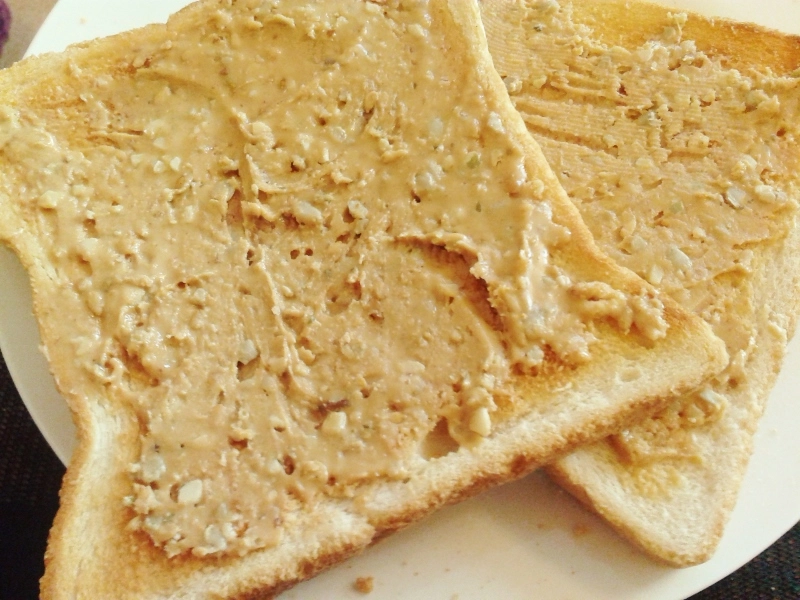 I adore peanut butter so this was another welcome addition to the box, especially as I've been eyeing up Whole Earth products in Morrisons for a while now. This particular peanut butter is new to the range, and contains a mix of sunflower, pumpkin and flax seeds, so is packed full of protein. The flavour is authentically nutty, as it isn't overloaded with salt and sugar like some cheaper peanut butters are, and the seeds add a pleasant crunch and flavour. Perfect on wholemeal toast for breakfast!
Rating: 8/10
Jack Link's Beef Snack (RRP £1.39)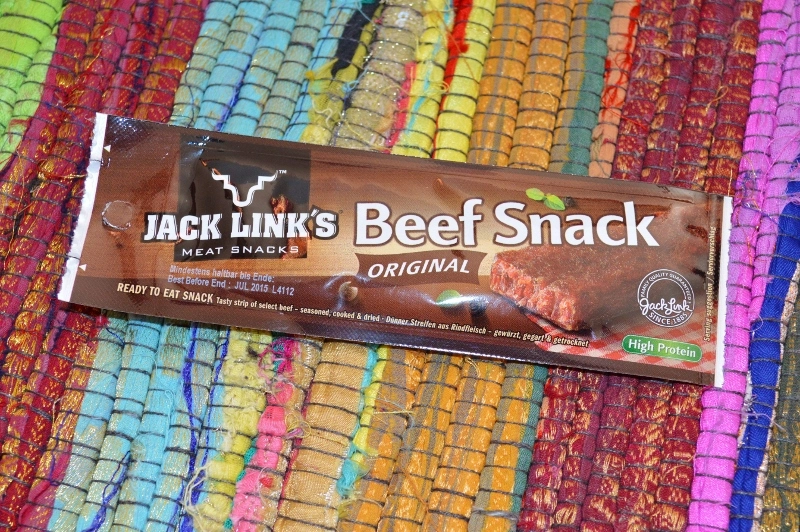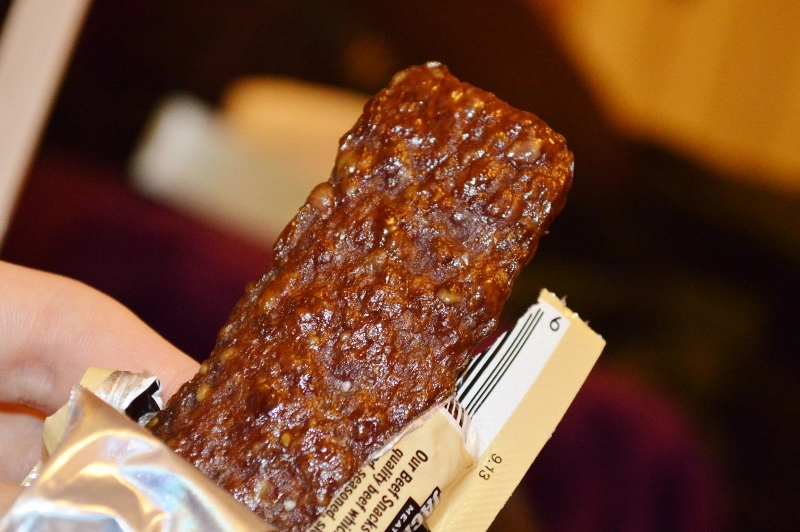 Jack Link's Beef Snack is a beef jerky style bar, which aims to be a healthy, on the go snack. Being vegetarian, this one got passed straight to the fella for him to try. As soon as he opened it I was hit with the spicy scent of heavily seasoned meat, and it also looked very greasy. Almost sweaty! Apparently the flavour was a bit of a let-down. Despite the smell of spices, he said it tasted fairly bland, and was far too chewy. Not a winner, even by the meat-eater's standards.
Rating: 4/10
Beet It Sport Pro-Elite Bar (RRP £1.85 each)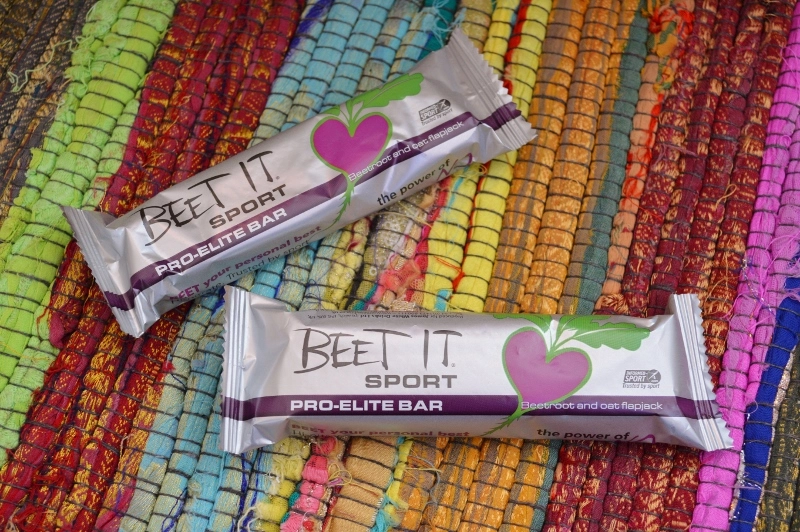 Beet It Sport's Pro-Elite Bars are predominantly made of oats and beetroot, and contain a high level of dietary nitrate, which is apparently used by universities around the world for research in lowering blood pressure and improving sport performance.  I'm yet to try these and I want to save them for when I start running again (which will happen once Spring kicks in, honest!)  I'm not sure I'd pay £1.85 for a single bar, but I'm definitely intrigued to see what these taste like.
Peanut Hottie (RRP £3.00)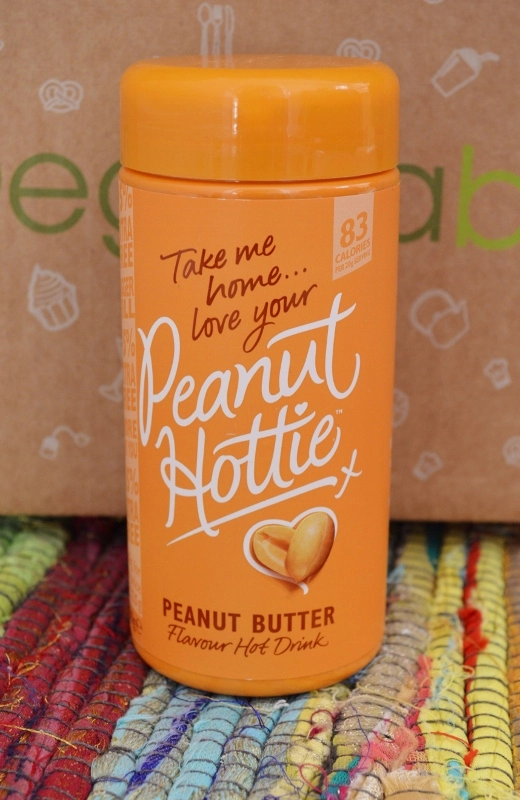 I tried Peanut Hottie fairly recently and enjoyed it, so was pleased to find this in the box.  Peanut Hottie is a peanut butter flavoured hot drink, and it's exactly what it says on the tin.  It's very easy to make, very much like a powdered hot chocolate, as you just need to add hot water.  When made up it looks like strong tea, but has a slightly salty, slighty sweet, nutty flavour, which is quite unusual for a drink.  I really like it, but a small mug is plenty enough, as it can get quite sickly.
Rating: 8/10
Laimon Fresh (RRP £1.99)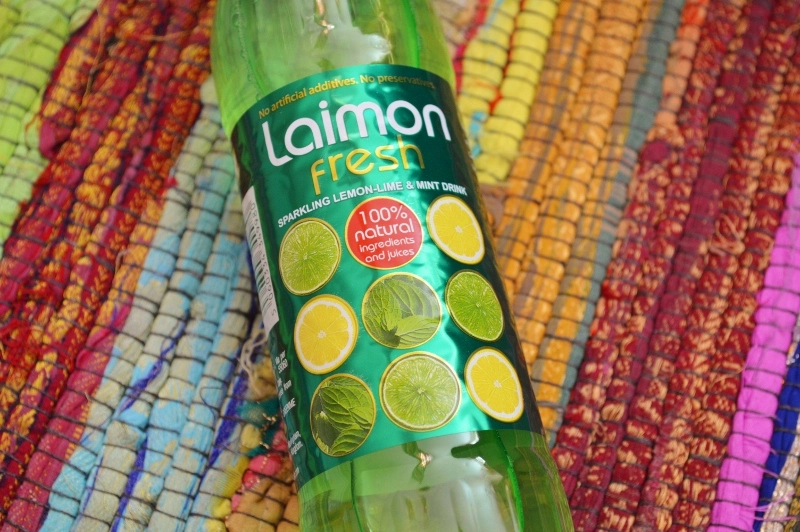 Despite having a name that sounds like washing up liquid, Laimon Fresh is honestly one of the nicest drinks I've tried in a long time. It contains a mix of natural ingredients, including fresh lemon and lime juices and mint, which combine to create something deliciously thirst quenching. The fruit juices are balanced perfectly – not too sweet and not too sour – but the star of the show is the authentic flavour of fresh mint. I drank this alone, but it would make a great base for a Mojito – something I'll definitely be trying in the summer!
Rating: 9/10
Schwartz Flavour Shots (RRP £1.40 each)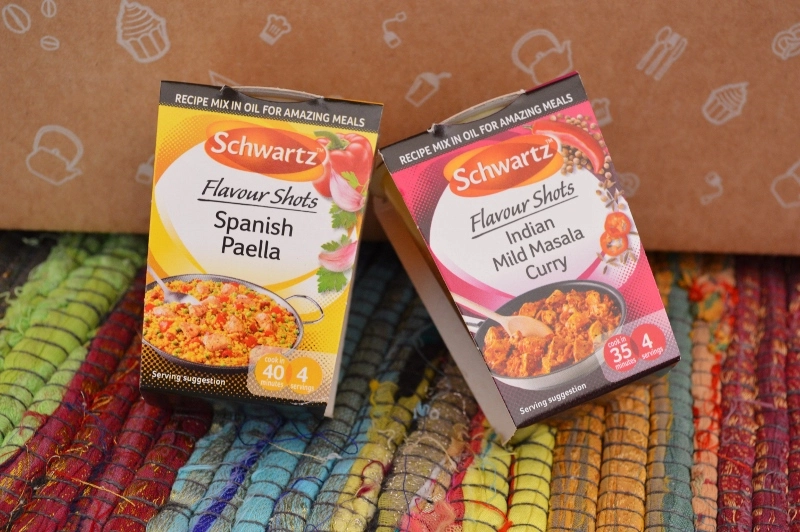 Schwartz Flavour Shots have appeared in a Degustabox before, and make for quick and easy delicious meals. Each shot contains a mix of herbs and spices, as well as sunflower oil, and are used to form the flavour base of a tasty dish.  The Masala shot has a fantastic blend of spices which are full of flavour, and not too hot. I used Quorn chicken in my curry, and combined the shot with chopped tomatoes and milk, as suggested on the packaging, and it tasted great. A big thumbs up from me.
Rating: 8/10
American Muffin Company Chocolate Brownies (RRP £2.50)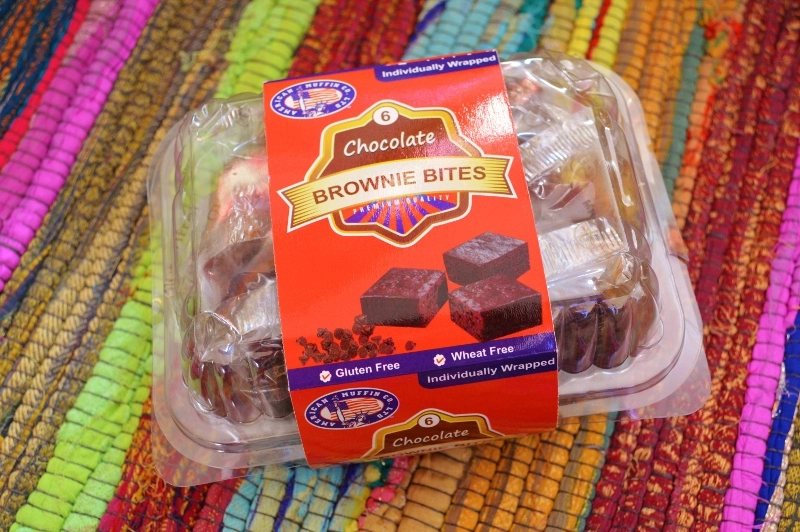 American Muffin Company has created a range of gluten-free cakes and brownies, and I was lucky enough to receive the exact item I would have chosen in store – the brownies. The tub contains six individually wrapped brownies, and though the texture is more cake than brownie, they are incredibly yummy. The cake is thick and moist, and the cocoa and chocolate used is very rich, which gives them a high quality flavour. Perfect as an afternoon treat with a cup of tea!
Rating: 8/10
Melba Thins (RRP £1.39)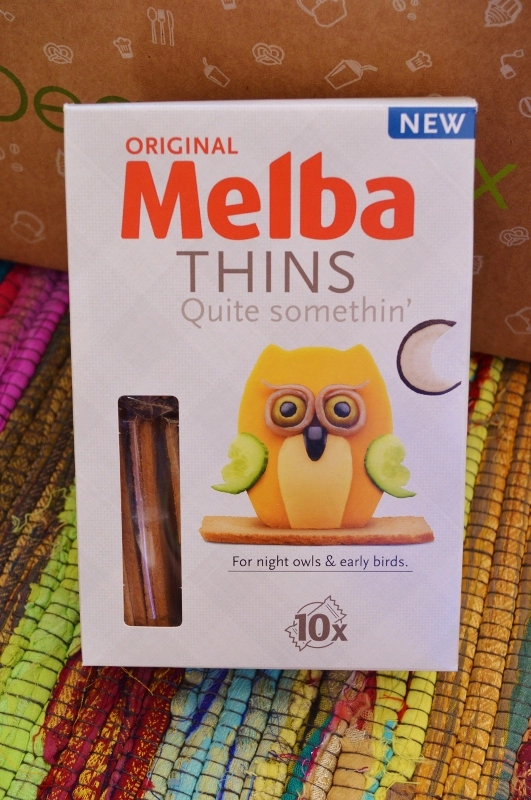 Melba Thins aren't the most exciting snack in the world, but they are versatile, and work well with a variety of toppings.  As the box says, they're great for 'night owls & early birds'.  For an evening snack they're fab with cheeses and pickles, and for breakfast or brunch they're lovely with sweet spreads, such as jam or chocolate spread.  I like the fact that the thins in this pack come in generously portioned individual packets, as they can also be taken in lunch boxes to work.
Rating: 6/10
If you fancy giving Degustabox a go yourself, you can get a £3 discount by entering code 2S7LB at the checkout.  You can also follow Degustabox on Twitter and Facebook for more exclusive offers.
Naomi x
PS. You can check out the rest of my Degustabox reviews here.
*This Degustabox was sent to me for review purposes.  All opinions expressed are honest and my own.*
1
It's been a while since I last reviewed a Degustabox, so today I thought I'd share with you my thoughts on the Winter edition.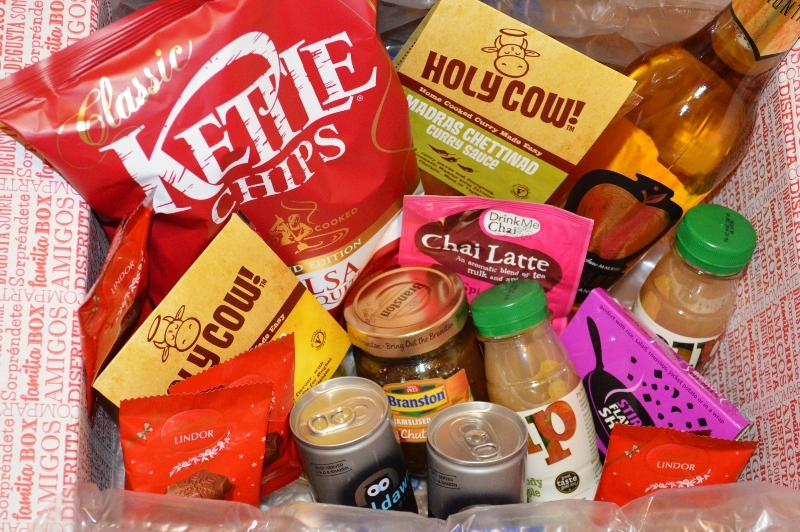 The Winter Degustabox, received in November, included eight brands, and fifteen individual items, with a combined value of £20.94.  Each Degustabox costs £12.99, so this one saves you almost £8.00.
Lindt My Melting Moment (RRP £0.65 each)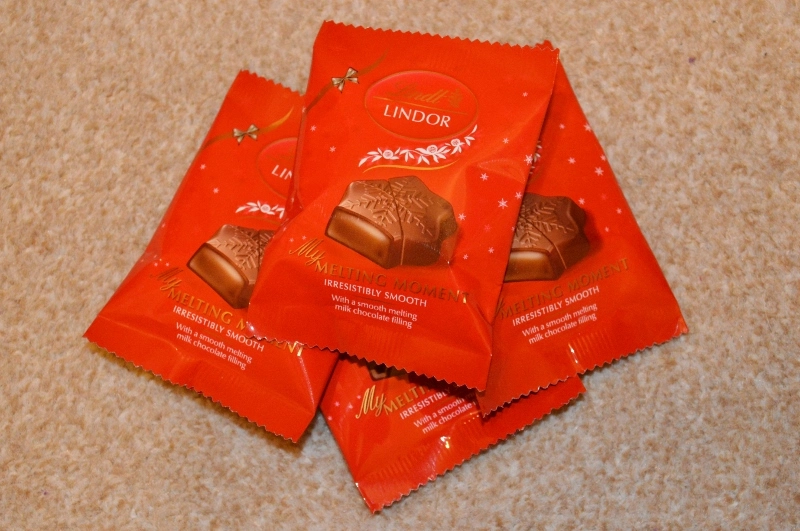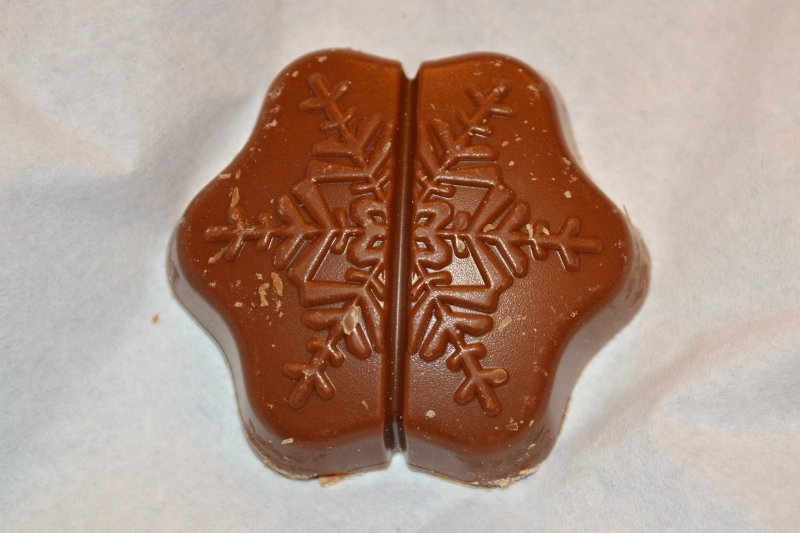 Once again I was pleased to see a Lindt Lindor treat in the box, this time in the form of five Melting Moments.  As usual, they taste delicious, are a good size, and have the same smooth and creamy texture that I love from Lindor.  They look great too, with a lovely snowflake shape and pattern.  One thing disappoints me though…  Considering this is a Christmas treat, I would have liked to see Lindor incorporate a festive flavour.  Ginger perhaps, or cinnamon, or even mincemeat!
Kent's Kitchen BBQ Flavour Shots (RRP £1.85)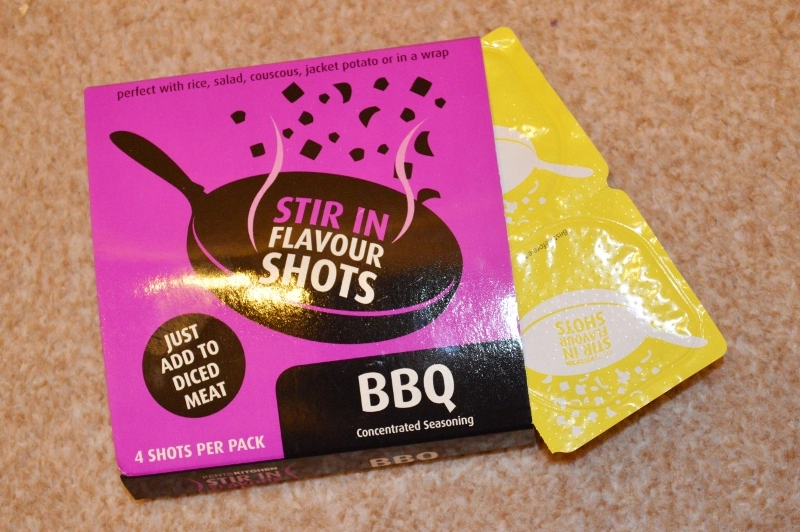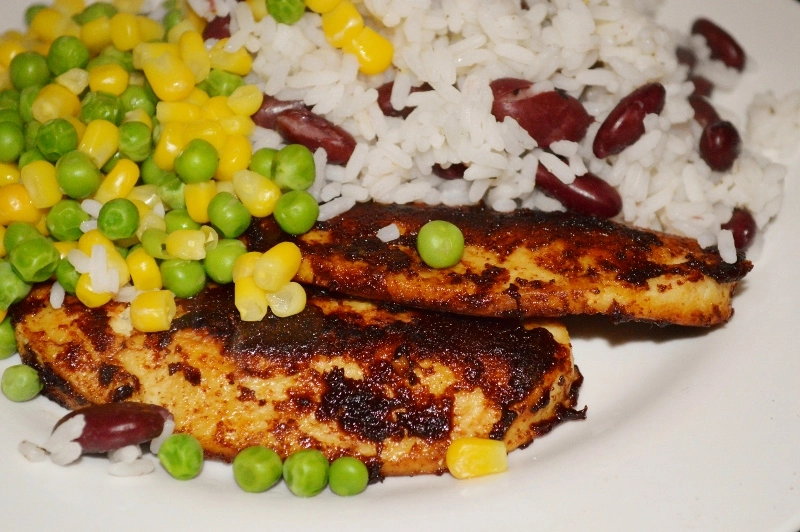 These BBQ Flavour Shots by Kent's Kitchen are one of my favourite items in the box this month.  The pack consists of four little pots of concentrated seasoning, which just needs to be stirred into meat a minute or two before serving.  I've used a couple of these so far, both with Quorn fillets, served them with rice, kidney beans and veg, and they are delicious.  The BBQ seasoning is intense, with a smoky but sweet flavour.  They make for such a quick and easy meal too, which is just what I want after a long day at work.  At £1.85 I'd definitely buy these again, and I'd like to try the other flavours too.
Cool Dawn Recovery Drinks (RRP £1.49 each)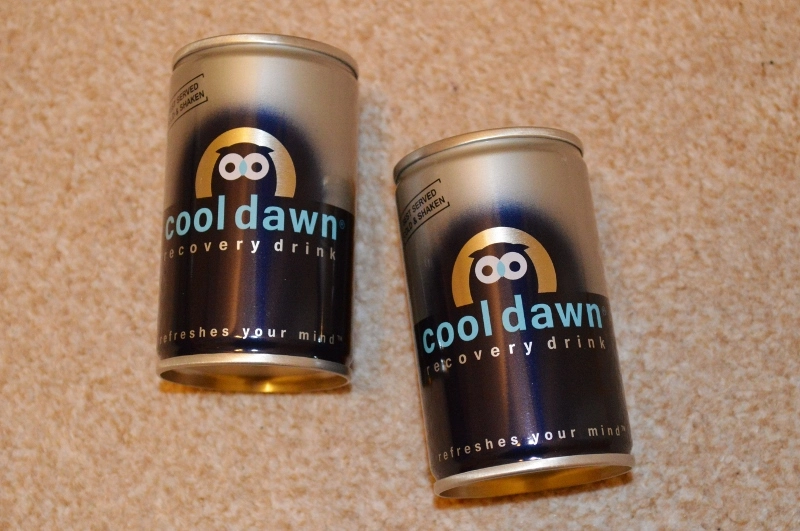 I'm not much of a drinker, so I haven't actually tried these Cool Dawn Recovery drinks.  They're herbal detox drinks which are supposed to prevent and cure hangovers, by drinking one before bed, and one in the morning.  They aren't carbonated, and contain no stimulant ingredients, and though the citrus and liquorice flavour sounds intriguing, I'm not sure it's a combination I'd enjoy the morning after a night of drinking!
Montano Cider (RRP £2.79)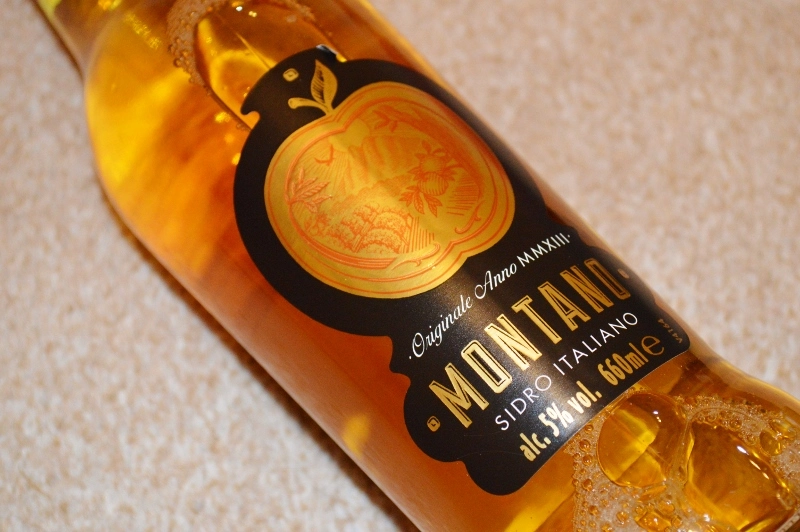 Montano Cider is an Italian cider made from apples grown in the foothills of the dolomites.  Apparently, 'these orchards are the highest in Europe enjoying fresh mountain air and over 300 days of sunshine each year.  The result is a golden, elegantly sparkling, medium-dry cider with a refreshing, crisp finish'.  Sounds wonderful, doesn't it?  I'm not the biggest fan of cider, but this one sounds that little bit more refined, so I may give it a go when the time is right.
Kettle Salsa & Mesquite Chips (RRP £2.19)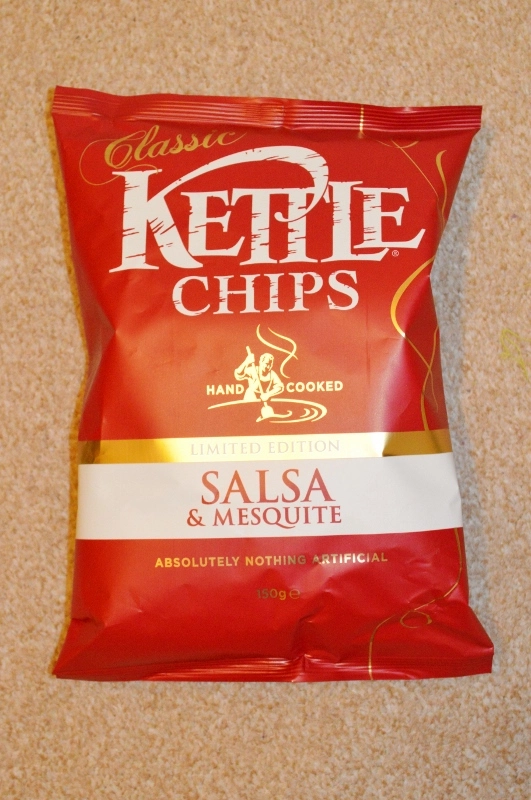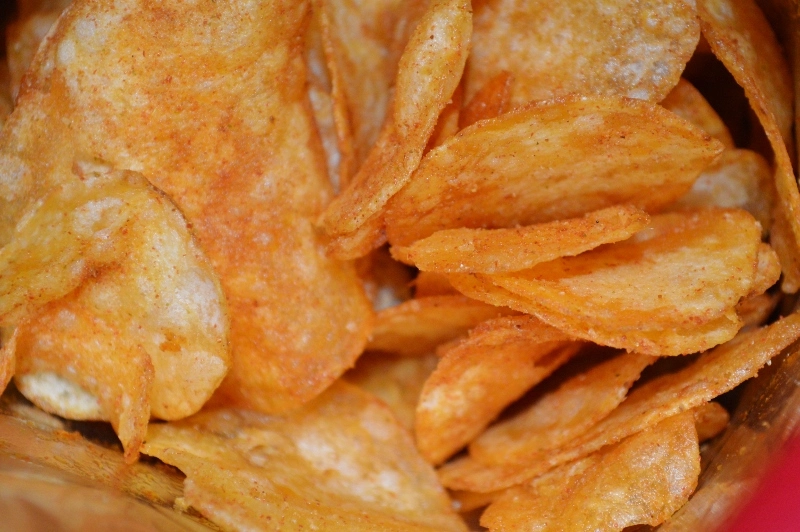 Kettle reintroduced two old favourites as a limited edition over Christmas – Stilton & Port, and Salsa & Mesquite, which is the flavour I received in my box.  This was one of the original Kettle flavours way back in 1988, so it was nice to try a blast from the past.  As you'd expect from Kettle, the chips themselves are thickly cut, pleasantly crunchy, and the flavour is strong.  The salsa flavour shines through, and tastes very authentic, which makes these crisps oddly refreshing, if that's even possible!
Pip Organic Cloudy Apple Juice (RRP £1.50 each)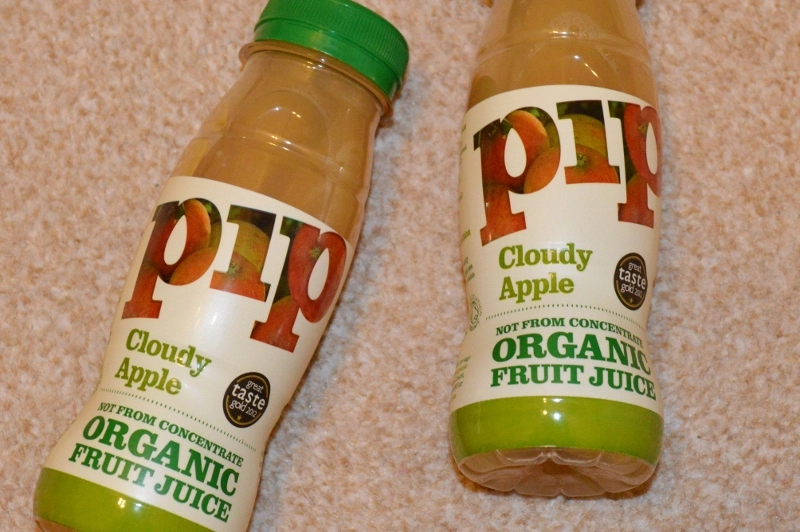 Pip Organic is a family run company based in London, which specialises in organic juices and smoothies.  In my box I received two small bottles of Cloudy Apple juice, which are the perfect size for lunch boxes.  The juice is made from 100% fruit, with no added sugar, water, preservatives or additives, and it shows.  The juice is thick, and has the sweet, sharp flavour that you get when eating an apple – very different to your bog standard supermarket juice.  However, at £1.50 for a small bottle, they seem rather expensive, and I'm not sure I'd pay that myself.
Branston Caramelised Onion Chutney (RRP £1.50)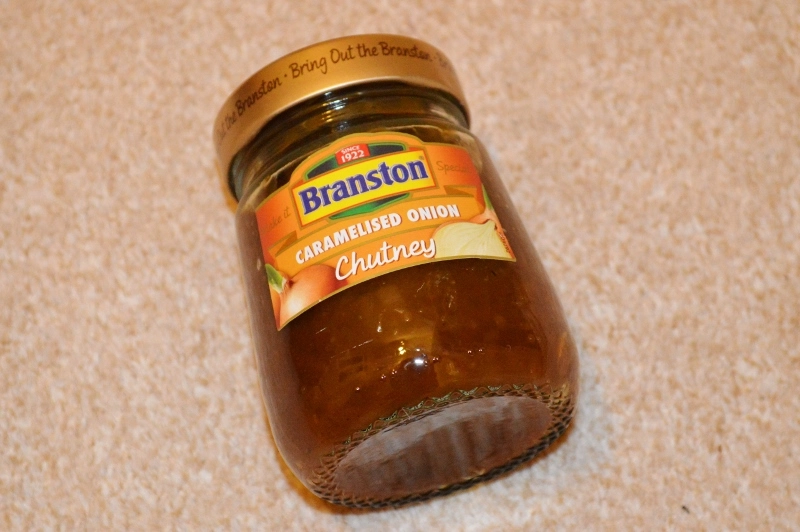 I planned on saving this new Branston Caramelised Onion Chutney for Christmas, but I ended up using it for packed lunches instead.  The chutney has a lovely sweetness to it that goes well with a variety of cheeses.  I tried it with a subtle, creamy Double Gloucester, and a strong, sharp Cheddar, and it complimented both.  I have plans for this chutney as I want to use it in tartlets with goats cheese, so check back in the future for a recipe post!
Holy Cow! Curry Sauces (RRP £1.69 each)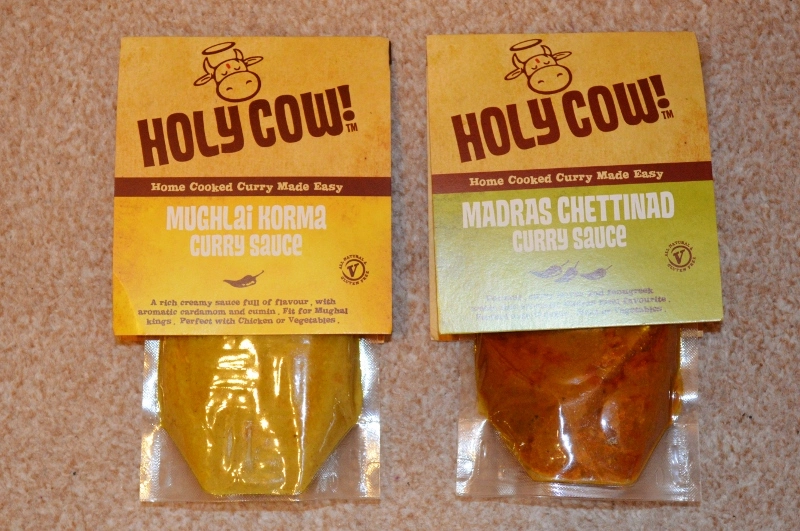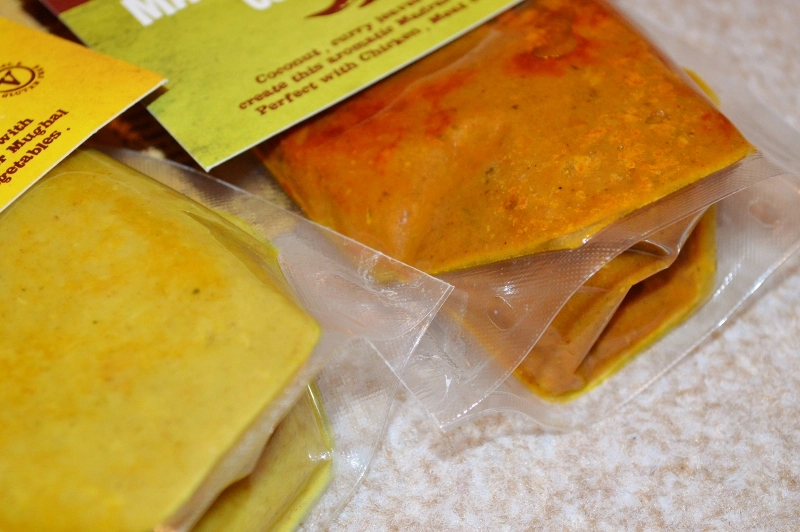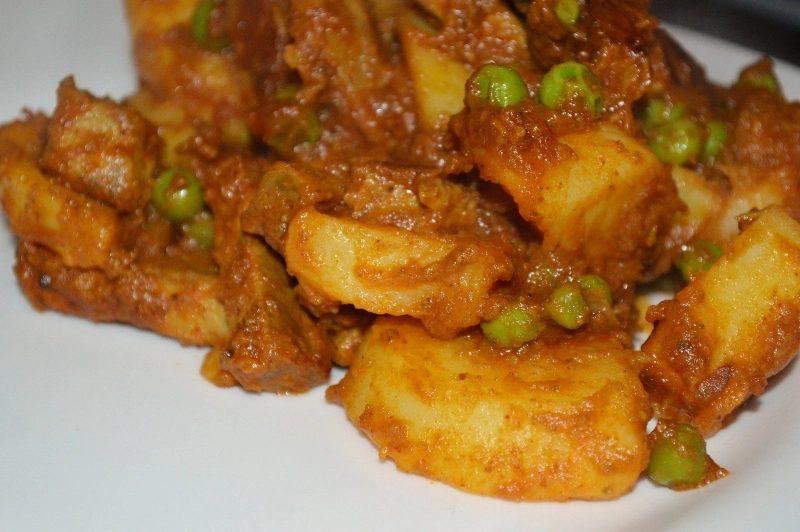 Last but not least I received two Holy Cow! Curry Sauces – a Mughlai Korma, and a Madras Chettinad.  I'm yet to use the Korma, but I tried the Madras and it was incredibly tasty.  The sauce has a tomato base, but it's the coconut, curry leaves and fenugreek that gives it a unique flavour.  The sauce is very hot, but the combination of the Indian spices with the coconut is out of this world.  It's really easy to use too – just snip open the packet and pour into the pan with your meat and veg a few minutes before serving!
Overall, the Winter box is another impressive offering from Degustabox.  If you'd like to try Degustabox yourself, you can get £3.00 off your first box using the code 'XI4CK'.
Check back soon for my review of the December Degustabox!
Naomi x
PS. You can check out the rest of my Degustabox reviews here.
*This Winter Degustabox was sent to me by Degustabox for review purposes.  All opinions expressed are honest and my own.*