Posts tagged
Graduation
0
A couple of weeks ago I noticed on Twitter that canvas printing company CanvasDesign were looking for bloggers to review one of their canvases.  I immediately got in touch as I'm hoping to move in with my fiancé soon, and am currently looking for nice things to hang on our walls, and this seemed like the perfect opportunity!  CanvasDesign were happy to send me a canvas, and I knew exactly what I wanted it to have on it…  My favourite photo of my fiancé and I taken at our recent Masters graduation.
CanvasDesign asked me to send them a high quality image (around 500KB), so I did, and within 48 hours the canvas was on my doorstep.  I have to admit, I was VERY surprised when I received the canvas as the packaging was HUGE, which I wasn't expecting, and I was lucky enough to be sent a massive 30″ x 20″ canvas.  And it is beautiful.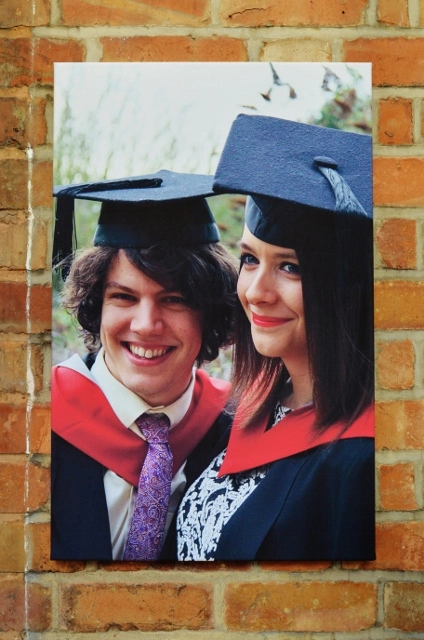 The quality of the canvas is very high as it is made from 100% cotton, and it comes on a solid, sturdy pine frame.  The back is also nicely finished, and looks incredibly neat and professional, and the image hasn't suffered at all from being enlarged.  Rather, it looks clear and vibrant.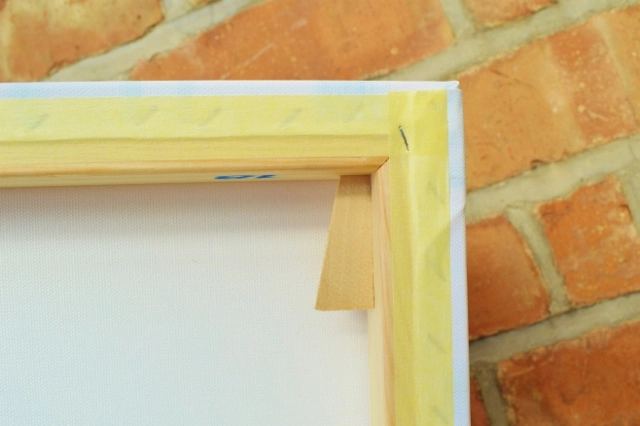 A portrait canvas of this size usually costs just £29.99, which is ridiculously cheap, especially considering the cost of graduation photography prints!  It was well over £50 for a standard pack at my graduation, which I couldn't afford, so I'm so pleased that I now have this memento of the day.  So, if you have a relatively good camera, and a friend or relative who's good at photography (my dad took this picture), using CanvasDesign would be a great way to save money on photos of special events.  Imagine how lovely a wedding, anniversary or new baby photo would look on a canvas like this!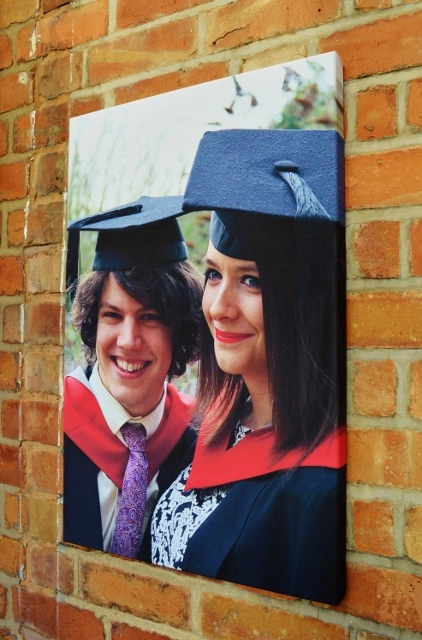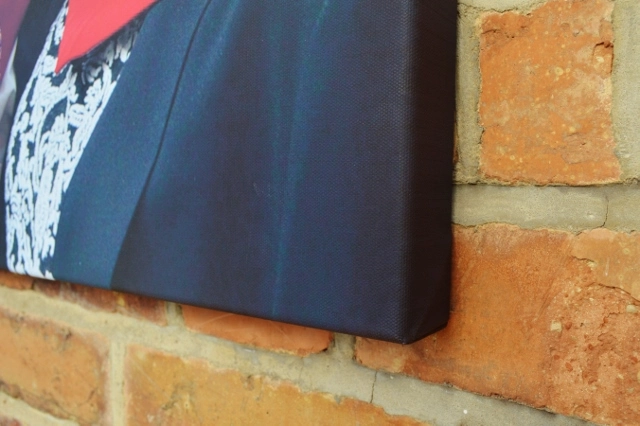 Overall, I am so, so happy with my canvas.  I can't get over how big it is, the quality is amazing, the service was spot on, and I even got a free hanging kit with my order.  I love my canvas, and it's going to take pride of place in my new home, but for now it's hanging in my bedroom and it looks fab.
To check out CanvasDesign's full range of canvas sizes and services, click here.  You can also get 15% off all orders using the code 'BLOG15'!
Naomi x
* This personalised canvas was sent to me by CanvasDesign for review purposes.  All opinions expressed are honest and my own.*
3
After two years of hard work, and juggling studying with a part-time job, yesterday I finally graduated from the University of Leicester with a postgraduate degree in Modern Literature!  It's been a long and, at times, difficult couple of years, but I am so happy that I can now officially call myself a Master of the Arts.  And to make things even better, my fiancé graduated at the same time with the same degree, and because our surnames are alphabetically next to each other, we got to cross the stage one after the other!  I was very nervous before the ceremony, which is odd considering I'd done it all before in 2011 in the same place, but in the end I really enjoyed the day and I'm so proud of my achievement.
Between them my family took hundreds of photographs, but after a hectic day I'm yet to sort through all of them, so for now I can only share a few.  Hopefully I'll have some better ones to add some time next week which actually show my outfit properly!
On the day I wore a beautiful textured floral dress from Dorothy Perkins, which I bought especially for the ceremony.  We were told to wear 'sombre colours' but I didn't want to look too drab, so I chose something with a nice print and teamed it with red lips and nails to match the colour of my hood.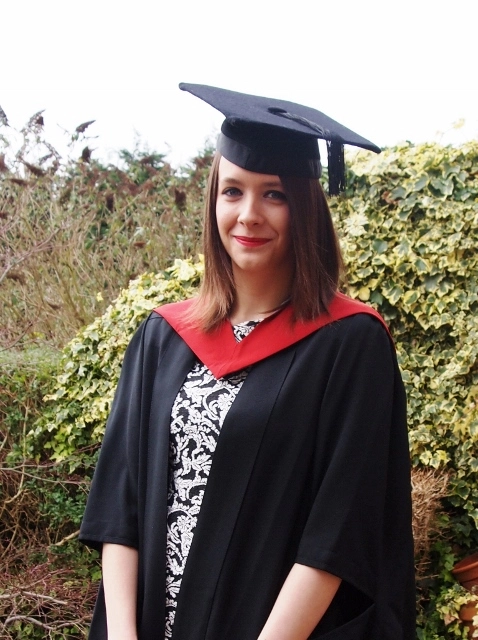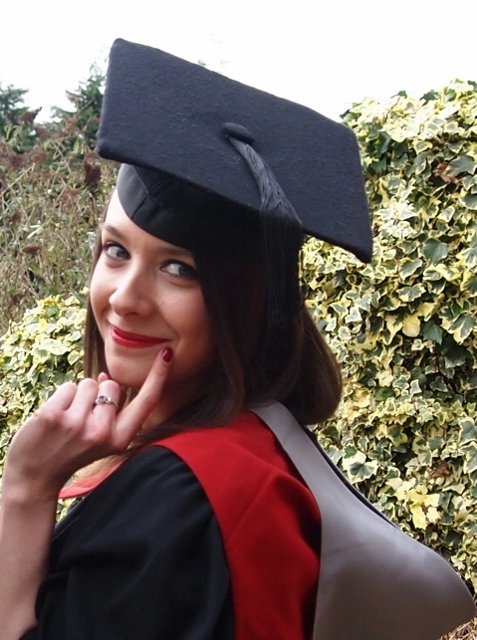 Illamasqua Lipstick in 'Snap' / Ciaté Nail Varnish in 'Dangerous Affair'
Excuse the pose on that one!
In the evening, my family, my fiancé, my fiancé's family and I went out for a meal to celebrate the occasion.  I wore the same dress as I did during my graduation, but I swapped my low New Look heels (I didn't want to fall over on the stage!) for my new Kurt Geiger Sally Ankle Boots, my red lips for pink lips, and I also took my Zatchels Gothic Lace Saddle Bag out for a spin.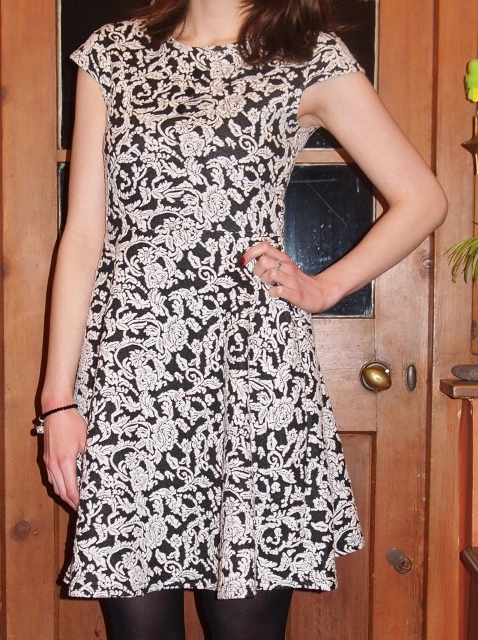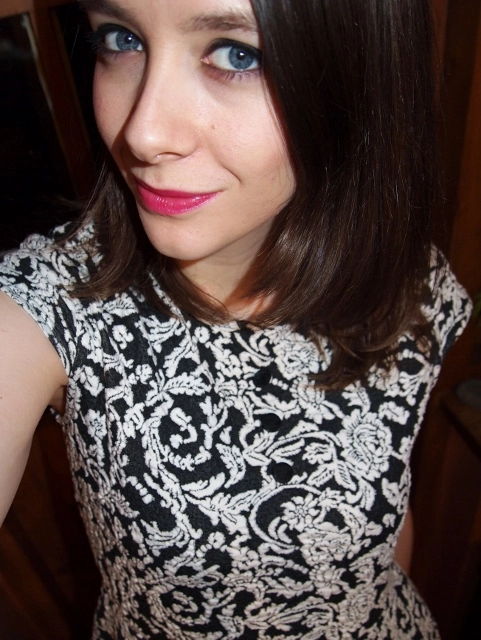 Also, I feel like MUA's Pro-Base Makeup Fixing Mist needs a special mention here.  I used the spray in the morning after applying my make up, and it did an amazing job at keeping it in place.  I expected to have to reapply my make up before going out for the meal in the evening, but it still looked great, and did so right up until I removed it at 11pm!  A real saviour on a long, busy day.
What did you wear to your graduation?
Naomi x