Posts tagged
Hair Oil
0
Over the last few months I've been trialling a hair treatment from a small hair care company called Old Wives Tail.  Old Wives Tail specialise in luxury organic hair treatments, all of which are handmade, vegetarian and vegan, and free of gluten, parabens and sulfates.  They're also animal friendly and aim to eradicate animal testing in the beauty industry, so 10% of their profits go to charities which save animals from being tested on.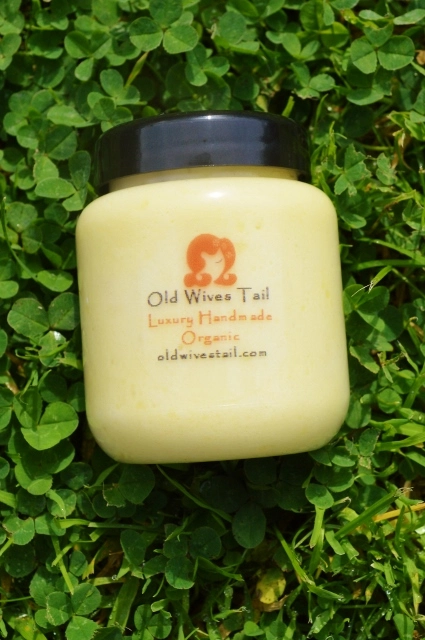 The treatment I've been using is the Jojoba and Clove Organic Oil Treatment, which retails for £13.99 for a 100ml jar.  The treatment is described as a 'hydrating, natural and balancing hair treatment for dull, thinning, brittle or broken hair'.  My hair is quite unusual in that, though it can get quite oily at the roots, the ends get very dry and split easily, especially during colder months, and the overall look is very limp, lifeless and damaged.  I opted for this particular treatment as, according to the Old Wives Tail website, 'jojoba oil gets to work at penetrating every hair follicle to add strength, volume and texture to weak, lifeless hair', which is just what I want.
The treatment has a very strong aroma of cloves, which hits you as soon as you open the jar, but it isn't too overpowering as it is offset with a slight sweetness.  It's also quite a dense treatment, with a slightly waxy texture, but as it warms in your fingers it melts into a smooth oil that glides through damp hair incredibly easily.
The directions for use say to massage the product into your scalp, and to leave it on for one hour before washing out with shampoo and water, and conditioning the ends of your hair.  As a 'wash and go' kinda girl, an hour is quite a long time to wait, so this isn't a treatment I would use on a daily or weekly basis, but it's great for a fortnightly or monthly pamper session at the weekend.  Especially as it gives quite an intense treatment.
I've used the treatment a few times now and the results are brilliant.  A little goes quite a long way, so though the jar is small, it will last a good while.  The product massages in nicely and feels lovely and soothing on the scalp.  When I first used it I was slightly worried that, being an oil, it would leave my hair feeling greasy, but it washes out well with shampoo, although I find it takes a little while to wash out completely.  After blow drying and straightening my hair, the difference is really noticeable.  It leaves my hair looking silkier and fuller, and the result is also long-lasting.
Unfortunately, as I've had an incredibly hectic couple of months, I haven't yet managed to get any before and after photos of my hair, but I will be updating this post within the next week or two, so check back soon.
All Old Wives Tail products are available online here, and they cater for all hair types.  They offer free worldwide delivery on any order too!
Naomi x
*This Jojoba & Clove Organic Oil Hair Treatment was sent to me by Old Wives Tail for review purposes.  All opinions expressed are honest and my own.*
3
I recently came across a hair care brand who attracted my attention for a very specific reason – they're BUAV approved.  I am always on the look out for cruelty free hair products as they are surprisingly difficult to find, so when biOrganics offered to send me a sample to review I was keen to try them out.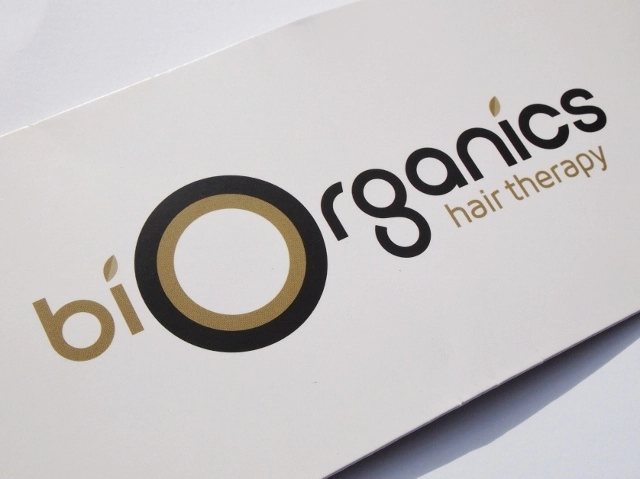 biOrganics was founded in 1991 as the first professional organic hair care brand in Europe.  The brand claims that their products give salon results, and everything is made from natural and organic ingredients wherever possible, so they're free from nasty parabens and synthetic chemicals.  As mentioned earlier, biOrganics are BUAV approved, meaning they do not test on animals under any circumstance, and are also endorsed by the Vegetarian Society.
The sample I received is a 12ml bottle of biOrganics' Salon Secret Elixir Hair Perfecting Oil.  The oil itself is colourless and has a base of organic Argan Oil and Ylang Ylang, and can be used to smoothe frizz, add shine, and protect hair from heat.  It is also said to strengthen and repair dry and brittle hair, and reduces blow-drying time.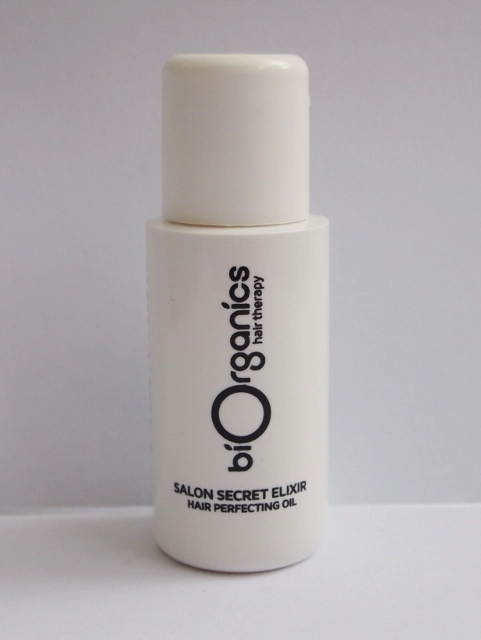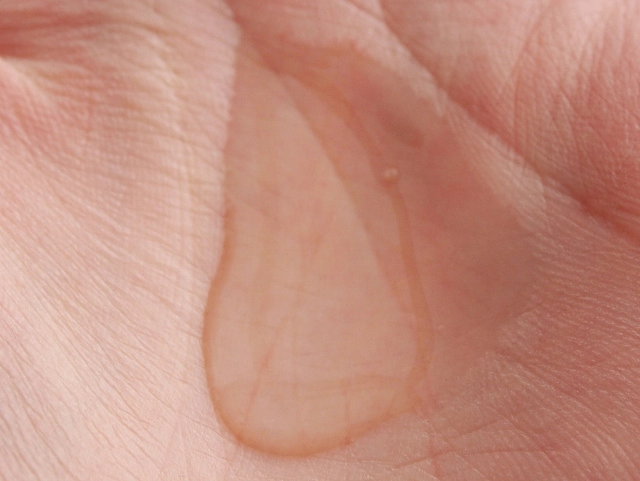 My experiences with the oil so far have been mixed, but mostly good.  The bottle says to 'dispense 1-3 pumps into palms, rub hands together & apply directly to clean, towel-dried hair', which is where I initially went wrong.  Unfortunately, the sample bottle does not come with a pump spray, so I had to guess how much to use.  I ended up applying a coin-sized amount to my hair (to the ends and mid-lengths as suggested), but after blow-drying my hair looked and felt greasy, and I had to wash the oil out again.  It turns out I used too much oil for the length of my hair, but after being given some advice by the lovely folks at biOrganics I tried again with a smaller amount of oil (about a little fingernail amount), and it worked a LOT better.  This time my hair did dry quickly, looked and felt incredibly soft, straightened easily and, most importantly, stayed straight all day!  I usually end up with slightly frizzy locks a few hours after straightening, but biOrganics hair perfecting oil solves this problem.  The lesson here is definitely LESS IS MORE!
I've also used the oil on dry hair.  The bottle says to 'Use sparingly on dry hair for extra smoothing prior to heat-straightening', so I applied a very small amount to the dry ends of my hair.  The oil seemed to create a protective layer between my hair and the heat, so rather than breaking and looking dry after straightening, my hair looked smooth and sleek.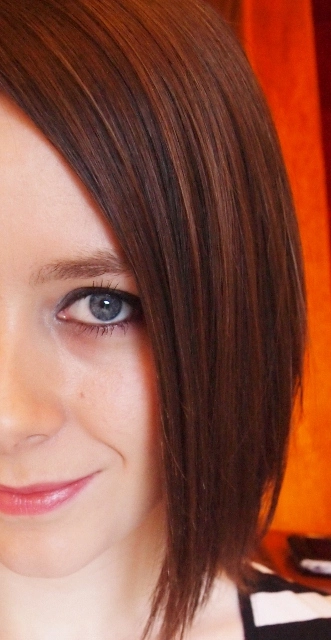 Overall, once you learn how much oil your hair needs, this is a very good product if you want straighter, sleeker hair that lasts.  The oil costs £3.99 for a sample bottle or £12.99 for a 50ml pump spray bottle, so it is very affordable, especially for a natural, cruelty free product, and I'd definitely recommend it.  biOrganics Salon Secret Elixir Hair Perfecting Oil is available online here, and they also sell a range of shampoos, conditioners, brushes and other hair care products.  Or, if you'd prefer to buy from a local store, you can also find your local stockist.
Naomi x
*This biOrganics Salon Secret Elixir Hair Perfecting Oil was sent to me on behalf of biOrganics for review purposes.  All opinions expressed are honest and based on my own experience.*
5
Back in August I reviewed TanOrganic's Sunless Tan, and was incredibly impressed by how natural and subtle the light brown false tan looked on my skin.  In that post I mentioned that TanOrganic also sold a skin oil to compliment the Sunless Tan, which I was very keen to try, so today I will be reviewing just that – TanOrganic's OilArganic Multi-Use Moisturising Dry Oil.

TanOrganic are an Irish company and all of their products contain 100% natural and organic ingredients, and they are vegetarian friendly and BUAV approved.  To continue their ethical ethos, TanOrganic also use glass packaging rather than plastic, which just so happens to make their products look a lot classier than most too.

OilArganic is a dry oil spray which contains nine different plant oils, all of which were carefully chosen to benefit the skin with their moisturising, restoring and soothing properties.  These oils are: Argain, Borage, Rosehip, Macadamia, Orange Peel, Avocado, Jojoba Seed, Hemp Seed and Sweet Almond.

The oil itself smells absolutely beautiful.  It has a very strong scent of orange, which has a sweet undertone of what smells like honey, but since there's no honey in it, the sweetness must actually come from the rose and almond oil.
OilArganic is described as being 'multi-use', and it really is an all-round miracle in a bottle!  The bottle states that it can be used on the face, body, hair, nails, scars & stretch marks, but it can also be added to the bath for a relaxing, moisturising pamper session, or used after applying TanOrganic Sunless Tan to help prolong the tan and ensure even fading.  I haven't yet used the oil in all of the above ways, but I've tried it on my body, nails and hair and can definitely vouch for its versatility!


The oil is applied using a basic pump spray, however, the oil tends to come out in a stream rather than a fine spray, so if you aim wrongly it can make a bit of a mess.  In the bottle, the oil has a slight yellow tinge to it, but once on the skin it looks completely clear.  It is also quickly and easily absorbed, so it doesn't take much massaging in.

On the skin and nails, OilArganic has a brilliant moisturising effect.  It soothes and smooths any dry patches, and leaves your skin feeling lovely and silky for the whole day.  When I used this on my nails I focused on my cuticles, massaging them gently, and was amazed to find that they were instantly left softened.  After a few days of use, I found it a lot easier than usual to push my cuticles back, and they are already looking and feeling a LOT healthier.
I have used the oil on my hair several times too, both when wet and dry.  When wet, I rubbed a coin sized amount of oil into my hands before running them through my hair and blow drying as usual.  This gave my hair a gorgeous sleek, shiny appearance, without leaving behind any greasy residue.  On dry hair, it is fab for sprucing up lank hair by ruffling a small spray of oil into the roots.
Overall, I am really impressed with OilArganic.  It's an amazingly high quality oil, does exactly what it says on the bottle and is made all the better for being so versatile.  It smells great too, which is always a bonus as some skin and hair oils can smell quite disgusting.  I'm keen to try OilArganic on my scars, as well as after applying TanOrganic, so expect another post about this when I've done so!
OilArganic is available to buy via the TanOrganic online shop, and costs €24.99/£20.26/$32.61 for a 100ml bottle, and it's worth every penny.
Naomi x
*I was gifted this bottle of OilArganic by TanOrganic for review purposes.  All thoughts and opinions expressed are honest and my own.*