Posts tagged
Round-Up
0
Evening all,
Are you ready for Christmas yet?  I am!  This month has gone really quickly, and I have now opened all 24 doors of my Ciate Mini Mani Month advent calendar.  This week has been my favourite week of all – Ciate really did save the best until last in my eyes!  Here are the final six minis in all their glory… (All pictures are clickable for a closer look.)
Day 19 –
Cookies and Cream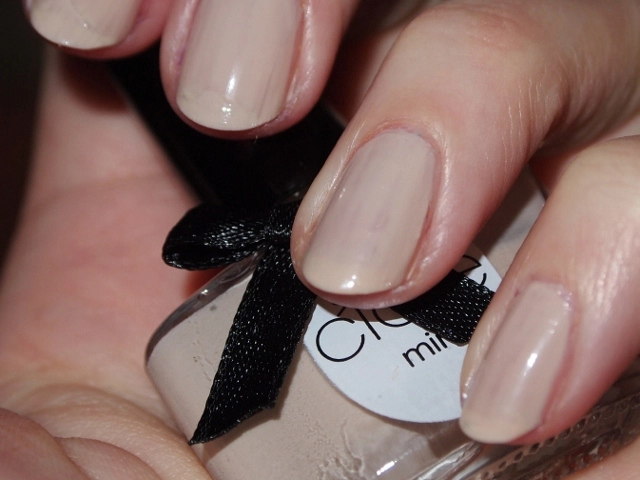 I'm sure I've said many times before that I'm not really a fan of nude shades, but I have made an exception for this one.  Cookies and Cream is a creamy nude beige colour, and it looks so clean and sophisticated on the nail.  The above photo shows two coats of varnish, and as you can see the coverage isn't completely opaque, but three coats would do it.  A gorgeous neutral shade, perfect for the office!
Day 20 –
Magic Carpet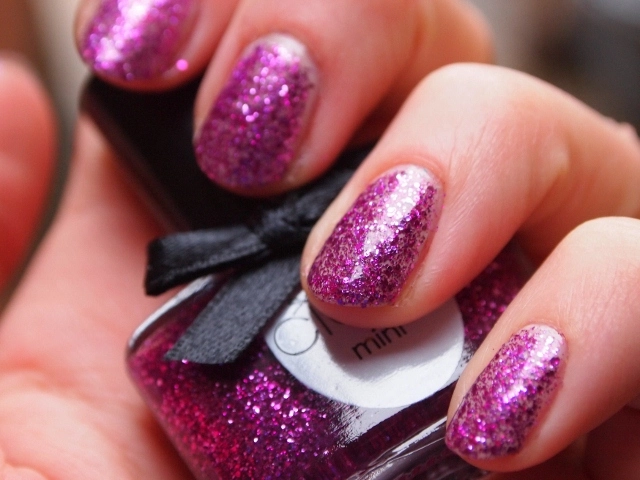 Magic Carpet is the second exclusive shade to the Mini Mani Month, and it is one of my absolute favourites in the whole calendar.  The varnish is a beautiful dark magenta, and it is made up of large and micro glitter flecks.  It took three coats of Magic Carpet over two coats of Cookies and Cream to achieve the above look, which is rather a lot of varnish, and in all honesty it didn't take to my nails very well.  The glitter didn't dry that quickly, and it seemed to melt the colour underneath slightly so it peeled off.  I think I'll use this as a thinner top coat in the future, or just wait a lot longer for it to dry.
Day 21 –
Fade to Greige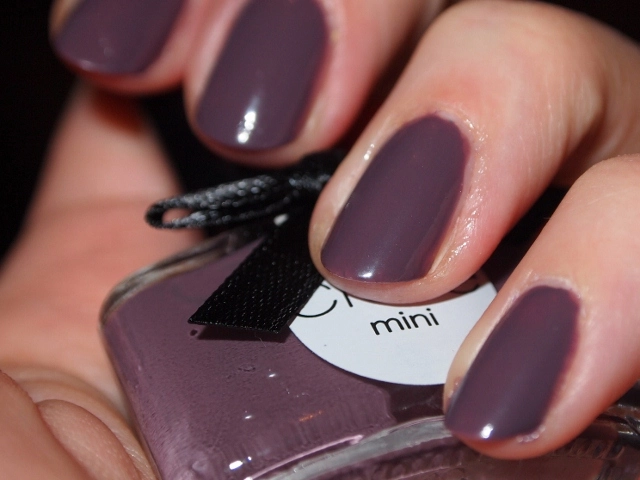 I absolutely adore Fade to Greige.  It is a very dark grey with a violet undertone, which I think would compliment any colour.  The formula is lovely and creamy too, so it is a pleasure to apply and dries very quickly.  Another classy, sophisticated shade, perfect for versatile every day wear.
Day 22 –
Sundance
Caviar
Pearls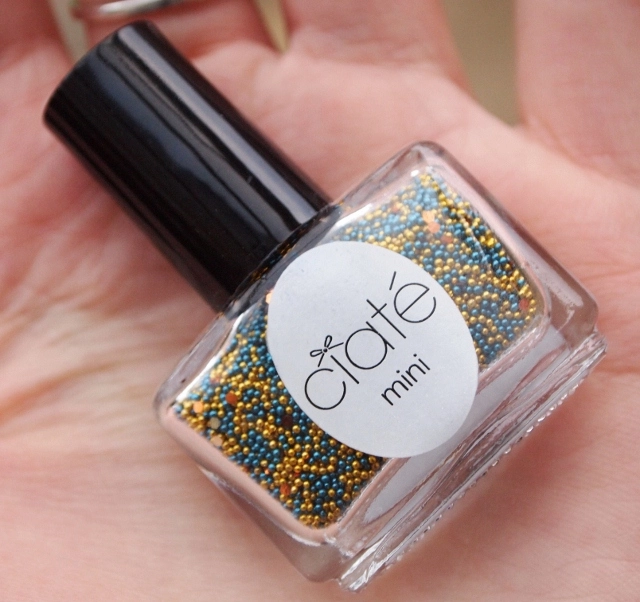 Unfortunately, I haven't had time to try these Sundance Caviar Pearls yet, but I imagine they'll have the same easy application and lasting power of the other pearls in the calendar.  Sundance is made up of yellowy gold and bright blue beads, with a few flecks of gold glitter scattered throughout.  I must say, I am a caviar manicure convert after trying Ciate's Mini pots, but this shade is probably my least favourite of the four in the calendar.
Day 23 –
Mojito

and Day 24 –

Enchanted Rose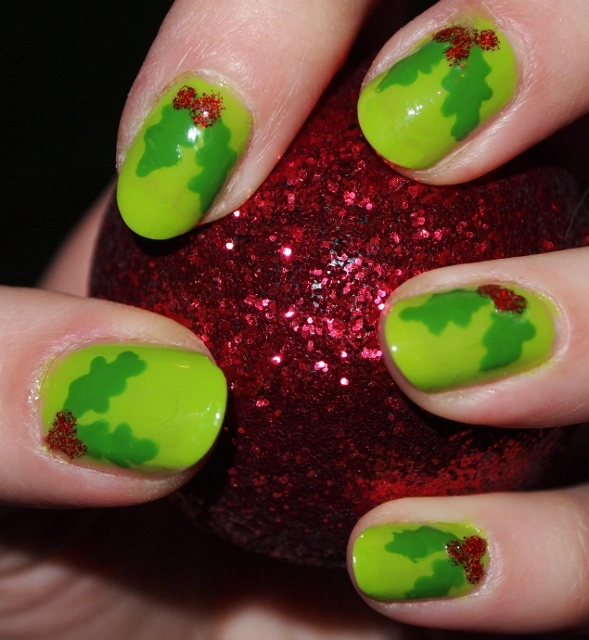 The last two days of the Mini Mani Month featured two Christmassy shades – green and red.  Day 23 gave me Mojito, a creamy lime green which forms the base of my holly nail art!  It applies like a dream and even, opaque coverage takes just two coats.  Mojito is actually a lot less fluorescent than it looks in the photo, which is a positive thing in my opinion as there is definitely such a thing as being too bright!
Today's shade, the final shade in the box, was the third exclusive shade – Enchanted Rose – a beautiful red glitter varnish.  Enchanted Rose forms the berries of my holly nail art, and it has a very sparkly finish, perfect for Christmas day.  Unlike some glitters, it isn't overly sheer, so it wouldn't take much to build up a bold, bright glitter look.  Another winner!
And to finish, here is a picture of two coats of Day 6 shade, Angel Wings, which I didn't have time to swatch in Part 1…
Overall, I have been extremely pleased with the Ciate Mini Mani Month.  The range of colours and finishes in the set is fantastic, and it was definitely worth every penny.  I will be using all of these a lot in the future, I imagine!  I'm looking forward to trying some more nail art designs with them.
That's it from me for today…  I hope you all have a wonderful Christmas day tomorrow, full of love and laughter!
Naomi x
PS. Here are Part 1, Part 2 and Part 3 of my Ciate Mini Mani Month Round-Up, as well as my introductory post!
9
Hi everyone,
Six days have already passed since my last Ciate Mini Mani Month post, can you believe it?  The days are flying by and before we know it, it will soon be Christmas day!  But for now, as promised, here is Part 2 of my Mini Mani Round-Up, featuring the surprises hidden behind advent calendar doors 7 to 12.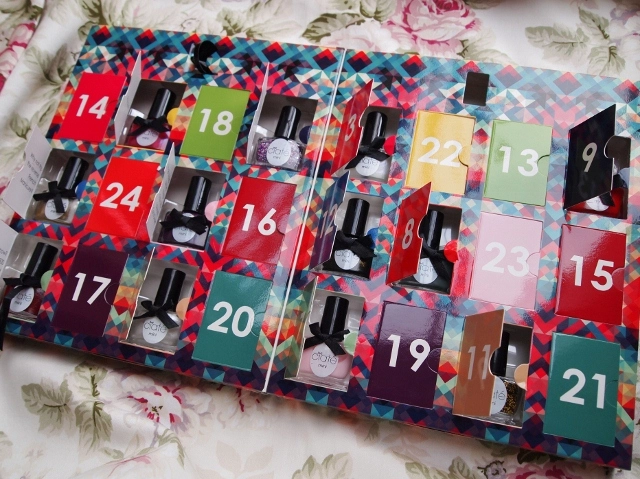 You may be pleased to know that I managed to swatch every single varnish this time, so you can get a more accurate feel for what each one is really like.  As usual, they all have that deliciously creamy signature Ciate formula, which applies evenly, dries quickly and is extremely chip resistant.  Here they all are in their bottles…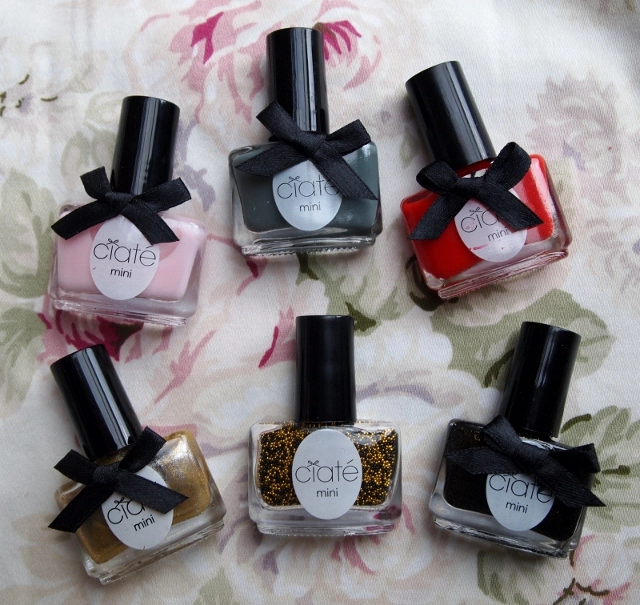 Day 7 –
Cutie Pie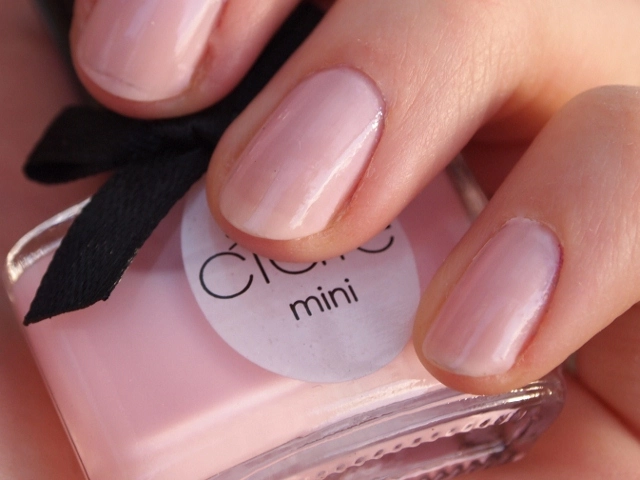 Cutie Pie is a pretty, feminine, powdery pale pink shade with a creme finish.  I usually prefer bold, bright varnishes to pastels, but this one really is quite lovely and clean-looking.  The above look was achieved using two coats of varnish and it's still quite sheer, but I think three would be plenty enough for a more opaque appearance.
Day 8 –
Vintage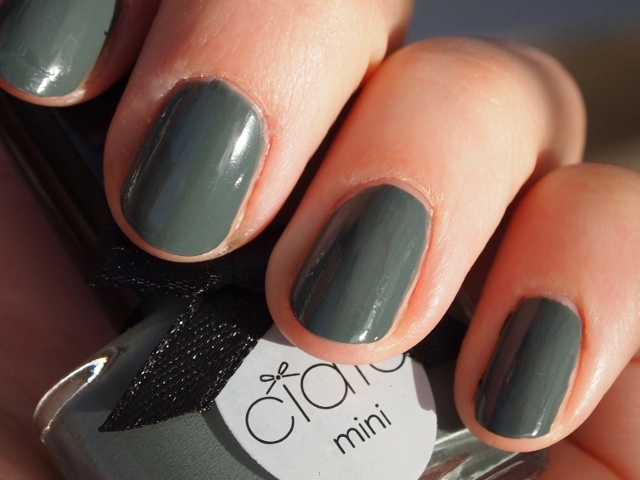 Vintage is my favourite varnish from this week.  It's a deep grey colour, but it has a tinge of greeny blue to it which makes it more unusual than most greys.  I got so many compliments about my nails on the day I wore this.  I have a feeling I'll be getting a lot of wear out of Vintage – it goes with anything!
Day 9 –
Mistress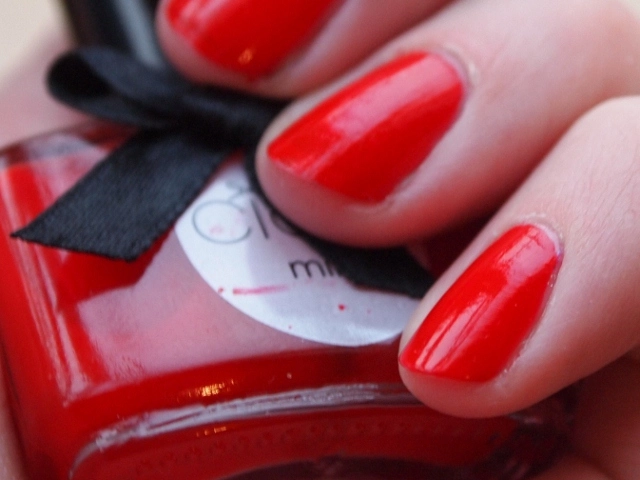 Mistress is a classic, very bright scarlet red, with a slight orange undertone and a high shine finish.  I'm not the biggest fan of orange varnishes so I wasn't too keen on this when I first saw it, but once I applied it I instantly changed my mind.  I think shades like this can look a bit tacky sometimes, but because Ciate is such good quality, it actually looks really beautiful on.  The only issue I have with this is that it stained my skin when I removed it!  You can see evidence of the staining around my cuticles on the photo below…
Day 10 – Ladylike Luxe

& Day 11 –

Bumble

Bee

Caviar

Pearls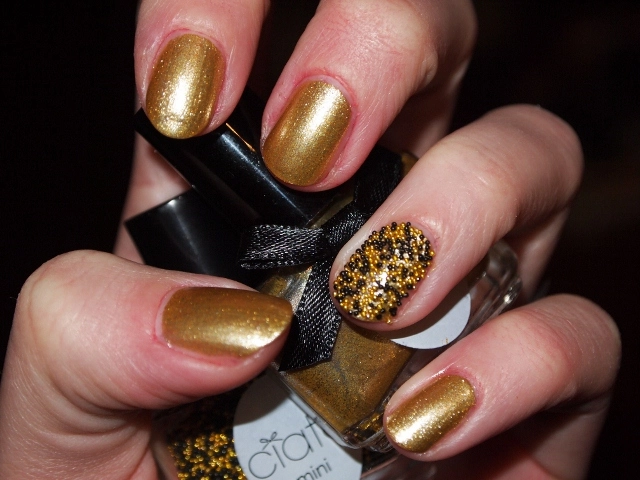 Ladylike Luxe is a shimmery yellow gold shade, and it's the best gold varnish I've ever tried.  For some reason, gold and silver varnishes tend to show up any imperfections on your nails (no matter how small) and though this one isn't perfect, it definitely disguises imperfections more than any other metal colour I've used.  Overall this is a fab varnish – very Christmassy!
The Bumble Bee Caviar Pearls consist of two different coloured pearls – black and yellowy gold.  I gave myself a ring finger mani with them yesterday, and as you can see it turned out rather well for a first attempt!  The pearls were very easy to use…  You just pour them over your wet nail, press them down and leave them to set for 15-20 minutes.  I absolutely love how they look and feel, but they haven't lasted very well.  This morning when I woke up I noticed that the colour on the gold pearls had faded/rubbed off slightly, and after 24 hours a lot of the beads have already fallen off.  I'm not sure how long they're supposed to last, but I thought it'd be longer than a day!
Day 12 –
Twilight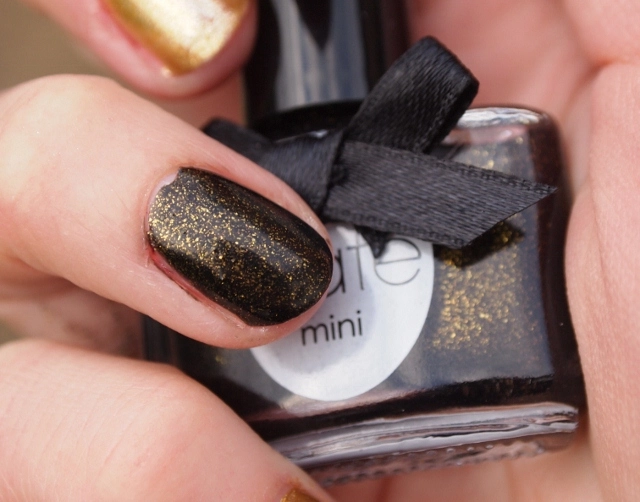 Last but not least, today's varnish is Twilight – a black base with a gold fleck shimmer running through it, which also looks greeny brown depending on the light.  I have a feeling this was intended to go with the Bumble Bee Caviar Pearls, and indeed it is a great match.  A gorgeous, classy shade to round off the week.
Which one of this week's minis is your favourite?
Don't forget, you can read Part 1 of my Ciate Mini Mani Month Round-Up here.  Check back next Tuesday for Part 3!
Naomi x