Posts tagged
Orange
3
As I'm sure many of you will have found out the hard way, the cold, harsh winter weather can cause damage to your skin, especially your lips, leaving them sore and dry.  As such, I find it is essential to use a good lip balm regularly to combat this damage, and I have found the ideal balm in Tropic Skin Care's Lip Love Balm, as it is not only great for your lips, but can be used to protect other areas of dry skin too.
Tropic Pure Plant Skin Care was launched in 2007, and has three main principles – their products are Pure, their pricing is Honest, and they are also Effective.  Everything in the Tropic range is vegan, which is great news for veggies like me, and it's all made from completely natural plant extracts, so is suitable for all skin types, including sensitive skin.  The company is also keen to reduce its carbon footprint so they use recyclable, sustainable packaging materials wherever possible.  Tropic's ethical image really appeals to me as my aim for 2013 is to go completely cruelty free, and to top it all off their products are wonderful too.  Here's what I thought of their Lip Love Balm…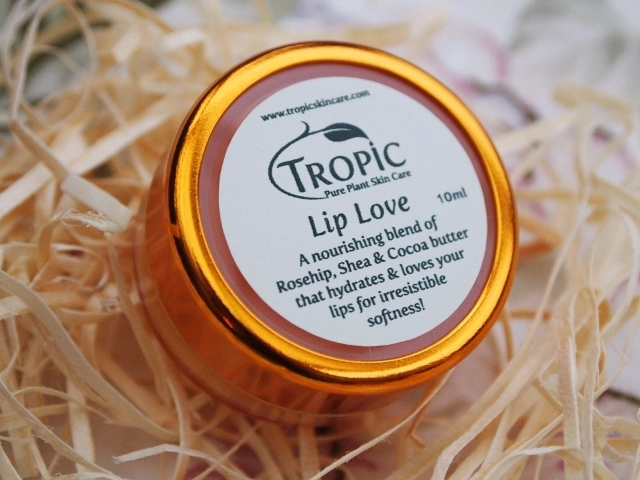 Tropic's Lip Love Balm comes in a dainty 10ml pot, which is the perfect size to carry with you in your pocket or bag.  The packaging is simple, but the orange metallic lid makes it stand out, giving it a more luxurious look than the average lip balm.  The lid is also a screw top, a minor detail which is actually quite important, as it won't fall off in your bag like press on lids sometimes do!
As you can see from the photo above, every single ingredient in the lip balm is natural, and comfortingly recognisable, meaning you don't have to worry about any nasty chemicals damaging the delicate skin of your lips.  Rather, each natural plant extract combines to form a beautiful, versatile lip balm.  Believe me, once you've tried it you'll be a convert!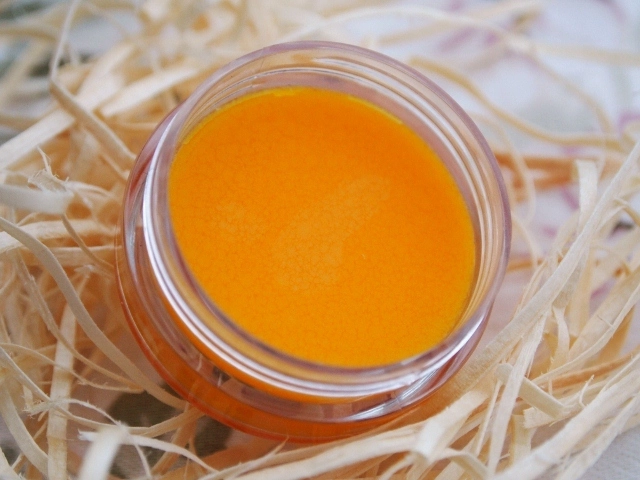 In the pot the balm looks a stunning sunset orange colour, and it gives your lips a gorgeous golden tint.  The balm isn't strongly scented, but it has a sweet, subtle aroma of lemon, orange and peppermint, which is really quite refreshing as the peppermint adds a slight cooling effect.
Lip Love Balm has a soft, creamy texture and is easily applied with a fingertip.  Thanks to the nourishing Shea and Cocoa butters, it feels intensely moisturising on the lips and forms a long-lasting protective layer which helps heal dry and cracked skin – perfect for this time of year!  I've been using this for about a week now, and I have already noticed a big difference.  My lips have shed their winter dryness so look a lot healthier, and feel a lot softer, which I'm very happy about.  The balm isn't greasy either, yet it makes your lips look incredibly shiny, and works really well over matte lipstick – it keeps it in place for a lot longer than usual and gives it a lovely glossy sheen.

As I mentioned earlier, Tropic's Love Balm is also great for hydrating other areas of skin.  Their website states that it can be used on your nails, cuticles, elbows and heels, but I've also been using it on my knuckles as they're quite dry, and it's been working wonders.  My favourite alternative use, however, is as a cuticle cream.  My cuticles have taken a bit of a battering over the past few months, what with all the nail varnish I've been using, and again because of the cold weather, and as a result haven't been looking their best.  Impressively, I found that within a few days of using the balm on my cuticles every morning, they were a lot neater and more supple.  Carrot oil, avocado, rosehip and macadamia are known for their skin renewing properties, and for improving skin elasticity, and their concentrated levels in this balm really help it to work its magic very quickly.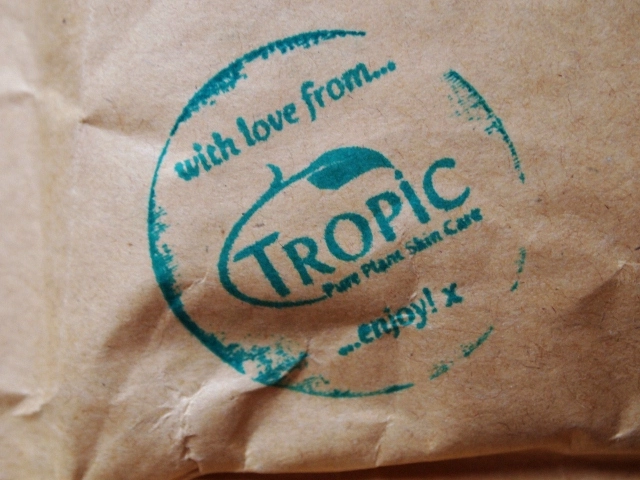 Tropic Skin Care Lip Love Balm costs just £5.00, and considering the small amount you need to feel the benefits and make a difference, it really is worth every penny.  If you're looking for a high quality, multipurpose balm to take you through winter and into spring then this is definitely it – choosing natural products really does pay off!  If you'd like to try this for yourself, now is your chance as Tropic Skin Care are currently offering FREE UK P&P on all orders placed before midnight on the 31st of January.  Just enter the code 'TROPICTREATS' at the checkout.
You can view the full Tropic Pure Plant Skin Care range here – they have such a wide range of products, from Cloth Cleansers to Body Butters to Body Oil, and its all affordable!  Which Tropic product would you most like to try?
Naomi x
*I was sent this Lip Love Balm by Tropic Pure Plant Skin Care for review purposes.  All opinions expressed in this post are honest and my own.*