Posts tagged
Snood
3
The last couple of months have been ridiculously busy and stressful for Charles and I, what with us both starting new jobs and moving house.  This weekend was the first in many that we had time to spend on ourselves, doing whatever we wanted, so that's exactly what we did!  Seeing as Friday was pay day, we spent Saturday shopping, eating in our favourite bar, and in the evening we went to the annual bonfire and fireworks display at the local park.
A relaxed weekend called for a relaxed outfit, and as there is finally an autumn chill in the air, and I was spending most of the day (and evening) outside, it had to be warm too!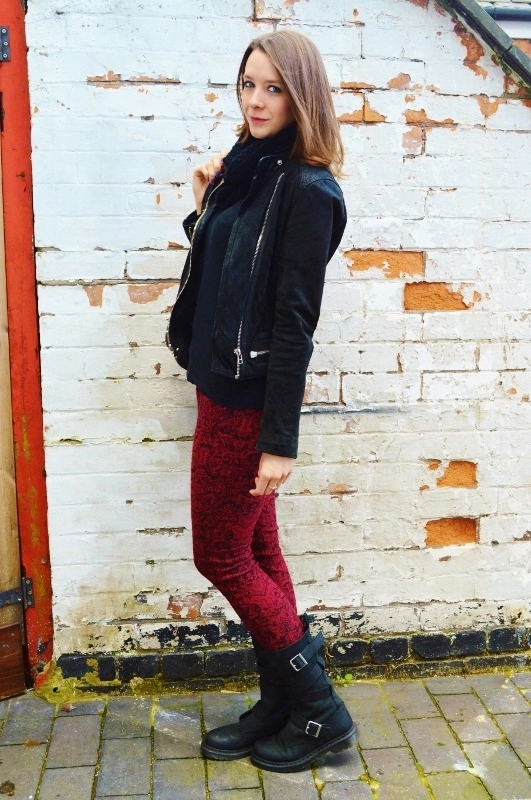 New Look Leather Biker Jacket (Thrifted) / Primark Crew Neck Top / Blue Rags Red Ornate Embroidered Trousers / Dr Martens Lauren Boots / DressLink Cowl Scarf / Topshop Leather Bag (Thrifted)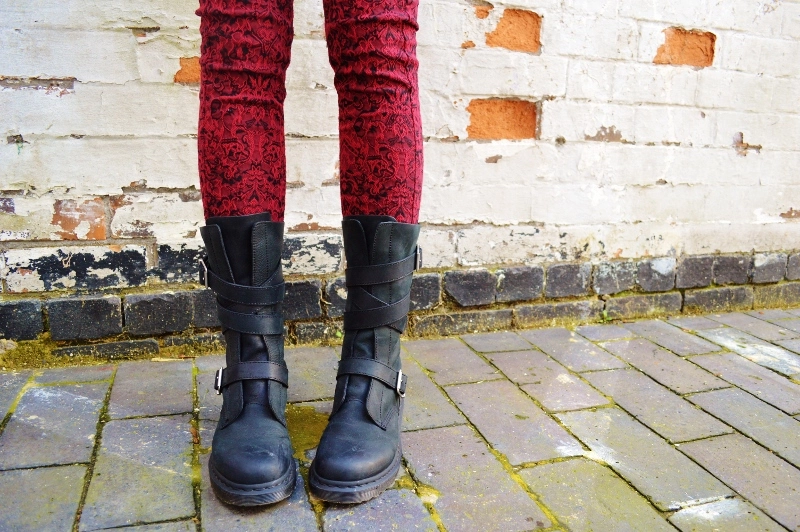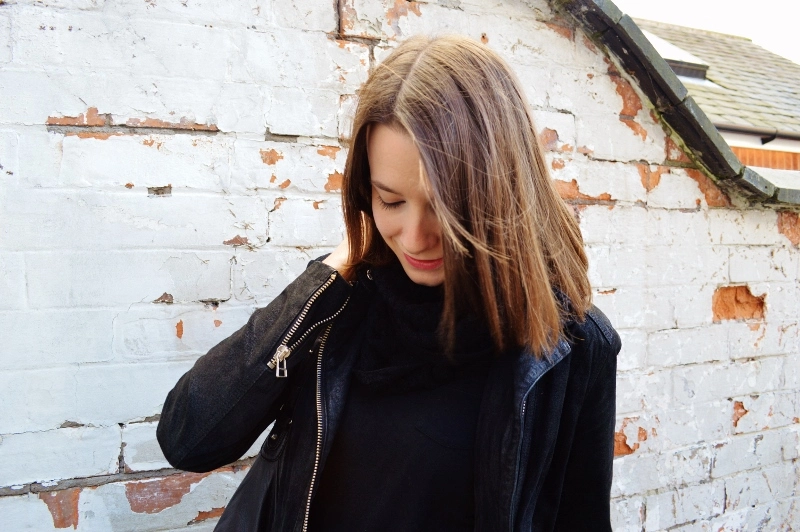 These red embroidered trousers are a new purchase of mine.  They're by a French label called Blue Rags, but I actually got them from Everything5Pounds.  Most of my wardrobe is black, but I like to add a splash of colour here and there, and these trousers are the ideal shade for Autumn.  They're incredibly soft and comfortable and the detail of the embroidery is stunning.  I also ordered a pair in black and I'm so glad I did as they're a real statement piece.
My Dr Martens Lauren boots are another new purchase.  They have that buckled biker look that I adore, so they match my biker jacket, but they're not as clumpy as a lot of my other Dr Martens.  I've been wearing these a lot over the last few weeks, casually with jeans, but also with my work dresses, and I think they look great.  I walk to work so it's essential that I have a warm, comfy, waterproof, sturdy pair of boots for the winter, and these tick all the boxes.
Naomi x
8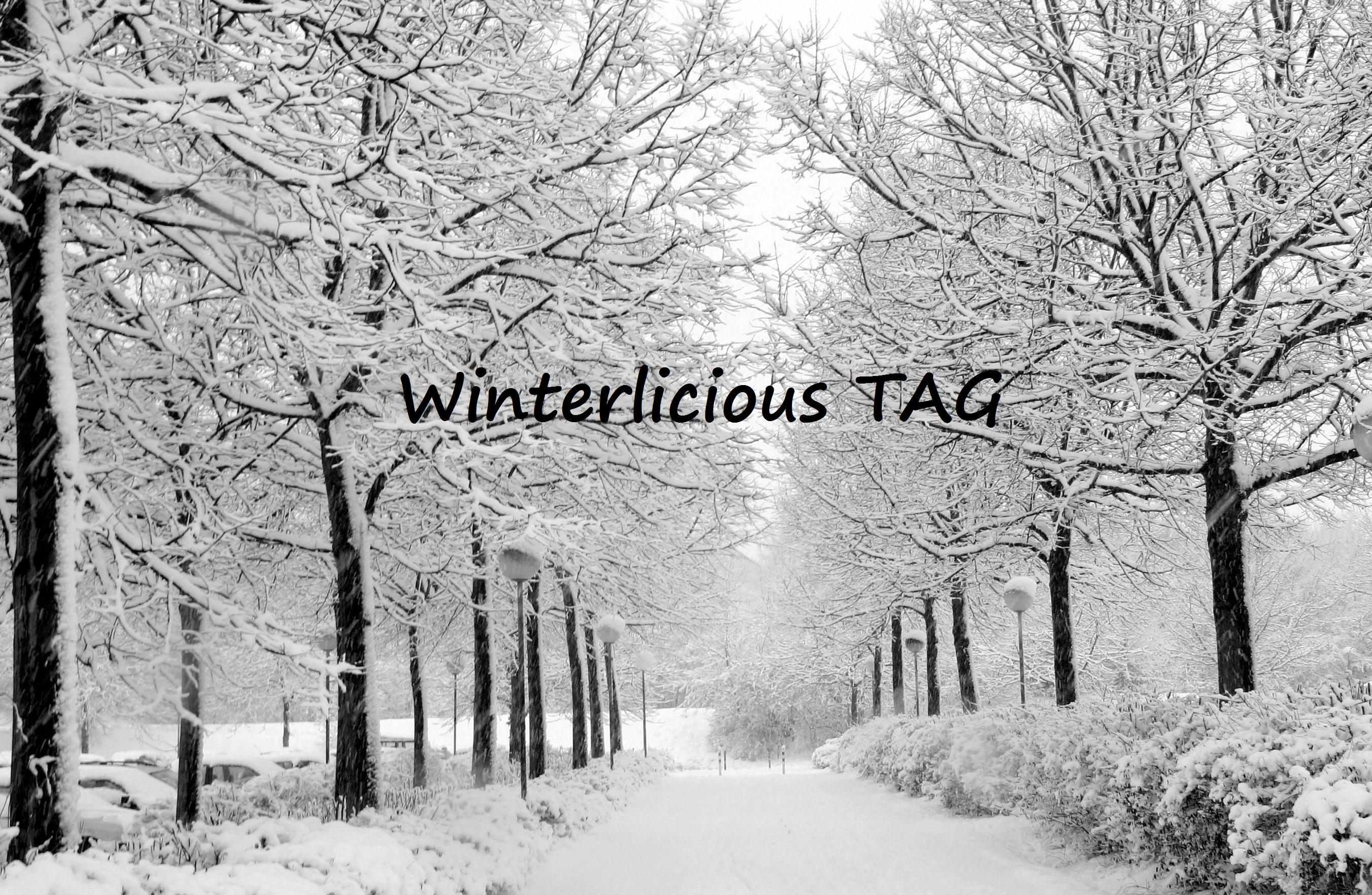 Last week I was tagged in a Winterlicious Tag Post by the lovely Proper Sweetie (you should check out her blog, it's awesome).  I really enjoy doing posts like this every now and then, so I have finally got round to answering the tag questions, and will be tagging a few of you at the end.  So, if you'd like to answer the questions yourself, please feel free!
1) Favourite winter nail polish?
My favourite nail polishes this winter are from the new Models Own Wonderland collection.  They're all SO pretty and glittery and perfect for Christmas, with their festive names.  They remind me of snow and ice and Christmas decorations.  I currently own three of the five – Jack Frost, Southern Lights and Northern Lights (which I reviewed here).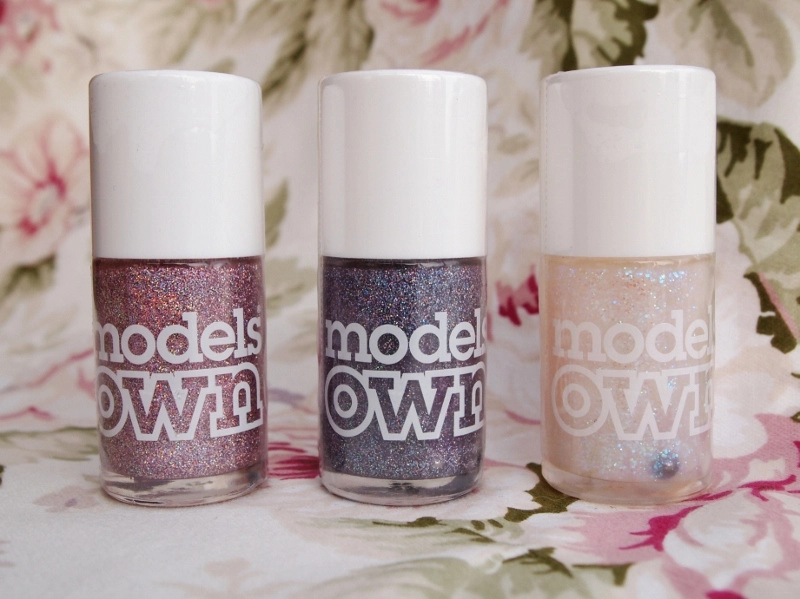 2) Favourite winter lip product?
Montagne Jeunesse's Natural Beeswax Lip Balms have been life savers for me these last few months.  I always get really sore, dry lips during the autumn and winter so I need to use a good lip balm every day to protect them.  Montagne Jeunesse's lip balms are really rich and moisturising, but not greasy, so they sit easy on the lips and do an amazing job.  In fact, I forgot to use it for a couple of days and my lips got sore, but after a few applications of this lip balm my lips were as good as new.  They come in a few different flavours as well which are suited to different lip problems.
3) Most worn winter clothing piece?
My purple shimmer Dr Martens boots.  As you may have read in this post, I am a Dr Martens addict, and I always look forward to autumn and winter so I can get my big chunky boots out again.  My purple ones are the classic 8-hole style boot and, without fail, they keep my feet warm and dry all winter.  I love the colour and the shimmer factor – they're just a little bit different to your normal winter boot!
4) Most worn winter accessory?
This year it has to be my cute Robin Print Snood!  I bought it a couple of months ago from Primark for only £4, and I have been wearing it every day since under my coat.  It's made of quite thin fabric, but it's really big so it wraps round nicely and is lovely and snuggly.  The beauty of a snood is you can put it over your head without looking daft when it gets cold and you don't have a hat/hood, but it also looks great accessorised with any outfit!
5) Favourite winter scent/candle?
At Christmas we tend to burn our usual Yankee candles, which always smell gorgeous, but yesterday my mum bought a cheap Glade candle from their winter collection and it's divine!  I do believe it was Spiced Apple scented.
6) Favourite winter beverage?
It has to be the classic hot chocolate or mulled wine.  Although, I should hopefully be trying Chai Tea Latte soon which is lightly spiced, and I have a feeling that may become this year's favourite winter beverage…
7) All time favourite Christmas/holiday movie?
The Polar Express!  I have it on DVD and watch it every year.  The end makes me cry every time, just because it's so lovely, and it always gets me in the Christmas spirit.  I want to watch it on Christmas Eve this year…  I still believe!
8) Favourite Christmas/holiday song?
I hate to admit it but Last Christmas by Wham! is one of my ultimate guilty pleasures!  Although, when I was a baby, the only song that would calm me down and put me to sleep was Rudolph the Red Nosed Reindeer, at any time of year

9) Favourite holiday food/treat?
This one is hard to answer as Christmas is a time for indulgence and there are SO many yummy things I love to eat at this time of year!  One of my favourites though has to be Lebkuchen, a traditional German baked treat which is a cross between a biscuit and a cake.  It tastes like cinnamon and ginger, is sprinkled with icing sugar and is best dipped in dark chocolate!
10) What is your favourite Christmas decoration this year?
We haven't actually put our Christmas decorations up yet this year, but at the weekend my mum bought a real Christmas tree which is going to sit in a pot outside on our patio all year round

  It's covered in solar-powered coloured lights at the  minute and it looks lovely.
One of my old favourite Christmas decorations was a huge purple and silver glass bauble.  I loved it for years, since I was tiny, but it  broke a few years ago so we had to throw away

  Thinking about it going still makes me sad!  RIP pretty purple bauble.
11) What's at the top of your wish list?
In all honesty, I've been struggling to think of things I want for Christmas this year, so I just want a few nice surprises.  Although a bat detector and a Batman onesie wouldn't go amiss 😉  (Geeky as hell, I know).
12) What are your plans for the holidays this year?
This year, like every year, I will spend Christmas Eve with my dad, and Christmas Day at home with the rest of my family.  We eat lots of food, play lots of games, and share gifts and laughs and generally have lots of fun.  I love it!
The people I tag to answer these questions are…
Happy Blogging!
Naomi x