Posts tagged
Buckle
1
 Primark Light Knit Cape / Primark Floral Skater Skirt / Primark Basic T Shirt / Primark Tights / Gifted Cloudbusting Silver Necklace
It would seem that Spring is finally here, and brighter weather calls for brighter clothing!  I've been trying to add a few more colourful pieces to my mostly black wardrobe lately, and this skater skirt from Primark is a good start.  It's floral and made of crepe, two things I'm not usually a fan of, but at £3 in the sale I thought I'd give it a go, and was pleasantly surprised.  It's a lovely shape and very comfortable, and though I bought it to with the intention of wearing it to work, I can see it becoming an all round favourite this season.
The black cape was also in the Primark sale, half price at just £7.  It's a lovely soft lightweight knit, so is perfect for keeping covered during the spring months, when it isn't quite warm enough for bare arms.
As you may have seen in my 25th Birthday Haul post, this gorgeous necklace was gifted to me by my fiancé for my birthday.  It's made of 925 silver and was personalised especially for me.  Cloudbusting by Kate Bush is one of my favourite songs, and holds many special memories, so I absolutely adore it.
Have you been enjoying the warmer weather this weekend?
Naomi x
3
The last couple of months have been ridiculously busy and stressful for Charles and I, what with us both starting new jobs and moving house.  This weekend was the first in many that we had time to spend on ourselves, doing whatever we wanted, so that's exactly what we did!  Seeing as Friday was pay day, we spent Saturday shopping, eating in our favourite bar, and in the evening we went to the annual bonfire and fireworks display at the local park.
A relaxed weekend called for a relaxed outfit, and as there is finally an autumn chill in the air, and I was spending most of the day (and evening) outside, it had to be warm too!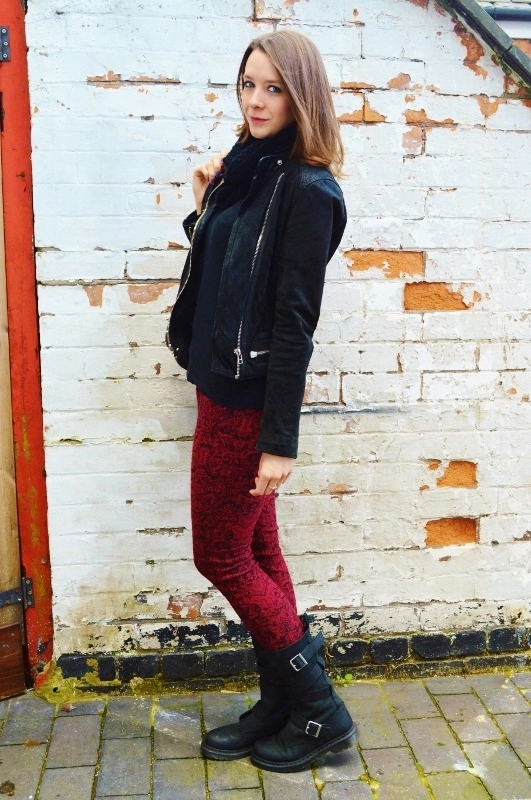 New Look Leather Biker Jacket (Thrifted) / Primark Crew Neck Top / Blue Rags Red Ornate Embroidered Trousers / Dr Martens Lauren Boots / DressLink Cowl Scarf / Topshop Leather Bag (Thrifted)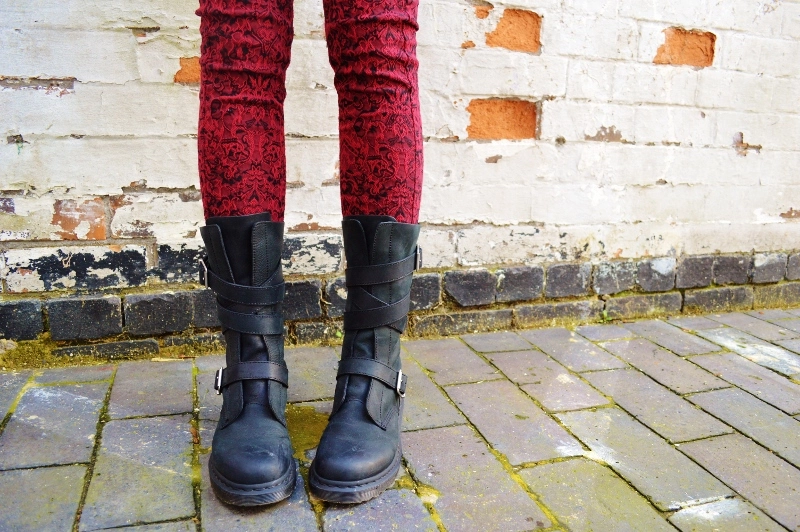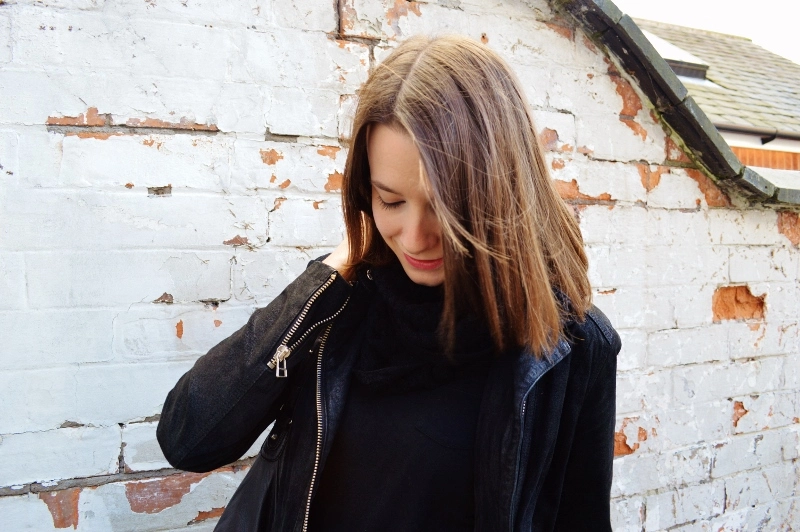 These red embroidered trousers are a new purchase of mine.  They're by a French label called Blue Rags, but I actually got them from Everything5Pounds.  Most of my wardrobe is black, but I like to add a splash of colour here and there, and these trousers are the ideal shade for Autumn.  They're incredibly soft and comfortable and the detail of the embroidery is stunning.  I also ordered a pair in black and I'm so glad I did as they're a real statement piece.
My Dr Martens Lauren boots are another new purchase.  They have that buckled biker look that I adore, so they match my biker jacket, but they're not as clumpy as a lot of my other Dr Martens.  I've been wearing these a lot over the last few weeks, casually with jeans, but also with my work dresses, and I think they look great.  I walk to work so it's essential that I have a warm, comfy, waterproof, sturdy pair of boots for the winter, and these tick all the boxes.
Naomi x