Posts tagged
Vacation
7
Last week I received a very special delivery from Millennium Hotels…  A goody bag stuffed full of Hotel Chocolat treats!  Millennium Hotels are a luxury hotel company who have many hotels and resorts in exciting locations all around the world.  To add something a little extra special to every room, they are currently trying to choose a luxury chocolate to place on their pillows for their guests, and I was asked along with a few other bloggers to help them choose by sampling each chocolate in the goody bag.  How could I say no to that?!  Here is what the bag contains…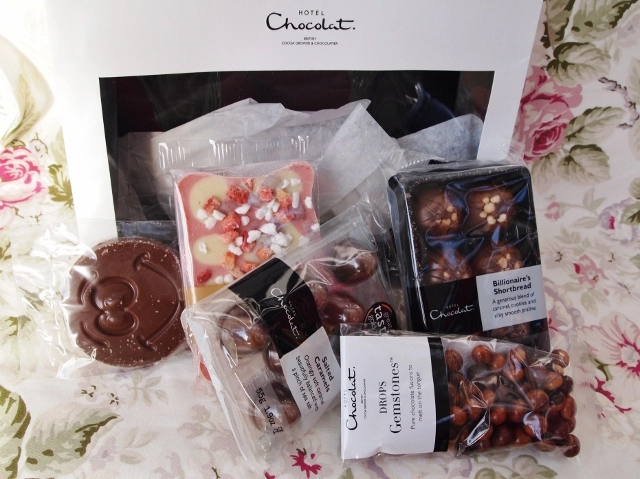 From Left to Right:
Smiley Lick.
Eton Mess Slab.
Salted Caramels.
Chocolate Gemstones.
Billionaire's Shortbread.
Choosing a favourite out of these five delectable delights is very difficult (I am a chocoholic, after all), as they are all different, and all extremely delicious.  However, a decision has been made!  Read on to see what I thought of each one, and to see which one is my overall winner.
Smiley Lick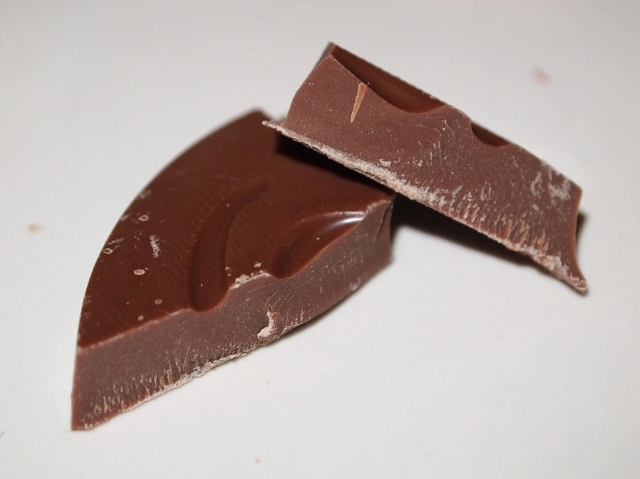 The Smiley Lick consists of a disk of thick milk chocolate on a lollipop stick, which is happily adorned with a smiley face.  This one is fun to look at, fun to nibble and it really shows off the high quality of Hotel Chocolat's chocolate.  The chocolate is extremely smooth and has a rich, sweet flavour.  I gobbled this up rather quickly in one sitting, and was left wanting more.  Delicious, but I don't think it's quite right for a hotel pillow as it's a bit too bulky looking!
Eton Mess Slab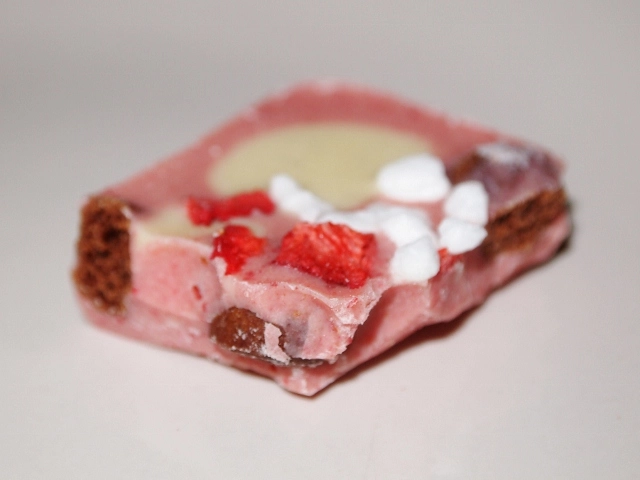 The Eton Mess slab is absolutely beautiful to look at, as the pink chocolate swirled with cream and scattered with strawberry and meringue pieces makes it look like a work of art.  The chocolate itself is strawberry flavoured, with vanilla chocolate running throughout.  It isn't as smooth as the milk chocolate as the real fruit bits give it a bit more texture, as do the little chocolate cookies hidden inside (which I wasn't expecting when I first bit into it!), but it is divine!
If you have a sweet tooth then this is definitely for you – it smells and tastes just like a strawberry milkshake.  I can only handle a little bit of this at a time, but at least that means I can make the bar last and savour it.  This would be the winner if my sister had a say – it was her favourite out of all five choices.
Salted Caramels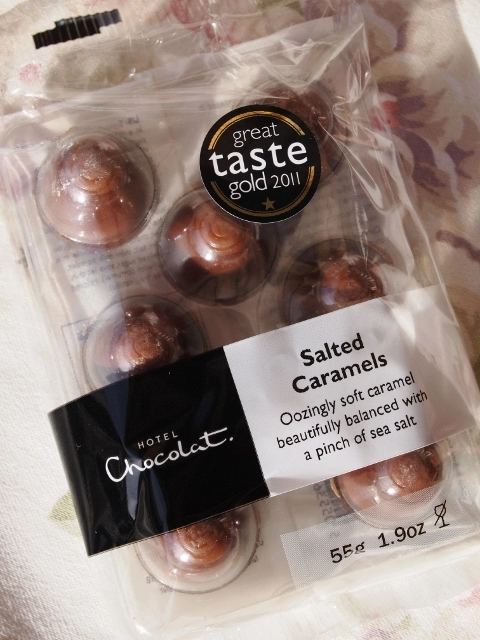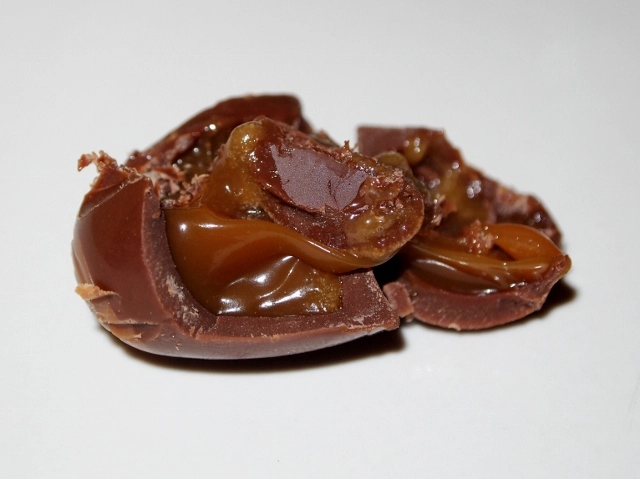 I have always enjoyed the contrast between sweet chocolate and salty caramel, and these are the best salted caramels I have ever tried – the balance of flavours is perfect!  When you first bite into the chocolate the caramel comes oozing out, and you are hit with a toffee sweetness which has a slight tang of sea salt.  These perhaps wouldn't be to everybody's taste, but I think they're a very sophisticated little treat and I'd definitely have these again.
Chocolate Gemstones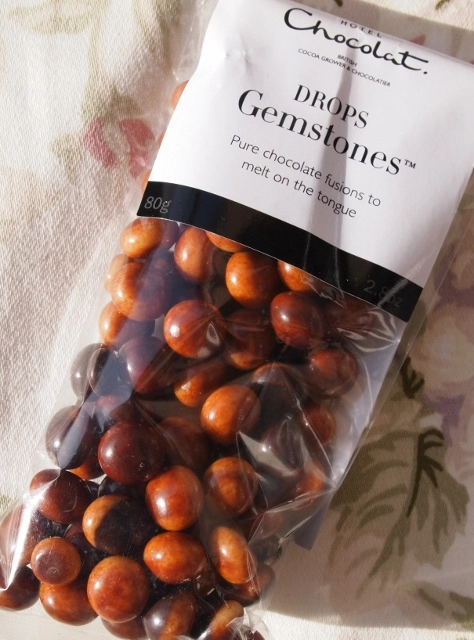 Hotel Chocolat's Gemstones are made of white and dark chocolate drops, which have been fused together to create silky and shiny little spheres, which melt slowly on the tongue.  They might be small, but each one gives big flavour, with a creaminess from the white chocolate and a bitter edge from the dark chocolate which stops them being overly sweet.  Out of everything in the goody bag, these are the ones I keep going back to…  They're very moreish!
Billionaire's Shortbread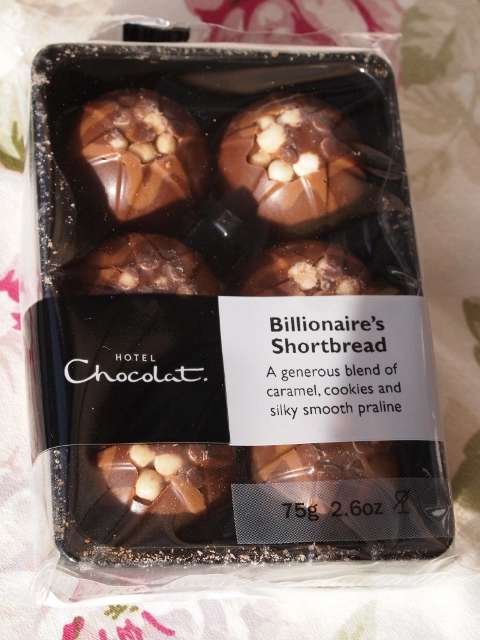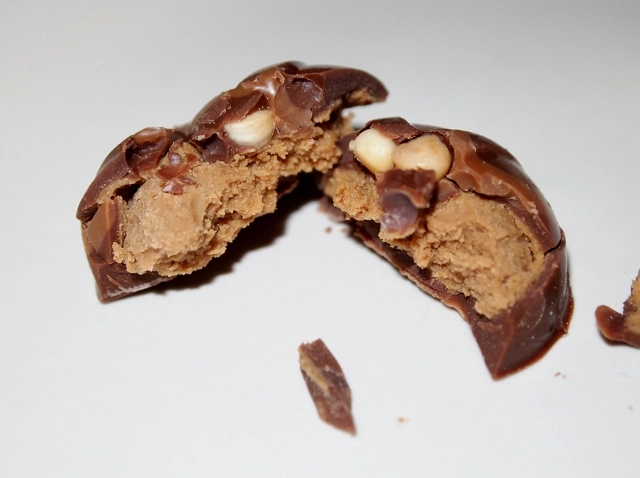 Last but not least, Billionaire's Shortbread.  These unusual truffles are made of milk chocolate, and have a caramel praline inside which has a lovely soft texture.  Each one is also sprinkled with little pieces of shortbread cookie, which add a delicious crunch to every bite.  These really do taste just like the dessert of the same name, but their delicate size makes them that little bit more refined.  My other half absolutely loves the Billionaire's Shortbread chocolates and I think these would win if it was his choice!
Though I like everything in the goody bag, my overall winner has to be the Gemstones!  They might be the simplest chocolate of them all, but I think that would make them suitable for any guest to enjoy, and their beautiful taste and dainty size make them the ideal snack to nibble on throughout the evening, whilst you lounge in your comfortable hotel room.  Bliss!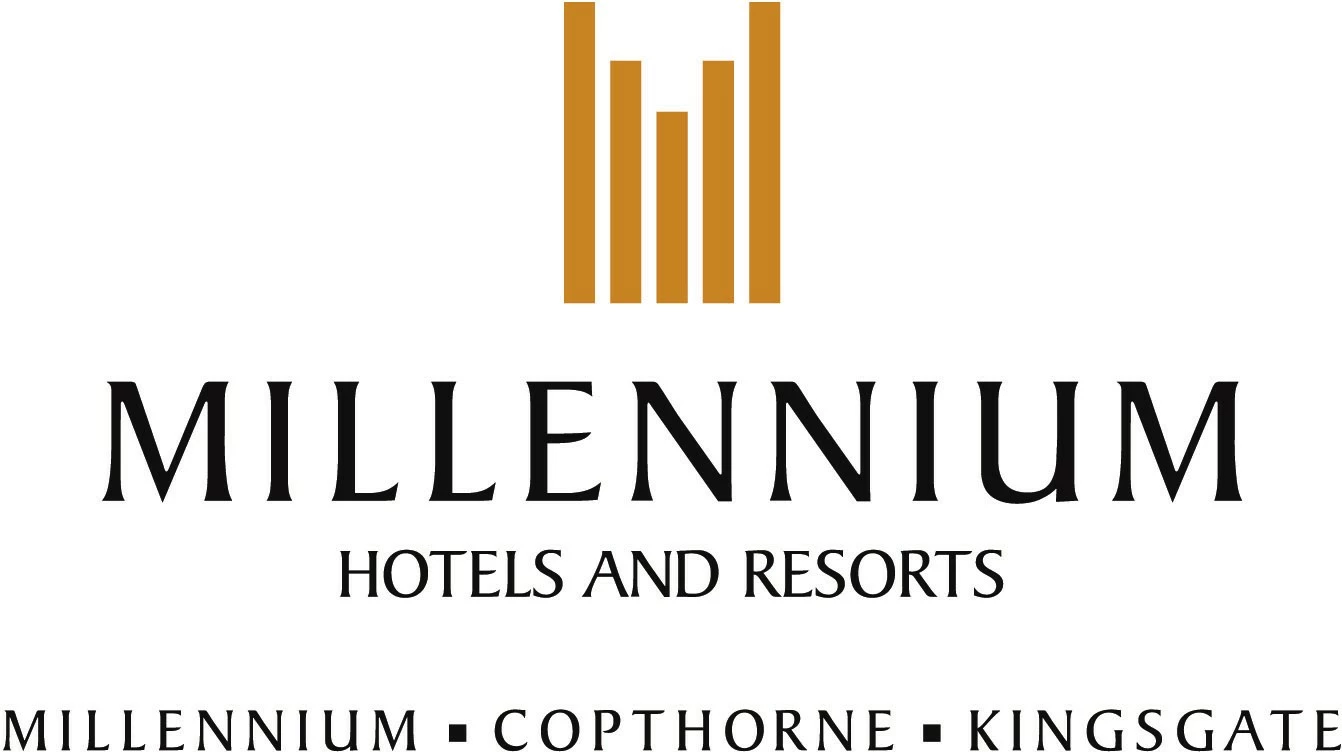 If you fancy a stay at a 4 Star Millennium Hotel (I know I'd love to stay at the London Mayfair hotel myself), now is a good time to book…  They are currently offering 30% off room rates until the end of March, and with Valentine's Day just around the corner, this could be a lovely way to impress your loved one!  Click here to find out more, and don't forget to treat them to some Hotel Chocolat chocolates too.
Naomi x
*The Hotel Chocolat Goody Bag was sent to me by Millennium Hotels for review purposes.  All opinions expressed are honest and my own.*
2
Hello everyone!
After four days of camping near the beautiful moors of Dartmoor I am finally back in the shire.  I had a great time on my little trip with my dad and sister – I've been camping every year since I was born and I really love being close to nature and away from all the stresses of the city.  We spent a good portion of the holiday hiking on the moors.  We found a couple of stone circles and saw lots of wild horses, and of course some stunning views…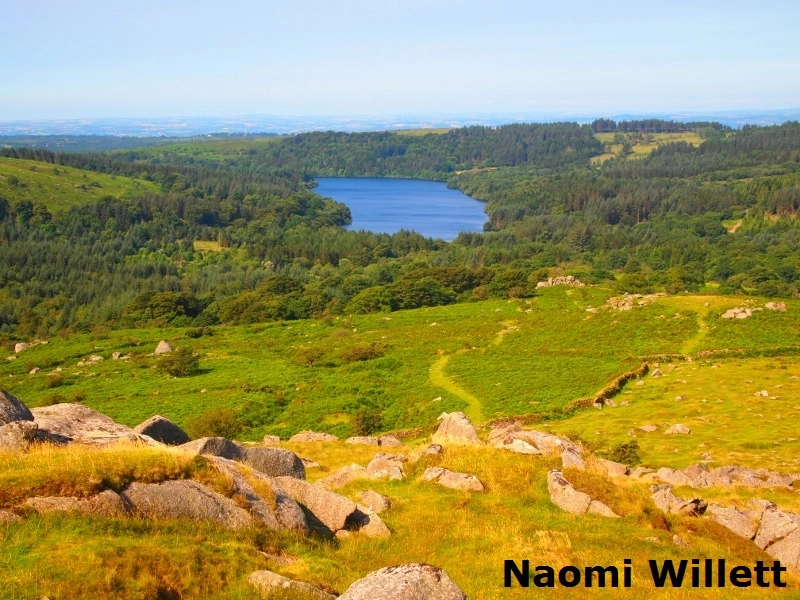 We also spent a day in the beautiful little Cornish town of Boscastle, browsing the shops and sitting on the cliffs overlooking the sea (which was very, very blue).  And, as you do, we ate a lot of decadent meals – not good for the diet but great for the soul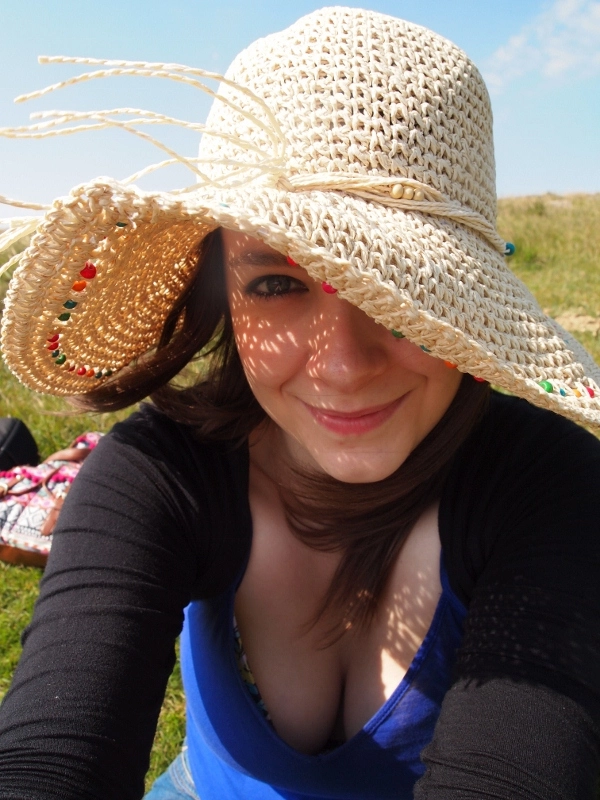 Whilst I was camping it was really hot and sunny – quite unexpected after two months of rain!  I'll admit, I hadn't really thought about buying sun lotion this year because of all the rubbish weather, but I recently received a free sample bottle of Hawaiian Tropic Silk Hydration lotion in the post.  So, before I set off, I chucked it in my suitcase to use if it was sunny… and as I said, it was.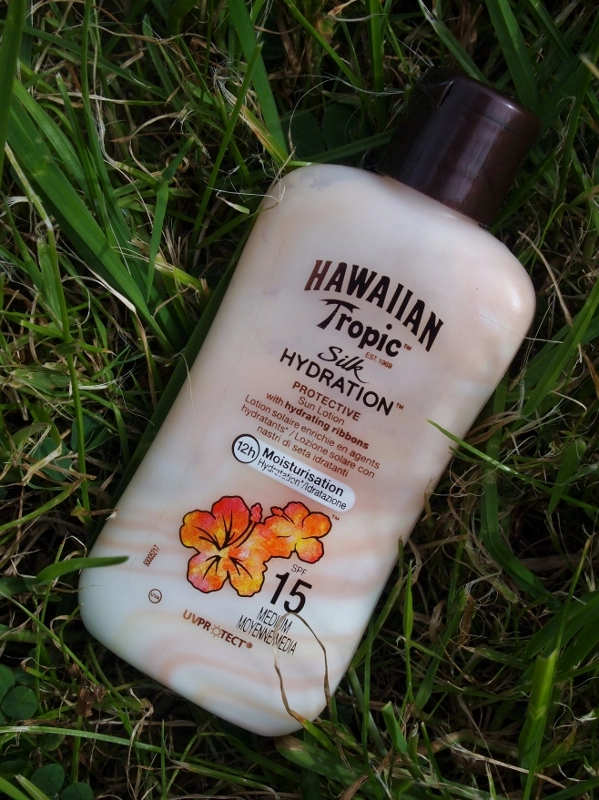 On first impressions I love the look of this lotion.  The flower design on the bottle is pretty and the lotion itself looks different to the boring white stuff you usually see on shelves.  If you look closely, you can see that the lotion in the bottle is white, swirled with orange.  These orange swirls are the 'hydrating ribbons' that the packaging boasts, which are supposed to provide twelve-hour moisturisation.  When you squeeze the bottle the lotion comes out easily and the colours mix into a paler orange shade, as you can see below.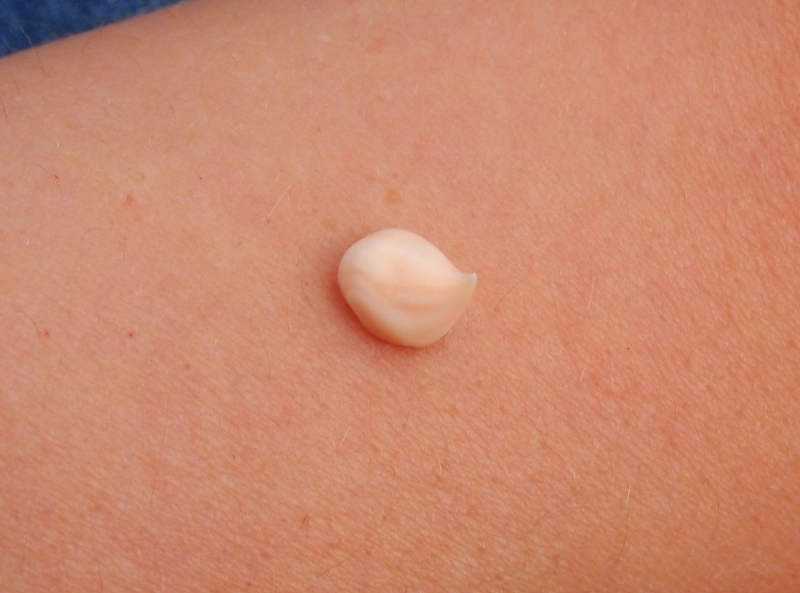 So… does this lotion protect AND moisturise?  In a word, yes!  The lotion is a wonderful consistency – not too runny and not too thick, so it rubs in with ease.  I noticed that it was absorbed very quickly so it didn't leave any streaky white marks and didn't rub off on my clothing.  The lotion has an SPF of 15, so I applied this several times a day to ensure that I was protected at all times.  I usually use SPF 25 or 30, so this did need more regular application, but it's so lovely to apply it didn't matter too much.  As you would expect, I didn't burn whilst using this, not one little bit.  I did get a slight tan on my arms and chest though, but I'm not complaining.  But now for the real test, the hydration factor!  I didn't use any other moisturiser whilst I was camping, which for me is unusual as I suffer from fairly dry skin.  However, the Silk Hydration did just the job

  My skin felt so soft all day and night, even after a shower, and I didn't suffer with any dryness.  I really wish you could buy the moisturising aspect of this on its own to use all year round because it really is impressive.
The absolute best thing about this lotion though is its scent.  It smells so light and fresh…  Slightly fruity but also floral, with a strong creamy overtone of sweet coconut.  The scent lingered on my skin all day, and I couldn't stop sniffing my arm!  Haha.
I would highly recommend this lotion to anybody, especially if you suffer from dry skin and want something hydrating as well as protecting.  I've seen it around in lots of shops, including ASDA and Boots so it's very easy to find, and it has an RRP of £14.99 for 180ml, meaning this 59ml sample bottle is worth about £4.99.  It may be slightly more pricey than other high street sun lotions, but I think the quality of the product reflects the price.  I for one would definitely invest in a bigger bottle.
Have you tried Hawaiian Tropic's Silk Hydration sun lotion?
Naomi x
*I won this product in a 10,000 bottle giveaway and this is an honest review.  I am in no way affiliated with Hawaiian Tropic or any other companies mentioned*