Posts tagged
Ideas
2
This week, Monday 19th May until Sunday 25th May, is National Vegetarian Week.  All around the country individuals, companies, educational establishments, and communities are taking the challenge to go vegetarian, and in the process are having fun discovering new foods, and learning how to adapt their everyday favourites into easy vegetarian alternatives.  As a vegetarian myself, National Vegetarian Week is something that I completely advocate, and I hope some of you will be taking the challenge too!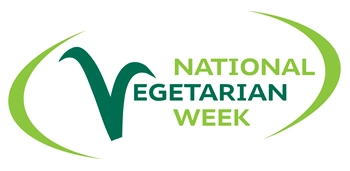 I stopped eating meat, poultry, and food containing gelatine thirteen years ago when I was eleven years old, and a year later, aged twelve, I stopped eating fish.  The thought of mass animal slaughter sickened me, and I just couldn't bring myself to support it anymore, so I made the decision to go veggie.  Luckily I didn't find the transition too difficult, as my mum was very supportive, and to be honest I'd never liked meat anyway, so I didn't (and still don't) miss it at all.  In fact, I disliked meat so much that I was a fairly fussy eater as a child, and becoming vegetarian actually broadened my horizons and encouraged me to try new foods, and ultimately improved my health.
Since then I haven't looked back, and I now spend my days experimenting with new foods and recipe ideas.  I use a lot of Quorn products in my cooking, and will often make traditional meat dishes with Quorn instead of meat, so I never feel like my options are limited.  Halloumi cheese is also an excellent ingredient to use if you want a meaty texture, and is especially great in the summer when grilled or barbecued.  Being vegetarian helps me save money too, as meat alternatives and soya products tend to be cheaper than meat, and you can get quite a few meals out of one packet/bag.  A definite positive when you're on a tight budget!
As those who follow me on Instagram will know, I post a lot of images of my vegetarian creations, so I thought I'd share a few with you, just in case you're taking the veggie challenge and want a bit of inspiration.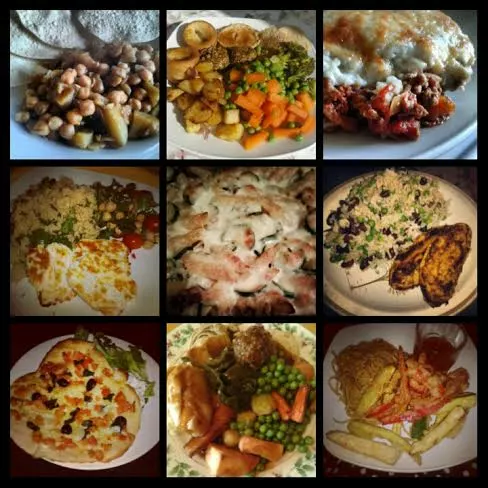 Aubgergine, Potato and Chickpea Curry (Vegan) / Sunday Roast / Quorn Moussaka / Grilled Halloumi with Mint and Coriander Cous Cous, and Tomato and Chickpea Salad / Courgette, Sundried Tomato and Mozzarella Creamy Pasta Bake / Jerk Quorn Chicken with Rice and Peas / Homemade Tomato, Basil and Olive Pizza with Salad / Christmas Dinner / Tempura Vegetables with Noodles and Sweet Chilli Dip
If you're interested in getting involved with National Vegetarian Week, you can visit the official website here, where you can find out more, and download useful literature to help with your quest.  You can also check out what local vegetarian events there are in your area.  I'll personally be visiting one of my favourite vegetarian cafés, who are offering a free dessert with every main course!
Also, keep an eye out later this week for another installment of my Vegetarian Eateries posts!  In the mean time, you can check out Vegetarian Leicester: Lunch, for ideas of where to get a yummy vegetarian lunch in Leicester.
Will you be taking part in National Vegetarian Week?  How are you doing so far?  I'd love to hear your stories!
Naomi x
4
This year seems to have gone incredibly fast, and Christmas is almost upon us.  I'm sure by now we are all well into our Christmas shopping (I've been extremely organised this year and only have a couple of bits left to get!), but I thought I'd put together a few festive themed posts over the next week or two to help with that last-minute rush.  I have spent a while lately trawling the shops and internet for stocking filler ideas, so today's post features my pick of the best beauty stocking fillers for £5 and under.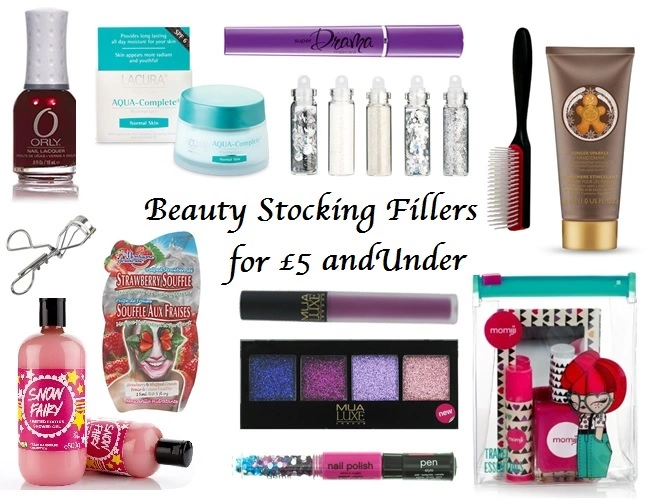 Clockwise from Top Left:
Orly Nail Polish £3.99 from Fragrance Direct / Lacura Aqua Moisture Cream £1.99 from ALDI / SuperDrama Mascara £5.00 (was £10.00) from Avon / Halo Futuristic Nail Glitter £4.50 from ASOS / Denman Small Styling Brush £4.99 from Fragrance Direct / Ginger Sparkle Hand Cream £4.00 from The Body Shop / Momiji Mini Gift Set £5.00 from M&S / 3 in 1 Nail Art Pearl Gem Pen £4.50 from Claire's / MUA Luxe Velvet Lip Lacquer £3.00 from MUA / MUA Luxe Glitter Palette £4.00 from MUA / Montagne Jeunesse Strawberry Souffle Face Mask £0.99 from New Look / Snow Fairy Shower Gel £3.50 for 100g from LUSH / Metal Eyelash Curler £3.25 from John Lewis
I hope you all find this edit helpful!  If you have any £5 or under stocking filler ideas to add, please comment below as I'd love to see what you've come across.
Check back soon for my next Christmas post, featuring Spend and Save Christmas Gift ideas.
Happy Shopping!
Naomi x
7
Last week I received a very special delivery from Millennium Hotels…  A goody bag stuffed full of Hotel Chocolat treats!  Millennium Hotels are a luxury hotel company who have many hotels and resorts in exciting locations all around the world.  To add something a little extra special to every room, they are currently trying to choose a luxury chocolate to place on their pillows for their guests, and I was asked along with a few other bloggers to help them choose by sampling each chocolate in the goody bag.  How could I say no to that?!  Here is what the bag contains…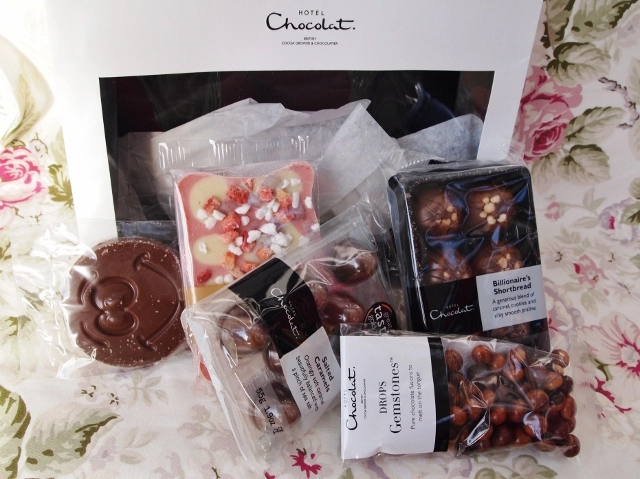 From Left to Right:
Smiley Lick.
Eton Mess Slab.
Salted Caramels.
Chocolate Gemstones.
Billionaire's Shortbread.
Choosing a favourite out of these five delectable delights is very difficult (I am a chocoholic, after all), as they are all different, and all extremely delicious.  However, a decision has been made!  Read on to see what I thought of each one, and to see which one is my overall winner.
Smiley Lick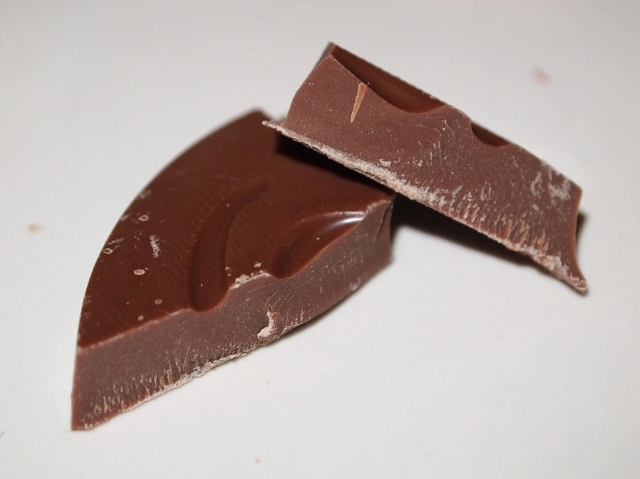 The Smiley Lick consists of a disk of thick milk chocolate on a lollipop stick, which is happily adorned with a smiley face.  This one is fun to look at, fun to nibble and it really shows off the high quality of Hotel Chocolat's chocolate.  The chocolate is extremely smooth and has a rich, sweet flavour.  I gobbled this up rather quickly in one sitting, and was left wanting more.  Delicious, but I don't think it's quite right for a hotel pillow as it's a bit too bulky looking!
Eton Mess Slab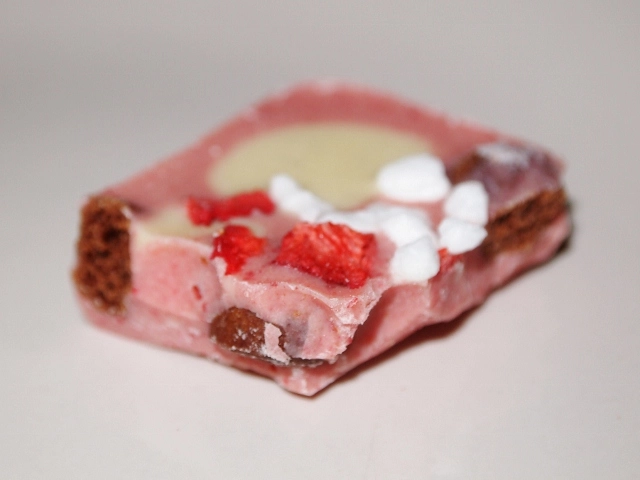 The Eton Mess slab is absolutely beautiful to look at, as the pink chocolate swirled with cream and scattered with strawberry and meringue pieces makes it look like a work of art.  The chocolate itself is strawberry flavoured, with vanilla chocolate running throughout.  It isn't as smooth as the milk chocolate as the real fruit bits give it a bit more texture, as do the little chocolate cookies hidden inside (which I wasn't expecting when I first bit into it!), but it is divine!
If you have a sweet tooth then this is definitely for you – it smells and tastes just like a strawberry milkshake.  I can only handle a little bit of this at a time, but at least that means I can make the bar last and savour it.  This would be the winner if my sister had a say – it was her favourite out of all five choices.
Salted Caramels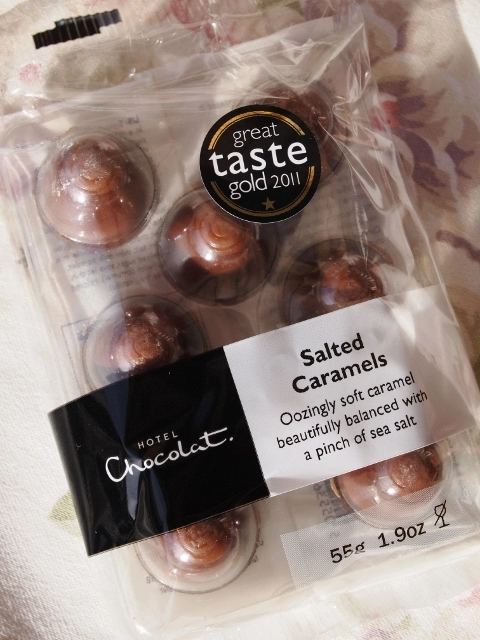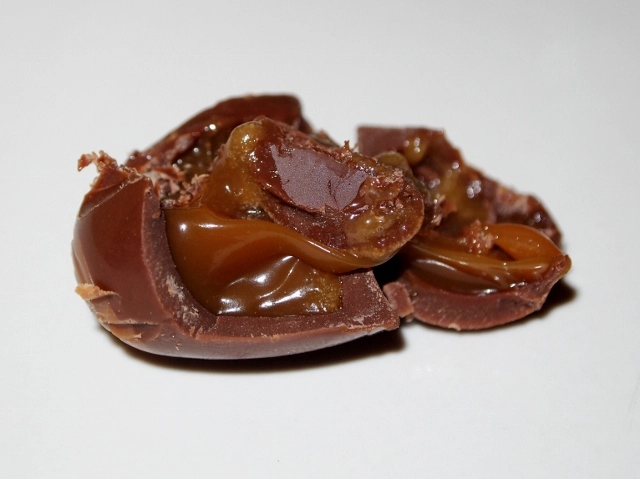 I have always enjoyed the contrast between sweet chocolate and salty caramel, and these are the best salted caramels I have ever tried – the balance of flavours is perfect!  When you first bite into the chocolate the caramel comes oozing out, and you are hit with a toffee sweetness which has a slight tang of sea salt.  These perhaps wouldn't be to everybody's taste, but I think they're a very sophisticated little treat and I'd definitely have these again.
Chocolate Gemstones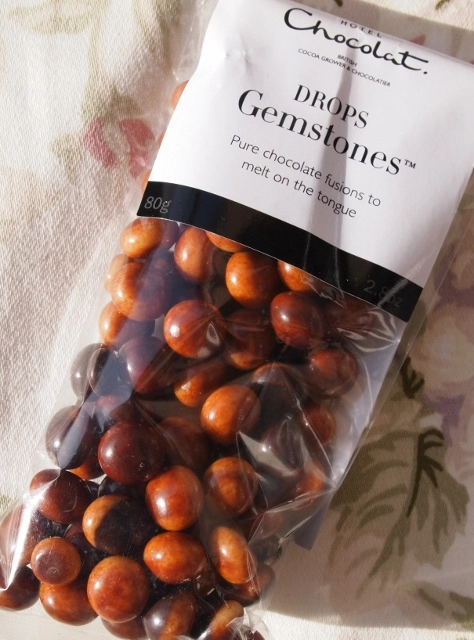 Hotel Chocolat's Gemstones are made of white and dark chocolate drops, which have been fused together to create silky and shiny little spheres, which melt slowly on the tongue.  They might be small, but each one gives big flavour, with a creaminess from the white chocolate and a bitter edge from the dark chocolate which stops them being overly sweet.  Out of everything in the goody bag, these are the ones I keep going back to…  They're very moreish!
Billionaire's Shortbread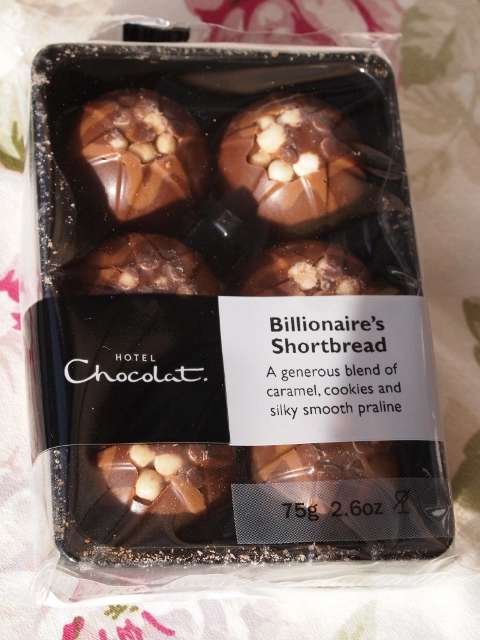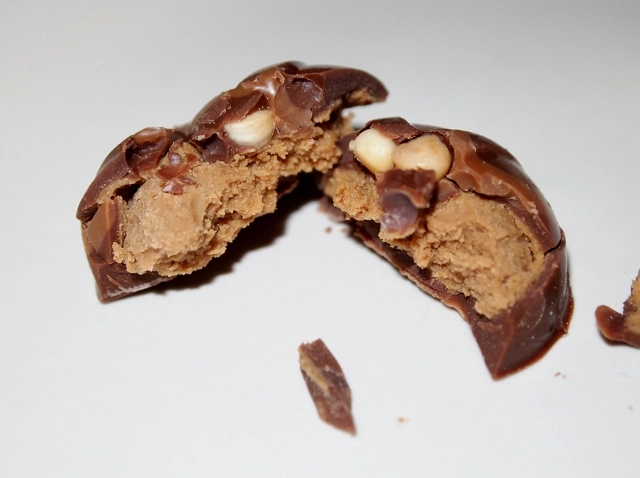 Last but not least, Billionaire's Shortbread.  These unusual truffles are made of milk chocolate, and have a caramel praline inside which has a lovely soft texture.  Each one is also sprinkled with little pieces of shortbread cookie, which add a delicious crunch to every bite.  These really do taste just like the dessert of the same name, but their delicate size makes them that little bit more refined.  My other half absolutely loves the Billionaire's Shortbread chocolates and I think these would win if it was his choice!
Though I like everything in the goody bag, my overall winner has to be the Gemstones!  They might be the simplest chocolate of them all, but I think that would make them suitable for any guest to enjoy, and their beautiful taste and dainty size make them the ideal snack to nibble on throughout the evening, whilst you lounge in your comfortable hotel room.  Bliss!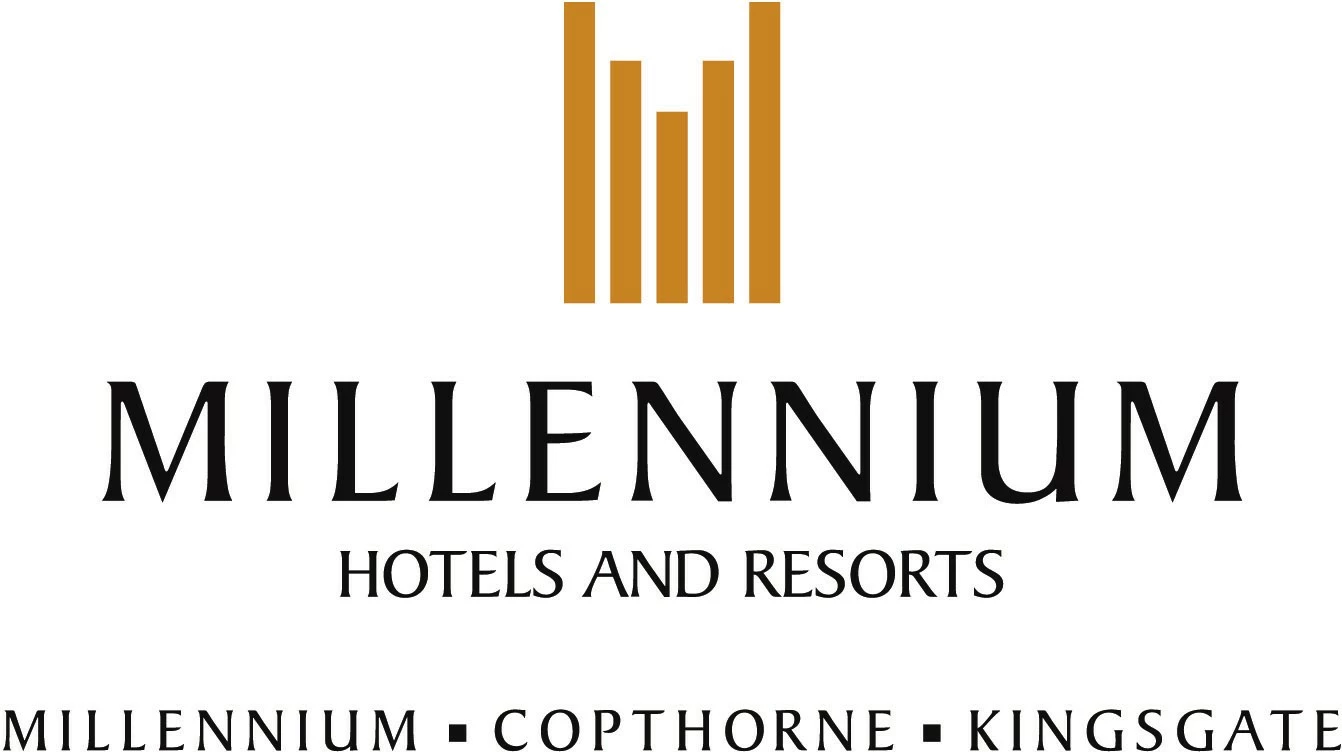 If you fancy a stay at a 4 Star Millennium Hotel (I know I'd love to stay at the London Mayfair hotel myself), now is a good time to book…  They are currently offering 30% off room rates until the end of March, and with Valentine's Day just around the corner, this could be a lovely way to impress your loved one!  Click here to find out more, and don't forget to treat them to some Hotel Chocolat chocolates too.
Naomi x
*The Hotel Chocolat Goody Bag was sent to me by Millennium Hotels for review purposes.  All opinions expressed are honest and my own.*