Posts tagged
Milk
3
Late last month I took delivery of the April edition of my monthly surprise food box, Degustabox, and boy is it a good one!  In my review of the March Degustabox I mentioned that, though I enjoyed the contents of the box, the distinct lack of sweet treats was slightly disappointing, but April's offerings sincerely make up for that.  In fact, this latest box is crammed full of so many of my favourite things, it's as if it was put together specifically with me in mind!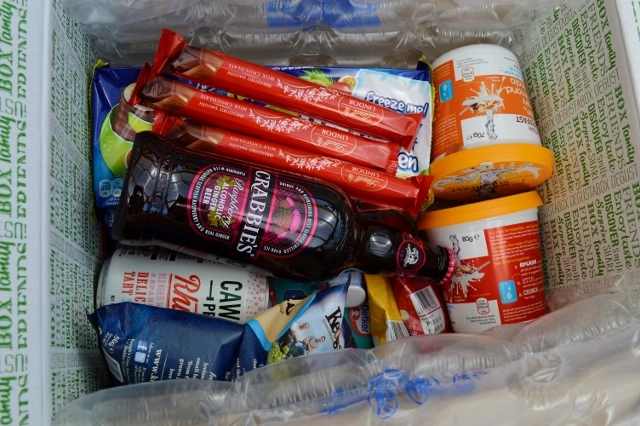 The April Degustabox contains nine different brands, and fifteen individual items, which for £12.99 is a lot better value than most food subscription boxes I've seen.  So without further ado, here are my thoughts on each item…
Crabbie's Alcoholic Ginger Beer with Raspberry (RRP £2.19)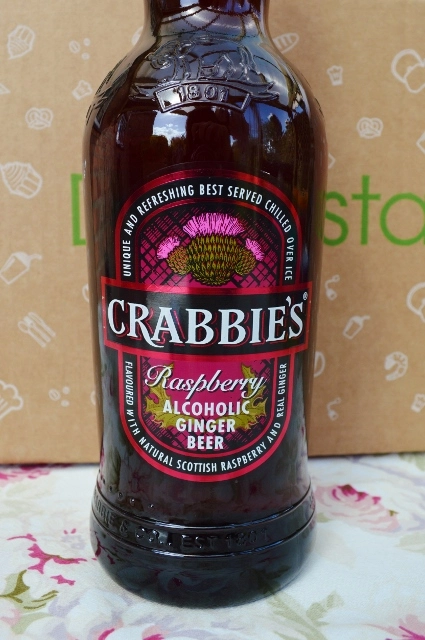 Crabbie's alcoholic ginger beer is one of my favourite alcoholic drinks, and is so refreshing when it's been chilled.  This particular bottle has a raspberry flavour, which I admit isn't my first choice of flavours, but with the ginger it is really quite nice.  The beer is a lovely pink shade and the raspberry flavour shines through, before the warm, comforting burn of ginger kicks in.  I think I prefer the original version, but as a cool drink every now and then during the summer, this would be ideal.  I also want to try the strawberry and lime flavour that I know other people received in their Degustabox.
Lindt Lindor Milk Chocolate Bar (RRP £0.80 each)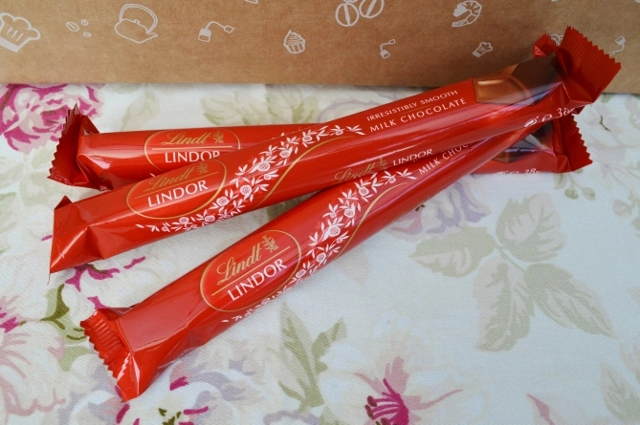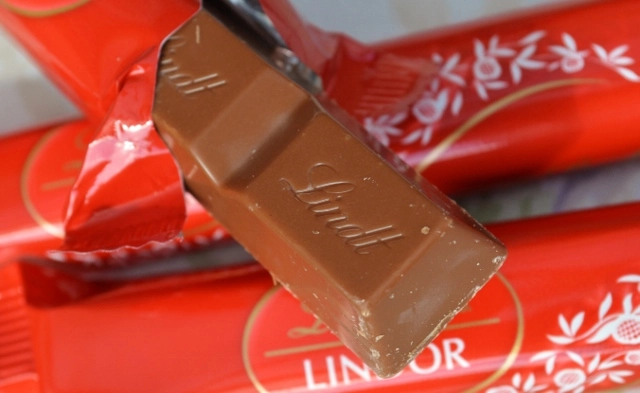 I've always been a fan of Lindt's Lindor truffles, so when I saw that they'd been transformed into bars, I was curious to see whether they were as nice, and as it happens, they are!  These bars have the same cool, creamy taste and texture as their spherical counterparts – the chocolate itself is sweet, but not sickly, and the truffle it encases is luxuriously smooth and delicious.  These bars may be thin, but they feel like a proper treat, and I'll definitely be buying more.
Cawston Press Rhubarb and Apple Sparkling Drink (RRP £1.00)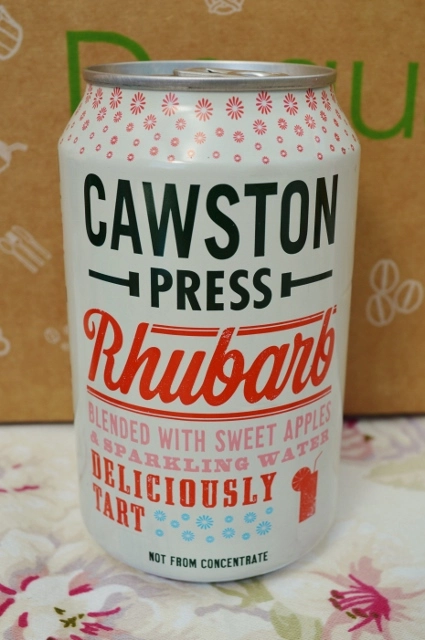 Cawston Press' Rhubarb and Apple drink was an unexpected highlight for me.  I don't often drink fruity fizzy drinks, but this one tastes a little bit more sophisticated than the usual.  It's free of any preservatives, additives and artificial sweeteners, and is made from concentrated fruit juice combined with sparkling water, so is light and refreshing.  The rhubarb flavour dominates, and is reminiscent of the rhubarb and custard sweets I used to eat as a child, without the overpowering sweetness.  I'll be keeping an eye out for more from Cawston Press, as this tasted lovely and I'd like to try some of their juices.
Clearspring Miso on the Go Soup (RRP £1.29 each)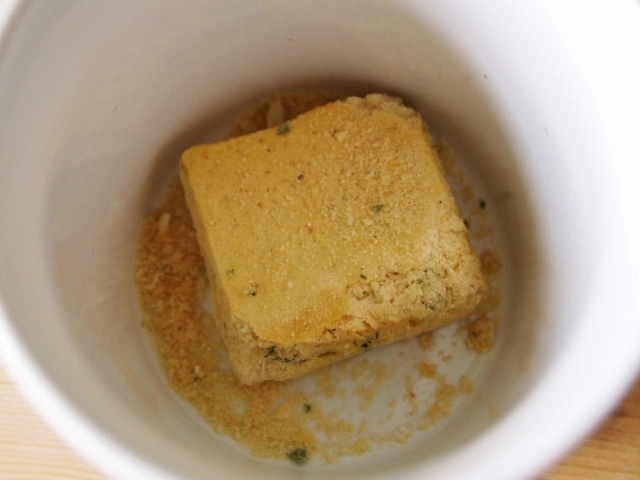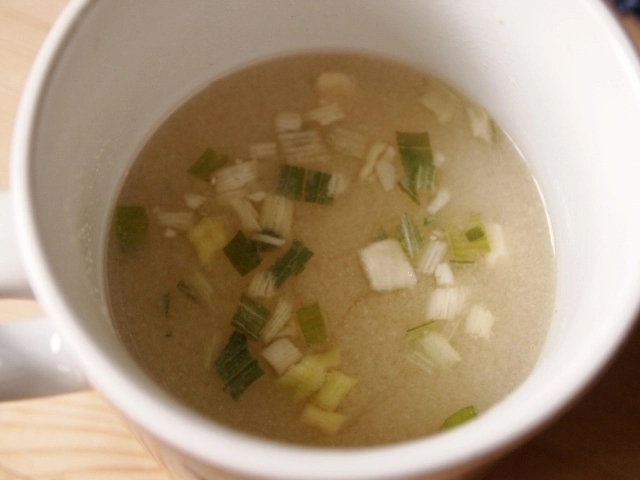 Soup isn't my thing, especially 'cup of soup' type things, so I wasn't incredibly enthusiastic about these Clearspring Miso on the Go sachets when I first saw them.  I received two flavours of soup – White Miso with Tofu (pictured above), and Red Miso with Sea Veg, which I'm yet to try.  One thing that did stand out with these is that they're vegan, and only contain 29 calories, so they're healthy at least.
The soup is easy to make, and involves mixing 160ml of hot water in a mug with the freeze-dried block that the sachet contains.  I was surprised to see such chunky ingredients floating around in the soup, namely cubes of tofu and pieces of spring onion, and though it doesn't look the best, the White Miso actually tastes rather nice!  At £1.29 each I probably won't be buying these again, but I'm glad I tried them.
Go Splash Blackcurrant Water Flavouring (RRP £2.45)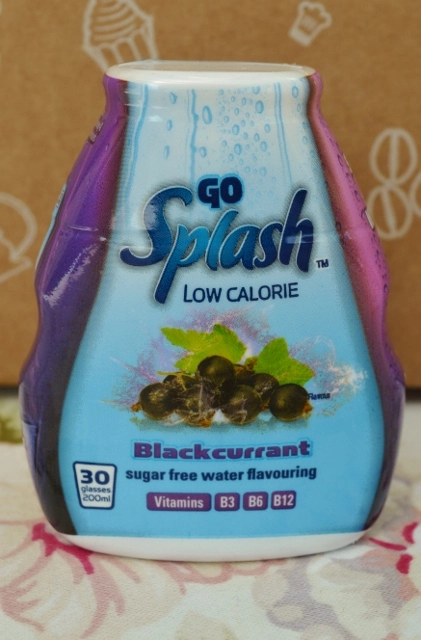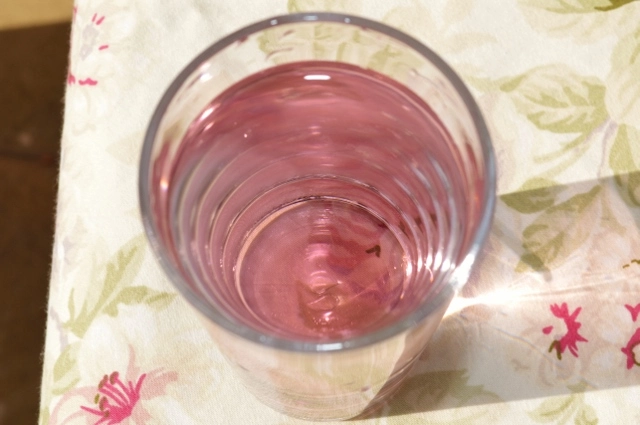 After seeing the Robinsons equivalent of Go Splash in supermarkets recently, I'd been keen to try something like this, but unfortunately I was slightly disappointed with Go Splash.  In theory, it's a great idea – a little container of sugar-free, low-calorie fruit flavoured concentrate to add to water to make it that little bit more exciting, but I'm not sure the brand quite pull it off.  The packaging says to add one squirt to 200ml of water, which I did, but it made no difference, so I added another and still wasn't happy.  The water still tasted like water, but I was left with an artificial, saccharine taste in my mouth after swallowing, with just a hint of blackcurrant.  Not the best, and I haven't used it since.  I was looking forward to carrying this with me so I could enjoy it on the go, but I think I'll pass.
Keogh's Atlantic Salt & Irish Cider Vinegar Crisps (RRP £1.00)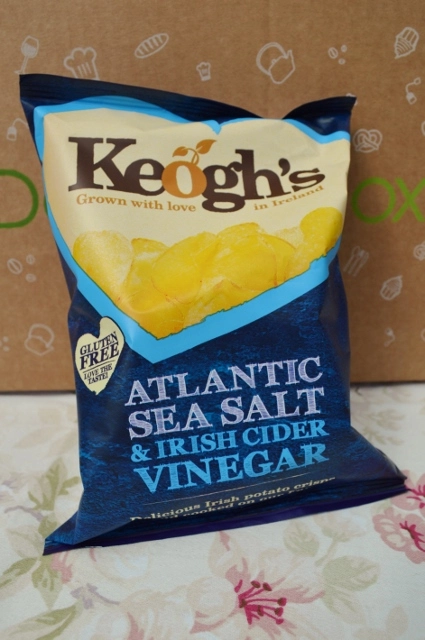 Salt and Vinegar is my crisp flavour of choice, so I was always going to love these, but they even managed to exceed my high expectations.  When I visited Dublin last year I was really taken by just how well Ireland do crisps, and these are close to perfect.  Keogh's Farm is a family run potato growing and crisping business based in North County Dublin, and the family's 200 years of potato expertise really shows.  The packet even features a 'Spud Nav', which tells you exactly which field the potatoes were grown in, the variety of potato used, and who cooked the crisps.  Brilliant!
The crisps are thick and crispy, not at all greasy, and incredibly well-flavoured, as the Irish cider vinegar gives them a pleasantly sweet tang, rather than a sour one.  They're also gluten-free, made from all natural ingredients, and come in a generous 50g bag.  Walkers crisps don't even come close to these!
McVitie's Jaffa Cake Mini Rolls (RRP £1.30 per pack)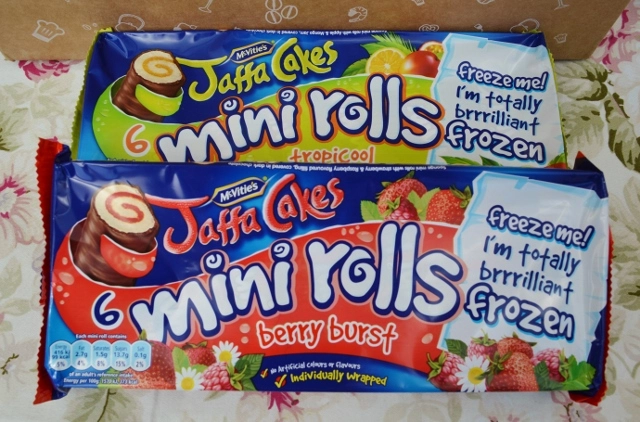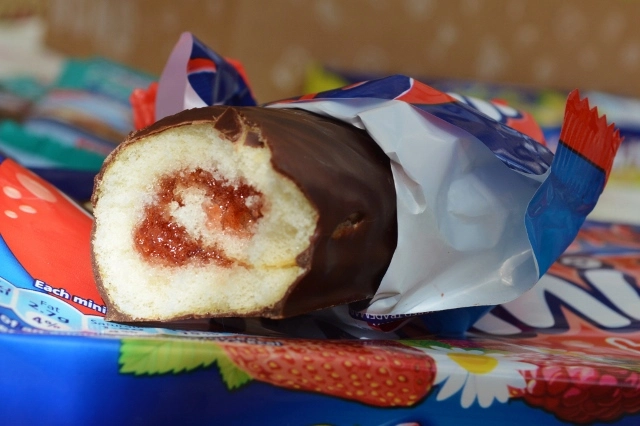 I like cake, I like chocolate, I like Jaffa Cakes, so finding these in my Degustabox was another pleasant surprise.  The Mini Rolls come in two flavours – Tropicool, a mix of tropical fruits, and Berry Burst, and each tastes like what it says on the packet, although not intensely so.  The packaging states that these can be frozen, so I decided to give the freezing a go to see if it made much of a difference, which it did.  They were firmer and chewier, and obviously colder, which suited them well.  I think these would make a nice light treat in Summer when you're getting tired of eating ice cream.
Mornflake Superfast Pots (RRP £1.20 each)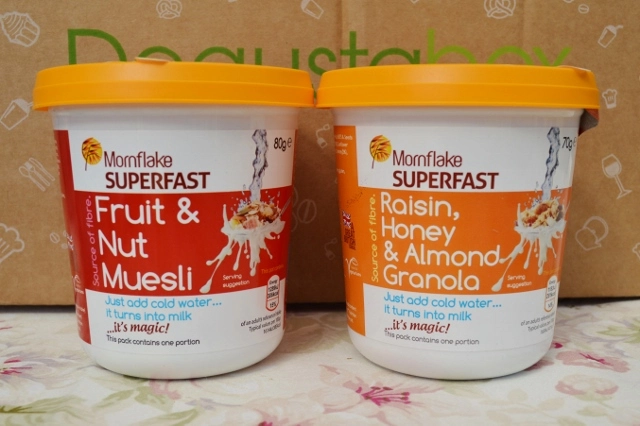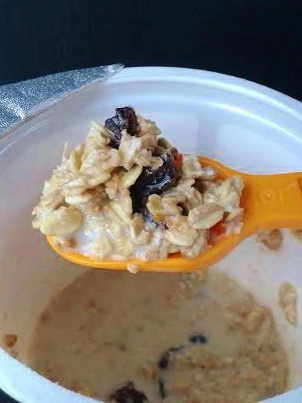 My Degustabox also featured two Superfast pots by Mornflake – a Fruit & Nut Muesli, and a Raisin, Honey & Almond Granola – both of which are right up my street.  Each pot has a handy little spoon in the lid, and contains powdered milk so you can just add cold water to the mix and stir, which is really handy when you're on the go.  Both of these tasted delicious, especially the granola, and the portions are generously sized.  I'd definitely pick one of these up if I was in a rush on my way to work.
Dr. Oetker Fine Cooks' Chocolate (RRP £1.69 each)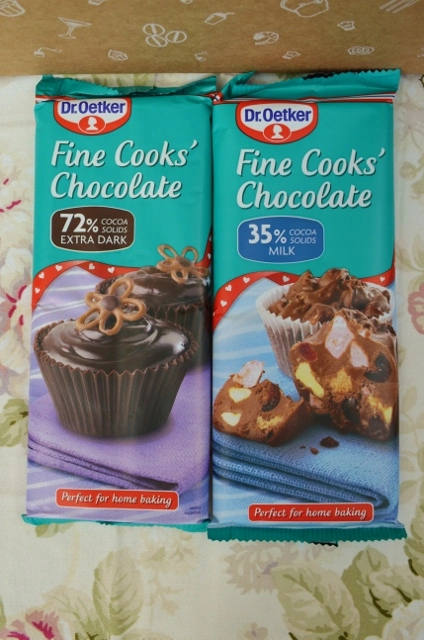 There were also two bars of this Dr. Oetker Fine Cook's Chocolate in April's Degustabox – an Extra Dark one with an intense 72% cocoa solids, and a creamier Milk chocolate, coming in at 35%.  As an avid baker, these were a nice little addition to the box and I couldn't wait to try them out, so I whipped up a batch of tiffin as soon as possible.  Tiffin is a fantastic no-bake, easy to make treat, so I thought I'd share my recipe for…
Chocolate Ginger Tiffin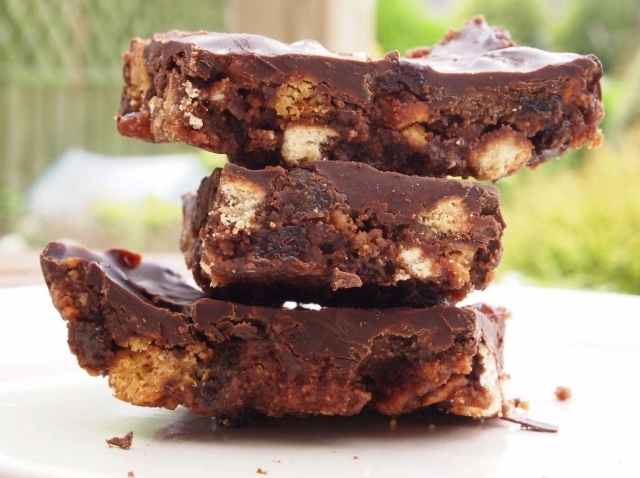 Ingredients:
115g Dr. Oetker Fine Cooks' Chocolate Extra Dark 72%
115g Dr. Oetker Fine Cooks' Chocolate Milk 35%
150g Ginger Nut Biscuits
75g Rich Tea Biscuits
100g Dried Mixed Fruit
110g Butter or Stork Margarine
2 tbsp Sugar
2 tbsp Golden Syrup
4 tsp Cocoa Powder
Method:
1. Line a large, square baking tin with greaseproof paper.
2. Crush the ginger nut biscuits and rich tea biscuits until they are broken into small pieces.
3. In a pan, mix together the butter, golden syrup, sugar and cocoa powder over a low heat, until the butter has melted and the sugar has dissolved.
4. Add the crushed biscuits and dried fruit to the pan and stir until everything is coated.
5. Tip the biscuit mixture into the baking tin, spread out evenly and press down.
6. Melt the chocolate in the microwave in 30 second bursts until fully melted.  Pour over the biscuit mix and spread out evenly.
7. Leave the tiffin to set in the fridge for about an hour, before cutting into pieces.  This recipe makes about 18 decently sized pieces.
8. Serve and enjoy!
Of course, I gave the chocolate a little nibble whilst I was cooking (and I got to lick the bowl – cook's perks!), and it's delicious even as an eating chocolate.  I may even finish the bars myself…
The overall RRP of April's Degustabox is £20, so for £12.99 you're definitely getting a good deal.  Once again, everything in the box is vegetarian, and the abundance of sweet goodies is a winner with me.  I'd even go as far to say this is the best subscription box I've ever received from any company!
If you want to know more about Degustabox and this month's products, you can visit their website here.  You can also find them on Twitter and Facebook.
Will you be subscribing to Degustabox?  If so, if you use the exclusive code '4K0P6' when registering, you can get a £3 discount!
Naomi x
PS. You can check out the rest of my Degustabox reviews here.
*This Degustabox was sent to me by Degustabox for review purposes.  All opinions expressed are honest and my own.*
7
Last week I received a very special delivery from Millennium Hotels…  A goody bag stuffed full of Hotel Chocolat treats!  Millennium Hotels are a luxury hotel company who have many hotels and resorts in exciting locations all around the world.  To add something a little extra special to every room, they are currently trying to choose a luxury chocolate to place on their pillows for their guests, and I was asked along with a few other bloggers to help them choose by sampling each chocolate in the goody bag.  How could I say no to that?!  Here is what the bag contains…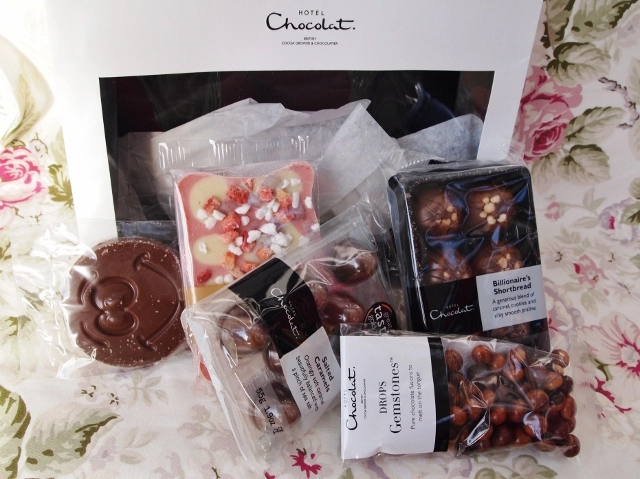 From Left to Right:
Smiley Lick.
Eton Mess Slab.
Salted Caramels.
Chocolate Gemstones.
Billionaire's Shortbread.
Choosing a favourite out of these five delectable delights is very difficult (I am a chocoholic, after all), as they are all different, and all extremely delicious.  However, a decision has been made!  Read on to see what I thought of each one, and to see which one is my overall winner.
Smiley Lick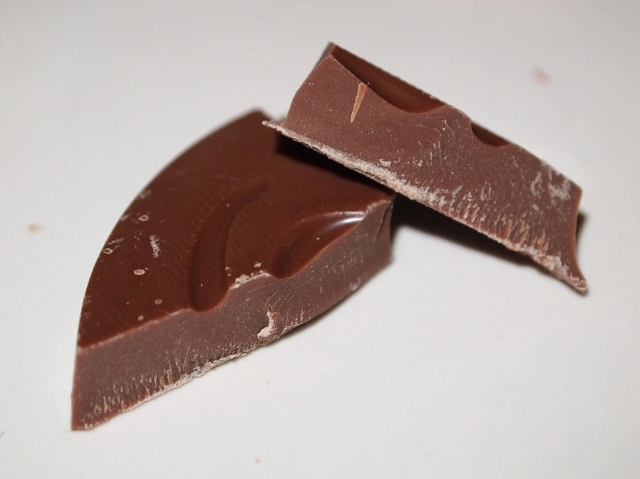 The Smiley Lick consists of a disk of thick milk chocolate on a lollipop stick, which is happily adorned with a smiley face.  This one is fun to look at, fun to nibble and it really shows off the high quality of Hotel Chocolat's chocolate.  The chocolate is extremely smooth and has a rich, sweet flavour.  I gobbled this up rather quickly in one sitting, and was left wanting more.  Delicious, but I don't think it's quite right for a hotel pillow as it's a bit too bulky looking!
Eton Mess Slab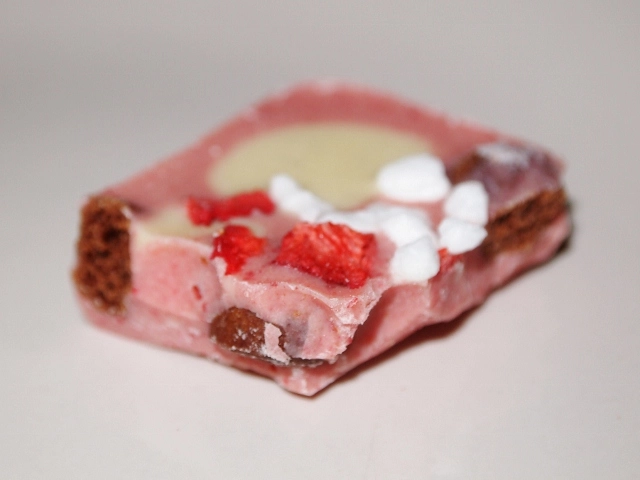 The Eton Mess slab is absolutely beautiful to look at, as the pink chocolate swirled with cream and scattered with strawberry and meringue pieces makes it look like a work of art.  The chocolate itself is strawberry flavoured, with vanilla chocolate running throughout.  It isn't as smooth as the milk chocolate as the real fruit bits give it a bit more texture, as do the little chocolate cookies hidden inside (which I wasn't expecting when I first bit into it!), but it is divine!
If you have a sweet tooth then this is definitely for you – it smells and tastes just like a strawberry milkshake.  I can only handle a little bit of this at a time, but at least that means I can make the bar last and savour it.  This would be the winner if my sister had a say – it was her favourite out of all five choices.
Salted Caramels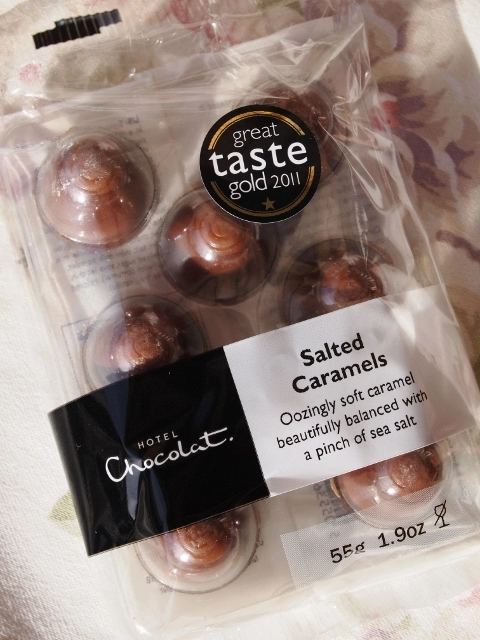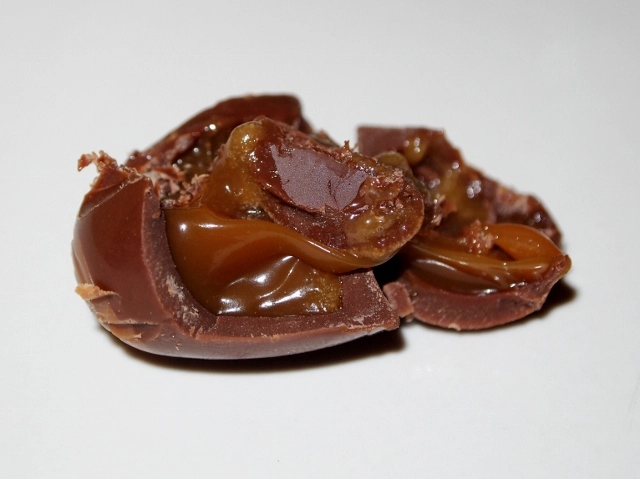 I have always enjoyed the contrast between sweet chocolate and salty caramel, and these are the best salted caramels I have ever tried – the balance of flavours is perfect!  When you first bite into the chocolate the caramel comes oozing out, and you are hit with a toffee sweetness which has a slight tang of sea salt.  These perhaps wouldn't be to everybody's taste, but I think they're a very sophisticated little treat and I'd definitely have these again.
Chocolate Gemstones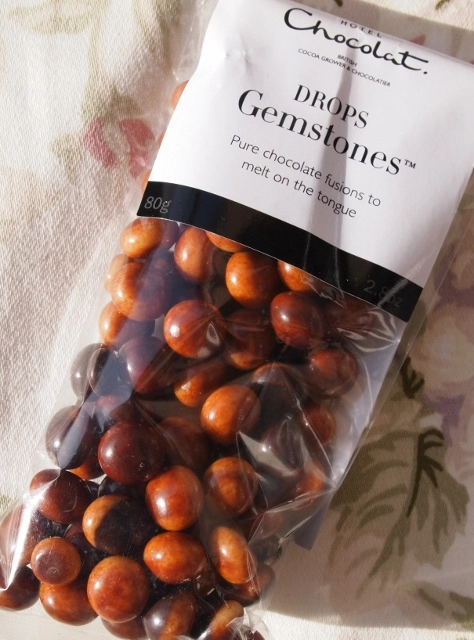 Hotel Chocolat's Gemstones are made of white and dark chocolate drops, which have been fused together to create silky and shiny little spheres, which melt slowly on the tongue.  They might be small, but each one gives big flavour, with a creaminess from the white chocolate and a bitter edge from the dark chocolate which stops them being overly sweet.  Out of everything in the goody bag, these are the ones I keep going back to…  They're very moreish!
Billionaire's Shortbread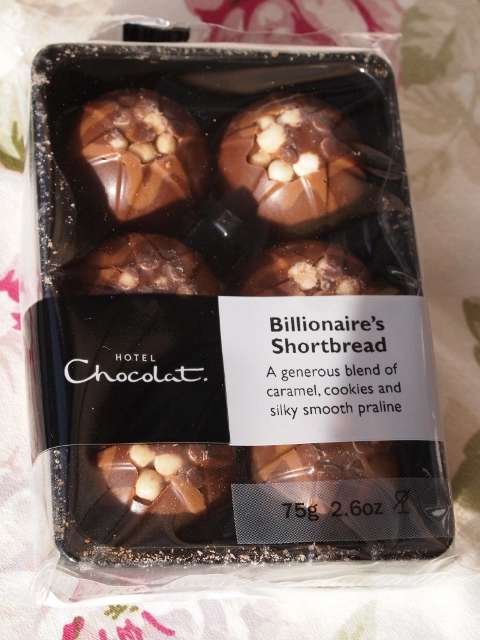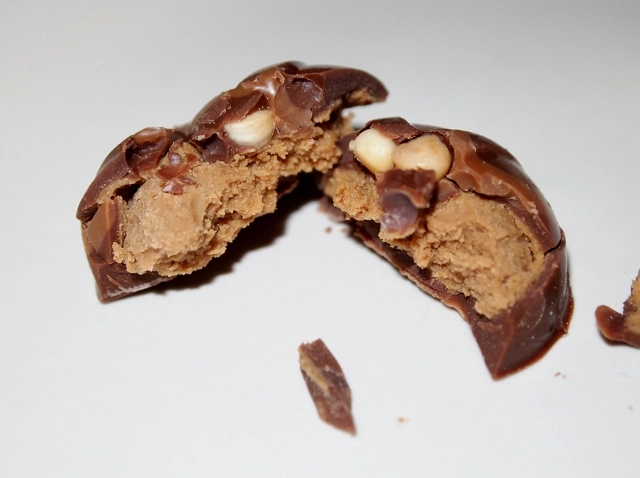 Last but not least, Billionaire's Shortbread.  These unusual truffles are made of milk chocolate, and have a caramel praline inside which has a lovely soft texture.  Each one is also sprinkled with little pieces of shortbread cookie, which add a delicious crunch to every bite.  These really do taste just like the dessert of the same name, but their delicate size makes them that little bit more refined.  My other half absolutely loves the Billionaire's Shortbread chocolates and I think these would win if it was his choice!
Though I like everything in the goody bag, my overall winner has to be the Gemstones!  They might be the simplest chocolate of them all, but I think that would make them suitable for any guest to enjoy, and their beautiful taste and dainty size make them the ideal snack to nibble on throughout the evening, whilst you lounge in your comfortable hotel room.  Bliss!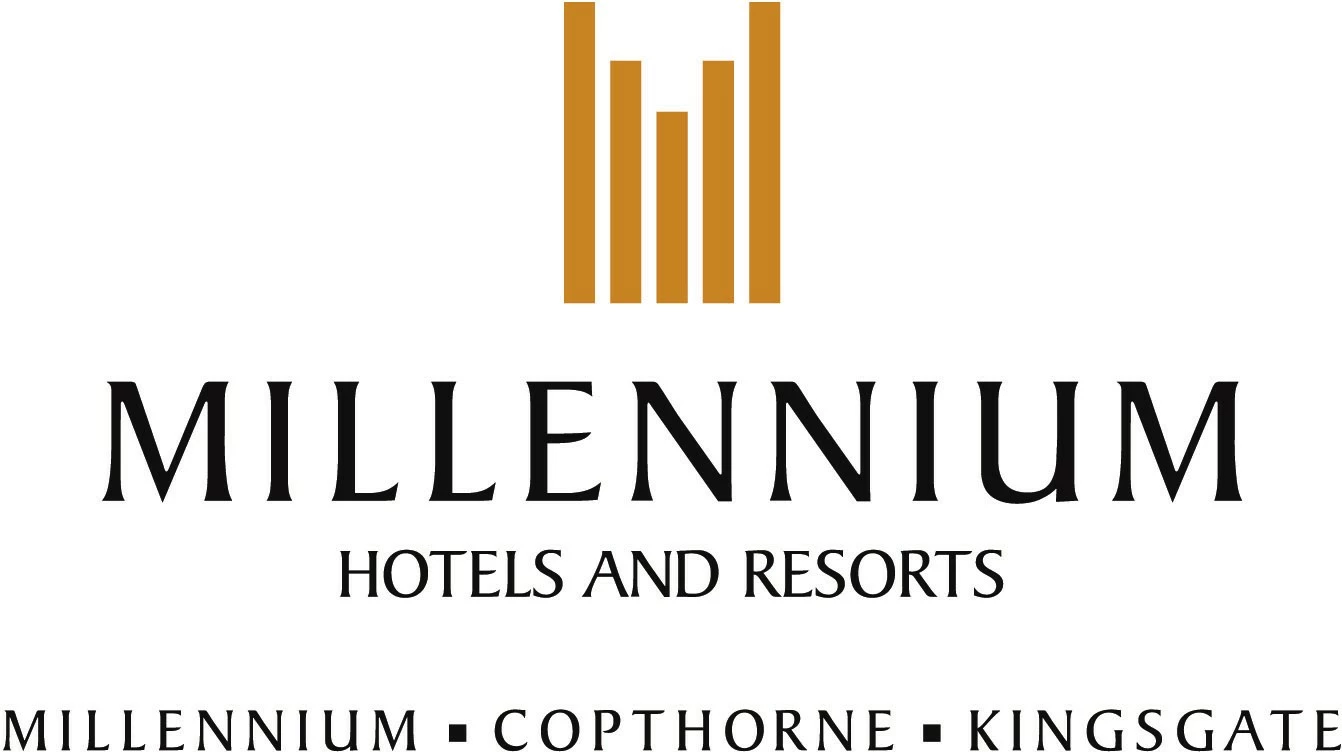 If you fancy a stay at a 4 Star Millennium Hotel (I know I'd love to stay at the London Mayfair hotel myself), now is a good time to book…  They are currently offering 30% off room rates until the end of March, and with Valentine's Day just around the corner, this could be a lovely way to impress your loved one!  Click here to find out more, and don't forget to treat them to some Hotel Chocolat chocolates too.
Naomi x
*The Hotel Chocolat Goody Bag was sent to me by Millennium Hotels for review purposes.  All opinions expressed are honest and my own.*
8

My third Chocolate Treat Week post is all about make up.  Believe it or not, I had to search high and low for chocolate scented and coloured make up products, but I found a couple of great ones in the end.  I've also created a yummy eyeshadow look to share with you, which uses three different shades of chocolate brown.  Enjoy!
For Lips… Palmer's Dark Chocolate & Peppermint Lip Butter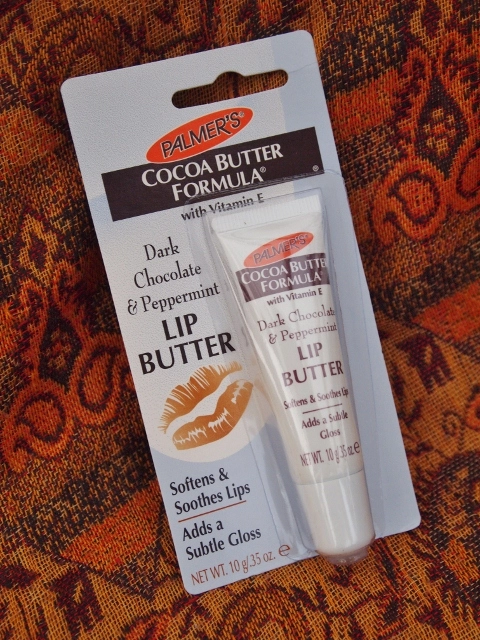 In my high and low search for chocolate lip products I discovered a myriad of chocolate lip balms, but none of them seemed to cut the mustard as a gloss, rather than just a protective balm.  In all honesty I was close to giving up, but then I found this…  Palmer's Dark Chocolate & Peppermint Lip Butter.
The Lip Butter has a lovely creamy formula which feels amazing on the lips.  You can tell from how it feels that it is intensely enriching, and because it's a butter and not a gloss it feels smooth and moisturising rather than sticky.  It  is also light in colour so doesn't leave a tint on the lips, but as the packaging states it adds a 'subtle gloss', which is what makes it makeup in my eyes.  The glossy shine it adds lasts for a long time, and can be worn over lipstick as well as directly on the lips.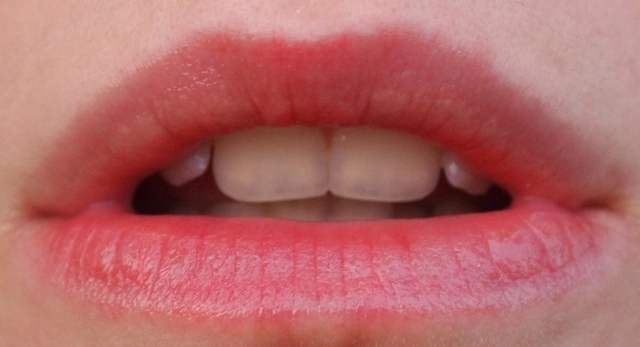 The minty chocolate scent of the Lip Butter is absolutely divine.  The fact that it is dark chocolate means that it isn't too sickly sweet, and the freshness of the peppermint gives it a sharp edge.  The mint also feels wonderful on the lips as it gives the lip butter a pleasant tingle.  Though it doesn't claim to be a plumping product I think it does have a slight, natural-looking plumping effect, but without the pain that some plumping glosses can cause!
Palmer's Dark Chocolate & Peppermint Lip Butter definitely does what it says on the tin.  It 'softens & soothes lips' almost instantly and leaves them feeling protected, but it has a big advantage over most lip balms by adding that 'subtle gloss'.  The Lip Butter is available in lots of high street shops (there's a list here), and usually retails for about £2.75, which is an excellent price considering it is a gloss AND a protective balm in one.
For Eyes… MUA Malt Chocolate Intense Glitter Eyeliner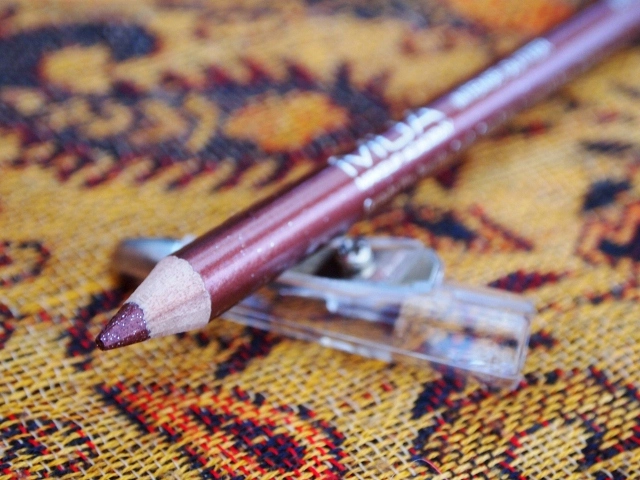 MUA's Malt Chocolate Intense Glitter Eyeliner is another quality MUA product.  Like all of their glitter liners it costs just £1, which is outstanding value as there's even a pencil sharpener incorporated into the lid!  The eyeliner is very creamy so it applies like a dream to both your waterlines and your upper and lower lash lines without pulling the skin at all.  The glitter is very fine too, so it adds a lovely shimmer without causing any irritation or heaviness on the eye.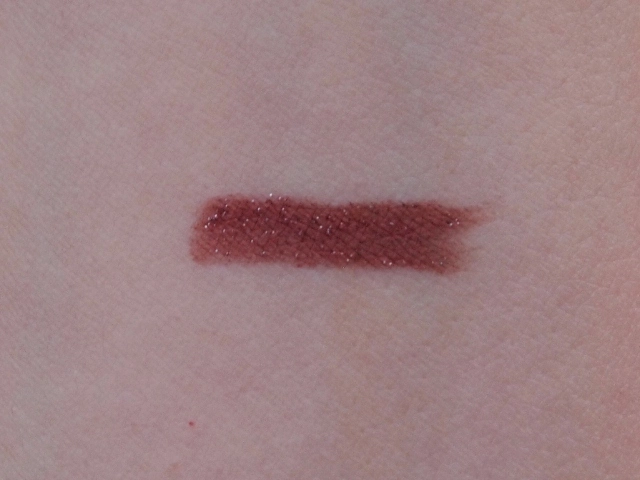 Malt Chocolate is a pretty, highly pigmented shade with a bronze tinge to it, which gives it that 'intense colour finish' – far from the dull, uninspiring look of most brown eyeliners!  What I like about this liner is that, once it dries, it doesn't smudge and it lasts a good long while before it comes off, keeping its bold colour for the duration of wear.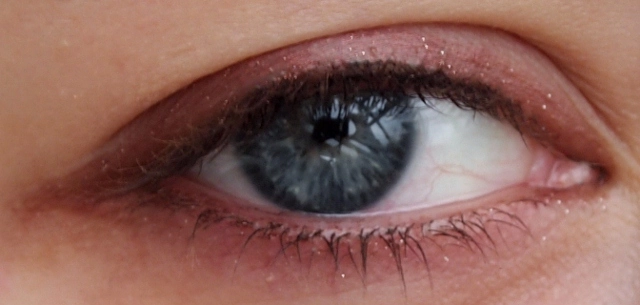 The eyeliner is also impressively versatile.  MUA state that it can be worn all over the eyelid, as a lip liner or as an all-over lip colour as well as an eyeliner, and due to its creaminess I think it would make a great lip product as it wouldn't be drying at all.  What a fab thing to throw into your suitcase for a holiday or into your clutch on a night out!
If you'd like to try any of MUA's Glitter Intense Eyeliners they are available in Superdrug stores or online here.
Create the Look… Triple Chocolate Eyes

The above look was created using three different shades of chocolate coloured eyeshadow.  MUA's Chocolate Box Trio Eyeshadow would be perfect for this, but I actually used their Immaculate Collection Palette.  All you need to use to copy this look is a white chocolate shade as a highlighter, a milk chocolate shade as your main colour, and a dark chocolate shade for shadows and creases.  The shades I used from the Immaculate Collection were these…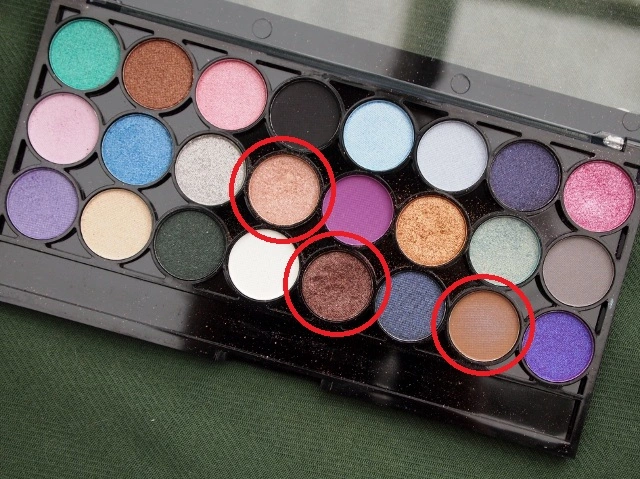 White Chocolate: Shade 12
Milk Chocolate: Shade 23
Dark Chocolate: Shade 21
And here's how you get the look:
Prepare your eyelids right up to the brow bone with your preferred eye primer.
Apply your milk chocolate shade to your eyelid using a flat eyeshadow brush, from corner to corner and up to the crease.
Using another flat eyeshadow brush sweep your white chocolate shade above the milk chocolate shade, up to the brown bone.
Using a shading brush, apply the dark chocolate shade along the crease of your eye, thickening the line at the outer corner and taking it down to the corner of your lashes.
Blend the dark chocolate shade into the edge of the milk chocolate shade with a clean eyeshadow brush.
Using a fine brush, apply a small amount of the white chocolate shade to the inside corner of your eye and a third of the way under your lower lash line.  Fill in the rest of your lower lash line with the dark chocolate shade.
Brush any loose eyeshadow from your face using a clean brush and finish with a generous coat of your favourite mascara, preferably brown.
The Last Rolo…
The Last Rolo is where I hand over the last few words of each Chocolate Treat Week blog post to another blogger.  In the run up to Chocolate Treat Week I asked five of my favourite bloggers a couple of questions about their favourite chocolate treats, and today's answers come from Claire of Nocturnal Beauty.
Can you recommend any chocolate scented, flavoured or themed beauty/fashion products?
I can definitely recommend the Whipstick lip balm from Lush. It's my by far my favourite chocolate scented product that I've tried. It smells just like chocolate orange, and it isn't overly sickly or too sweet, it smells absolutely divine. I do catch myself smelling the tin quite a lot! It feels lovely too and leaves a bit of a brown tint to the lips. It's perfect for anybody who loves chocolate!
What is your favourite chocolate treat to eat, and why?
My favourite chocolate treat to eat is probably chocolate cake. I eat far too much cake and it's a wonder I have any teeth left. I also make some seriously good chocolate fudge!
Thanks for reading today's Chocolate Treat Week installment!  Please check back tomorrow for a post all about chocolate themed nails, featuring some new nail art!
Naomi x