Posts tagged
Caviar
5
You may remember that at the beginning of January I swatched and reviewed a gorgeous glitter varnish from GOSH's Frosted Sand collection, called 'Frosted Purple'. Well, it officially became one of my favourite varnishes of all time, and I couldn't wait to add more frosted shades to my collection. In particular I was trying to get hold of 'Frosted Plum', but the only bottle in my local Superdrug for months was a damaged one. Then, earlier this week, I noticed that they had a few more in stock, and luckily for me all of GOSH's varnishes were on offer for £1.99 each! Obviously I bought it straight away and applied it when I got home, so today I thought I'd share the swatches with you.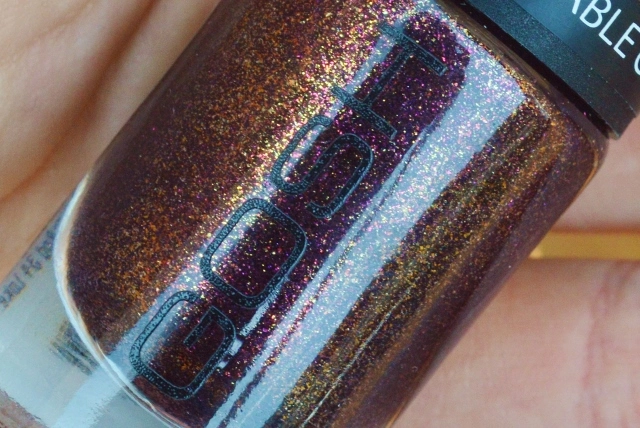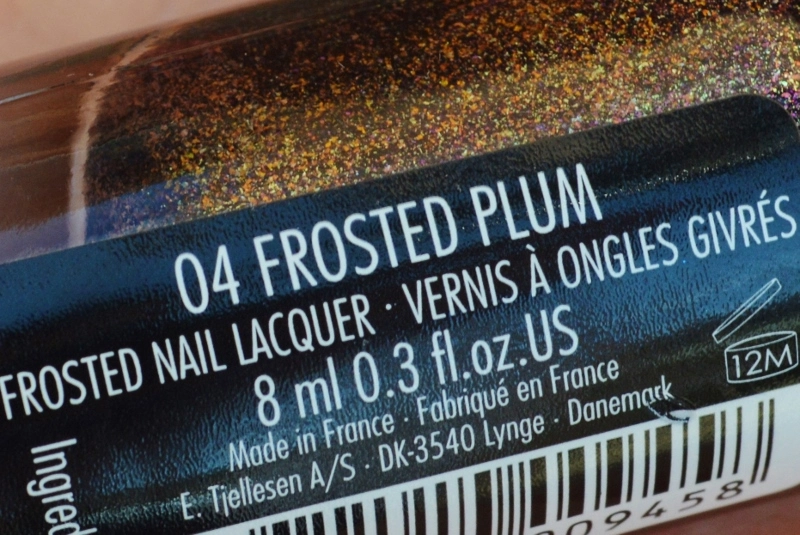 Like its purple counterpart, 'Frosted Plum' is a pleasure to apply, looks opaque in just one coat (although I applied two), and dries really quickly. It's also rather hard-wearing, and stays put for a good few days without chipping, even without a base or top coat.
The best thing about it though is the colour.  The base shade, as you'd expect, is a beautiful deep plum purple, but throughout it are flecks of gold, bronze and bright pink, which give it a brilliant depth.  It looks absolutely amazing in the sun, and even indoors it still looks impressive.  The glitter in this one is a lot more consistently sized than in 'Frosted Purple', and I think it looks a bit like a caviar manicure.
Indoors (with flash)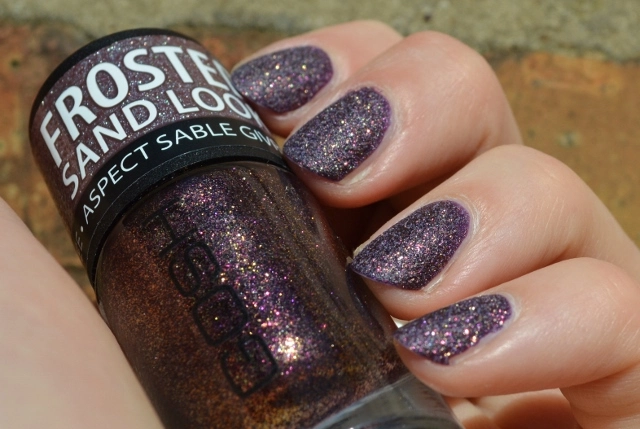 Outdoors
I'll stand by my previous statement that GOSH's Frosted Sand glitters are honestly the best glitters I've tried, and I will continue to add to my collection!  I have my eye on a couple of their spring pastel shades, 'Soft Blue' and 'Soft Green', which are also currently £1.99 in Superdrug (reduced from £3.99).
Will you be buying any of GOSH's frosted glitters?
Naomi x
6
Hi everyone,
First off, I would like to wish my sister, Freya, a very Happy Birthday!  Today she turns 21, an important age, but she'll still always be my baby sister, wanting all my things.  HAPPY BIRTHDAY FREYA!!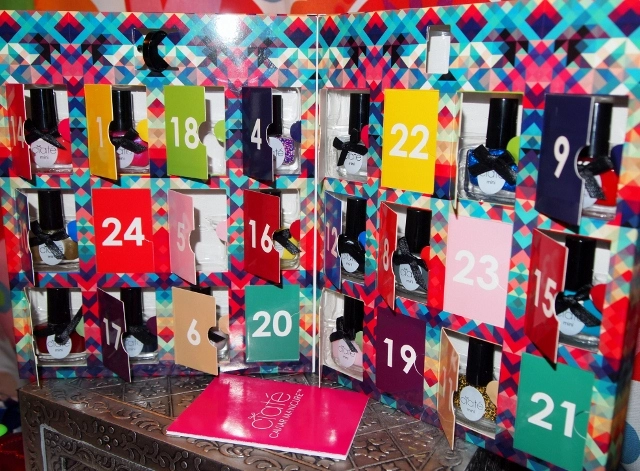 Now, down to business…  Today I opened the door of Day 18 on my Ciate Mini Mani Month advent calendar, which means it's time for another weekly round-up!  This post will feature Day 13 up to Day 18, and I have swatches of all but one of the Paint Pots this time.  I must admit, my feelings were mixed this week.  There were a couple that I really liked, and one or two that I wasn't keen on at all, but you can't win them all as they say!

Day 13 –
Glass Slipper

and Day 14 –

Speed Dial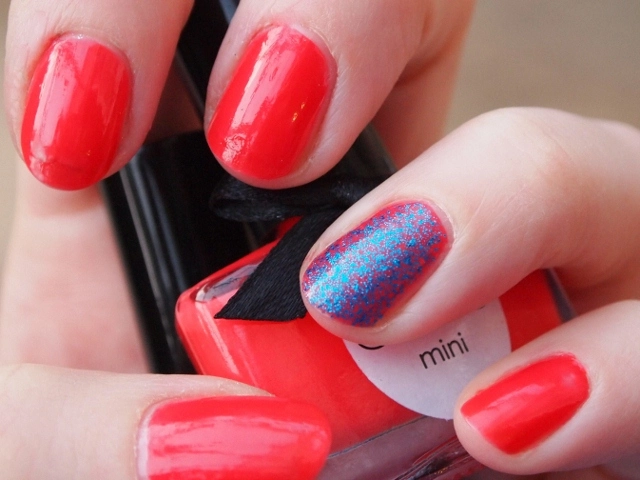 On Day 13 I opened the door to Glass Slipper, a lovely blue glitter polish, and the first of the calendar's three exclusive shades.  The glitter is very fine and beautiful, and doesn't feel too rough in texture, but it isn't really dense enough to wear on its own (unless you're willing to apply 3+ coats).  It works perfectly as a top coat however, and is surprisingly easy to remove for a glitter.
Speed Dial is an unusual shade – it looks bright orange in the bottle, but I found it applies somewhere between a red and an orange.  It is more orange in real life than it looks in the photo above though.  I just can't quite decide whether I like it or not!  It definitely doesn't look that good with Glass Slipper over the top, but with the right outfit I can see it working.  Not one of my favourites, but not bad.  It applied evenly and has a creamy formula at least!
Day 15 –
Headliner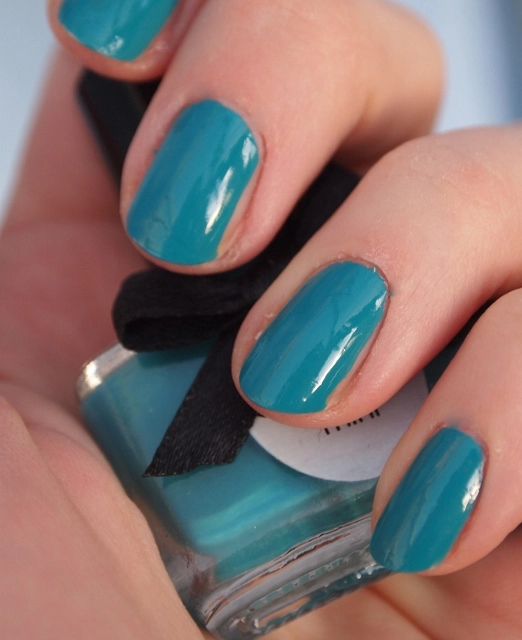 Headliner is my absolute favourite this week…  I seem to have a thing for blues at the minute!  It is a dark turquoise blue shade with a stunning creme finish and I love it!  As you'd expect, the formula is great and, quite impressively, it only takes one coat to achieve a completely opaque finish (the photo above show two coats, however).  Headliner got me a lot of compliments when I wore it, and without a doubt I'll be wearing this one a lot!
Day 16 –
Big Yellow Taxi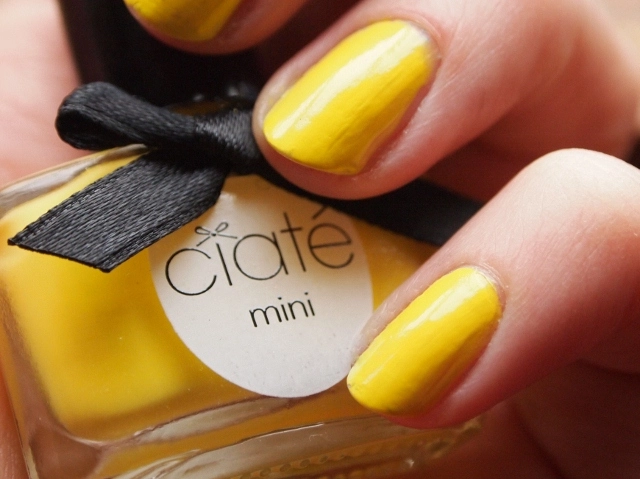 Ick, I'm not liking Big Yellow Taxi.  I initially thought this looked okay as it appeared quite a creamy banana yellow in the bottle, but when I applied it I was soon disappointed.  It has a really strange gloopy formula, so it went on very streaky, and no number of coats seemed to be able to even the finish out.  The yellow shade is slightly too bright, and in all honestly it looks like tippex coloured in with yellow highlighter pen – not pretty!  On the plus side, it doesn't leave any stains behind at all.  I don't think I have the skin tone to pull this off, but it would probably look great against darker skin…  I may use it for Batman nail art though!
Day 17 –
Power Dressing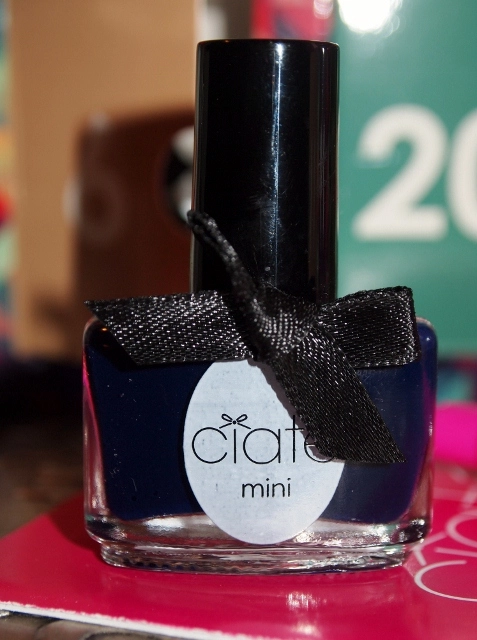 I haven't tried Power Dressing yet so I can't comment much on the formula and colour, but in the bottle it looks like a classic deep navy blue, and I imagine it will have a lovely shiny finish.  I'm looking forward to using this!
Day 18 –
Candy
Shop
Caviar
Pearls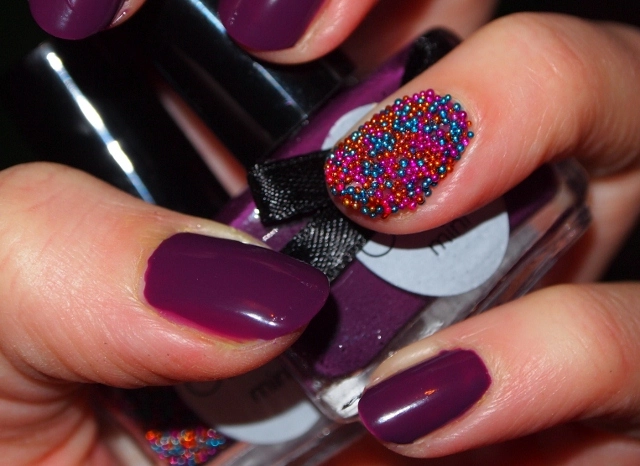 Candy Shop is the third out of four bottles of Caviar Pearls in the calendar, and so far they are my favourite.  The beads are very small and coloured in three shades – turquoise blue, pink and orange.  As with the other pearls that I have tried, these are very easy to apply (just pour over a wet nail, press down, and leave to set for 15 minutes), and look really striking against a bright varnish.  The purple shade I chose to pair the pearls with is actually Cabaret, one of the shades I didn't swatch in Part 1, so now you can see what it looks like.
So there you go, a mixed bag of mostly brights this week.  Which is your favourite?  Please vote below!  Check back for Part 4 next Monday, on Christmas Eve, and if you want to see the previous shades in the Ciate Mini Mani Month, they are swatched in my Part 1 and Part 2 posts.
Naomi x
31
To celebrate receiving my first pay cheque from my new job, earlier this month I treated myself to one of this festive season's highly sought after beauty products – Ciaté's Mini Mani Month!  I first heard about the Ciaté Mini Mani Month from my mum, who had seen it on QVC with a special price of £31.20.  At first I thought that was a lot of money to spend on what was essentially a glorified advent calendar, but after doing some research I realised three things… 1) £31.20 is a VERY good price as the Mani Month is/was being sold elsewhere (Selfridges etc) for a lot more, 2) £31.20 is also VERY good value considering the contents of the box, and 3) I HAD TO HAVE IT!  So, rather excitedly, I placed my order with QVC, and a few days later this is what I received…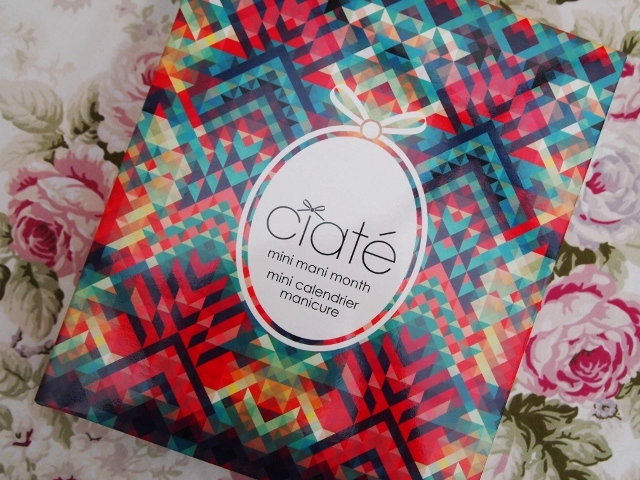 The Mini Mani Month comes in a luxe, on trend Aztec-style print box.  It's hard to tell from my photographs but the box is actually quite large.  It's about A4 sized (maybe slightly bigger), and a few inches thick.  It opens out like a book to reveal 24 windows inside, each of which hides a gorgeous nail treasure to be discovered on the corresponding day!  There's also a small funnel slotted inside the box, to be used with the Caviar pearls which the Mani Month features.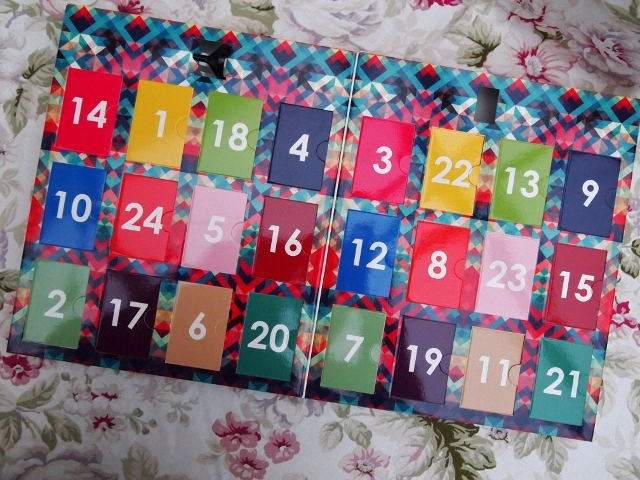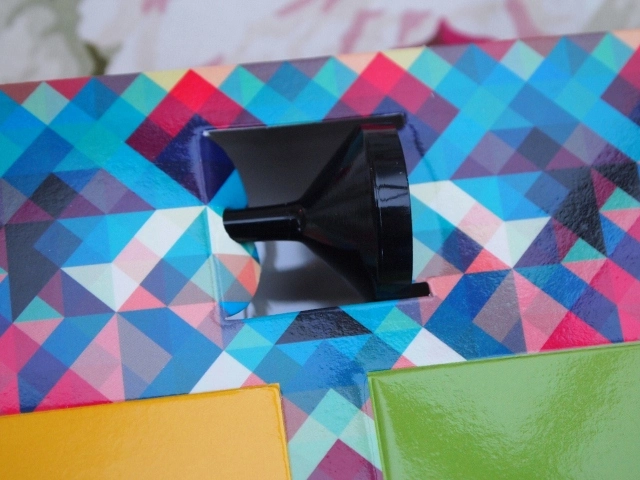 The back of the Mani Month box shows 21 of the 24 nail colours that the calendar contains.  The other 3 are secret shades made especially for the Mini Mani Month, which adds an extra touch of excitement to opening the doors, as you don't always know what you're getting.  I have actually watched a couple of video reviews of this, but I managed to avoid seeing the surprise colours so I still don't really know what they are, and (hopefully) won't until I open whichever days they're behind!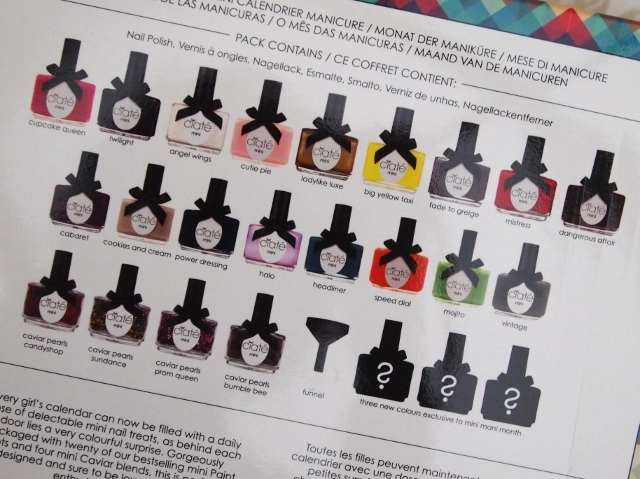 I am yet to open any of the doors (I'm being a good girl and saving it for its intended use as an advent calendar!) so I can't comment on the shades, but looking at the picture there seems to be a wide selection of different colours and finishes, including four bottles of Caviar pearls.  Each bottle of varnish is a mini 5ml version of a classic 13.5ml Ciaté Paint Pot, and the Caviar Pearl bottles each contain 10g of pearls.  Full-size Ciaté Paint Pots retail for £9, so these mini versions are worth around £4 each.  At the price I paid for this, however, they work out at £1.40 each – what a bargain!
Throughout December, I will be revealing the shades behind each door in a weekly Ciaté Mini Mani Month round-up post, so if you want to know more about the nail shades inside, please keep an eye out for those.  I'll try to include as many swatches as possible too!
Unfortunately, the Ciaté Mini Mani Month is no longer available on the QVC website, and I'm struggling to find it for sale anywhere else in the UK other than on eBay, so if you want one of these for yourself you might struggle to find one I'm afraid!  However, my American readers may be pleased to know that it is currently available on the Sephora website for $58.
Naomi x