Posts tagged
Knitwear
0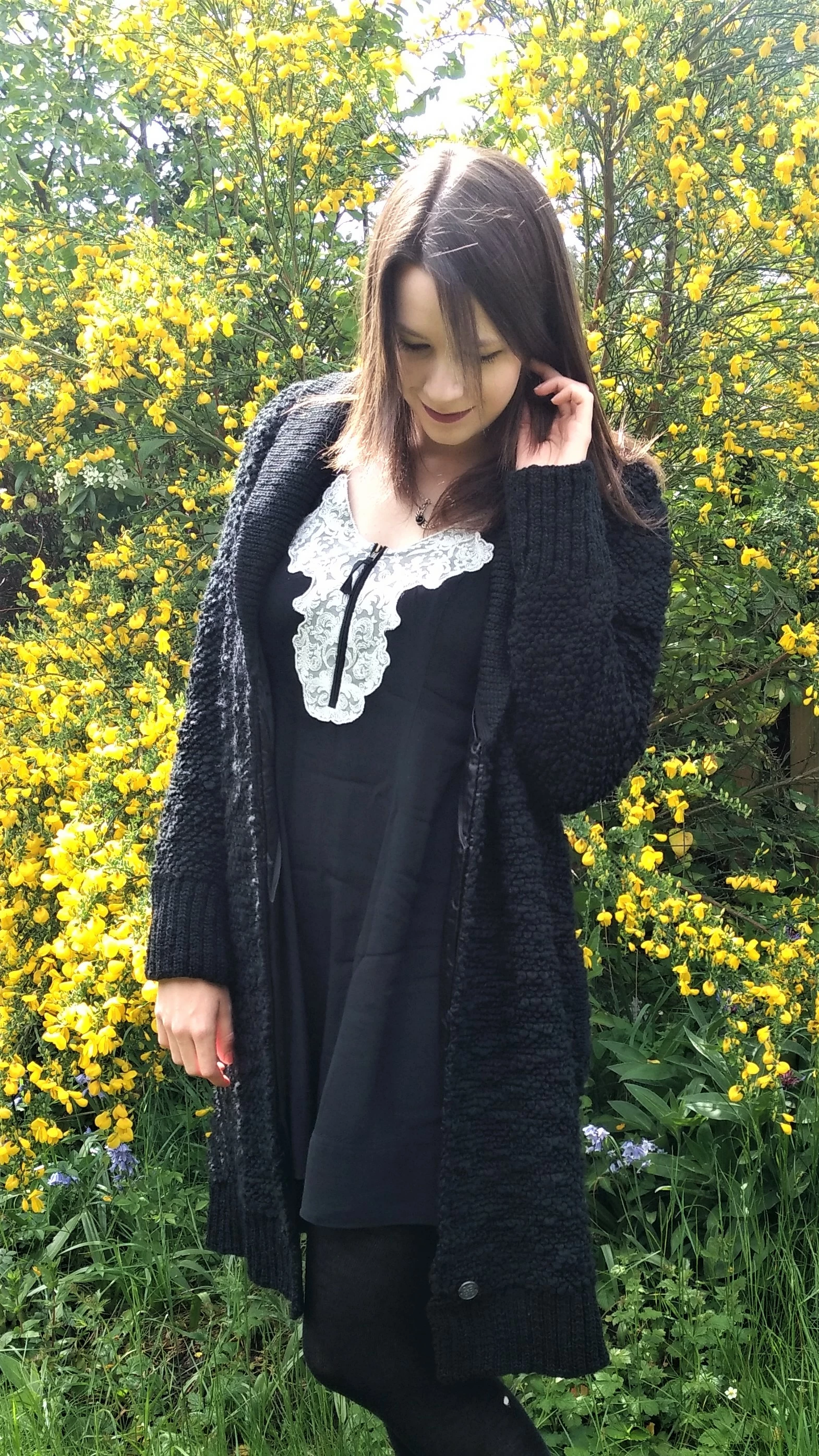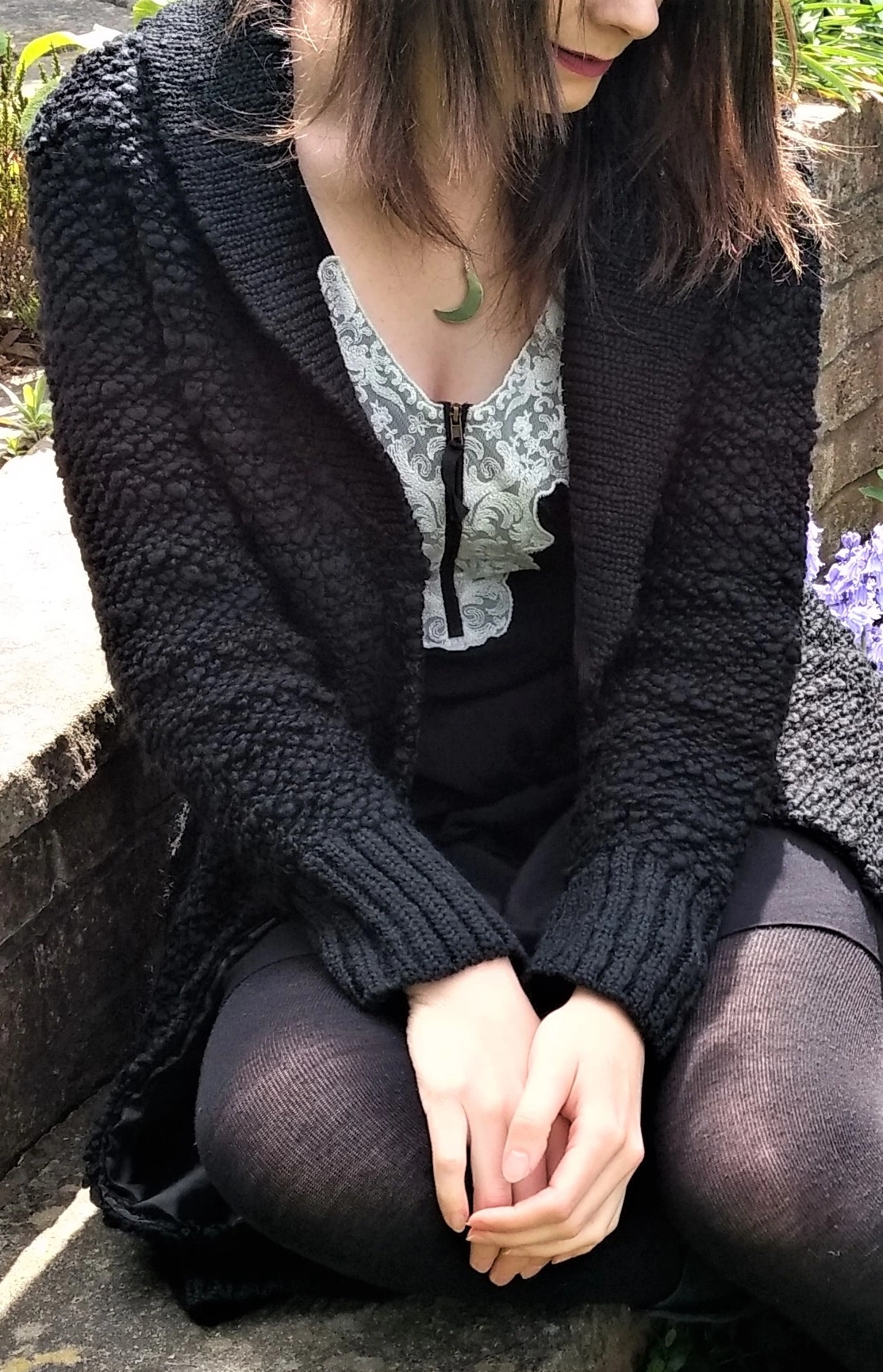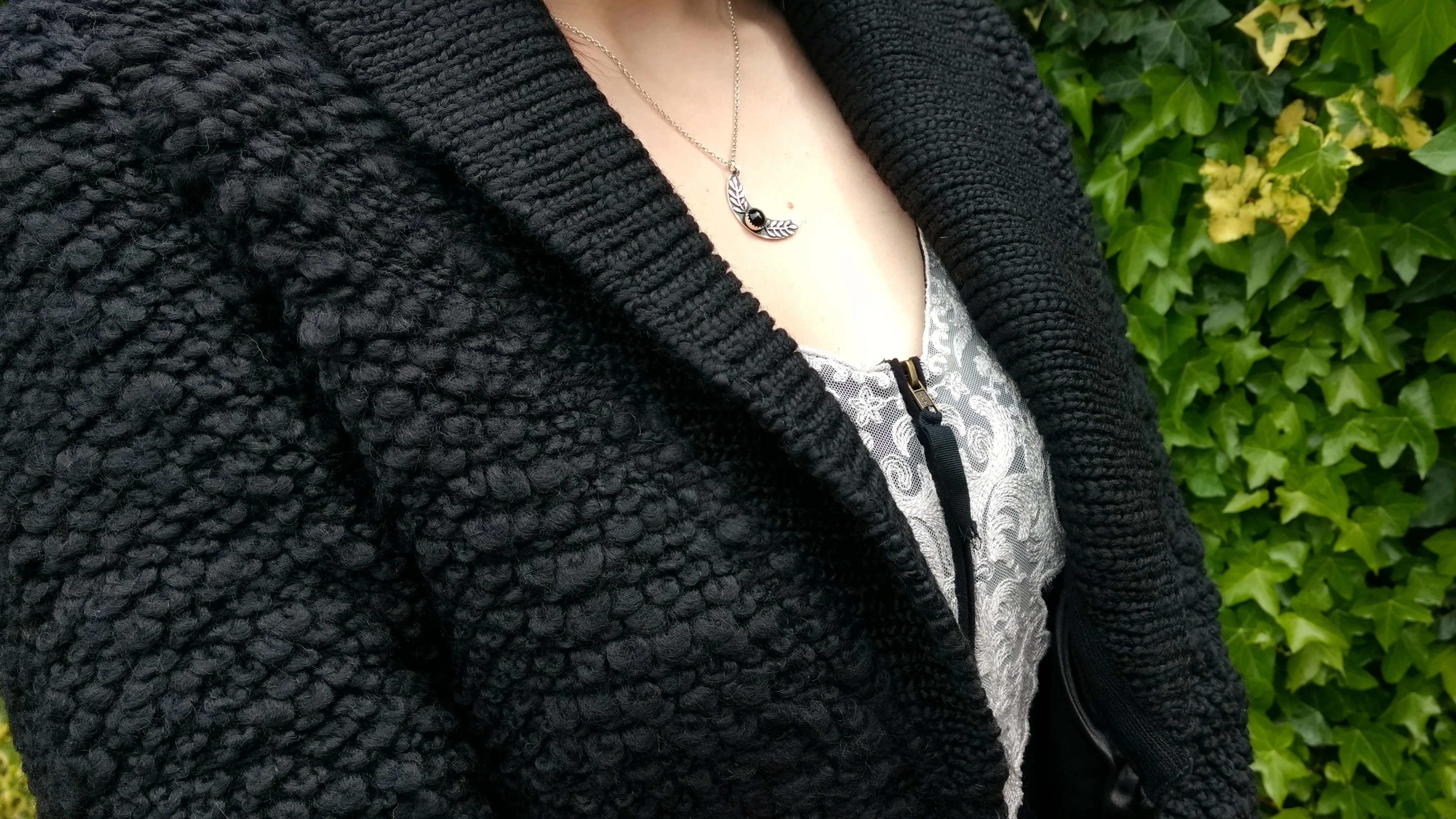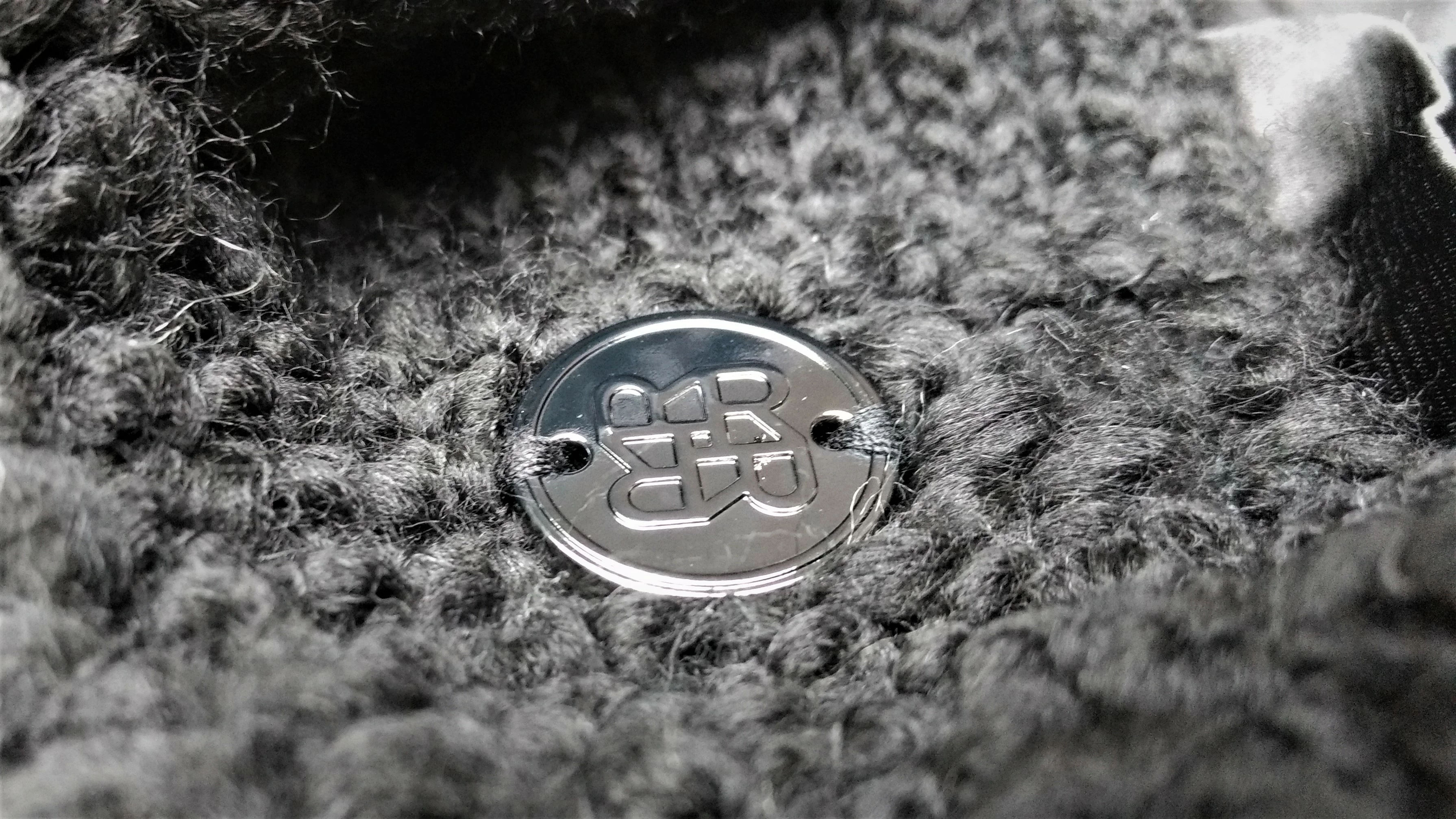 Arura Nini Heavy Knit Cardigan / Wrap London Lace Front Dress / Dr Martens Hazil Virginia Boots / Primark Tights / Sam Ryde Onyx Moon Pendant /
 If you've been following my blog for a while then you'll probably know that I like my wardrobe to have a combination of cheap and cheerful, as well as luxury investment pieces, and I feel this outfit combines the two well!
This gorgeous heavy knit Nini cardigan was recently sent to me by a local luxury knitwear brand called Arura.  Arura was founded in 2016, and specialises in creating diverse clothing and accessories, crafted on a limited basis in the UK and Europe.
The craftsmanship of the cardigan is fantastic, and it looks and feels so well made, as the wool is top quality with a softness and weight to it, and it's also lined with a silky fabric.  I just know this is going to be a staple piece in my wardrobe throughout autumn and winter as it's so comfy and cosy, but I'm also getting use out of it during Spring.  It makes for great outerwear on chilly days and evenings when a coat would be too much.
For this look I teamed the cardigan with a dress by Wrap London, which brand new would probably have cost around £100, but I managed to bag this one from a charity shop for just £3!  As my outfits tend to consist of mostly black, I like to add interest by mixing textures or flashes of colour, and I love how the lace panel looks against the knit of the cardigan.
What would you pair the Nini cardigan with?  Keep an eye out for future posts to see how else I style it!
Naomi x
2
Yesterday was a fairly mild day for December, so my fiancé and I decided to take advantage of the Autumn sun and go for a little wander around the lakes with my camera.  Whilst we were there, we took the opportunity to take some 'What I Wore' photos, featuring my new oversized purple cardigan from Primark.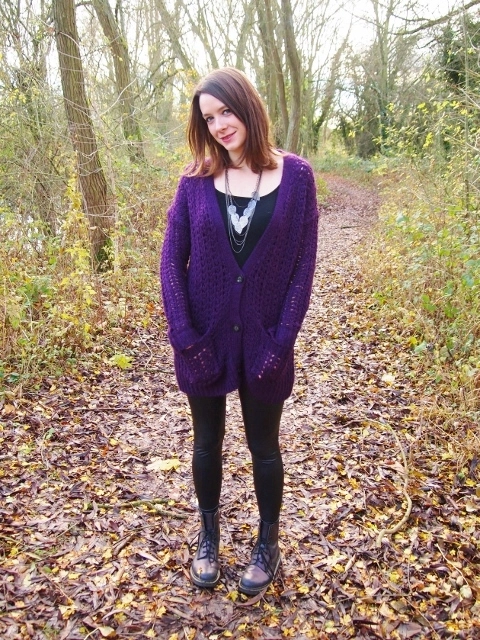 Primark Purple Knit Cardigan / Primark Plain Black Vest / Primark Leather Look Leggings / Dr Martens 1460 W Purple Shimmer Boots / eBay Multi-Layer Leaf Necklace
I was really quite pleased with this Primark find as I'd been looking for a big cardi for weeks, but hadn't been having much luck finding one I liked.  In fact, after a lengthy browse I was ready to give up on Primark, but as I was about to leave I spotted a sale rack with this gorgeous cardigan on it.  Admittedly, quite a few of them were cut weirdly and I had to try a few on to get one that fit right, but I'm glad I persisted, especially as it was reduced from £12 to only £5!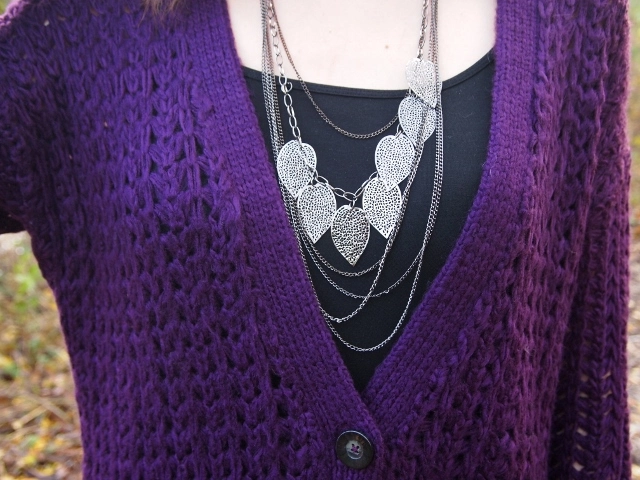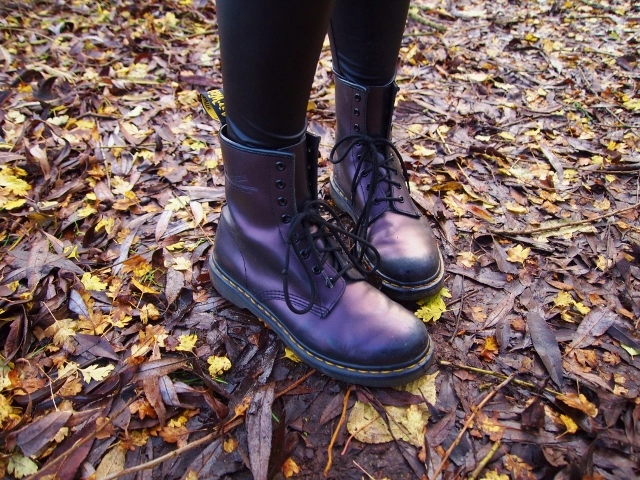 The cardigan is lovely and chunky, so I wore it over a plain black vest and my leather look leggings, and still felt cosy and warm.  Of course, I had to team it with my trusty purple Dr Martens, and added a multi-layer leaf necklace for a bit of extra detail.  A simple outfit for a chilled out day, which ended perfectly with nachos and quesadillas, doughnuts and Breaking Bad!
What did you wear this weekend?
Naomi x
5
I was recently contacted about a really fun fashion competition, which is being run by New Look and Sparkle Fashion Blog and focuses on New Look's new collection of fabulous jeans.  As it happens, New Look is one of the only shops on the high street where I can buy jeans as I am 5'10" and they actually make jeans long enough to fit me, so I jumped at the chance of entering!  After all, the grand prize is £200 and a pair of jeans, and a pair of jeans for nine runners up!  The idea of the competition is to create an outfit for any occasion using items from the New Look online store, with a pair of sexy jeans as the centrepiece.  Once you've decided on your items you then need to blog your look and finalise your entry on this Sparkle Fashion Blog post.
As I've mentioned before, Autumn is my favourite time of year.  I love the gorgeous colours, the sharp coldness of the Autumn sun, and the massive amount of fun that can be had, especially on Halloween and Bonfire Night!  As such, I decided to put together a seasonal outfit which would be suitable to wear on Bonfire Night, whilst standing in a dark field or garden, warming yourself next to the flames whilst watching fireworks and eating jacket potatoes and toffee apples.  My idea of a happy Autumn evening

  Here is what I came up with…
Shop this Look:
– Purple Skinny Jeans (£16.99) – Black and Purple Stripe Raglan Knitted Jumper (£12.99)-
– Black Skull Print Heavyweight Skinny Scarf (£7.99) – Black Studded Biker Wellies (£19.99) –
– Pieces Knitted Hat (£10.00, was £21.99) – Colourpop Jade Nail Polish (£1.99) –
Total: £69.95
So far this Autumn I have lived in skinny jeans, so the obvious choice of jeans for me was this skinny pair in my favourite colour.  I absolutely adore the deep plum shade and I'd love a pair for myself!  I chose the simple black knitted jumper to go with the jeans so that it wouldn't detract from them, but compliment them with the matching purple striped sleeves.  I actually tried this very jumper on a few weeks ago and it's so snuggly and well-fitting – perfect for a chilly night spent outside.
As a nod towards this season's trend for all things Gothic, I added the stunning skull print scarf, and for extra warmth and to pick up on the turquoise shade running through the scarf I included the knitted hat.  Purple and turquoise are two of my favourite colours and I love to wear them together – I think they compliment rather than clash, and they make for a fun combination!
Bonfire Night often involves standing in a soggy field or garden, so I thought a pair of wellies would be ideal footwear for this look.  I found this amazing pair of Biker Wellies on New Look's website which transform the typical frumpy welly into something a little more chic.  I really like how they look like boots so can be dressed up, and they add an extra hint of Gothic on top of the scarf.
Last but not least, for an extra splash of colour and glamour, I chose a beautifully bright Jade nail polish for the finishing touch which I think rounds the outfit off nicely.
I hope you like my entry!  If you'd like to enter yourself, you can find out how here.  You can also follow the competition and all the entries on Twitter using the #DenimComp hashtag!
Good luck and fingers crossed!
Naomi x