Posts tagged
Bra
1
For today's Valentine's Gift Ideas post I have put together a gift guide of ten Valentine's gifts, all of which cost under £10 each.  Around this time of year, the prices of romantic gifts, such as chocolate and lingerie, are often hiked up.  However, as this guide shows, if you shop savvy you don't have to spend a fortune to treat that special someone (or yourself!) to something nice.  The guide features some traditional gifts, but also fashion and beauty themed items.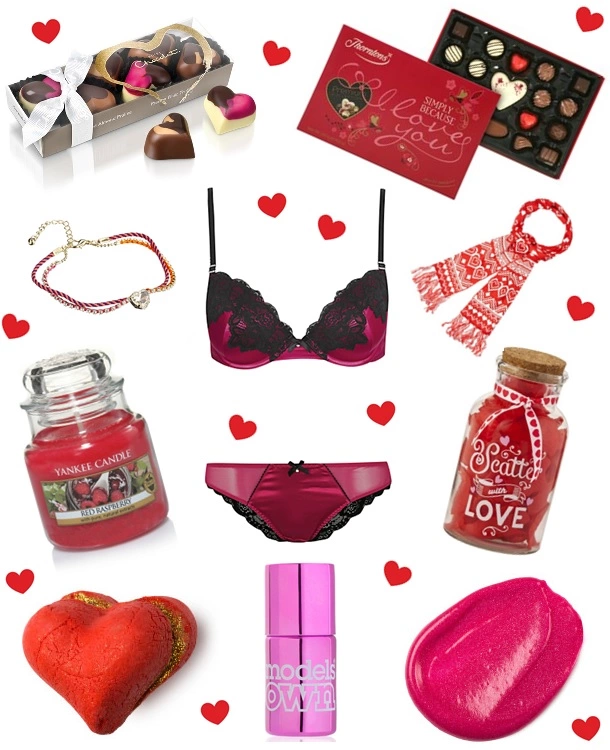 Hotel Chocolat Lovely Hearts Classic £6.50 / Thorntons Because I Love You Premium Collection £6.00 / ASOS Heart Friendship Bracelet £2.00 / Yankee Red Raspberry Candle £7.99 / George Entice Lingerie Set £7.00 / Floozie Red Heart Fairisle Scarf £6.60 / Tesco Rose Petals in a Jar £5.00 / LUSH Heart Throb Bubble Bar £3.65 / Models Own Colour Chrome £4.99 / LUSH The Kiss Lip Gloss £5.95
What will you be gifting to your loved one this Valentine's Day?
Naomi x
1
A couple of weeks ago F&F asked me to be their Valentine, which I was very excited about, and of course I said yes!  As a little Valentine's treat, they offered to send me a lingerie set of my choice along with a few other luxury treats, so I made my pick and waited for the postman, and a few days ago my pretty little parcel arrived!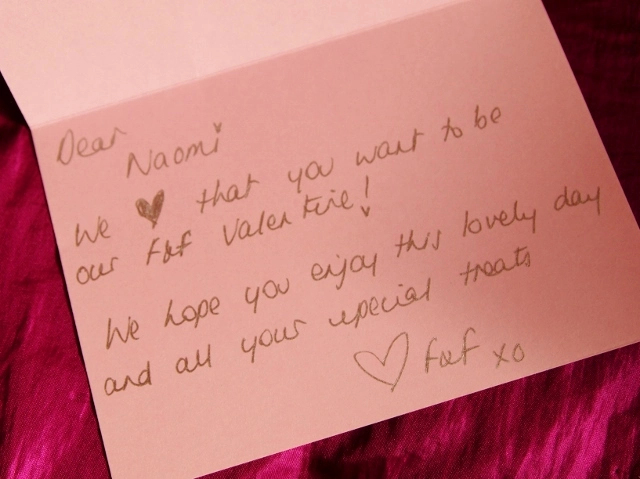 The set I chose is the Alice set, with a plunge bra and lace french knickers.  Together, the two pieces cost a total of just £15.00 (or £14.00 with a thong), but the quality is amazing and they look and feel a lot more expensive than they are.  The black lace is absolutely beautiful and luxuriously soft, and looks stunning on.  Both pieces are also very, very comfortable and they fit perfectly to size, which is great as there's nothing more annoying than uncomfortable undies!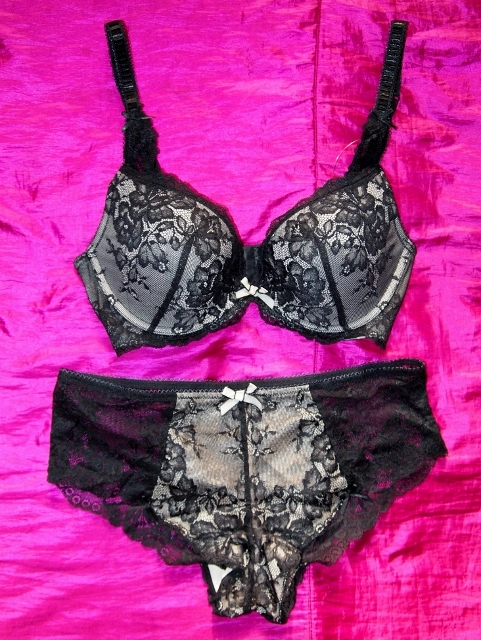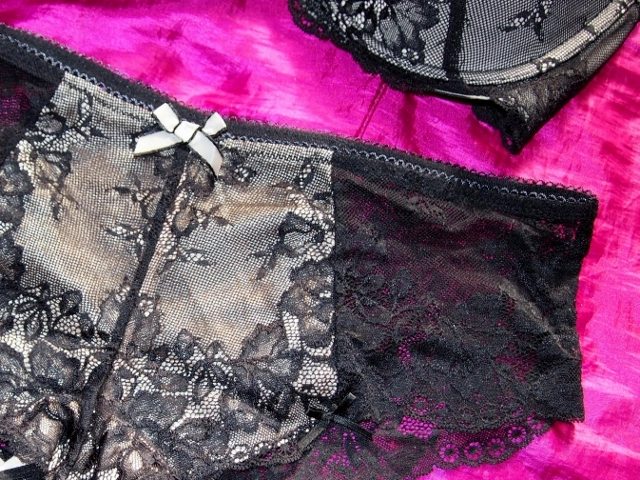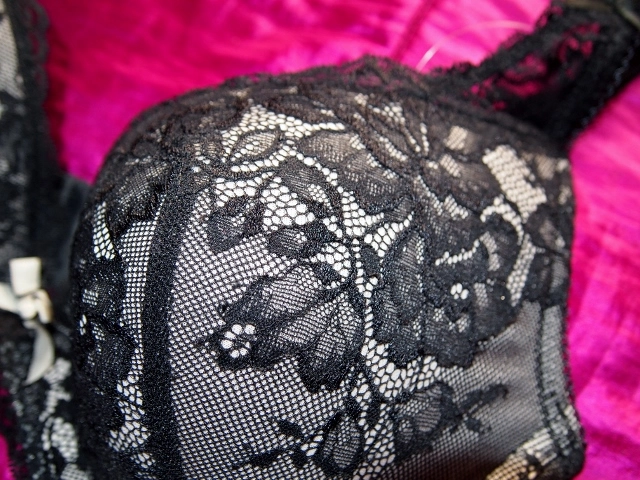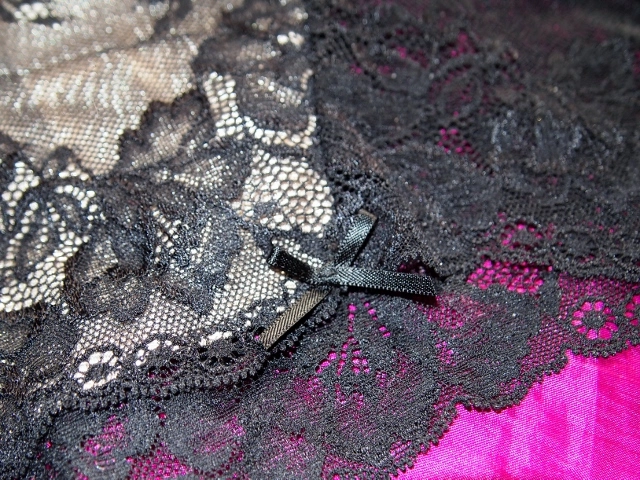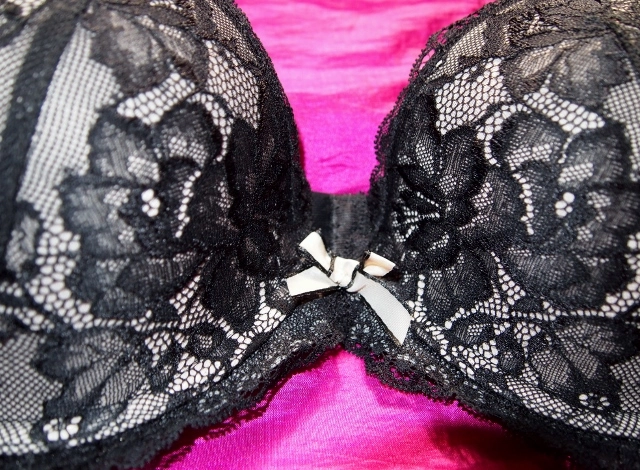 F&F say that, 'whether you're in a relationship or not, wearing great underwear gives you a confidence boost like no other', and I completely agree.  I feel fab wearing this set – it's gorgeous!  So, if you want to treat yourself to some affordable but lovely lingerie this Valentine's Day, why not check out F&F's range?
I also received a few other Valentine's themed treats in my gift box that I'm really looking forward to using/eating!  I really like Essie products, so I was pleased to find a mini set of Essie nail varnishes in the box.  The purple shade is especially nice!  The Soap & Glory products look great too, I mean, shimmery pink body lotion is my kind of lotion!  And of course, you can never go wrong with Hotel Chocolat chocolate.  How pretty is that lollipop?!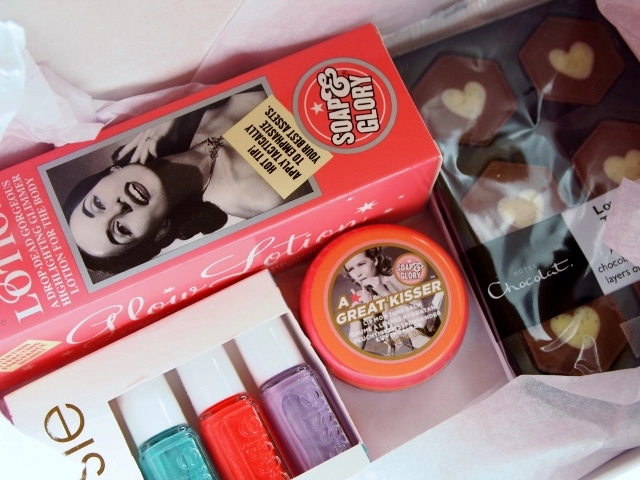 I'm really looking forward to Valentine's Day now, especially as it's my birthday too!  What will you be doing on the day?
Naomi x
*This F&F lingerie set and other goodies were sent to me for review purposes.  All opinions expressed are honest and my own.*