Posts tagged
Elizabeth Shaw
4
It's time again for me to review the latest Degustabox!  The June box contained fewer products than usual, with eight brands and only nine individual items (ten if you count the extra freebie), but a couple of them were higher value, bringing the combined total to around £20 – similar to previous months.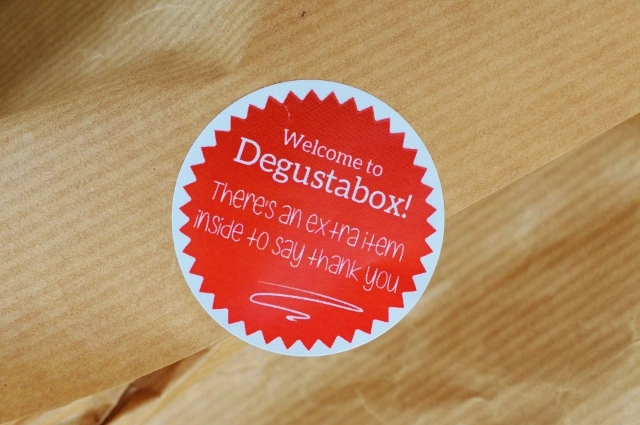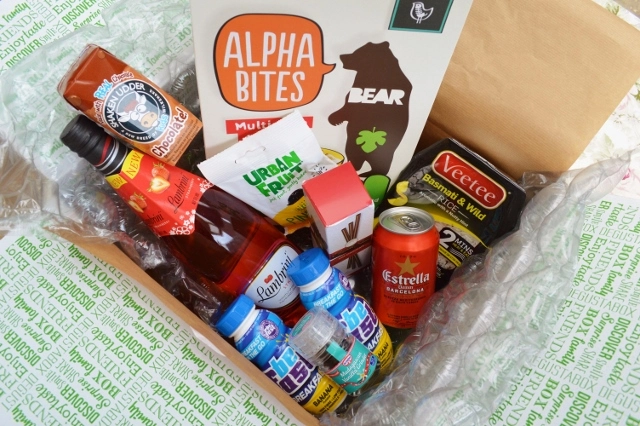 Estrella Damm Lager (RRP Unknown)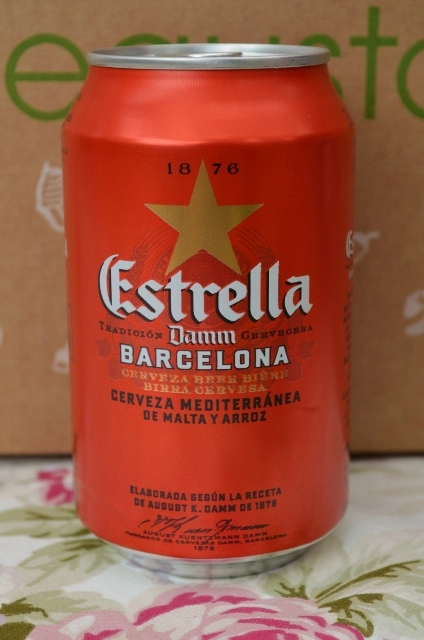 According to the Degustabox leaflet, 'Estrella Damm is an authentic imported, award-winning premium pale Spanish lager known internationally as the 'Beer of Barcelona".  Unfortunately, I'm not a fan of lager, so I've given this can to my fiancé to enjoy instead, as I wouldn't be able to give a fair review of it anyway.  I will have a sip of it however, just to see if by some miracle I actually like this one.  I'll keep you posted!  Also, I've put this down as RRP unknown as the leaflet says the cans cost £4 each, which seems unusually high, especially as you can get 4 bottles for about a fiver in Asda.
Elizabeth Shaw Milk Chocolate Amaretto Flutes (RRP £2.59)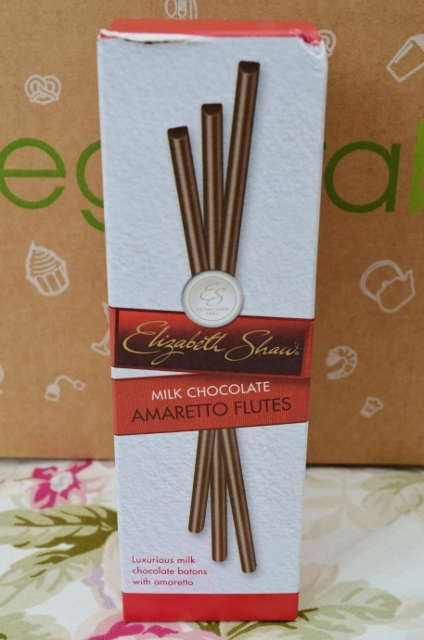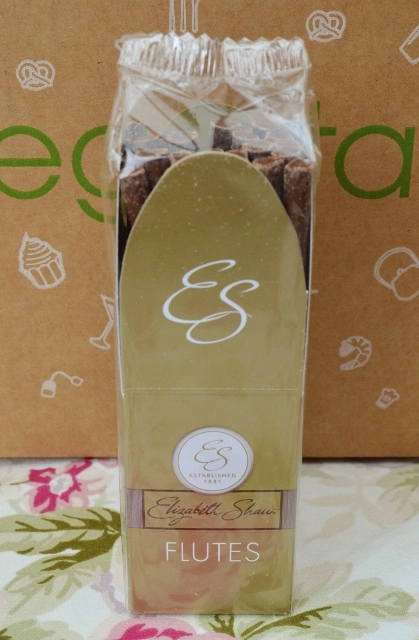 I loved the dark chocolate cocoa nib version of these that were in the May box, and these are 100 times better!  The milk chocolate is incredibly smooth and creamy, and they have an authentic, and really quite strong flavour of amaretto.  Amaretto is one of my favourite liqueurs, which tastes like almonds or marzipan, but unusually these Flutes contain no nuts or alcohol whatsoever!  These little sticks of luxury would make a fabulous evening treat for yourself, or to share round after a meal.  Sort of like a posh After Eight.
BEAR Alphabites Cereal (RRP £2.69)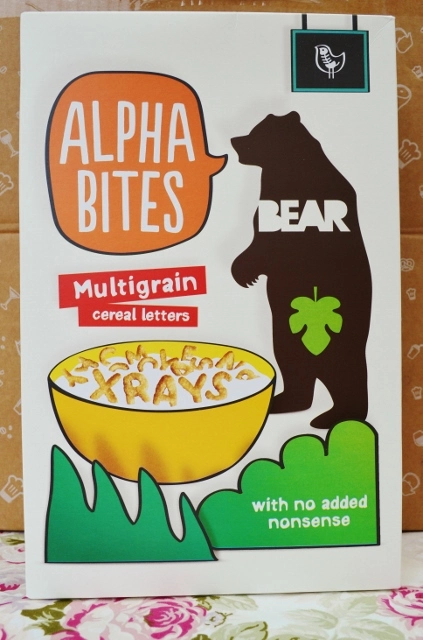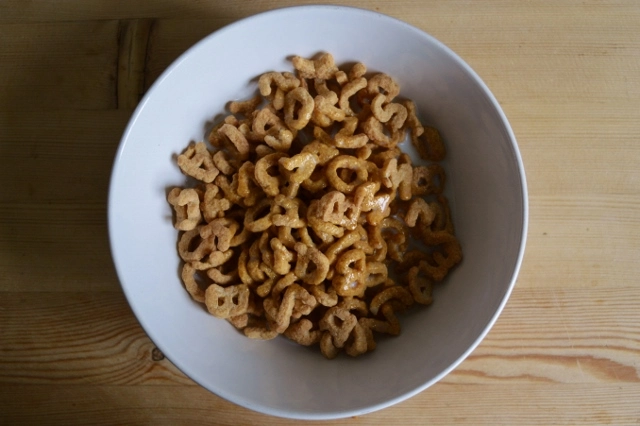 I always look forward to breakfast, and I like to have a variety of options available each morning as I often fancy something different, so these BEAR Alphabites have made a nice little addition to my cereal cupboard.  Unlike a lot of breakfast cereals, these multigrain letters contain 'no nonsense', meaning they're completely free of refined sugar, salt and additives.  Instead, they're sweetened with coconut blossom nectar, which happens to taste nothing like coconut, and contain wholegrain wheat, oats, corn, rice, and wholegrain barley.  Because I'm so used to eating sugar-packed cereals, these took a bit of getting used to as they don't taste like a conventional cereal, but once you get past the 'different' kind of sweetness, they're actually really nice.  And healthy too!  They even have my rats' seal of approval.
Veetee Basmati & Wild Rice (RRP £1.49)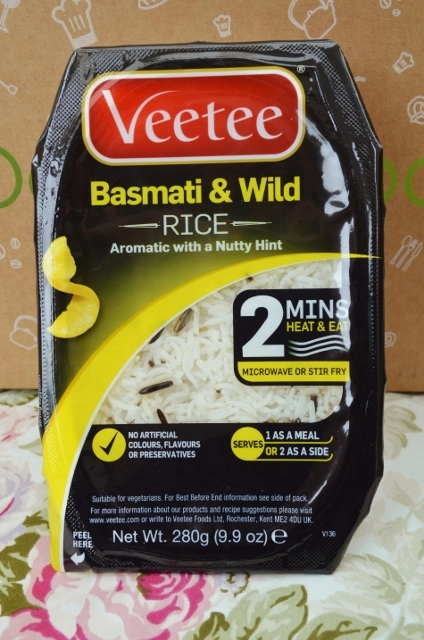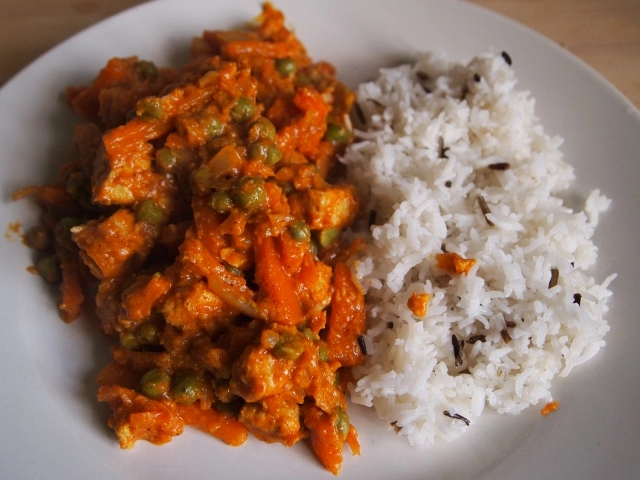 Degustabox describe Veetee as 'a deliciously convenient range of microwaveable rice products', and though I'm not a big fan of microwaveable rice, this was surprisingly decent.  I received the Basmati and Wild Rice, which I served with a Quorn chicken and vegetable korma.  The photo above shows half of the rice, which when served with the curry and a couple of poppadoms is more than enough, so one package can easily serve two.  The rice itself is nice and fluffy, and the wild rice adds a touch of texture and flavour.  Using this kind of rice is especially great when you want a quick meal, as it only takes two minutes to cook in the microwave or wok.  I'd love to try the egg fried and wholegrain brown versions too!
Strawberry Lambrini (RRP £3.29)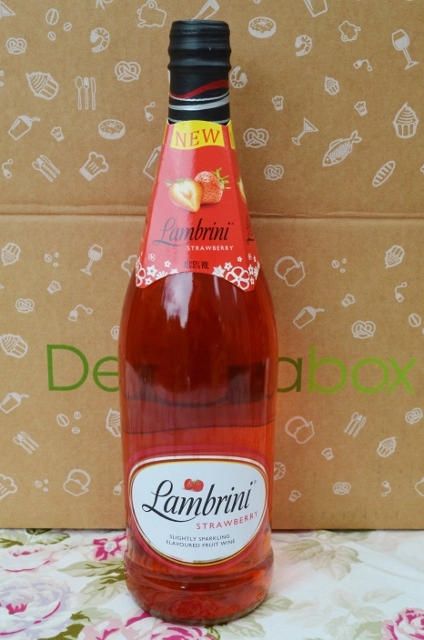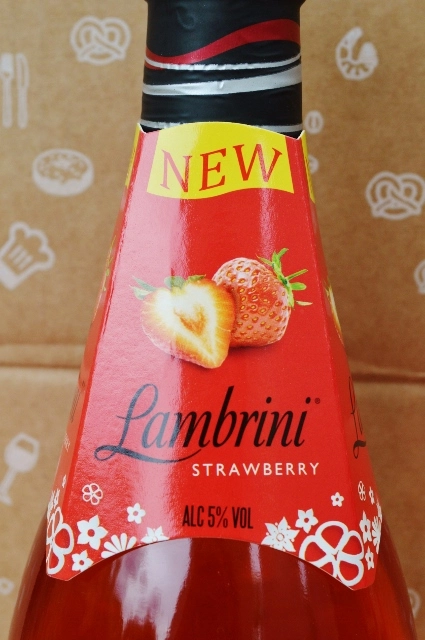 Lambrini Strawberry is one of several new flavours to be added to the Lambrini summer range, and it's really quite yummy.  My fiancé and I enjoyed this one evening after chilling it in the fridge, and it made for a light, refreshing treat.  The strawberry flavour is quite sweet, but still has an authentic fruity taste, and at only 5% alcohol volume it's pretty easy to quickly finish the bottle!  This would be perfect served at a barbecue.  Other flavours include cherry, peach, apple and blackcurrant, and rosé, all of which I would like to try.
Be Fast Banana Breakfast Drink (RRP £1.00 each)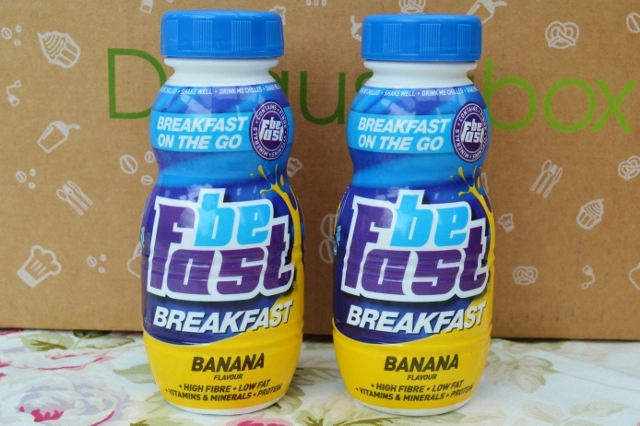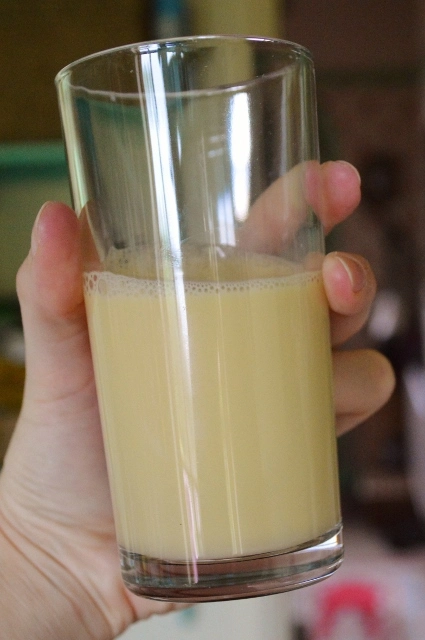 Be Fast is a 'breakfast on the go' drink, which is very much like a milkshake, but low in fat and packed full of fibre and protein.  Now, I really don't think one of these would keep me full until lunchtime, as I seem to get very hungry in the morning, so I've been having half a bottle with my breakfast as a bit of extra 'filler'.  The drink is fairly runny, just a bit thicker than milk, and it has a nice, refreshing banana flavour that isn't overly sweet.  It would've been nice to have two different flavours in the box to try – I bet the chocolate one is fab!
Urban Fruit Pineapple Snack Pack (RRP £1.09)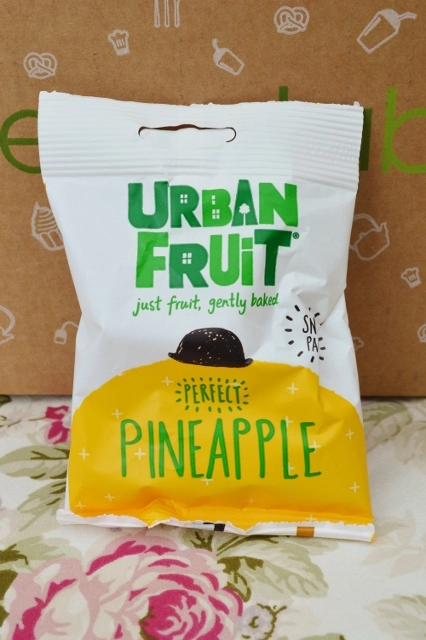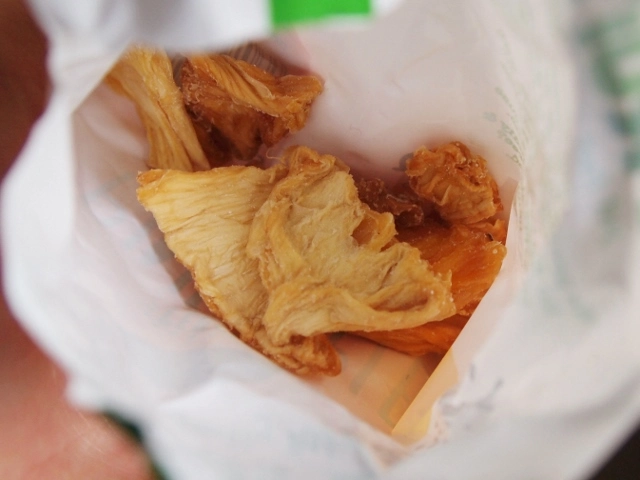 I'm currently on a mission to eat more fruit, so this Urban Fruit Pineapple came at the perfect time for me.  The fruit is apparently baked gently to dry it out, and 20g counts as one of your five a day.  That's great, but the bag contains 35g, so you don't get two full portions.  An extra 5g would be nice!  I ate half of this bag as a snack whilst at work, and I had the other half on a bowl of overnight oats one morning (read on for my recipe!).  The pineapple has a lovely sweetness to it, and a nice texture – soft and chewy but not too tough, and I'll definitely be repurchasing.
Dr. Oetker Madagascan Vanilla Grinder (RRP £4.99)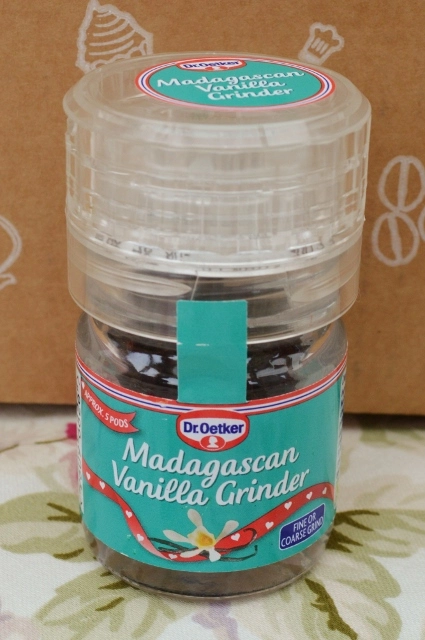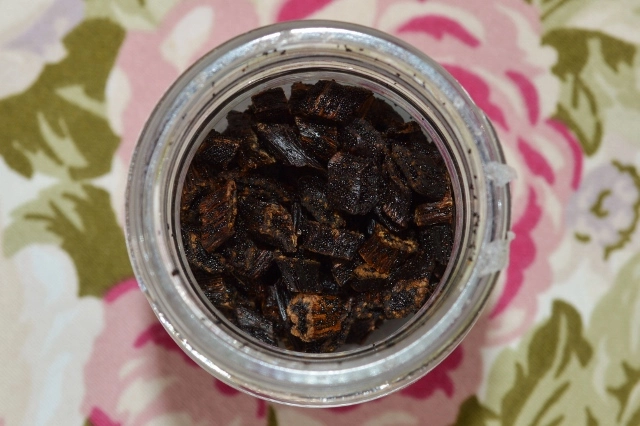 This Dr Oetker Madagascan Vanilla Grinder is such a simple yet innovative idea, and when I found it in the box I was really excited as I do a lot of baking, and authentic vanilla makes cakes and suchlike taste ten times better!  The grinder is a little bit like a pepper mill, but has two grinding options – coarse or fine.  The vanilla itself has a very strong flavour, and a little goes a long way, so the contents of the mill should last a good while.  I've been using this in my overnight oats for breakfast, and overnight the flavour infuses into the milk and it's delicious.  I will 100% be repurchasing this!
Seeing as the June box has a bit of a breakfast theme, here's my recipe for tropical overnight oats, using the Dr Oetker Madagascan Vanilla, and the Urban Fruit Pineapple.  These oats are the perfect combination of healthy, filling, and delicious…
Tropical Overnight Oats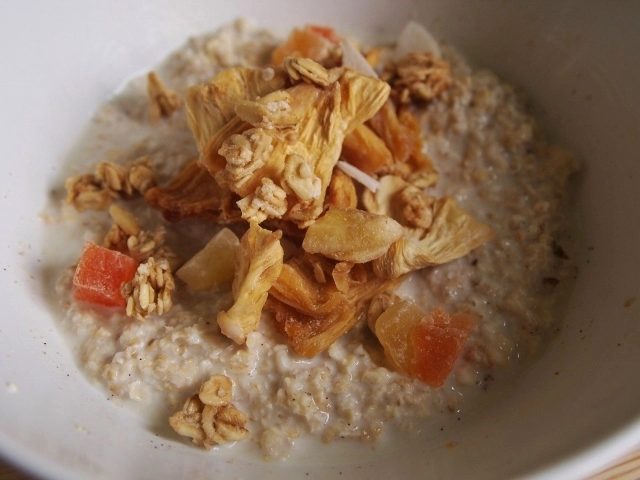 Ingredients:
1/2 cup rolled oats
1/2 cup semi-skimmed milk
Dr. Oetker Madagascan Vanilla
20g Urban Fruit Pineapple
15g Aldi Tropical Granola
Method:
– Before going to bed, combine the oats, milk and vanilla in a bowl, cover, and leave in the fridge overnight.
– In the morning, top with half a bag of Urban Fruit pineapple, and a sprinkle of tropical granola.
– Enjoy!
Again, this is another winning box from Degustabox, and everything in it was delicious.  Will they ever disappoint?  Hopefully not!  Bring on the July box…
If you fancy giving Degustabox a go yourself, you can get a £3 discount by entering code UPOAW at the checkout.  You can also follow Degustabox on Twitter and Facebook for more exclusive offers.
Naomi x
PS. You can check out the rest of my Degustabox reviews here.
*This Degustabox was sent to me by Degustabox for review purposes.  All opinions expressed are honest and my own.*
1
I'm a little bit late with it this month, but here is my review of the May Degustabox, which unlike this post arrived on time towards the end of last month! The May box was a lot more savoury than April's, but it contained some really lovely stuff, most of which I'd never tried before.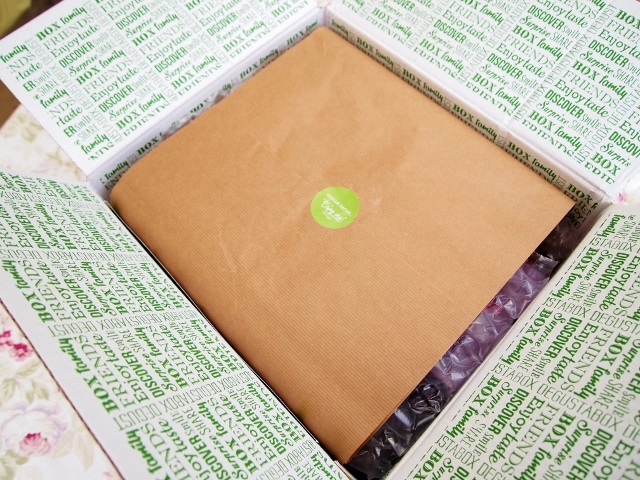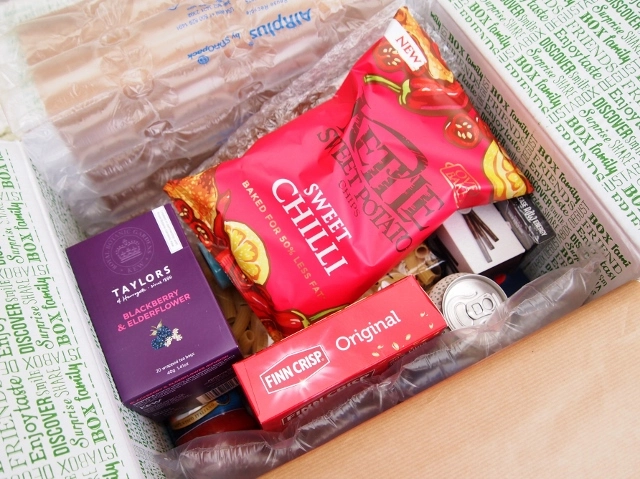 May's Degustabox contains ten brands, and thirteen individual items, with a total value of £21.46. However, the box costs just £12.99, so you're making a pretty big saving whilst getting to try some new, exciting foods! Here are my thoughts on each item…
Cawston Press Cloudy Apple Drink (RRP £1.00)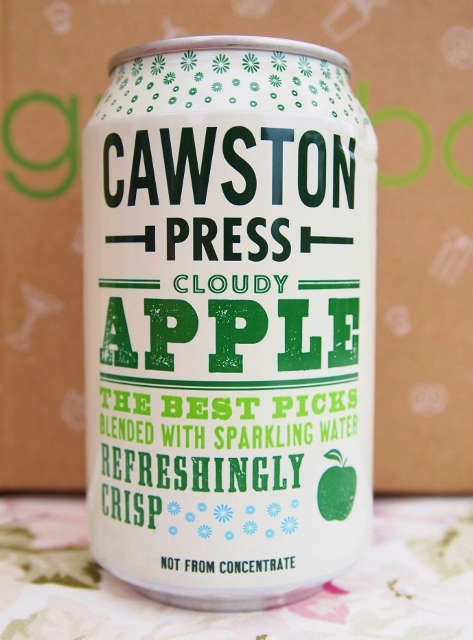 Cawston Press featured in April's Degustabox with their Rhubarb and Apple drink, which was absolutely gorgeous, so I was happy to find another offering from them in the May box.  Like the Rhubarb drink, this Cloudy Apple version contains no preservatives, additives or artificial sweeteners, and is made from fruit juice combined with sparkling water.  The drink isn't overly sweet, rather, it has a slightly sour tang, but it's nice.  I don't like it as much as the rhubarb flavour, but I'd still have it again as it's lovely and refreshing when chilled.
Taylors of Harrogate Blackberry & Elderflower Tea (RRP £2.99)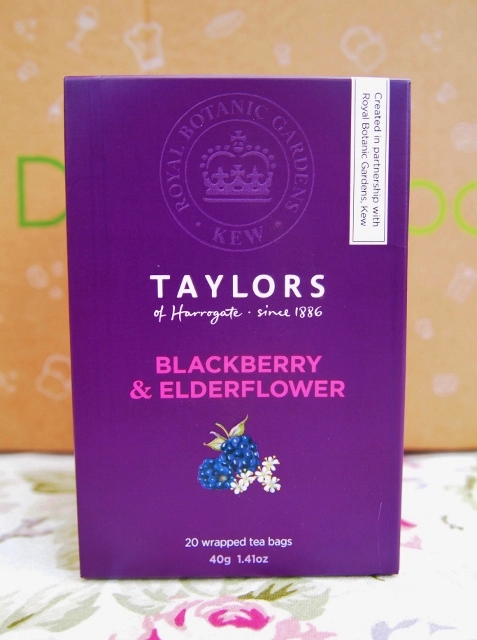 I really enjoy trying new teas and infusions, so this was another addition to the box that I was happy to see.  Taylors of Harrogate have a range of teas created in partnership with experts at Kew Gardens in London, and this Blackberry & Elderflower blend is one of them.  The box contains twenty individually wrapped tea bags, so they're ideal for popping in your bag when travelling, or going to work.  The flavour mix is really pleasant, offering a kick of blackberry with a subtle aftertaste of elderflower.  Perfect for summer when you fancy something light, rather than a big mug of breakfast tea with milk.
Raw Energy Chewing Gum (RRP £0.99 per box)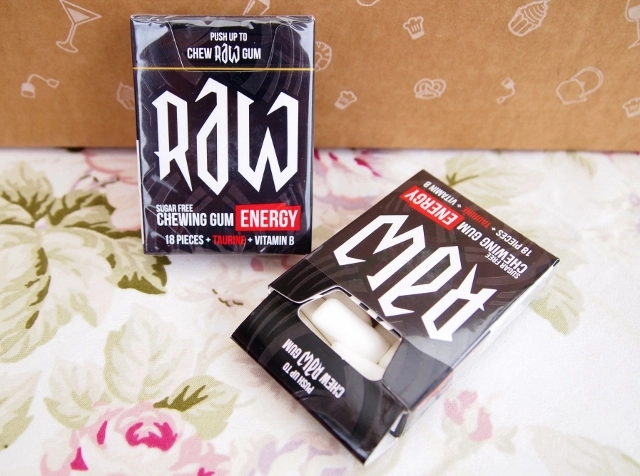 Raw is a sugar-free gum, which contains taurine and vitamin B, to give you a boost of energy on the go.  I absolutely hate energy drinks, especially those containing taurine as it makes me feel funny, so when I saw that these were basically a condensed version of an energy drink I was quite worried.  However, I decided to give them a go anyway.  They smell like Red Bull (yuck), but they taste slightly fruity (although that energy drink flavour is there too…), but to be honest they're not that bad.  They keep their chewy consistency for a long time, and they didn't make me feel any different despite the taurine.  That, for me, is a bonus, but if you actually want an energy boost from them you may struggle to get it.
Hornsby's Crisp Apple Cider and Strawberry & Lime Cider (RRP £5.00 for 4)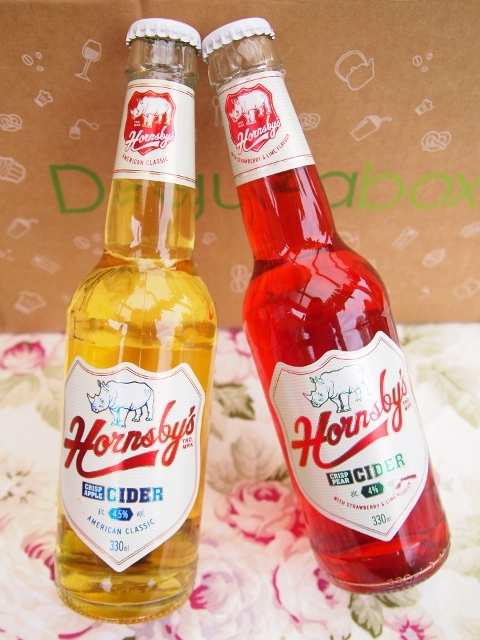 I haven't yet tried these ciders, but I'm looking forward to enjoying them one evening with a nice meal.  Hornsby's is one of the leading ciders in the USA, and according to the bottle is an 'American Classic', best enjoyed straight from a chilled bottle.  The Degustabox contained two flavours – Crisp Apple, and Strawberry & Lime, which I imagine will be my favourite.  If I like these I'll definitely repurchase them, as at £5.00 for 4 bottles they're really affordable.
Kettle Sweet Chilli Sweet Potato Chips (RRP £2.49)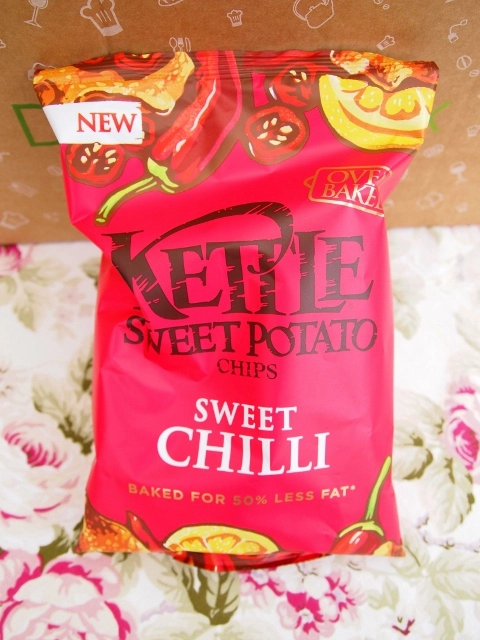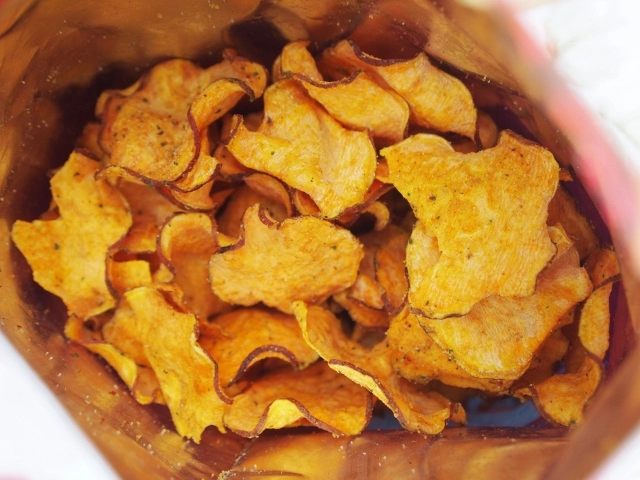 Kettle crisps are fab, and root vegetable crisps are fab, so combine the two and they're a winner from the start.  Kettle's Sweet Chilli Sweet Potato Chips contain 50% less fat than their usual potato crisps, and are free of MSG, and artificial flavourings and colours.  Sweet chilli happens to be my favourite crisp flavour, and combined with the sweetness of the sweet potato it works really well.  The chips are thin and crispy, and very moreish, and are a great alternative to potato crisps if you fancy something healthier and different.
Finn Crisp Original Sourdough Rye Crispbread (RRP £1.29)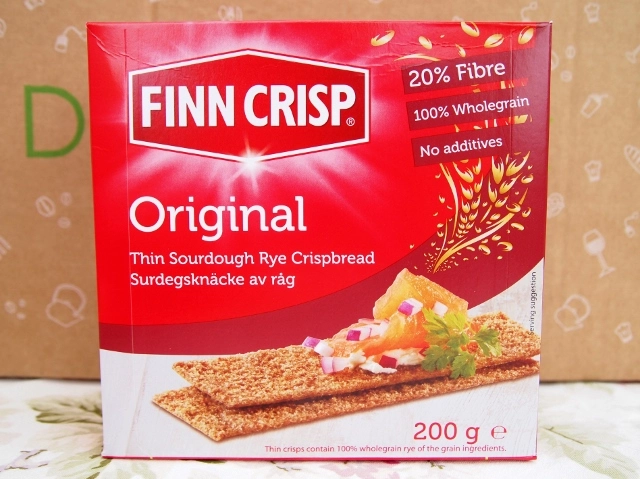 I wasn't exceptionally excited by these when I first discovered them in the box, but they're surprisingly tasty.  Finn Crisp are a Nordic brand who use only natural ingredients to create healthy snacks.  Their sourdough rye crispbreads contain wholegrain, are low in fat, are packed full of vitamins and minerals, and are only 22 calories each, so they're guilt-free and healthy (depending on what you top them with!)  Unlike a lot of rye crackers, these aren't at all dry, and are satisfyingly thin and crispy.  I've been eating these as a snack topped with Lotus caramelised biscuit spread (yum), or soft cheese and cucumber, but they can also be used in baking and cooking to make crispy crusts.  I would 100% buy these again!
Elizabeth Shaw Dark Chocolate Cocoa Crunch Flutes (RRP £2.59)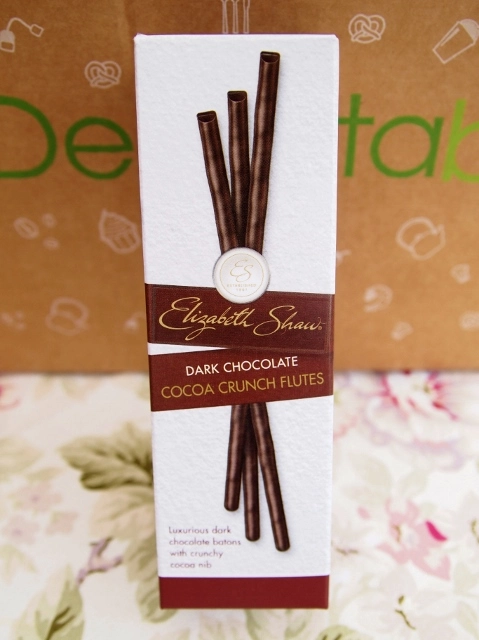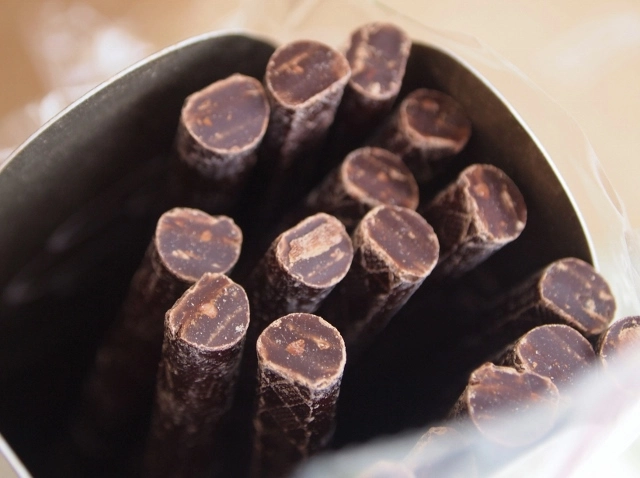 Elizabeth Shaw always reminds me of Christmas at my grandma's house, which is a good thing.  These slender flutes consist of rich, dark chocolate, and are studded with tiny nibs of crunchy cocoa.  The chocolate is already full of flavour, but the nibs add an extra depth and crunch that make these an extremely luxurious treat.  And only 23 delicious calories each!  When I eat chocolate, I tend to eat quite a lot of it, but these are so rich I can only manage one or two, which I suppose is a good thing as it means I can savour them.
Dr. Oetker Cake Release Spray (RRP £2.28)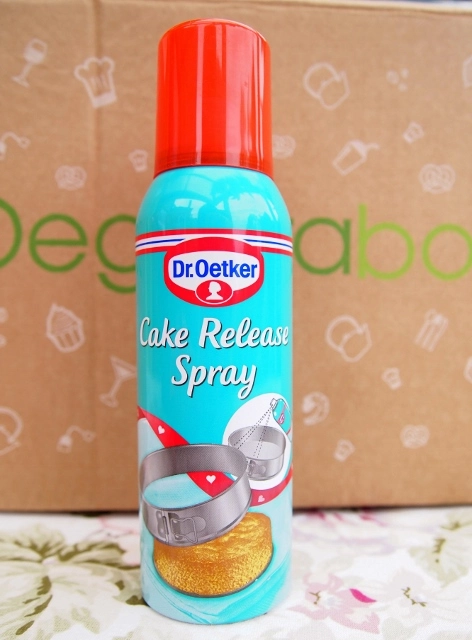 I'm yet to use this Dr. Oetker Cake Release Spray, but it is a genius idea!  The spray is oil-based, and can be sprayed on the inside of cake tins and trays to grease them before pouring in the cake mix, making it easier to remove the finished product once it's baked.  For some reason I've always disliked rubbing butter around cake tins to grease them, as it can be messy and somewhat time-consuming, so this quick and easy greasing spray is the ideal addition to my baking cupboard.
Cirio Supercirio Tomato Puree (RRP £1.10)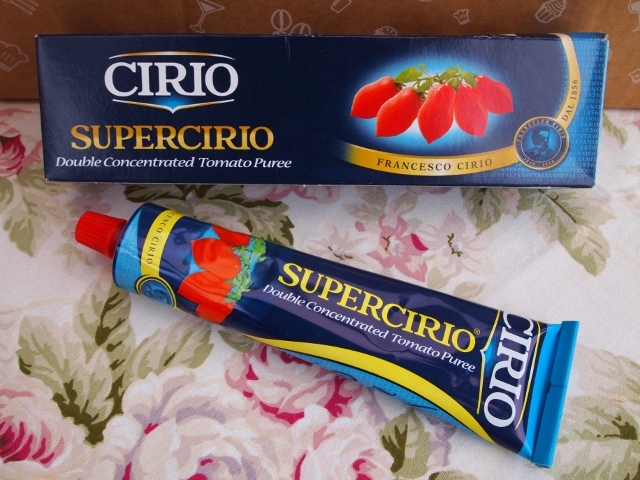 A tube of double concentrated tomato puree…  Not that exciting I know, but Cirio's Supercirio is surprisingly good quality.  I've used this on homemade pizzas and in pasta so far, and it has a vivid colouring, authentic tomato taste, and it isn't acidic like some purees.  A sound example of a good quality tomato puree.
Cirio La Classica Passata (RRP £1.35)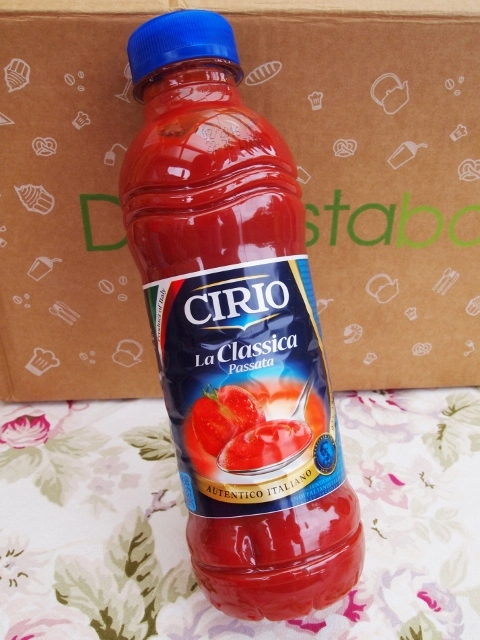 Passata in a plastic bottle seemed a little strange to me at first, but once I used it, it all became clear.  There's too much passata in this bottle to use all at once, but the plastic bottle makes it easy to pour and store, compared to the usual cardboard cartons that get messy and don't keep well in the fridge.  The passata itself is beautiful – packed full of flavoursome Italian tomatoes with a delicate sweetness.  A lot nicer than the watery, bland stuff I've tried in the past!
Garofalo Pasta (RRP £1.89)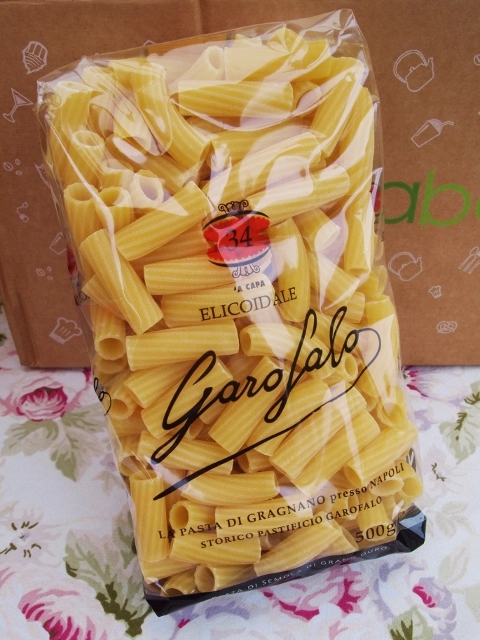 Yay!  Pasta!  One of my favourite ingredients to use in hearty evening meals.  Garofalo is an Italian brand from near Naples, and have been making pasta since 1789, using durum wheat and bronze dies for shaping.  I'm pretty sure these pasta tubes are rigatoni, as they're large, ridged, and slightly curved tubes, and they are delicious served al dente.
Here's an easy recipe for a summery pasta dish, using Garofalo pasta and Cirio passata…
Summer Vegetable Pasta
(Serves 2 people)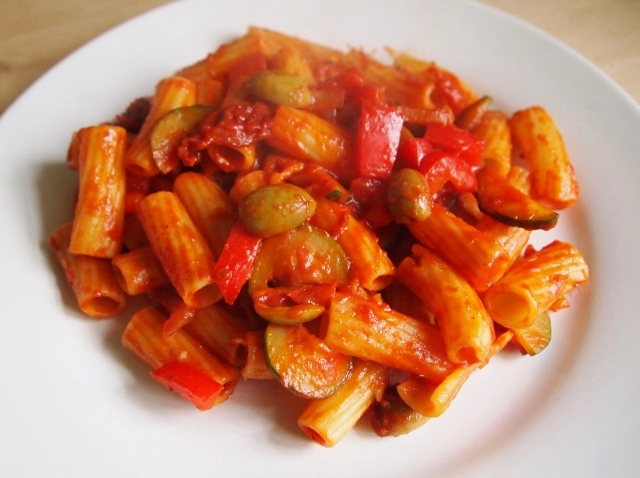 Ingredients:
200g Garofalo Pasta
250ml Cirio La Classica Passata
1 Courgette
1/2 Red Bell Pepper
1/2 White Onion
1 Garlic Clove
4 or 5 Sundried Tomatoes
1 sachet Oloves Olives
Method:
– Boil the pasta for 10-12 minutes.
– Meanwhile, chop and fry the courgette, pepper, onion and garlic until soft.  Add the olives and sundried tomatoes.
– Add the passata to the vegetables to make a sauce, and simmer for a few minutes.
– Stir in the cooked pasta and serve immediately, with a sprinkle of cheese.
This is my third Degustabox so far, and though it isn't as packed full of sweet treats as the last one, this is still a brilliant box, and once again everything in it is vegetarian!  It was a pleasure to try so many new products and brands, and I'm pleased to have discovered a few new items to add to my weekly shopping list.
If you fancy giving Degustabox a go, you can get a £3 discount by entering code MZIIQ at the checkout.  You can also follow Degustabox on Twitter and Facebook for more exclusive offers.
Naomi x
PS. You can check out the rest of my Degustabox reviews here.
*This Degustabox was sent to me by Degustabox for review purposes.  All opinions expressed are honest and my own.*