Posts tagged
Breakfast
0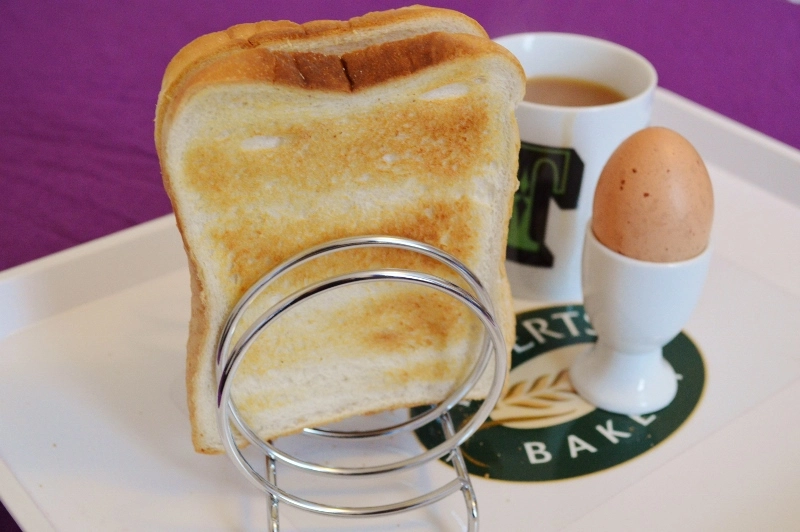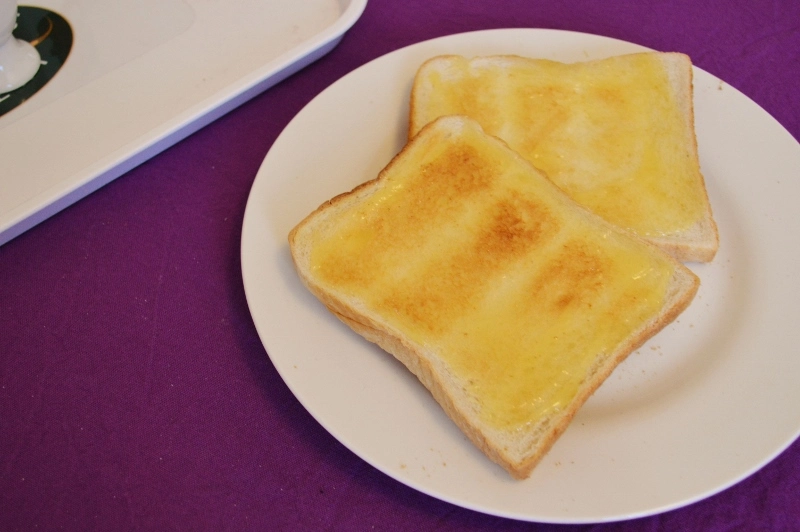 Working full-time all week means I get very little time to have a relaxed day.  Even at weekends lie ins are rare, so when I do get the chance to catch up on sleep and wake up slow, breakfast in bed always makes the morning that little bit more special.
No breakfast in bed is complete without a mug of strong tea, and a couple of slices of hot toast, with either peanut butter, marmite or lemon curd.  For me, great toast is thickly sliced, lightly browned, but still soft and fluffy on the inside.  Roberts Bakery bread is ideal for toast like this.  Just call me a toast connoisseur!
Of course, it doesn't have to stop there.  I'm also partial to a hard-boiled egg, warm pain au chocolat and croissants, fresh orange juice or pancakes and waffles with maple syrup, but ultimately it always comes back to tea and toast.  Perfect.
Naomi x
4
It's time again for me to review the latest Degustabox!  The June box contained fewer products than usual, with eight brands and only nine individual items (ten if you count the extra freebie), but a couple of them were higher value, bringing the combined total to around £20 – similar to previous months.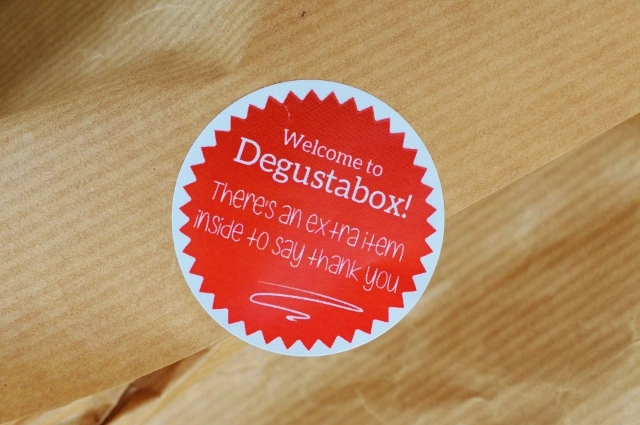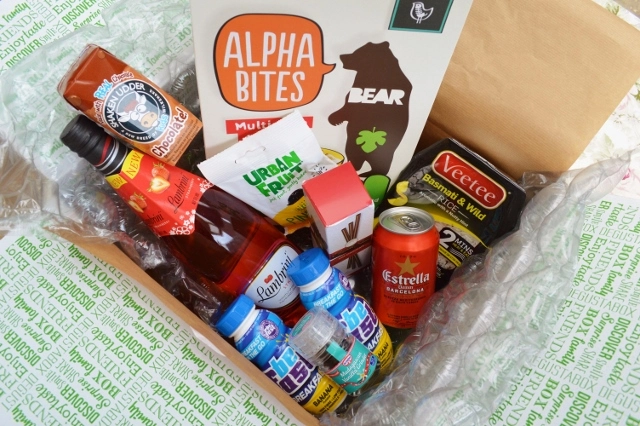 Estrella Damm Lager (RRP Unknown)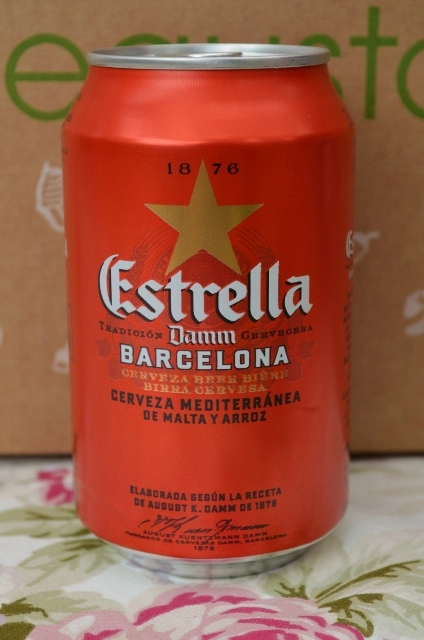 According to the Degustabox leaflet, 'Estrella Damm is an authentic imported, award-winning premium pale Spanish lager known internationally as the 'Beer of Barcelona".  Unfortunately, I'm not a fan of lager, so I've given this can to my fiancé to enjoy instead, as I wouldn't be able to give a fair review of it anyway.  I will have a sip of it however, just to see if by some miracle I actually like this one.  I'll keep you posted!  Also, I've put this down as RRP unknown as the leaflet says the cans cost £4 each, which seems unusually high, especially as you can get 4 bottles for about a fiver in Asda.
Elizabeth Shaw Milk Chocolate Amaretto Flutes (RRP £2.59)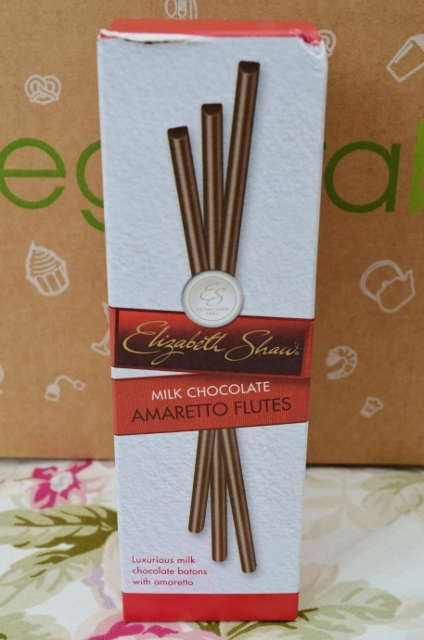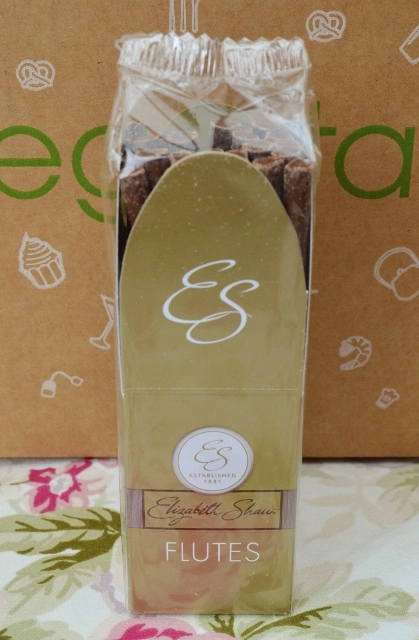 I loved the dark chocolate cocoa nib version of these that were in the May box, and these are 100 times better!  The milk chocolate is incredibly smooth and creamy, and they have an authentic, and really quite strong flavour of amaretto.  Amaretto is one of my favourite liqueurs, which tastes like almonds or marzipan, but unusually these Flutes contain no nuts or alcohol whatsoever!  These little sticks of luxury would make a fabulous evening treat for yourself, or to share round after a meal.  Sort of like a posh After Eight.
BEAR Alphabites Cereal (RRP £2.69)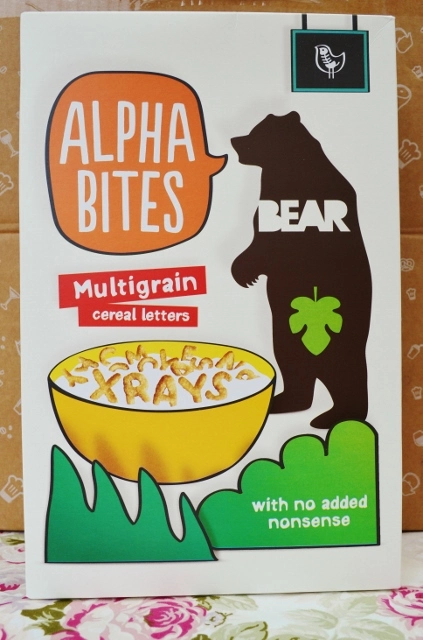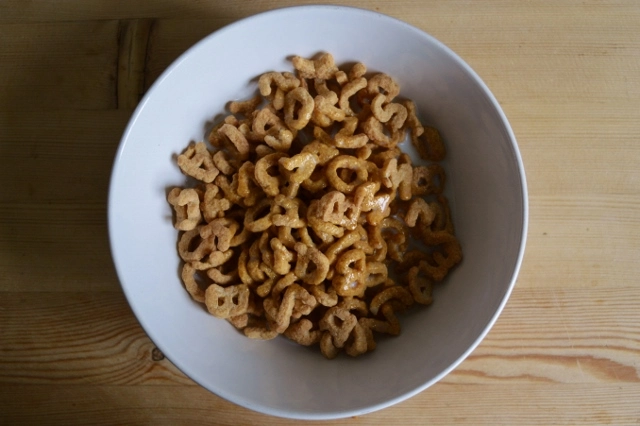 I always look forward to breakfast, and I like to have a variety of options available each morning as I often fancy something different, so these BEAR Alphabites have made a nice little addition to my cereal cupboard.  Unlike a lot of breakfast cereals, these multigrain letters contain 'no nonsense', meaning they're completely free of refined sugar, salt and additives.  Instead, they're sweetened with coconut blossom nectar, which happens to taste nothing like coconut, and contain wholegrain wheat, oats, corn, rice, and wholegrain barley.  Because I'm so used to eating sugar-packed cereals, these took a bit of getting used to as they don't taste like a conventional cereal, but once you get past the 'different' kind of sweetness, they're actually really nice.  And healthy too!  They even have my rats' seal of approval.
Veetee Basmati & Wild Rice (RRP £1.49)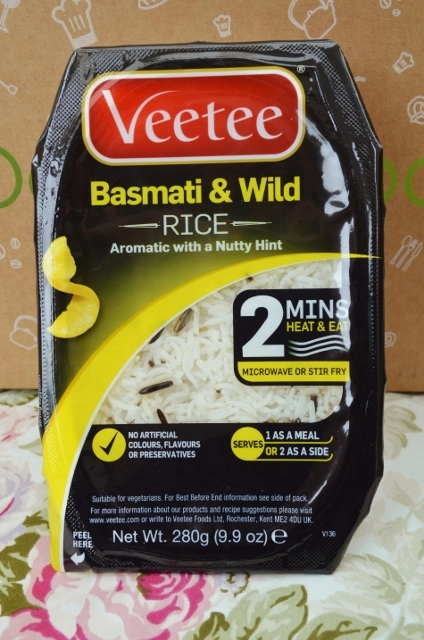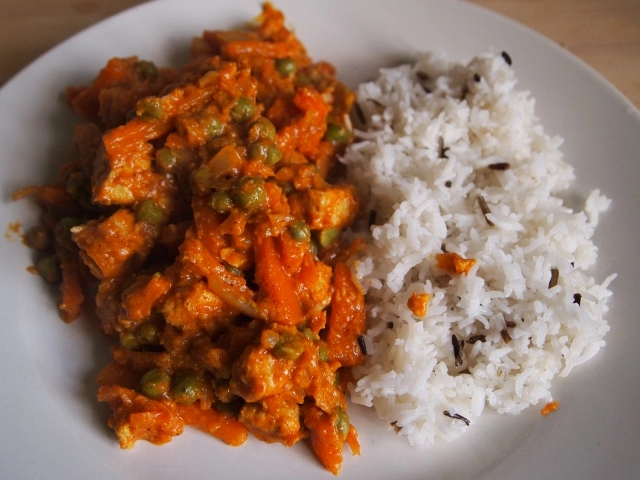 Degustabox describe Veetee as 'a deliciously convenient range of microwaveable rice products', and though I'm not a big fan of microwaveable rice, this was surprisingly decent.  I received the Basmati and Wild Rice, which I served with a Quorn chicken and vegetable korma.  The photo above shows half of the rice, which when served with the curry and a couple of poppadoms is more than enough, so one package can easily serve two.  The rice itself is nice and fluffy, and the wild rice adds a touch of texture and flavour.  Using this kind of rice is especially great when you want a quick meal, as it only takes two minutes to cook in the microwave or wok.  I'd love to try the egg fried and wholegrain brown versions too!
Strawberry Lambrini (RRP £3.29)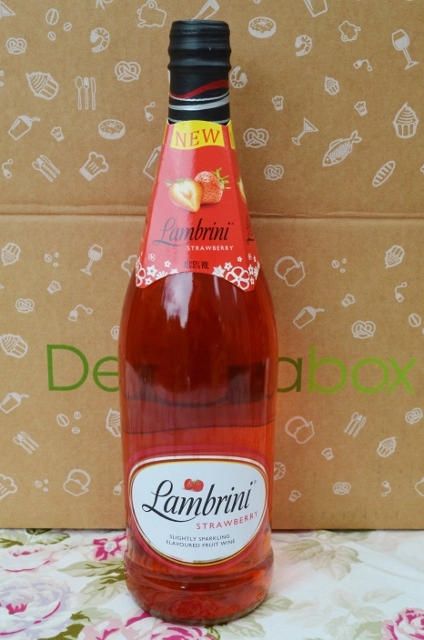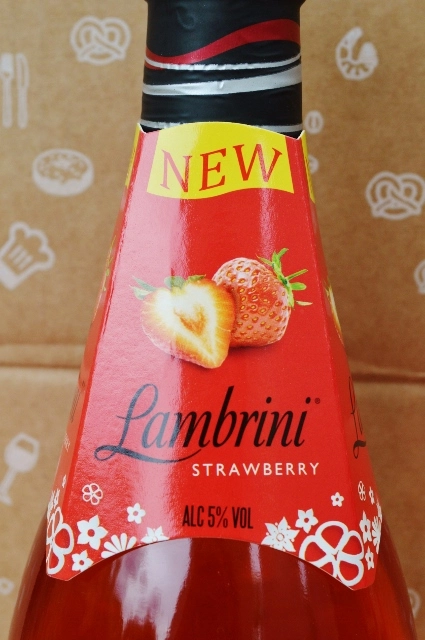 Lambrini Strawberry is one of several new flavours to be added to the Lambrini summer range, and it's really quite yummy.  My fiancé and I enjoyed this one evening after chilling it in the fridge, and it made for a light, refreshing treat.  The strawberry flavour is quite sweet, but still has an authentic fruity taste, and at only 5% alcohol volume it's pretty easy to quickly finish the bottle!  This would be perfect served at a barbecue.  Other flavours include cherry, peach, apple and blackcurrant, and rosé, all of which I would like to try.
Be Fast Banana Breakfast Drink (RRP £1.00 each)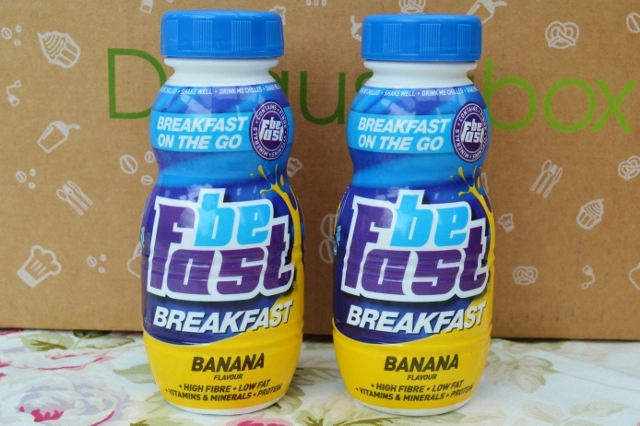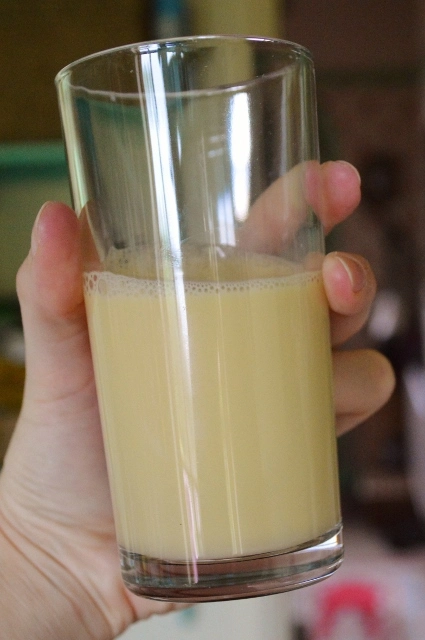 Be Fast is a 'breakfast on the go' drink, which is very much like a milkshake, but low in fat and packed full of fibre and protein.  Now, I really don't think one of these would keep me full until lunchtime, as I seem to get very hungry in the morning, so I've been having half a bottle with my breakfast as a bit of extra 'filler'.  The drink is fairly runny, just a bit thicker than milk, and it has a nice, refreshing banana flavour that isn't overly sweet.  It would've been nice to have two different flavours in the box to try – I bet the chocolate one is fab!
Urban Fruit Pineapple Snack Pack (RRP £1.09)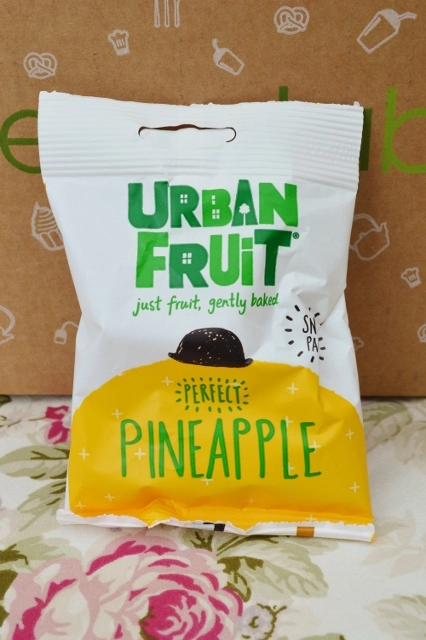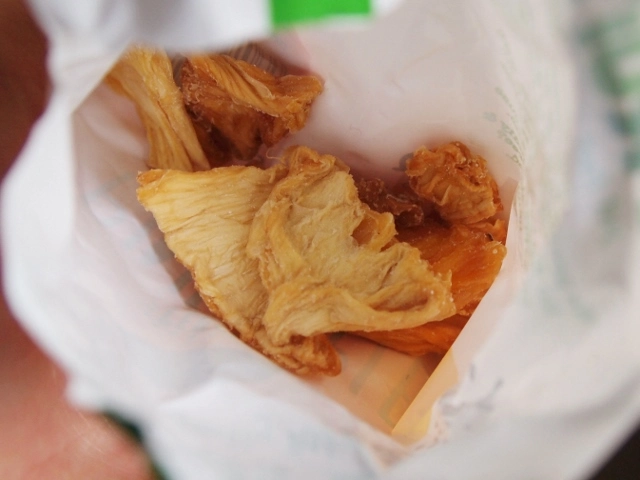 I'm currently on a mission to eat more fruit, so this Urban Fruit Pineapple came at the perfect time for me.  The fruit is apparently baked gently to dry it out, and 20g counts as one of your five a day.  That's great, but the bag contains 35g, so you don't get two full portions.  An extra 5g would be nice!  I ate half of this bag as a snack whilst at work, and I had the other half on a bowl of overnight oats one morning (read on for my recipe!).  The pineapple has a lovely sweetness to it, and a nice texture – soft and chewy but not too tough, and I'll definitely be repurchasing.
Dr. Oetker Madagascan Vanilla Grinder (RRP £4.99)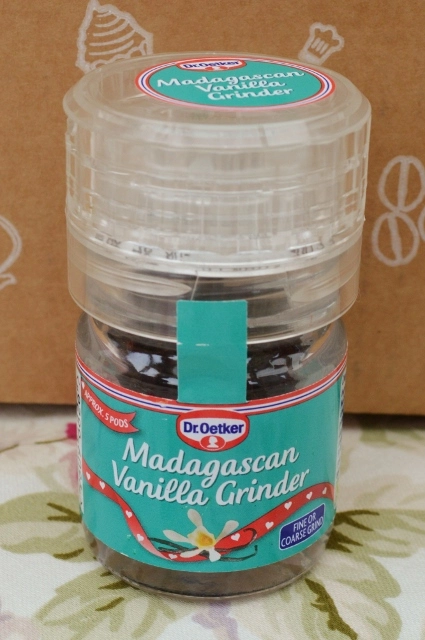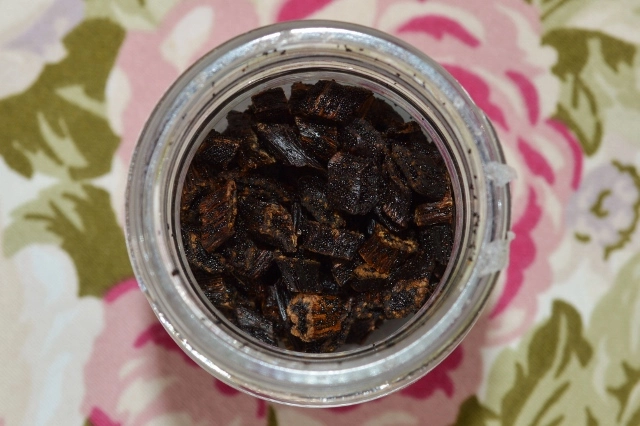 This Dr Oetker Madagascan Vanilla Grinder is such a simple yet innovative idea, and when I found it in the box I was really excited as I do a lot of baking, and authentic vanilla makes cakes and suchlike taste ten times better!  The grinder is a little bit like a pepper mill, but has two grinding options – coarse or fine.  The vanilla itself has a very strong flavour, and a little goes a long way, so the contents of the mill should last a good while.  I've been using this in my overnight oats for breakfast, and overnight the flavour infuses into the milk and it's delicious.  I will 100% be repurchasing this!
Seeing as the June box has a bit of a breakfast theme, here's my recipe for tropical overnight oats, using the Dr Oetker Madagascan Vanilla, and the Urban Fruit Pineapple.  These oats are the perfect combination of healthy, filling, and delicious…
Tropical Overnight Oats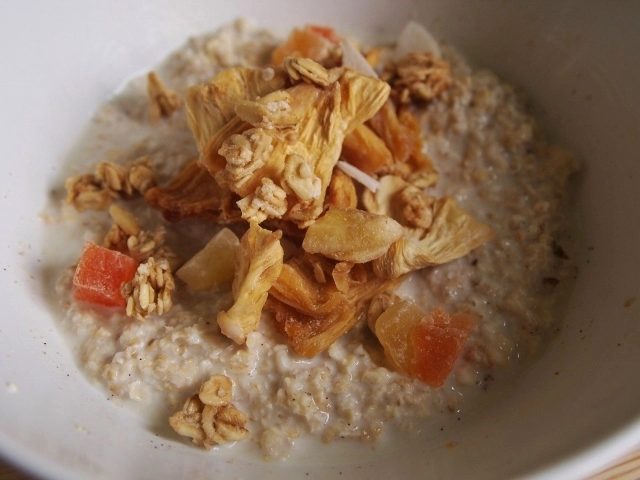 Ingredients:
1/2 cup rolled oats
1/2 cup semi-skimmed milk
Dr. Oetker Madagascan Vanilla
20g Urban Fruit Pineapple
15g Aldi Tropical Granola
Method:
– Before going to bed, combine the oats, milk and vanilla in a bowl, cover, and leave in the fridge overnight.
– In the morning, top with half a bag of Urban Fruit pineapple, and a sprinkle of tropical granola.
– Enjoy!
Again, this is another winning box from Degustabox, and everything in it was delicious.  Will they ever disappoint?  Hopefully not!  Bring on the July box…
If you fancy giving Degustabox a go yourself, you can get a £3 discount by entering code UPOAW at the checkout.  You can also follow Degustabox on Twitter and Facebook for more exclusive offers.
Naomi x
PS. You can check out the rest of my Degustabox reviews here.
*This Degustabox was sent to me by Degustabox for review purposes.  All opinions expressed are honest and my own.*
2
A few weeks ago I spotted a breakfast craze on Instagram of something called overnight oats.  I'd never heard of them before, but they looked delicious and I couldn't wait to give them a go.  Overnight oats is basically just cold porridge, made overnight in the fridge.  All you do is mix one part rolled oats, with one part liquid, sweeten it with whatever you choose, then leave it in the fridge overnight to do its thing.  The oats absorb the liquid, and in the morning you're left with plump, moist oats that are ready to eat without any cooking.  You can then top it with whatever you want, and enjoy.  My basic recipe for one person is half a cup of oats mixed with half a cup of semi-skimmed milk, but I've seen people use juice and nut milks too.  Also, if you prefer your oats wetter or drier, you can add more or less liquid accordingly.
My favourite thing about overnight oats is how experimental you can get with them.  I've had oats almost every day this week, but each bowl has had a different topping, which has stopped me getting bored of my breakfasts.  They're also really filling, and where I'd usually be feeling hungry by about 10:30am, I've been full until lunch, which for me is a big thing!
Here are a few of my favourite toppings so far…
Caramel Banana Crunch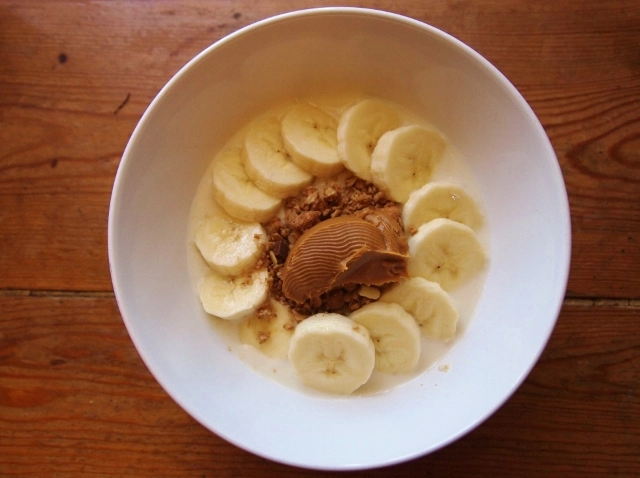 Sweetened with: 1 teaspoon of sugar.
Topped with: Half a large banana, Lotus Caramel Biscuit spread, and granola.
Fruity Yoghurt and Blueberries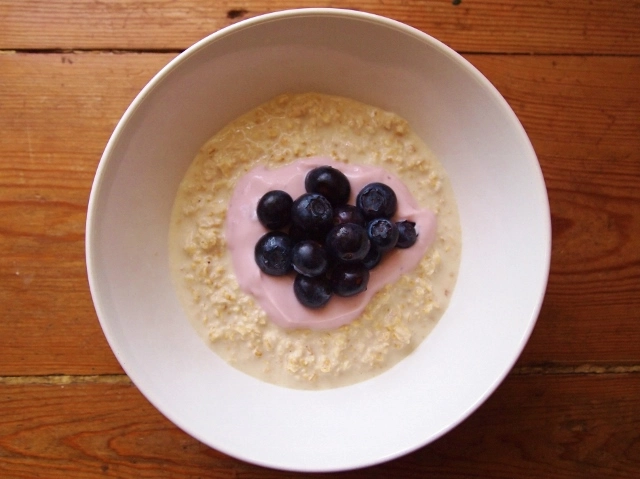 Sweetened with: 1 tablespoon of raspberry, cranberry, and blueberry yoghurt.
Topped with: Raspberry, cranberry, and blueberry yoghurt, and a handful of blueberries.
Choco Banana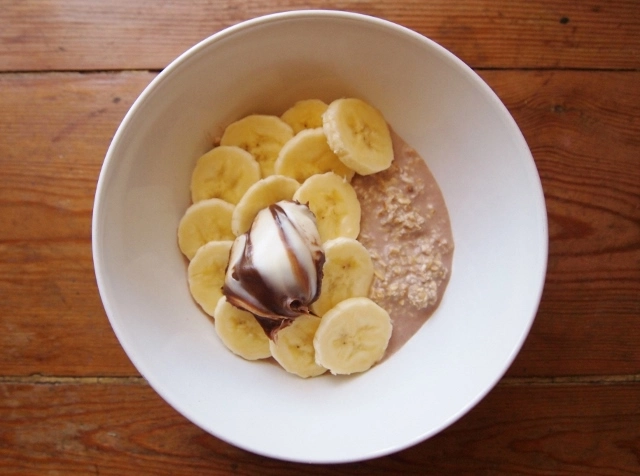 Sweetened with: 1 teaspoon of cocoa powder.
Topped with: Half a large banana, and milk and white chocolate spread.
Strawberry Coconut Crunch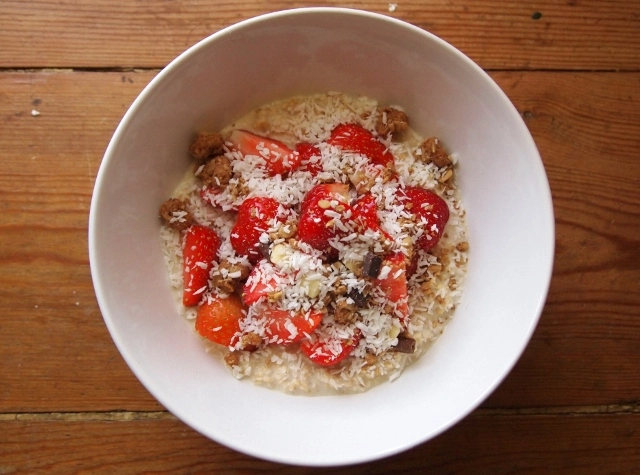 Sweetened with: Half a teaspoon of vanilla extract.
Topped with: Chopped strawberries, granola, and desiccated coconut.
I have quite a few toppings planned for future overnight oats too, including maple syrup and chopped pecan nuts, apple and cinnamon, and even Oreo biscuits and peanut butter.  Definitely more interesting than Cornflakes!
Have you ever tried overnight oats?  If so, I'd love to hear your recipe ideas!
Naomi x