Posts tagged
Crisps
2
I love a bag of salty crisps and a big bar of chocolate as much as the next person, but when it comes to snacking I'm always on the look out for something a little bit different, and a little bit healthier, that at the same time is slightly more satisfying than a piece of fruit or veg.  As such, over the last few months I've been trying lots of different snacks, and I now have a few new favourites that I'll be sharing with you over the coming weeks.  All of the snacks are also vegetarian and/or vegan, and ethical – two of my favourite things when it comes to food!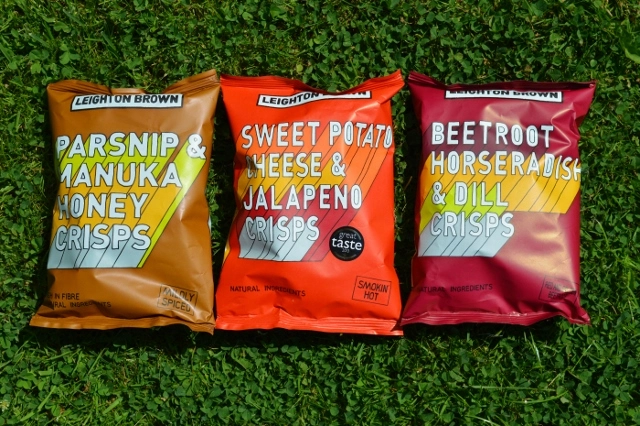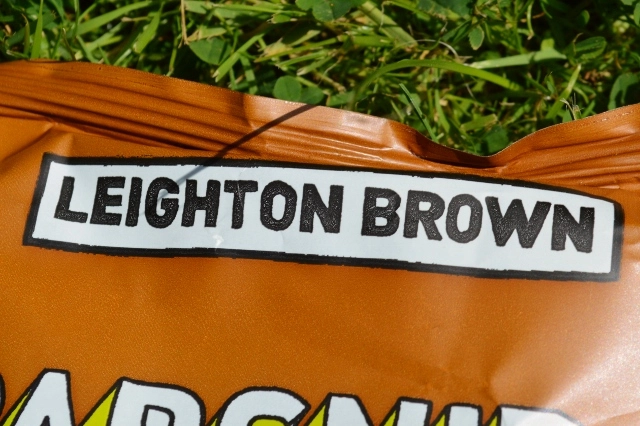 Today's recommended snack comes as a nice alternative to your average potato crisps.  Leighton Brown are a British company, run by three friends, who create gourmet vegetable crisps.  They pride themselves on using ethically sourced, natural ingredients, with no additives, and aim to provide high-quality luxury snacks, that are also affordable.  Their range currently only features three flavours – Parsnip & Manuka Honey, Beetroot, Horseradish & Dill, and Sweet Potato, Cheese & Jalapeno – but they have more flavours coming soon, and I can't wait to see the range grow.
Parsnip & Manuka Honey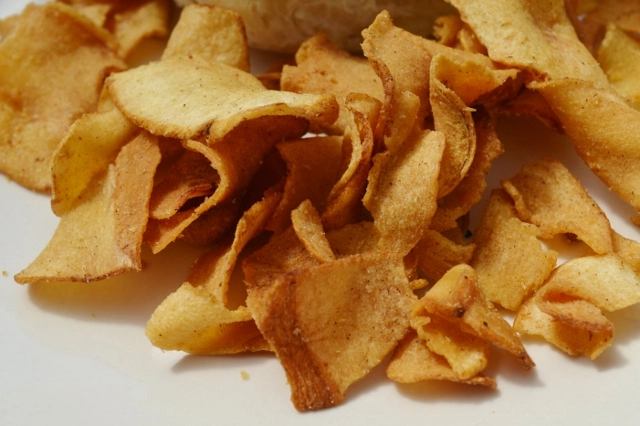 Leighton Brown's Parsnip & Manuka Honey crisps are made from British grown parsnips which, when combined with manuka honey, give the crisps a pleasant sweetness.  However, the sweetness is balanced with a subtle spice and saltiness, which make these crisps incredibly satisfying and moreish.  The crisps also have a lovely crunch (as do the other two flavours), that isn't always present in vegetable crisps, which gets an extra thumbs up from me.
Beetroot, Horseradish & Dill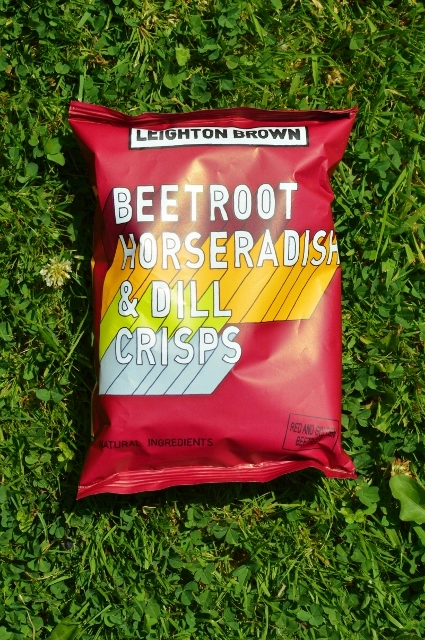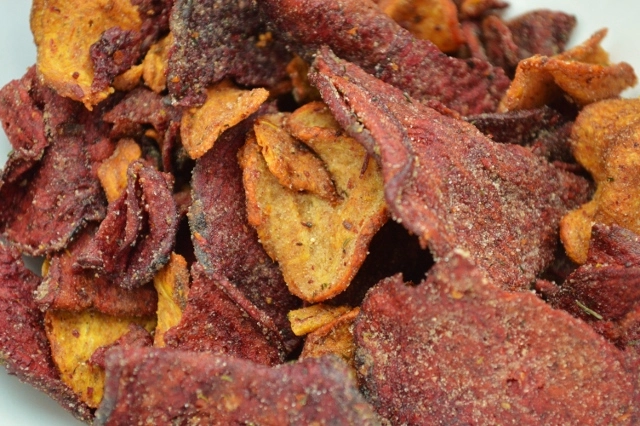 As you can see, these Beetroot crisps are made from both purple and orange beetroot, which not only looks great but tastes great too, as the flavour of the beetroot is very powerful.  Crisps that don't have much flavour always disappoint me, but these really get the tastebuds tingling with the warm tang of horseradish and the fresh herbiness of dill.  Perfect for anyone with a savoury tooth.
Sweet Potato, Cheese & Jalapeno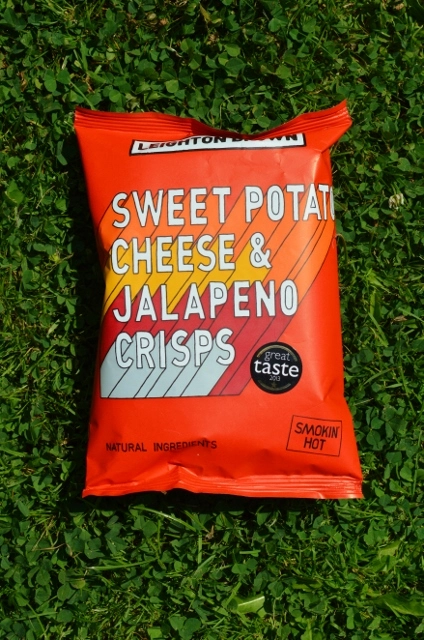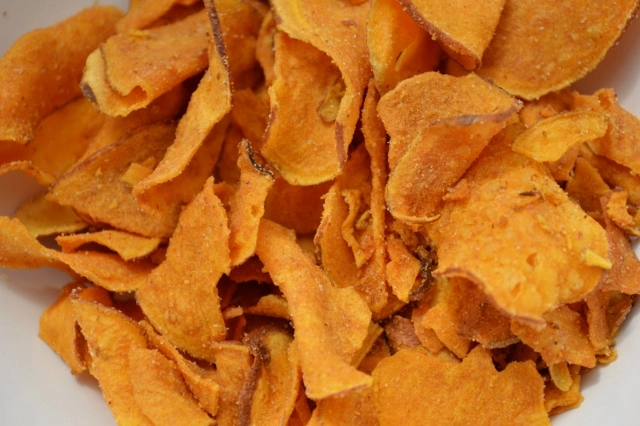 These Sweet Potato, Cheese & Jalapeno crisps won a Gold Star in the Great Taste Awards in 2013, and I can see (and taste!) why.  I have a soft spot for sweet potato so these were always going to be my favourite, but they're so much nicer than I even dreamed they could be.  The balance of cheese and jalapeno is just right, so they're not too cheesy or too hot.  Rather, the flavours mingle to create sweet and savoury perfection with a hint of heat.  I love them!
Leighton Brown vegetable crisps are currently available in 130 delis, bars and coffee shops throughout the UK, so check out their interactive map to find out where to get them near you!  You can also find them in Fenwick Newcastle and Selfridges.
Naomi x
*These Leighton Brown crisps were sent to me by Leighton Brown for review purposes.  All opinions expressed are honest and my own.*
1
I'm a little bit late with it this month, but here is my review of the May Degustabox, which unlike this post arrived on time towards the end of last month! The May box was a lot more savoury than April's, but it contained some really lovely stuff, most of which I'd never tried before.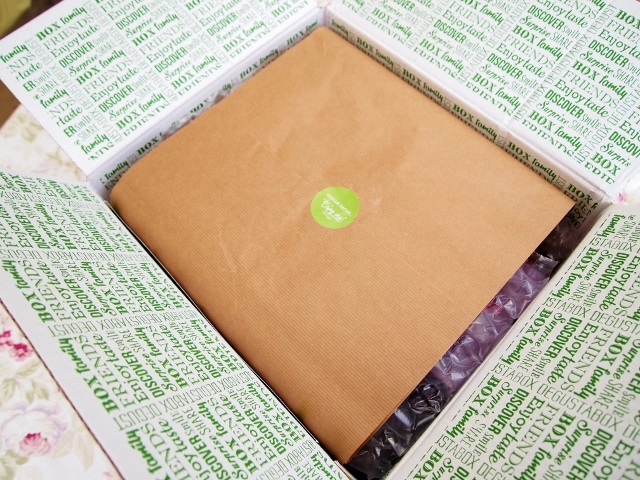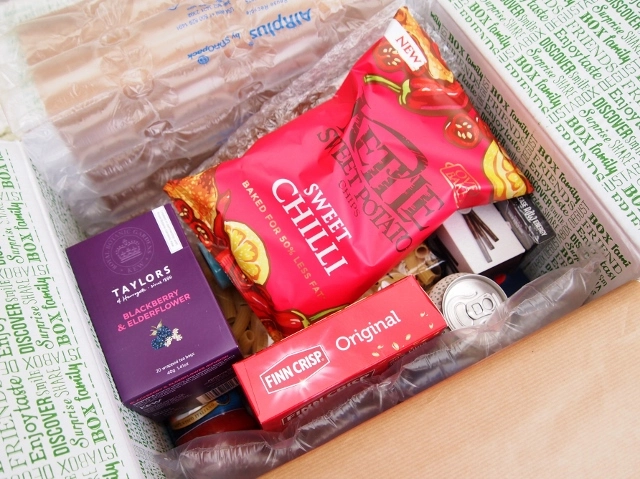 May's Degustabox contains ten brands, and thirteen individual items, with a total value of £21.46. However, the box costs just £12.99, so you're making a pretty big saving whilst getting to try some new, exciting foods! Here are my thoughts on each item…
Cawston Press Cloudy Apple Drink (RRP £1.00)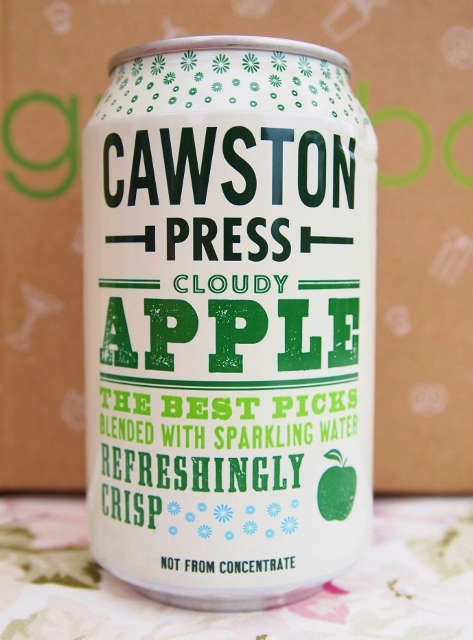 Cawston Press featured in April's Degustabox with their Rhubarb and Apple drink, which was absolutely gorgeous, so I was happy to find another offering from them in the May box.  Like the Rhubarb drink, this Cloudy Apple version contains no preservatives, additives or artificial sweeteners, and is made from fruit juice combined with sparkling water.  The drink isn't overly sweet, rather, it has a slightly sour tang, but it's nice.  I don't like it as much as the rhubarb flavour, but I'd still have it again as it's lovely and refreshing when chilled.
Taylors of Harrogate Blackberry & Elderflower Tea (RRP £2.99)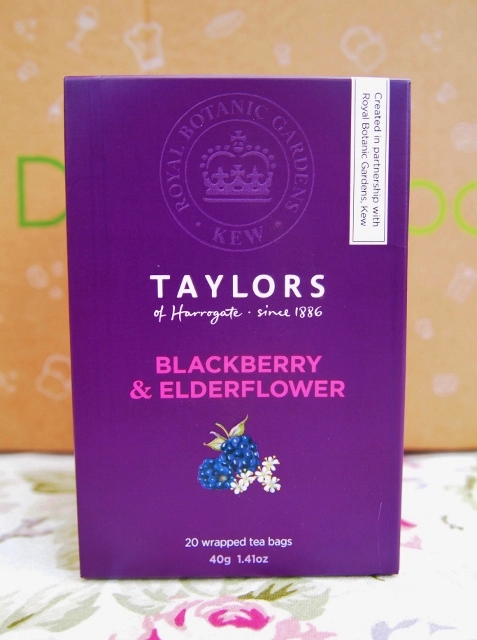 I really enjoy trying new teas and infusions, so this was another addition to the box that I was happy to see.  Taylors of Harrogate have a range of teas created in partnership with experts at Kew Gardens in London, and this Blackberry & Elderflower blend is one of them.  The box contains twenty individually wrapped tea bags, so they're ideal for popping in your bag when travelling, or going to work.  The flavour mix is really pleasant, offering a kick of blackberry with a subtle aftertaste of elderflower.  Perfect for summer when you fancy something light, rather than a big mug of breakfast tea with milk.
Raw Energy Chewing Gum (RRP £0.99 per box)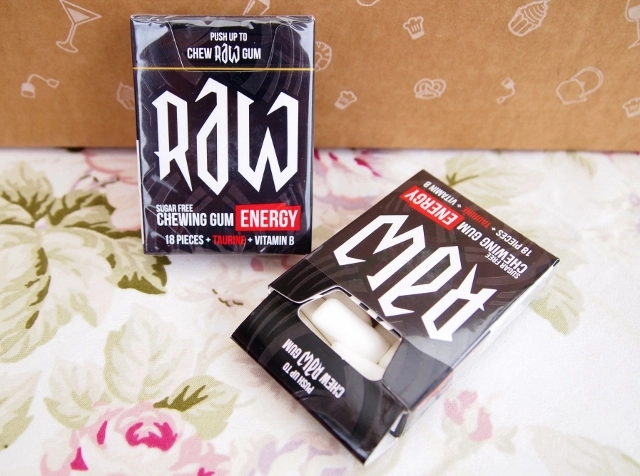 Raw is a sugar-free gum, which contains taurine and vitamin B, to give you a boost of energy on the go.  I absolutely hate energy drinks, especially those containing taurine as it makes me feel funny, so when I saw that these were basically a condensed version of an energy drink I was quite worried.  However, I decided to give them a go anyway.  They smell like Red Bull (yuck), but they taste slightly fruity (although that energy drink flavour is there too…), but to be honest they're not that bad.  They keep their chewy consistency for a long time, and they didn't make me feel any different despite the taurine.  That, for me, is a bonus, but if you actually want an energy boost from them you may struggle to get it.
Hornsby's Crisp Apple Cider and Strawberry & Lime Cider (RRP £5.00 for 4)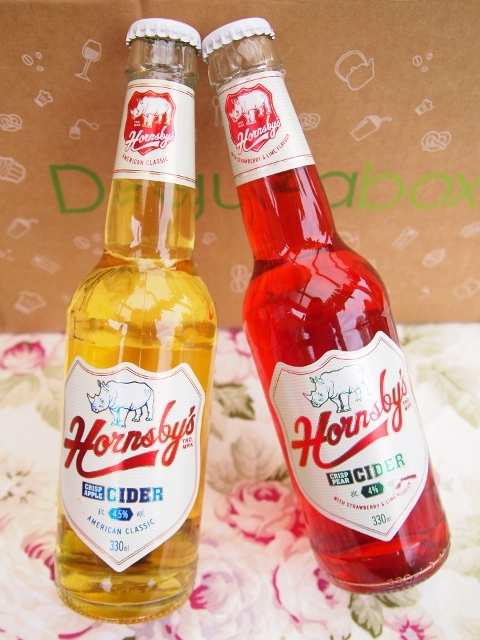 I haven't yet tried these ciders, but I'm looking forward to enjoying them one evening with a nice meal.  Hornsby's is one of the leading ciders in the USA, and according to the bottle is an 'American Classic', best enjoyed straight from a chilled bottle.  The Degustabox contained two flavours – Crisp Apple, and Strawberry & Lime, which I imagine will be my favourite.  If I like these I'll definitely repurchase them, as at £5.00 for 4 bottles they're really affordable.
Kettle Sweet Chilli Sweet Potato Chips (RRP £2.49)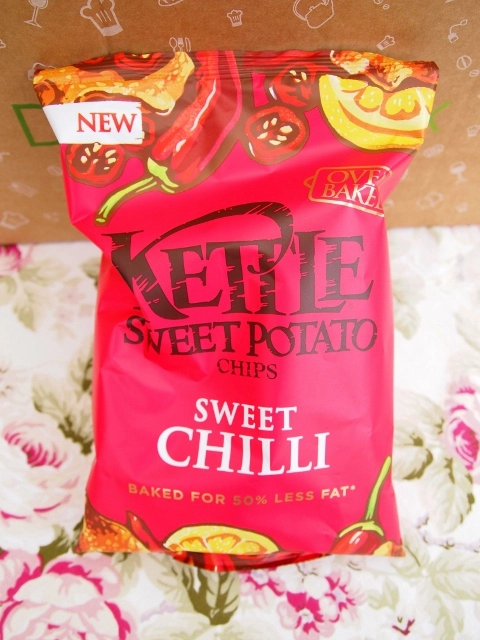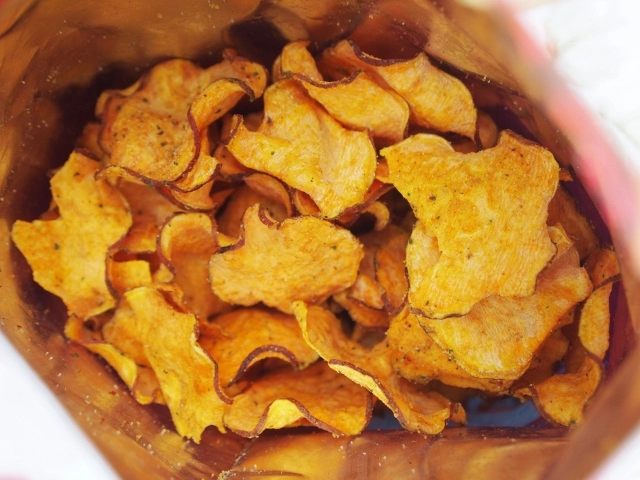 Kettle crisps are fab, and root vegetable crisps are fab, so combine the two and they're a winner from the start.  Kettle's Sweet Chilli Sweet Potato Chips contain 50% less fat than their usual potato crisps, and are free of MSG, and artificial flavourings and colours.  Sweet chilli happens to be my favourite crisp flavour, and combined with the sweetness of the sweet potato it works really well.  The chips are thin and crispy, and very moreish, and are a great alternative to potato crisps if you fancy something healthier and different.
Finn Crisp Original Sourdough Rye Crispbread (RRP £1.29)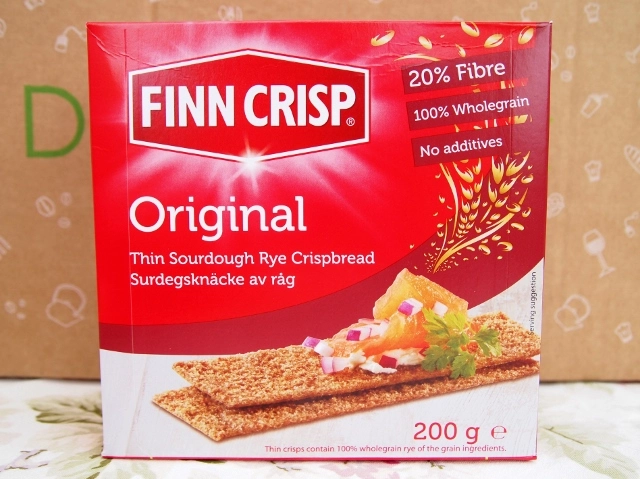 I wasn't exceptionally excited by these when I first discovered them in the box, but they're surprisingly tasty.  Finn Crisp are a Nordic brand who use only natural ingredients to create healthy snacks.  Their sourdough rye crispbreads contain wholegrain, are low in fat, are packed full of vitamins and minerals, and are only 22 calories each, so they're guilt-free and healthy (depending on what you top them with!)  Unlike a lot of rye crackers, these aren't at all dry, and are satisfyingly thin and crispy.  I've been eating these as a snack topped with Lotus caramelised biscuit spread (yum), or soft cheese and cucumber, but they can also be used in baking and cooking to make crispy crusts.  I would 100% buy these again!
Elizabeth Shaw Dark Chocolate Cocoa Crunch Flutes (RRP £2.59)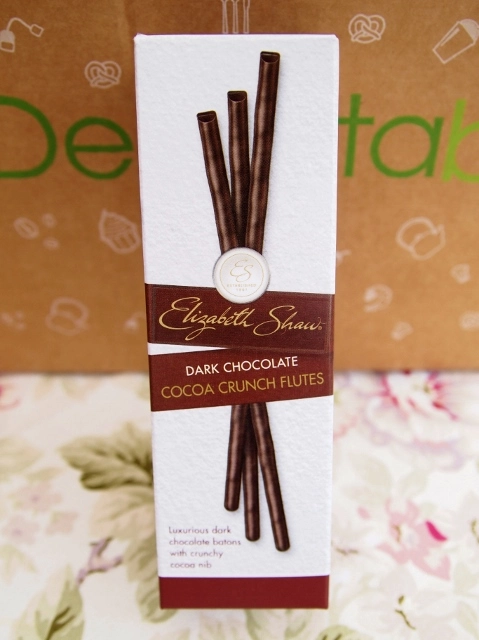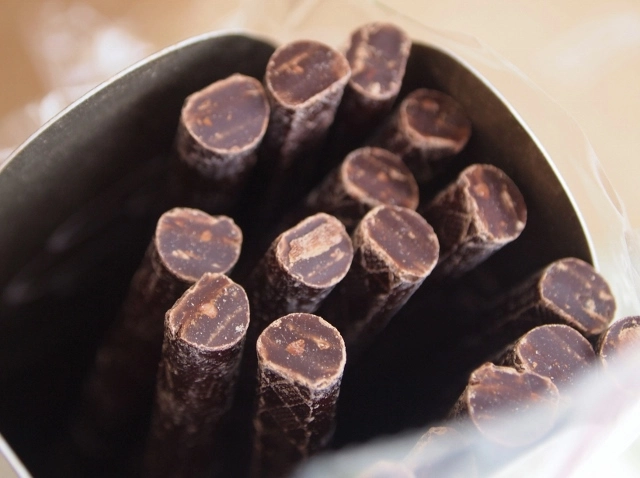 Elizabeth Shaw always reminds me of Christmas at my grandma's house, which is a good thing.  These slender flutes consist of rich, dark chocolate, and are studded with tiny nibs of crunchy cocoa.  The chocolate is already full of flavour, but the nibs add an extra depth and crunch that make these an extremely luxurious treat.  And only 23 delicious calories each!  When I eat chocolate, I tend to eat quite a lot of it, but these are so rich I can only manage one or two, which I suppose is a good thing as it means I can savour them.
Dr. Oetker Cake Release Spray (RRP £2.28)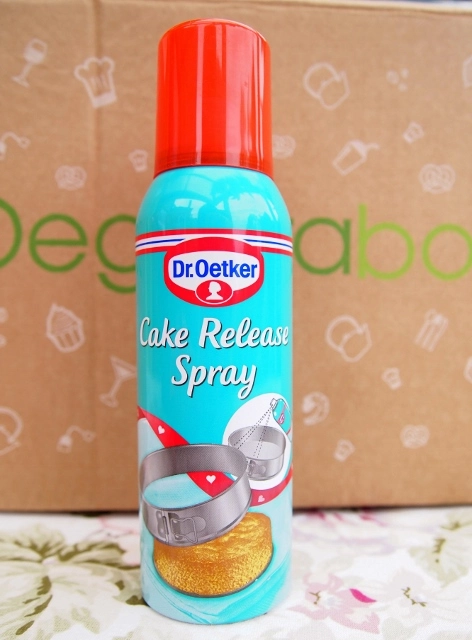 I'm yet to use this Dr. Oetker Cake Release Spray, but it is a genius idea!  The spray is oil-based, and can be sprayed on the inside of cake tins and trays to grease them before pouring in the cake mix, making it easier to remove the finished product once it's baked.  For some reason I've always disliked rubbing butter around cake tins to grease them, as it can be messy and somewhat time-consuming, so this quick and easy greasing spray is the ideal addition to my baking cupboard.
Cirio Supercirio Tomato Puree (RRP £1.10)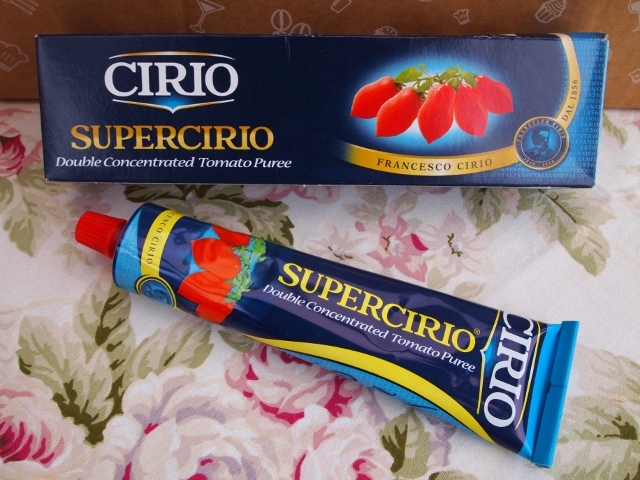 A tube of double concentrated tomato puree…  Not that exciting I know, but Cirio's Supercirio is surprisingly good quality.  I've used this on homemade pizzas and in pasta so far, and it has a vivid colouring, authentic tomato taste, and it isn't acidic like some purees.  A sound example of a good quality tomato puree.
Cirio La Classica Passata (RRP £1.35)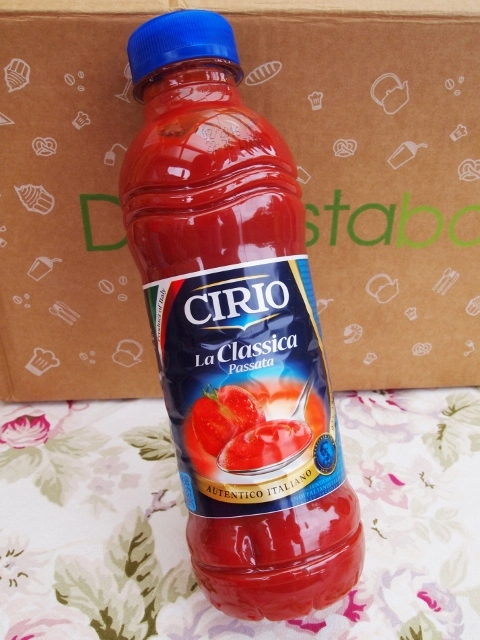 Passata in a plastic bottle seemed a little strange to me at first, but once I used it, it all became clear.  There's too much passata in this bottle to use all at once, but the plastic bottle makes it easy to pour and store, compared to the usual cardboard cartons that get messy and don't keep well in the fridge.  The passata itself is beautiful – packed full of flavoursome Italian tomatoes with a delicate sweetness.  A lot nicer than the watery, bland stuff I've tried in the past!
Garofalo Pasta (RRP £1.89)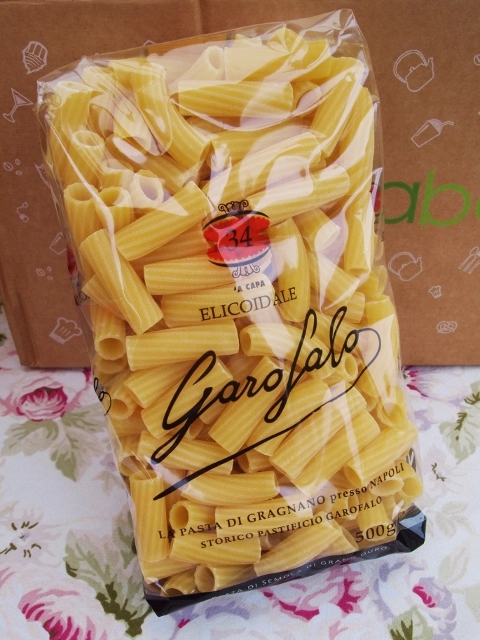 Yay!  Pasta!  One of my favourite ingredients to use in hearty evening meals.  Garofalo is an Italian brand from near Naples, and have been making pasta since 1789, using durum wheat and bronze dies for shaping.  I'm pretty sure these pasta tubes are rigatoni, as they're large, ridged, and slightly curved tubes, and they are delicious served al dente.
Here's an easy recipe for a summery pasta dish, using Garofalo pasta and Cirio passata…
Summer Vegetable Pasta
(Serves 2 people)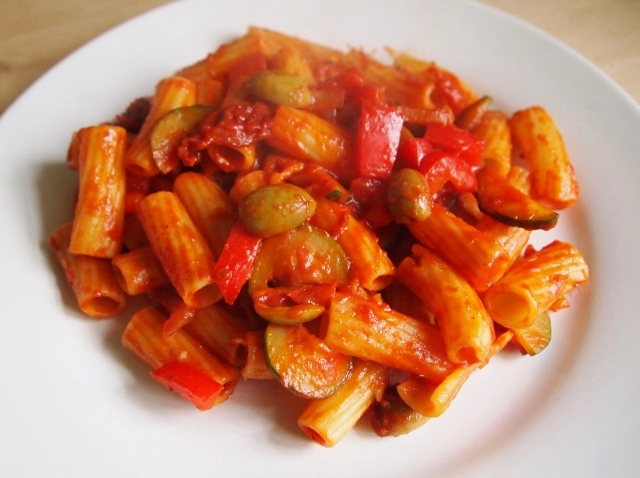 Ingredients:
200g Garofalo Pasta
250ml Cirio La Classica Passata
1 Courgette
1/2 Red Bell Pepper
1/2 White Onion
1 Garlic Clove
4 or 5 Sundried Tomatoes
1 sachet Oloves Olives
Method:
– Boil the pasta for 10-12 minutes.
– Meanwhile, chop and fry the courgette, pepper, onion and garlic until soft.  Add the olives and sundried tomatoes.
– Add the passata to the vegetables to make a sauce, and simmer for a few minutes.
– Stir in the cooked pasta and serve immediately, with a sprinkle of cheese.
This is my third Degustabox so far, and though it isn't as packed full of sweet treats as the last one, this is still a brilliant box, and once again everything in it is vegetarian!  It was a pleasure to try so many new products and brands, and I'm pleased to have discovered a few new items to add to my weekly shopping list.
If you fancy giving Degustabox a go, you can get a £3 discount by entering code MZIIQ at the checkout.  You can also follow Degustabox on Twitter and Facebook for more exclusive offers.
Naomi x
PS. You can check out the rest of my Degustabox reviews here.
*This Degustabox was sent to me by Degustabox for review purposes.  All opinions expressed are honest and my own.*
3
Late last month I took delivery of the April edition of my monthly surprise food box, Degustabox, and boy is it a good one!  In my review of the March Degustabox I mentioned that, though I enjoyed the contents of the box, the distinct lack of sweet treats was slightly disappointing, but April's offerings sincerely make up for that.  In fact, this latest box is crammed full of so many of my favourite things, it's as if it was put together specifically with me in mind!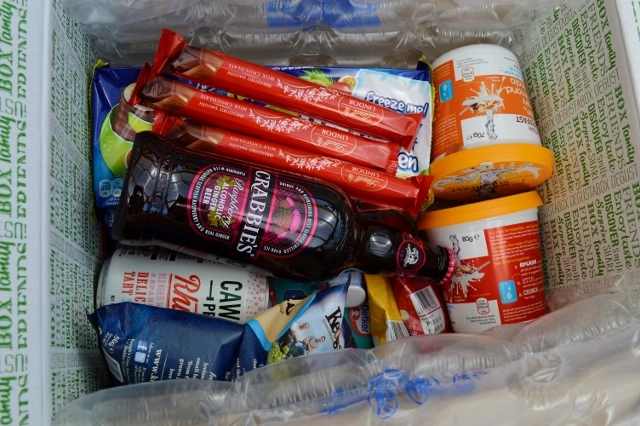 The April Degustabox contains nine different brands, and fifteen individual items, which for £12.99 is a lot better value than most food subscription boxes I've seen.  So without further ado, here are my thoughts on each item…
Crabbie's Alcoholic Ginger Beer with Raspberry (RRP £2.19)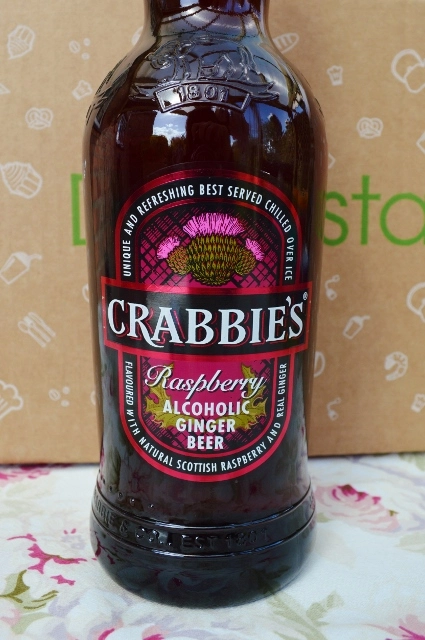 Crabbie's alcoholic ginger beer is one of my favourite alcoholic drinks, and is so refreshing when it's been chilled.  This particular bottle has a raspberry flavour, which I admit isn't my first choice of flavours, but with the ginger it is really quite nice.  The beer is a lovely pink shade and the raspberry flavour shines through, before the warm, comforting burn of ginger kicks in.  I think I prefer the original version, but as a cool drink every now and then during the summer, this would be ideal.  I also want to try the strawberry and lime flavour that I know other people received in their Degustabox.
Lindt Lindor Milk Chocolate Bar (RRP £0.80 each)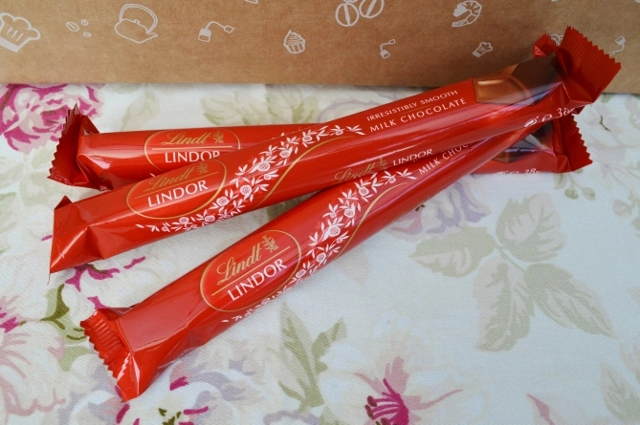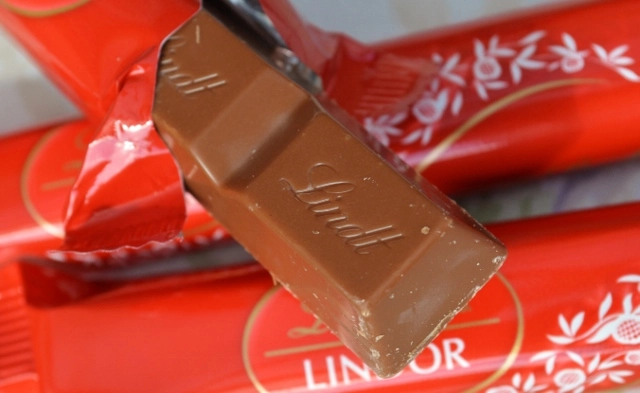 I've always been a fan of Lindt's Lindor truffles, so when I saw that they'd been transformed into bars, I was curious to see whether they were as nice, and as it happens, they are!  These bars have the same cool, creamy taste and texture as their spherical counterparts – the chocolate itself is sweet, but not sickly, and the truffle it encases is luxuriously smooth and delicious.  These bars may be thin, but they feel like a proper treat, and I'll definitely be buying more.
Cawston Press Rhubarb and Apple Sparkling Drink (RRP £1.00)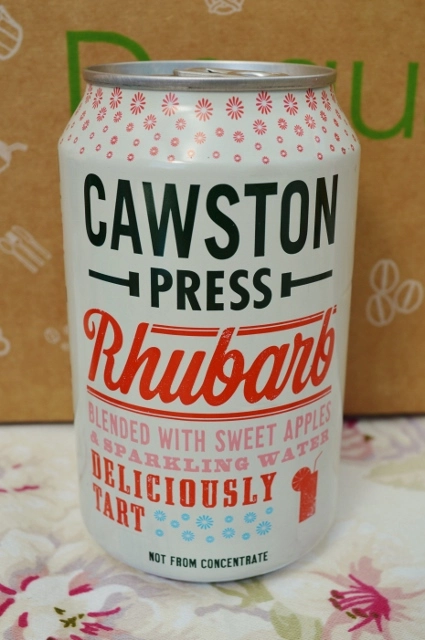 Cawston Press' Rhubarb and Apple drink was an unexpected highlight for me.  I don't often drink fruity fizzy drinks, but this one tastes a little bit more sophisticated than the usual.  It's free of any preservatives, additives and artificial sweeteners, and is made from concentrated fruit juice combined with sparkling water, so is light and refreshing.  The rhubarb flavour dominates, and is reminiscent of the rhubarb and custard sweets I used to eat as a child, without the overpowering sweetness.  I'll be keeping an eye out for more from Cawston Press, as this tasted lovely and I'd like to try some of their juices.
Clearspring Miso on the Go Soup (RRP £1.29 each)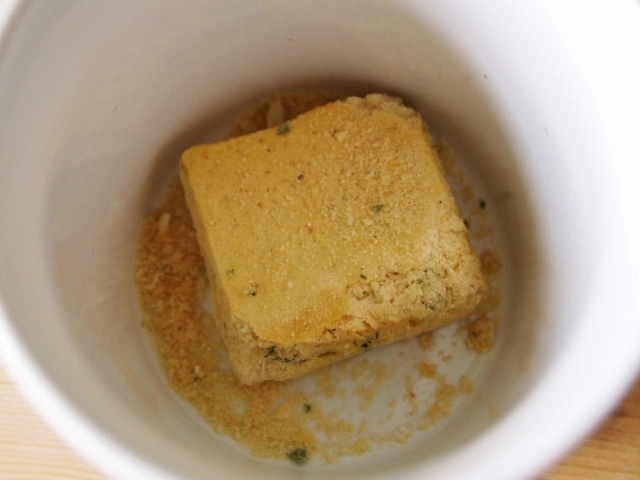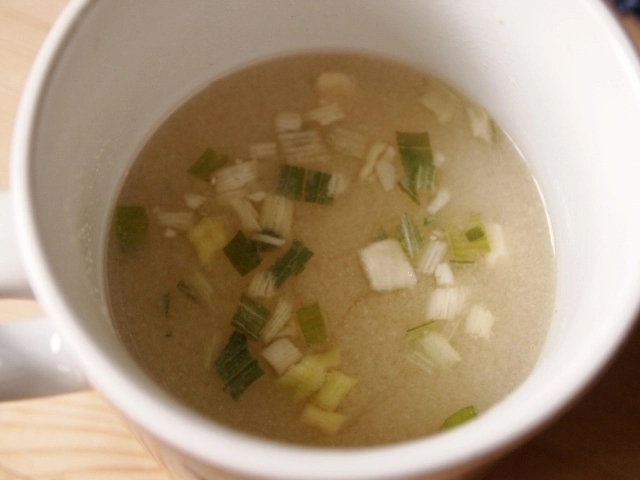 Soup isn't my thing, especially 'cup of soup' type things, so I wasn't incredibly enthusiastic about these Clearspring Miso on the Go sachets when I first saw them.  I received two flavours of soup – White Miso with Tofu (pictured above), and Red Miso with Sea Veg, which I'm yet to try.  One thing that did stand out with these is that they're vegan, and only contain 29 calories, so they're healthy at least.
The soup is easy to make, and involves mixing 160ml of hot water in a mug with the freeze-dried block that the sachet contains.  I was surprised to see such chunky ingredients floating around in the soup, namely cubes of tofu and pieces of spring onion, and though it doesn't look the best, the White Miso actually tastes rather nice!  At £1.29 each I probably won't be buying these again, but I'm glad I tried them.
Go Splash Blackcurrant Water Flavouring (RRP £2.45)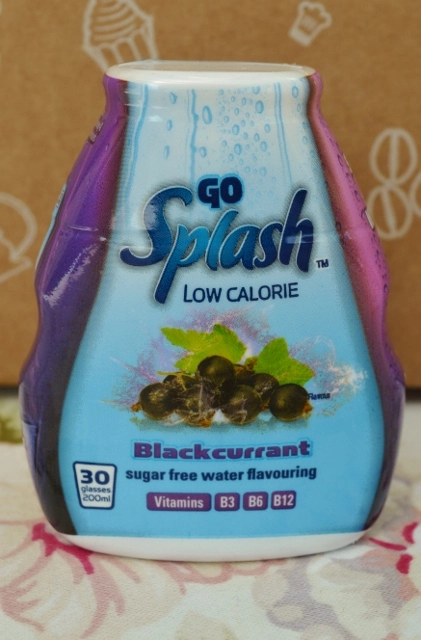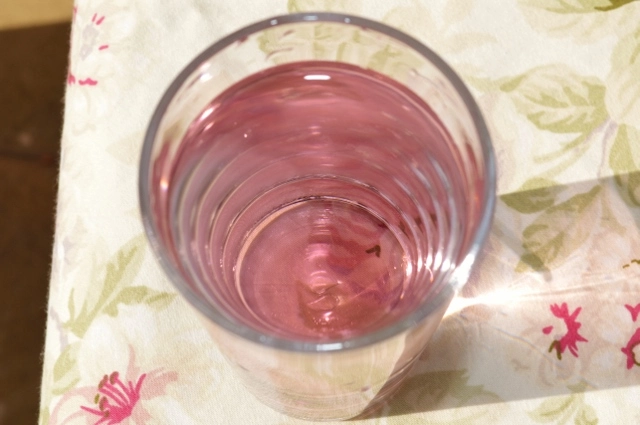 After seeing the Robinsons equivalent of Go Splash in supermarkets recently, I'd been keen to try something like this, but unfortunately I was slightly disappointed with Go Splash.  In theory, it's a great idea – a little container of sugar-free, low-calorie fruit flavoured concentrate to add to water to make it that little bit more exciting, but I'm not sure the brand quite pull it off.  The packaging says to add one squirt to 200ml of water, which I did, but it made no difference, so I added another and still wasn't happy.  The water still tasted like water, but I was left with an artificial, saccharine taste in my mouth after swallowing, with just a hint of blackcurrant.  Not the best, and I haven't used it since.  I was looking forward to carrying this with me so I could enjoy it on the go, but I think I'll pass.
Keogh's Atlantic Salt & Irish Cider Vinegar Crisps (RRP £1.00)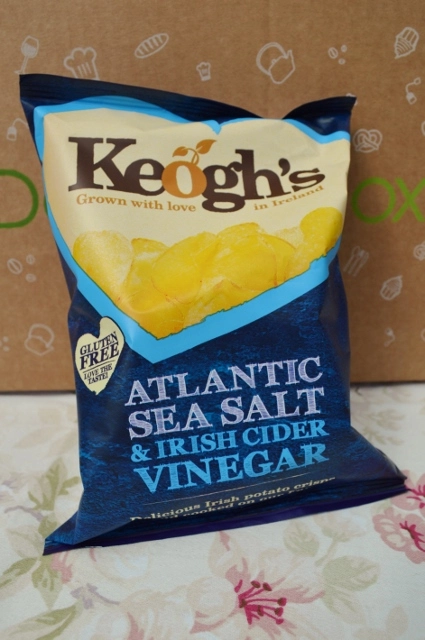 Salt and Vinegar is my crisp flavour of choice, so I was always going to love these, but they even managed to exceed my high expectations.  When I visited Dublin last year I was really taken by just how well Ireland do crisps, and these are close to perfect.  Keogh's Farm is a family run potato growing and crisping business based in North County Dublin, and the family's 200 years of potato expertise really shows.  The packet even features a 'Spud Nav', which tells you exactly which field the potatoes were grown in, the variety of potato used, and who cooked the crisps.  Brilliant!
The crisps are thick and crispy, not at all greasy, and incredibly well-flavoured, as the Irish cider vinegar gives them a pleasantly sweet tang, rather than a sour one.  They're also gluten-free, made from all natural ingredients, and come in a generous 50g bag.  Walkers crisps don't even come close to these!
McVitie's Jaffa Cake Mini Rolls (RRP £1.30 per pack)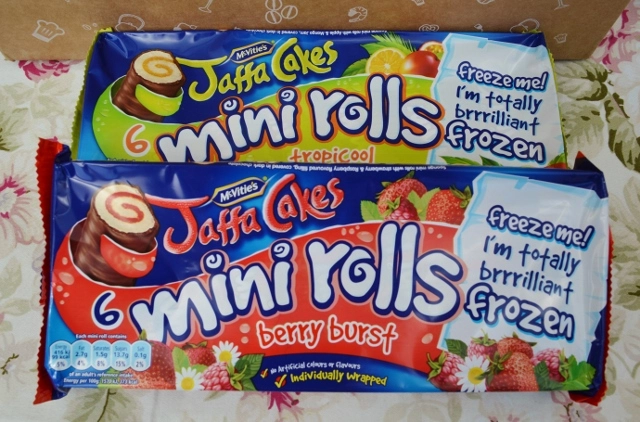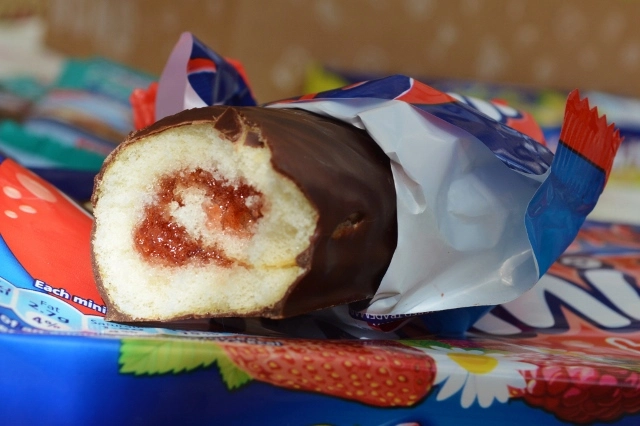 I like cake, I like chocolate, I like Jaffa Cakes, so finding these in my Degustabox was another pleasant surprise.  The Mini Rolls come in two flavours – Tropicool, a mix of tropical fruits, and Berry Burst, and each tastes like what it says on the packet, although not intensely so.  The packaging states that these can be frozen, so I decided to give the freezing a go to see if it made much of a difference, which it did.  They were firmer and chewier, and obviously colder, which suited them well.  I think these would make a nice light treat in Summer when you're getting tired of eating ice cream.
Mornflake Superfast Pots (RRP £1.20 each)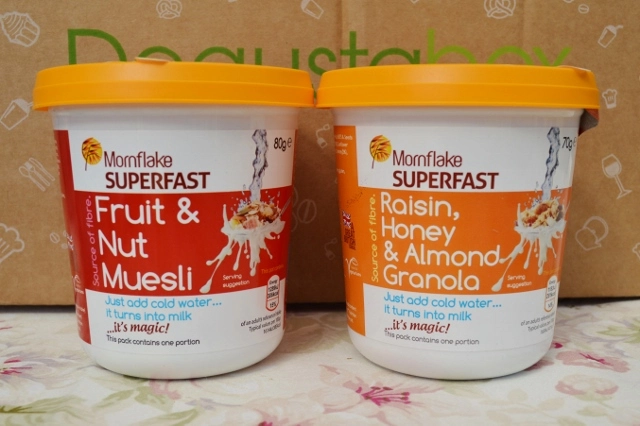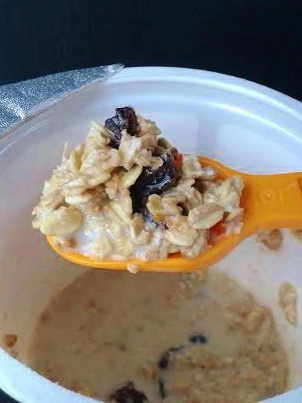 My Degustabox also featured two Superfast pots by Mornflake – a Fruit & Nut Muesli, and a Raisin, Honey & Almond Granola – both of which are right up my street.  Each pot has a handy little spoon in the lid, and contains powdered milk so you can just add cold water to the mix and stir, which is really handy when you're on the go.  Both of these tasted delicious, especially the granola, and the portions are generously sized.  I'd definitely pick one of these up if I was in a rush on my way to work.
Dr. Oetker Fine Cooks' Chocolate (RRP £1.69 each)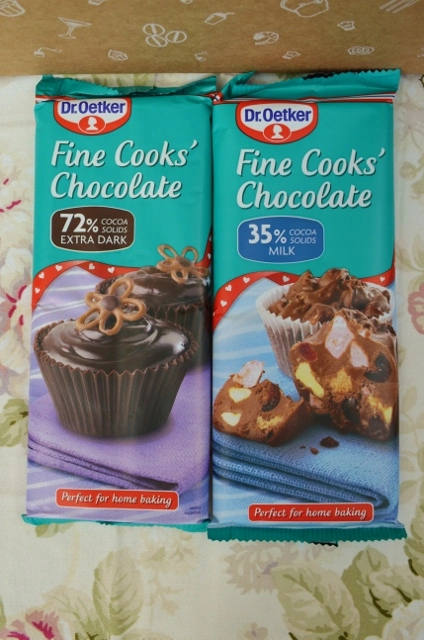 There were also two bars of this Dr. Oetker Fine Cook's Chocolate in April's Degustabox – an Extra Dark one with an intense 72% cocoa solids, and a creamier Milk chocolate, coming in at 35%.  As an avid baker, these were a nice little addition to the box and I couldn't wait to try them out, so I whipped up a batch of tiffin as soon as possible.  Tiffin is a fantastic no-bake, easy to make treat, so I thought I'd share my recipe for…
Chocolate Ginger Tiffin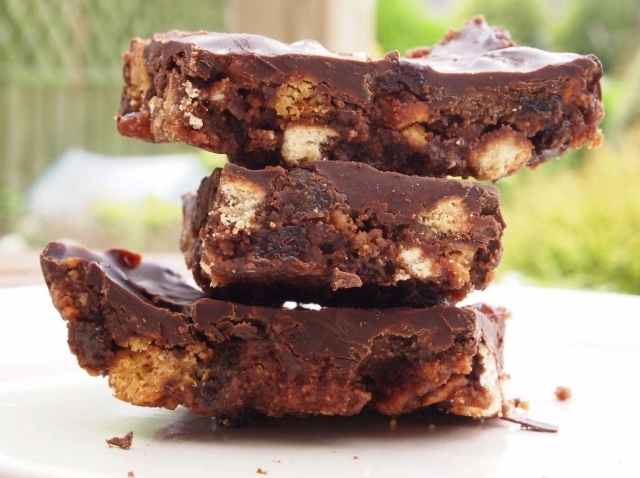 Ingredients:
115g Dr. Oetker Fine Cooks' Chocolate Extra Dark 72%
115g Dr. Oetker Fine Cooks' Chocolate Milk 35%
150g Ginger Nut Biscuits
75g Rich Tea Biscuits
100g Dried Mixed Fruit
110g Butter or Stork Margarine
2 tbsp Sugar
2 tbsp Golden Syrup
4 tsp Cocoa Powder
Method:
1. Line a large, square baking tin with greaseproof paper.
2. Crush the ginger nut biscuits and rich tea biscuits until they are broken into small pieces.
3. In a pan, mix together the butter, golden syrup, sugar and cocoa powder over a low heat, until the butter has melted and the sugar has dissolved.
4. Add the crushed biscuits and dried fruit to the pan and stir until everything is coated.
5. Tip the biscuit mixture into the baking tin, spread out evenly and press down.
6. Melt the chocolate in the microwave in 30 second bursts until fully melted.  Pour over the biscuit mix and spread out evenly.
7. Leave the tiffin to set in the fridge for about an hour, before cutting into pieces.  This recipe makes about 18 decently sized pieces.
8. Serve and enjoy!
Of course, I gave the chocolate a little nibble whilst I was cooking (and I got to lick the bowl – cook's perks!), and it's delicious even as an eating chocolate.  I may even finish the bars myself…
The overall RRP of April's Degustabox is £20, so for £12.99 you're definitely getting a good deal.  Once again, everything in the box is vegetarian, and the abundance of sweet goodies is a winner with me.  I'd even go as far to say this is the best subscription box I've ever received from any company!
If you want to know more about Degustabox and this month's products, you can visit their website here.  You can also find them on Twitter and Facebook.
Will you be subscribing to Degustabox?  If so, if you use the exclusive code '4K0P6' when registering, you can get a £3 discount!
Naomi x
PS. You can check out the rest of my Degustabox reviews here.
*This Degustabox was sent to me by Degustabox for review purposes.  All opinions expressed are honest and my own.*