Posts tagged
Jurlique
2
Whether you're on a tight budget, or you're able to flash the cash this Christmas, today's festive post features a selection of 'Spend or Save' fashion and beauty gift ideas for women.  The 'Spend' section includes a variety of luxury options for those who want to spend that little bit more on a loved one, and the 'Save' section includes some great alternatives that are just as good, but don't cost the Earth.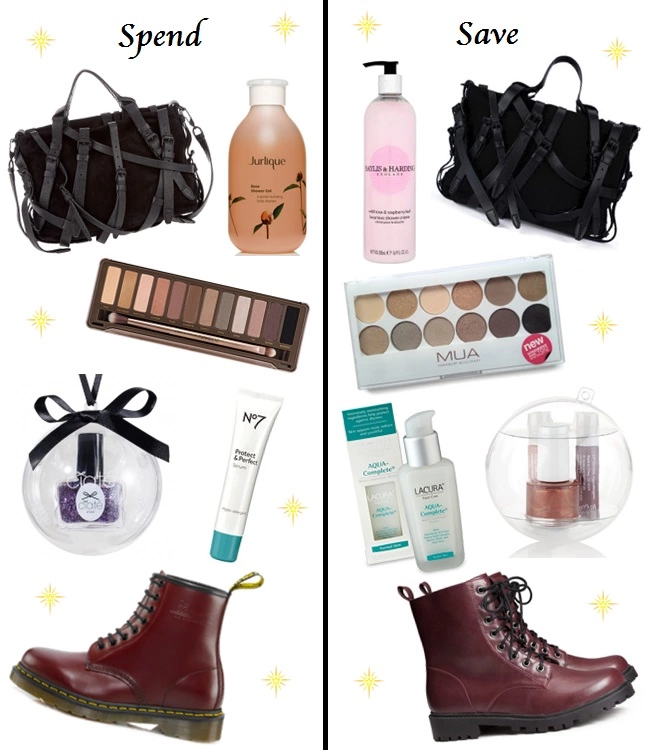 Spend:
Alexander Wang Kirsten Bag $295 from ialexanderwang.com / Jurlique Rose Shower Gel (300ml) £14.40 from LookFantastic / Urban Decay Naked2 Palette £33.30 (was £37.00) from Debenhams / Ciaté Tree Trinkets £21.00 (was £30.00) for 6 from Ciate / No7 Protect & Perfect Intense Beauty Serum (30ml) £23.95 from Boots / Dr Martens Cherry Red 1460 Boots £100 from Dr Martens
Save:
Multi Belt Two Way Bag £38 from Rings & Tings / Bayliss & Harding Wild Rose and Raspberry Leaf Shower Creme £1.99 from Superdrug / MUA Undress Me Too Palette £4 from MUA / Lacura Multi Intensive Serum Aqua £3.49 from Aldi / Limited Collection Mini Nail Polish & Lip Gloss Bauble £5.00 each from M&S / Burgundy Boots £24.99 from H&M
I've been lusting after Alexander Wang's Kirsten Bag for ages, but it's really quite expensive and difficult to track down, so when I spotted the copy on Rings & Tings I just had to share it with you all!  I don't yet have either bag myself, but from photographs the copy looks pretty impressive.
I currently have both the Jurlique and the Bayliss & Harding rose shower gels in my bathroom, and they are equally lovely.  The Jurlique one foams better, but each has a distinct sweet rose scent and luxurious packaging, making them both gift-worthy.
The Urban Decay Naked2 palette is perhaps one of the most highly sought after beauty products in the blogosphere, so would make an excellent gift for any beauty blogger.  If it's a bit out of your budget though, MUA's Undress Me Too palette is the perfect dupe.  I have it myself and the eyeshadows are all excellent quality, and at £4.00 you really can't complain!
I'm new to serums, but have recently started to use the Lacura Multi Intensive Serum from Aldi.  It's aimed at women aged 25-35, so I'm almost in that age bracket, and it makes your skin feel so soft and plump.  It's lovely, and an absolute steal, but if you want to gift a more classic brand then No.7 is the way to go.
When I first put this guide together, Ciaté's Tree Trinkets were £30 for the set, but they have now been reduced to £21 which is actually a pretty good deal, especially if you want to split the set up as smaller gifts.  If you want more for your money however, M&S's beauty bauble contains a nail polish and two miniature lip glosses for £5.  I also spotted a Primark equivalent earlier this week, costing £2 for a bauble containing 3 little lip glosses, which is even better value for money!
I absolutely adore Dr Martens and am building up quite a collection.  They last forever and, once they've been broken in, are incredibly comfortable.  But if you're looking for a cheaper version for your fashion-loving friend this Christmas, H&M's burgundy boots look fab.
Check back soon for another 'Spend or Save' gift guide!
Naomi x
2
With only a week left to go until Valentine's Day, I thought I'd share a gift idea with you which puts a luxurious twist on the traditional bunch of red roses – Jurlique's Rose Essentials.  If you have a beauty-obsessed loved one to buy for this year, or even if you want to treat yourself to a pampering session, then Jurlique's rose scented skin care products are ideal.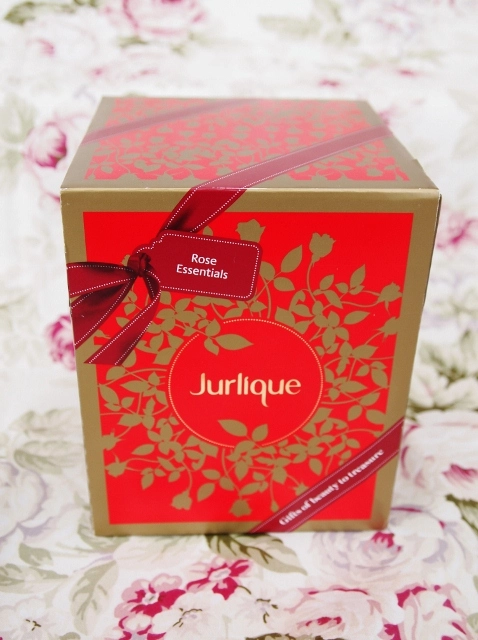 The Jurlique Rose Essentials set contains three luxe rose scented products, and they come packaged in a beautiful gift box, which definitely makes this set a pleasure to receive!  Once you remove the red and gold cardboard wrap, the box you are met with looks like a gorgeous gold treasure chest, patterned with delicate roses and leaves, which fits the Jurlique tagline perfectly – 'Your gift of beauty to treasure'.  It is even sealed with a sticker that looks like a lock, which makes the set feel that little bit more special, and builds the anticipation as to what you will find inside.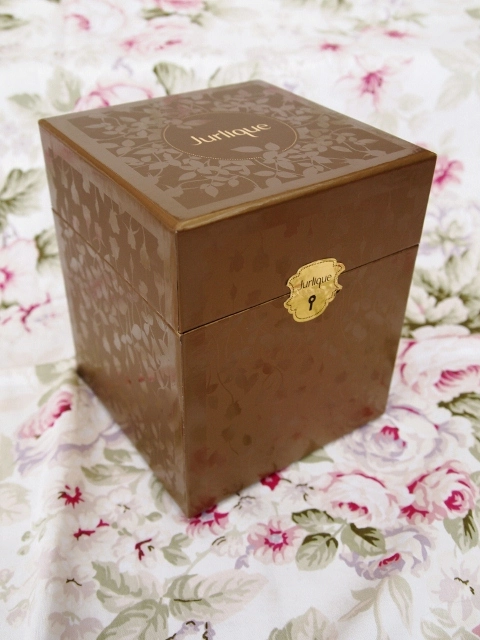 The three products inside the box are wrapped with red tissue paper, and the gold ribbon and embossed brand logo all add an extra touch of luxury.  The products are a 100ml bottle of Rosewater Balancing Mist, a 300ml bottle of Rose Shower Gel, and a 150ml tube of Rose Body Cream.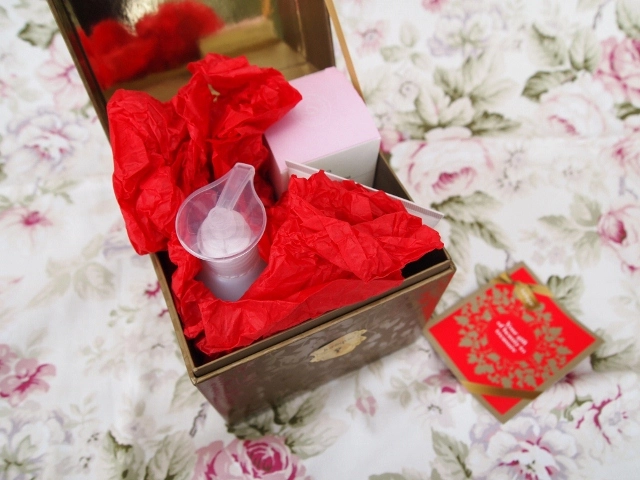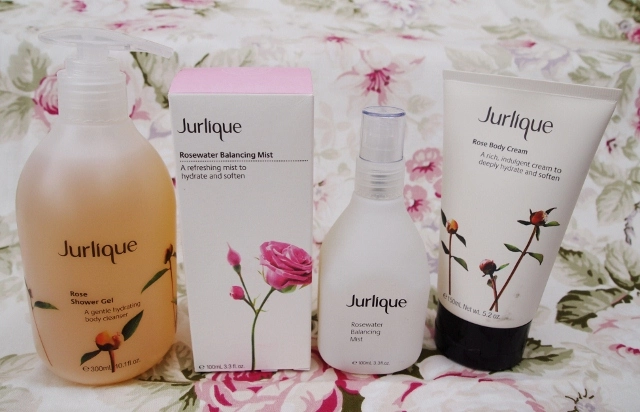 Here is a brief review of each product to give you an idea of what they are like…
Rosewater Balancing Mist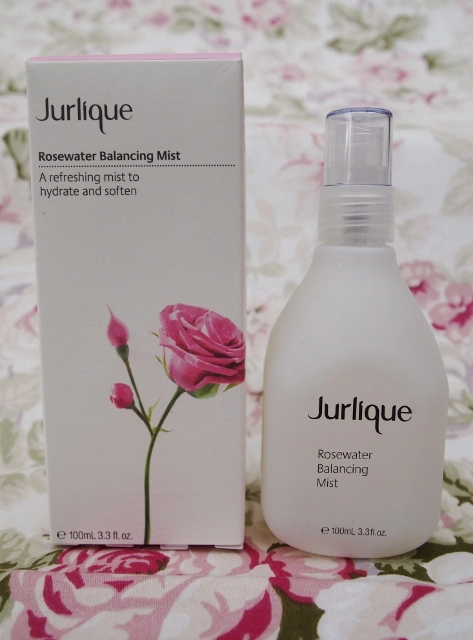 Jurlique's Rosewater Balancing Mist contains Rose Essential Oil, Marshmallow and Aloe, which combine to form a hydrating mist which improves and balances skin tone.  I like to spray this on to my face after a long day, as it refreshes tired skin and, unlike some mists, is delicately moisturising so it doesn't dry your skin out or leave it feeling greasy.  The packaging the mist comes in is very plain in contrast to the gift box, which is slightly disappointing as I like a bit of colour, but the glass bottle makes it look and feel a bit more impressive than if it were plastic.
Rose Shower Gel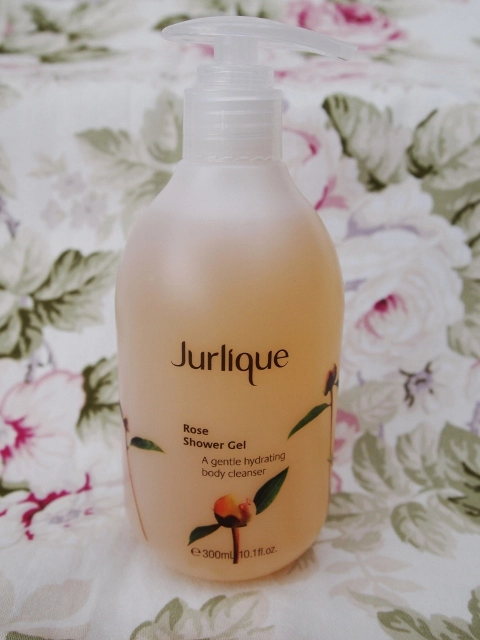 This pinky orange coloured shower gel contains a mix of natural essential oils, and like the mist leaves your skin feeling fresh, and extremely clean.  I usually use shower creams as normal gels sometimes dehydrate my skin, but Jurlique's Rose Shower Gel is actually quite moisturising, which is lovely, and can be used all over the body.  The lather that one pump of this gel gives is impressive, and a little goes a long way.
Rose Body Cream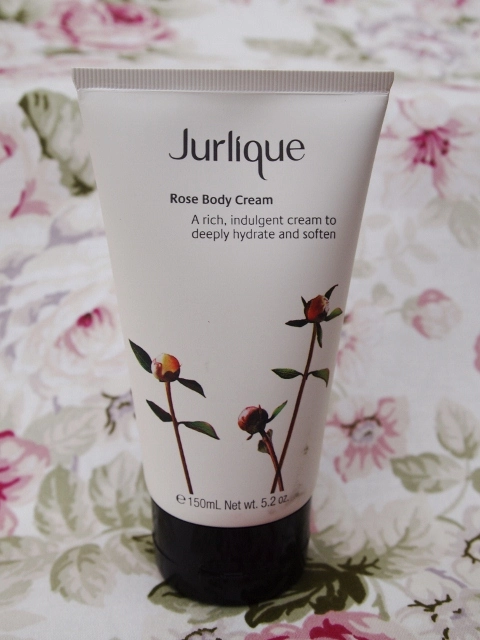 The Rose Body Cream is my favourite product in the set.  It is enriched with Jojoba Oil, Shea and Cocoa Butter, so as you can imagine it is intensely moisturising, but it is also a lot lighter than some body butters.  The cream doesn't sit on the skin making a greasy mess either, rather, it is easily and quickly absorbed and is very kind to the skin.  I suffer from dry hands so have been using this as a hand cream, and so far the results are good, and my hands feel a lot softer!
All three products have a very sweet but authentic scent of roses, which is reminiscent of an English garden on a summer's day (how corny and romantic!)  It's a very feminine scent, and isn't at all overpowering, so the products can be layered for a long-lasting, gentle aroma.
This whole set just oozes quality.  The products are all generously sized and feel amazing on the skin, and the packaging is incredible.  The Jurlique range is a bit of a splurge (products start at £10 each, ranging up to around £30), but sometimes these things are worth it, right?  You can view Jurlique's range of skin care products here, at LookFantastic.com.  Or, if Jurlique isn't for you or your loved one, LookFantastic also stock a wide selection of other Valentine's Gifts, including Nails Inc Bling It On Leather & Skulls, which I reviewed here.
Naomi x
*This Jurlique Rose Essentials set was sent to me by LookFantastic.com/The Hut Group for review purposes.  All opinions expressed are honest and my own.*