Posts tagged
Serum
1
Not so long ago the lovely folks from Aldi's Health and Beauty team set me a challenge – to Swap & Save with Aldi.  I am currently saving for a deposit on a house, which means I have far less disposable cash to spend on beauty products, so I was more than happy to accept Aldi's challenge!  I received three skincare products to try out in place of my usual lot, all from the Lacura range; their Aqua-Complete Moisturiser, Aqua-Complete Multi Intensive Serum, and a large tube of Nourishing Hand Cream.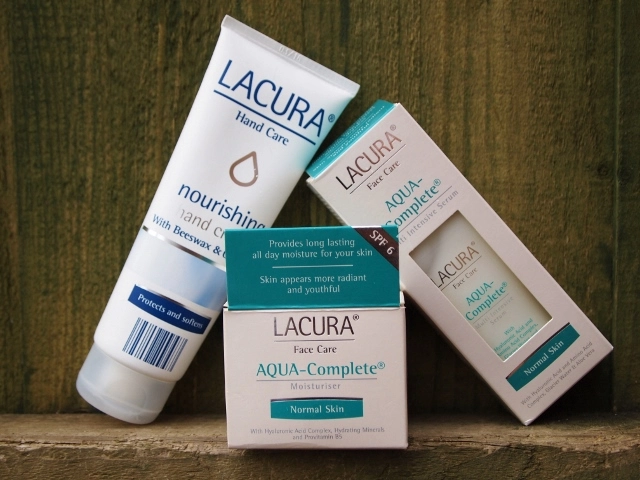 Here's what Aldi have to say about the Lacura range:
Lacura products are carefully formulated with the finest ingredients to provide the perfect daily skincare routine.  You can trust Lacura to gently care for your skin as each product is dermatologically tested.
I've been using all three products for over a month now, which I feel is enough time to comment on their effectiveness, so here are my thoughts on each.
With Hyaluronic Acid Complex, Hydrating Minerals and Provitamin B5.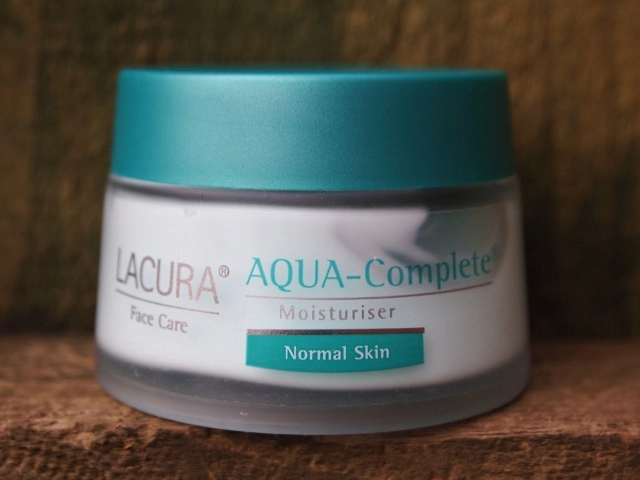 Aldi's Lacura Aqua-Complete Moisturiser has become my staple facial moisturiser for my morning routine. It has a lovely fresh scent and a light gel consistency, and I find that it creates an even base for make up, that keeps it in place all day.  It's actually quite similar to Nivea's Express Hydration Primer.
When I first started to use the cream it seemed slightly greasier than what I'm used to, which worried me as my T Zone can get quite oily. However, it absorbs quite nicely and leaves my skin looking and feeling healthy and dewy, rather than shiny.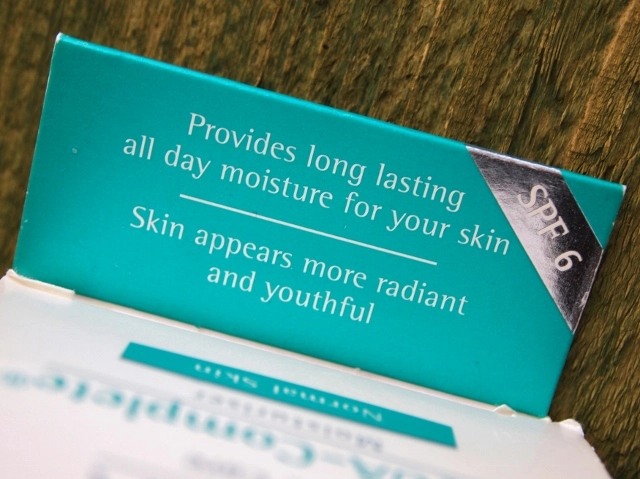 It has also been a great help to my skin throughout the winter months. I often get dry cheeks during the cold weather, but the moisturiser has kept that at bay this year, and as the packaging states it 'provides long lasting all day moisture'. I'm interested to see how it will work with my skin in the summer now, as it has an SPF of 6 so will provide some protection from the sun.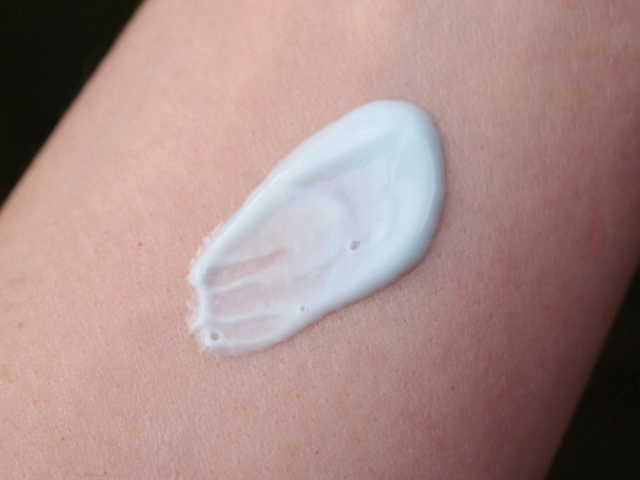 I think I'll be adding this one to my repurchase list, and I may even give the Lacura RENEW Night Cream a go too!
With Hyaluronic Acid and Amino Acid Complex, Glacier Water and Aloe Vera.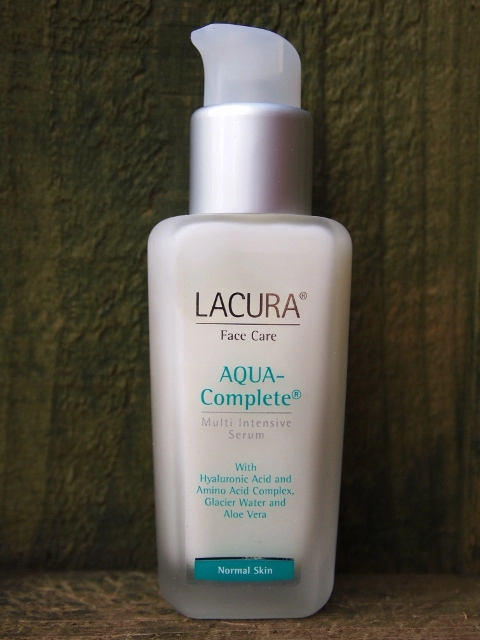 I'm fairly new to using serums and hadn't been wowed by any I'd tried… until this one.  At £3.49 the Lacura Aqua-Complete Multi Intensive Serum is the most expensive product of the bunch, but it's still amazingly affordable.  I mean, where else can you buy a good face serum for less than a fiver?!  The serum is aimed at people aged between 20-35, so it's perfect for my 24 years, and is supposed to make the skin appear 'more radiant and youthful'.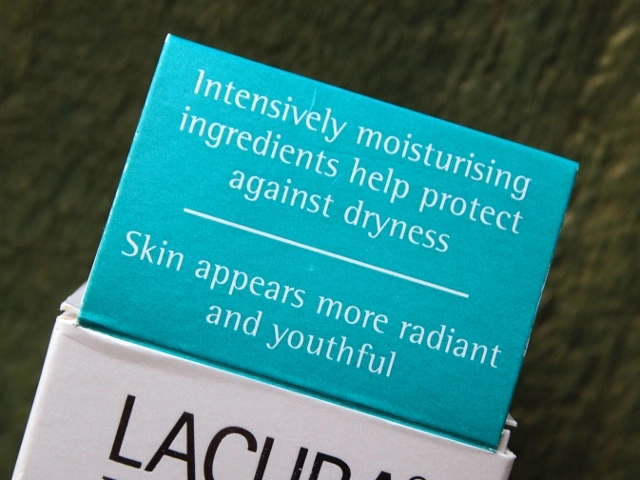 The serum itself has a strange formula.  It looks light, but feels rich, and it transforms into the silkiest, smoothest layer on the skin, and is quickly absorbed.  It really is an absolute pleasure to use, and feels comfortable, leaving your skin visibly smoother and plumper.  In that respect, it definitely gives a more 'youthful' appearance.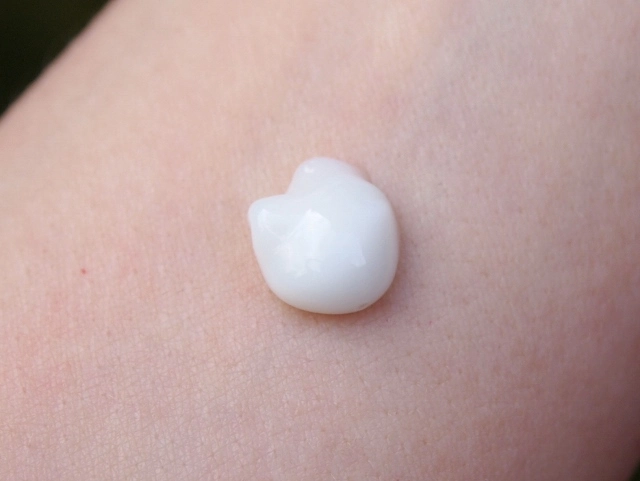 I have combination skin, so I was slightly dubious about trying a serum made for normal skin, but it actually seemed to create a balance; moisturising the dry areas whilst mattifying the oily areas.  Two pumps of product is all it takes to cover the whole of my face, neck and chest as well.  I think I'll be repurchasing this one.
With Beeswax and Glycerine.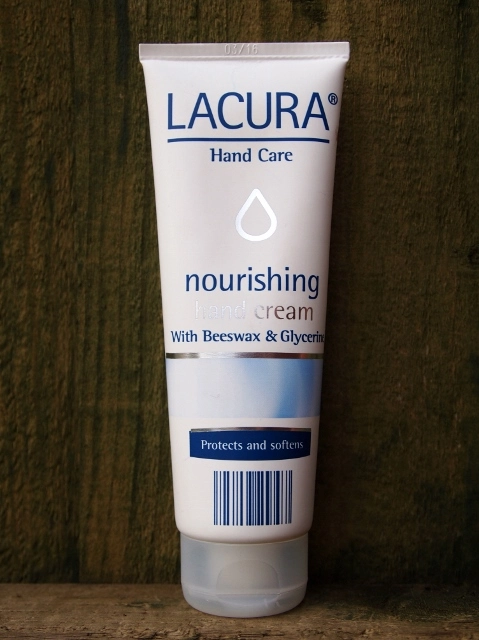 I suffer from very dry hands in the winter, and it has taken me a long, long time (literally years) to find a product that actually helps, so I was a bit reluctant to give it up for this.  Aldi's Nourishing Hand Cream is a basic beeswax and glycerine lotion, but it's surprisingly silky, and not in the slightest bit greasy.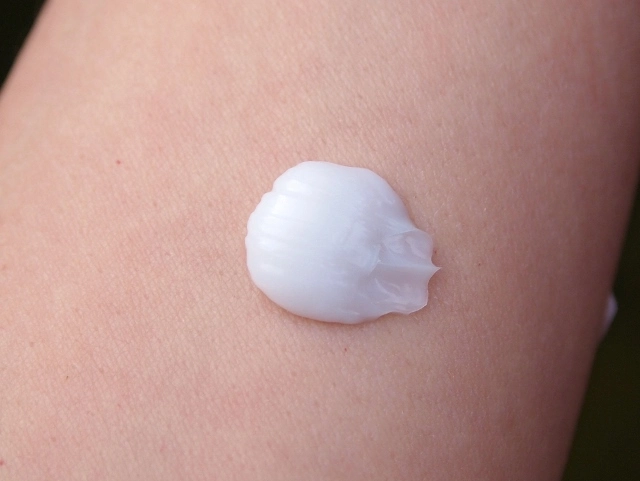 The cream absorbs nicely, and is quite softening, but it just isn't intensive enough for my skin.  Having said that, at 75p I'm still quite impressed, and I'd perhaps use it more as a summer hand cream when my hands aren't as dry.  I'd definitely recommend it if you have skin that isn't overly troublesome though.
Overall, I think I've been convinced to Swap & Save with Aldi when it comes to facial moisturisers and serum, but unfortunately the dry skin on my hands means I need something a little bit more intensive at the minute than the Lacura hand cream.
If you want to check out the Lacura skincare range for yourself, you can visit Aldi's website here, or visit your local store!
Naomi x
*These Lacura Skincare products were sent to me by Aldi for review purposes.  All opinions expressed are honest and my own.*
2
Whether you're on a tight budget, or you're able to flash the cash this Christmas, today's festive post features a selection of 'Spend or Save' fashion and beauty gift ideas for women.  The 'Spend' section includes a variety of luxury options for those who want to spend that little bit more on a loved one, and the 'Save' section includes some great alternatives that are just as good, but don't cost the Earth.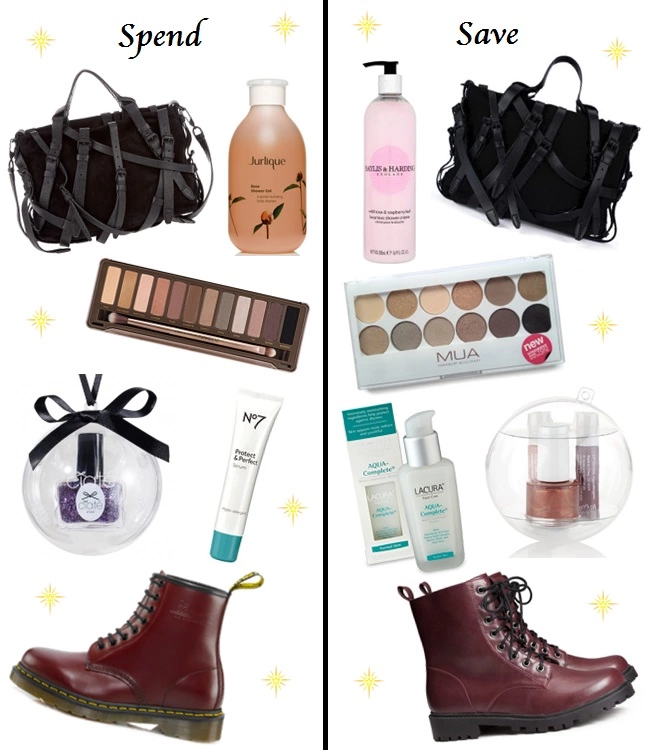 Spend:
Alexander Wang Kirsten Bag $295 from ialexanderwang.com / Jurlique Rose Shower Gel (300ml) £14.40 from LookFantastic / Urban Decay Naked2 Palette £33.30 (was £37.00) from Debenhams / Ciaté Tree Trinkets £21.00 (was £30.00) for 6 from Ciate / No7 Protect & Perfect Intense Beauty Serum (30ml) £23.95 from Boots / Dr Martens Cherry Red 1460 Boots £100 from Dr Martens
Save:
Multi Belt Two Way Bag £38 from Rings & Tings / Bayliss & Harding Wild Rose and Raspberry Leaf Shower Creme £1.99 from Superdrug / MUA Undress Me Too Palette £4 from MUA / Lacura Multi Intensive Serum Aqua £3.49 from Aldi / Limited Collection Mini Nail Polish & Lip Gloss Bauble £5.00 each from M&S / Burgundy Boots £24.99 from H&M
I've been lusting after Alexander Wang's Kirsten Bag for ages, but it's really quite expensive and difficult to track down, so when I spotted the copy on Rings & Tings I just had to share it with you all!  I don't yet have either bag myself, but from photographs the copy looks pretty impressive.
I currently have both the Jurlique and the Bayliss & Harding rose shower gels in my bathroom, and they are equally lovely.  The Jurlique one foams better, but each has a distinct sweet rose scent and luxurious packaging, making them both gift-worthy.
The Urban Decay Naked2 palette is perhaps one of the most highly sought after beauty products in the blogosphere, so would make an excellent gift for any beauty blogger.  If it's a bit out of your budget though, MUA's Undress Me Too palette is the perfect dupe.  I have it myself and the eyeshadows are all excellent quality, and at £4.00 you really can't complain!
I'm new to serums, but have recently started to use the Lacura Multi Intensive Serum from Aldi.  It's aimed at women aged 25-35, so I'm almost in that age bracket, and it makes your skin feel so soft and plump.  It's lovely, and an absolute steal, but if you want to gift a more classic brand then No.7 is the way to go.
When I first put this guide together, Ciaté's Tree Trinkets were £30 for the set, but they have now been reduced to £21 which is actually a pretty good deal, especially if you want to split the set up as smaller gifts.  If you want more for your money however, M&S's beauty bauble contains a nail polish and two miniature lip glosses for £5.  I also spotted a Primark equivalent earlier this week, costing £2 for a bauble containing 3 little lip glosses, which is even better value for money!
I absolutely adore Dr Martens and am building up quite a collection.  They last forever and, once they've been broken in, are incredibly comfortable.  But if you're looking for a cheaper version for your fashion-loving friend this Christmas, H&M's burgundy boots look fab.
Check back soon for another 'Spend or Save' gift guide!
Naomi x
8
By now, we are all used to the concept of the beauty box, that little present to yourself – you pay for a subscription, usually costing around £10 per month, and in return you receive a monthly box containing five or six sample products.  If you're lucky, one of them might even be full-size.  But guess what?  A new and unique beauty box has just landed in the UK, and this one, in my eyes, is bigger and better than any other.  Why?  Because unlike other beauty boxes, everything in this one is full-size!  I am happy to be one of the first to introduce you to BeTrousse.

BeTrousse, a French company, put together monthly themed beauty 'kits', each containing five full-size beauty products.  There are currently three boxes available; 'The Must Haves' (£19), 'Organic & Natural Beauty' (£17) and 'Spring Beauty' (£19).  The boxes cost more than the average beauty box, but they are great value money – the products in 'The Must Haves' box retail for a whopping £131 in total, for example, saving you £112.  BeTrousse boxes aren't offered via a subscription, you have to buy them individually, so if you don't like the look of the products you don't have to gamble your money on the box – simple!
I was recently gifted a box by BeTrousse to review, and was sent the very luxurious 'Organic & Natural Beauty' box.  I was so excited about receiving it, and after a fairly short wait it arrived on Saturday.  As you can see above, the box is quite large, like a shoe box, and rather heavy due to the size of the products, so this one won't fit through your letter box!  When you open the box, you are greeted with pink tissue paper wrap, like this…

And of course, the moment you've all been waiting for, here are the contents of the box!


As you'd expect, each product in the 'Organic & Natural Beauty' box is made of natural ingredients with no harsh chemicals, and every single one smells divine!  I've tried all but one of them out, so I'll tell you a little bit about each. I'll probably do a proper review of the products that I really like when I've used them for a bit longer, as part of the point of a full-size box is to use the items for a while so you can see if they suit you

Fro Her Aloe and Honey Mist – 75ml – RRP £10.99
This is the only product in the box that isn't made in France – it's actually from a company in Cardiff called Evelyn.  The mist is intended for use on dry or afro hair, but it can be used on any hair type to help make it softer.  The bottle says to spray the mist onto your hair and then brush it through to give a sleek look, which I did, and it works!  I tried this out yesterday and my hair looked lovely and shiny for the rest of the day, and it didn't make my hair greasy.  It smells really sweet and lovely and the scent lingered for a long time – I kept catching whiffs of it all afternoon

Forest People Luminous Serum – 14ml – RRP £31

This Forest People Serum contains Borage and Rosehip Oils, and is used on the eyes to minimise puffiness and dark circles, and to contour lip shape.  The bottle says to dab a drop of the oil onto the eyelids and under the eyes, and onto the cupid's bow of the lips.  The oil smells great and is very moisturising – I used this on my eyes yesterday and though I didn't see much difference after one use, it made my skin feel very smooth and refreshed.
Lothantique Bath Salt – 600g – RRP £10

I haven't yet tried these bath salts but they smell very fruity and have an air of luxury about them.  The bottle is absolutely massive and for a French, organic product I'd say this is great value for money.  I'm looking forward to pampering myself one evening with these in a relaxing bath!
*UPDATE* I just had a bath using these bath salts and they are looovely.  They didn't irritate my skin at all!
Reve De Provence Organic Bar Soap (Olive Oil and Lavender) – 150g – £4.99

When I first opened my box I was hit with the beautiful smell of lavender, and it was coming from this bar of soap, scented with essential oils.  I usually use liquid soap as bars tend to have a drying effect on my skin, but after using this one my hands felt nicely softened.  I can only put this down to the natural ingredients that it contains, and I'll definitely carry on using it!  The soap box also proudly states that the product isn't tested on animals, which makes me very happy indeed.
K Pour Karite Hair Mascara (Dark Brown) – 0.52oz – RRP £12.95

This is the only product in the box that I wasn't taken by.  Hair mascara is a little bit 90s in my eyes, and I think it's a strange item to put in a beauty box as it's very specific – not everyone has light roots or grey hairs!  I won't be using the mascara on myself as I have no need for it, but I tried it on my mum as she has dark brown hair which is going grey.  I managed to get some photos of how well it works…
Before

After

The colour match isn't perfect, but it did give fairly good coverage after a quick try at it, and I imagine you could get even better results with a bit of patience.  Still, at £12.95 it seems a bit excessive!
Overall, I am smitten with BeTrousse and I can't wait to see what the next box brings!  It feels like a real treat when you open the box up and find five impressive full-size products inside.  You benefit from being able to try full-size products at a smidgen of the price as you get to feel the full effect of each one before deciding whether to purchase it again.  Will you be buying BeTrousse?
Naomi x