Posts tagged
No 7
2
Whether you're on a tight budget, or you're able to flash the cash this Christmas, today's festive post features a selection of 'Spend or Save' fashion and beauty gift ideas for women.  The 'Spend' section includes a variety of luxury options for those who want to spend that little bit more on a loved one, and the 'Save' section includes some great alternatives that are just as good, but don't cost the Earth.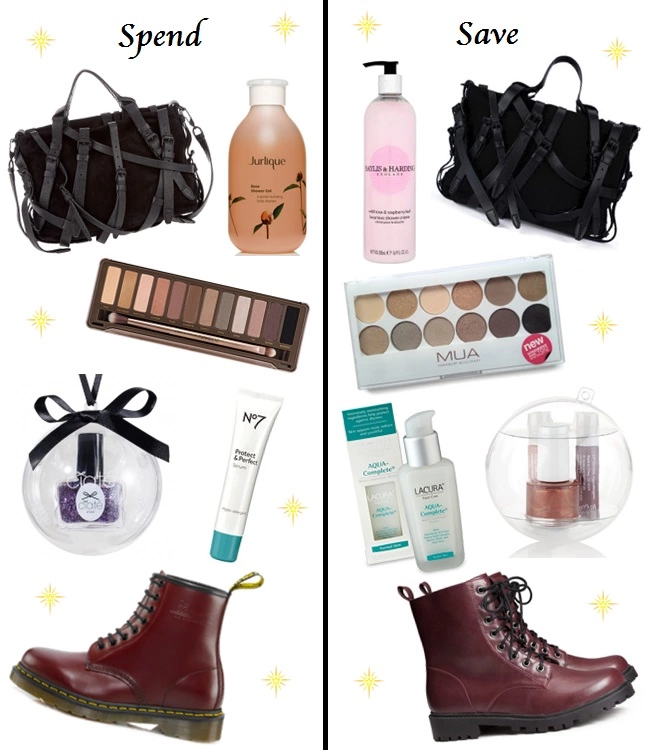 Spend:
Alexander Wang Kirsten Bag $295 from ialexanderwang.com / Jurlique Rose Shower Gel (300ml) £14.40 from LookFantastic / Urban Decay Naked2 Palette £33.30 (was £37.00) from Debenhams / Ciaté Tree Trinkets £21.00 (was £30.00) for 6 from Ciate / No7 Protect & Perfect Intense Beauty Serum (30ml) £23.95 from Boots / Dr Martens Cherry Red 1460 Boots £100 from Dr Martens
Save:
Multi Belt Two Way Bag £38 from Rings & Tings / Bayliss & Harding Wild Rose and Raspberry Leaf Shower Creme £1.99 from Superdrug / MUA Undress Me Too Palette £4 from MUA / Lacura Multi Intensive Serum Aqua £3.49 from Aldi / Limited Collection Mini Nail Polish & Lip Gloss Bauble £5.00 each from M&S / Burgundy Boots £24.99 from H&M
I've been lusting after Alexander Wang's Kirsten Bag for ages, but it's really quite expensive and difficult to track down, so when I spotted the copy on Rings & Tings I just had to share it with you all!  I don't yet have either bag myself, but from photographs the copy looks pretty impressive.
I currently have both the Jurlique and the Bayliss & Harding rose shower gels in my bathroom, and they are equally lovely.  The Jurlique one foams better, but each has a distinct sweet rose scent and luxurious packaging, making them both gift-worthy.
The Urban Decay Naked2 palette is perhaps one of the most highly sought after beauty products in the blogosphere, so would make an excellent gift for any beauty blogger.  If it's a bit out of your budget though, MUA's Undress Me Too palette is the perfect dupe.  I have it myself and the eyeshadows are all excellent quality, and at £4.00 you really can't complain!
I'm new to serums, but have recently started to use the Lacura Multi Intensive Serum from Aldi.  It's aimed at women aged 25-35, so I'm almost in that age bracket, and it makes your skin feel so soft and plump.  It's lovely, and an absolute steal, but if you want to gift a more classic brand then No.7 is the way to go.
When I first put this guide together, Ciaté's Tree Trinkets were £30 for the set, but they have now been reduced to £21 which is actually a pretty good deal, especially if you want to split the set up as smaller gifts.  If you want more for your money however, M&S's beauty bauble contains a nail polish and two miniature lip glosses for £5.  I also spotted a Primark equivalent earlier this week, costing £2 for a bauble containing 3 little lip glosses, which is even better value for money!
I absolutely adore Dr Martens and am building up quite a collection.  They last forever and, once they've been broken in, are incredibly comfortable.  But if you're looking for a cheaper version for your fashion-loving friend this Christmas, H&M's burgundy boots look fab.
Check back soon for another 'Spend or Save' gift guide!
Naomi x
16
Here in the UK we celebrate Bonfire Night on the 5th of November, to remember Guy Fawkes' plot to blow up the houses of parliament.  Celebrations always involve a lot of beautiful fireworks, and this year I was lucky enough to see not one, but TWO displays!  The first was a small one in our back garden last Friday, with some of the extended family.  We ate homemade pizzas, jacket potatoes, burgers and hotdogs, as well as some of my extra special homemade chocolate dipped shortbread, whilst we set off a few boxes of rockets and fountains.  Then, on Saturday, I went to the big display they hold at a local park, which I've been to every year since I was about three years old.  They had a huge bonfire with a Guy on top and a 20 minute long display with some of the biggest, loudest fireworks I have ever seen!  We had hot, sugary doughnuts too which tasted amazing.
I absolutely love fireworks so this time of year is always a lot of fun for me.  My city is also currently celebrating Diwali, the Hindu festival of light, so there are twice as many fireworks for me to enjoy.  To show my love for the firework season, I decided to give my nails a colourful, sparkly makeover, using No7 Stay Perfect 'Violetta' and Technic 'Carnival'.

To create this look I applied two thin coats of No7 Stay Perfect 'Violetta', then layered Technic 'Carnival' over the top.  I attempted to graduate the glitter by applying more to the tips of my nails, but it didn't work as well as I wanted it to, probably due to the mixed size of the glitter flakes!  I still love how they look though.  I chose the dark background to represent the night sky, and the bright glitter gives a firework-like burst of colour over the top.


Technic 'Carnival' is an amazing mix of almost every colour glitter you can imagine, including pink, purple, red, blue, green, gold and silver.  Isn't it pretty?  I picked this varnish up from Leicester Market last year for just £1, and for the price it is fantastic quality.  The glitter is suspended in a clear varnish which isn't gloopy or runny, but the consistency is thick enough to keep the glitter firmly in place when on the nail, whilst acting as a decent top coat.  It dries really quickly too which is always a bonus.
What do you think of this glittery look?  I hope you all had a brilliant Bonfire Night!
Naomi x