Posts tagged
shoe
4
Think of UGG boots and the classic short chestnut boots probably come to mind, but as I discovered when browsing the John Lewis website recently, UGG actually have a much wider range of boots and shoes that would suit a variety of looks and styles, both for day and night.  Two particular pairs of boots from the range caught my eye – Maddie and Dandylion – so I've put together two on-trend looks to show how versatile UGGs can be, and how they could be worn this season.
Dress Down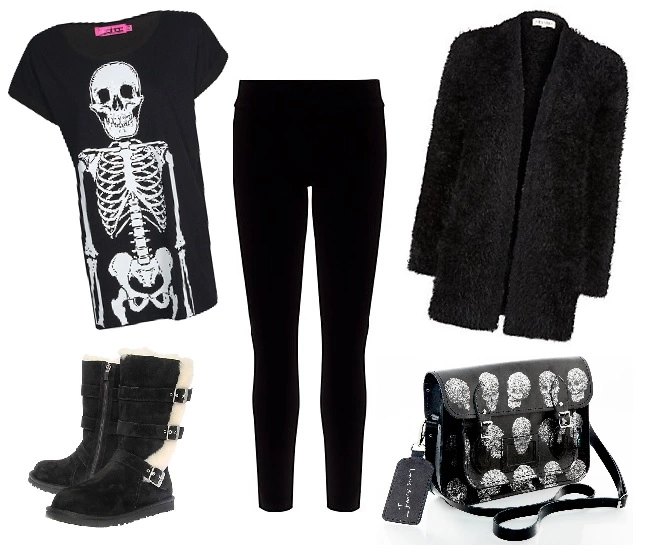 Boohoo Skeleton Body Oversized Tee / John Lewis Full Length Leggings / New Look Textured Open Front Cardigan / UGG Maddie Boots / Zatchels Jacky Tsai Skulls Satchel
The monochrome look of UGG's Maddie Boots inspired this casual, daytime look.  White on black always screams skulls and skeletons to me, so I teamed an oversized skeleton tee and skull satchel with a pair of staple black leggings, and a long fluffy cardigan which is perfect for this Autumn/Winter.
The boots are made of suede and lined with faux fur, so they'd be really cosy and warm.  I also love the biker buckle detail on the side.
Dress Up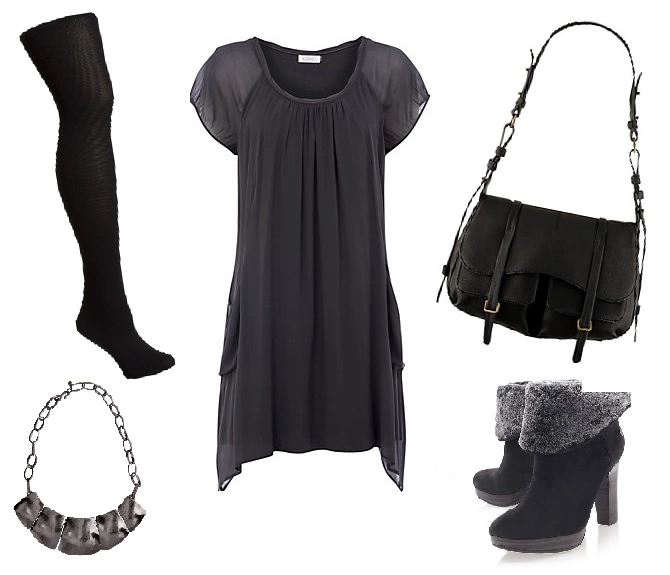 F&F 80 Denier Opaque Tights / Kaliko Silk Tunic Dress / Radley Grosvenor Medium Flap Shoulder Bag / Kenneth Jay Lane Statement Disc Necklace / UGG Dandylion Ankle Boots
UGG boots are usually considered more of a casual type of footwear, but these gorgeous Dandylion Ankle Boots could easily be dressed up for an evening meal out, or even a work Christmas party.  I really wanted the boots to be the highlight of this outfit, so I chose a simple but classy silk tunic dress to go with them.  Throw on a pair of black tights, a black shoulder bag and a statement necklace and you're good to go!
I absolutely adore the shape of these Dandylions.  The heel, rounded toe and curved folded top are just so elegant.  I want them!
How would you style a pair of UGG boots?
Naomi x
*This post is a collaboration.*
3
Hello readers,
I have a slightly different post for you today as, for the first time, I will be featuring a specific fashion line!  I was recently contacted by the quirky fashion company, Sinfused, with the offer of a sample product from their new clothing range.  Before agreeing to try PR products, I always do some research on the company to make sure they are right for me.  Sinfused are an independent fashion line who specialise in women's going-out wear, and most of their pieces are adorned with lots of rhinestone crystals, and they all have a rocky edge to them, all things which I am a fan of.  So, obviously, I was happy to take them up on the offer.
The lovely people at Sinfused sent me one of their best sellers, the Heeled Shoe Tee, and today was the day I took the tee for its test run.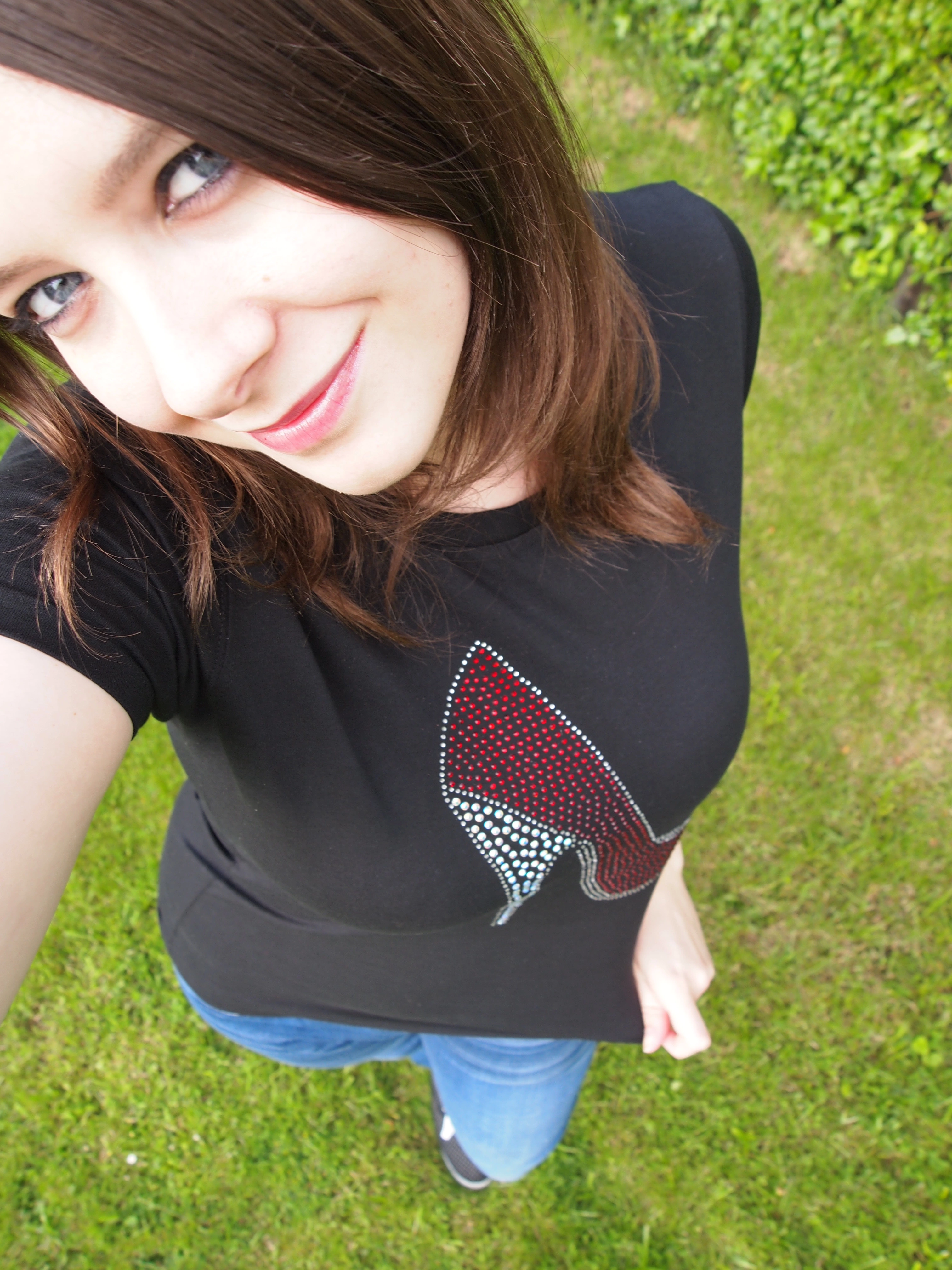 My absolute favourite thing about this tee is that it is SO comfortable.  The fabric is very soft and of high quality so it feels lovely on and, though the fabric is stretchy, it doesn't go baggy.  I have a few tops that lose their shape slightly after a day of wear, but this one didn't at all.  The fit is also great as it's nicely cut to fit womanly curves!  I also noticed on the label that the tee is made by the Fair Wear Foundation who ensure 'Ethical Trade and Justice for Workers'.  I try my best to buy fairly produced and traded clothing whenever I can, so I was very happy to see that Sinfused are an ethically conscious company, which scored them even more brownie points in my eyes.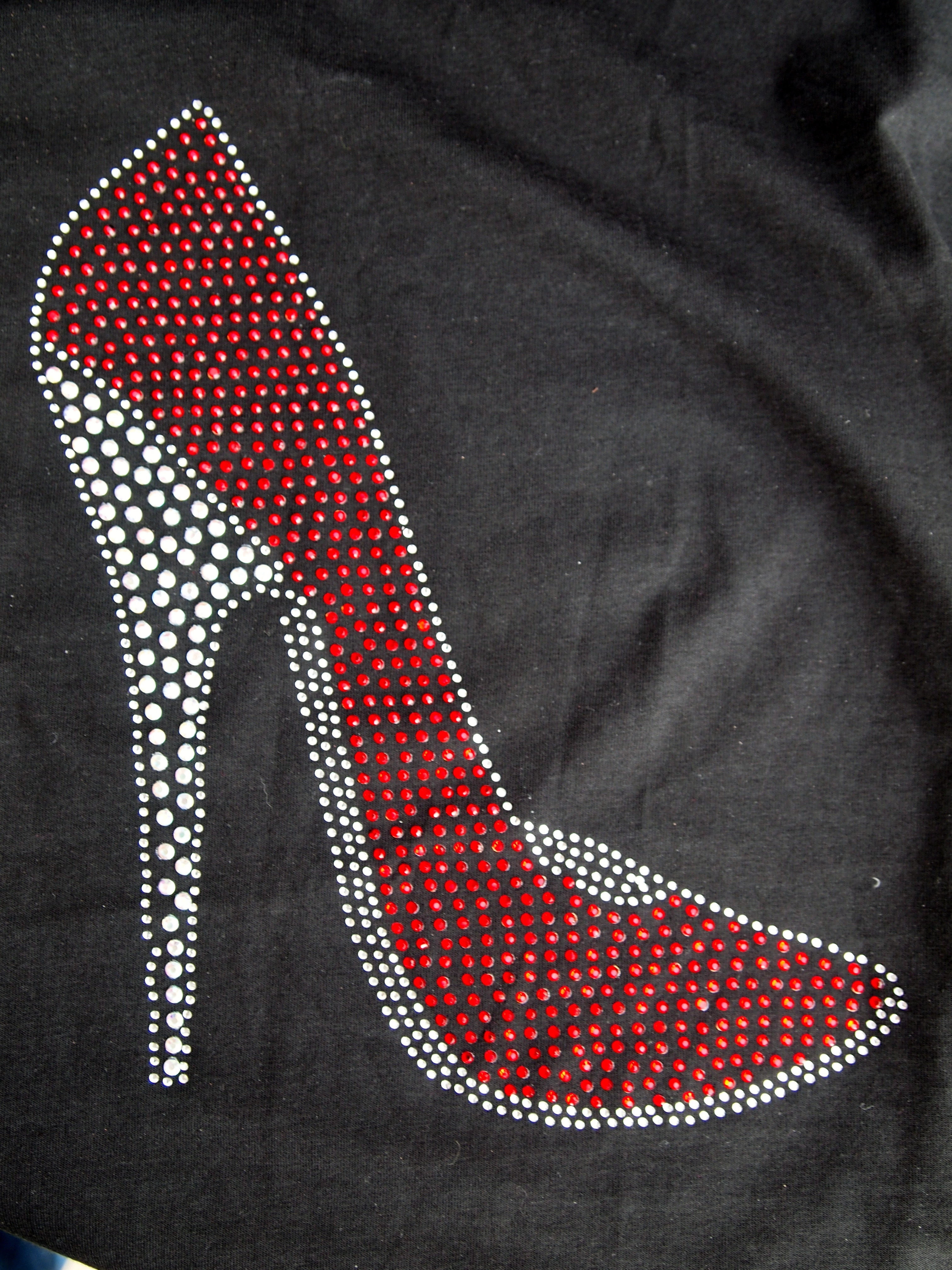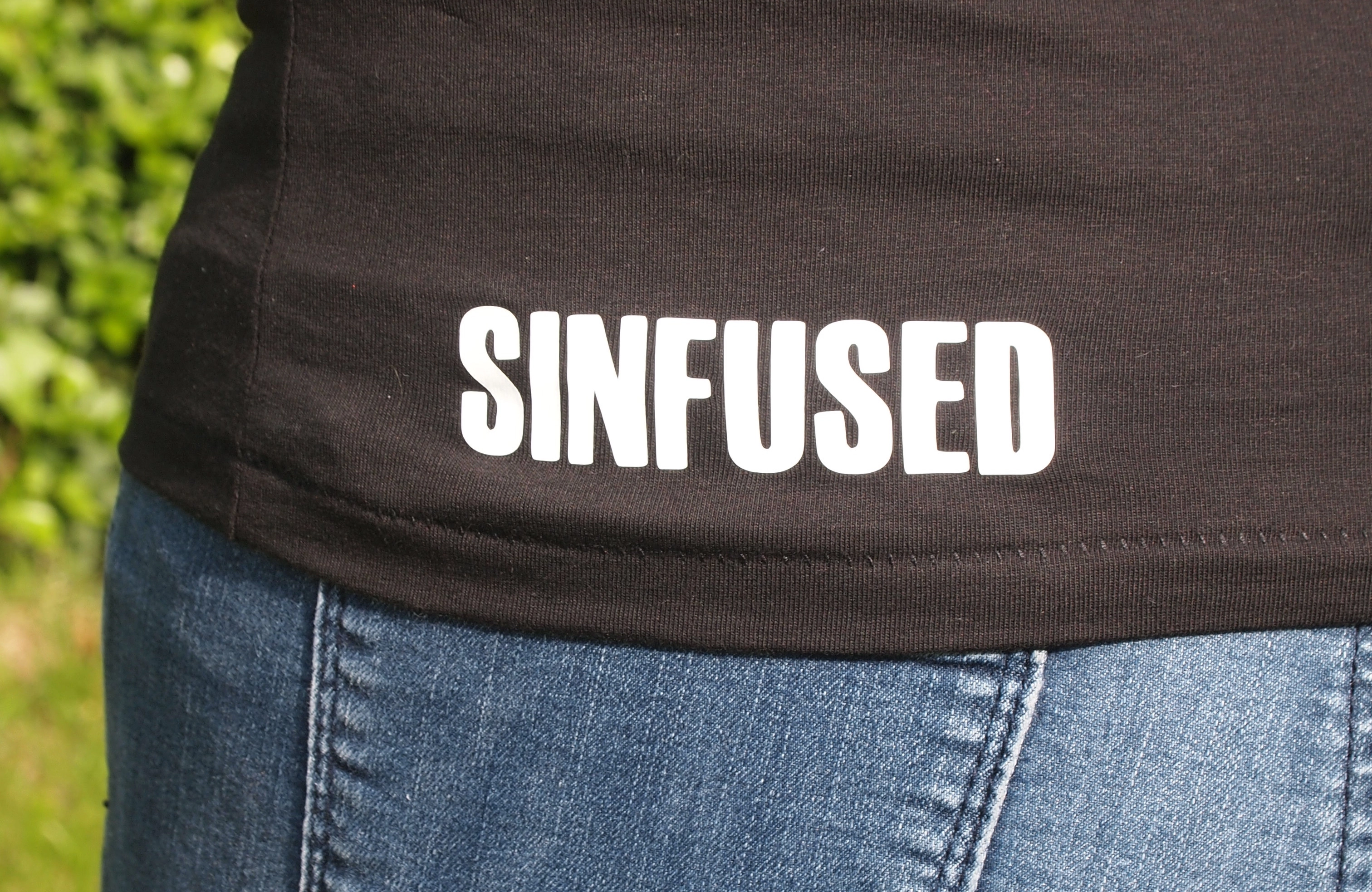 As you can see, the attention to detail on this tee is fantastic.  I loved the addition of the 'Sinfused' name logo on the bottom back, as it gives it that little bit more edge.  And the shoe… well… look at it!  Look at the rhinestones!  There are hundreds of them and they are sooo pretty.  You can't really see in the photo but the heel stones have a stunning pearlessence to them which looks amazing in the right light.  The stones are really firmly attached as well.  I gave them a good tug to see whether they would come loose and, believe me, they are not going anywhere.
The only negative thing I can find with this tee is the sizing.  I asked for a Size 12, which I'd say is pretty average sizing, but it turns out that a 12 is labelled as an 'L', and just so happens to be the biggest size they do!  I don't think a 12 is large at all, and I would like to see Sinfused introduce a wider range of sizes so more people can enjoy their products.
As well as t shirts, Sinfused also sell vests, skirts, shorts and hotpants, all with cute individual designs.  If you fancy a browse, you can visit the UK site here, and the US site here.  I can highly recommend this tee and I hope to get their blue guitar tee one day –  Happy shopping!
Naomi xx