Posts tagged
rock
2
One of my staple items of clothing this Summer has been a long black dress from Damart.  The dress is lovely and soft and extremely flattering, and the classic cut makes it a very versatile piece, so much so that I can't wait to style it from Summer into Autumn.  Throughout the Summer months I have been keeping it simple with my favourite accessories and a pair of cut out boots from New Look, but it also works amazingly well with a leather jacket and some chunky Dr Martens, which will look great throughout the cooler months to come.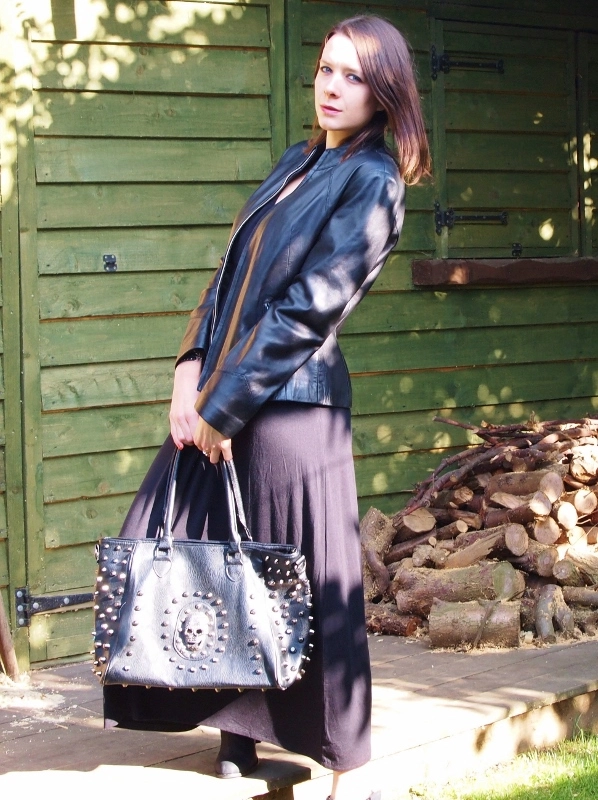 Dress – Damart
Leather Jacket – Vintage
Bag – Everything5Pounds
Cut Out Boots – New Look
Bracelets – eBay, Primark, Gifted
Necklace – Handmade by Me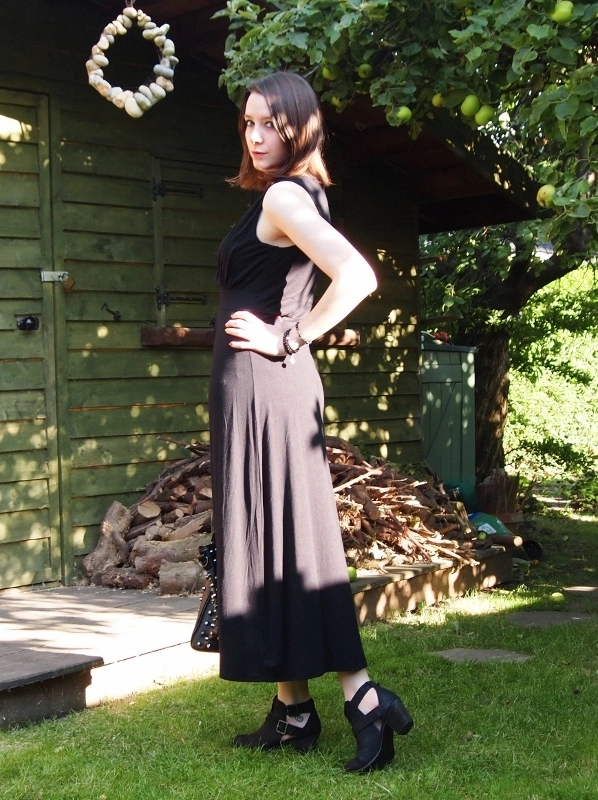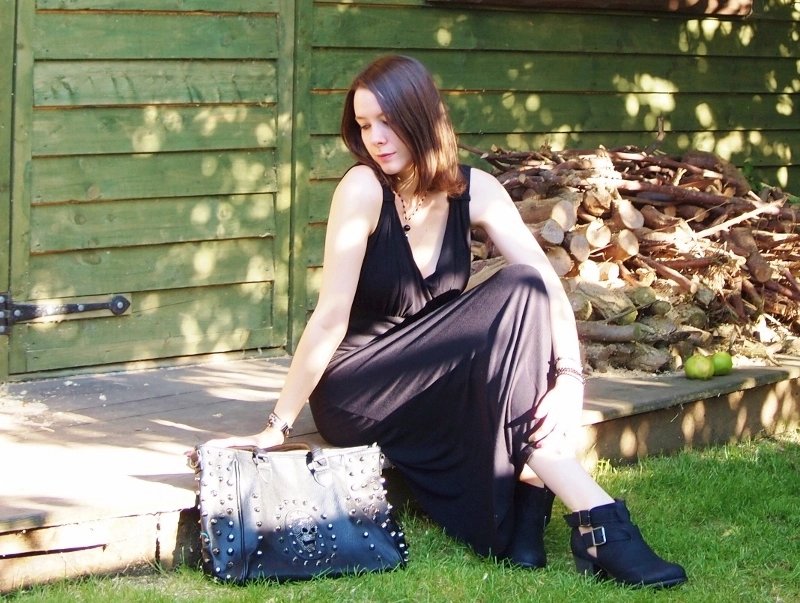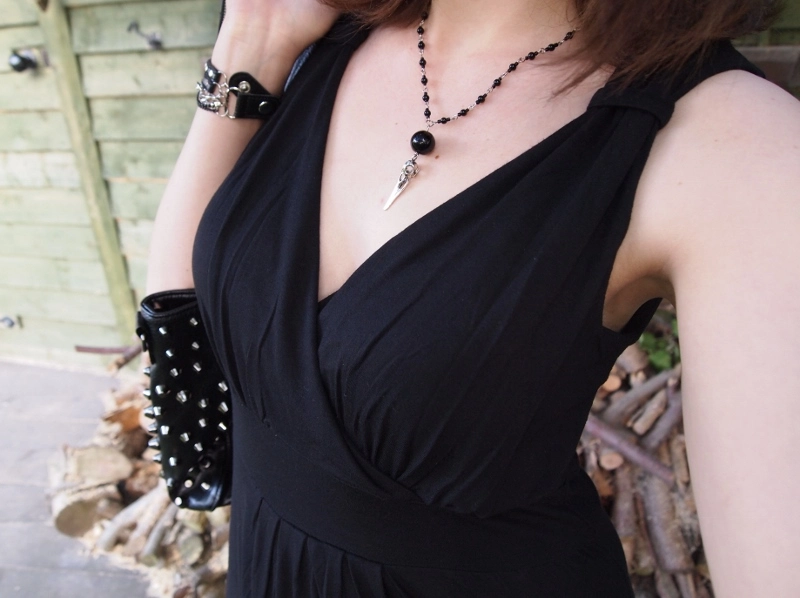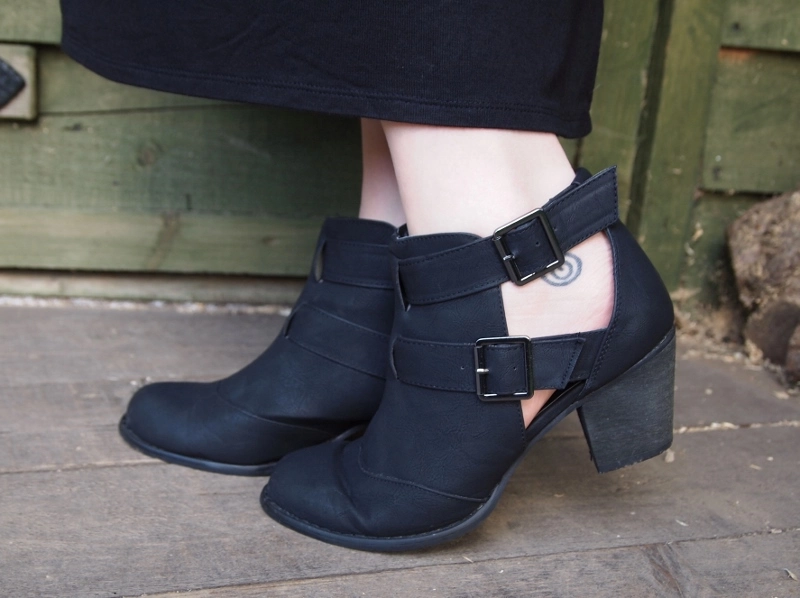 The dress was originally £35, but is currently on sale at Damart for just £14, and it comes in black, navy or print and in sizes 10-22.  Damart may not usually be your first choice for fashion, but give them a chance!  They're brilliant for affordable, basic pieces that can be styled up to suit your mood, and the weather, as you can see.
Naomi x
*This dress was sent to me by Damart for review purposes.  All opinions expressed are honest and my own.*
0
Hi everyone,
My giveaway post is gradually being buried and forgotten about within all my other posts, so this is just a quick reminder that you can WIN a rhinestone tee of your choice from Sinfused Clothing if you enter my giveaway, which can be found here

  There will be TWO winners, chosen at random, and anybody from the UK and the USA can enter.  The giveaway ends in less than two weeks, so get entering!  You must be a follower/subscriber to enter, so don't forget to hit the 'Follow' button.
Good luck!
Naomi xx
3
Hello readers,
I have a slightly different post for you today as, for the first time, I will be featuring a specific fashion line!  I was recently contacted by the quirky fashion company, Sinfused, with the offer of a sample product from their new clothing range.  Before agreeing to try PR products, I always do some research on the company to make sure they are right for me.  Sinfused are an independent fashion line who specialise in women's going-out wear, and most of their pieces are adorned with lots of rhinestone crystals, and they all have a rocky edge to them, all things which I am a fan of.  So, obviously, I was happy to take them up on the offer.
The lovely people at Sinfused sent me one of their best sellers, the Heeled Shoe Tee, and today was the day I took the tee for its test run.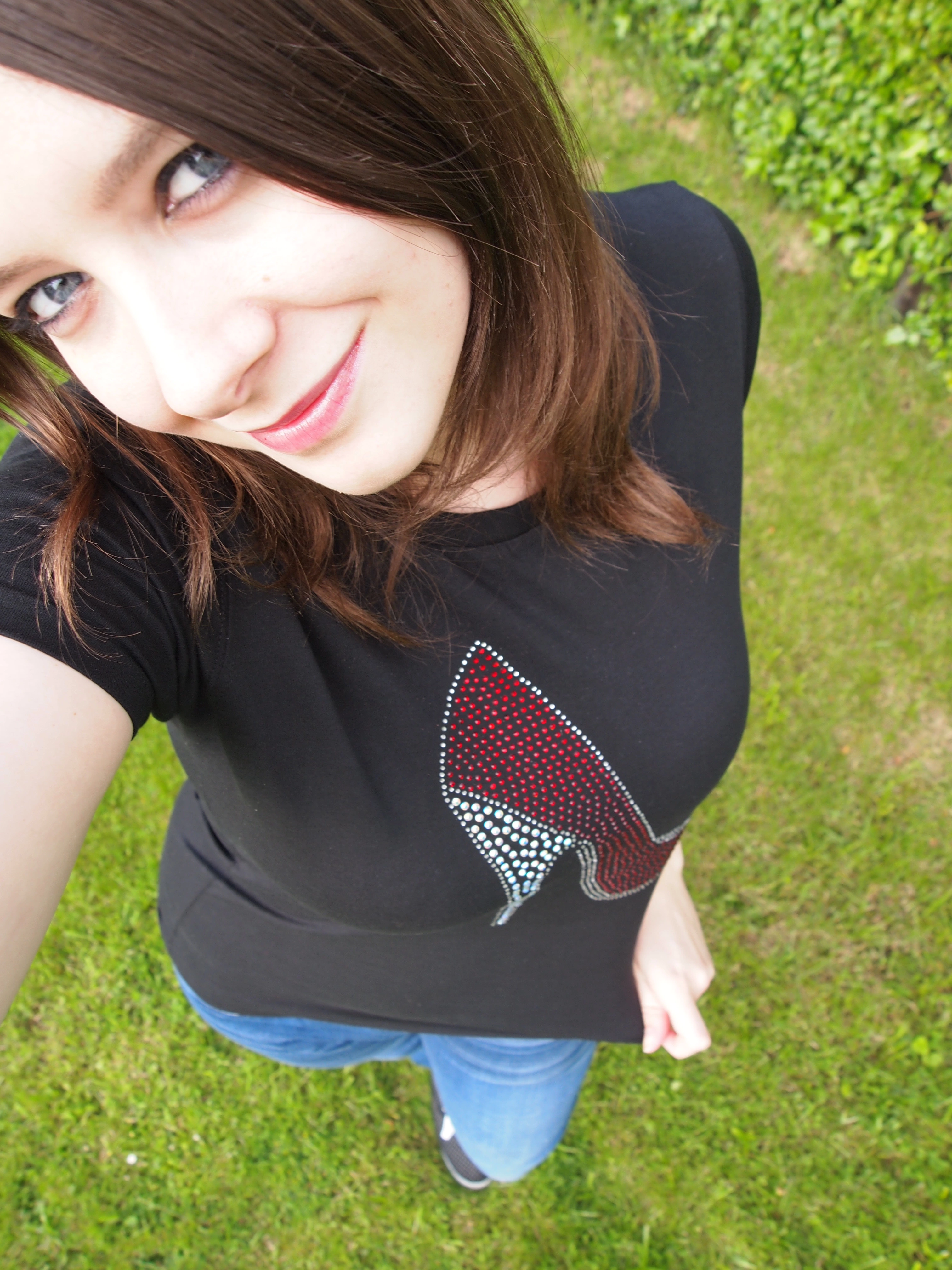 My absolute favourite thing about this tee is that it is SO comfortable.  The fabric is very soft and of high quality so it feels lovely on and, though the fabric is stretchy, it doesn't go baggy.  I have a few tops that lose their shape slightly after a day of wear, but this one didn't at all.  The fit is also great as it's nicely cut to fit womanly curves!  I also noticed on the label that the tee is made by the Fair Wear Foundation who ensure 'Ethical Trade and Justice for Workers'.  I try my best to buy fairly produced and traded clothing whenever I can, so I was very happy to see that Sinfused are an ethically conscious company, which scored them even more brownie points in my eyes.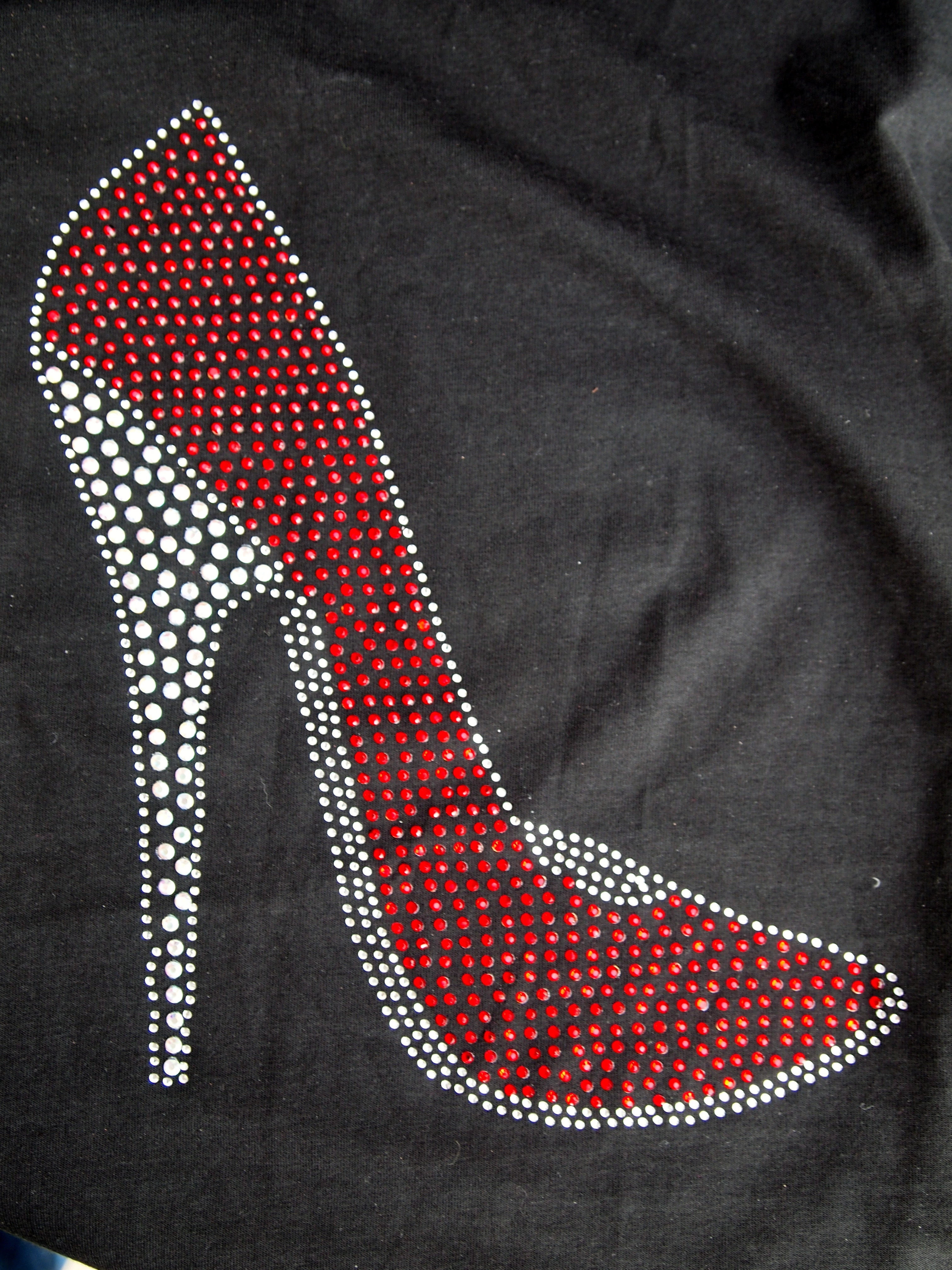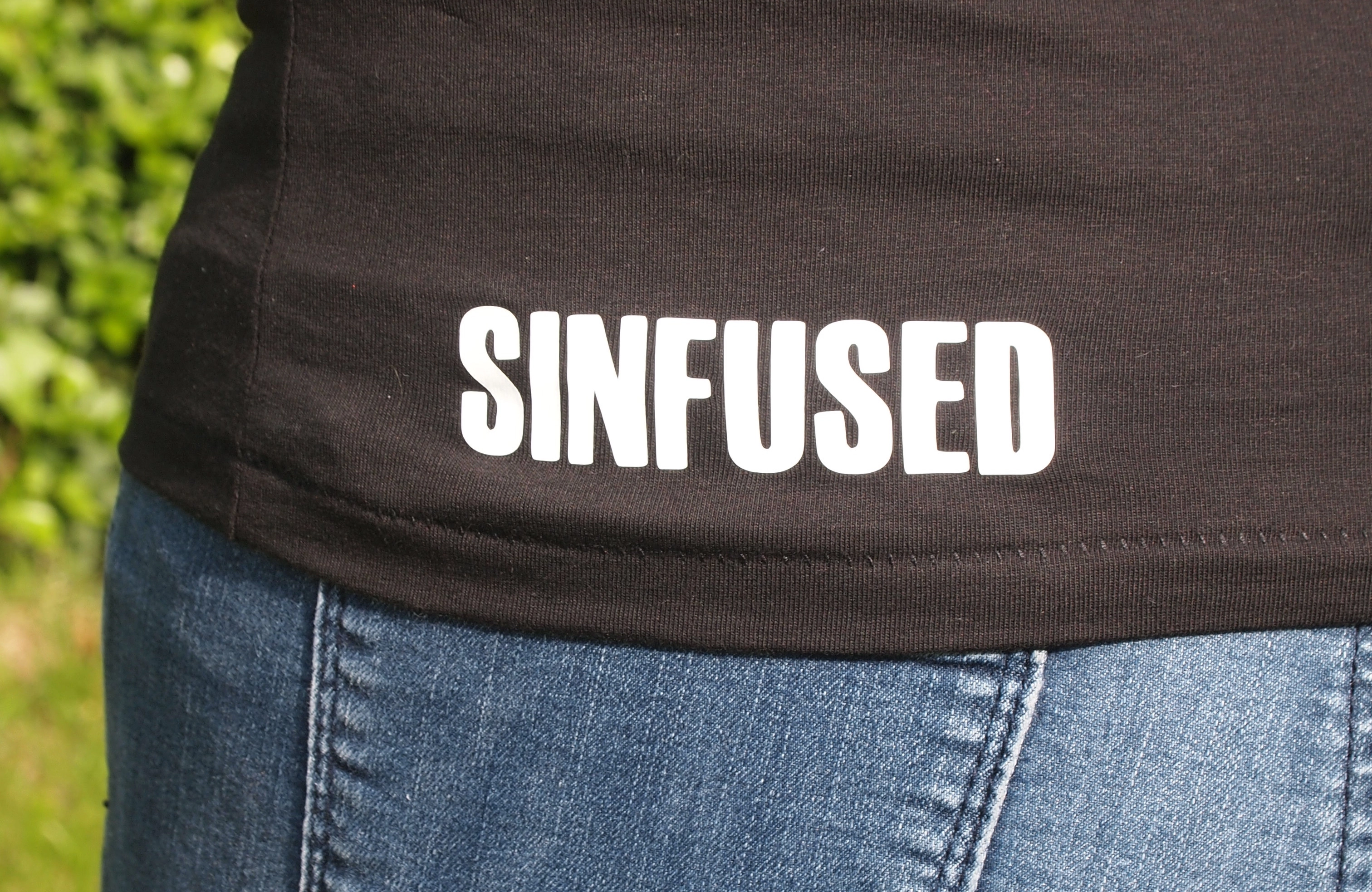 As you can see, the attention to detail on this tee is fantastic.  I loved the addition of the 'Sinfused' name logo on the bottom back, as it gives it that little bit more edge.  And the shoe… well… look at it!  Look at the rhinestones!  There are hundreds of them and they are sooo pretty.  You can't really see in the photo but the heel stones have a stunning pearlessence to them which looks amazing in the right light.  The stones are really firmly attached as well.  I gave them a good tug to see whether they would come loose and, believe me, they are not going anywhere.
The only negative thing I can find with this tee is the sizing.  I asked for a Size 12, which I'd say is pretty average sizing, but it turns out that a 12 is labelled as an 'L', and just so happens to be the biggest size they do!  I don't think a 12 is large at all, and I would like to see Sinfused introduce a wider range of sizes so more people can enjoy their products.
As well as t shirts, Sinfused also sell vests, skirts, shorts and hotpants, all with cute individual designs.  If you fancy a browse, you can visit the UK site here, and the US site here.  I can highly recommend this tee and I hope to get their blue guitar tee one day –  Happy shopping!
Naomi xx