Posts tagged
PR
10
Summer is slowly coming to an end, but there's still time to dash off into the sun for a last-minute relaxing mini break.  You've got your clothes sorted…  Bikini?  Check.  Sun dresses?  Check.  Something gorgeous for the evening?  Check, and you're almost good to go, but there's always the question of what toiletries and cosmetics to take, and what to leave behind.  If you packed all the big bottles and endless tubes of lotions and potions that you usually use then you'd need another suitcase, am I right?  So, in the name of making life easier for us all, I thought I'd take the opportunity to narrow everything down and come up with ten little solutions to this bulky problem, which will leave plenty of room in your case for your beach reads and novelty souvenirs – you can thank me later!
1: Basic Make Up
Vanity cases and make up bags stuffed full of make up are impractical and unnecessary when travelling.  This might sound ridiculous, but all you need to take with you for a fresh-faced summer make up look are five basic items – foundation, eyeliner, mascara, lip gloss and blush.  That's it!  Don't believe me?  Check out my Top 5 Summer Make Up Essentials post for proof that that's all you need.
2: Nail Varnish
If you can't afford or don't want an expensive salon manicure before you go away then it's a good idea to pack a bottle of nail varnish.  You never know when you might be invited out last-minute for a romantic meal or an evening at a bar, so choose a quick drying varnish that you can slick on in seconds before you leave.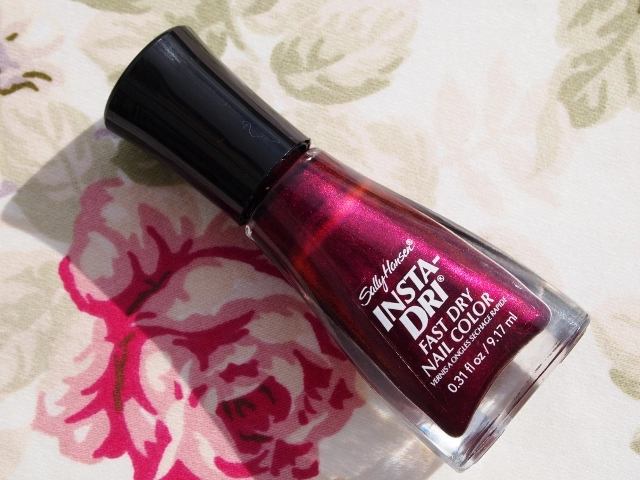 I highly recommend Sally Hansen's Insta-Dri Nail Colour in 'Ruby Rush'.  It's a deep, classic shade that will go well with any outfit, it has a wide brush for quick, even coverage and it is dry to the touch in just minutes.  It's wonderfully chip resistant too, and a new favourite of mine.
3: Make Up Remover
If you're like me, you probably have a bottle of make up remover for your eyes, one for your face, and a big bag of cotton wool balls and cotton buds that you use them with.  That's a lot of bottles and bags to take on one little trip!  A great substitute to use for the few days you're away are make up remover wipes, as they save space, are quick to use and can be thrown away once you're done with them.
Kleenex recently brought out a range of make up remover wipes which are made of natural fibres and are gentle on the skin, yet very effective.  The ones pictured are specifically for eye make up, but they also make facial cleansing wipes.

4: Sun Lotion
Ever noticed that sun lotion tends to come in huge bottles that you'll never get through during a two-week holiday, let alone whilst on a mini break?  Well, Hawaiian Tropic have solved that problem with their handy 100ml bottles of sun lotion!  They still contain the gorgeously scented, high quality lotion that the big bottles do – they're just lighter and more compact, and the perfect size to carry in even the smallest of bags.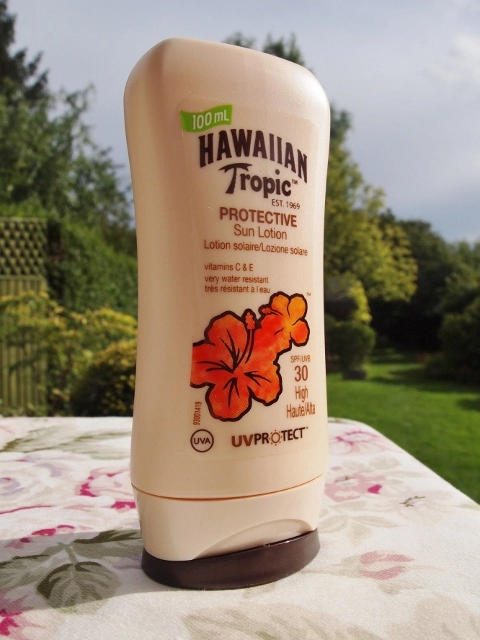 I've been using the Hawaiian Tropic Protective Sun Lotion SPF30 and I adore it.  The lotion not only protects your skin but softens it too, as it contains vitamins C and E, and is gorgeously light and silky.  It's also 'very water resistant', which is great if you fancy a swim in the sea, but it's still a good idea to apply it regularly to stay as safe as possible.  At £5.49 these mini bottles are a real steal.
5, 6 and 7: Moisturiser, Shampoo and Shower Gel
Now is a good time to raid your old beauty boxes, gift sets and collections of product samples.  All those little bottles and sachets of moisturiser, shampoo and shower gel that you never thought you'd use are actually the perfect size for taking on mini breaks!  Not only do they save space, but you might also discover a hidden gem amongst them which you can repurchase and carry on using when you get home.
8: Deodorant
Rather than packing chunky spray deodorants, why not take a roll-on deodorant instead?  They're much kinder on the skin, and compact enough to carry with you.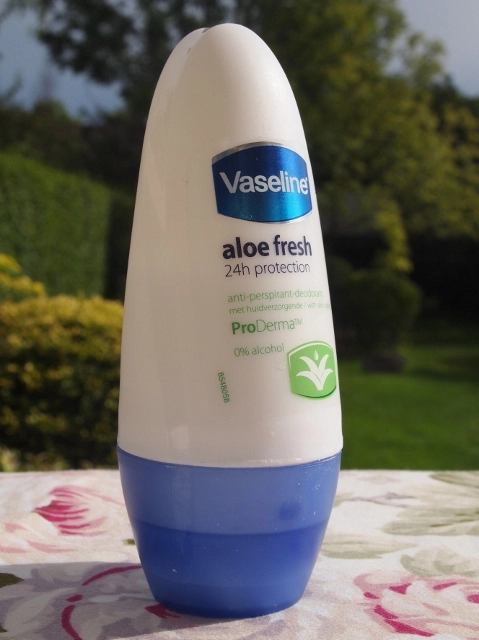 A particular favourite of mine is Vaseline Aloe Fresh 24h Protection Deodorant, as it is long-lasting, the aloe makes it extremely moisturising and refreshing, and it doesn't leave white marks on your dark clothes!

9: Disposable Razor
You never know when you might need to neaten up whilst on holiday, but taking a bulky epilator or home waxing kit with you is far too much trouble!  The solution?  Take a disposable razor!  Just because it's disposable doesn't mean it won't do a good job, especially if you use Wilkinson Sword Extreme 3 Beauty Razors.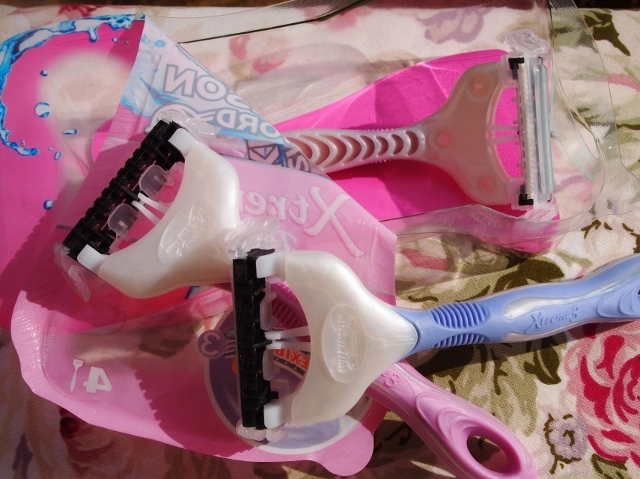 I've been using these myself and they give an amazingly smooth result at a fraction of the usual hair removal cost (you get four for £3.99).  The three blade razor head is flexible so moves with the curves of your body for a close shave, and it even features a moisturising strip of aloe and jojoba to leave your skin feeling soft – not what you'd expect from a disposable razor at all!  They look and feel more like luxury razors, but once you're done with them you can just throw them away so they're far more convenient for travelling with.
10: Perfume
A great way to make the transition from a lazy day on the beach to a lively evening at a bar is with a beautiful fragrance, but who wants to be carrying a big glass bottle of perfume around with them?  That's where Avon's mini fragrances come in.  Avon now sell miniature versions of their best selling perfumes which are great for top ups throughout the day or, in this case, to take with you on a short trip.  You will find the full range on page 206 of Brochure 16, including 15ml Purse Sprays and 30ml Travel Sprays (how apt!), ranging from £5 to £7.50 each.
Wherever you're going this summer, I hope these tips will help you know what to pack, and I hope you will Be Spontaneous whilst on your travels!  Why not do something you've never done before, and then share it with the Be Spontaneous crew on Facebook?  You could even win some amazing prizes in the process!
Thanks for reading,
Naomi x
*The Hawaiian Tropic Protective Sun Lotion SPF30 and Wilkinson Sword Xtreme3 Beauty Razors featured in the post were given to me by Wilkinson Sword for review purposes.  Everything else was purchased using my own money.  All opinions are honest and my own.  Some affiliate links have been used*
10

Behold!  The best Montagne Jeunesse face mask that I have ever used (so far) – the new Dead Sea Mud Spa Mask.  Earlier this week I received a rather exciting skin care package from the lovely folks at Montagne Jeunesse, containing two of their brand new face masks – the Dead Sea Mud Spa Mask and the Glacial Clay Spa Mask.  I was really looking forward to trying these masks as they're not like any other I've ever used before.  Rather than the usual peel-off or wash-off products, the Spa Masks are made of bamboo fabric, which is coated and infused with naturally sourced mud and clay.



Yesterday evening I tried the Dead Sea Mud Spa mask, which uses 'Real Mud, Dead Sea & Sea Kelp'.  I haven't yet used the Glacial Clay Spa Mask so I will review that at a later date.  Each sachet contains one single use mask, and it is quicker and easier to use than any other Montagne Jeunesse mask as it comes in one ready to use piece that you just lay on your face.  As you can see below, it looks a bit freaky, but also quite funny!

The sachet says that the mask provides a 'satisfying boost for thirsty skin' as it contains 'invigorating & revitalising Dead Sea minerals'.  The directions for use are as follows: Cleanse, Apply, Relax for 10-15 minutes, Massage and Rinse – Simple!  I found that the best way to apply it is to lay it on and then press the edges down so that it smoothes to the shape of your face and doesn't fall off.  Since these are 'one size fits all' I did have to fold the edges inwards slightly to fit the shape of my face, but that's not a problem really.  Better too big than too small!  And the moment you've all been waiting for – this is what it looks like on…
I know!  Don't laugh!  I look absolutely ridiculous, which caused much amusement with my family, but when you're wearing a mask that feels so amazing you really don't care haha.  Before I opened the sachet I noticed that it felt really cold to the touch, and as you can imagine the mask itself feels quite cold too.  When it's on your face the cold feeling really penetrates your skin making it tingle slightly, which feels really refreshing and, as the sachet says, invigorating!  I felt so relaxed wearing the mask that I almost fell asleep – it was almost like having a face massage.
The mask doesn't dry like other masks, but it isn't messy.  After 15 minutes of absolute bliss I removed the mask with no trouble – it came off in one complete piece, and because it was still wet I let my mum use the other side and it worked just as well on her!  Two uses for the price of one – bargain 😀  (I don't know if sharing the mask is a good idea or not, but she wanted to haha).  I was left with a bit of dry clay on my face and hands afterwards, but it washed off easily with warm water.  I will say that my face felt a bit tight after which I didn't really like, but that was soon solved with my favourite moisturiser.
Both Clay Spa masks cost just £1.49 each, which is a bargain in my eyes.  You can already buy them over at the Montagne Jeunesse website, and they'll be available in Boots from mid-August and ASDA from September.  Though these masks were gifted to me by Montagne Jeunesse, I also buy their products regularly with my own money.  I like to use Montagne Jeunesse masks over any others as they are vegetarian and animal friendly, paraben-free and made from natural ingredients which don't irritate the skin.  And to quote the company itself, 'Montagne Jeunesse is proud of its uncompromising natural credentials and ethos for 'Conservation of Energy, Protection of Animals and the Environment' – something which I 100% advocate!

Will you be trying the Clay Spa Masks too?
Naomi x
3
Hello readers,
I have a slightly different post for you today as, for the first time, I will be featuring a specific fashion line!  I was recently contacted by the quirky fashion company, Sinfused, with the offer of a sample product from their new clothing range.  Before agreeing to try PR products, I always do some research on the company to make sure they are right for me.  Sinfused are an independent fashion line who specialise in women's going-out wear, and most of their pieces are adorned with lots of rhinestone crystals, and they all have a rocky edge to them, all things which I am a fan of.  So, obviously, I was happy to take them up on the offer.
The lovely people at Sinfused sent me one of their best sellers, the Heeled Shoe Tee, and today was the day I took the tee for its test run.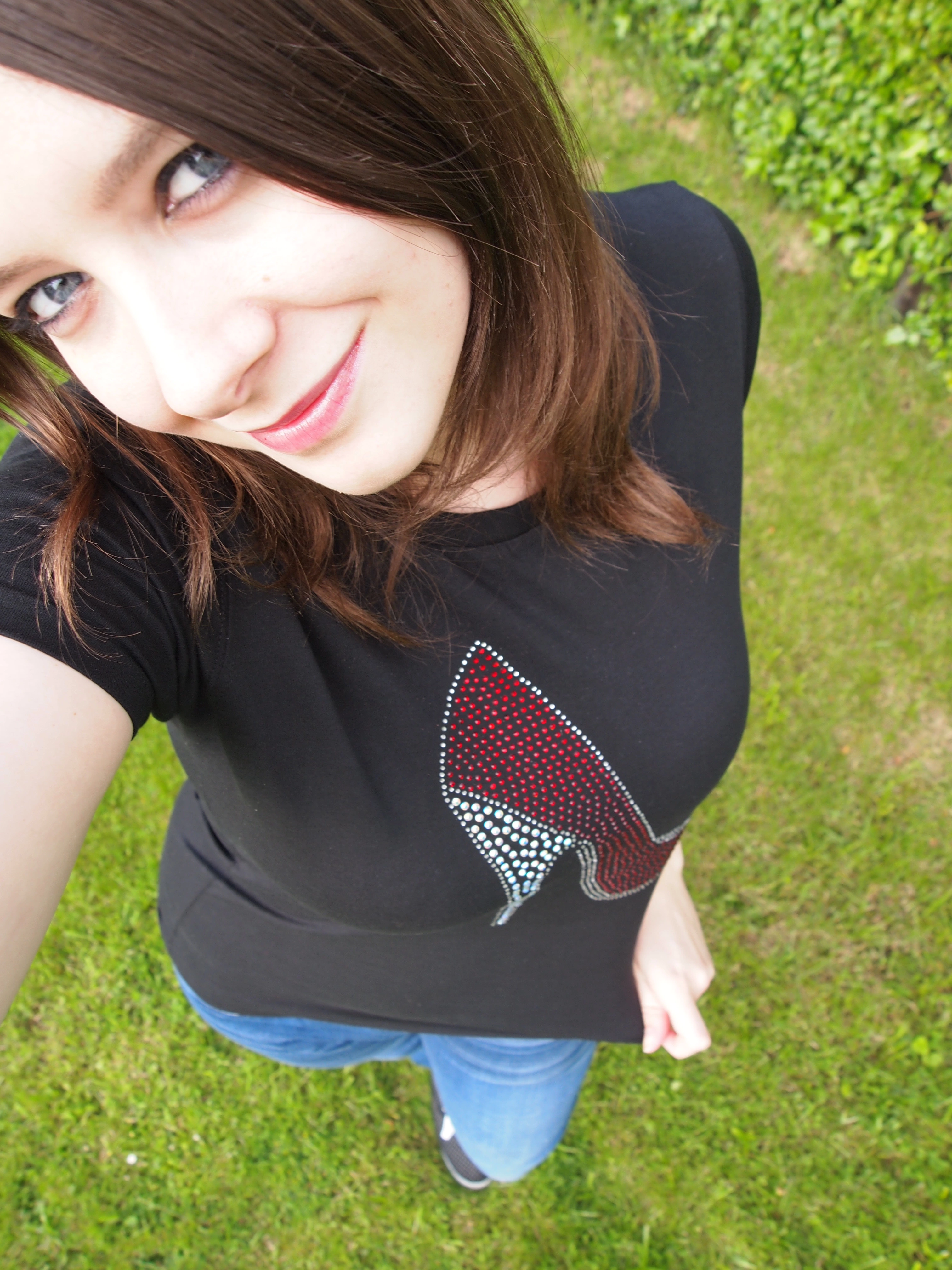 My absolute favourite thing about this tee is that it is SO comfortable.  The fabric is very soft and of high quality so it feels lovely on and, though the fabric is stretchy, it doesn't go baggy.  I have a few tops that lose their shape slightly after a day of wear, but this one didn't at all.  The fit is also great as it's nicely cut to fit womanly curves!  I also noticed on the label that the tee is made by the Fair Wear Foundation who ensure 'Ethical Trade and Justice for Workers'.  I try my best to buy fairly produced and traded clothing whenever I can, so I was very happy to see that Sinfused are an ethically conscious company, which scored them even more brownie points in my eyes.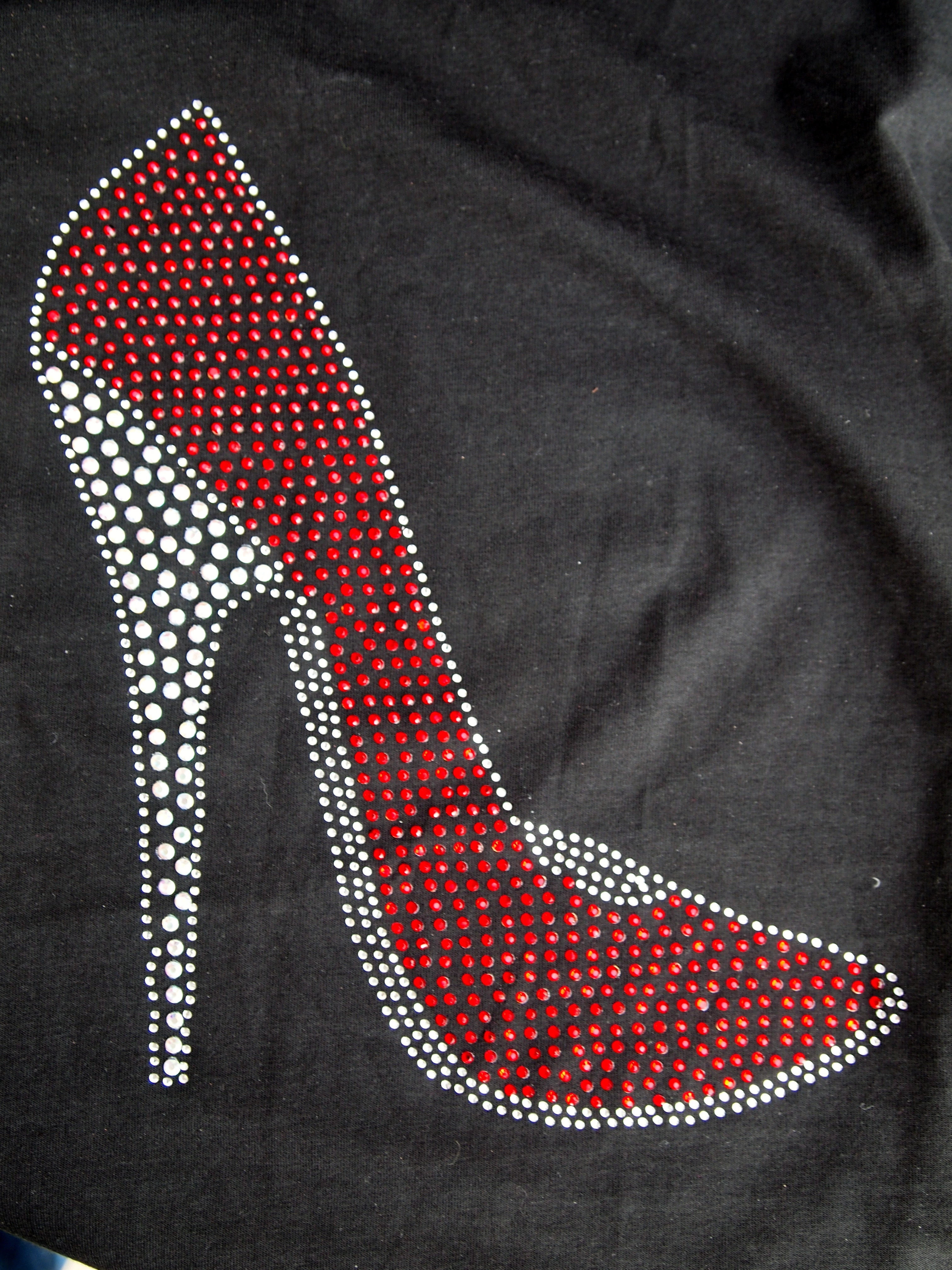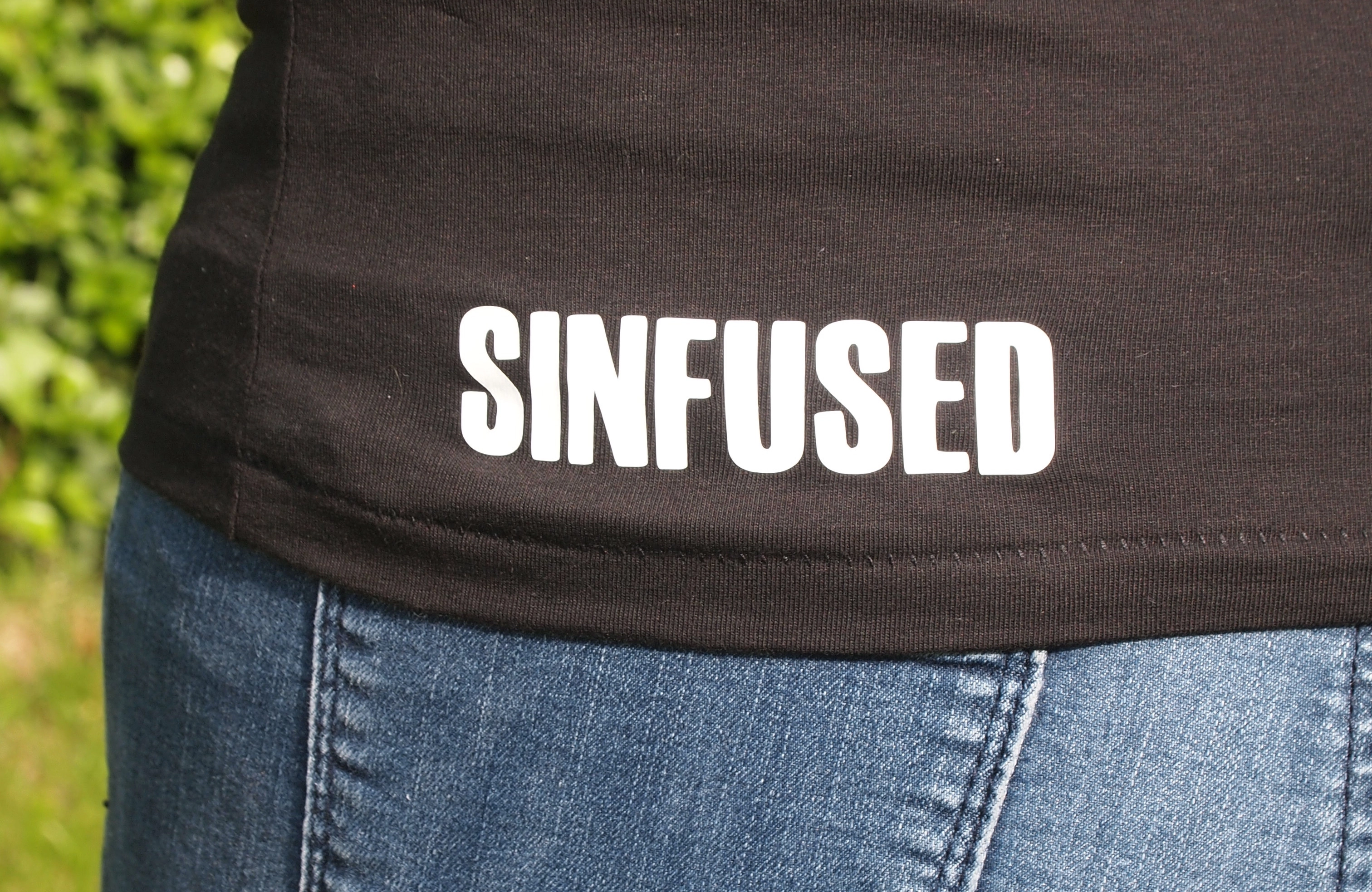 As you can see, the attention to detail on this tee is fantastic.  I loved the addition of the 'Sinfused' name logo on the bottom back, as it gives it that little bit more edge.  And the shoe… well… look at it!  Look at the rhinestones!  There are hundreds of them and they are sooo pretty.  You can't really see in the photo but the heel stones have a stunning pearlessence to them which looks amazing in the right light.  The stones are really firmly attached as well.  I gave them a good tug to see whether they would come loose and, believe me, they are not going anywhere.
The only negative thing I can find with this tee is the sizing.  I asked for a Size 12, which I'd say is pretty average sizing, but it turns out that a 12 is labelled as an 'L', and just so happens to be the biggest size they do!  I don't think a 12 is large at all, and I would like to see Sinfused introduce a wider range of sizes so more people can enjoy their products.
As well as t shirts, Sinfused also sell vests, skirts, shorts and hotpants, all with cute individual designs.  If you fancy a browse, you can visit the UK site here, and the US site here.  I can highly recommend this tee and I hope to get their blue guitar tee one day –  Happy shopping!
Naomi xx