Posts tagged
Skulls
16
2013 is set to be another big year for textured nails, and the latest trend is the unusual leather look.  Nails Inc recently launched their Bling It On Leather & Skulls set, and it has been causing a big buzz in the world of beauty.  I am always keen to try out new and exciting nail effects and I was really intrigued by this when I first heard about it, so I was very pleased to be sent a set to review, from lookfantastic.com.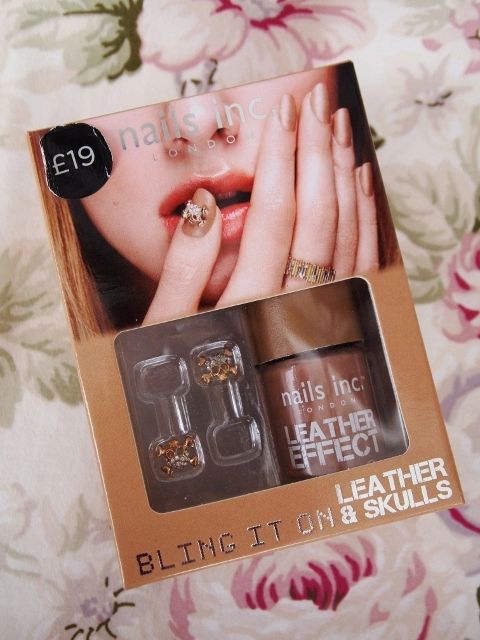 Bling It On Leather is available in Black or Tan (which is the shade I have), and the set contains a 10ml bottle of Leather Effect polish, four skull embellishments, a 3g bottle of nail glue and a cuticle stick – everything you need to create gorgeous, stand-out nails!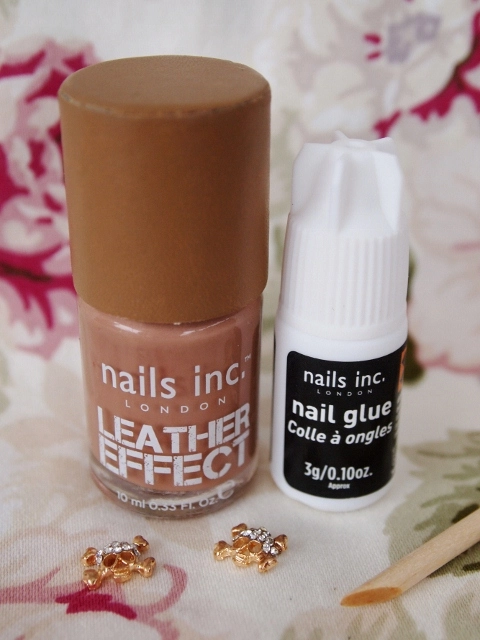 The nail polish shade in the tan set is called Soho Mews, and is a lovely caramel brown colour, tinged with orange.  The polish itself is very creamy and highly pigmented, and I found it only took one coat to achieve an opaque, even finish.  However, I applied two coats as the instructions suggest.  Getting the leather look is very simple, as the polish does all the work for you.  Like a crackle varnish, Leather Effect goes on glossy, and before your eyes it develops a leathery textured, matte finish in just seconds.  Once the effect has formed, the polish is also completely dry, which is really quite impressive.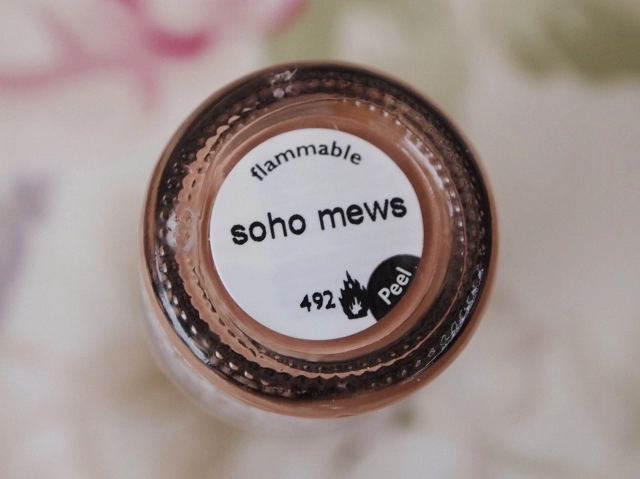 If you wanted to dress the Leather Look down for work or day wear you could stop there, but the set also contains four skulls which would be perfect for an evening look.  The skull embellishments are made of a gold coloured metal and are studded with tiny crystal gems.  They're actually surprisingly detailed and beautiful for a nail embellishment, and give the leather effect a glamorous yet rocky edge.  The instructions say to pick the skulls up with tweezers, before applying a small amount of the glue to the corners and centre of the skull before placing it on to your chosen nail.  If you're careful, you won't make a mess with the glue, and the skull will stay put.  If you're extra careful, you can remove the skull before taking the varnish off and use it again!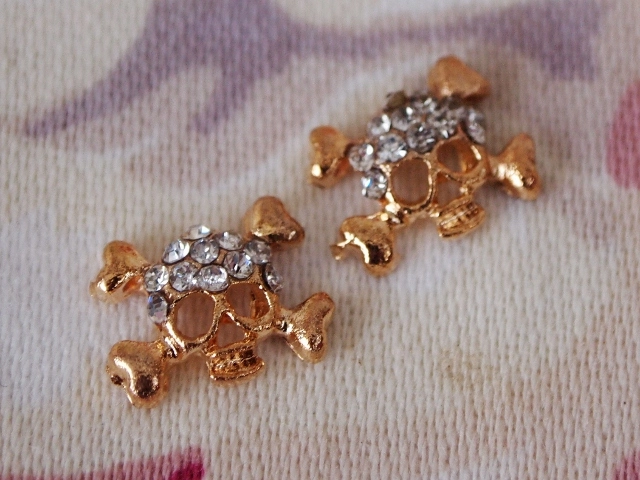 The final look you get with the leather polish and skulls is one of beauty.  If, like me, you do everything in your power to keep your newly painted nails glossy and smudge-free, the Leather Effect may take some getting used to, but it really does look like leather and the colour is stunning!  Here are two swatch photos to show you how fabulous this look is.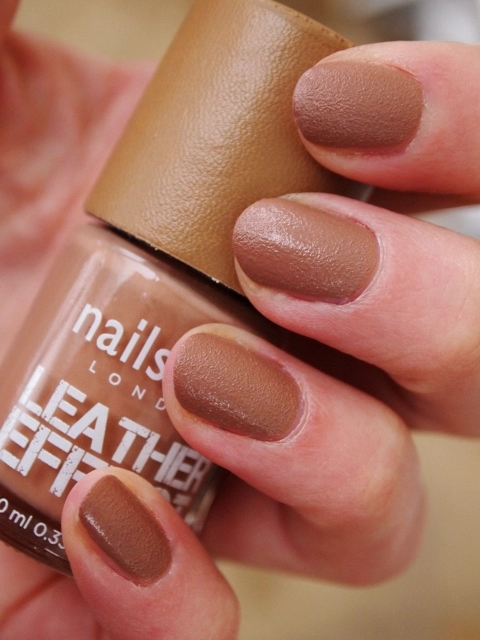 Without skull, to show the Leather Effect.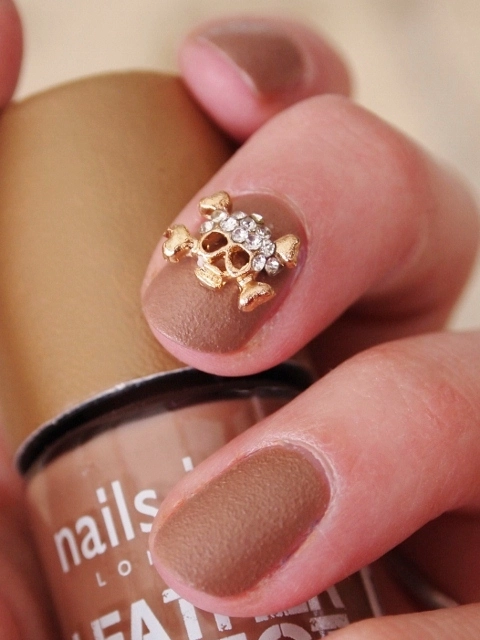 With skull.
The only downside to the Leather Effect is that it soon chips.  To keep the matte finish I didn't apply a top coat, and within 24 hours the varnish had chipped.  However, if you change your varnish regularly this shouldn't be much of an issue, and if you're wearing it for a night out then chances are you'll be removing it within a day anyway.
If you like the look of Nails Inc Bling It On Leather & Skulls, you can order it now for £19 (with FREE worldwide delivery) from LookFantastic, in the classy shade of black – a worthy investment for fans of chic nails and current trends!  LookFantastic also stock many other nail brands, including O.P.I, Essie and Butter London.  To view their full range, visit here!
Naomi x
*This Nails Inc Bling It On Leather & Skulls set was sent to me by lookfantastic.com for review purposes.  All opinions expressed in this post are honest and my own.*
2
To celebrate BooHoo being included in Fashion Vouchers' 'Top 10 Fashion Money Saving Websites' list, Fashion Vouchers have launched a new blogger challenge!  The challenge is to put together an outfit costing £50 or less using clothes, shoes, accessories or anything else from BooHoo's website.  There will be four winners, and each will win a £50 BooHoo fashion voucher.  I love a good bargain so this challenge is right up my street!  I've entered a couple of other challenges like this before and I always enjoy window shopping lovely items to put together my ideal outfit on a budget, so I thought I would give this one a go too, and here is my entry…

(Click the image for a closer look)
Shop this look:
– Annie Oversized Vintage Jumper in 'Black' (£20) – Davina Skull Print Leggings in 'Berry' (£10) –
– Quinn Black Suedette Platform Courts (£12) – Diamante Skull Chain (£8) –
I have been browsing the high street a lot lately for Autumn trends, and have spotted a lot of big slouchy jumpers and grunge style pieces on the shelves, with a mix of Gothic style prints.  Lucky for me, I already incorporate these styles into my look anyway, so it seemed only natural to take this route when choosing my outfit for the challenge.
Too often people go for bright, patterned tops and plain bottoms, so I thought I would switch the conventions around a bit.  I knew that I wanted to team a simple black jumper with bold bottoms, and the Annie Oversized Vintage Jumper seemed like a good starting point.  I chose the red Skull Print Leggings to go with it as they offset the bagginess of the jumper nicely by being skin-tight, and the red adds a gorgeous splash of Autumn colour.  The skull print is what initially drew me to this piece as it happens to be one of my favourite clothing prints, and it gives the outfit a hint of Gothic.
I added black Platform Courts to the outfit to show that grunge/Goth can be sexy too, and that the image can be carried through to the evening with some killer, confidence boosting heels.  My final addition was the Diamante Skull Chain.  I adore big statement pieces of jewellery, and own a few sparkly skull necklaces myself, so when I saw this necklace I just had to include it…  It matches the leggings perfectly, and would really stand out on the simple jumper, giving the outfit a girly edge.
My outfit totals exactly £50, which I am very pleased with.  This is the kind of thing I will be wearing myself throughout Autumn and Winter, and if I win I may even use the voucher to buy this outfit!
I was contacted about this challenge by email yesterday, but anybody can enter.  If you fancy trying your hand at styling on a budget, here are the rules for entering:
How to Enter
1. Head over to BooHoo.com and start piecing together an outfit, making sure you do not exceed your £50 budget (no student discounts or other voucher codes can be used to help you stretch this budget I'm afraid).
2. Write a post about your outfit and this competition on your blog, which includes a link back to our home page www.fashionvouchers.com.
3. Email a link to your entry to competition@fashionvouchers.com.
Rules
1. The prize will consist of 1 x £50 BooHoo.com voucher, and there will be four winners.
2. No cash alternative is available for the prize.
3. The competition starts on September 1st.
4. Closing date for entries is September 30th.
5. Winner will be announced by October 10th on our twitter page @fashvouchers.
6. Only one entry per person.
I hope you like my outfit, and if you decide to enter yourself please comment below with the link to your entry so I can check out your fashion finds… and good luck!
Naomi x