Posts tagged
BooHoo
2
Exciting news, Fashionistas – musicMagpie have long been helping us make money from our old CDs, DVDs, games and technology, and they've recently launched a new service which means you can now get cash for clothes as well!  All you have to do is tell them what you want to sell by entering it into the 'Get Value' box, giving a few details about the brand, size, colour and suchlike, and then they'll make you an offer on the item.  Then, once you've entered everything you want to sell, you just have to send your items to them and they'll pay you for them.  Sending everything to musicMagpie is really easy, as you can send it boxed for free, or if you're selling more than 25 items they will come and collect them for you, also for free.  There are also four ways to get paid – bank transfer, cheque, e-Vouchers or a donation to charity.  Easy peasy.
Now, I'm sure I'm not the only fashion fan who sees this as the perfect opportunity to clear space for new clothes, whilst also making the money to pay for them!  I recently dropped a dress size or two, so I have plenty of clothes that I need to get rid of, and I can't wait to replace them all.  I've spent many an evening lately browsing the net for some brand new, gorgeous pieces to add to my collection, and I've found a few which I absolutely love, so here is my 2013 Winter Wardrobe Wishlist.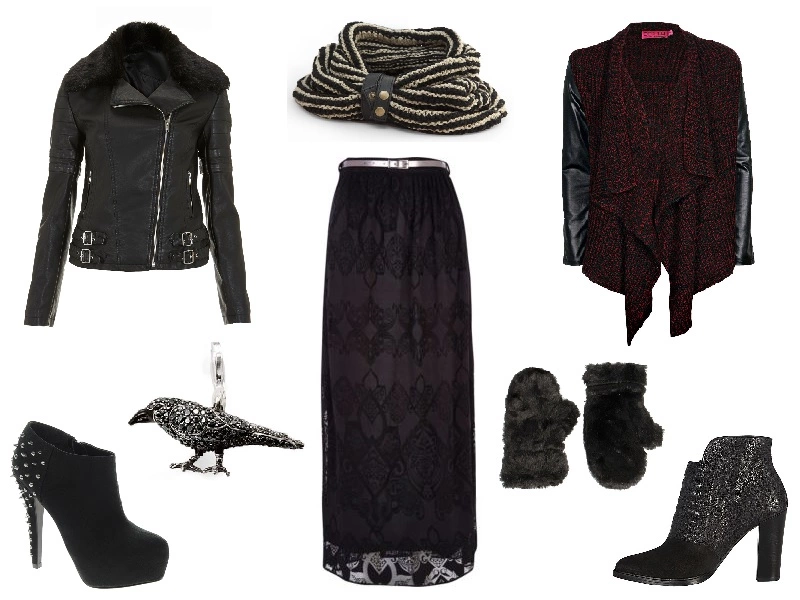 Internacionale Black Fur Collar Biker Jacket / Aura Que VELA Handknit Banana Yarn Snood / boohoo PU Sleeve Marl Knit Cardigan / ASOS London Rebel Studded Heel Shoe Boots / Thomas Sabo Sterling Silver Raven Pendant / River Island Black Lace Belted Maxi Skirt / boohoo Faux Fur Mittens / All Saints Reflection Boots
As I've mentioned before, the Autumn/Winter season this year is all about black for me, with the odd splash of colour.  I'm becoming obsessed with mixing statement pieces with something simple, as well as different fabrics and textures to create interesting looks.  I love the combination of leather, lace, faux fur, metal and knits in the pieces above and I want them all.
What would you buy with the money you could make from musicMagpie?
Naomi x
*This post is a collaboration.*
2
To celebrate BooHoo being included in Fashion Vouchers' 'Top 10 Fashion Money Saving Websites' list, Fashion Vouchers have launched a new blogger challenge!  The challenge is to put together an outfit costing £50 or less using clothes, shoes, accessories or anything else from BooHoo's website.  There will be four winners, and each will win a £50 BooHoo fashion voucher.  I love a good bargain so this challenge is right up my street!  I've entered a couple of other challenges like this before and I always enjoy window shopping lovely items to put together my ideal outfit on a budget, so I thought I would give this one a go too, and here is my entry…

(Click the image for a closer look)
Shop this look:
– Annie Oversized Vintage Jumper in 'Black' (£20) – Davina Skull Print Leggings in 'Berry' (£10) –
– Quinn Black Suedette Platform Courts (£12) – Diamante Skull Chain (£8) –
I have been browsing the high street a lot lately for Autumn trends, and have spotted a lot of big slouchy jumpers and grunge style pieces on the shelves, with a mix of Gothic style prints.  Lucky for me, I already incorporate these styles into my look anyway, so it seemed only natural to take this route when choosing my outfit for the challenge.
Too often people go for bright, patterned tops and plain bottoms, so I thought I would switch the conventions around a bit.  I knew that I wanted to team a simple black jumper with bold bottoms, and the Annie Oversized Vintage Jumper seemed like a good starting point.  I chose the red Skull Print Leggings to go with it as they offset the bagginess of the jumper nicely by being skin-tight, and the red adds a gorgeous splash of Autumn colour.  The skull print is what initially drew me to this piece as it happens to be one of my favourite clothing prints, and it gives the outfit a hint of Gothic.
I added black Platform Courts to the outfit to show that grunge/Goth can be sexy too, and that the image can be carried through to the evening with some killer, confidence boosting heels.  My final addition was the Diamante Skull Chain.  I adore big statement pieces of jewellery, and own a few sparkly skull necklaces myself, so when I saw this necklace I just had to include it…  It matches the leggings perfectly, and would really stand out on the simple jumper, giving the outfit a girly edge.
My outfit totals exactly £50, which I am very pleased with.  This is the kind of thing I will be wearing myself throughout Autumn and Winter, and if I win I may even use the voucher to buy this outfit!
I was contacted about this challenge by email yesterday, but anybody can enter.  If you fancy trying your hand at styling on a budget, here are the rules for entering:
How to Enter
1. Head over to BooHoo.com and start piecing together an outfit, making sure you do not exceed your £50 budget (no student discounts or other voucher codes can be used to help you stretch this budget I'm afraid).
2. Write a post about your outfit and this competition on your blog, which includes a link back to our home page www.fashionvouchers.com.
3. Email a link to your entry to competition@fashionvouchers.com.
Rules
1. The prize will consist of 1 x £50 BooHoo.com voucher, and there will be four winners.
2. No cash alternative is available for the prize.
3. The competition starts on September 1st.
4. Closing date for entries is September 30th.
5. Winner will be announced by October 10th on our twitter page @fashvouchers.
6. Only one entry per person.
I hope you like my outfit, and if you decide to enter yourself please comment below with the link to your entry so I can check out your fashion finds… and good luck!
Naomi x