Posts tagged
Slouch
2
Today my fiancé and I decided to go out for lunch, to one of my favourite bars (the Orange tree in Leicester – they serve a cracking veggie roast!)  Afterwards, we went for a leisurely wander around town, did a spot of shopping and checked out the new Richard III monuments near the cathedral.  A lovely casual day called for a casual outfit, so I threw on this gorgeous draped hoodie with a basic tee, and my favourite pair of jeans.  I love anything acid wash and polka dots, and these jeans combine the two, and are made of light, stretchy denim so are incredibly comfortable.  They're a real wardrobe staple and have seen me through Spring and Summer, but will also be great for Autumn, worn with a pair of chunky boots.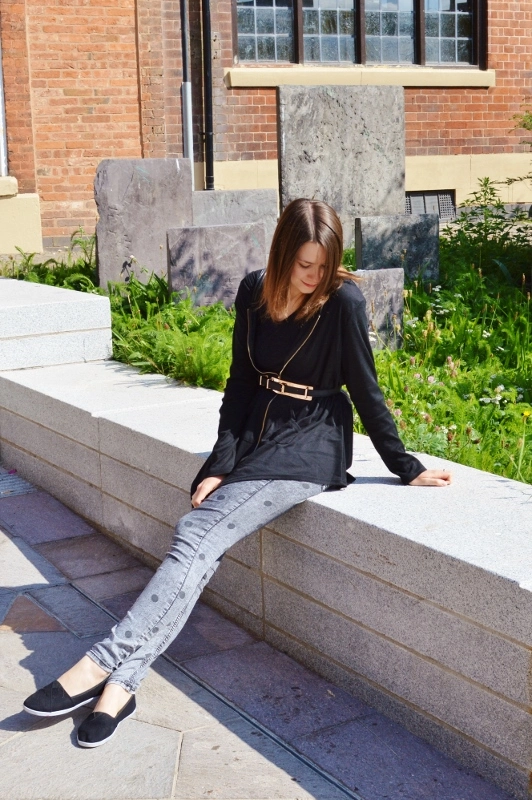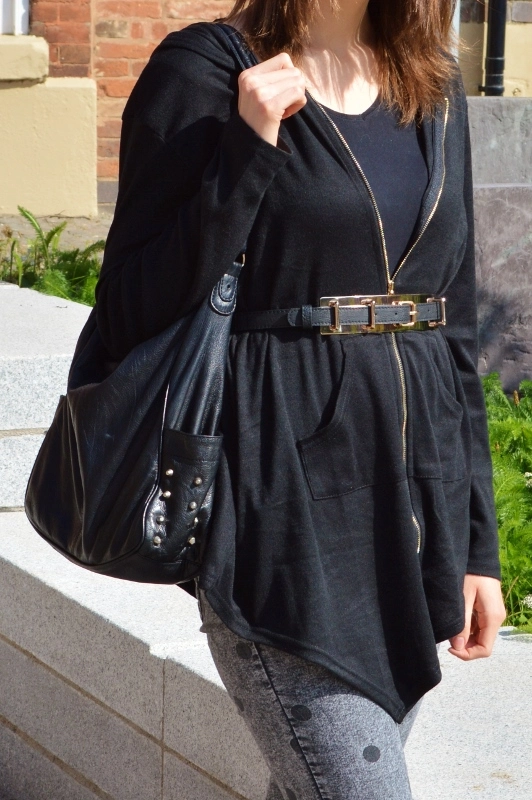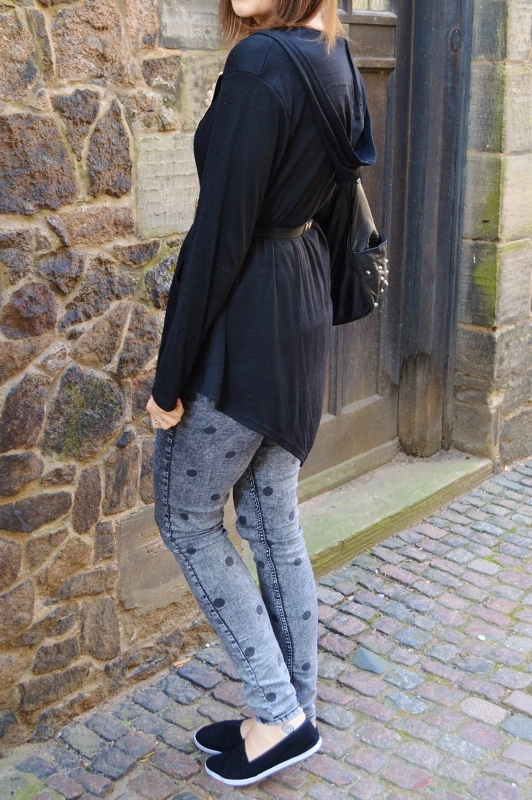 DressLink.com Draped Hoodie / H&M Polka Dot Acid Wash Jeans / Primark Basic T Shirt / Primark Metal Waist Belt / Primark Canvas Shoes / Thrifted Topshop Leather Stud Bag
I ordered this oversized draped hoodie from DressLink.com a few weeks ago.  It was originally intended to be for my mum, but unfortunately it doesn't quite fit her right, so she let me have it.  Believe it or not, this is an XXXL, but Asian sizes are a LOT smaller than our Western sizes, so it fits me, a size 10/12, like a baggy hoodie.  There's no way it's a UK size 20 like the website suggests!
Tops like this are absolutely perfect for this time of year.  It was sunny today, so too warm for a coat, but there was a hint of Autumnal coolness in the air, so it kept me nice and cosy, and the hood is great for when you want an extra bit of warmth.  I also really love the length and draped style of the hoodie as it gives it a slightly witchy edge, and though it looks good baggy, I adore the more tailored shape of it when worn with a waist belt over the top.
What pieces will be seeing you through the Summer to Autumn transition?
Naomi x
3
To coincide with Freshers week and the start of university for a lot of new students, here is the second installment in my series of posts about student fashion essentials.  Whilst at university, space and funds are often limited, so for the fashion conscious it's important to be able to stay looking good on a budget, with versatile pieces that can be worn again and again with different looks.
Though university is hard work, you'll probably also find yourself at home in between lectures with a lot of free time on your hands, and it's during this time, and on lazy weekend days, that comfy clothes are key.  So with this in mind, today's post is all about the genius invention that is slouch trousers.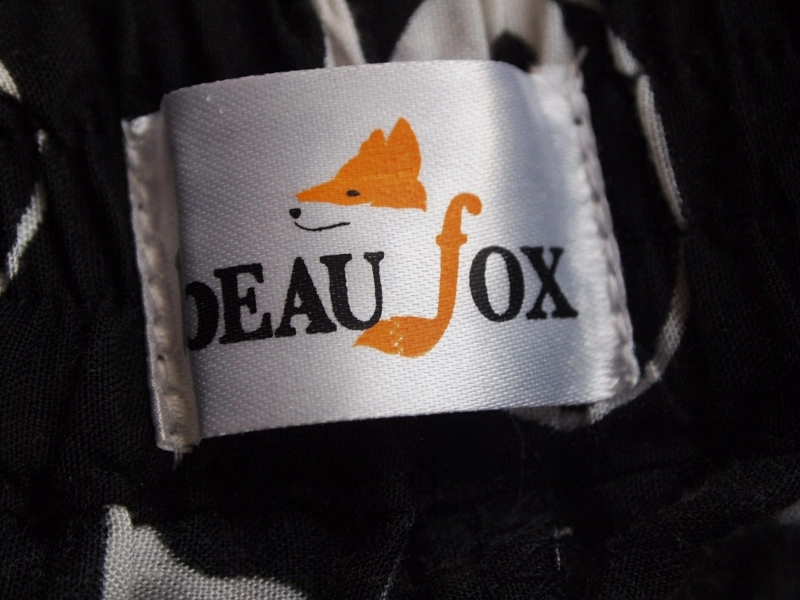 I recently came across a brand called Beaufox, who specialise in fashionable loungewear which is both affordable and trendy.  They stock a range of pyjama style slouch trousers for men and women, in a variety of designs from tie dye to skull print to floral, which are available in a light summer fabric, or lined for the colder Autumn and Winter months.  I was recently sent a pair of Beaufox trousers to try for myself, and they are incredibly comfortable, just like pyjamas, but look really great on.
My pair feature an all over black and white Yin Yang print, and are made of soft, loose fabric.  This pair are from the summer collection, and though they look fab with a vest top and flip flops, they are warm enough for this time of year when teamed with a jumper and pumps.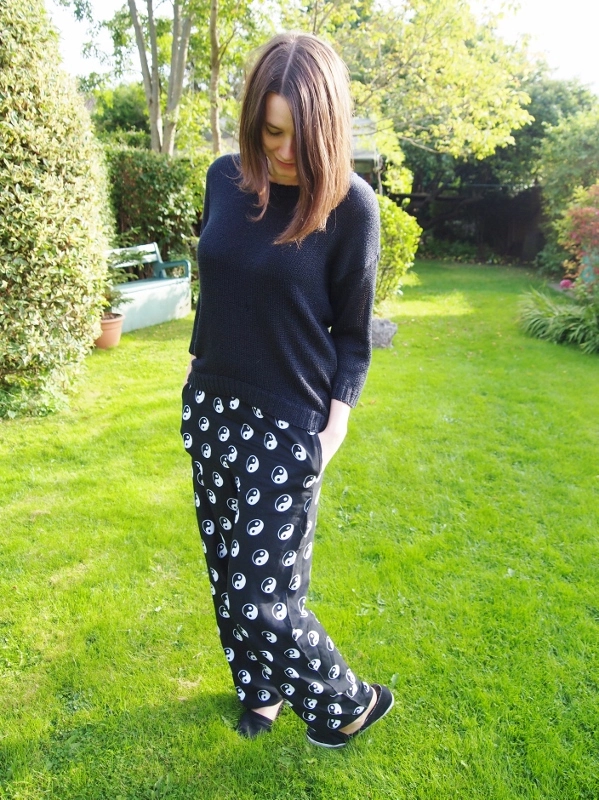 Perhaps the best thing about Beaufox's slouch trousers is that they can be worn around the house like pyjamas, but can also be worn out of the house as normal trousers.  So, if you're sitting around watching a film and fancy a bar of chocolate, you can nip out to the shop without looking daft!  They have two deep pockets too, so you can easily carry your change and phone on you without having to worry about a bag.
The trousers are one size only, but they fit me fine and I'm a size 12.  I'd say they'd fit sizes 8 to 12 with no trouble.  The length is also fairly decent.  I'm 5'9″ and usually wear a 34-36″ leg length, and though Beaufox's slouch trousers are probably more suited to an average leg length of about 30-32″, if I wear them low on my hips they are plenty long enough and still feel comfortable.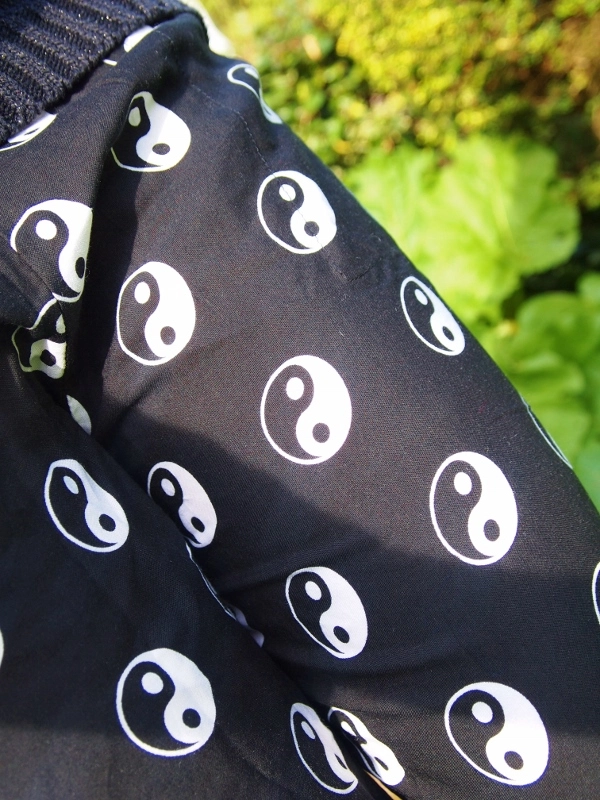 Beaufox's slouch trousers are also great for festivals and camping, so they'll last you all year round whilst allowing you to look and feel fun and fashionable on a budget.  You can get yourself a pair here for £15.99 for the summer trousers, or £19.99 for the lined trousers – bargain!
Which design would you choose?  Check out the Beaufox website and let me know.
Naomi x
*These Yin Yang Slouch Trousers were sent to me by Beaufox for review purposes.  All opinions expressed are honest and my own.*
2
To celebrate BooHoo being included in Fashion Vouchers' 'Top 10 Fashion Money Saving Websites' list, Fashion Vouchers have launched a new blogger challenge!  The challenge is to put together an outfit costing £50 or less using clothes, shoes, accessories or anything else from BooHoo's website.  There will be four winners, and each will win a £50 BooHoo fashion voucher.  I love a good bargain so this challenge is right up my street!  I've entered a couple of other challenges like this before and I always enjoy window shopping lovely items to put together my ideal outfit on a budget, so I thought I would give this one a go too, and here is my entry…

(Click the image for a closer look)
Shop this look:
– Annie Oversized Vintage Jumper in 'Black' (£20) – Davina Skull Print Leggings in 'Berry' (£10) –
– Quinn Black Suedette Platform Courts (£12) – Diamante Skull Chain (£8) –
I have been browsing the high street a lot lately for Autumn trends, and have spotted a lot of big slouchy jumpers and grunge style pieces on the shelves, with a mix of Gothic style prints.  Lucky for me, I already incorporate these styles into my look anyway, so it seemed only natural to take this route when choosing my outfit for the challenge.
Too often people go for bright, patterned tops and plain bottoms, so I thought I would switch the conventions around a bit.  I knew that I wanted to team a simple black jumper with bold bottoms, and the Annie Oversized Vintage Jumper seemed like a good starting point.  I chose the red Skull Print Leggings to go with it as they offset the bagginess of the jumper nicely by being skin-tight, and the red adds a gorgeous splash of Autumn colour.  The skull print is what initially drew me to this piece as it happens to be one of my favourite clothing prints, and it gives the outfit a hint of Gothic.
I added black Platform Courts to the outfit to show that grunge/Goth can be sexy too, and that the image can be carried through to the evening with some killer, confidence boosting heels.  My final addition was the Diamante Skull Chain.  I adore big statement pieces of jewellery, and own a few sparkly skull necklaces myself, so when I saw this necklace I just had to include it…  It matches the leggings perfectly, and would really stand out on the simple jumper, giving the outfit a girly edge.
My outfit totals exactly £50, which I am very pleased with.  This is the kind of thing I will be wearing myself throughout Autumn and Winter, and if I win I may even use the voucher to buy this outfit!
I was contacted about this challenge by email yesterday, but anybody can enter.  If you fancy trying your hand at styling on a budget, here are the rules for entering:
How to Enter
1. Head over to BooHoo.com and start piecing together an outfit, making sure you do not exceed your £50 budget (no student discounts or other voucher codes can be used to help you stretch this budget I'm afraid).
2. Write a post about your outfit and this competition on your blog, which includes a link back to our home page www.fashionvouchers.com.
3. Email a link to your entry to competition@fashionvouchers.com.
Rules
1. The prize will consist of 1 x £50 BooHoo.com voucher, and there will be four winners.
2. No cash alternative is available for the prize.
3. The competition starts on September 1st.
4. Closing date for entries is September 30th.
5. Winner will be announced by October 10th on our twitter page @fashvouchers.
6. Only one entry per person.
I hope you like my outfit, and if you decide to enter yourself please comment below with the link to your entry so I can check out your fashion finds… and good luck!
Naomi x