Posts tagged
Challenge
3
I was recently asked to enter GiftsVouchers.co.uk's Blogger Challenge, and as a fan of fun little competitions like this I couldn't turn down the offer!  The aim of the challenge is to scour the internet and find five or more fashionable gift ideas, all of which must cost less than £35 each.  After all, as Bewitchery always says, you don't have to spend a lot of money to get something good!
The way I have decided to approach this challenge is to put together a selection of Christmas gift ideas for Women, but also some for Men, as we all know that men can be spectacularly difficult to buy for!  So let's get things started… (All pictures are clickable if you want a closer look).
Gifts for Her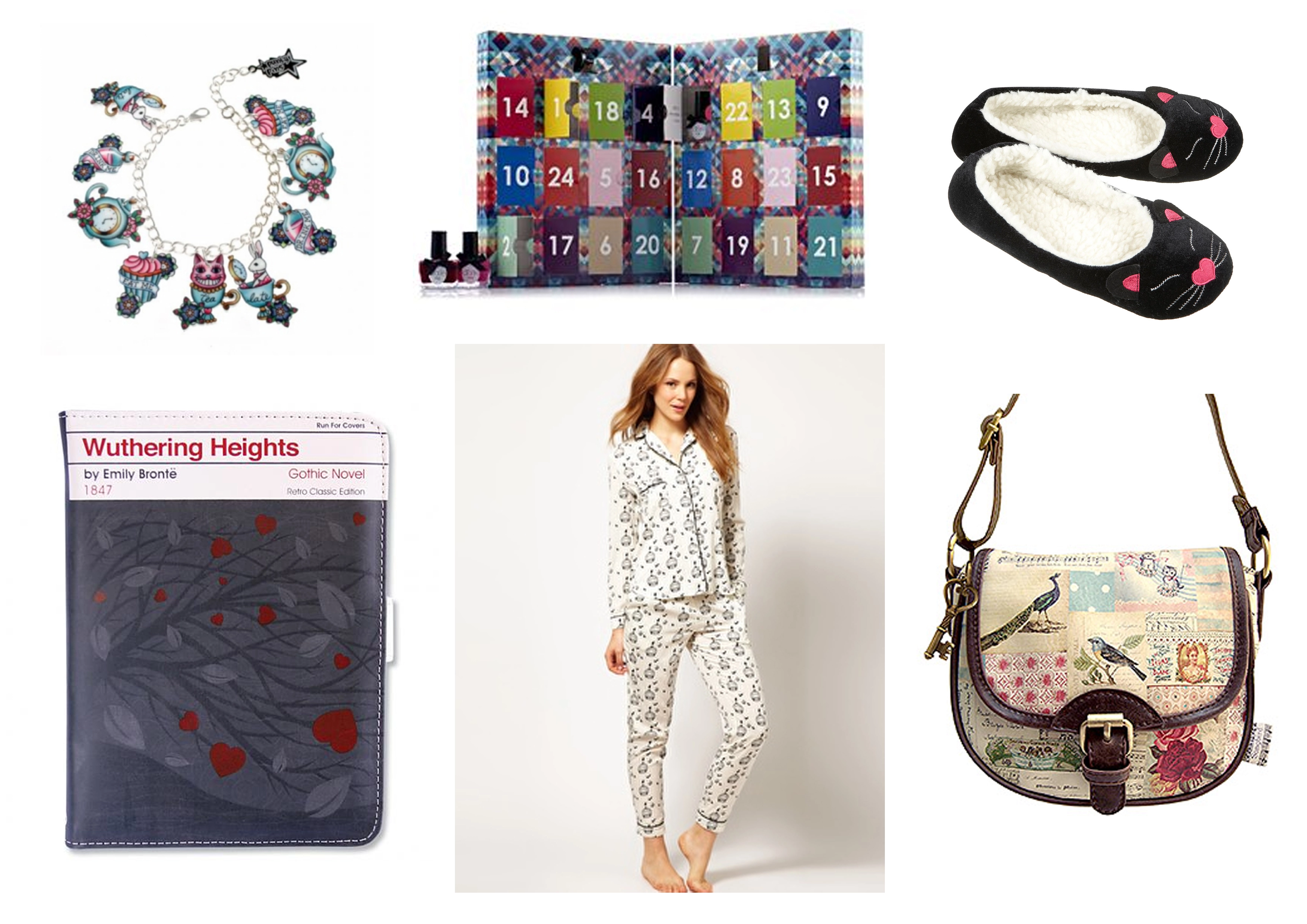 Shop these gifts…
Alice Tea Party Charm Bracelet – Collectif – £10.00
This Alice Tea Party Charm Bracelet is so unusual and quirky, but also really pretty and feminine.  It would make an ideal gift for any individual girly girls out there!  I, for one, have a friend who would absolutely love this.
Wuthering Heights by Emily Bronte E-Reader Cover – TruffleShuffle – £14.99
Though I am still an ardent advocate of books over e-readers, I couldn't help but fall for this Gothic vintage-style e-reader cover from TruffleShuffle, as Wuthering Heights is one of my favourite novels.  I think it would make a great gift for those who love to accessorise their technology.  TruffleShuffle also stock a wide range of other book related e-reader covers so there's something there for everyone.
Ciate 24 Piece Mini Mani Month – QVC – £31.20
Ciate's Mini Mani Month is a luxe, grown up version of an advent calendar, which contains 20 mini Ciate Paint Pots and 4 mini pots of Caviar Beads.  At £31.20 it is an absolute bargain (I've seen it being sold for a lot more in shops such as Selfridges) as you get a lot for your money!  I think this would make a great early Christmas present for any nail varnish-loving sister, mother, auntie or cousin. Or, if you know someone with a November birthday, you could get them this and extend their birthday joy throughout December! Of course, it would also make a lovely little treat for yourself (I have ordered one just for me, hehe).
River Island Bird Cage PJ Bottoms and Top – ASOS – £15 each or £30 the pair
Christmas wouldn't be Christmas without a snuggly pair of new PJs, and this set from ASOS is just the cutest!  The bird cage print, monochrome colours, silky fabric and traditional cut are all so classy and make these PJs suitable for anybody.  The top and bottoms are available separately for £15 each, making the whole set an affordable £30.
Elaine Cat Slippers – Topshop – £14.00
Set the cat among the pigeons with these sweet little slippers from Topshop – the perfect partner for the Bird Cage PJs!  The slippers are lined with faux fur so are really soft and warm.  If you're stuck for gift ideas, you can never go wrong with a pair of slippers, especially if they're as cute as these.
Songbird Mini Bag – Totally Funky – £24.99
Roses, fluffy kittens, stunning birds, musical scores and vintage-style prints…  What's not to love about this bag?
Gifts for Him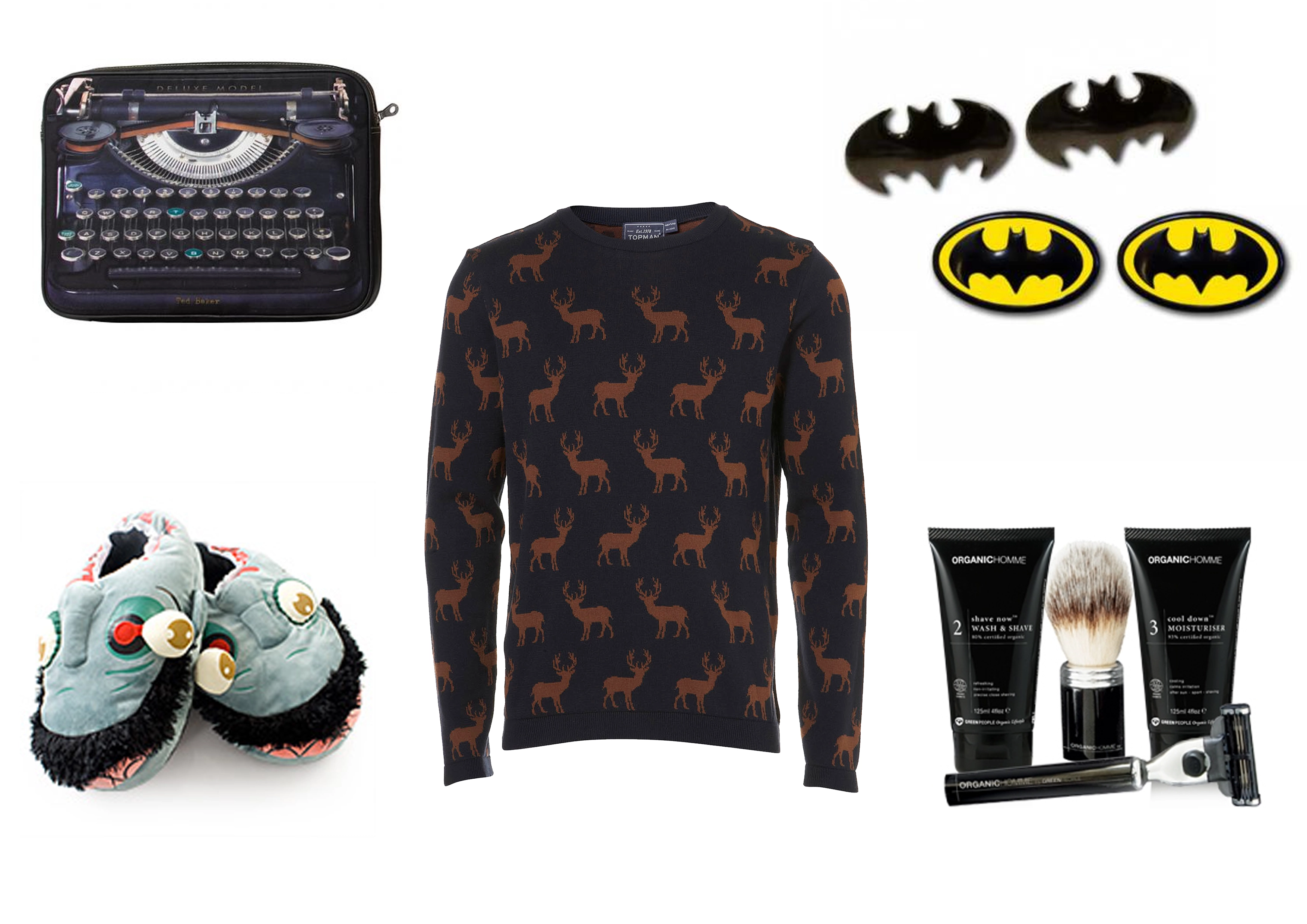 Shop these gifts…
Vintage Typewriter Padded Laptop/iPad Sleeve from Ted Baker – TruffleShuffle – £30.00
As you may have picked up through my women's gift ideas, there seems to be a real trend for vintage right now, and this Typewriter Laptop Sleeve gives vintage a more masculine feel.  Having said that, I'm not one for gendering products and I'd quite like this myself.  This sleeve is by Ted Baker but is available from TruffleShuffle, one of my favourite online retro stores.
Zombie Slippers – Firebox – £19.99
How amazing are these slippers?  These would make such a fun, comfortable gift for any undead-loving bloke.  They are exclusive to Firebox and are available to pre-order now.
Navy All Over Stag Jumper – Topman – £32.00
This gorgeous jumper combines this year's fashion for motif knitwear with the traditional and obligatory Christmas jumper, but a lot less tacky as the colours are highly wearable too.  The jumper comes in sizes XXS to XL, so it is suited to fit all shapes and sizes!
Batman Logo Cufflinks (Design One and Design Two) – MenKind – £12.99 each
Everybody loves a bit of Batman (especially me), and these Batman Cufflinks would add a bit of awesome to any smart outfit.  Whether you want bright and cartoony or sleek and stylish, there's a pair for everyone.  They almost make me wish I wore suits so I could have some too!
Organic Homme Shave Kit – Green People – £35.00
Where possible I like to buy natural skin care products, even for other people, and I absolutely adore this chic-looking shave kit.  Everything in the kit is vegetarian and vegan friendly, organic, fairly-traded and made from natural ingredients, so it is suitable for all skin types, even sensitive skin.  Give a guilt-free gift this Christmas!
Gifts Vouchers' blogger challenge officially closes today, but it has been extended until Sunday if you would like to enter!  There will be two winners – one chosen at random and one chosen by fellow blogger milkteef, and each winner will receive a £35 voucher of their choice from either ASOS, Topshop, Amazon, BooHoo.com, or a 3 month JolieBox subscription.  You can visit here to find out how to enter!
Good luck everyone!
Naomi x