Posts tagged
Baggy
2
After a stressful week of work, job interviews and getting caught in the rain, I fancied a bit of a day off today. Granted I had to go food shopping and do some washing, but other than that I've had a chilled day of taking photos for my blog/eBay, and writing. A relaxed day calls for a relaxed outfit, so I decided to wear my new sloppy joe jumper, which has to be one of my favourite sale buys of the season.
House of Fraser Label Lab Men's Jumper / Primark Grey Skinny Jeans / H&M Black Ankle Boots / Claire's Bird Skull Necklace
Here's a bit of advice from me… never bypass the men's department just because you're a woman! I found this little beauty in the men's section of House of Fraser, and it's by a brand called Label Lab. This was the only one left and it's a size XL, but I think it looks great as an oversized slouchy jumper.  I'd even wear it as a jumper dress over leather-look leggings.  The jumper feels incredibly soft, and is soooo comfy and warm.  I love it, and at £14.40, down from £45.00, it was an absolute bargain.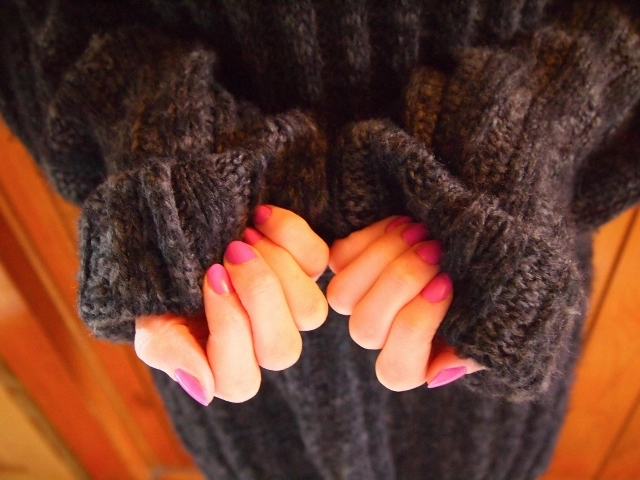 This outfit also features two other bargains from my January Sale haul.  The grey skinny jeans were a snip at just £5.00 from Primark.  I was actually surprised to find these, as Primark jeans are usually too short for me, but these are long length and fit me perfectly.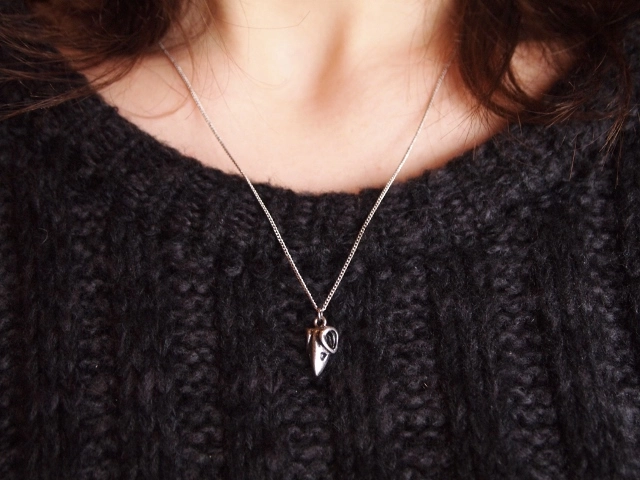 I bought this cute little bird skull necklace yesterday whilst in town.  I spotted a £1 stand in the doorway of Claire's and just had to have a look, and picked up this necklace and two others for a total of £3.  Not bad!
Do you have a sloppy joe jumper that you turn to on lazy days?
Naomi x
2
To celebrate BooHoo being included in Fashion Vouchers' 'Top 10 Fashion Money Saving Websites' list, Fashion Vouchers have launched a new blogger challenge!  The challenge is to put together an outfit costing £50 or less using clothes, shoes, accessories or anything else from BooHoo's website.  There will be four winners, and each will win a £50 BooHoo fashion voucher.  I love a good bargain so this challenge is right up my street!  I've entered a couple of other challenges like this before and I always enjoy window shopping lovely items to put together my ideal outfit on a budget, so I thought I would give this one a go too, and here is my entry…

(Click the image for a closer look)
Shop this look:
– Annie Oversized Vintage Jumper in 'Black' (£20) – Davina Skull Print Leggings in 'Berry' (£10) –
– Quinn Black Suedette Platform Courts (£12) – Diamante Skull Chain (£8) –
I have been browsing the high street a lot lately for Autumn trends, and have spotted a lot of big slouchy jumpers and grunge style pieces on the shelves, with a mix of Gothic style prints.  Lucky for me, I already incorporate these styles into my look anyway, so it seemed only natural to take this route when choosing my outfit for the challenge.
Too often people go for bright, patterned tops and plain bottoms, so I thought I would switch the conventions around a bit.  I knew that I wanted to team a simple black jumper with bold bottoms, and the Annie Oversized Vintage Jumper seemed like a good starting point.  I chose the red Skull Print Leggings to go with it as they offset the bagginess of the jumper nicely by being skin-tight, and the red adds a gorgeous splash of Autumn colour.  The skull print is what initially drew me to this piece as it happens to be one of my favourite clothing prints, and it gives the outfit a hint of Gothic.
I added black Platform Courts to the outfit to show that grunge/Goth can be sexy too, and that the image can be carried through to the evening with some killer, confidence boosting heels.  My final addition was the Diamante Skull Chain.  I adore big statement pieces of jewellery, and own a few sparkly skull necklaces myself, so when I saw this necklace I just had to include it…  It matches the leggings perfectly, and would really stand out on the simple jumper, giving the outfit a girly edge.
My outfit totals exactly £50, which I am very pleased with.  This is the kind of thing I will be wearing myself throughout Autumn and Winter, and if I win I may even use the voucher to buy this outfit!
I was contacted about this challenge by email yesterday, but anybody can enter.  If you fancy trying your hand at styling on a budget, here are the rules for entering:
How to Enter
1. Head over to BooHoo.com and start piecing together an outfit, making sure you do not exceed your £50 budget (no student discounts or other voucher codes can be used to help you stretch this budget I'm afraid).
2. Write a post about your outfit and this competition on your blog, which includes a link back to our home page www.fashionvouchers.com.
3. Email a link to your entry to competition@fashionvouchers.com.
Rules
1. The prize will consist of 1 x £50 BooHoo.com voucher, and there will be four winners.
2. No cash alternative is available for the prize.
3. The competition starts on September 1st.
4. Closing date for entries is September 30th.
5. Winner will be announced by October 10th on our twitter page @fashvouchers.
6. Only one entry per person.
I hope you like my outfit, and if you decide to enter yourself please comment below with the link to your entry so I can check out your fashion finds… and good luck!
Naomi x