Posts tagged
Top Coat
4
Nail varnish is one of my favourite things to review, so when London brand Jacava gave me the opportunity to choose a colour from their collection to write about, I just couldn't say no.  After much deliberation I settled for Blueberry Muffin, that I received along with a Top Coat with UV Inhibitor which I wasn't expecting, so that was a nice surprise.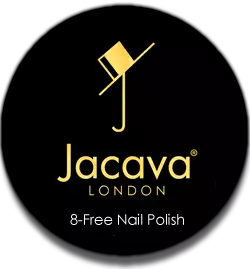 Jacava are a 100% British brand who are vegan-friendly, cruelty-free, and never test on animals.  They also boast the first 8-free polishes in the world (yes, that's right, EIGHT-free), as they don't contain Formaldehyde, Camphor, Toluene, DBP, Cellophane, Phthalates, Parabens or animal ingredients.  So, right from word go, they're a brand I'm happy to support, and luckily their products match up to their good name!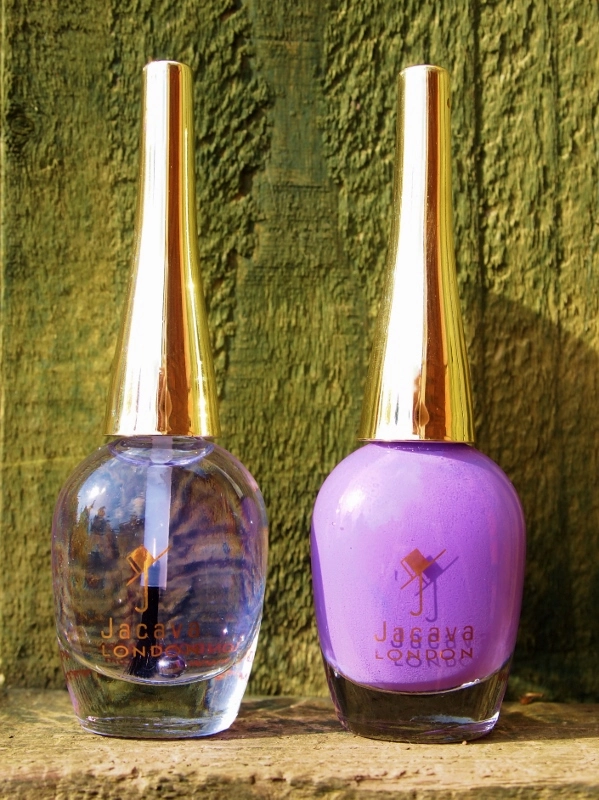 Top Coat with UV Inhibitors and Blueberry Muffin
Jacava's packaging is simple but sleek, and the long, slim lids that their polishes come with are easy to grip which makes application effortless.
The polish itself has a silky smooth formula which gives surprisingly opaque coverage in one coat, but I like to apply two coats for a bolder, more intense colour.  Perhaps the most stand-out aspect of Jacava's polishes for me is how quickly it dries.  It's literally dry to the touch within a minute, and after five minutes it's good to go.  I even got my two pet rats out to play just after painting my nails, and they didn't smudge at all.  Just one word of advice.  In my experience the top coat isn't suitable as a base coat, and will make the polish peel off extremely easily.  It stays put for a long time without a base coat, though, and looks gorgeously glossy with the top coat for an all round perfect manicure.  Jacava's website also states that the top coat's UV Inhibitors keep white nail polish white for longer, which is a nice feature that I've never seen before, so worth investing in if you regularly wear pale shades.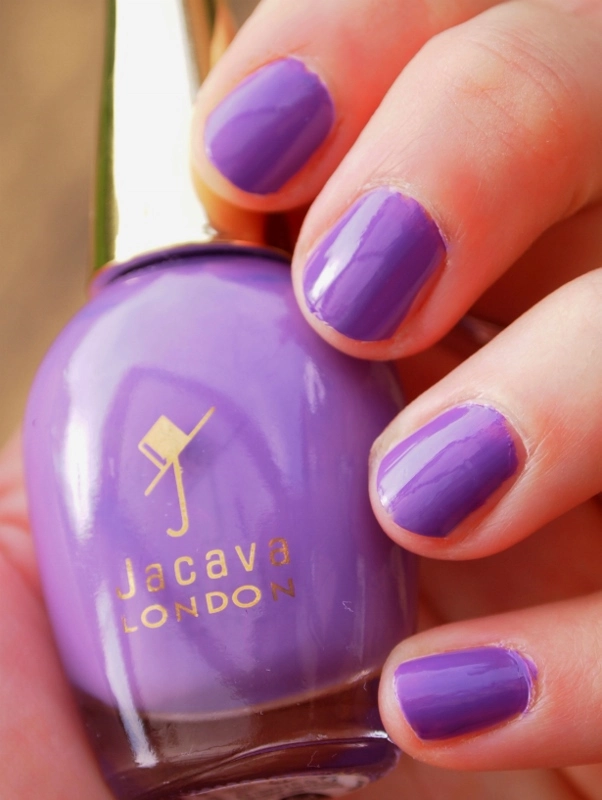 Blueberry Muffin has a lovely creme finish, but is more of a pinky purple than a blue purple.  Sort of a soft and dusky dark lilac.  It's an absolutely beautiful shade which reminds me of spring flowers and lightning skies all at once.  I love it.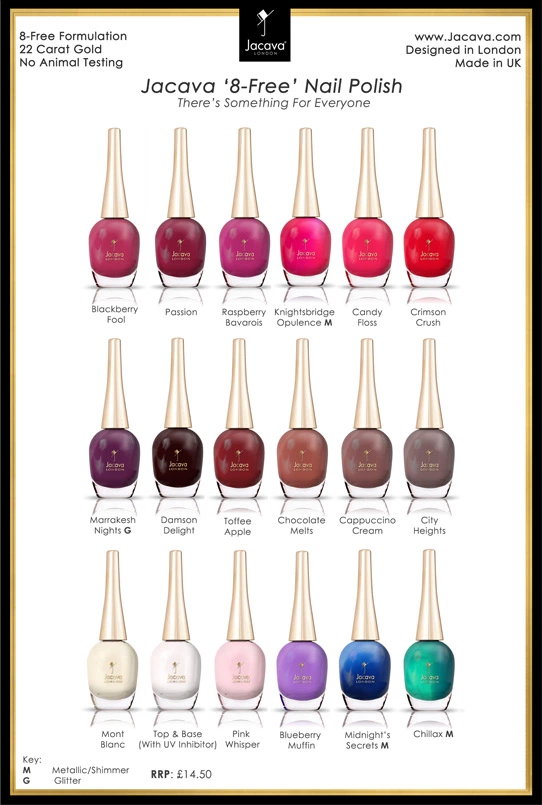 Click image for a closer look!
Jacava's range features eighteen beautiful shades and several different finishes, including creme, metallic, shimmer and glitter.  Every polish contains 22-carat gold for a nourishing, luxurious formula, and they cost just £14.50 each.  I personally have my eye on Blackberry Fool, Marrakesh Nights, Midnight's Secrets and Chillax!  To view the full Jacava range click here, or find them on Feel Unique.
Which shade do you like best?
Naomi x
*These two nail polishes were sent to me by Jacava London for review purposes.  All opinions expressed are honest and my own.*
0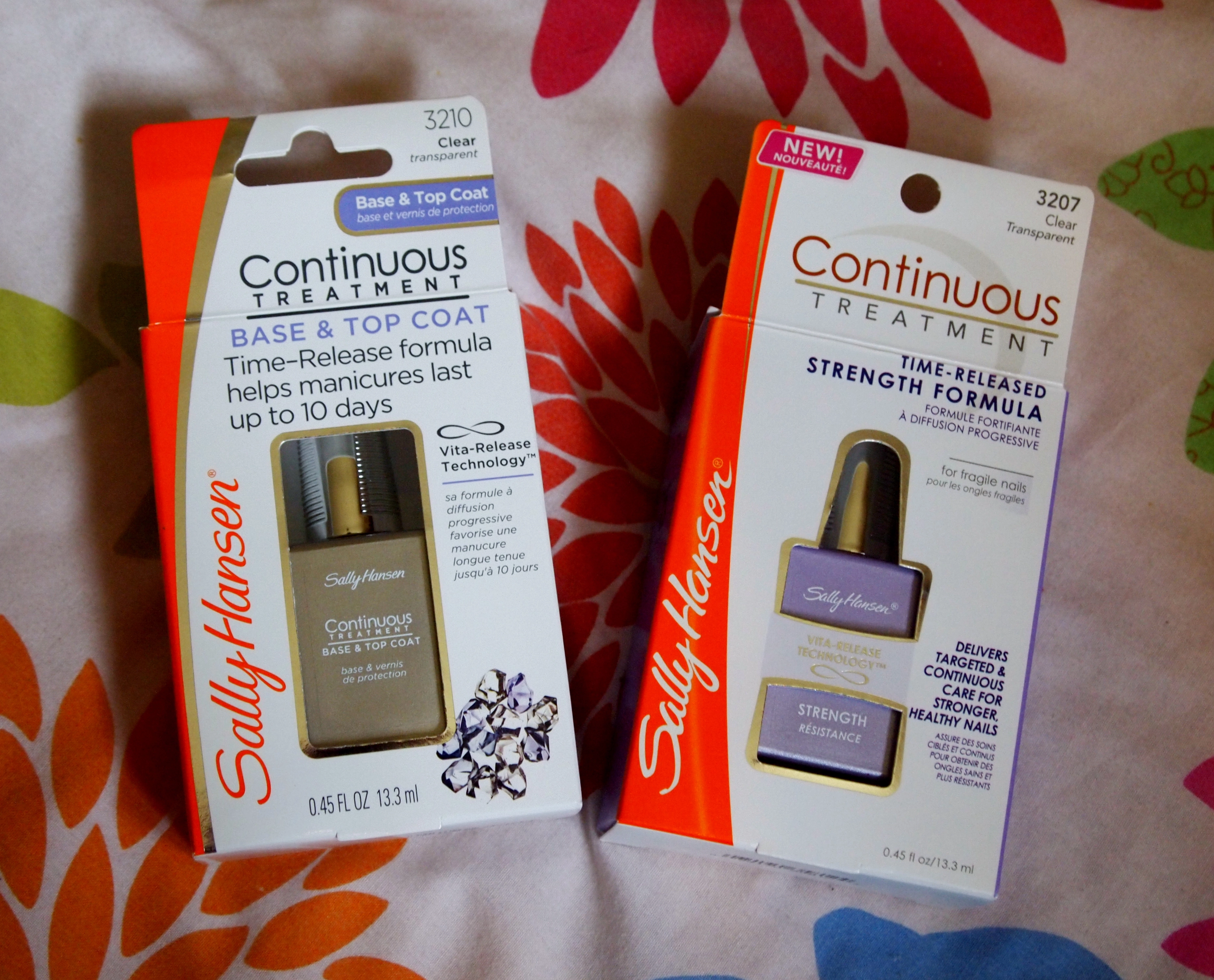 Just a heads up to my UK readers who might like a bargain or two…  I recently discovered that B&M Stores are an unlikely place to find branded beauty products on a budget.  It's the kind of shop you expect to just sell furniture and garden stuff, but the one near me has a whole aisle of cut price cosmetics and toiletries.  I went for a browse on Sunday and I picked up these two Sally Hansen Continuous Treatments for only £1.49 each!  I've seen them retail in other shops for a lot more, sometimes around £6-£7, so you're really saving quite a bit.  I got the Base & Top Coat and the Time-Released Strength Formula.  I've only tried the Strength Formula so far (and so far, so good!) but I'll be reviewing both once I've given them a good go.  I spotted several other brands in the shop too, including Maybelline, Nivea, Garnier and Lypsyl… You just have to keep an eye out!
Happy Bargain Shopping

Naomi x
13

After seeing a few blog posts recently about Julep's glow in the dark nail varnish, I decided to see what glow in the dark nail products were available in the UK.  I've always loved glow in the dark stuff and I even have glow in the dark stars stuck all over my bedroom ceiling, so I was excited about the prospect of having glow in the dark nails too!  After a short search I came across this Glow in the Dark Top Coat by BYS on Amazon for just £2.25, so I ordered some so I could see for myself whether it actually works!

The product says to apply between 1 and 3 coats of top coat over your nail colour, and to allow the varnish to 'charge' in unnatural light to make it glow.  So, I excitedly applied a base coat, two coats of MUA Shade 13 and then two coats of the glow in the dark top coat!  This is what the top coat looks like over coloured nails.  If you want to see what this shade looks without a top coat, you can see it here.  I think the top coat makes it look a bit smoother and more yellowy, and it feels really nice to the touch, almost soft.

Once the top coat was dry (and it dried very quickly so I didn't have long to wait) I let the fun begin!  Firstly, I held my nails in the dark without 'charging' them to see whether they glow at all after being in normal light conditions, and unsurprisingly they didn't glow much at all, but the bottle did say that!  I then held my nails next to a bright light bulb for a minute or two, and then went back into the dark…  And did they glow?  Yes they bloody did!  The effect is quite amazing – my nails were glowing a really bright yellowy green, much to mine and my mum's delight, and the glow lasted for a very long time.  I surprised my fiancé with them at night and they didn't stop glowing for hours.  I have to admit, that was slightly annoying as it was difficult to get to sleep with my fingers lighting up, so I had to hide my hands under the pillow and quilt haha.
I tried to get some photos of my nails glowing but it was a very difficult task indeed!  Not one of my cameras could pick the glow up very well, so the nail photo isn't a true representation of how good the glow is, but the one of the bottle gives you a better idea…


I really love this product – it's such fun and it doesn't cost much at all.  I'm really glad I bought some because I like surprising people with my glowing nails!  What do you think?  Would you wear glow in the dark nails?
Naomi x