Posts tagged
Alchemy
2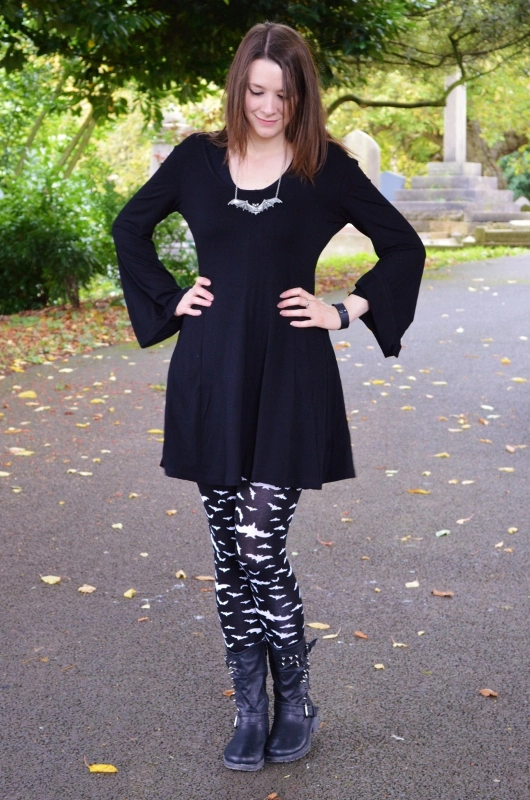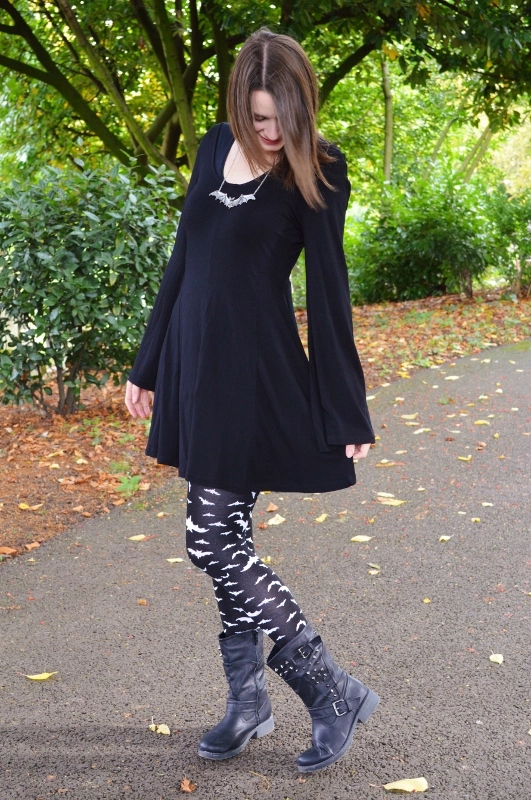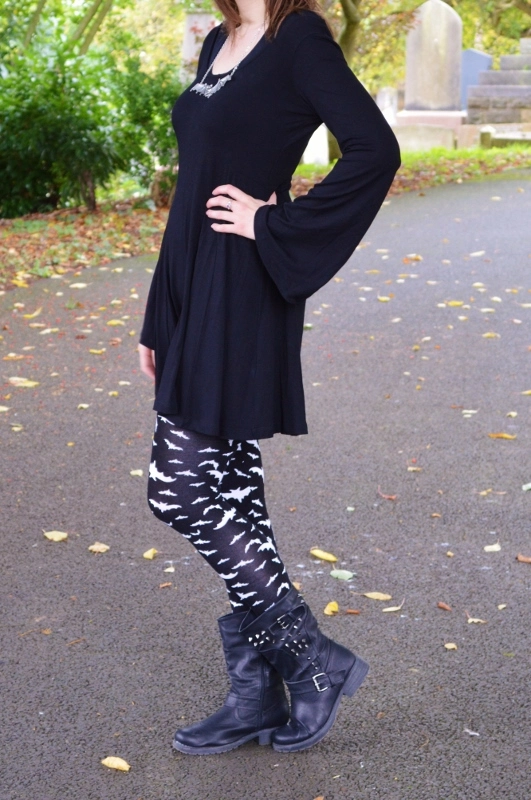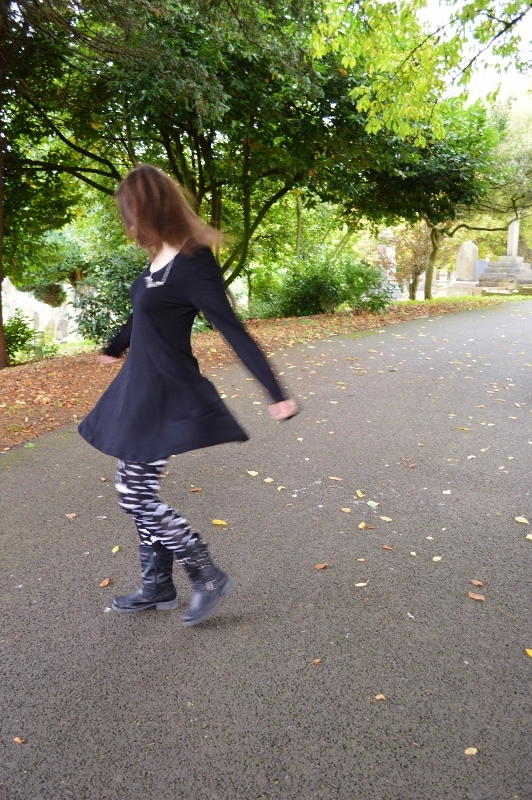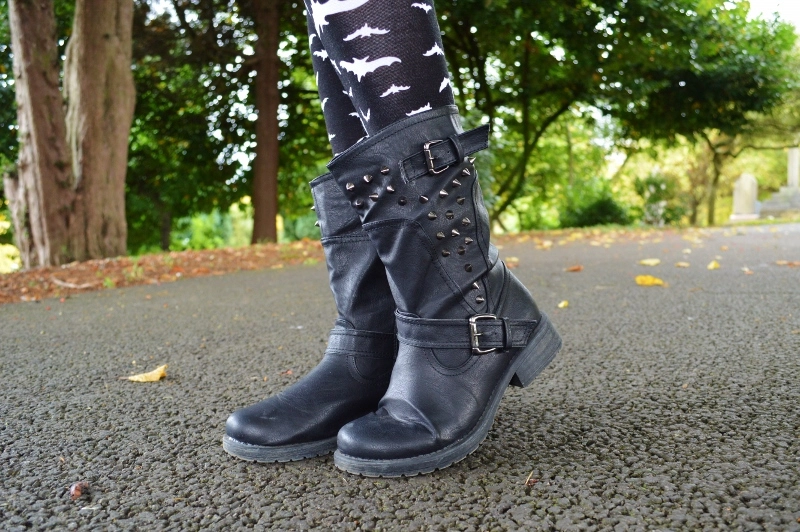 ASOS Flared Sleeve Dress / Primark Bat Leggings / Primark Stretch Tee / Everything5Pounds Stud Boots / Alchemy Bat Necklace / Fitbit Charge
Spooky season is well and truly upon us!  Which, much to my delight, means that the shops are currently full of Halloween themed goodies.  For me, Halloween is better than Christmas, so like a lot of people love to spend December wearing ugly Christmas sweaters, I like to wear Halloween clothing throughout October!
My first Halloween purchase this year is this pair of monochrome bat print leggings from Primark.  Bats are actually one of my favourite creatures, so when I spotted these they went straight into my shopping basket.  I was slightly worried that they wouldn't work for me as Primark leggings don't always fit me right, but these are pretty damn perfect.  They're true to size, and the fabric is also lovely and soft.
To continue the bat theme I threw on my Alchemy bat necklace, over this cute ASOS dress.  I actually bought this during the summer sale, but have only just started wearing it for some reason.  The long flared sleeves remind me of bat wings, and the length is perfect for showing off patterned leggings such as these.
The studded biker boots are from Everything5Pounds and were, you guessed it, only £5!  Despite the low price tag they're excellent quality, and are great for leaf kicking.
Naomi x
6
I'm not usually one for wearing skirts, but for some reason today felt like a skirt day, so I decided to wear one out for lunch with family at my favourite country pub.  I recently picked up this lace midi skirt on sale at Primark for just £3 (yes, £3!)  It's lined with a silky teal fabric which contrasts beautifully with the black lace, and it's so pretty and intricate it only really needs a basic top to go with it!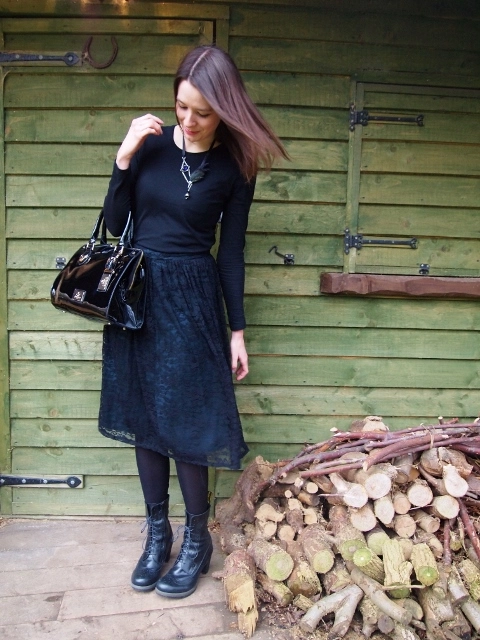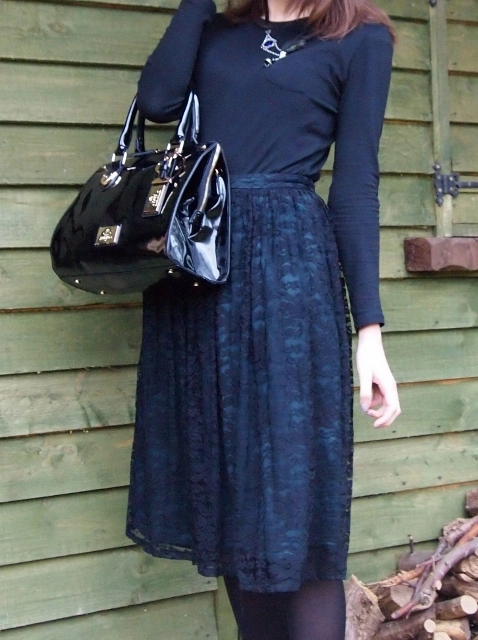 Primark Black & Teal Lace Midi Skirt / Primark Pocket Top / Dr Martens Regina Heeled Boots / Alchemy The Raven Necklace / Juno Black Patent Grab Bag
For a slightly Victorianesque Gothic look, I finished the outfit with my lace up Dr Martens Regina brogue heeled boots, and my stunning Raven Alchemy necklace.  Alchemy are a company close to my heart as they're based in my hometown, and I own quite a few of their pieces, but this is one of my favourites as it's based on my favourite Edgar Allan Poe poem, 'The Raven'.  Of course I also had to add my trusty Juno patent grab bag, which I reviewed here last week.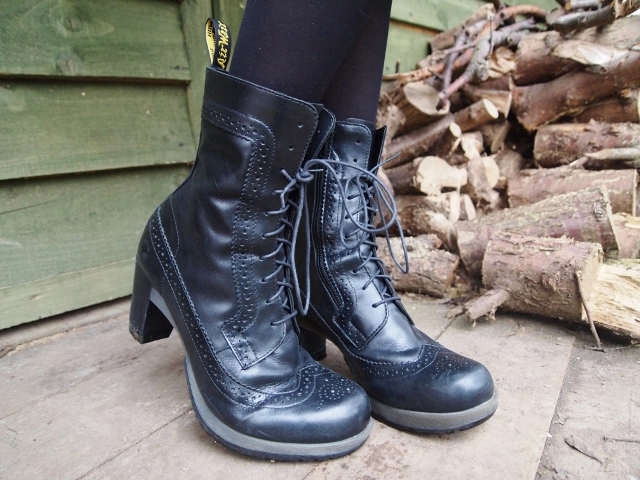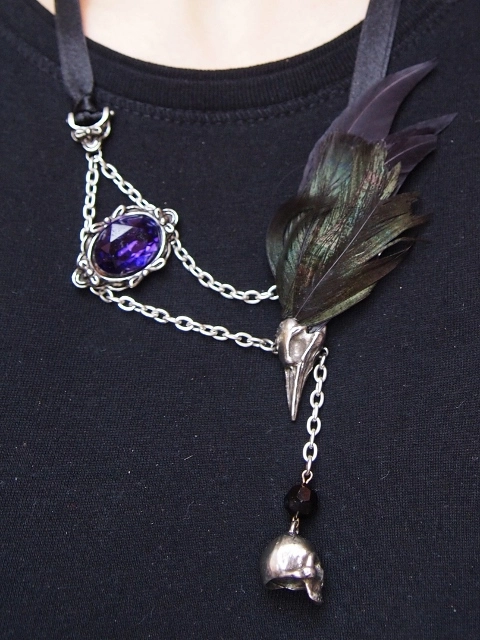 What do you think of this look?
Naomi x
10
Hi everyone

Yesterday I went to my step-brother's wedding and it was a lovely day full of happiness, great food, perfect weather and nice company – everything you could hope for at a wedding really!  Anyway, as promised, I took a few photos of my outfit, jewellery, accessories and make up so that I could show you all what I wore on the day.  The colour scheme turned out to be purple so without knowing I really fit in haha.
Firstly, this photo shows my make up.  I didn't get many close ups of my face unfortunately so it's not the best shot, but you get the idea.  I went for a simple, fresh face with bold lips and 50s eyes.  You can also see my necklace, corsage and dress detail quite nicely in this one.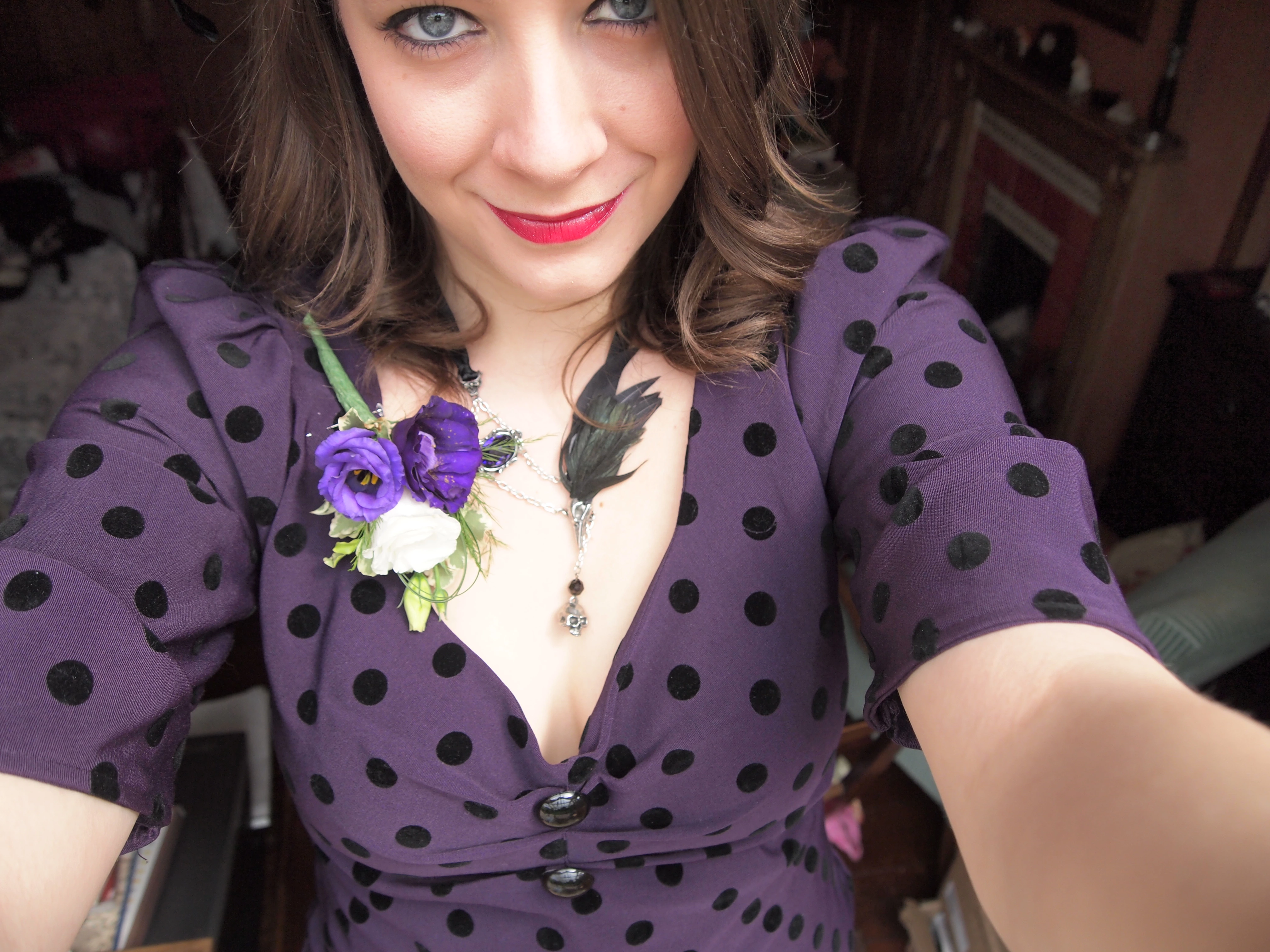 The make up I used was…
Avon Colortrend Fresh Face Oil-Free Foundation in 'Ivory Beige'
Avon Colortrend Perfect and Hide Concealer in 'Light'
MUA Pressed Powder in 'Shade 1′
MUA Blusher in 'Shade 2′
Avon Glimmerstick Eye Liner in 'Blackest Black'
e.l.f. Cream Eyeliner in 'Black'
Avon Colortrend Great Lengths Mascara in 'Black'
MUA Lip Boom in 'It's A Situation'
I chose to wear a couple of bold accessories rather than a few delicate ones, so I went for a statement necklace and a fascinator.  This is the necklace I wore, which is from the Alchemy Gothic range and is called 'The Raven'.  It is based on the poem of the same name by Edgar Allan Poe

  It even has a quote from the poem on the back of the gem which I love.  The bead on the bottom is a skull but it's facing the wrong way – oops!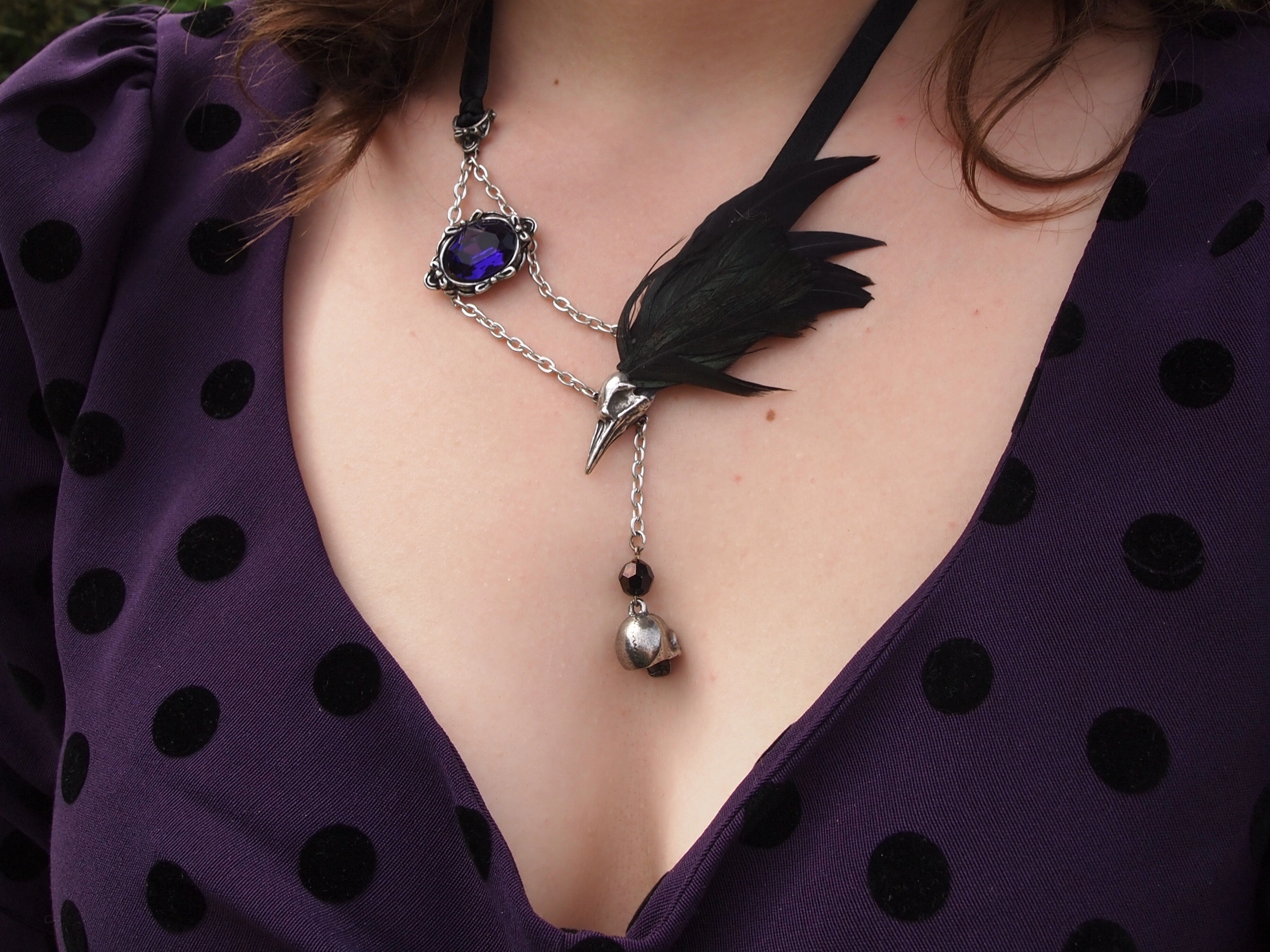 And this is my fascinator, which my mum bought for me on eBay…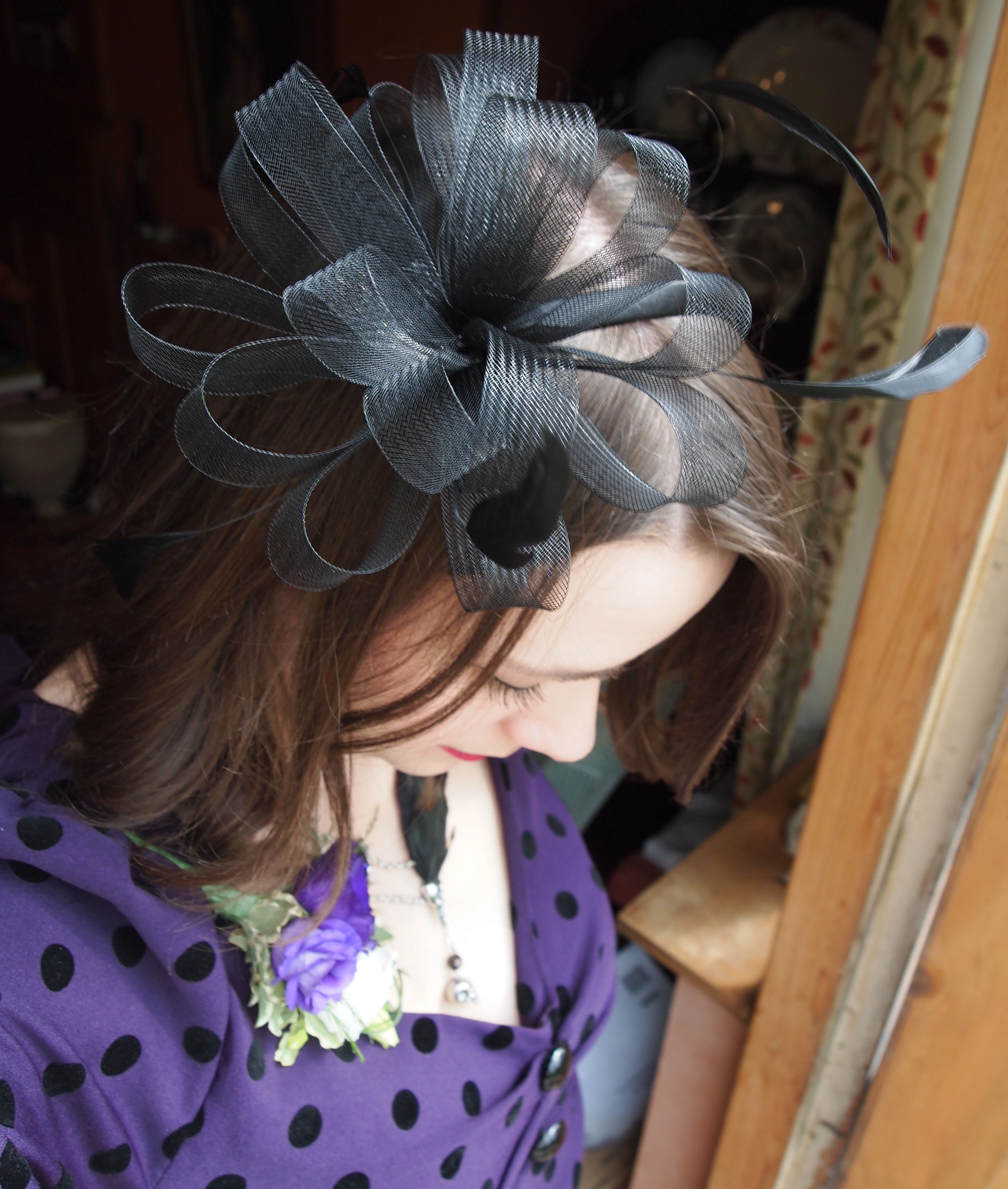 And of course, here is my outfit.  Again, apologies for the photograph!  I didn't get many pictures where you could see my dress fully, so this will have to suffice…  There was a long gap between the ceremony and the meal, and as you can tell, my sister and I got a bit bored so struck a few poses!  Haha.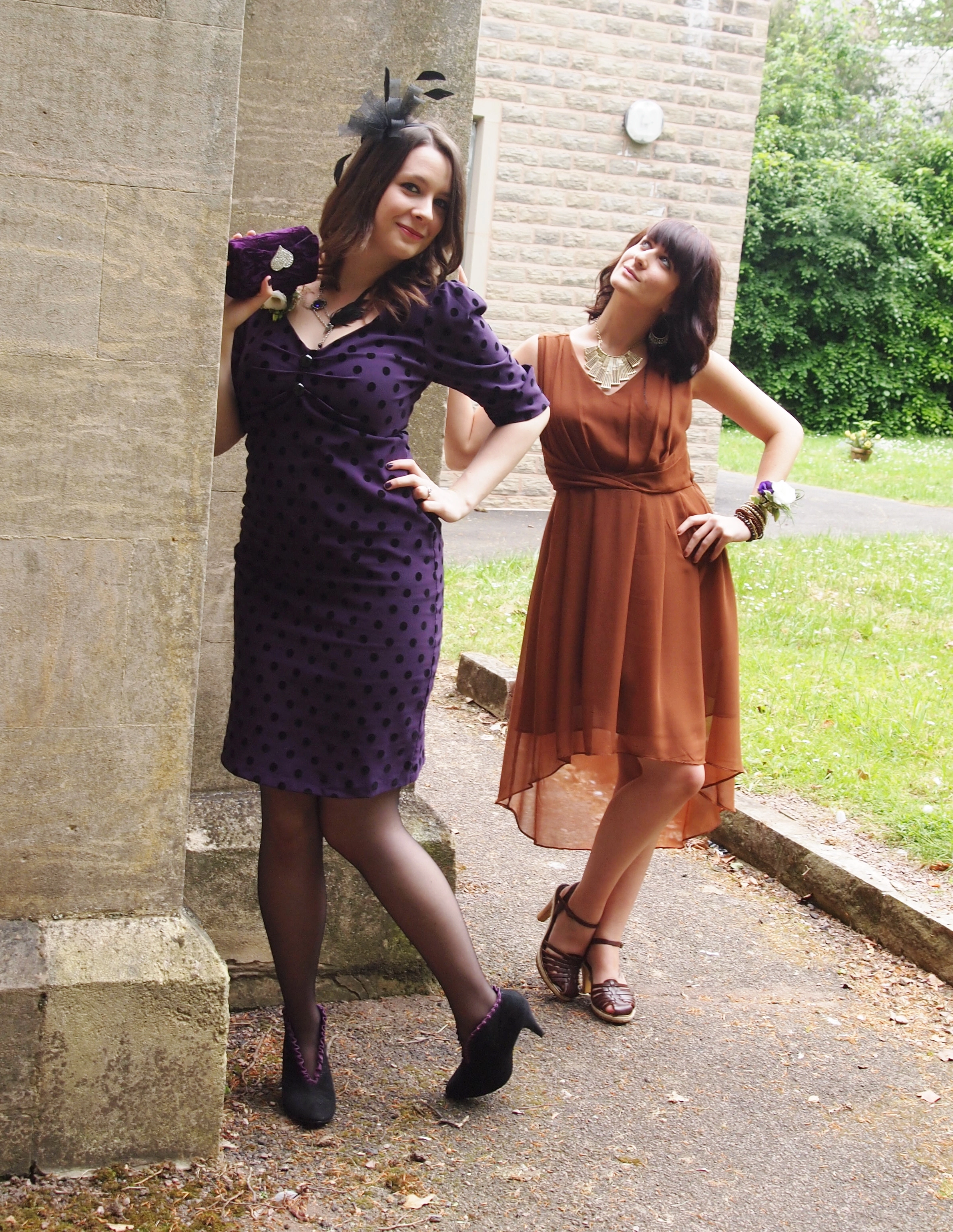 Dress from Collectif
Clutch and Shoes from Peacocks
Naomi xx