Posts tagged
Biker Boots
2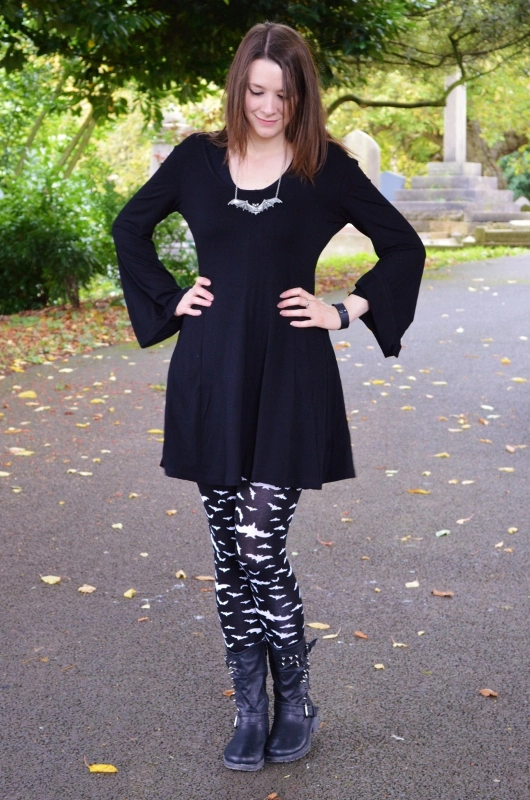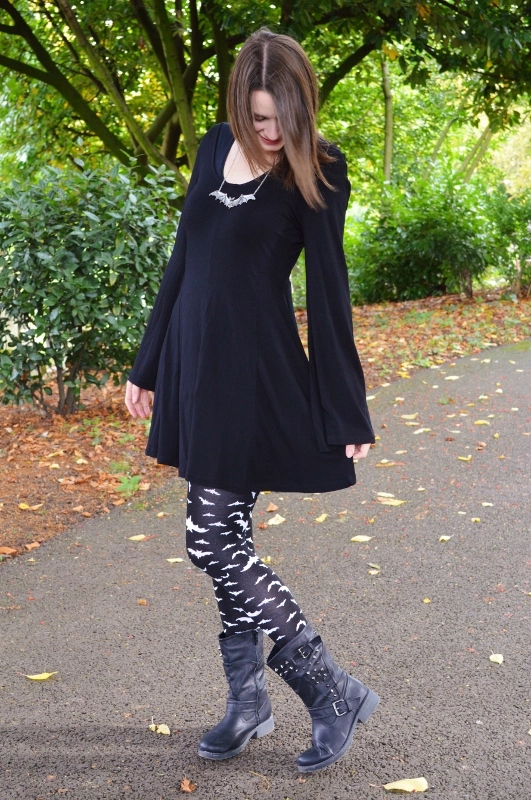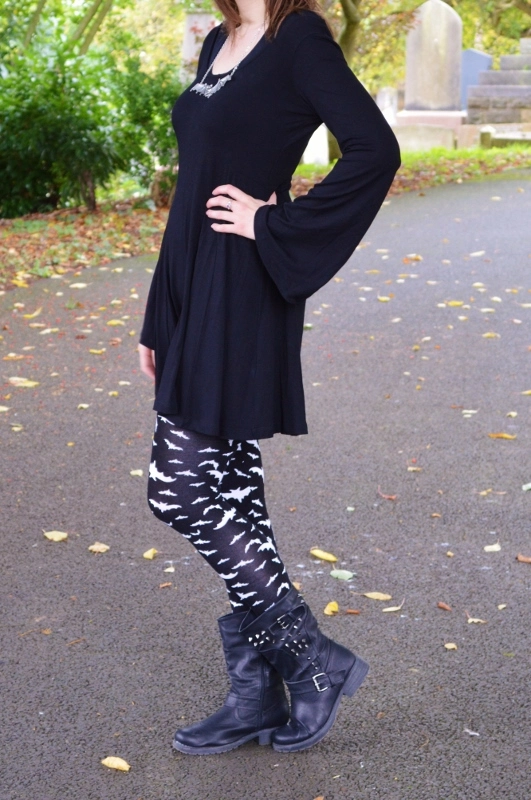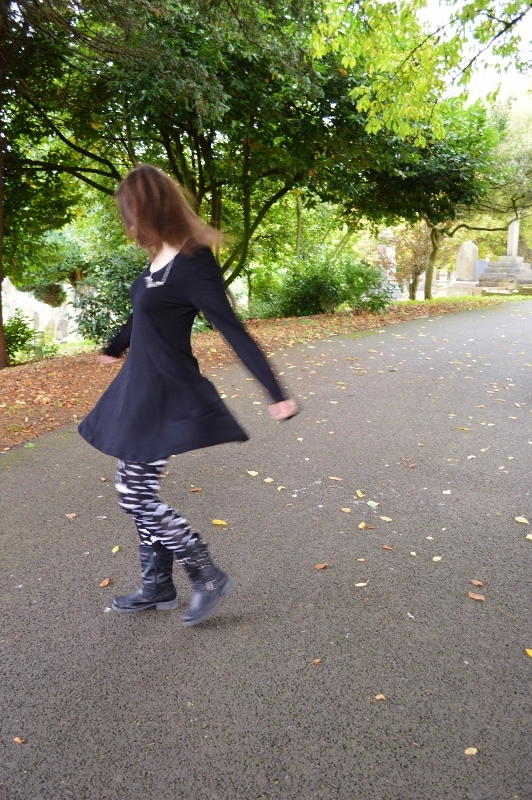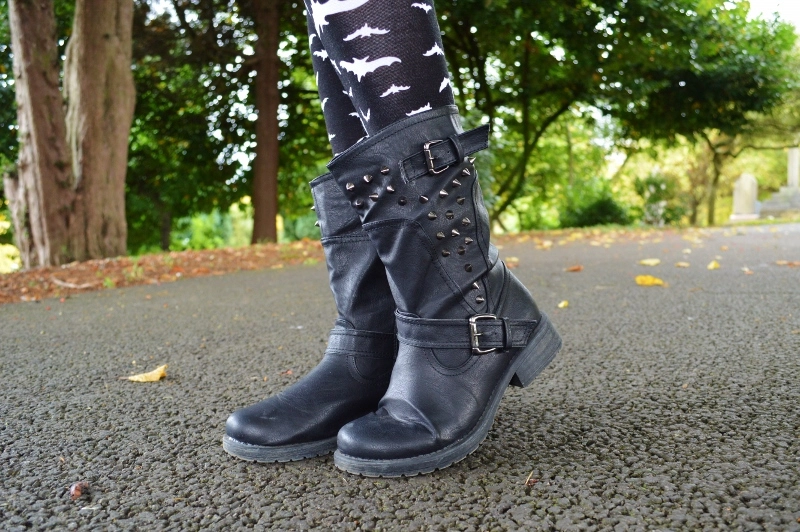 ASOS Flared Sleeve Dress / Primark Bat Leggings / Primark Stretch Tee / Everything5Pounds Stud Boots / Alchemy Bat Necklace / Fitbit Charge
Spooky season is well and truly upon us!  Which, much to my delight, means that the shops are currently full of Halloween themed goodies.  For me, Halloween is better than Christmas, so like a lot of people love to spend December wearing ugly Christmas sweaters, I like to wear Halloween clothing throughout October!
My first Halloween purchase this year is this pair of monochrome bat print leggings from Primark.  Bats are actually one of my favourite creatures, so when I spotted these they went straight into my shopping basket.  I was slightly worried that they wouldn't work for me as Primark leggings don't always fit me right, but these are pretty damn perfect.  They're true to size, and the fabric is also lovely and soft.
To continue the bat theme I threw on my Alchemy bat necklace, over this cute ASOS dress.  I actually bought this during the summer sale, but have only just started wearing it for some reason.  The long flared sleeves remind me of bat wings, and the length is perfect for showing off patterned leggings such as these.
The studded biker boots are from Everything5Pounds and were, you guessed it, only £5!  Despite the low price tag they're excellent quality, and are great for leaf kicking.
Naomi x
0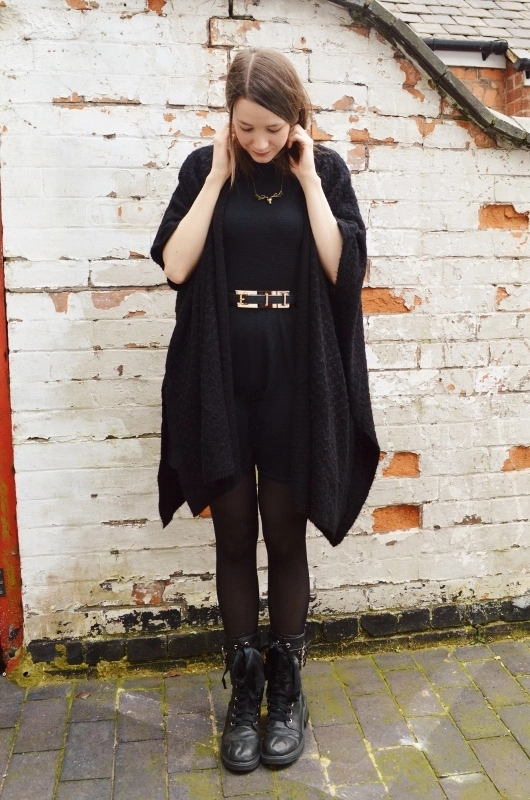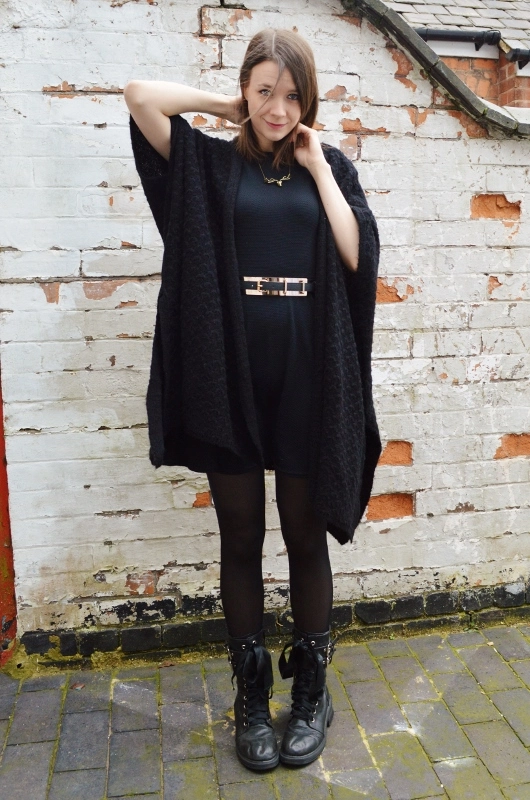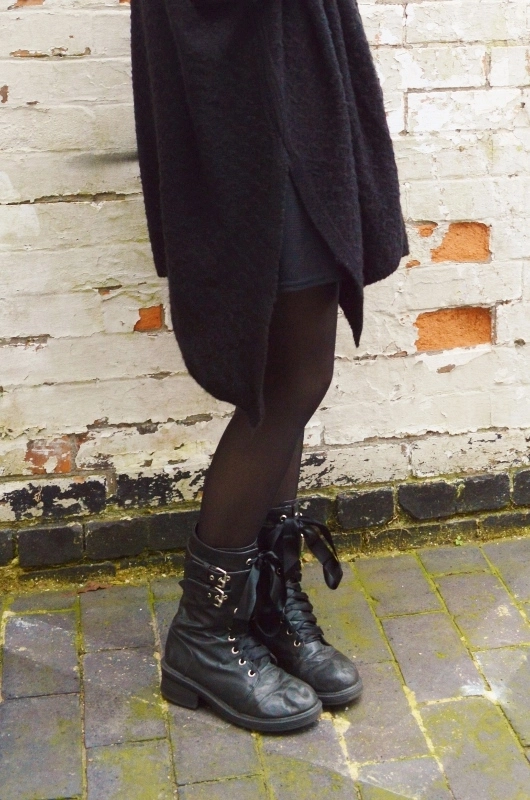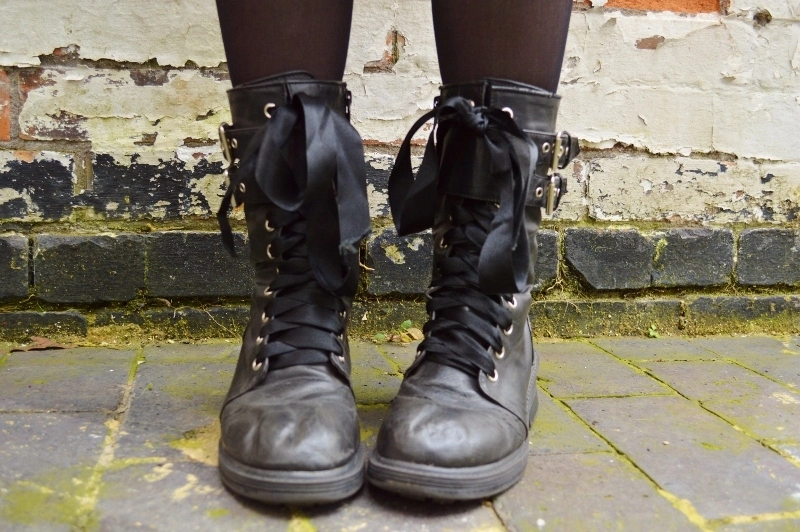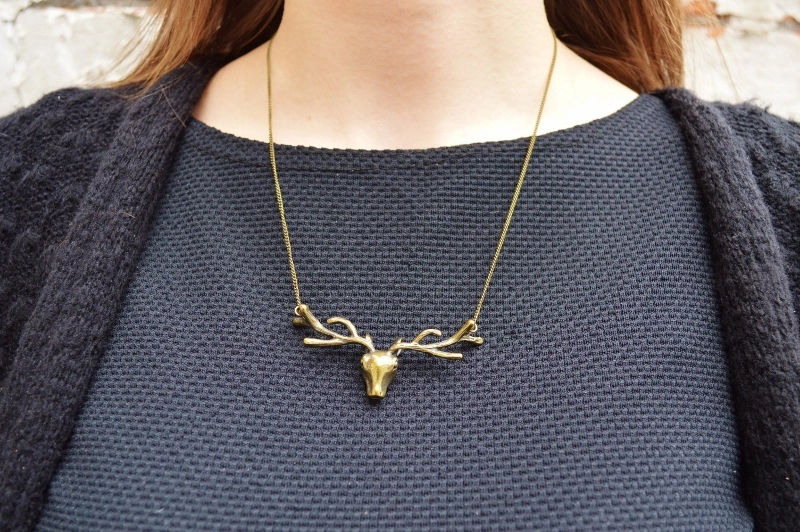 Primark Skater Dress / Primark Light Knit Cape / Primark Metal Waist Belt / Unbranded Stag Necklace / Schuh Biker Boots
After my foray into brightly coloured floral last week, today's outfit post is back to my usual 'black on black'.
I can't get enough of my new Primark cape at the minute.  It's lovely and light so is perfect for every day wear during spring, and looks great with pretty much anything.
The dress is one of my wardrobe staples, and has already seen me through a couple of years of wear.  I'm not usually a fan of high necks as I find them irritating, but this one is surprisingly comfortable and flattering.  Team it with a statement necklace, like this antique gold stag head, and a waist belt, and you're good to go.
I found the boots lurking at the back of my wardrobe last week.  I haven't worn them for years, and they were a bit battered when I pulled them from the depths of my closet, but I think they look all the better for it.  They were originally from Schuh, but I replaced the laces with black ribbon when I first bought them.
Naomi x
3
The last couple of months have been ridiculously busy and stressful for Charles and I, what with us both starting new jobs and moving house.  This weekend was the first in many that we had time to spend on ourselves, doing whatever we wanted, so that's exactly what we did!  Seeing as Friday was pay day, we spent Saturday shopping, eating in our favourite bar, and in the evening we went to the annual bonfire and fireworks display at the local park.
A relaxed weekend called for a relaxed outfit, and as there is finally an autumn chill in the air, and I was spending most of the day (and evening) outside, it had to be warm too!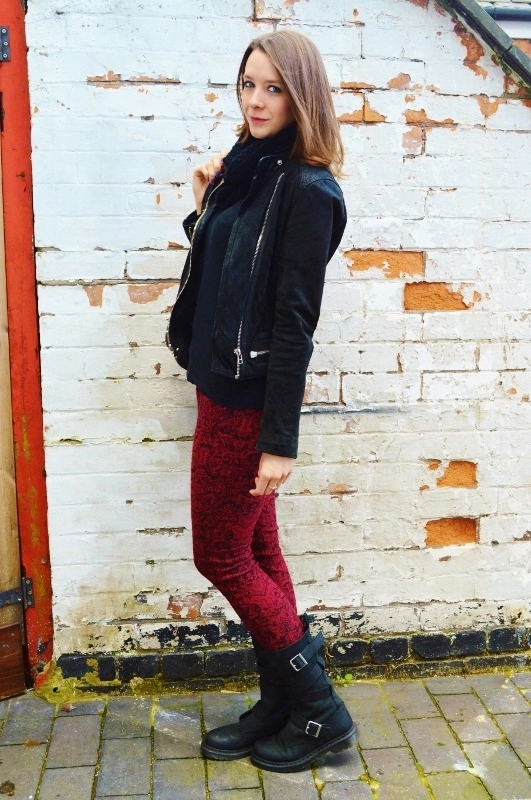 New Look Leather Biker Jacket (Thrifted) / Primark Crew Neck Top / Blue Rags Red Ornate Embroidered Trousers / Dr Martens Lauren Boots / DressLink Cowl Scarf / Topshop Leather Bag (Thrifted)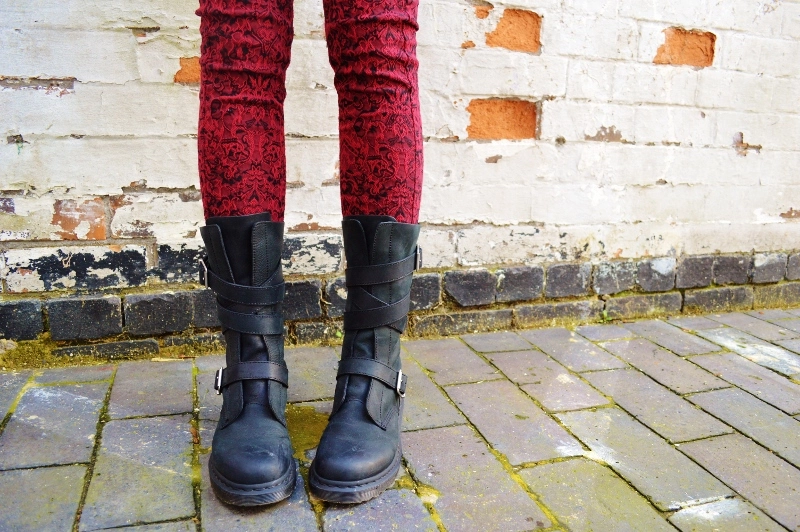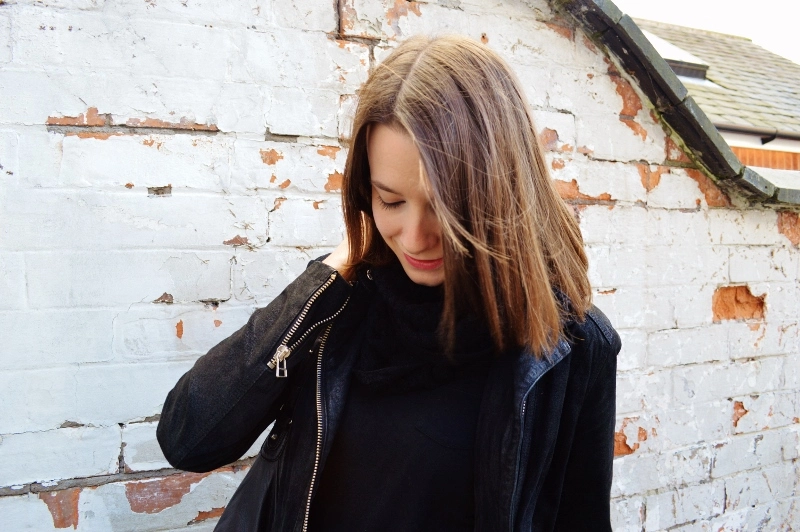 These red embroidered trousers are a new purchase of mine.  They're by a French label called Blue Rags, but I actually got them from Everything5Pounds.  Most of my wardrobe is black, but I like to add a splash of colour here and there, and these trousers are the ideal shade for Autumn.  They're incredibly soft and comfortable and the detail of the embroidery is stunning.  I also ordered a pair in black and I'm so glad I did as they're a real statement piece.
My Dr Martens Lauren boots are another new purchase.  They have that buckled biker look that I adore, so they match my biker jacket, but they're not as clumpy as a lot of my other Dr Martens.  I've been wearing these a lot over the last few weeks, casually with jeans, but also with my work dresses, and I think they look great.  I walk to work so it's essential that I have a warm, comfy, waterproof, sturdy pair of boots for the winter, and these tick all the boxes.
Naomi x