Posts tagged
Curiology
0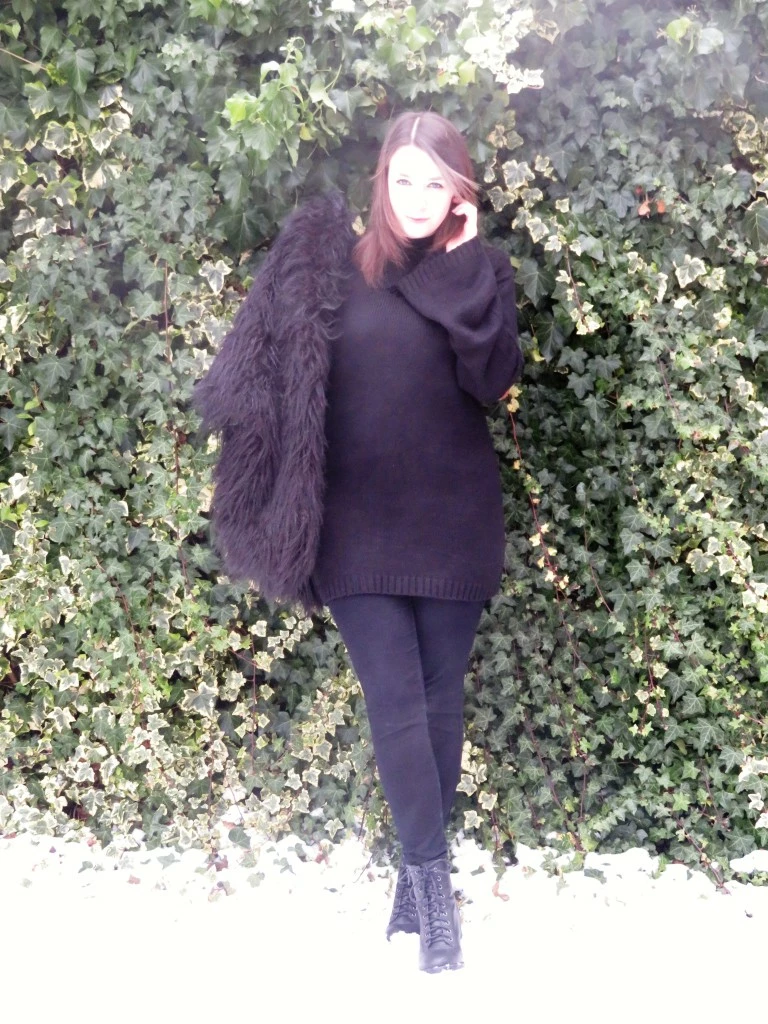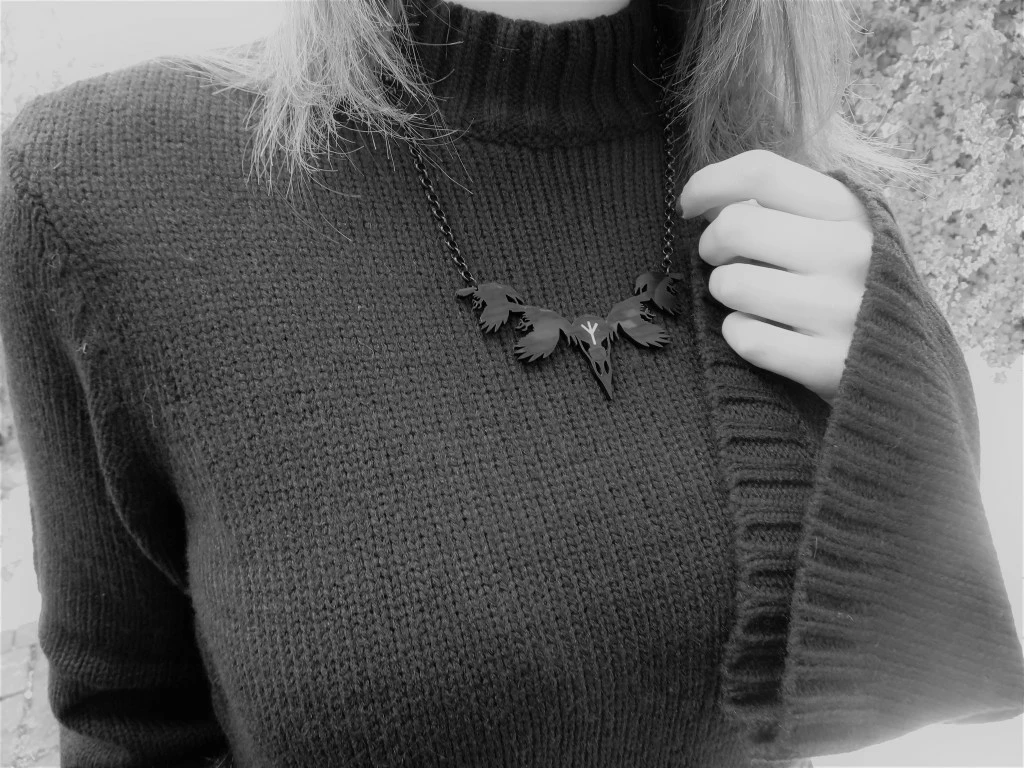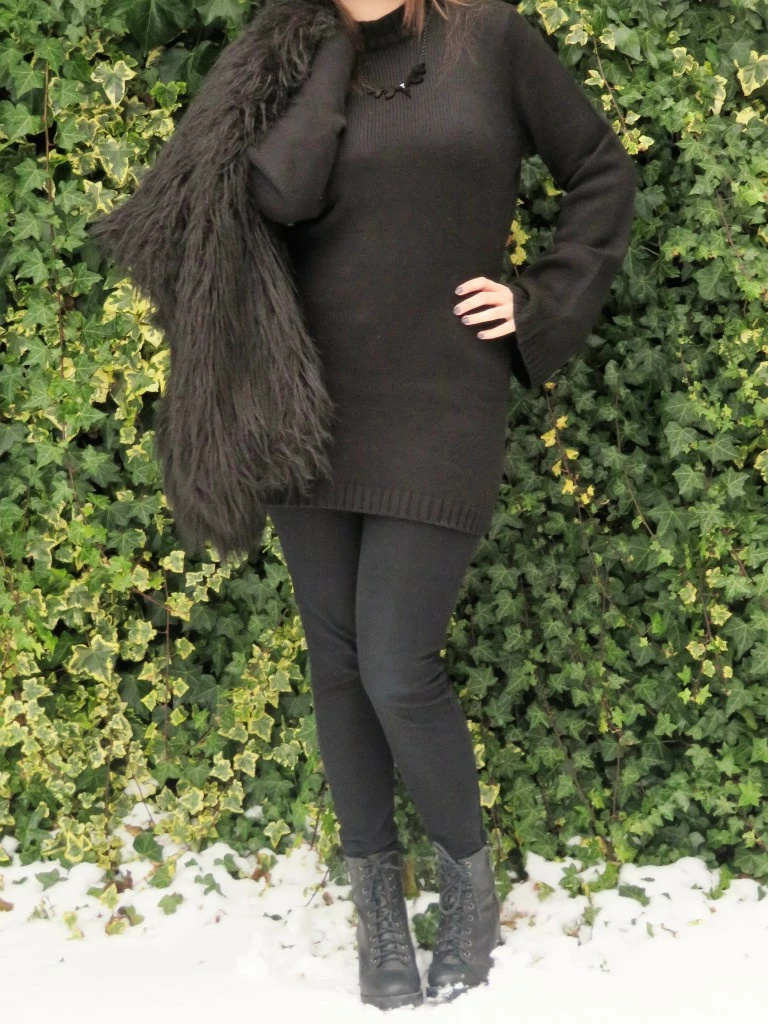 Tobi Warm Nights Bell Sleeve Sweater Dress / Primark Black Skinny Jeans / Handmade Faux Fur Jacket / Blonde + Blonde Lace Up Block Heel Boots / Curiology Necklace
Charles and I decided to brave the snowy, cold 'Beast from the East' yesterday and have a date day, starting with breakfast at our favourite local bakery, followed by a trip to the cinema to see Black Panther (which I highly recommend, by the way).  I wanted to wear something nice for our day out, but also stay warm, and I think this gorgeous sweater dress from Tobi is the right blend of both!  I absolutely adore the aesthetic of the bell sleeves and high neck, and it's just so cosy.
I teamed the sweater dress with a trusty pair of black Primark skinny jeans (which come in a 34″ leg for all you fellow tall girls out there), and my Blonde + Blonde boots.  The block heel means they were really easy to walk in in the snow, but looked a little more 'dressed up' than my usual Dr Martens.
To finish the outfit I added one of my many Curiology necklaces, and a faux fur jacket (handmade by my mum!)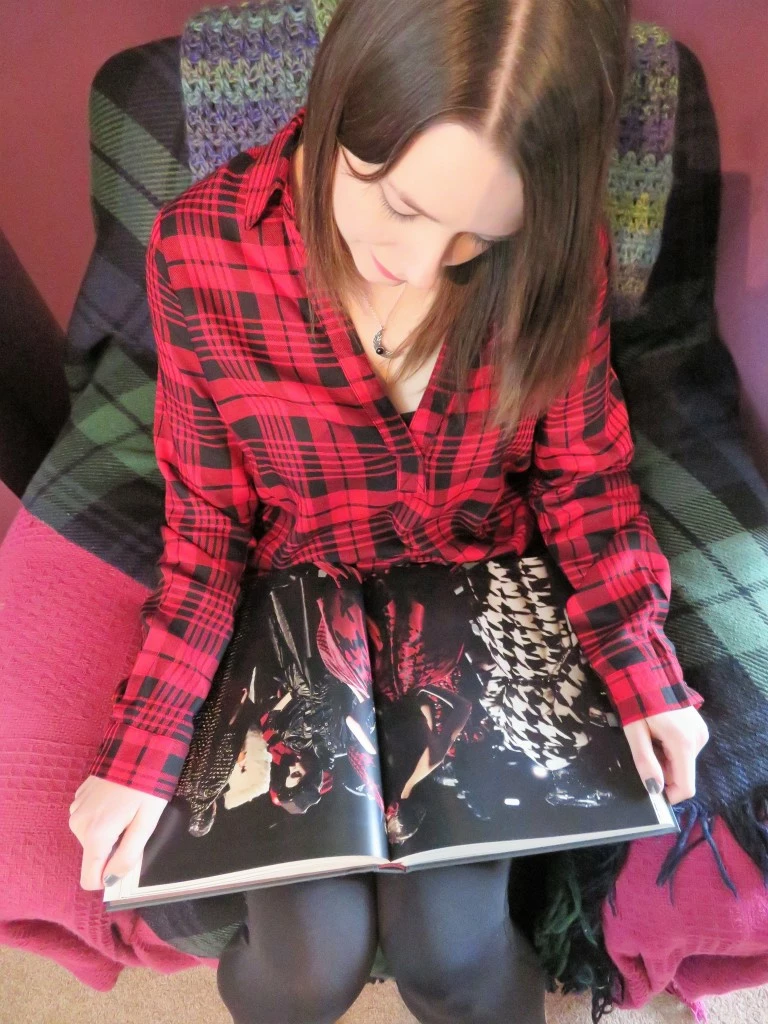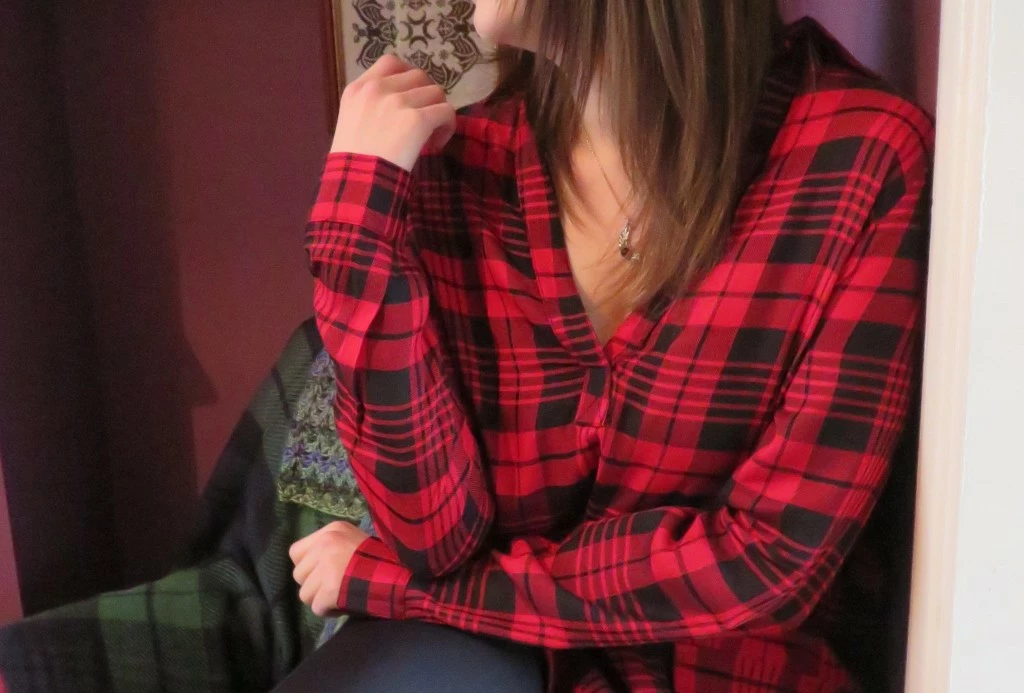 Tobi Checkmate Plaid Shift Dress / Primark Black Leggings / Sam Ryde Onyx Moon Pendant / Primark Nail Polish in 'Rock Your World' / Alexander McQueen Book by Claire Wilcox
When we got back from our day out we wanted to cosy down in the house with Netflix and some good books, so I changed into something slightly more casual.  This plaid shift dress is also from Tobi and is so loose and comfortable – perfect for lazing around the house in, but would also look amazing dressed up with a pair of skinnies and some heels.  I've been obsessed with red and black plaid ever since I saw Alexander McQueen's Savage Beauty exhibition at the V&A in London, so I'm definitely going to get a lot of wear out of this piece.
Naomi x
0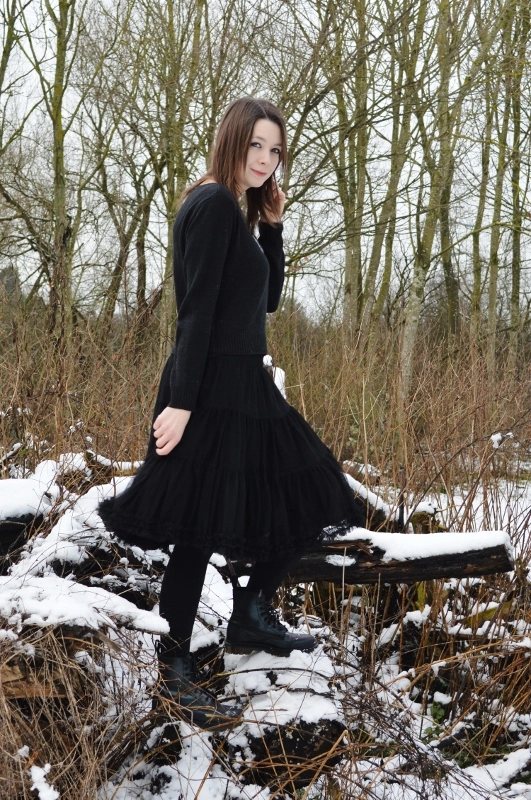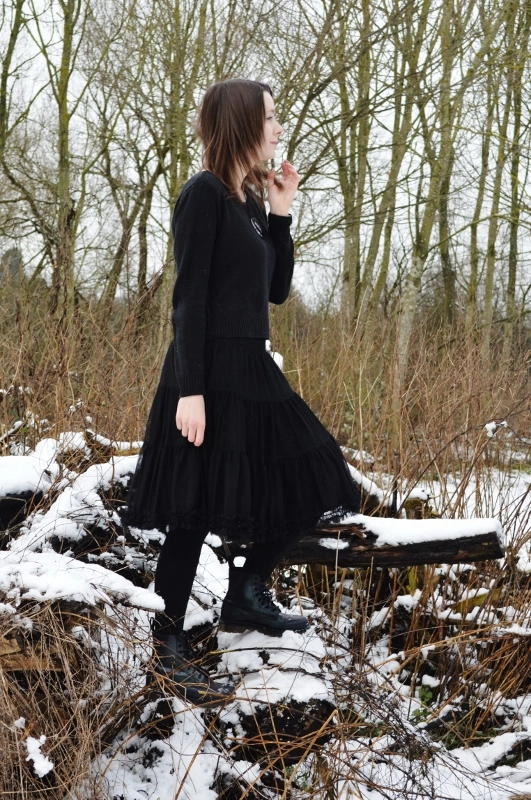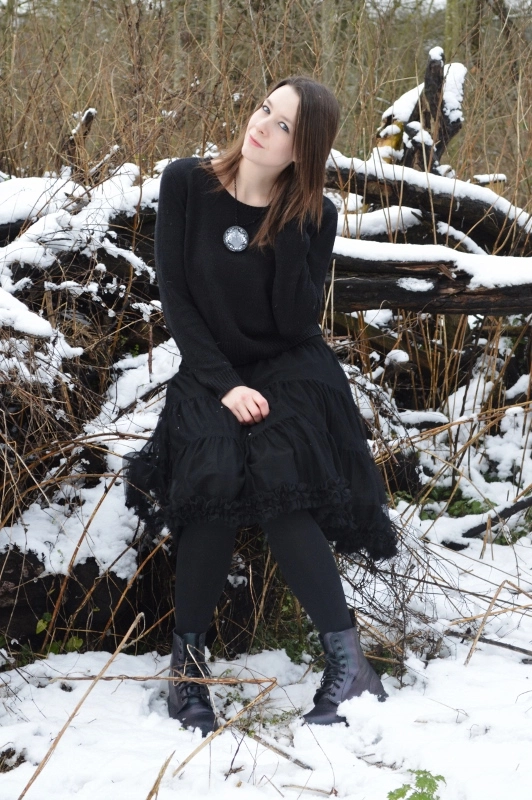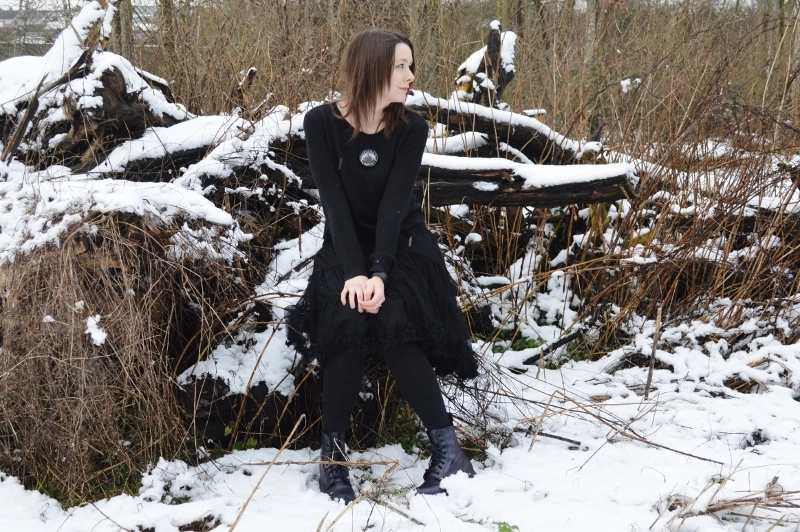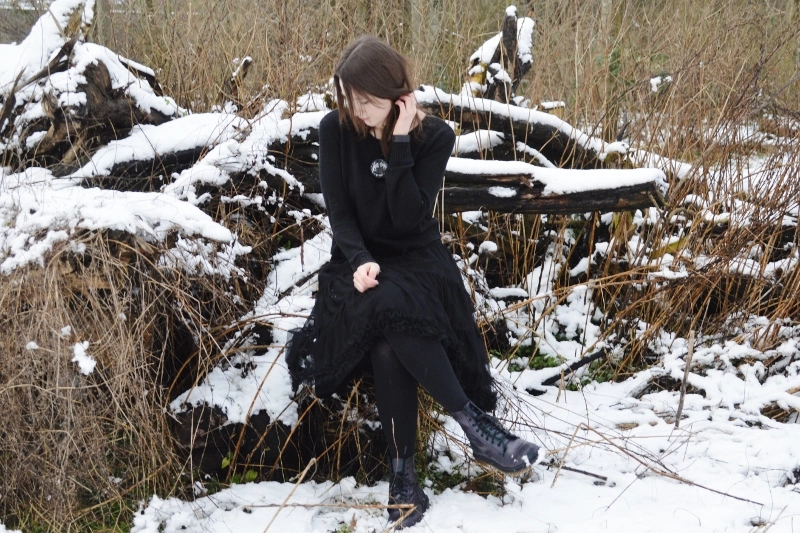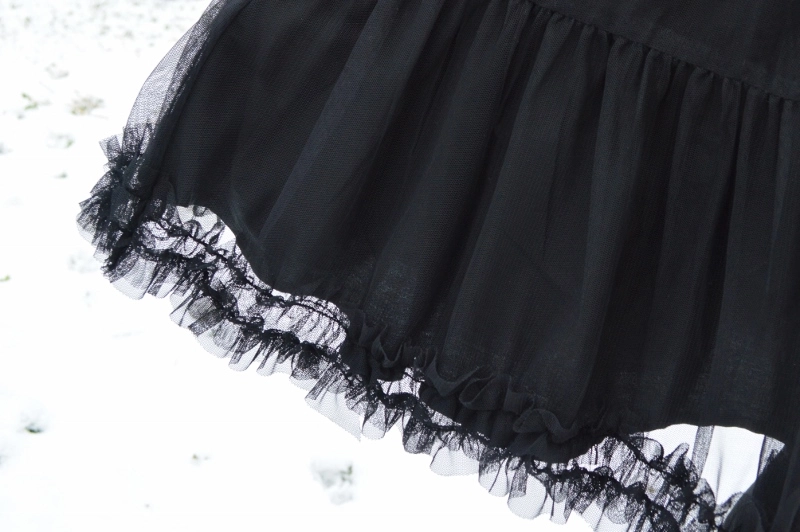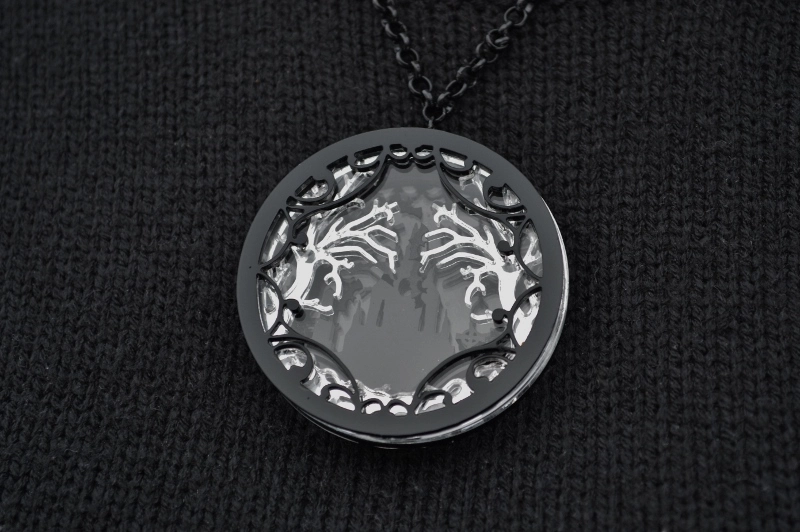 H&M Cropped Jumper / George Net Frill Skirt / Primark Cosy Tights / Dr Martens Crackle Suede Pascal Boots / Curiology Snow Globe Necklace
Well, it's been a ridiculously long time since I last posted, but I think it's about time I made a blog comeback!  The last few months have been incredibly busy, and I may do a life update post soon to share a few things, but for now I thought I'd kick back off with a good ol' outfit post – my favourite!
Last weekend we had our first snow of the season, and though there wasn't much, Charles and I went for a lovely wintry walk around the local meadows.  My outfit of choice for my snowy walk was put together around one piece – my skirt.  I actually thrifted this skirt for just £3.25 from a charity shop a few weeks ago, and I absolutely adore it.  The full tiered net looks so feminine, but still has the Gothy edge that I love, and is surprisingly warm when worn over tights.
I teamed the skirt with one of my favourite basic jumpers from H&M, and my newest pair of Dr Martens, which kept my toes toasty from the cold.  The necklace was a Christmas gift from my mum, and is pretty damn cool.  It's by Curiology, and was one of their Winter 2015 pieces.  It doesn't show up well in the photo, but the necklace is layered, and depicts a gothic castle scene, with teeny bats included.  So cute.
Did you get any snow last week?
Naomi x