Posts tagged
River Island
3
On Sunday I decided to indulge, yet again, in one of my favourite hobbies – thrifting – and got up bright and early to go to two car boot sales in Leicestershire.  In particular I was hoping to find some bargainous clothes to add to my spring/summer wardrobe, and though I came away from the first car boot with nothing (how disappointing!), the second was a veritable treasure trove of fashion!  For the grand total of just £4.50 I managed to get a waterfall cardigan, a thin knit jumper, a t-shirt, and my absolute favourite find of the day, a pair of wedge shoes.
Z Black and grey striped waterfall cardigan £1.50

Next Thin knit black jumper 50p
River Island Skeleton heart t-shirt 50p
Truffle Black velvet wedge shoes £2.00
Total: £4.50
I'm really pleased with this little thrifty haul, and I'm looking forward to styling each item in outfit posts in the near future.  Which is your favourite piece?
Naomi x
2
Exciting news, Fashionistas – musicMagpie have long been helping us make money from our old CDs, DVDs, games and technology, and they've recently launched a new service which means you can now get cash for clothes as well!  All you have to do is tell them what you want to sell by entering it into the 'Get Value' box, giving a few details about the brand, size, colour and suchlike, and then they'll make you an offer on the item.  Then, once you've entered everything you want to sell, you just have to send your items to them and they'll pay you for them.  Sending everything to musicMagpie is really easy, as you can send it boxed for free, or if you're selling more than 25 items they will come and collect them for you, also for free.  There are also four ways to get paid – bank transfer, cheque, e-Vouchers or a donation to charity.  Easy peasy.
Now, I'm sure I'm not the only fashion fan who sees this as the perfect opportunity to clear space for new clothes, whilst also making the money to pay for them!  I recently dropped a dress size or two, so I have plenty of clothes that I need to get rid of, and I can't wait to replace them all.  I've spent many an evening lately browsing the net for some brand new, gorgeous pieces to add to my collection, and I've found a few which I absolutely love, so here is my 2013 Winter Wardrobe Wishlist.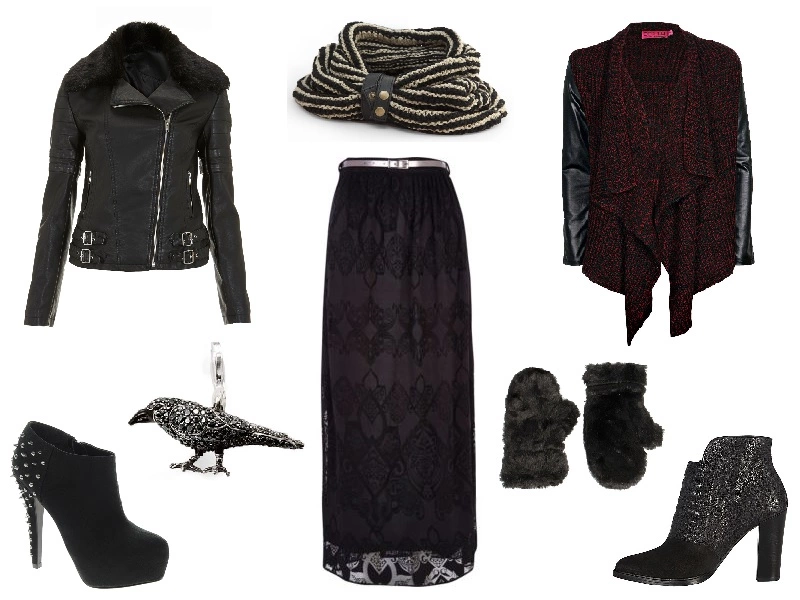 Internacionale Black Fur Collar Biker Jacket / Aura Que VELA Handknit Banana Yarn Snood / boohoo PU Sleeve Marl Knit Cardigan / ASOS London Rebel Studded Heel Shoe Boots / Thomas Sabo Sterling Silver Raven Pendant / River Island Black Lace Belted Maxi Skirt / boohoo Faux Fur Mittens / All Saints Reflection Boots
As I've mentioned before, the Autumn/Winter season this year is all about black for me, with the odd splash of colour.  I'm becoming obsessed with mixing statement pieces with something simple, as well as different fabrics and textures to create interesting looks.  I love the combination of leather, lace, faux fur, metal and knits in the pieces above and I want them all.
What would you buy with the money you could make from musicMagpie?
Naomi x
*This post is a collaboration.*
8
To celebrate reaching (nearly) 1000 followers on Twitter, The Discount Coder Blog is running a giveaway, and to enter, you must complete the £100 Asos Blogger Challenge!  So, today, I will be sharing my entry

  The rules of the challenge are as follows…
Head over to ASOS.com
Put together the hottest outfit you can for £100 or less (no student discount or Asos discount codes allowed)
Blog about your stylish ensemble over on your blog
Leave a comment below with a link to your post
I spent a good while over a couple of days browsing Asos for the ideal outfit for my entry.  I wanted to put together a fairly basic but daring outfit that I would wear myself and would be great for summer, and this is what I came up with: Summer Gothic!  The picture is clickable if you want to see it in more detail.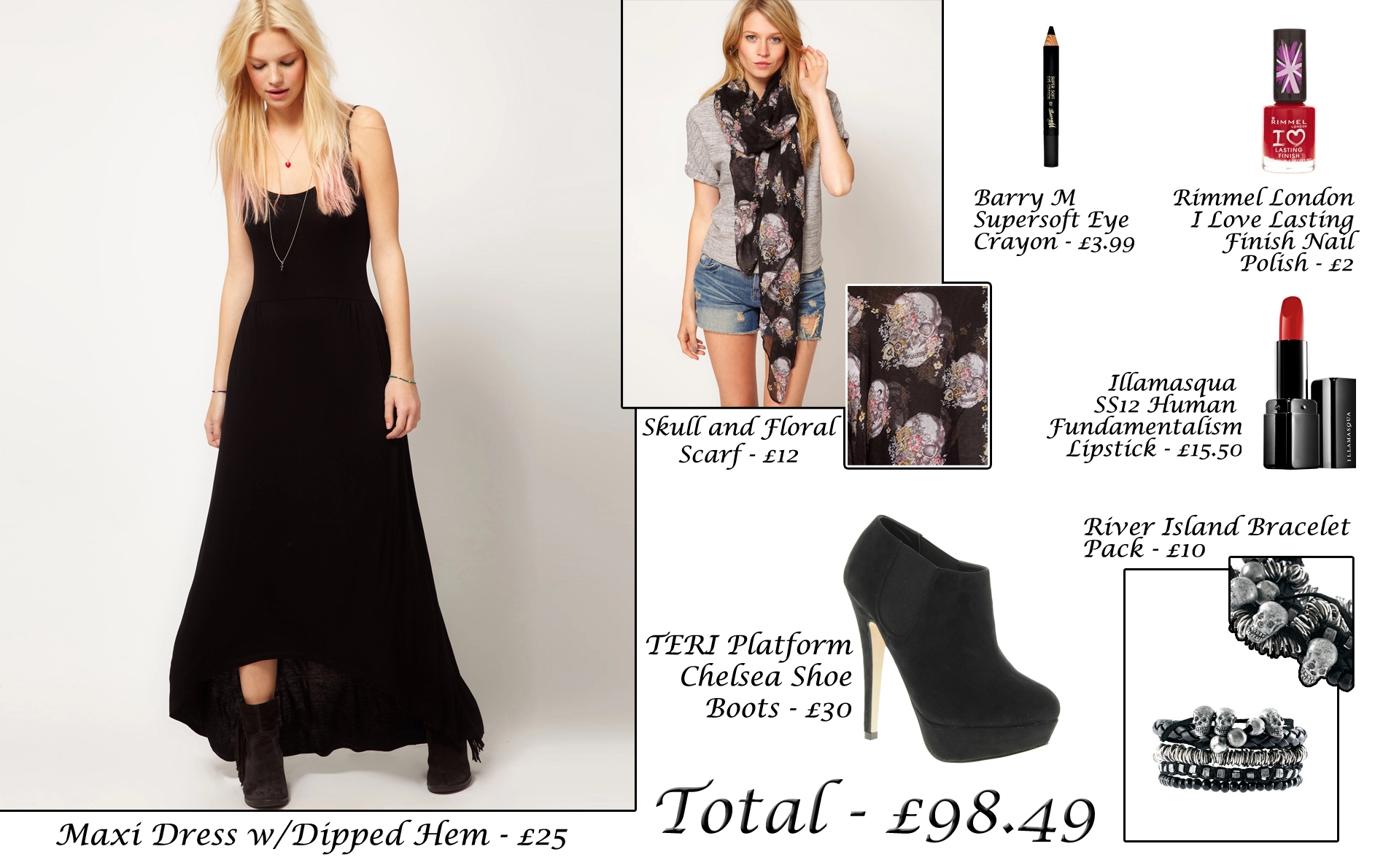 My starting point for this challenge was the main outfit.  I love dresses and I love black, so it seemed only natural to look for something along those lines.  I thought a sleeveless maxi was the way to go for a summer look, so when I saw this Maxi Dress with Dipped Hem I was sold.  Dipped hems are very trendy at the minute and I like the floaty look they give.  In my teenage Goth days I wore a lot of long flowy clothes so I think this is very suitable as a starting point for Summer Gothic!
My next choice was the shoes…  I was hoping to find a pair of big, black, stompy boots within my £100 budget but unfortunately that didn't happen, so I went for my second choice – a pair of heeled TERI Platform Chelsea Show Boots to give the look a more elegant feel, whilst remaining edgy.  I mean, who doesn't feel edgy in heels?  The platform makes them look quite chunky too which is what I was after.
Accessories wise I wanted to keep it simple but make a statement.  I thought skulls were ideal for the Gothic look, and when I came across the Skull and Floral Scarf I couldn't believe how perfect it was!  I really, really want to buy it for myself – the print is stunning and it would add layers and depth to the simple dress.  I wanted something chunky but interesting for the wrists which is why I chose the River Island Bracelet Pack.  The skull detail matches the scarf really well and the different beads and materials add texture to the outfit.  The bracelets were in the men's section of the Asos website, but who says women can't wear 'men's' clothes and accessories?
We all know an outfit isn't complete without the right make up, so to match this simple Summer Gothic outfit, a simple Gothic make up look is needed.  Heavy make up in summer is a no-no, so I think classic red lips and nails, and smokey black eyes are all that's needed!  Illamasqua's branding screams classy and Gothic, which is why I chose Illamasqua SS12 Human Fundamentalism Lipstick in 'Liable', a beautiful bright red.  For strikingly bold, black eyes, Barry M Supersoft Eye Crayon is ideal, and to add an extra splash of colour I added Rimmel London I Love Lasting Finish Nail Polish in 'Double Decker Red' to the mix.
The total cost of this outfit is £98.49, so you'd even come away with enough change for an ice cream – the summery icing on the fashionable cake!
Naomi x