Posts tagged
Code
6
I know we all love a good freebie, so I thought I would let you know about a great one I found today whilst browsing the supermarket!  Every copy of this week's More magazine (Issue 774) comes with a FREE Models Own nail varnish or lip gloss, worth £5.00 each.  The magazine only costs so £1.50, so you are getting a VERY good deal!  Even if you buy four copies to get every freebie, you are still only spending £1 more than ONE of these freebies is worth – amazing, right?  Oh and don't be put off by the low price tag of the magazine…  I know some cheap magazine freebies are 'limited editions' which aren't actually up to scratch with the rest of the brand, but this is the real deal.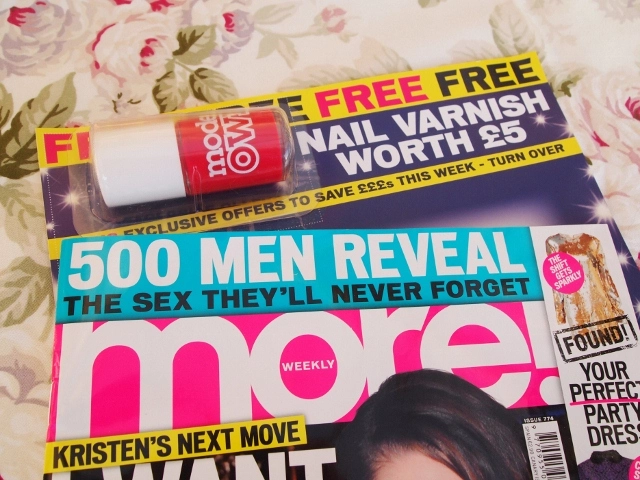 There are two nail varnish shades to choose from (Raspberry Crush and Nude Beige), and two lip glosses (a pink and a red).  The freebie I went for was Raspberry Crush, a gorgeous raspberry pink which I actually had my eye on a couple of months ago – I'm glad I didn't buy it at the time now!  I haven't yet tried Raspberry Crush on my nails, but it looks like it has a lovely creme finish and I can't wait to give it a go.
The magazine also comes with a free Miss Selfridge Lucky Gift Card, which gives you a surprise discount in store, between £1 and £500.  There are also several other exclusive discounts in the magazine, such as 20% off at boohoo.com, Rock N Rose, Essensuals Hairdressing and Motel, and 25% off a spray tan at the Tanning Shop.  Oh and a couple of free drinks too.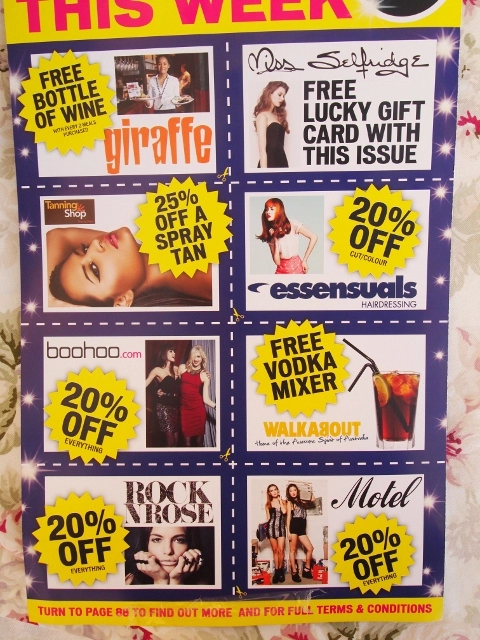 The magazine itself might be a little bit trashy, but who cares when you're getting a bargain as brilliant as this?!  The next issue of More goes on sale on the 27th of November, so you have 4 days left to get your Models Own freebie.
Naomi x
11
Ladies, allow me to introduce you to an exciting online shopping experience and the only shoe shop you will ever need – Kindred Sole.  Kindred Sole is run by two lovely girls named Beth and Lizze, who both recently graduated from the same university that I used to go to, and who decided to follow their passion for shoes and set up business together.  Kindred Sole sell their large selection of shoes exclusively online, in a wide range of sizes, and specialise in seeking only the best, high-quality footwear from talented new designers, as well as established brands.  Whether you're looking for a new pair of warm boots for the winter, a gorgeous pair of killer heels for a party, some pretty sandals for a sunny holiday or some funky flats for the office, Kindred Sole will have a unique pair perfect for you.

Earlier this week, Kindred Sole kindly sent me a pair of shoes to review so that I could experience their amazing shoes and service for myself, and I wasn't disappointed.  Yesterday morning there was a bang on the door and I was presented with a nicely packaged pair or brand new shoes.  Needless to say, I was very excited, and also massively impressed with Kindred Sole's quick delivery.  The company aims to please its customers and they go out of their way to provide fantastic customer service by offering FREE, trackable next day delivery on all orders within the UK, and they also offer Saturday and worldwide delivery.
The shoes I received were these – a pair of Mel Tangerine Bow Caramel Shoes.  Aren't they beautiful?

Mel is a Brazilian company and these Tangerine Bow Caramel Shoes are made of recycled PVC and are Vegan friendly.  As a Vegetarian myself I was pleased to discover the ethical nature of these shoes, but my happiness didn't stop there…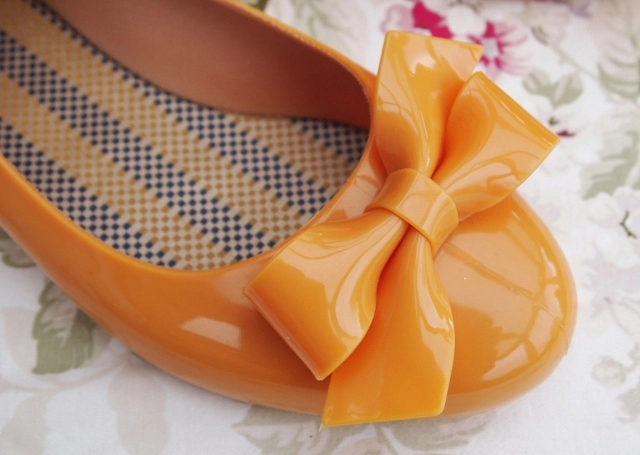 As soon as I opened the box and saw the shoes inside, I was instantly taken by how cute and stylish they look!  The bright, glossy yellow colour and large bow detail on the front are so fun and playful, and the shoes have such a nostalgic essence of childhood about them as they are reminiscent of the plastic jelly shoes that all of us 80s/90s kids used to wear.  However, Mel's shoes are rather more grown up!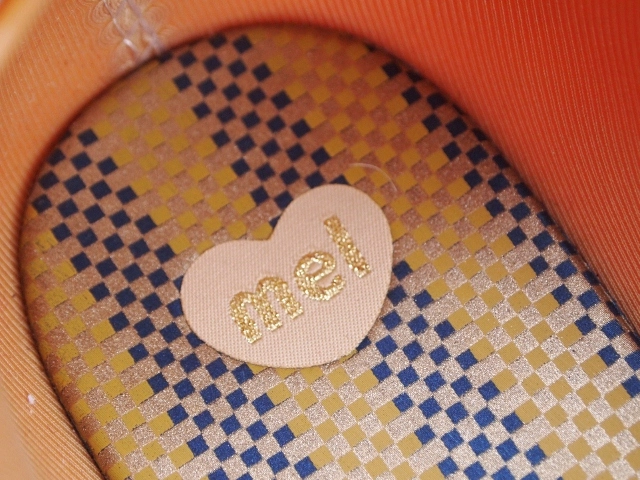 The shoes are lined with a soft, cushioned sole, so they don't make your feet sweat like some jelly shoes do.  Rather, they are VERY comfortable.  When I first put them on I actually couldn't believe how amazingly lovely they felt on my feet, and they're also warm and waterproof so your feet can still look pretty even on cold days.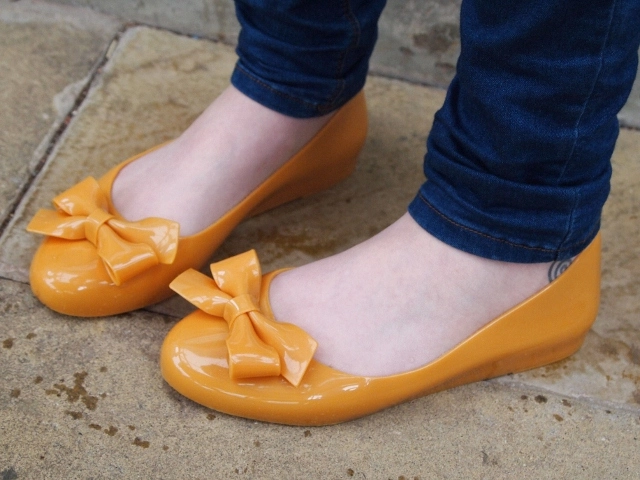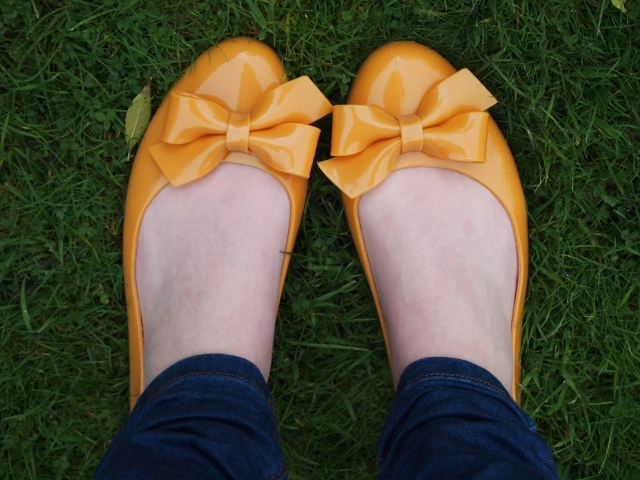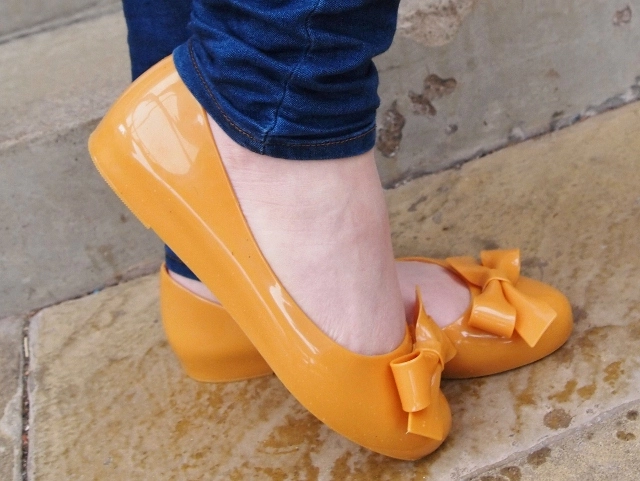 Mel Tangerine Bow Caramel Shoes look fab dressed down with skinny jeans, or even teamed with a girly dress and tights for an Autumn evening look. They are available here from Kindred Sole for just £31.99, which is a fantastic price for such a high-quality pair of on-trend shoes, and they also come in a lovely nude shade.  However, you could get them even cheaper if you take advantage of Kindred Sole's Birthday offer…
On 31st October Kindred Sole celebrated their third birthday, so as a special thank you to their customers, new and old, they are currently offering 33% off ALL shoes, which is an extremely generous discount!  The offer runs until Sunday 4th November, and can be used by entering the code 'HAPPYB33' at the checkout.  Amazing, right?
To get you in the shopping mood, here a few of my favourite shoes and boots from the Kindred Sole website…
£59.99 (£40.19 with discount)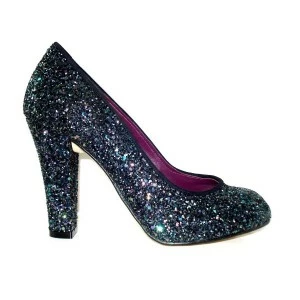 Beyond Skin Sirene Peacock Glitter Shoes
£130 (£87.10 with discount)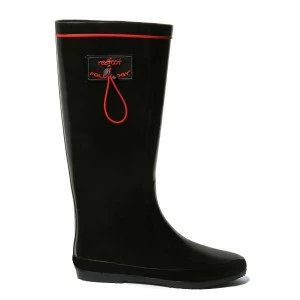 Redfoot Folding Patent Black Welly Boots
£29.99 (£20.09 with discount)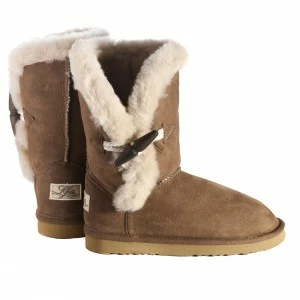 Love From Australia Tibetan Cupid Caramel Sheepskin Boots
£189 (£126.63 with discount)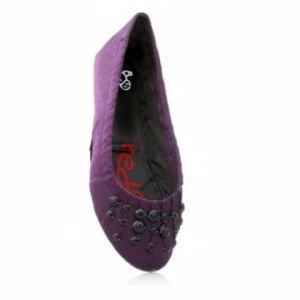 Redfoot Cheryl Damson Fold Up Shoes
£34.99 (£23.44 with discount)
I hope you enjoy your vibrant Kindred Sole shopping experience!  To keep up to date with all the latest Kindred Sole news, you can follow them on Twitter and on Facebook.  They are currently running a Facebook competition to win your favourite pair of shoes from their website, so get liking!
Naomi x