Posts tagged
Raspberry
3
Late last month I took delivery of the April edition of my monthly surprise food box, Degustabox, and boy is it a good one!  In my review of the March Degustabox I mentioned that, though I enjoyed the contents of the box, the distinct lack of sweet treats was slightly disappointing, but April's offerings sincerely make up for that.  In fact, this latest box is crammed full of so many of my favourite things, it's as if it was put together specifically with me in mind!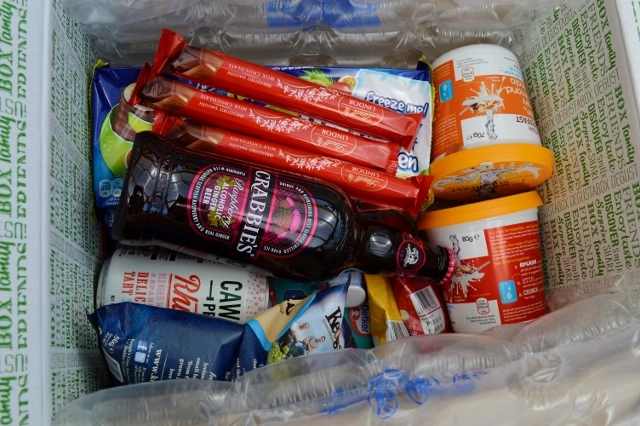 The April Degustabox contains nine different brands, and fifteen individual items, which for £12.99 is a lot better value than most food subscription boxes I've seen.  So without further ado, here are my thoughts on each item…
Crabbie's Alcoholic Ginger Beer with Raspberry (RRP £2.19)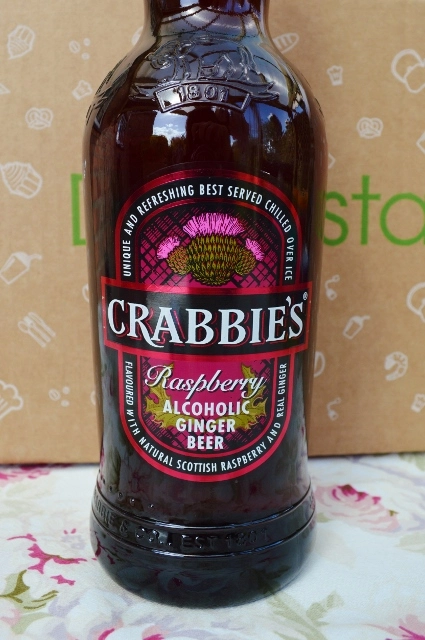 Crabbie's alcoholic ginger beer is one of my favourite alcoholic drinks, and is so refreshing when it's been chilled.  This particular bottle has a raspberry flavour, which I admit isn't my first choice of flavours, but with the ginger it is really quite nice.  The beer is a lovely pink shade and the raspberry flavour shines through, before the warm, comforting burn of ginger kicks in.  I think I prefer the original version, but as a cool drink every now and then during the summer, this would be ideal.  I also want to try the strawberry and lime flavour that I know other people received in their Degustabox.
Lindt Lindor Milk Chocolate Bar (RRP £0.80 each)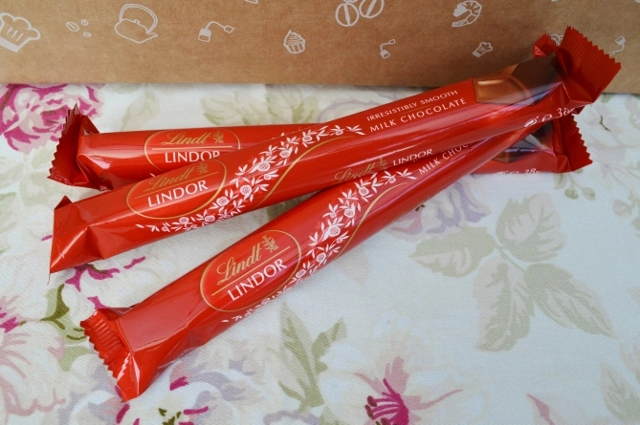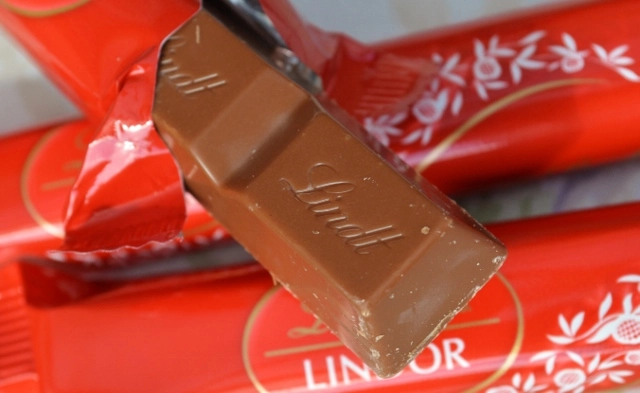 I've always been a fan of Lindt's Lindor truffles, so when I saw that they'd been transformed into bars, I was curious to see whether they were as nice, and as it happens, they are!  These bars have the same cool, creamy taste and texture as their spherical counterparts – the chocolate itself is sweet, but not sickly, and the truffle it encases is luxuriously smooth and delicious.  These bars may be thin, but they feel like a proper treat, and I'll definitely be buying more.
Cawston Press Rhubarb and Apple Sparkling Drink (RRP £1.00)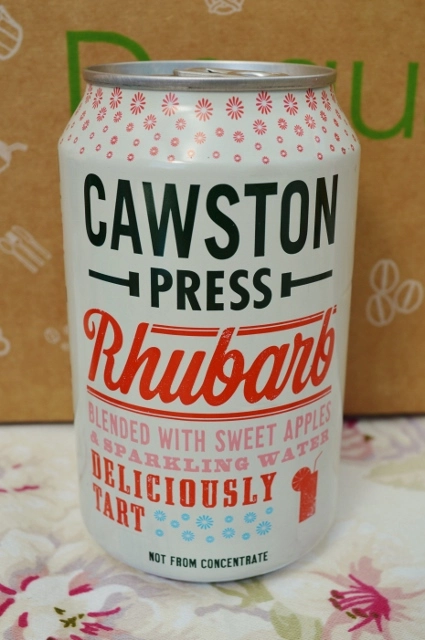 Cawston Press' Rhubarb and Apple drink was an unexpected highlight for me.  I don't often drink fruity fizzy drinks, but this one tastes a little bit more sophisticated than the usual.  It's free of any preservatives, additives and artificial sweeteners, and is made from concentrated fruit juice combined with sparkling water, so is light and refreshing.  The rhubarb flavour dominates, and is reminiscent of the rhubarb and custard sweets I used to eat as a child, without the overpowering sweetness.  I'll be keeping an eye out for more from Cawston Press, as this tasted lovely and I'd like to try some of their juices.
Clearspring Miso on the Go Soup (RRP £1.29 each)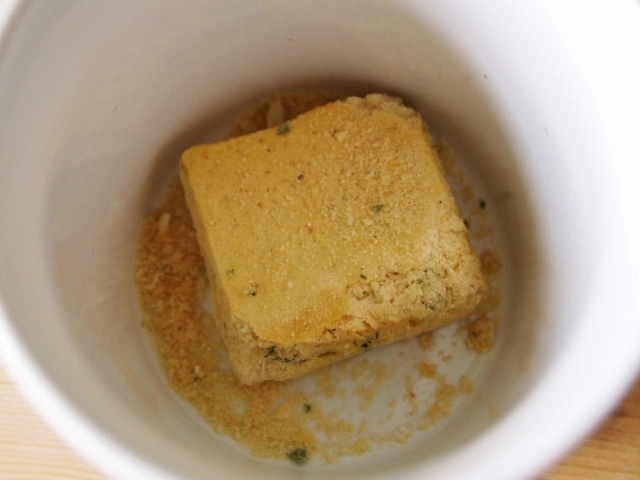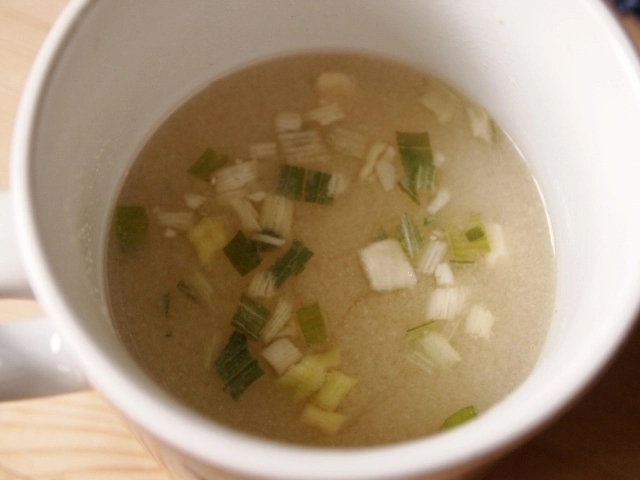 Soup isn't my thing, especially 'cup of soup' type things, so I wasn't incredibly enthusiastic about these Clearspring Miso on the Go sachets when I first saw them.  I received two flavours of soup – White Miso with Tofu (pictured above), and Red Miso with Sea Veg, which I'm yet to try.  One thing that did stand out with these is that they're vegan, and only contain 29 calories, so they're healthy at least.
The soup is easy to make, and involves mixing 160ml of hot water in a mug with the freeze-dried block that the sachet contains.  I was surprised to see such chunky ingredients floating around in the soup, namely cubes of tofu and pieces of spring onion, and though it doesn't look the best, the White Miso actually tastes rather nice!  At £1.29 each I probably won't be buying these again, but I'm glad I tried them.
Go Splash Blackcurrant Water Flavouring (RRP £2.45)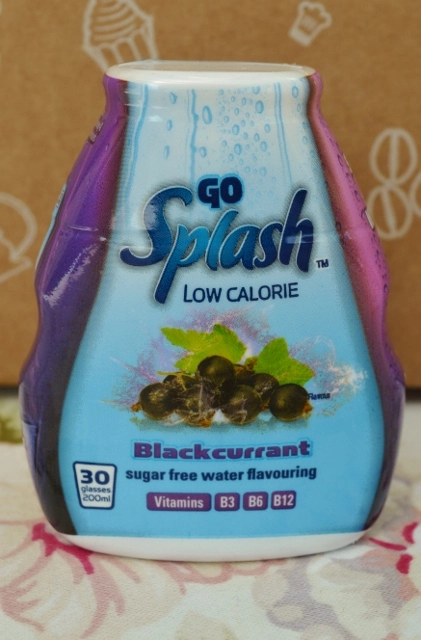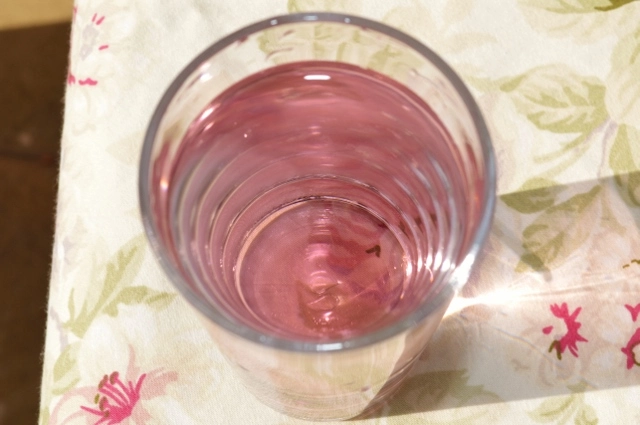 After seeing the Robinsons equivalent of Go Splash in supermarkets recently, I'd been keen to try something like this, but unfortunately I was slightly disappointed with Go Splash.  In theory, it's a great idea – a little container of sugar-free, low-calorie fruit flavoured concentrate to add to water to make it that little bit more exciting, but I'm not sure the brand quite pull it off.  The packaging says to add one squirt to 200ml of water, which I did, but it made no difference, so I added another and still wasn't happy.  The water still tasted like water, but I was left with an artificial, saccharine taste in my mouth after swallowing, with just a hint of blackcurrant.  Not the best, and I haven't used it since.  I was looking forward to carrying this with me so I could enjoy it on the go, but I think I'll pass.
Keogh's Atlantic Salt & Irish Cider Vinegar Crisps (RRP £1.00)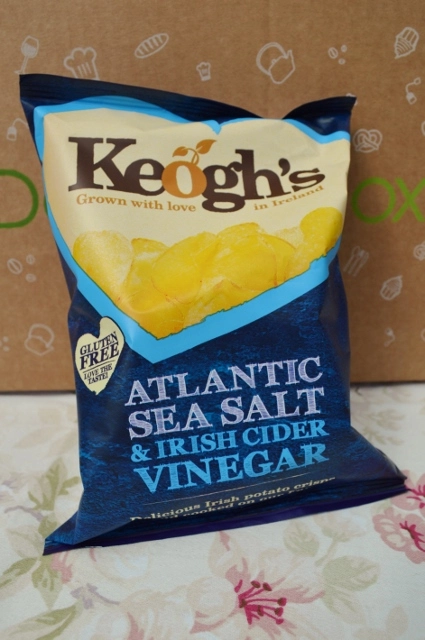 Salt and Vinegar is my crisp flavour of choice, so I was always going to love these, but they even managed to exceed my high expectations.  When I visited Dublin last year I was really taken by just how well Ireland do crisps, and these are close to perfect.  Keogh's Farm is a family run potato growing and crisping business based in North County Dublin, and the family's 200 years of potato expertise really shows.  The packet even features a 'Spud Nav', which tells you exactly which field the potatoes were grown in, the variety of potato used, and who cooked the crisps.  Brilliant!
The crisps are thick and crispy, not at all greasy, and incredibly well-flavoured, as the Irish cider vinegar gives them a pleasantly sweet tang, rather than a sour one.  They're also gluten-free, made from all natural ingredients, and come in a generous 50g bag.  Walkers crisps don't even come close to these!
McVitie's Jaffa Cake Mini Rolls (RRP £1.30 per pack)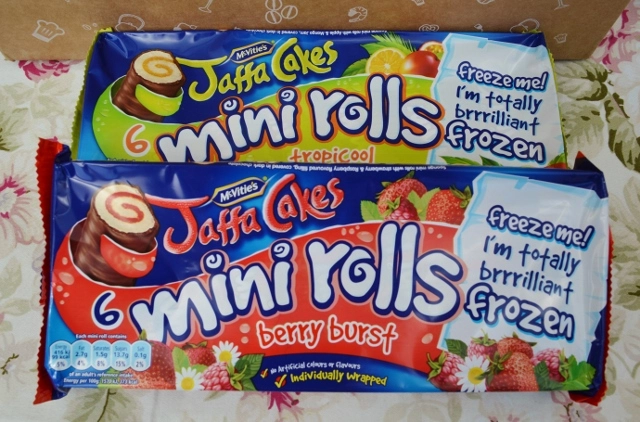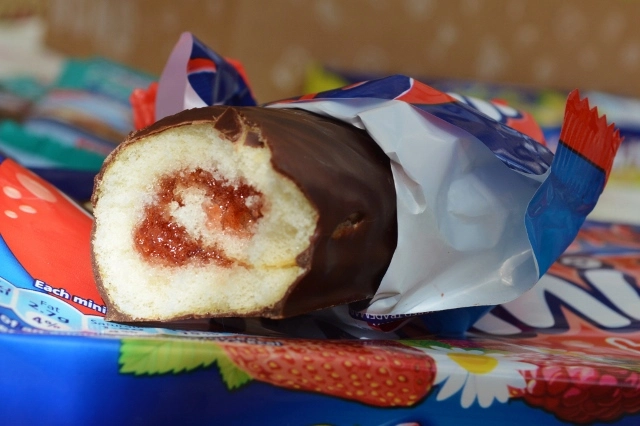 I like cake, I like chocolate, I like Jaffa Cakes, so finding these in my Degustabox was another pleasant surprise.  The Mini Rolls come in two flavours – Tropicool, a mix of tropical fruits, and Berry Burst, and each tastes like what it says on the packet, although not intensely so.  The packaging states that these can be frozen, so I decided to give the freezing a go to see if it made much of a difference, which it did.  They were firmer and chewier, and obviously colder, which suited them well.  I think these would make a nice light treat in Summer when you're getting tired of eating ice cream.
Mornflake Superfast Pots (RRP £1.20 each)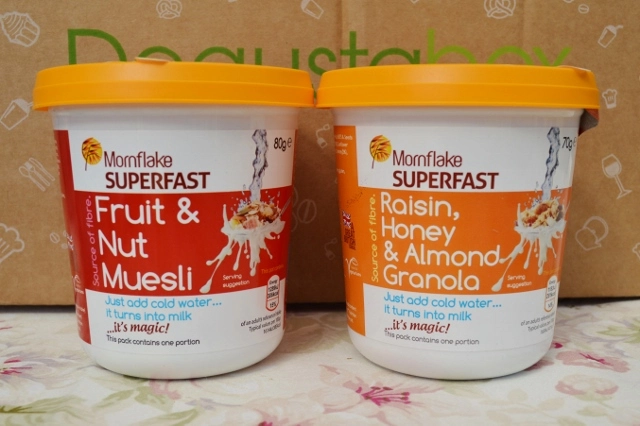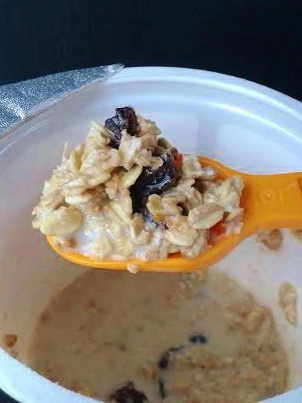 My Degustabox also featured two Superfast pots by Mornflake – a Fruit & Nut Muesli, and a Raisin, Honey & Almond Granola – both of which are right up my street.  Each pot has a handy little spoon in the lid, and contains powdered milk so you can just add cold water to the mix and stir, which is really handy when you're on the go.  Both of these tasted delicious, especially the granola, and the portions are generously sized.  I'd definitely pick one of these up if I was in a rush on my way to work.
Dr. Oetker Fine Cooks' Chocolate (RRP £1.69 each)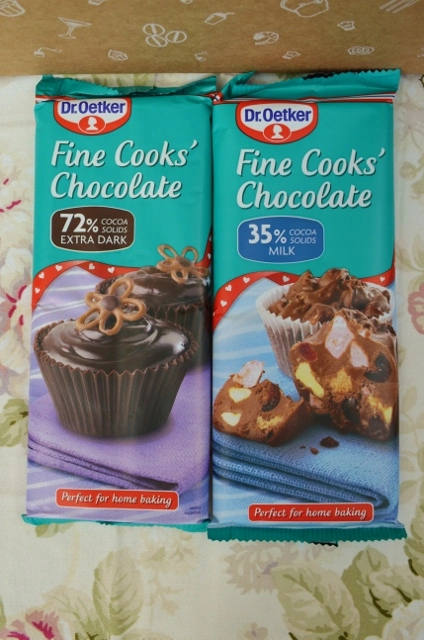 There were also two bars of this Dr. Oetker Fine Cook's Chocolate in April's Degustabox – an Extra Dark one with an intense 72% cocoa solids, and a creamier Milk chocolate, coming in at 35%.  As an avid baker, these were a nice little addition to the box and I couldn't wait to try them out, so I whipped up a batch of tiffin as soon as possible.  Tiffin is a fantastic no-bake, easy to make treat, so I thought I'd share my recipe for…
Chocolate Ginger Tiffin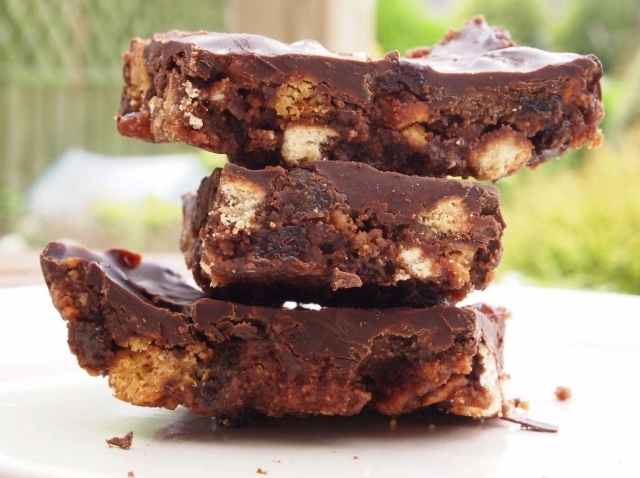 Ingredients:
115g Dr. Oetker Fine Cooks' Chocolate Extra Dark 72%
115g Dr. Oetker Fine Cooks' Chocolate Milk 35%
150g Ginger Nut Biscuits
75g Rich Tea Biscuits
100g Dried Mixed Fruit
110g Butter or Stork Margarine
2 tbsp Sugar
2 tbsp Golden Syrup
4 tsp Cocoa Powder
Method:
1. Line a large, square baking tin with greaseproof paper.
2. Crush the ginger nut biscuits and rich tea biscuits until they are broken into small pieces.
3. In a pan, mix together the butter, golden syrup, sugar and cocoa powder over a low heat, until the butter has melted and the sugar has dissolved.
4. Add the crushed biscuits and dried fruit to the pan and stir until everything is coated.
5. Tip the biscuit mixture into the baking tin, spread out evenly and press down.
6. Melt the chocolate in the microwave in 30 second bursts until fully melted.  Pour over the biscuit mix and spread out evenly.
7. Leave the tiffin to set in the fridge for about an hour, before cutting into pieces.  This recipe makes about 18 decently sized pieces.
8. Serve and enjoy!
Of course, I gave the chocolate a little nibble whilst I was cooking (and I got to lick the bowl – cook's perks!), and it's delicious even as an eating chocolate.  I may even finish the bars myself…
The overall RRP of April's Degustabox is £20, so for £12.99 you're definitely getting a good deal.  Once again, everything in the box is vegetarian, and the abundance of sweet goodies is a winner with me.  I'd even go as far to say this is the best subscription box I've ever received from any company!
If you want to know more about Degustabox and this month's products, you can visit their website here.  You can also find them on Twitter and Facebook.
Will you be subscribing to Degustabox?  If so, if you use the exclusive code '4K0P6' when registering, you can get a £3 discount!
Naomi x
PS. You can check out the rest of my Degustabox reviews here.
*This Degustabox was sent to me by Degustabox for review purposes.  All opinions expressed are honest and my own.*