Posts tagged
Essentials
12
Afternoon, everyone!
Inspired by the beauty secret sharing website What's In My Handbag (for which I have unlimited invites if you want to join, just click the link), I thought I'd show you all what I carry around with me every day.  I won't focus on my make up bag for now as that's another post altogether, but I'll show you all the essential items that I have to have with me when I'm out and about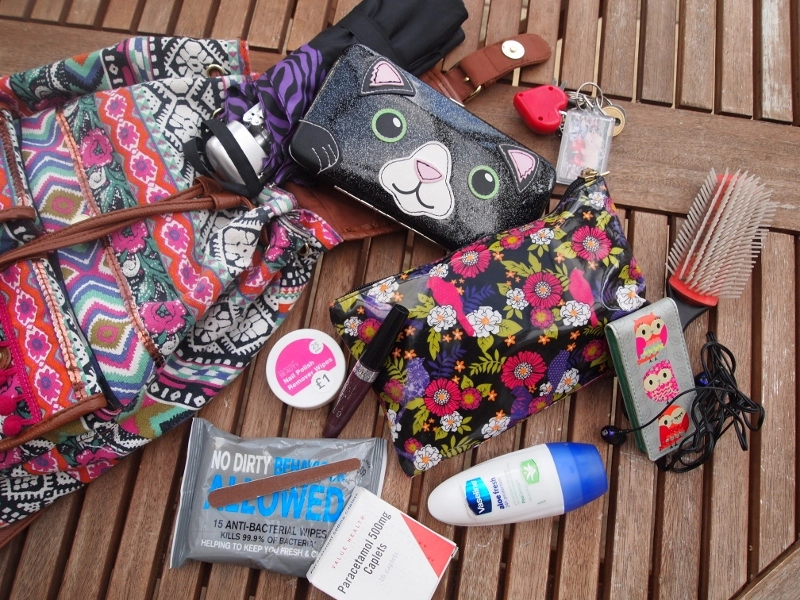 The bag I'm currently using is a backpack from Primark, with Aztec/Tribal inspired prints.  It only cost £9, and I bought it because my shoulder bags were all causing me neck pain on one side, so I thought I needed a break from them!  I usually prefer having my bag at my side where I can see it so nothing gets stolen, but I've really taken to this bag so I may invest in a few more backpacks at some point.  It's definitely solved the neck pain anyway!
So, here is what I carry with me (and why!)…
Umbrella – I have always lived in England, and as I'm sure my British readers will agree, the weather is, at best, temperamental.  You never know when you might get caught in a shower, so I almost always have an umbrella with me just in case.  The one pictured is from Matalan, and cost about a fiver last Autumn.  I get through several umbrellas a year as they always seem to break, but this one has lasted me quite a while so far, touch wood!
Kitty Purse – My kitty purse is my favourite purse that I have ever had!  I bought it in the play.com January sale for £4.99 – it is just so cute!  As you'd expect, it is where I keep my money, bank cards, student pass, bus pass, shop loyalty cards, stamps etc etc, basically everything important!  It's thin and sturdy, like a wallet, and only has a small compartment for coins which is a good thing for me, as I tend to stuff my purses full of receipts and coppers, but I can't with this one.
Keys – Self explanatory!  Without them, I'd be locked out.
Make Up Bag – Again, another Primark purchase.  I keep all my 'fancy' make up in boxes at home, but my make up bag has the basics in it that may need reapplying during the day.  Pretty much everything in it is from Avon or MUA…  Foundations, Concealer, Blusher, Eyeliner, Mascara, Lip Gloss, and of course a very pretty little pocket mirror, which was a present from a friend.
Avon Glazewear Lip Gloss – This is my absolute favourite gloss ever, and I keep a tube of 'Violetta Sparkle' in the front pocket of my bag, hence why it's separate from my make up bag.  I like to have it to hand so I can whip it out and put some on whenever I need to.
Nail Polish Remover Wipes – It drives me insane when my nail polish chips, so I keep a little tub of nail polish remover wipes handy so I can remove my polish whenever, wherever if the chipping gets too much.  I regularly stay at my fiancé's house and he doesn't have these things so I keep them with me.
Anti-Bacterial Wipes – I travel on buses almost every day, and as I'm sure you'll know, public transport isn't always very hygienic!  With all those people about, there are probably germs too, so I carry anti-bac wipes so I can clean my hands during the day, before eating etc.  A little germaphobic maybe, but it makes me feel better!
Nail File – Just in case I break a nail, so it can be easily fixed at any time!
Paracetamol – I always have paracetamol with me, as well as my inhalers for asthma, and sometimes even antihistamines, plasters and throat sweets.  My dad calls me a walking chemist because if anybody ever needs anything for any ache or pain, I'm almost guaranteed to have it haha.
Vaseline Deodorant – My go to deodorant.  Again, I carry this with me if I'm staying at my fiancé's house.
iPod – I like to listen to music every day, especially when I'm travelling.  It seems to make waiting for the bus go quicker, and it blocks out the noise from other passengers which is a bonus haha.  I have a mix of bands on my iPod, from Oasis to Kate Bush to Foo Fighters to Mike Oldfield, and a lot more.
Denman Hairbrush – Denman brushes are slightly more expensive than other highstreet brushes, but you get what you pay for.  I love how stiff and sturdy they are and they make my hair lovely and smooth.  I think my one retails for about £8, which is worth it as it has lasted for AGES.  I've had it for years.
So there you have it, that is what I carry in my bag.  I usually have handcream with me too but that isn't pictured as, for once, I didn't have any!  I hope you've enjoyed being nosy 😀  What do you carry in your bag?
Naomi x