Posts tagged
Bags
2
If there's one thing a student should invest in, it's a good bag.  During my five years at university I went through countless bags because I was buying cheap and filling them with heavy books, and in the end the straps or zips just gave up.  Overall, I ended up spending a small fortune on bags, rather than buying one good quality one that would've lasted me years.  Needless to say I've learnt my lesson, and though I'm no longer a student myself, I still work at a university, and I've discovered the perfect bag for all your university needs – a Vida Vida Satchel.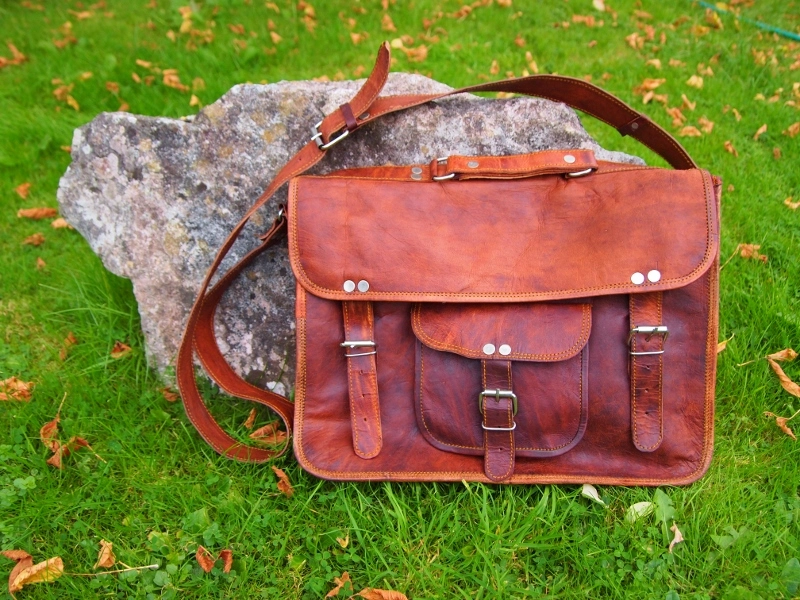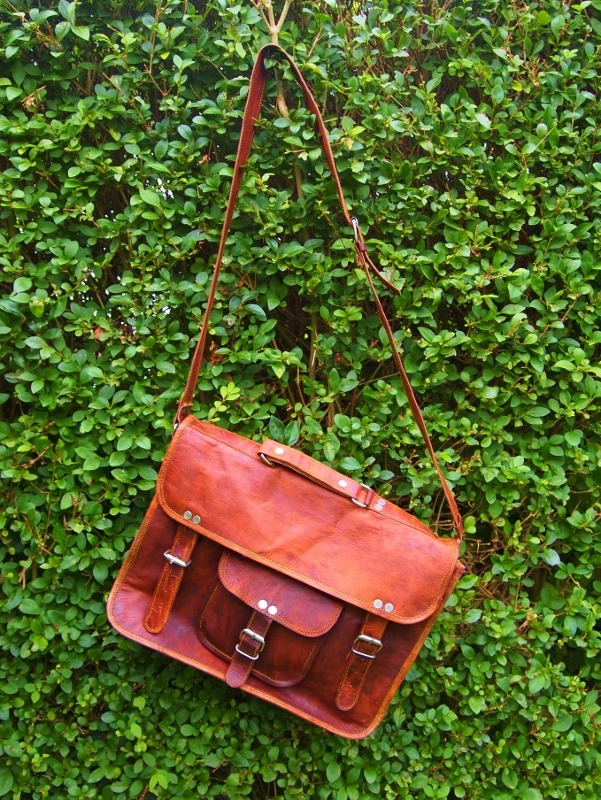 Vida Vida was started in 2005 by husband and wife Matt and Andreya Townsend.  Their brand combines British design with a passion for travel and worldwide workmanship, and they work with suppliers and craftsman from around the world to create their beautiful range of bags, belts and jewellery.  Reassuringly, Vida Vida have an excellent ethical policy, and all of their products are fairly sourced for a fair price, and Matt and Andreya visit their suppliers annually to ensure they maintain strong relationships.  Their leather is also ethical, as they use leather which is naturally processed and coated, and is a bi-product of animals used for meat, rather than from animals killed primarily for leather.
The Vida Vida satchel I use is the dark tan Large Leather Satchel, which is made of soft and supple vintage-look leather that has a natural, earthy charm to it.  One thing I love about the look of this bag is that it isn't perfect.  Due to the natural tanning process Vida Vida use, the leather has small marks on it that some would call imperfections, but they actually give each bag a unique character that gets better with age.  It's lined with a thick fabric too which is extremely hard-wearing, so is unlikely to rip or get damaged easily, even if you use the bag a lot.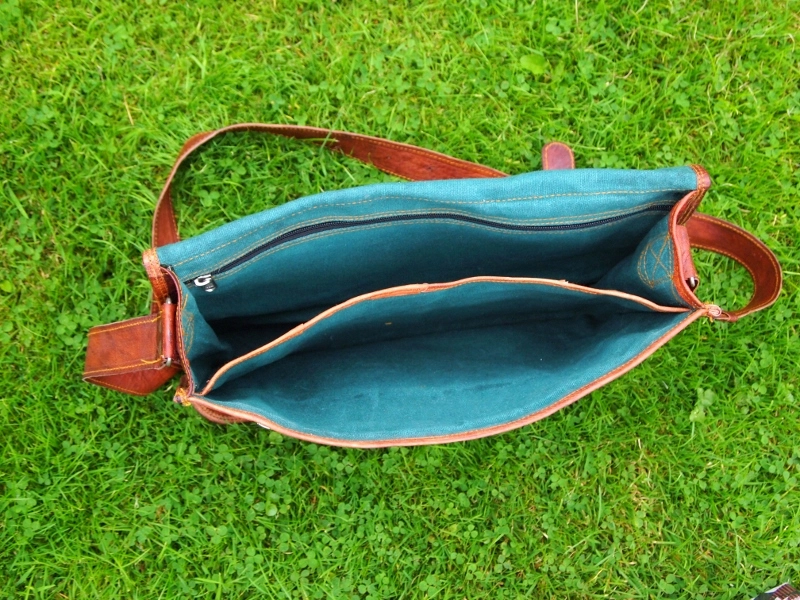 In terms of size, this satchel is just right.  30cm high, 38cm wide and 10cm deep, to be precise.  It's big enough to fit everything you need for your studies, but not too big that it's awkward to carry.  The bag has a large compartment inside with a divider, which can easily fit a 15″ laptop, folders and books, an inside zip pocket, and another zipped section and a buckle pocket on the front.  Vida Vida actually demonstrate what you can fit in each bag here, but I thought I'd recreate the image for myself to prove just how much you can pack inside this Tardis of a satchel!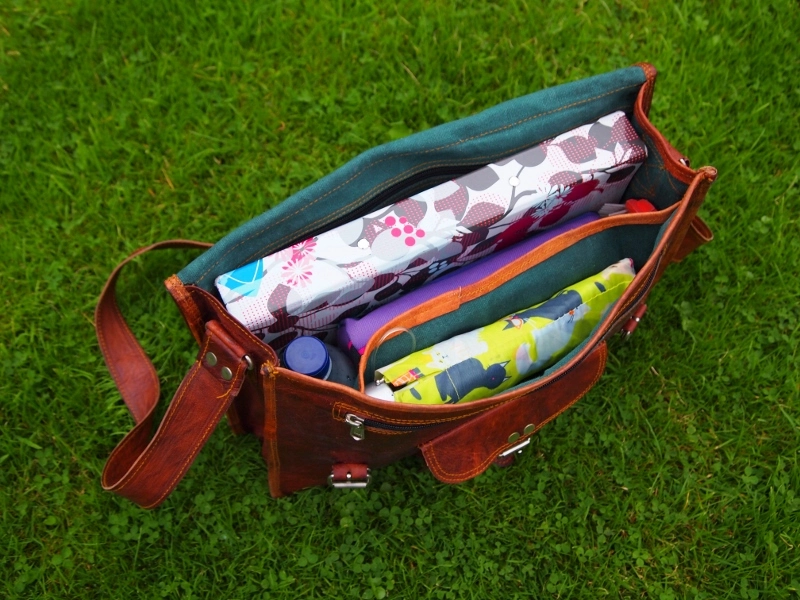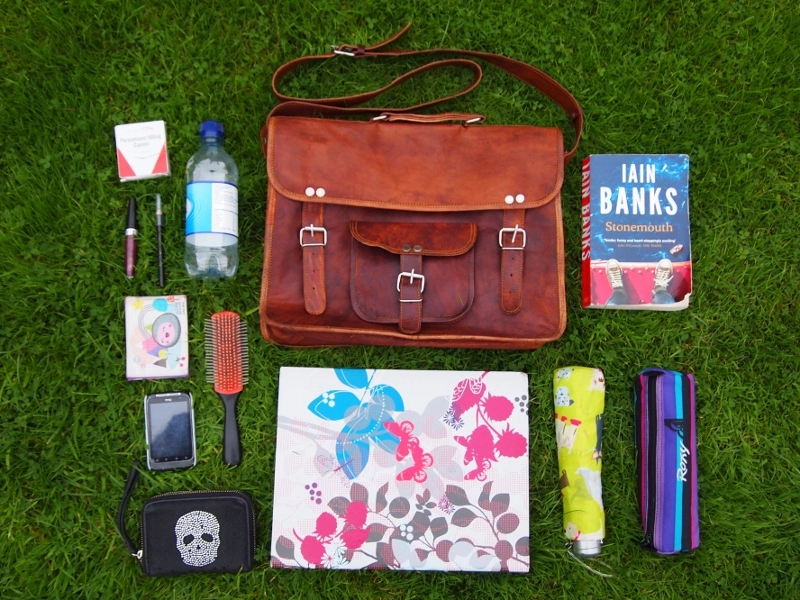 As you can see, I managed to fit in an A4 binder containing paperwork and a notebook, a book, a pencil case, an umbrella, my purse, a hairbrush, my phone, my bus pass, a bottle of water, paracetamol and make up, and there was STILL plenty of space left for snacks, extra books and possibly more.  Impressive, right?  Due to the suppleness of the leather, it expands to fit what you need, and since the bag fastens with traditional buckles, it will still close.  I like to use the front buckled pocket for things I need easy access to, such as my phone, bus pass and coins.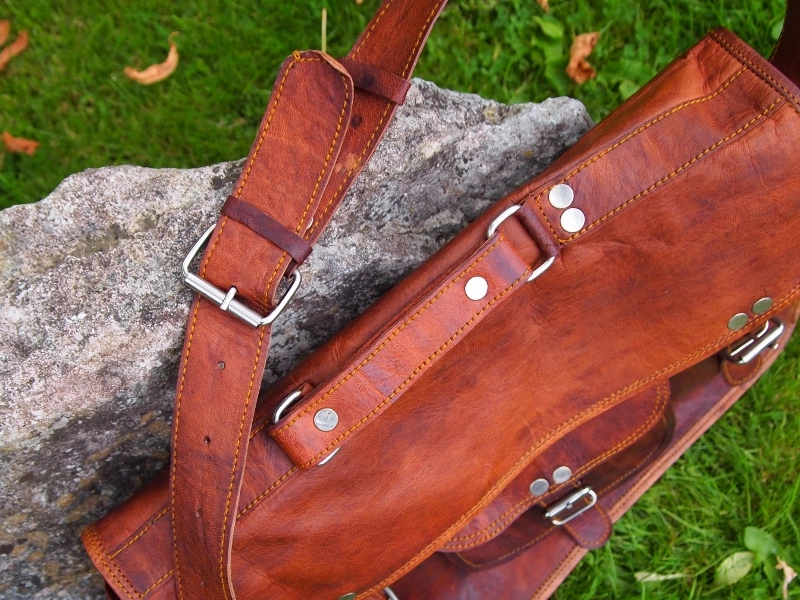 The satchel is also really easy to wear and carry.  It has a carry handle on top, and an adjustable shoulder strap so it can be worn at whatever length feels right for you, and it's also the ideal width for comfortable wearing.
I adore my Vida Vida satchel – it's practical, stunning to look at, works great with any outfit (keep an eye out for styling posts coming soon), and is excellent quality.  This particular satchel retails for £80.00, and it's worth every penny if you want a bag that will last you for years and save you money in the long run, as you won't have to keep replacing it!  You can view the full range of Vida Vida satchels here.  There are various sizes to choose from, so if you like this satchel but think it's too big or too small for you, you can size up or down accordingly.
Which bag would you choose?
Naomi x
*This Large Leather Satchel was sent to me by Vida Vida for review purposes.  All opinions expressed are honest and my own.*