Posts tagged
House of Fraser
1
This year I've been trying to add more summer basics to my wardrobe, and after browsing countless online and high street stores, House of Fraser have really come up trumps.  Though House of Fraser stock a lot of premium brands, they also sell a wide range of more affordable brands, so you can add staple pieces to your wardrobe on a budget, that can be worn year in year out.
House of Fraser recently challenged me to pick some summer items to style, up to the value of £30.  I thought the best way to go for this challenge would be simple and versatile – things that could be dressed up or down and paired with different things to create different looks – so I opted for this plain Jane Norman Maxi Vest Dress, and a cute little Ziba 3D Skull Bracelet.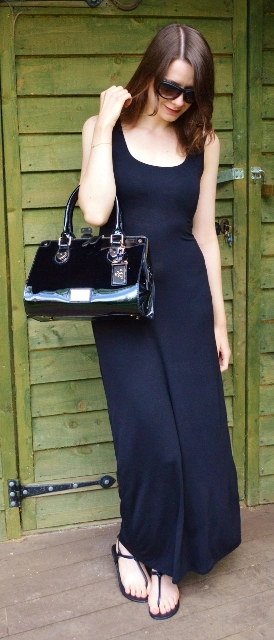 Jane Norman Maxi Vest Dress / Ziba 3D Skull Bracelet / Primark Sandals / Alexander McQueen Cateye Sunglasses / Juno Black Patent Grab Bag
The dress is made from a light jersey fabric, so is very cool and comfortable, and the vest section is lined so you don't have to wear a bra on hot summer days.  I think the dress looks great as it is, but it also looks amazing with a sparkly cropped jacket and clutch for a glamorous evening look.  This is currently discounted from £20 to £12, which is incredibly cheap for such a lovely piece.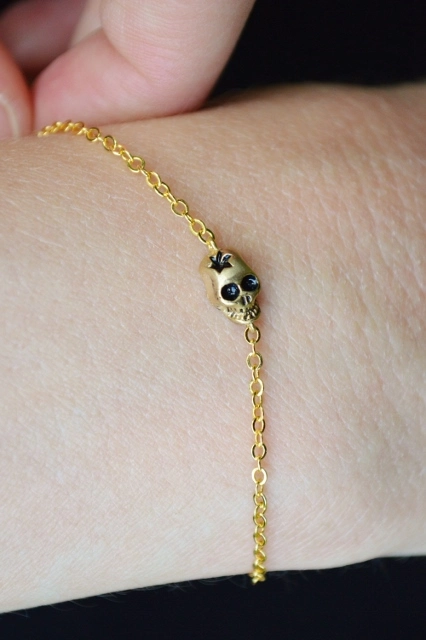 I chose the Ziba Skull 3D Bracelet for several reasons.  For one, I love skulls and covet anything with a skull on it, but this year I've also really started to love fine and delicate pieces of jewellery.  I used to always wear big chunky items, but the beauty of bracelets like this is you can layer them together, but if it's too hot to be wearing a thick wedge of bangles, they look elegant and lovely worn alone.  This particular bracelet was £9 when I chose it, down from £12, but it's now only £6 so is even more affordable.  Also, if skulls aren't your thing, the Ziba range has loads of other designs to choose from.  I especially like their cute little owl.
In total, my House of Fraser items have a value of £32, but with the online discount they now come in at £18, which is a pretty good saving.  I'll definitely be going back to House of Fraser in the future to look for more affordable basics.  Also, why not check out their current range of maxi dresses and bracelets?
Naomi x
*This Jane Norman Maxi Vest Dress and Ziba 3D Skull Bracelet were sent to me on behalf of House of Fraser, for review purposes.  All opinions expressed are honest and my own.*
2
After a stressful week of work, job interviews and getting caught in the rain, I fancied a bit of a day off today. Granted I had to go food shopping and do some washing, but other than that I've had a chilled day of taking photos for my blog/eBay, and writing. A relaxed day calls for a relaxed outfit, so I decided to wear my new sloppy joe jumper, which has to be one of my favourite sale buys of the season.
House of Fraser Label Lab Men's Jumper / Primark Grey Skinny Jeans / H&M Black Ankle Boots / Claire's Bird Skull Necklace
Here's a bit of advice from me… never bypass the men's department just because you're a woman! I found this little beauty in the men's section of House of Fraser, and it's by a brand called Label Lab. This was the only one left and it's a size XL, but I think it looks great as an oversized slouchy jumper.  I'd even wear it as a jumper dress over leather-look leggings.  The jumper feels incredibly soft, and is soooo comfy and warm.  I love it, and at £14.40, down from £45.00, it was an absolute bargain.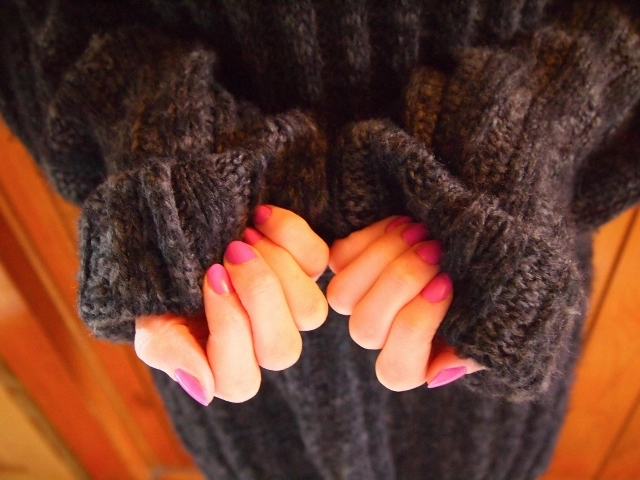 This outfit also features two other bargains from my January Sale haul.  The grey skinny jeans were a snip at just £5.00 from Primark.  I was actually surprised to find these, as Primark jeans are usually too short for me, but these are long length and fit me perfectly.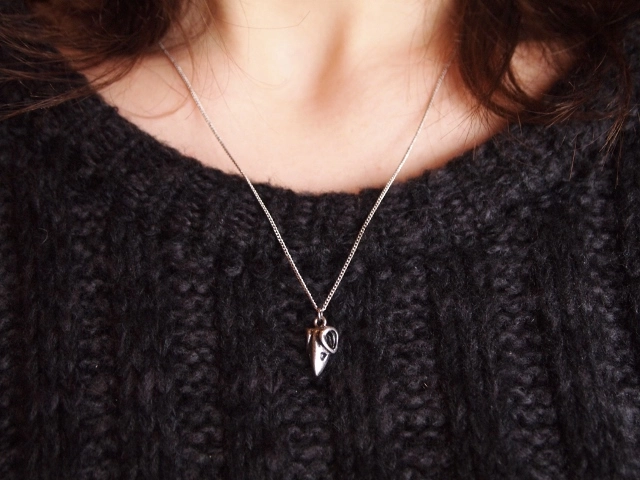 I bought this cute little bird skull necklace yesterday whilst in town.  I spotted a £1 stand in the doorway of Claire's and just had to have a look, and picked up this necklace and two others for a total of £3.  Not bad!
Do you have a sloppy joe jumper that you turn to on lazy days?
Naomi x
0
Yesterday morning I was told about the new Blogger Style Challenge by House of Fraser.  The challenge is to browse the House of Fraser website and put together a look using their new arrivals, which incorporates next season's trends.  The lucky winner will receive £200 worth of House of Fraser vouchers, so I wasn't going to pass up my chance of entering!  The official rules for the challenge are as follows:
Step 1: Head over to www.houseoffraser.co.uk and pick your favourite new season pieces.
Step 2: Put together your look and post it on your blog. Tell us what you love about the pieces you've picked and where you would wear them.
Step 3: Leave a comment below with a link to your post so we can take a look.
Step 4: Check back to see if we choose you as our favourite!
I really enjoy doing posts like this (who doesn't love a bit of window shopping?) so I didn't waste any time in putting my look together. A little bit of research revealed that, this Autumn and Winter, purple, Goth, leather and mini bags will all be very popular, and for me this is very good news! Purple is my favourite colour and I've always had a slightly dark/Goth side (someone once described me as a cross between Marilyn Manson and Bambi, which is apparently a compliment), so I had no trouble putting together an on-trend outfit that I would love to wear myself.  This is what I came up with…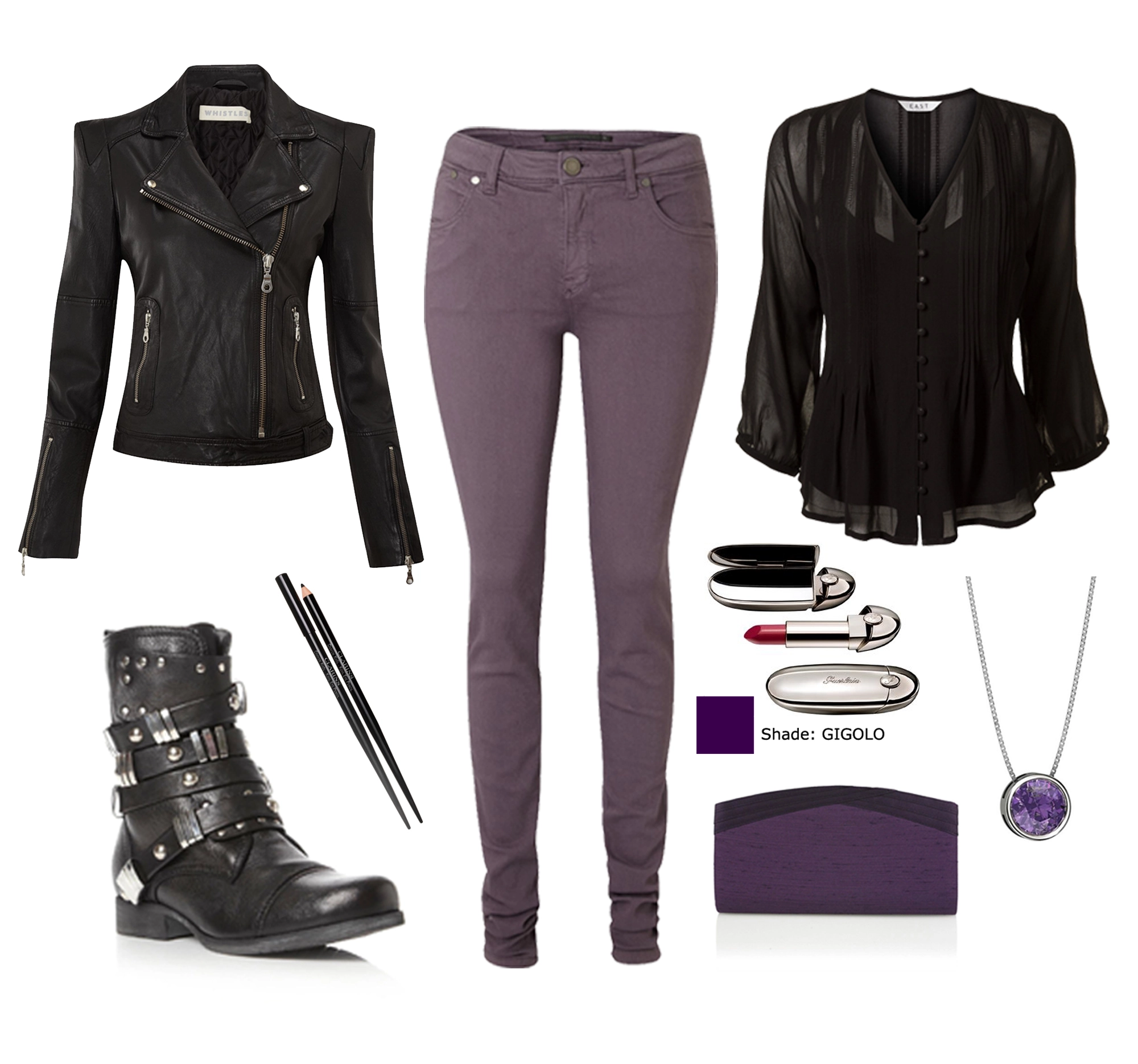 Shop this look:
— Whistles Naomi Leather Jacket — East Pintuck Detail Ggt Blouse — Victoria Beckham Power Skinny Jeans in 'Berry' — Bertie Prang Biker Boots — Jacques Vert Grape Tailored Clutch Bag — Azendi 8mm Sterling Silver Purple Cubic Zirconia Slider — Guerlain Rouge Lipstick in 'Gigolo' — Clarins Kohl Eye Pencil —

I'm really into purple skinny jeans at the minute, and since purple will be big this Autumn/Winter, I thought this would be a good starting point.  Luckily, House of Fraser are stocking newly arrived Victoria Beckham Skinny Jeans in the stunning shade of 'Berry'.  I then teamed the jeans with a long-sleeved, floaty black blouse.  The layered, flowing fabric is reminiscent of the feminine Gothic clothing that I've been seeing on the catwalk, so it seemed like a great choice.
When I saw the zipped, strapped and buckled boots and jacket, I knew they were perfect for my outfit. Not only do they follow the leather trend, but they instantly reminded me of the protagonist of my favourite Gothic love story, Edward Scissorhands. The jacket also shares my name, so I just had to include it!
To carry the purple theme through, I went for deep purple accessories – the Azendi necklace and the Jacques Vert Clutch Bag.  The bag picks up on next season's trend for mini bags as well.
Finally, the make up…  To match the accessories and to give a further vampy, Gothic edge, I chose a dark purple lipstick by Guerlain that I have now fallen in love with.  If I win the £200 vouchers, it will definitely be on my 'to buy' list!  The Clarins Kohl Eye Pencil is the final Gothic touch, for dark, smoky-eyes.
I hope you like my final look!  I would happily wear this casually in the day whilst out and about, and then in the evening with the necklace and clutch to a bar or for a meal with friends.  What's better than an outfit than can be carried from day into night?
Naomi x