Posts tagged
Northern Lights
8
When I hit my 20s I decided to create a bucket list, and though I've managed to tick a few things off over the last few years, my list is still growing.  Quite a few of the things on my list involve travel, and though I'm not yet very well travelled, I've been lucky enough to tick a couple of them off fairly recently, albeit the ones that are close to home.  In 2013 My fiancé and I flew to Dublin for a fun-packed mini break, and last year we went to the Edinburgh Fringe Festival – something I'd been wanting to do for years.  However, I'm still saving up to go on my three big bucket list holidays, so I thought I'd share them with you today.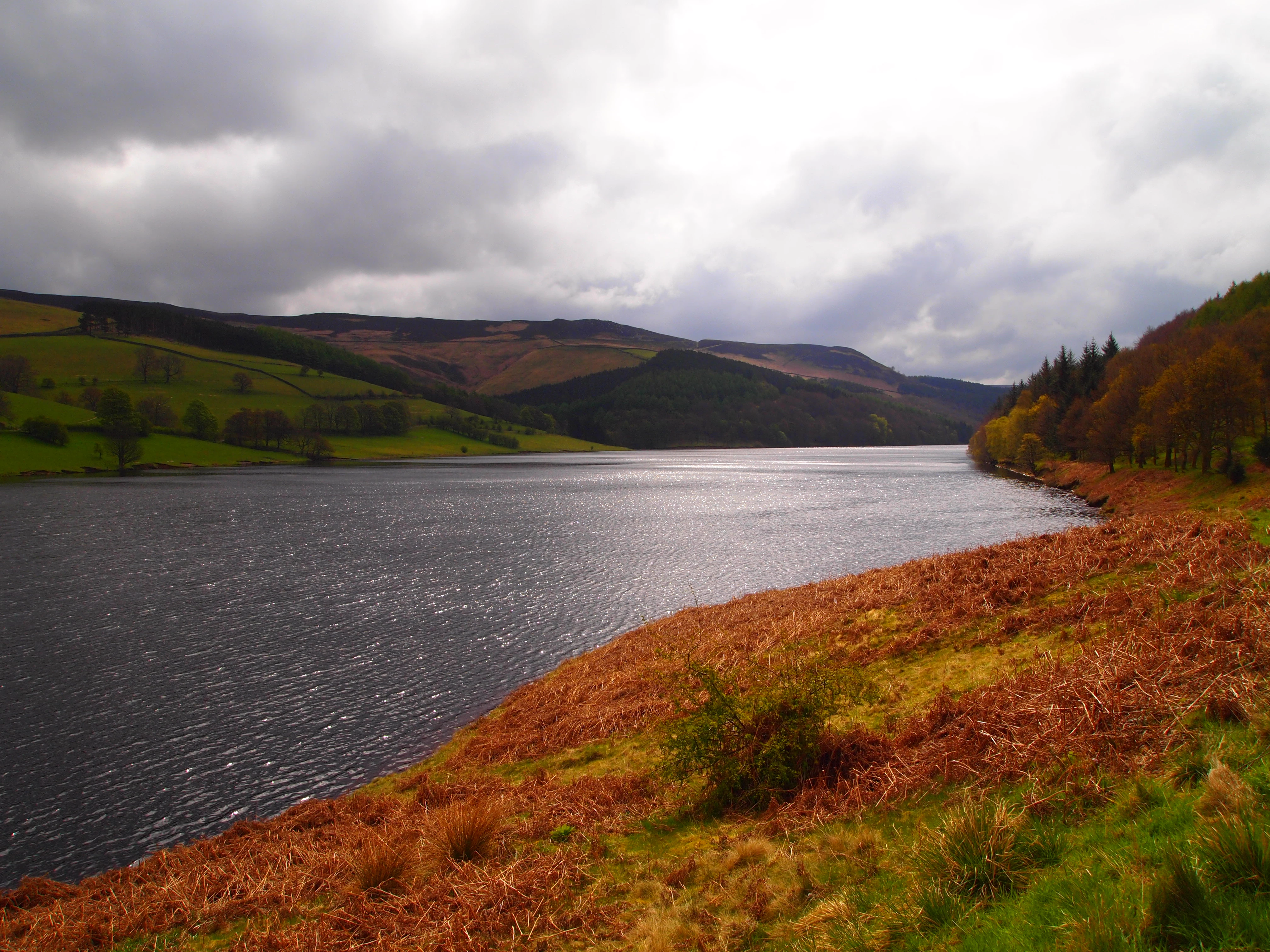 (Copyright Naomi Willett, 2012)
1. Ontario, Canada
When he was young my dad lived in Ontario in Canada, and his stories of the hot summers and snowy winters of his childhood have had me longing to visit there for years.  I'm a sucker for a beautiful landscape, and from what I hear Ontario has an abundance of them, especially during Autumn, when the rust coloured trees transform the mountainsides into glowing dunes.  I'm a keen photographer and hope one day to hike through Canadian woods, and take a boat trip over Ontario's lakes, so that I can photograph the natural beauty of the land.
I'd also like to visit Toronto whilst I'm there, as I'm not averse to the bustling city vibe either.  I can just picture myself grabbing some poutine from a little independent café, before wandering the streets and browsing shops full of books and trinkets, before stopping for dinner in Hogtown Vegan, a fab little vegan restaurant that I've heard nothing but good things about.
2. Pennsylvania, USA
California, Florida and New York tend to be the American holiday destinations of choice for most people, but I feel more drawn to Pennsylvania.  As well as Ontario, my dad spent some of his childhood in Pennsylvania, so one day I want to take a trip there to see where he grew up.  I'd love to stay for a while, and treat the state more as a home than a holiday spot, blending in rather than doing the tourist thing, so that I can really get a feel for what life is like for the people who live there.  I want to visit all the spots that my dad has told me about, and eat the food he used to eat.  I'd also like to go to some NFL games, as my fiancé is a big NFL fan.  It would be great if we could see his team (Minnesota Vikings) playing my team (Philadelphia Eagles)!
3. Oslo, Norway
Last but certainly not least is my ultimate bucket list travel destination, and that's Norway.  Or any Scandinavian country for that matter.  Ever since I was a toddler I've been fascinated by space, and one thing that's always intrigued me is the Northern Lights.  Every time I see a photograph of clear night skies lit up with smudges of green, pink, purple and blue, like an oil painting, my heart skips a beat at the sheer, phenomenal beauty of it.  It's been a dream of mine for a long time to stay in a humble log cabin, in the snow, under the stars, next to a roaring fire, under a blanket with my fiancé, eating toast and watching as the magic of the sky dances above us.  It would be amazing.  Truly amazing.
Visiting Norway would also be a great opportunity to pack in some action, and create lifelong memories with activities like husky sledding, snowmobiling, reindeer spotting, and trekking through vast forests.  Imagine the stunning photographs that I could take!

This post is my entry into Transun's #TransunLights Blogger Competition, and the prize is to win a trip for two to see the Northern Lights.  Winning would help me tick a trip off my bucket list, which would be incredible, so I'm keeping everything crossed!
What destinations are on your travel bucket list?
Naomi x
30
Welcome to my first long-awaited, much requested review of one of the beautiful nail varnish shades from the new Models Own Wonderland Collection.  The Wonderland Collection features five sparkly shades, all of which are perfect for the festive season and have particularly wintry names, including Jack Frost, Southern Lights, Snow Flake, Northern Lights and Blizzard.  They can all be used as a top coat for a hint of shimmer, or can be layered up to create a bold glitter look!  The three varnishes I currently own and will be reviewing over the coming weeks are Jack Frost, Southern Lights and Northern Lights, with Northern Lights being featured today.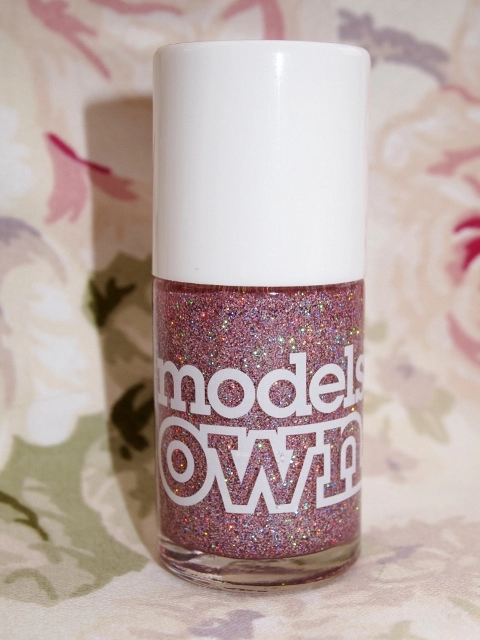 Northern Lights consists of a very fine dusky pink glitter, and is studded with delicate flakes of holographic glitter which shine purple, blue, orange, yellow and green in most lights.  Even in the bottle, the varnish is breathtaking, and I have never seen anything quite like it before.  Northern Lights is an extremely suitable name for such a shade, as it has so much depth of colour and appears to have a fluidity to it that alters the colour at every glance – it's just SO pretty!  I really can't do it justice with words.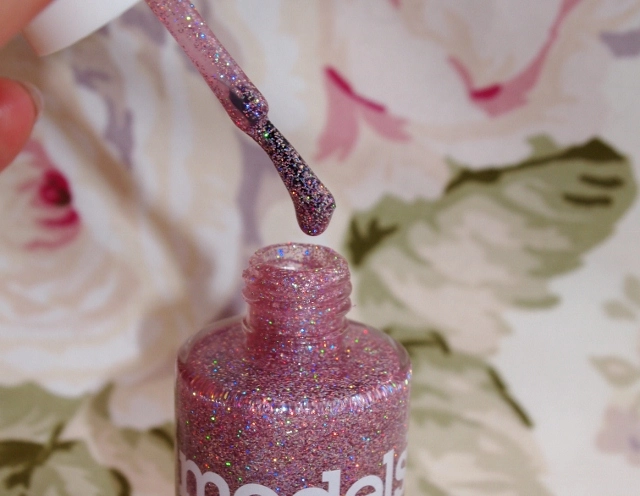 Like all Models Own nail varnishes, Northern Lights applies easily and evenly due to the long, wide brush.  The glitter might be fine but it is also very dense, so it only took me two coats of varnish to achieve a completely opaque look, and as with most dense glitter varnishes it dries very quickly.  The varnish doesn't have a smooth finish and actually feels slightly rough due to the density of the glitter, but I suppose that's to be expected.  I added one layer of top coat over the top to see whether it would make it feel smoother, but it didn't make much difference in all honesty.
Now, the moment you've all been waiting for… Swatches!  I found it quite difficult to capture the true beauty of Northern Lights, so since it looks different in different lights anyway, I decided to take several different swatch photos.
Inside with Flash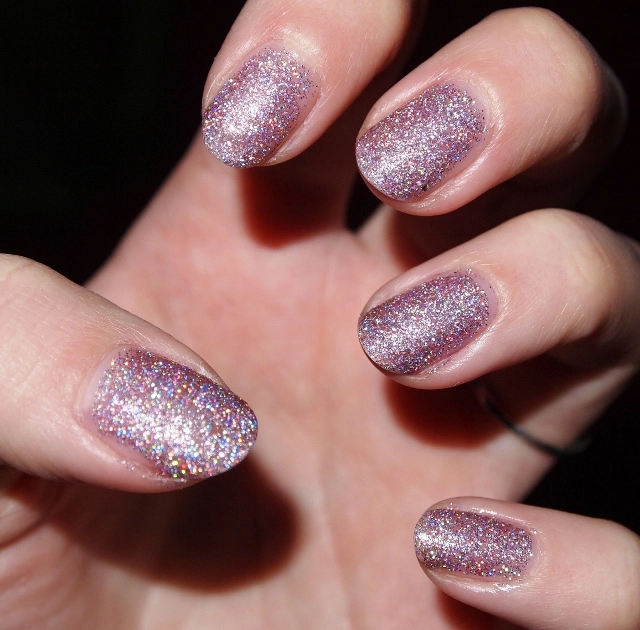 Inside without Flash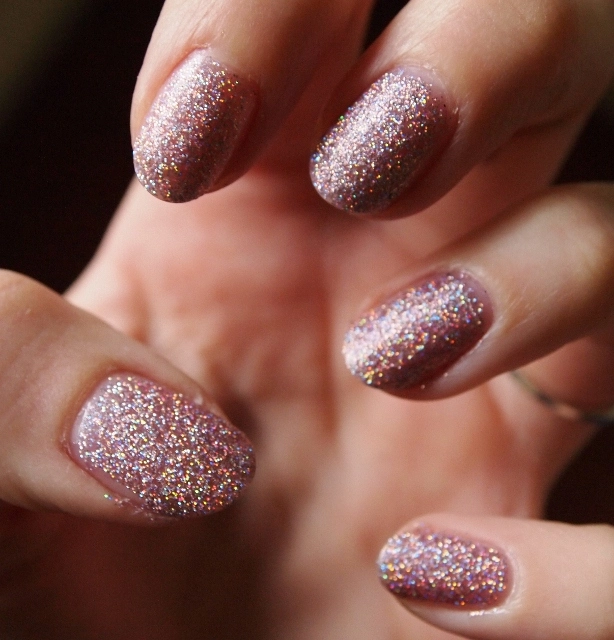 Outside with Flash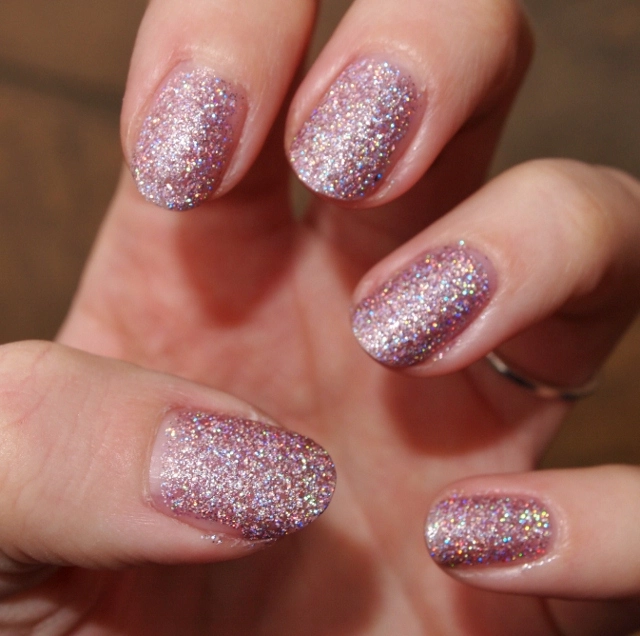 Outside without Flash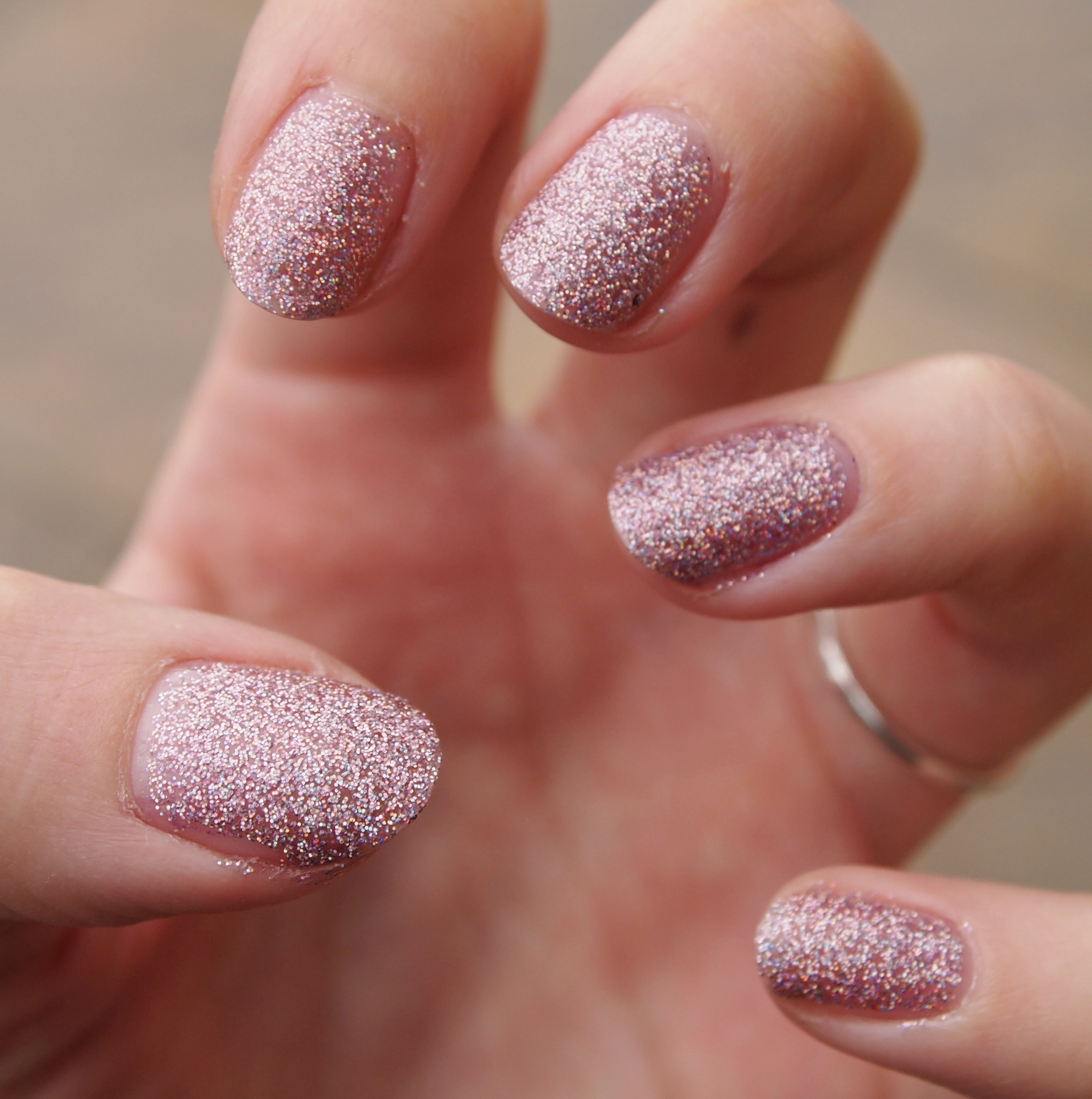 Close Ups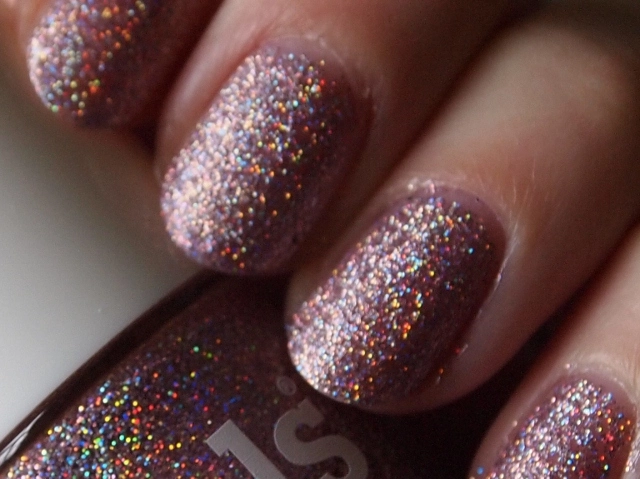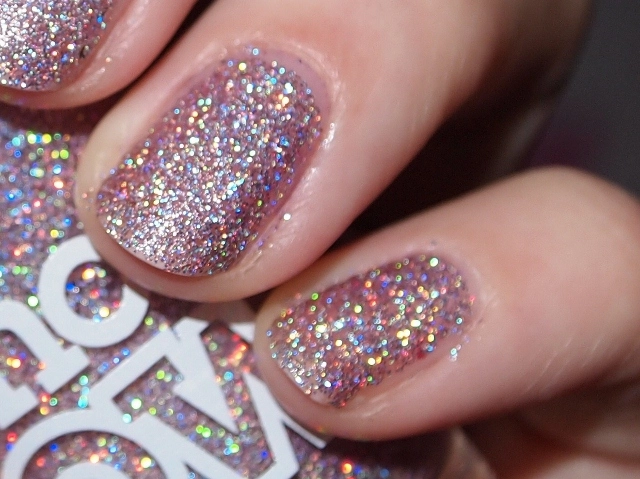 See, I told you, it's amazingly stunning!  Right?  You can see the holographic shine in some of the pictures above, but none of them really show it in all its twinkly glory.  You just have to see it to believe it really (which is a great excuse to go shopping in Boots if you ask me!).  Northern Lights is worth absolutely every penny of the £5 I paid for it, although I did get it in a 3 for 2 offer which makes it that little bit sweeter.  It's perfect for this time of year too…  It makes me feel so Christmassy and I've had countless compliments whilst wearing it, even from people I don't know.
Northern Lights is also very durable and long-lasting.  I applied it on Monday this week, and only yesterday (Friday) did it start to show wear at the tips of my nails.  Today it has chipped slightly, but it stayed looking close to perfect for five whole days, and survived four long, hard days at work – impressive!  Unfortunately, like most glitter varnishes, it is a massive pain in the bum to remove, so you need to have a lot of patience when taking it off.
Northern Lights is available separately or as part of the Wonderland Collection Box Set on the Models Own website, or can be found in most Boots stores for just £5.  If you're thinking of getting it but can't decide then my advice is to go for it…  I can guarantee you will NOT be disappointed!
Naomi x
20
Hi everyone,
Just a quick post from me today as I want to share with you my recent nail varnish buys.  As well as the Models Own sale items I ordered a few weeks ago, I have acquired a few more shiny pretties lately.  In fact, they're ALL glittery!  It must be the time of year, what with the party season and Christmas just around the corner.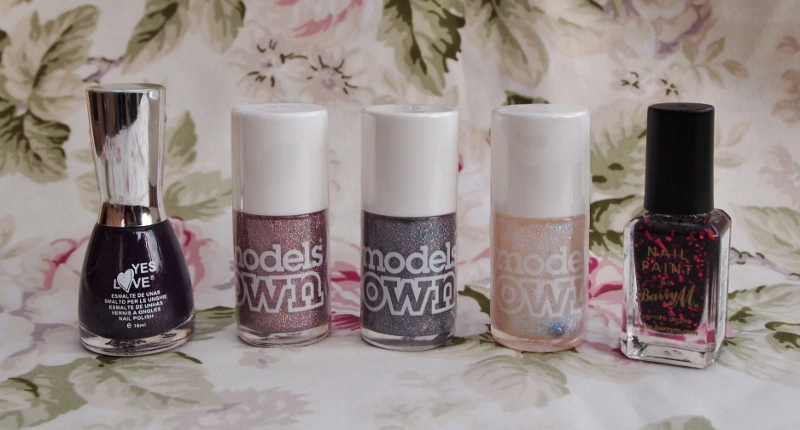 The most exciting new varnishes in my collection are three from the new Models Own Wonderland range.  The range features five sparkly, wintery glitters, all of which give a different stunning effect.  The three I went for are…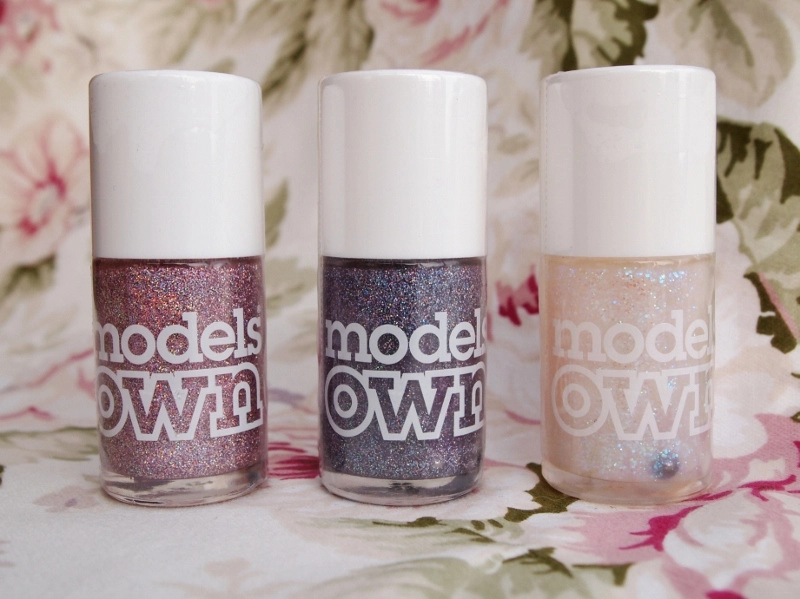 From Left to Right:
Northern Lights (pink micro holographic glitter)
Southern Lights (purple micro holographic glitter)
Jack Frost (Blue micro glitter in clear varnish)
Aren't they ABSOLUTELY BEAUTIFUL??  The photos really don't do them justice.  I can't wait to try them on!  I nipped into Boots to buy these yesterday and was extremely pleased to find them included in a 3 for 2 offer, so I got all three for a total of £10, saving £5.  If you want the whole set I recommend you grab these whilst they're on offer as it works out cheaper than buying the full boxed set from the Models Own website!
The next varnish in my little haul is a new one from Barry M – Ruby Glitter.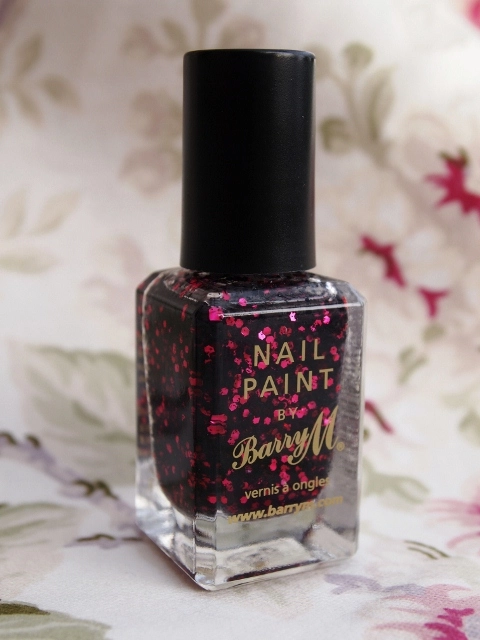 Barry M released this shade along with a few other glitters a few weeks ago.  There are quite a few in the range that I would like (especially Amethyst Glitter), but I went for this one first because I instantly fell in love with it.  It consists of different sized flecks of black glitter, studded with red/magenta glitter.  It reminds me of Valentines Day (my birthday) for some reason…  It just has an air of passion and luxury about it!  Like most Barry M Nail Paints, Ruby Glitter retails for an affordable £2.99.
The final little gem in this haul is one that my mum brought back from Portugal last week – a lush purple shade from a range called 'Yes Love'.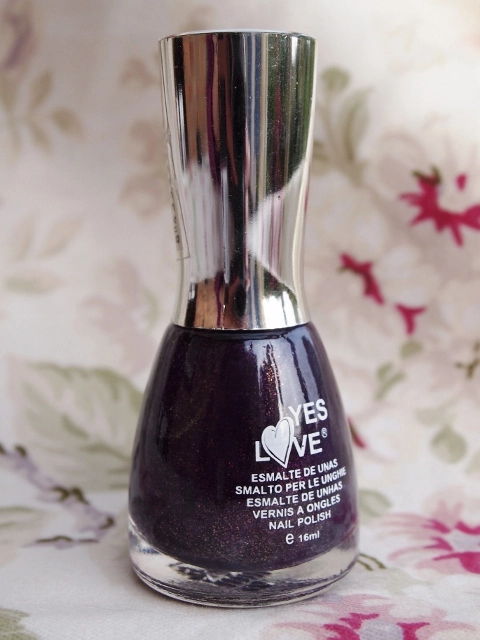 This varnish is Cadbury purple with a delicate golden shimmer running through it.  I'm wearing this at the minute and it looks really lovely on.  Apparently it only cost a bargainous 1 euro as well, which is a miniscule price tag for such a good quality varnish.
I'll be reviewing all of these varnishes over the coming days and weeks, starting tomorrow with the 'Yes Love' purple so keep an eye out.  Which is your favourite so far?
Naomi x