Posts tagged
Skull Necklace
2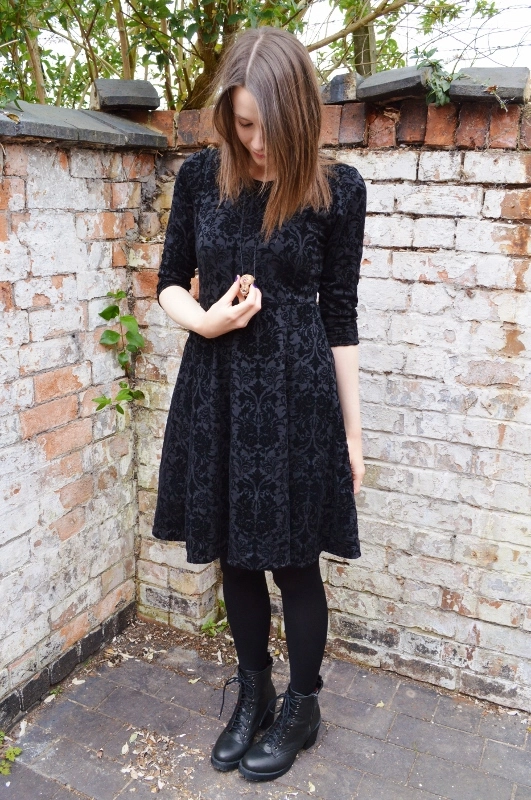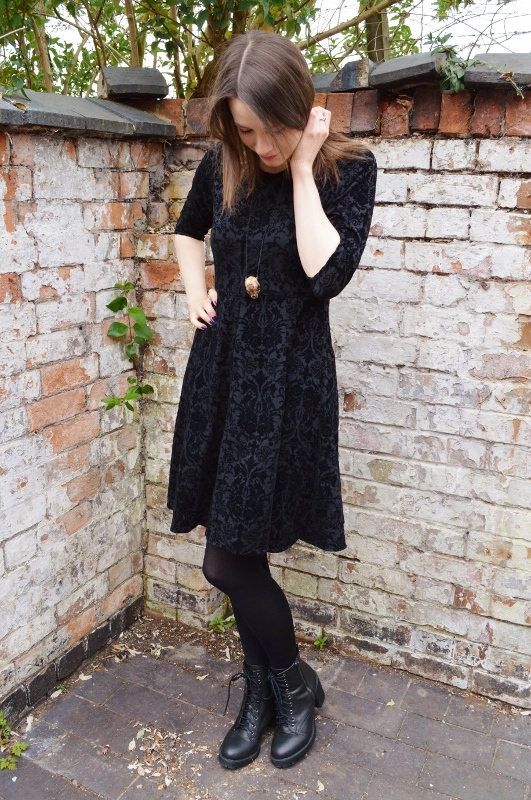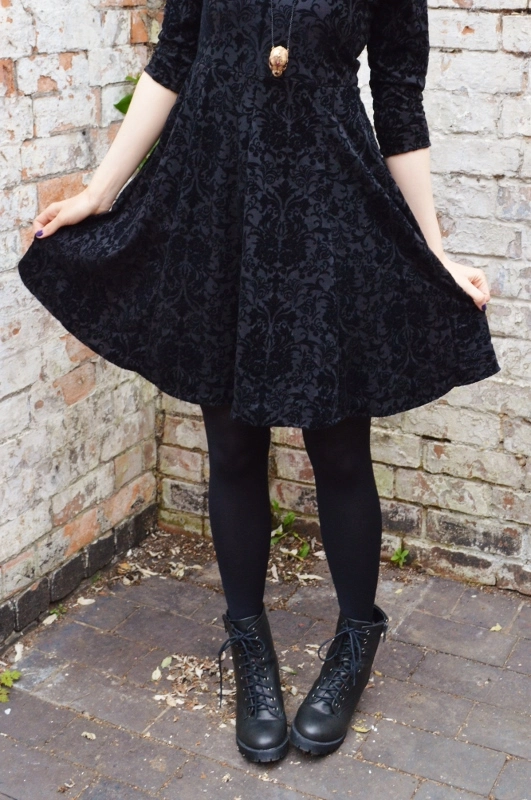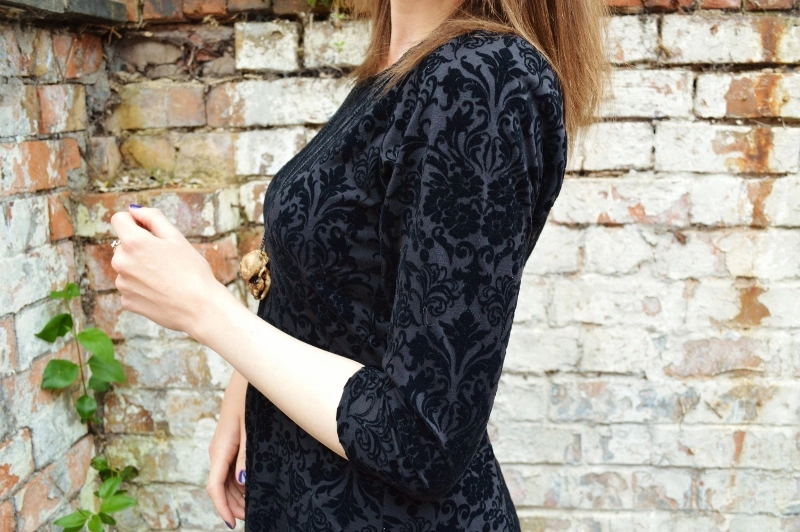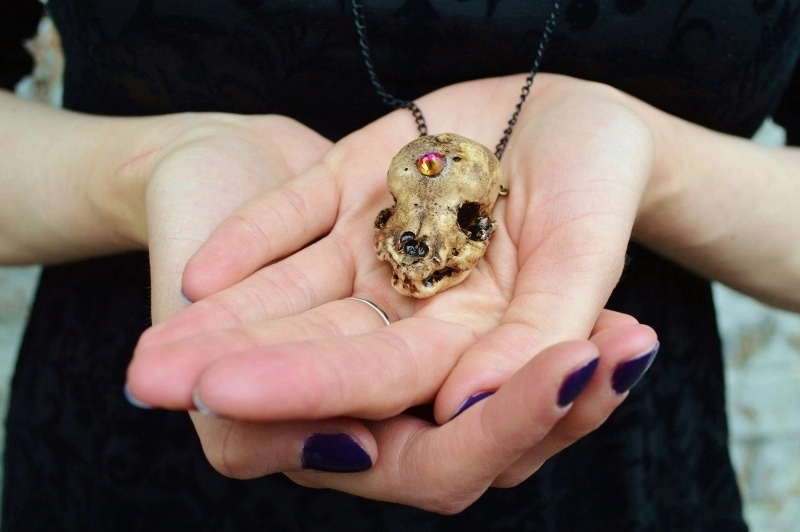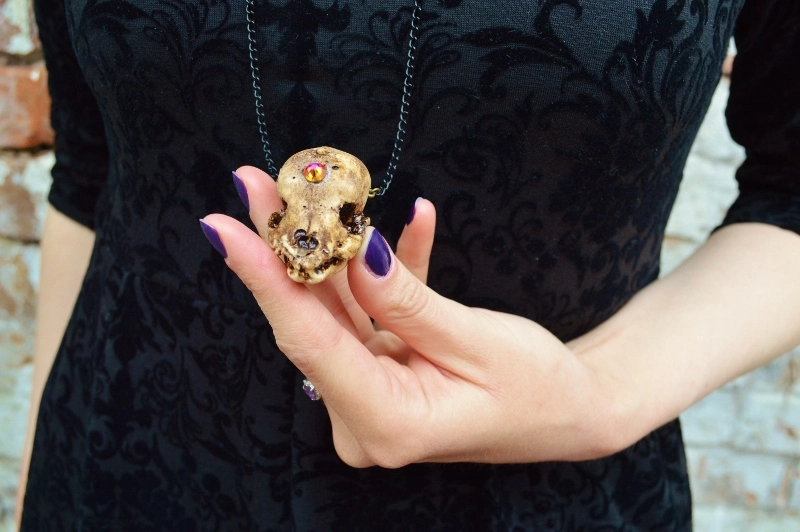 Handmade Flocked Skater Dress / MortiisM Vegan Skull Necklace / Blonde + Blonde Lace Up Block Heel Boots / Primark Tights
Today's outfit post is also a Thrifty Finds post, as my beautiful flocked skater dress was handmade by my very talented mum, using fabric that we got from a carboot sale.  And the best part is the fabric only cost £1!  My mum drafted the pattern for this herself, using the bodice from one of my dresses, and the skirt from another, so it turned out the exact fit, shape and length I was hoping for.  I'm so impressed by mum's work, especially as this was the first adult dress she ever made.  The stitching is so neat, it's comfortable, and it fits me really well – quite an achievement considering I tried the bodice on once whilst she was making it, and that's it!  Needless to say I'll be asking her to make me another dress very soon, as I'm so pleased with this one.
My necklace is also a craft piece, by the lovely MortiisM, who makes vegan skull and metal jewellery, antlers, and homewares.  I won this piece in a giveaway on Instagram, and I adore it.  I love the length, and the quality of the piece is really high.  It looks so real, and the Swarovski adornment is like the icing on the cake.  Stunning!
Naomi x
P.S. Check out how else I styled these boots!
2
As you may know, last week I joined Instagram, and so far I've really been enjoying photographing my daily happenings and looking at everybody else's pictures.  So, to bring my blog and my Instagram together a little bit more, from now on I will be blogging a round-up each week of my favourite photos.  I haven't yet taken that many so it's slim pickings this week, but without further ado, here is my first installment!  The image is clickable for a closer look.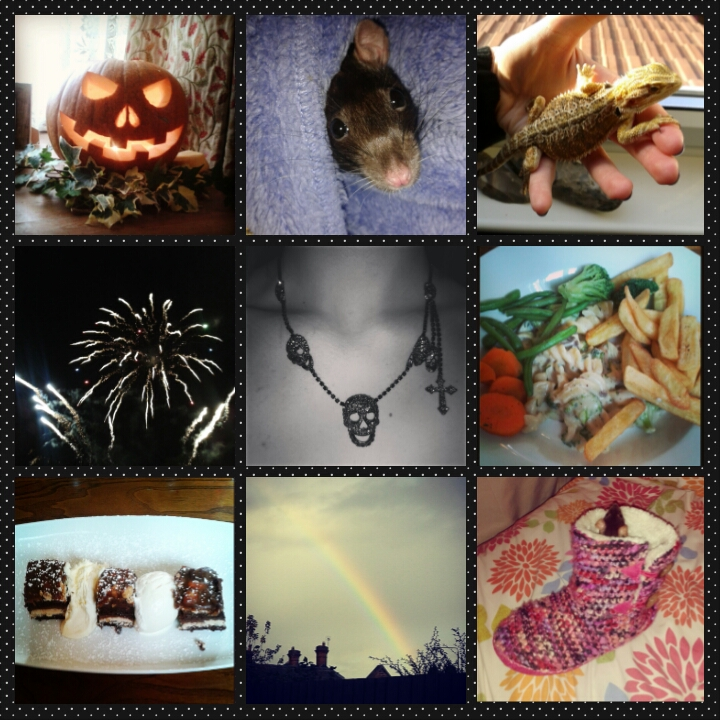 Our Halloween pumpkin, carved by me / Mog the Rat having snuggles in my dressing gown / My dad's baby bearded dragon, Russell, who in the last week has turned a lot more yellow! / Fireworks from the Abbey Park firework display on Saturday / My Butler & Wilson skull necklace / Sunday lunch at The Hunting Lodge – Stilton, Mushroom and Broccoli pasta bake with chips and veggies / AMAZING Rich Chocolate and Peanut Stack / Sunday rainbow / Miggley the Rat sitting in my slipper boot
If you'd like to follow me on Instagram and see more of my photos, my username is bewitchery_.  Please comment on this post with your usernames too as I'm looking for more accounts to follow!
Naomi x