Posts tagged
Fabric
2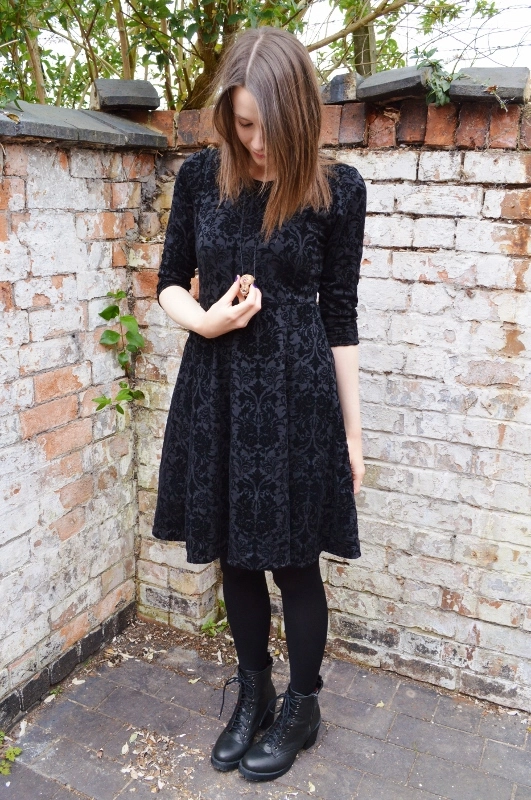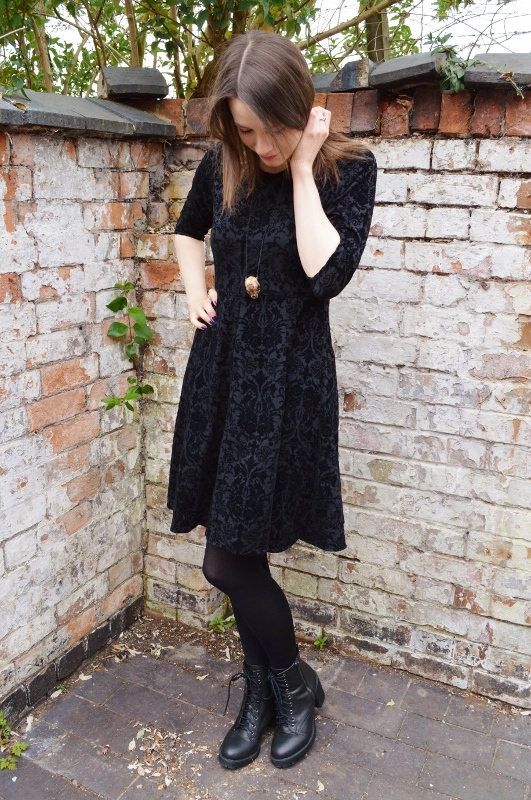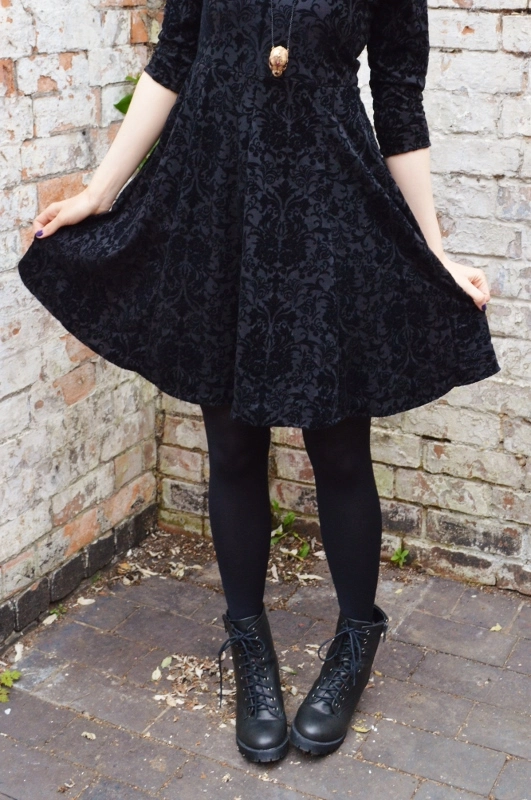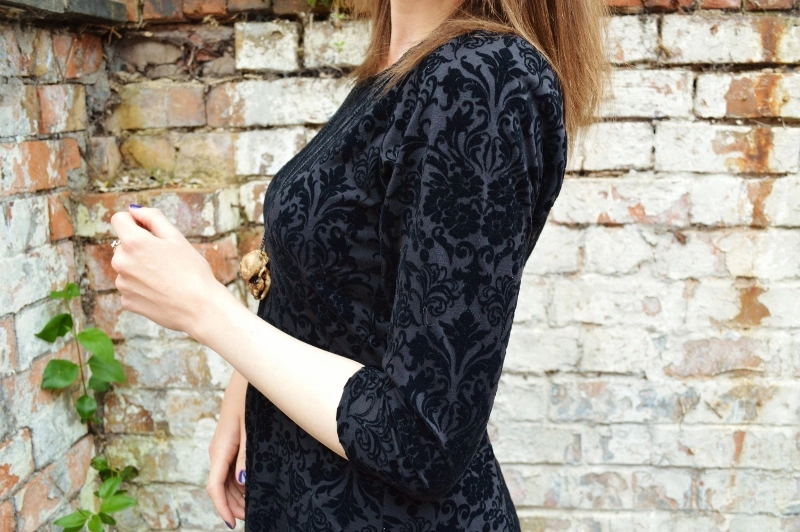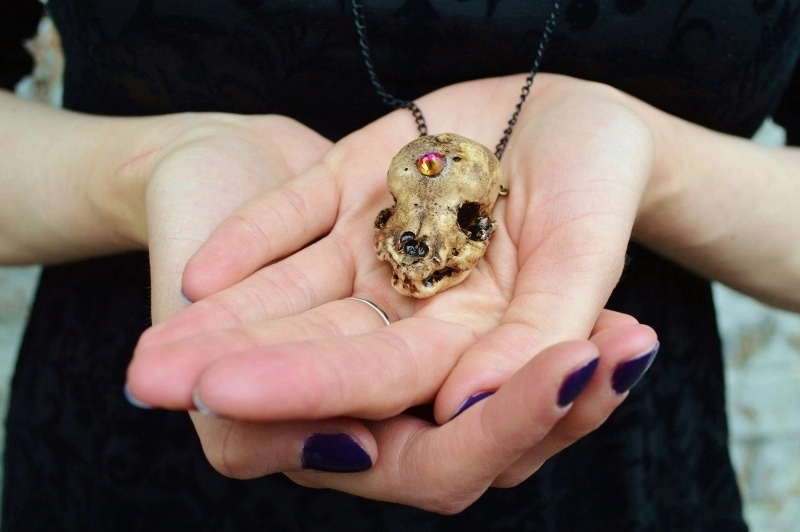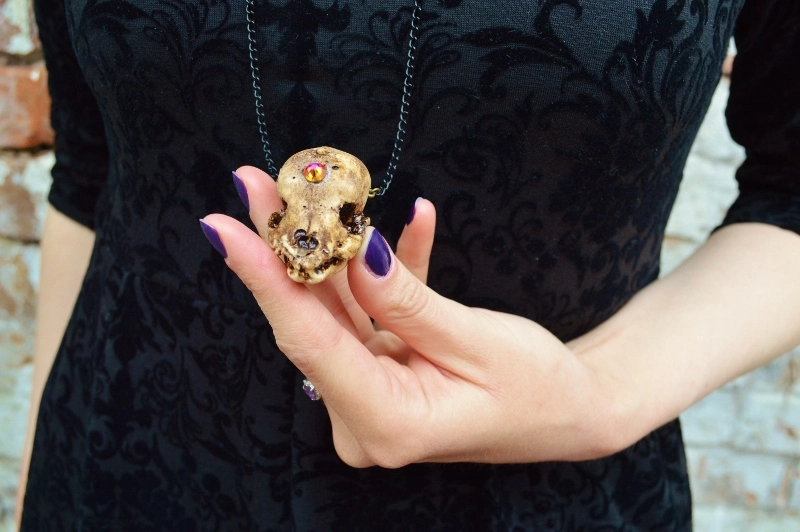 Handmade Flocked Skater Dress / MortiisM Vegan Skull Necklace / Blonde + Blonde Lace Up Block Heel Boots / Primark Tights
Today's outfit post is also a Thrifty Finds post, as my beautiful flocked skater dress was handmade by my very talented mum, using fabric that we got from a carboot sale.  And the best part is the fabric only cost £1!  My mum drafted the pattern for this herself, using the bodice from one of my dresses, and the skirt from another, so it turned out the exact fit, shape and length I was hoping for.  I'm so impressed by mum's work, especially as this was the first adult dress she ever made.  The stitching is so neat, it's comfortable, and it fits me really well – quite an achievement considering I tried the bodice on once whilst she was making it, and that's it!  Needless to say I'll be asking her to make me another dress very soon, as I'm so pleased with this one.
My necklace is also a craft piece, by the lovely MortiisM, who makes vegan skull and metal jewellery, antlers, and homewares.  I won this piece in a giveaway on Instagram, and I adore it.  I love the length, and the quality of the piece is really high.  It looks so real, and the Swarovski adornment is like the icing on the cake.  Stunning!
Naomi x
P.S. Check out how else I styled these boots!
9
You may remember that last month I introduced you all to Montagne Jeunesse's new range of Clay Spa fabric masks.  I wrote an in-depth review of the wonderful Dead Sea Mud Spa Mask, and today I will share my thoughts on the Glacial Clay Spa mask!  I'd been saving this one to use on a day when I felt I really deserved a treat, so after a feeling stressed and poorly earlier this week I decided to indulge.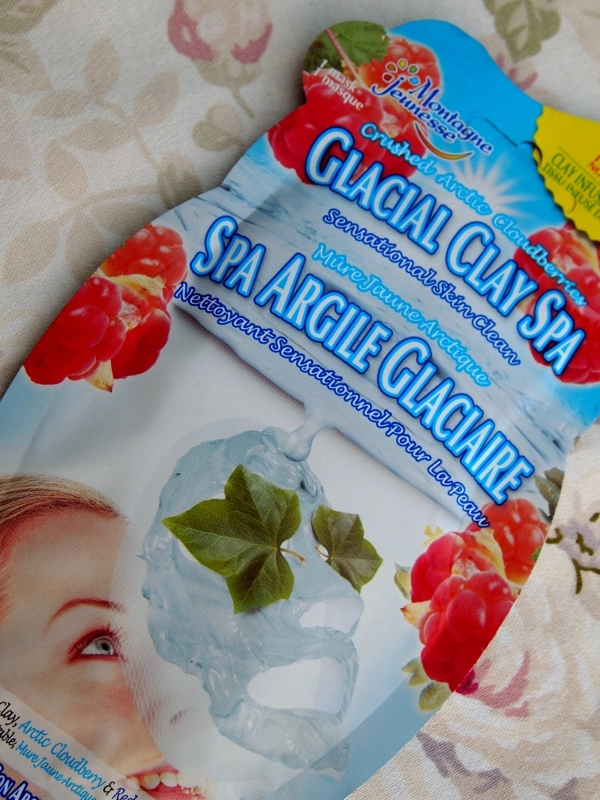 Like the Dead Sea Mud mask, the Glacial Clay Spa is a fabric mask, but this one is infused with 'Real Clay, Arctic Cloudberry & Red Grape'.  The active ingredients are specially chosen for their cleansing and anti-oxidant properties and are all vegetarian and animal friendly (Montagne Jeunesse are approved by PETA, BUAV and the Vegetarian Society).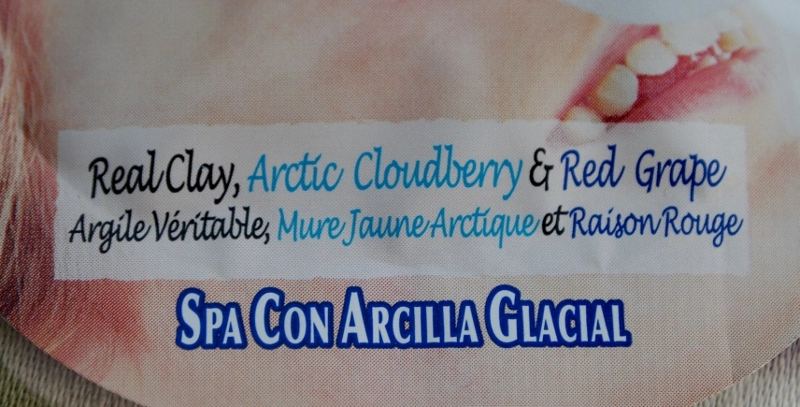 Out of all the masks I have used, this is the quickest and easiest to use, and probably the most effective.  It comes in one fabric piece, with eye, nose and mouth holes already cut out, so all you have to do is place it on your face, press it down and relax for 15 minutes.  Who knew effective skincare could be so effortless?!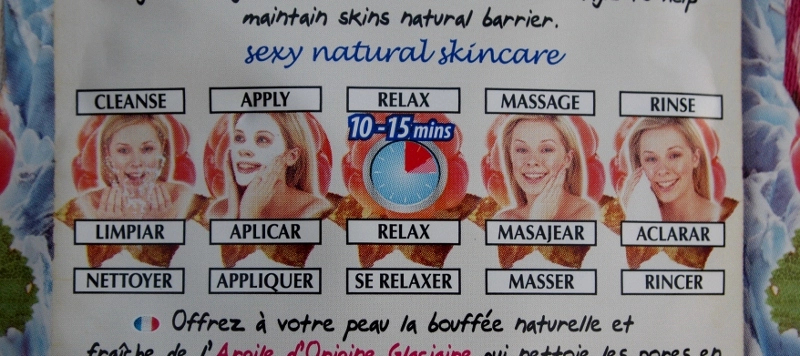 Now, I know you all want to know what it looks like, so I have put my reputation on the line to show you just how silly it makes you look!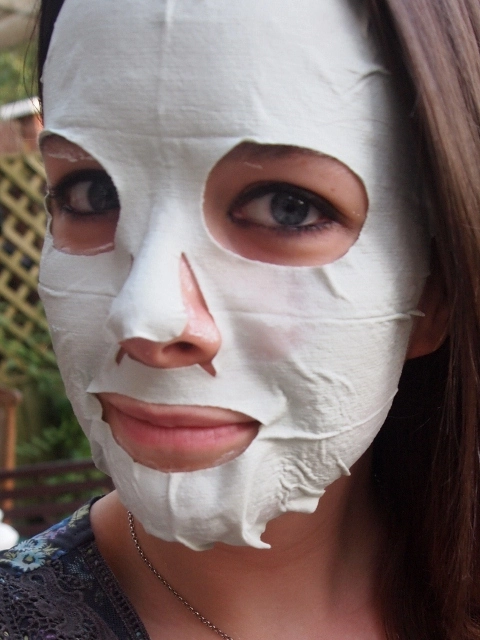 Gorgeous, right?  To be honest I find it pretty hilarious (not that it gives you much freedom of movement to laugh haha).  Anyway, onto the important stuff…
The glacial clay that forms the basis of the mask is fantastically cooling and makes your face feel instantly refreshed.  The coolness also tightens your skin and soothes any soreness or redness, which does wonders for your complexion.  My face didn't feel irritated at all whilst wearing the mask, so I was able to completely relax and enjoy the beautiful scent of the mask (my mum says it smells like summer).  After 15 minutes, I removed the fabric and washed any excess clay from my skin with warm water, massaging in a circular motion as I did so.  I didn't even need to use any moisturiser after wearing the mask as it didn't cause any dryness.  Rather, it made my face look visibly rejuvenated.
I can't recommend these fabric masks highly enough and I'll definitely be purchasing some more.  If you want to try anything from Montagne Jeunesse's Clay Spa skin care range, you can purchase individual masks for £1.49 each (BARGAIN) from the Montagne Jeunesse website, or they are now available in Boots.  They'll also be in ASDA as of September.
Have you tried these masks yet?
Naomi x
*I was sent this Glacial Clay Spa Mask by Montagne Jeunesse for review purposes.  All thoughts and opinions are honest and my own.  Some affiliate links have been used.
10

Behold!  The best Montagne Jeunesse face mask that I have ever used (so far) – the new Dead Sea Mud Spa Mask.  Earlier this week I received a rather exciting skin care package from the lovely folks at Montagne Jeunesse, containing two of their brand new face masks – the Dead Sea Mud Spa Mask and the Glacial Clay Spa Mask.  I was really looking forward to trying these masks as they're not like any other I've ever used before.  Rather than the usual peel-off or wash-off products, the Spa Masks are made of bamboo fabric, which is coated and infused with naturally sourced mud and clay.



Yesterday evening I tried the Dead Sea Mud Spa mask, which uses 'Real Mud, Dead Sea & Sea Kelp'.  I haven't yet used the Glacial Clay Spa Mask so I will review that at a later date.  Each sachet contains one single use mask, and it is quicker and easier to use than any other Montagne Jeunesse mask as it comes in one ready to use piece that you just lay on your face.  As you can see below, it looks a bit freaky, but also quite funny!

The sachet says that the mask provides a 'satisfying boost for thirsty skin' as it contains 'invigorating & revitalising Dead Sea minerals'.  The directions for use are as follows: Cleanse, Apply, Relax for 10-15 minutes, Massage and Rinse – Simple!  I found that the best way to apply it is to lay it on and then press the edges down so that it smoothes to the shape of your face and doesn't fall off.  Since these are 'one size fits all' I did have to fold the edges inwards slightly to fit the shape of my face, but that's not a problem really.  Better too big than too small!  And the moment you've all been waiting for – this is what it looks like on…
I know!  Don't laugh!  I look absolutely ridiculous, which caused much amusement with my family, but when you're wearing a mask that feels so amazing you really don't care haha.  Before I opened the sachet I noticed that it felt really cold to the touch, and as you can imagine the mask itself feels quite cold too.  When it's on your face the cold feeling really penetrates your skin making it tingle slightly, which feels really refreshing and, as the sachet says, invigorating!  I felt so relaxed wearing the mask that I almost fell asleep – it was almost like having a face massage.
The mask doesn't dry like other masks, but it isn't messy.  After 15 minutes of absolute bliss I removed the mask with no trouble – it came off in one complete piece, and because it was still wet I let my mum use the other side and it worked just as well on her!  Two uses for the price of one – bargain 😀  (I don't know if sharing the mask is a good idea or not, but she wanted to haha).  I was left with a bit of dry clay on my face and hands afterwards, but it washed off easily with warm water.  I will say that my face felt a bit tight after which I didn't really like, but that was soon solved with my favourite moisturiser.
Both Clay Spa masks cost just £1.49 each, which is a bargain in my eyes.  You can already buy them over at the Montagne Jeunesse website, and they'll be available in Boots from mid-August and ASDA from September.  Though these masks were gifted to me by Montagne Jeunesse, I also buy their products regularly with my own money.  I like to use Montagne Jeunesse masks over any others as they are vegetarian and animal friendly, paraben-free and made from natural ingredients which don't irritate the skin.  And to quote the company itself, 'Montagne Jeunesse is proud of its uncompromising natural credentials and ethos for 'Conservation of Energy, Protection of Animals and the Environment' – something which I 100% advocate!

Will you be trying the Clay Spa Masks too?
Naomi x