Posts tagged
Etsy
2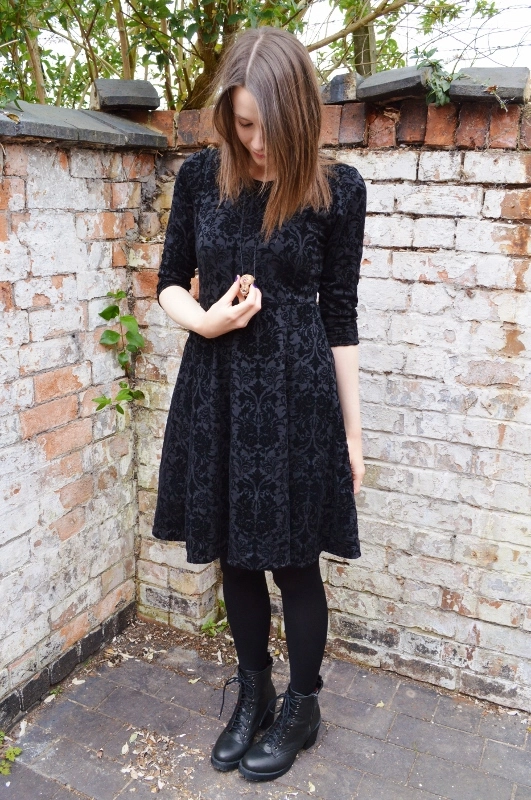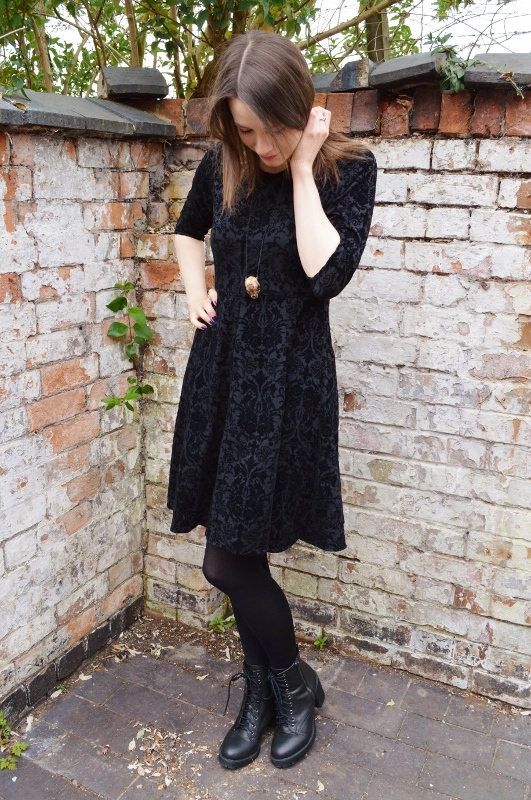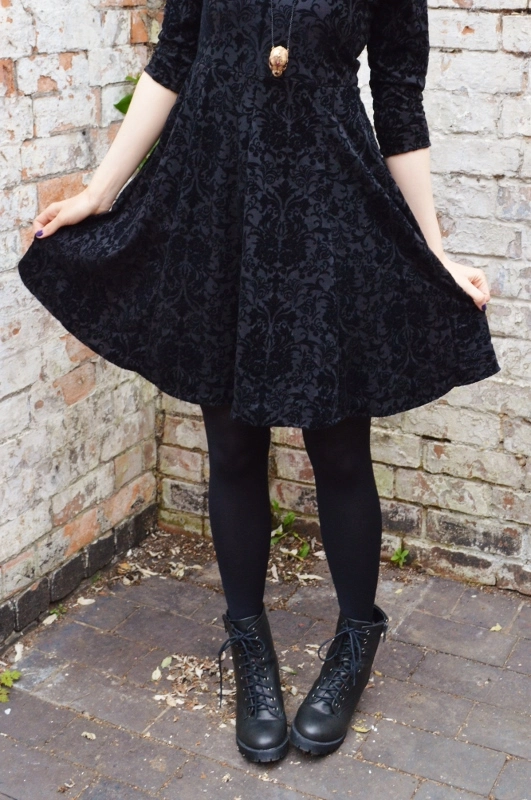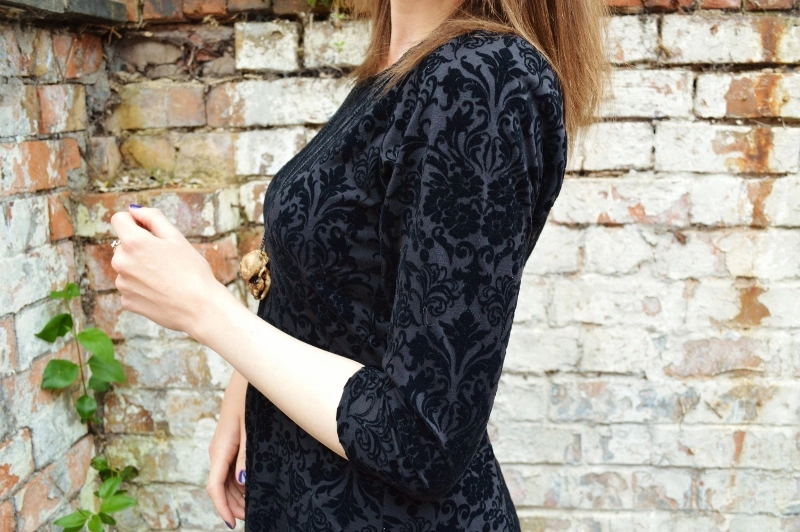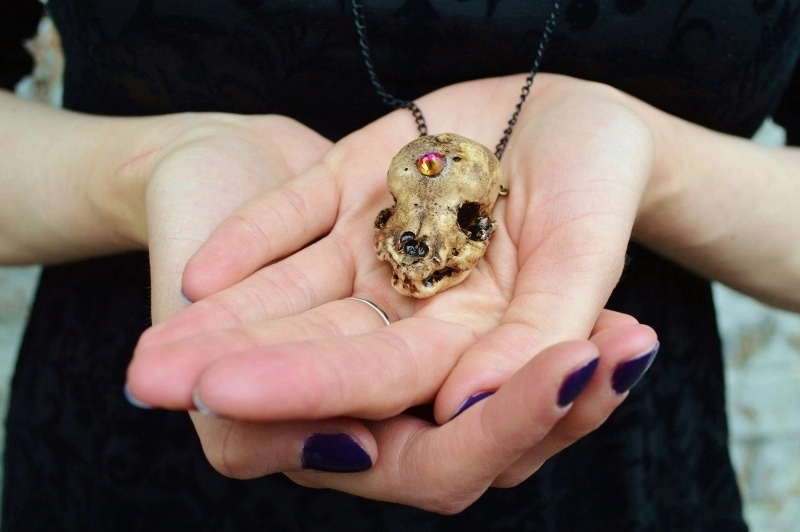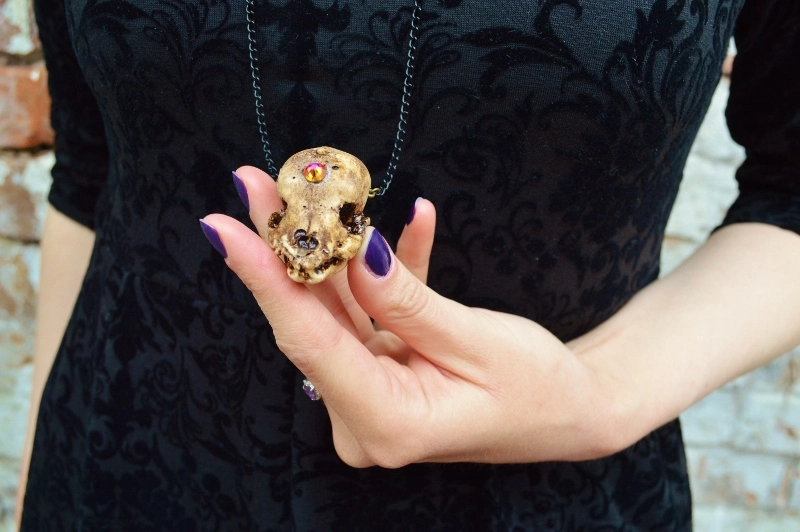 Handmade Flocked Skater Dress / MortiisM Vegan Skull Necklace / Blonde + Blonde Lace Up Block Heel Boots / Primark Tights
Today's outfit post is also a Thrifty Finds post, as my beautiful flocked skater dress was handmade by my very talented mum, using fabric that we got from a carboot sale.  And the best part is the fabric only cost £1!  My mum drafted the pattern for this herself, using the bodice from one of my dresses, and the skirt from another, so it turned out the exact fit, shape and length I was hoping for.  I'm so impressed by mum's work, especially as this was the first adult dress she ever made.  The stitching is so neat, it's comfortable, and it fits me really well – quite an achievement considering I tried the bodice on once whilst she was making it, and that's it!  Needless to say I'll be asking her to make me another dress very soon, as I'm so pleased with this one.
My necklace is also a craft piece, by the lovely MortiisM, who makes vegan skull and metal jewellery, antlers, and homewares.  I won this piece in a giveaway on Instagram, and I adore it.  I love the length, and the quality of the piece is really high.  It looks so real, and the Swarovski adornment is like the icing on the cake.  Stunning!
Naomi x
P.S. Check out how else I styled these boots!
9
I recently came across a great little Etsy store called ResinSparkles, which is owned by the lovely Sara.  Sara creates unique pieces of jewellery out of resin and glitter, a lot of which have a fab geek-chic theme, with Dr Who, Star Wars, steampunk and comic books regularly featuring in her designs.  Sara very kindly offered to send me a couple of pieces to review, and after browsing her store the magpie in me chose a Sparkly Ring and a Steampunk Clockwork Pendant.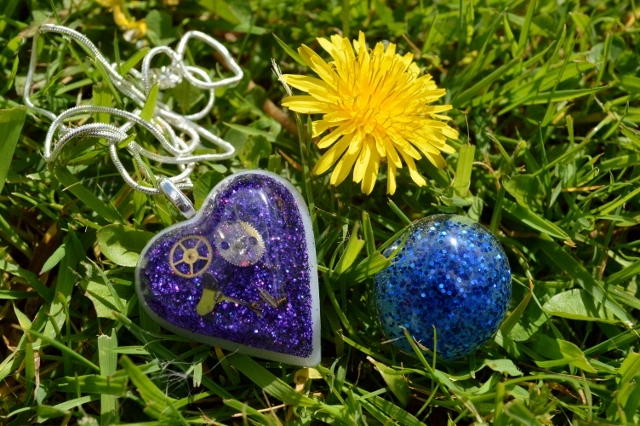 Both pieces are really well made, and they are both very generous on the glitter.  They're so eye-catching, especially in the sun, and both make a real statement.  They came packaged in cute matching gift bags too – perfect if you want to give them as a present (and trust me, the receiver would not be disappointed with their sparkly surprise).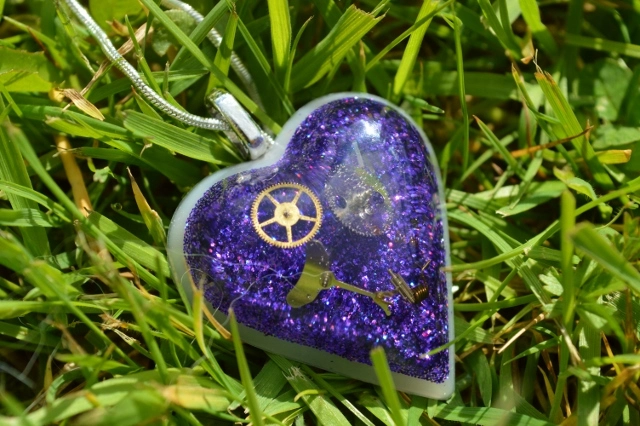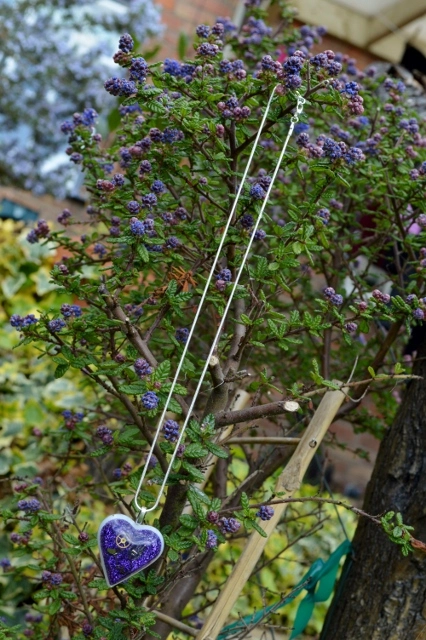 The pendant comes on an 18″ silver coloured chain and is nice and lightweight, so though it's a fairly big piece, it's incredibly comfortable to wear and hangs well.  I chose purple as it's my favourite colour and this particular shade is stunning, but these pendants are available in a wide range of colours.  I absolutely love the steampunk theme too, as the little cogs and metal bits suspended in the resin give it an added edge.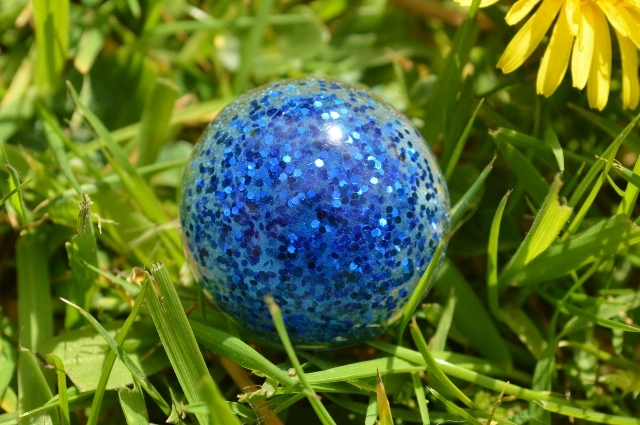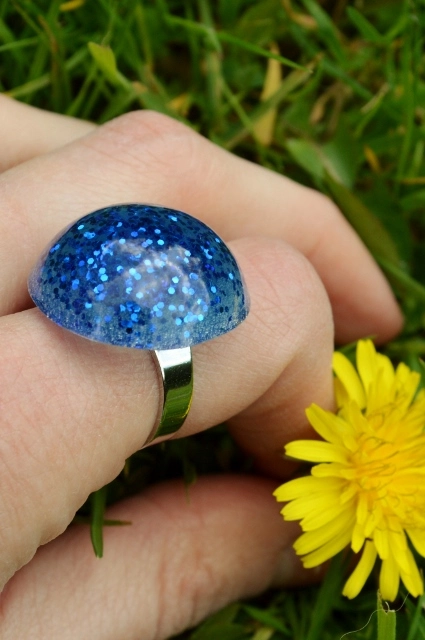 The ring I received has come to be known as my mermaid ring, as the layers of bright blue glitter are so pretty and remind me of a mermaid's tail, or the surface of the sea sparkling in the sun (how romantic!).  Like the pendant, the dome of the ring is quite large so really stands out, and it sits securely on a silver coloured adjustable metal band.  I have quite slim fingers so it best fits my index or middle fingers, which is where I prefer to wear rings anyway.  These are also available in a wide range of shades, with some combining two different glitters.
Considering all of Sara's pieces are handmade and great quality, they're also very affordable.  The pendants are £7.50 each including the chain, and the rings are just £3.50.  So, if you're a fan of sparkle, or know someone else who is, be sure to check out ResinSparkles on Etsy, and on Twitter.
Naomi x
*These pieces were sent to me by ResinSparkles for review purposes.  All opinions expressed are honest and my own.*
3
A couple of months ago I was very kindly gifted a beautiful locket by Pixie Chains – an independent jewellery brand specialising in cheap, retro, vintage style jewellery with a unique edge.  The brains behind Pixie Chains is eighteen year old Matilda Littler from Derbyshire, an A Level student with a keen interest in fashion and photography, who makes a lot of the jewellery she sells herself.
The locket I was sent is the Fantasy Pink Locket, a gorgeous oversized gold tone locket which costs just £3.99 – a small price tag for a lot of necklace that is worth every penny.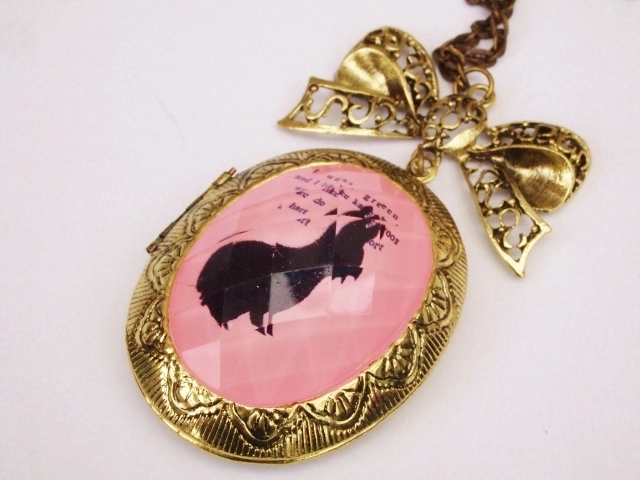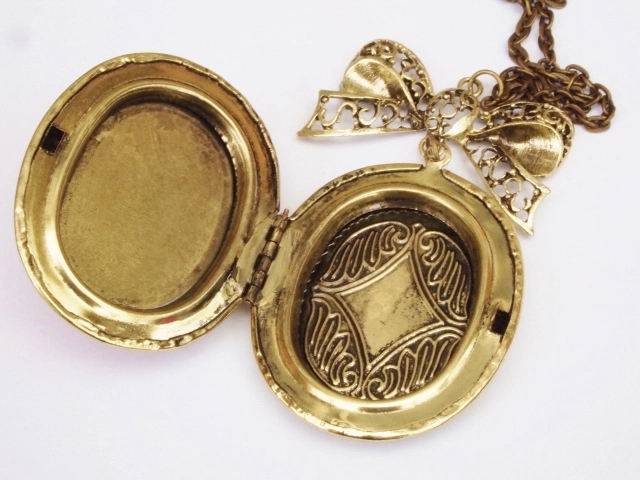 The locket itself is excellent quality.  It has a good weight to it without being too heavy, so it's comfortable to wear, and it fastens securely so you can keep your secrets safe.  The details are also really pretty and feminine, with a silhouetted rabbit on a pink background, chunky gem-style front, raised patterning all over and to top it all off, a large, girly bow.  There is also a quote on the front of the locket which is slightly obscured, but the bit I can see properly reads 'I was green and I like kangaroos'.  The whole design reminds me of Alice in Wonderland, an old favourite of mine.
I'm a big fan of statement pieces of jewellery, and this is definitely that.  It hangs on a long chain and sits below my chest, and is so versatile it looks great with anything – whether a t-shirt and jeans or a dress and heels.  Here is how I wore it today, with a pinky purple jumper and black skinnies, it made a basic outfit look bold and brilliant.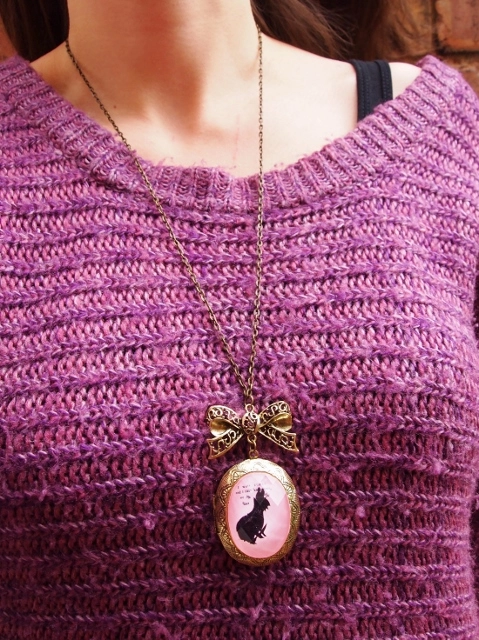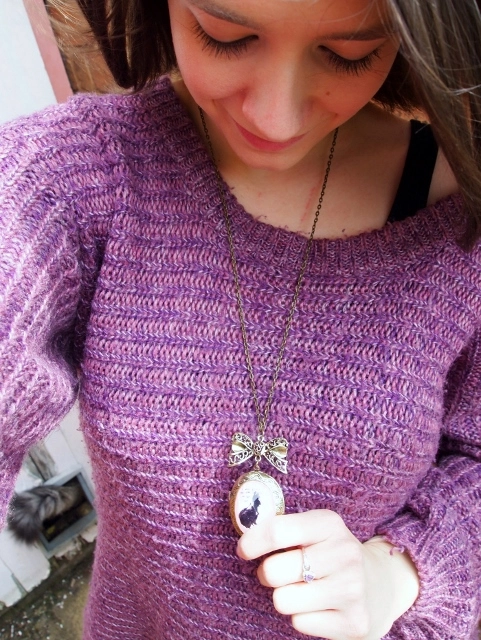 All of Matilda's pieces really are lovely and her business is growing fast, so if you want to keep up with her progress and be the first to see her latest pieces, you can follow her on Twitter and via her blog, and order items from her Etsy store.  Here are a few of my favourite bargain pieces from her store…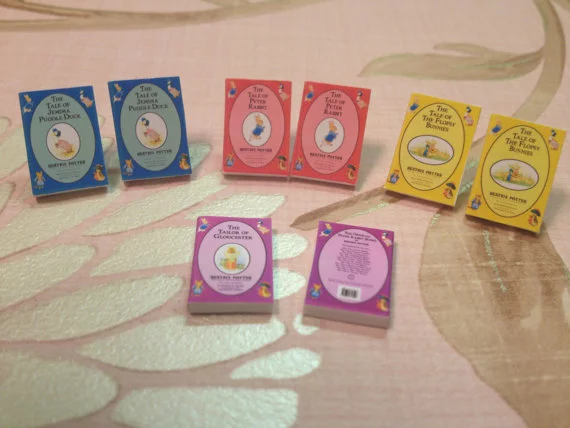 Beatrix Potter Collection Miniature Book Earrings – £3.99 per pair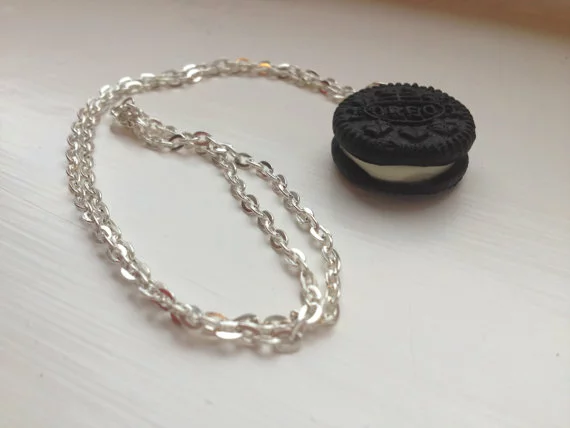 Oreo Biscuit Cookie Necklace – £3.99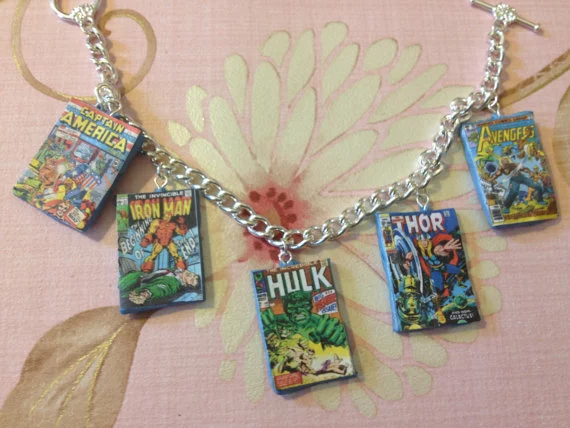 Vintage Comics Avengers Charm Bracelet – £5.99
Which Pixie Chains piece if your favourite?
Naomi x
*This Fantasy Pink Locket was sent to me by Pixie Chains for review purposes.  All opinions expressed are honest and my own.*