Posts tagged
Barry M
5

In this penultimate Chocolate Treat Week post I will be talking about all things nail related.  I will be sharing my favourite chocolate coloured nail varnish, by Barry M, as well as some new nail art featuring five of my favourite chocolate treats!  See if you can guess what they are.  Oh, and of course there'll be a few words at the end of the post from one of my favourite bloggers, in The Last Rolo.
Nail Varnish… Barry M Nail Paint in 'Chocolate Brown'

Since first discovering them many moons ago, I have always loved Barry M's Nail Paints, so it seemed only natural to include their 'Chocolate Brown' shade in this post.  Like all of their paints, this one has a fantastic formula.  It applies effortlessly easily and leaves no brush strokes or streaking behind, and opaque, even coverage can be achieved in just two coats.  The paint dries impressively quickly too so there's no hanging around for hours waiting for it to dry, and as you'd expect of Barry M it is very long-lasting.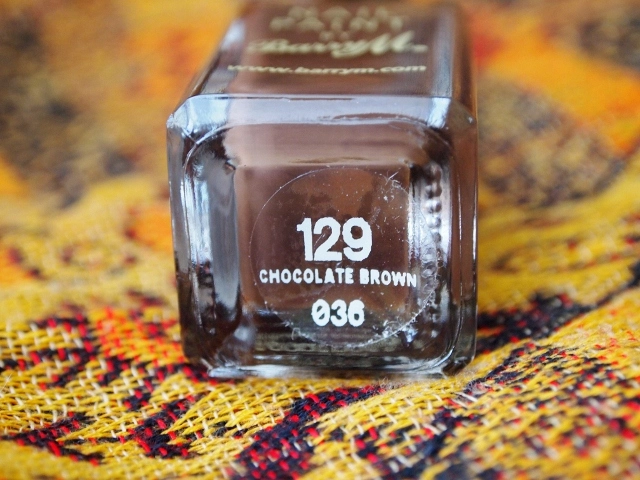 'Chocolate Brown' is a really stunning shade, and it has a high shine, creme finish which gives it a true look of chocolate!  The brown colour is highly pigmented with an undertone of orange so it isn't too dark.  As such, even indoors in dim light it looks rich brown rather than dull black.  I'm sure you'd all agree that 'Chocolate Brown' is perfect for Autumn/Winter 2012 as deep, earthy nail shades are bang on-trend right now.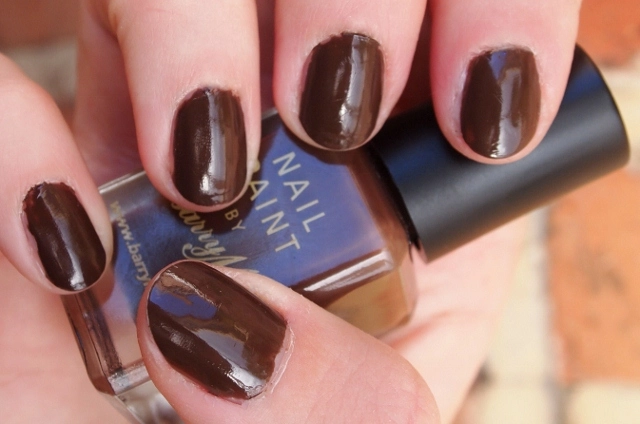 Barry M Nail Paints are available in Superdrug and Boots for £2.99 each, but as far as I know they aren't currently stocking this shade.  However, you can get it even cheaper on a great website I discovered recently called Scentsational.  They are selling 'Chocolate Brown' for £2.95 with free delivery, but if you 'Like' their Facebook page you can get £1 off your order!  That's how I got hold of this shade, so you can definitely trust the website and discount code!
Nail Art… Chocolate Wrappers
After much deliberation about what I would do for a chocolate themed nail art design, I came up with this – the wrappers and logos of five of my favourite chocolate treats!  Can you guess what  they are?

If you said (from left to right) Cadbury's Creme Egg, Terry's Chocolate Orange, Cadbury Twirl, Milky Bar and Maltesers then you are correct!  I had a LOT of fun creating this look and I'm very pleased with the results… Especially the Milky Bar nail!  I surprised myself with how neat and accurate I got the font on that one.  As usual, I used nail dotting tools to draw this design, and the colours I used were:
Avon Nailwear Pro 'Real Red'
Saffron 'Shade 16′ (Purple)
Rimmel 60 Seconds 'Blue My Mind'
Barry M 'Yellow'
Barry M 'Chocolate Brown'
Laval Crystal Finish 'White'
Primark 'Black'
NYC In A Minute 'High Line Green'
Avon Nailwear Pro 'Coral Beat'
Leichner Nail Gloss 'Blueberry'
What do you think?  Which five chocolate bars would you include in this design?
The Last Rolo…
The Last Rolo is where I hand over the last few words of each Chocolate Treat Week blog post to another blogger.  In the run up to Chocolate Treat Week I asked five of my favourite bloggers a couple of questions about their favourite chocolate treats, and today's answers come from Ra of RaRa Reid.
Can you recommend any chocolate scented, flavoured or themed beauty/fashion products?
I would recommend the Soft Coeur masage bar from Lush. It smells incredible and is amazing for your skin. Like most Lush products! It's also heart-shaped which I love.

Lush also have a lip tint called Double Choc. I haven't actually tried this as brown shades don't suit me, but it just smells wonderful! As for fashion, I am a huge fan of kitsch jewellery, especially necklaces. I got a Jammie Dodger necklace a while back from Diamond Lil's and they have a lovely Bourbon Biscuit necklace which I'd also love to add to my jewellery collection.

This is their website. There are plenty of other sites that have similar necklaces to this too.
What is your favourite chocolate treat to eat, and why?
Choosing a favourite chocolate treat is really quite difficult, I love all chocolate!

My absolute favourite has to be a Kit Kat Chunky Peanut Butter, I haven't actually had one for over 2 years now though as Teddi is allergic to nuts. Other than that, I love all the chocolates that I used to have as a child. Like Freddos and Curly Wurlys.

Once again, thank you so much for reading my latest Chocolate Treat Week post.  Please come back tomorrow to read the final chocolate themed post which will focus on fashion and accessories.
Naomi x