Posts tagged
Festive
4
This year seems to have gone incredibly fast, and Christmas is almost upon us.  I'm sure by now we are all well into our Christmas shopping (I've been extremely organised this year and only have a couple of bits left to get!), but I thought I'd put together a few festive themed posts over the next week or two to help with that last-minute rush.  I have spent a while lately trawling the shops and internet for stocking filler ideas, so today's post features my pick of the best beauty stocking fillers for £5 and under.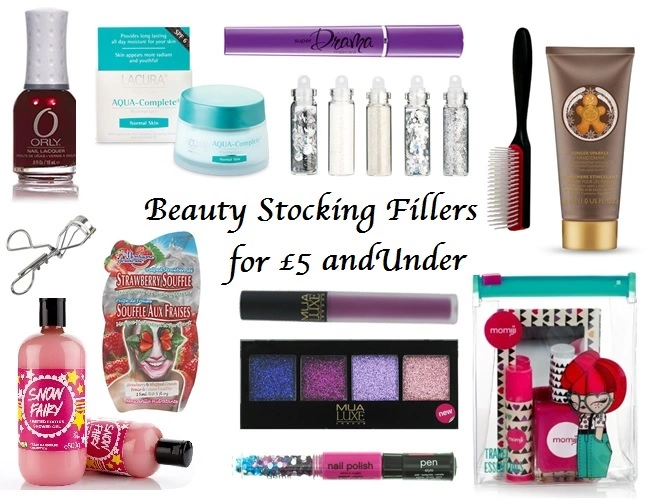 Clockwise from Top Left:
Orly Nail Polish £3.99 from Fragrance Direct / Lacura Aqua Moisture Cream £1.99 from ALDI / SuperDrama Mascara £5.00 (was £10.00) from Avon / Halo Futuristic Nail Glitter £4.50 from ASOS / Denman Small Styling Brush £4.99 from Fragrance Direct / Ginger Sparkle Hand Cream £4.00 from The Body Shop / Momiji Mini Gift Set £5.00 from M&S / 3 in 1 Nail Art Pearl Gem Pen £4.50 from Claire's / MUA Luxe Velvet Lip Lacquer £3.00 from MUA / MUA Luxe Glitter Palette £4.00 from MUA / Montagne Jeunesse Strawberry Souffle Face Mask £0.99 from New Look / Snow Fairy Shower Gel £3.50 for 100g from LUSH / Metal Eyelash Curler £3.25 from John Lewis
I hope you all find this edit helpful!  If you have any £5 or under stocking filler ideas to add, please comment below as I'd love to see what you've come across.
Check back soon for my next Christmas post, featuring Spend and Save Christmas Gift ideas.
Happy Shopping!
Naomi x
2
Evening everyone!
A couple of days ago I was tagged by Proper Sweetie in her Holly Jolly Holiday post (Thanks lovely!)  The post looked like a nice bit of festive fun, so I thought I would share my answers with you all and then leave it to you to take part if you want to.  So here, are the questions!
1. Do you start your Christmas shopping on Black Friday or wait until the last-minute?
I usually start my Christmas shopping in October, but this year I bought my first present in around August or September, which is early even for me!  I had pretty much all of my shopping done by the beginning of December this year, which I'm quite pleased with.
2. If you could be in any Christmas movie what would it be?
I would like to be in The Polar Express!  I watch it every year (I literally just finished watching), and I always think the roller coaster train track looks SO fun, and I would love to meet Santa and his reindeer.
3. Which do you like better: Christmas Eve or Christmas Day?
This is a difficult one because I enjoy both for different reasons, but I'd have to say Christmas Day.  I like the excitement and anticipation of Christmas Eve, and all the preparation for the big day, but on Christmas Day I get to spend relaxing time with my family, exchange gifts, eat lots of food and play games, which is always a winner.
4. When does your family put up your Christmas tree and who decorates it?
We used to put the Christmas tree up during the first weekend of December, but for the past couple of years we've done it during the second weekend.  My sister and I decorate the tree together, and always have done, and my mum decorates the rest of the house.
5. White lights or coloured lights?
White all the way!  I think they look a lot classier, although having said that, coloured lights have been growing on me a lot more these last few years.
6. Are you guilty of peeking at your presents or do you like the surprise?
I LOVE surprises and I usually have a lot of willpower and manage not to peek, but if the presents are there I have been known (every now and then) to peek, which I am ashamed of!  People tend to hide them from me though, so it's all good.
7. Would you rather live in a gingerbread house or in Santa's Workshop?
I'd rather live in a gingerbread house as it'd smell lovely and I could always eat the walls if I got hungry, but I wouldn't mind working in Santa's Workshop!  That would be lots of fun.
8. Tell us your Christmas Eve traditions!
During the day, I usually help my mum or Grandma prepare the food for Christmas Day, depending on whose house we'll be at.  This is done to Christmas CDs most of the time, and in between cooking I wrap last-minute presents and watch Christmassy things on TV.  In the evening I often go to my dad's house with my sister and fiancé, and we have lots of food, drink mulled wine and play board games.  The latter will be happening on the 23rd this year though as my dad is working on Christmas Eve, so traditions will be changed a bit.
9. If you could be under the mistletoe with anyone who would it be?
My fiancé of course, and I already have as we have mistletoe at home this year!
10. What tops your tree?
A lovely little angel.  She has a red dress, gold ribbon, a halo, wings and long curly hair.  We've had her at the top of the tree for as long as I can remember.  I love her!  My sister and I argue every year about who will be the one to put her on top of the tree…  I usually win haha.
11. Can you name the 12 days of Christmas?
Aah!  Yes I can, I think!  I've been practising this by looking at '12 days of Christmas' Christmas cards, so as far as I can remember I know them all.  Too many to recite here though, haha.
12. Have you ever gone Christmas caroling?
No, in all honesty I never have.  I need to rectify this.
13. Do you countdown to Christmas? If so, how many days are left?
Yes I do!  I have an advent calendar every year, although this year is special as I have three.  A chocolate one at my fiancé's house, a chocolate one at my house and my Ciaté Mini Mani Month.  How spoilt am I?!  Oh and there are 3 days left until Christmas, yay.
14. What are some foods and treats you can count on having every holiday season?
Well, in my family we have a VERY strange tradition (which I have been told is a Midlands thing), where we have pork pie, ham, bread and butter, pickles and tea for Christmas BREAKFAST.  Weird, right?  Being vegetarian I usually have Quorn ham instead of the meat though, and Quorn turkey roast for Christmas dinner instead of real turkey.
We always, always have After Eight Mints after dinner too, and a cheese board in the evening, and there are tins of Roses and Quality Street all over the house over the festive season.
15. How has Christmas kept its magic for you as you've grown older?
I've never really lost the magic, but I watch The Polar Express to give myself a top up!  I still get excited about the big day, and I still get a little bit sad when people say that Santa isn't real (HE IS REAL, DAMN IT!)  Christmas is just such a lovely time of year.
I hope you enjoyed reading my Christmassy answers!  I'm not going to tag anyone in particular because I'd love all of you to take part, so if you want to copy this tag, feel free!
Are you looking forward to Christmas this year?
Naomi x
8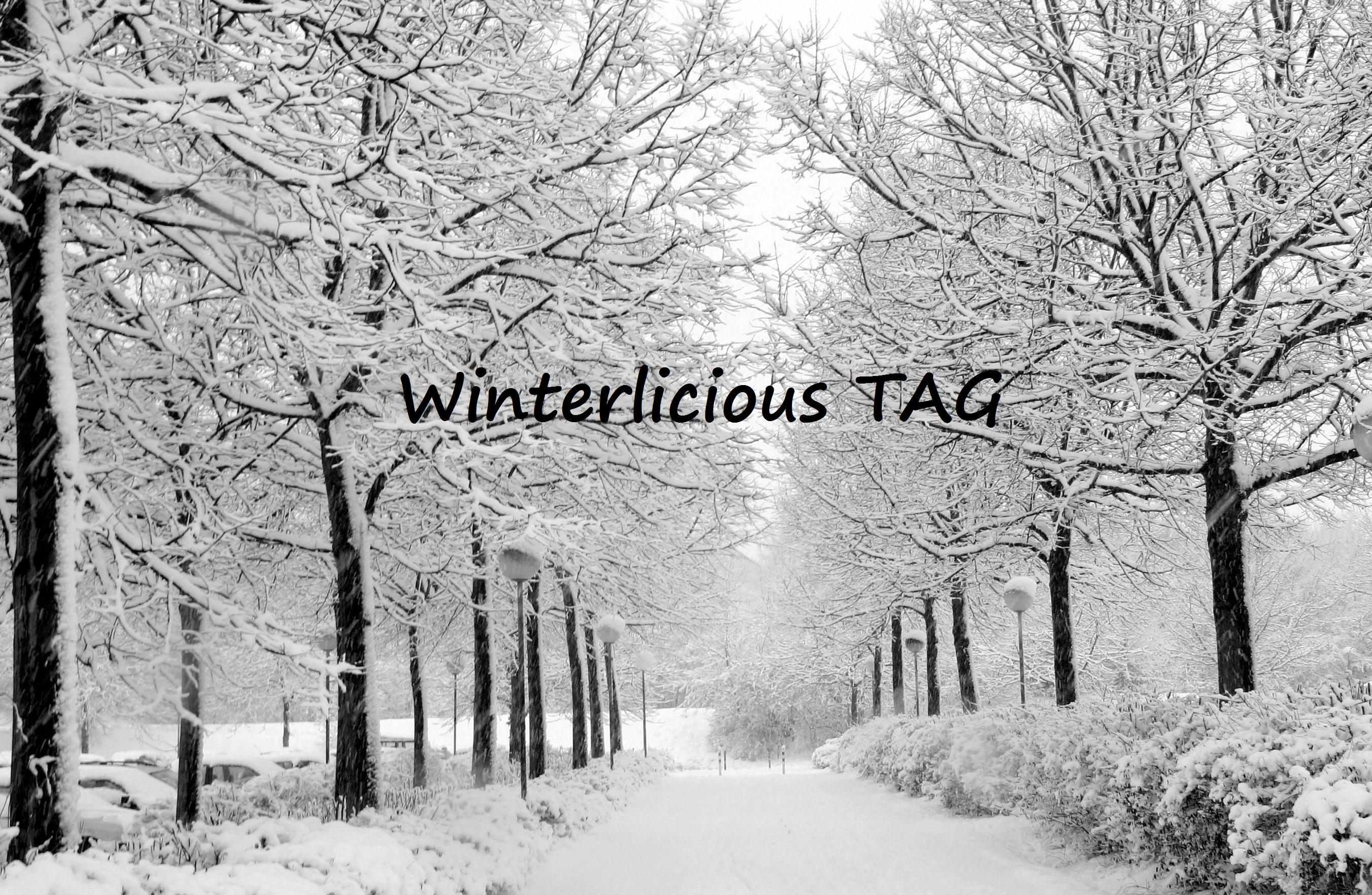 Last week I was tagged in a Winterlicious Tag Post by the lovely Proper Sweetie (you should check out her blog, it's awesome).  I really enjoy doing posts like this every now and then, so I have finally got round to answering the tag questions, and will be tagging a few of you at the end.  So, if you'd like to answer the questions yourself, please feel free!
1) Favourite winter nail polish?
My favourite nail polishes this winter are from the new Models Own Wonderland collection.  They're all SO pretty and glittery and perfect for Christmas, with their festive names.  They remind me of snow and ice and Christmas decorations.  I currently own three of the five – Jack Frost, Southern Lights and Northern Lights (which I reviewed here).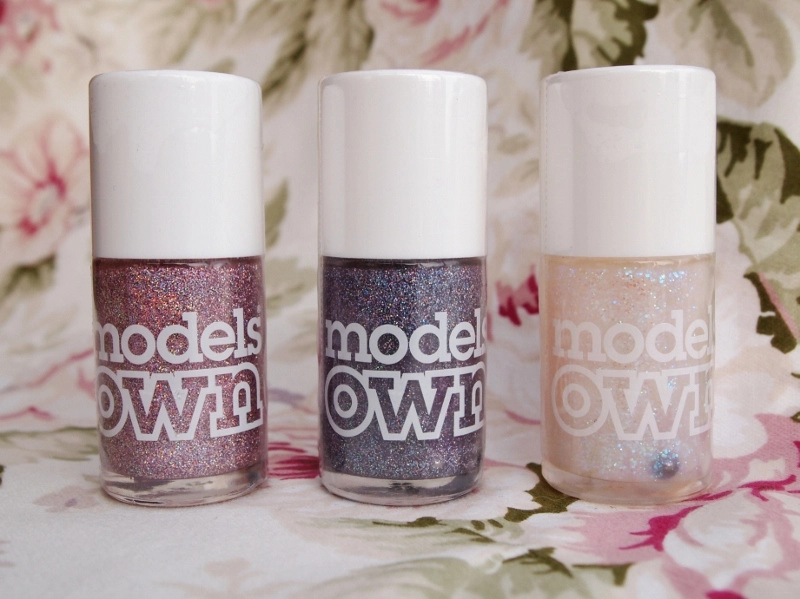 2) Favourite winter lip product?
Montagne Jeunesse's Natural Beeswax Lip Balms have been life savers for me these last few months.  I always get really sore, dry lips during the autumn and winter so I need to use a good lip balm every day to protect them.  Montagne Jeunesse's lip balms are really rich and moisturising, but not greasy, so they sit easy on the lips and do an amazing job.  In fact, I forgot to use it for a couple of days and my lips got sore, but after a few applications of this lip balm my lips were as good as new.  They come in a few different flavours as well which are suited to different lip problems.
3) Most worn winter clothing piece?
My purple shimmer Dr Martens boots.  As you may have read in this post, I am a Dr Martens addict, and I always look forward to autumn and winter so I can get my big chunky boots out again.  My purple ones are the classic 8-hole style boot and, without fail, they keep my feet warm and dry all winter.  I love the colour and the shimmer factor – they're just a little bit different to your normal winter boot!
4) Most worn winter accessory?
This year it has to be my cute Robin Print Snood!  I bought it a couple of months ago from Primark for only £4, and I have been wearing it every day since under my coat.  It's made of quite thin fabric, but it's really big so it wraps round nicely and is lovely and snuggly.  The beauty of a snood is you can put it over your head without looking daft when it gets cold and you don't have a hat/hood, but it also looks great accessorised with any outfit!
5) Favourite winter scent/candle?
At Christmas we tend to burn our usual Yankee candles, which always smell gorgeous, but yesterday my mum bought a cheap Glade candle from their winter collection and it's divine!  I do believe it was Spiced Apple scented.
6) Favourite winter beverage?
It has to be the classic hot chocolate or mulled wine.  Although, I should hopefully be trying Chai Tea Latte soon which is lightly spiced, and I have a feeling that may become this year's favourite winter beverage…
7) All time favourite Christmas/holiday movie?
The Polar Express!  I have it on DVD and watch it every year.  The end makes me cry every time, just because it's so lovely, and it always gets me in the Christmas spirit.  I want to watch it on Christmas Eve this year…  I still believe!
8) Favourite Christmas/holiday song?
I hate to admit it but Last Christmas by Wham! is one of my ultimate guilty pleasures!  Although, when I was a baby, the only song that would calm me down and put me to sleep was Rudolph the Red Nosed Reindeer, at any time of year

9) Favourite holiday food/treat?
This one is hard to answer as Christmas is a time for indulgence and there are SO many yummy things I love to eat at this time of year!  One of my favourites though has to be Lebkuchen, a traditional German baked treat which is a cross between a biscuit and a cake.  It tastes like cinnamon and ginger, is sprinkled with icing sugar and is best dipped in dark chocolate!
10) What is your favourite Christmas decoration this year?
We haven't actually put our Christmas decorations up yet this year, but at the weekend my mum bought a real Christmas tree which is going to sit in a pot outside on our patio all year round

  It's covered in solar-powered coloured lights at the  minute and it looks lovely.
One of my old favourite Christmas decorations was a huge purple and silver glass bauble.  I loved it for years, since I was tiny, but it  broke a few years ago so we had to throw away

  Thinking about it going still makes me sad!  RIP pretty purple bauble.
11) What's at the top of your wish list?
In all honesty, I've been struggling to think of things I want for Christmas this year, so I just want a few nice surprises.  Although a bat detector and a Batman onesie wouldn't go amiss 😉  (Geeky as hell, I know).
12) What are your plans for the holidays this year?
This year, like every year, I will spend Christmas Eve with my dad, and Christmas Day at home with the rest of my family.  We eat lots of food, play lots of games, and share gifts and laughs and generally have lots of fun.  I love it!
The people I tag to answer these questions are…
Happy Blogging!
Naomi x